Hi there! Yesterday we were supposed to get a family portrait taken with the cherry blossoms. I was trying hard to not worry so much about what we would wear (after
last year's stress
…although the
photos
turned out great!) so I decided to use clothes we already had. Then I remembered that I am 7 months pregnant. I didn't have any patients at the office, so instead of going to work I spent the morning making myself a spring maternity skirt.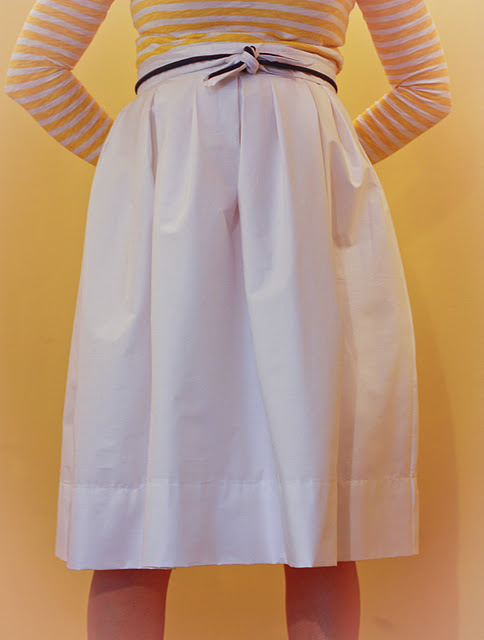 I spent a little while searching for inspiration online, but everything I saw was a typical, below-the-belly, stretchy skirt to wear with a long top. Rather than go that route, I made myself a very simple, empire waist, pleated skirt with a navy rope tie.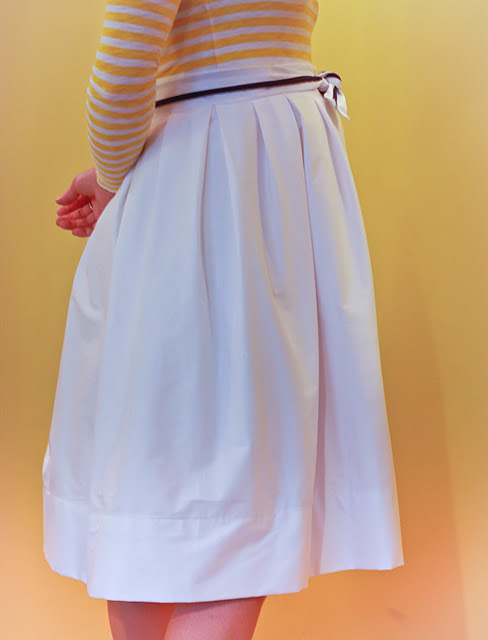 I love how it turned out. Hanging nicely over the bump, without accentuating the ever-obvious fact that I am hugely pregnant. I totally winged the measurements for the initial cut, then had to make the pleats fit into the space I had. I made it work:)
As I was about ready to hem, Milo climbed out of his crib and splat onto the floor. Needless to say, his nap was over! I managed to finish it up while he played with some toys. Then we showered, curled hair, made-up face, ironed everyone's attire one last time, climbed into the car to go get Dave and meet
the photographer
down town…and it began to rain!
So, hopefully the weather holds out this afternoon. If not, we'll have to pray the blossoms stay put until next week when we return from a little jaunt up to Connecticut to visit family for the weekend.
Five Days to Freedom: Tips for Choosing Less Stuff and More Adventure in your Daily Life
Five lessons with practical tips and exercises to help you feel more in control of your life!