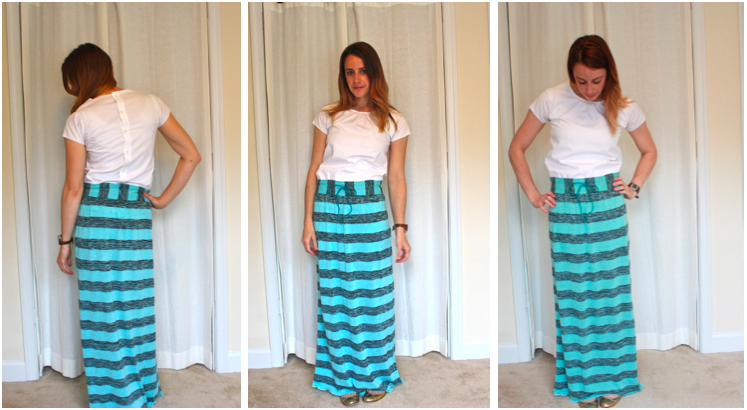 I've had this pile of heathered grey and turquoise stripe skirt sitting in my sewing closet for nine months. The day after Eliot's due date (and still two days before he was born) I needed something new to wear to church. I was ridiculously pregnant, impatient, and bordering on depressed. Since church didn't begin until 3 pm, I whipped up this really simple elastic waist maxi skirt, thinking that because of the elastic, I'd be able to wear it postpartum without a problem. Boy was I delusional! Even just after birth, the skirt was an inch two too big. And now, nine months later, the elastic waist was a full 5 inches larger than my waist. Taking it in was a simple and satisfying refashion.
All I had to do was unpick the elastic casing and remove the elastic. Then I took a couple inches off of the whole length of the skirt to keep it more straight. Rather than reinsert the elastic waist, I decided to make a more flat waistband separate from the skirt itself. That gave an opportunity to  turn the stripes vertical at the waist, too. Since there isn't elastic in the waistband, I wanted to have a draw string for easy cinching. Then I added a couple lines of stitching to keep the waistband flat and finished.
I wore it to church last week with my Jacki-O shirt refashion. The skirt feels like pajamas, but looks like an easy summer outfit. I dig it.
By the way…can you believe it's been 9 MONTHS since Eliot was born? I am working on a really cool project to celebrate, but I  haven't finished, yet. I will hopefully get to share it on Friday. Really cool.
Thanks for stopping by!