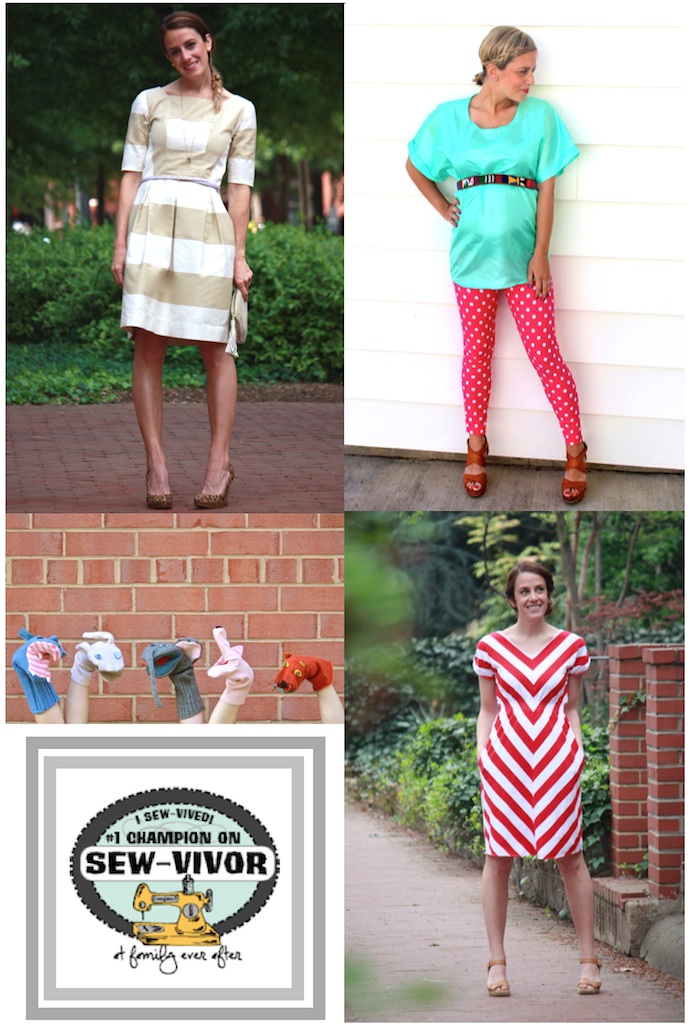 After linking up my entry on a whim in February, being picked for the top ten, then spending this whole last month cranking out a competition entry each week , today the Sewvivor Results were announced…and I won! Aahhh! 
It has been an amazing journey with lots of crazy unexpected twists, late nights of sewing, feeling totally nervous all day on voting days, and best of all,  great new friendships. I feel very blessed to have had the chance to get to know the other contestants, and the host Rachel. They are all really talented, awesome girls that I hope to work more with in the future.
I really appreciate all the support and love I received from you guys, my family, and friends. Your comments made me smile, your votes helped me stay in it! I really pushed myself creatively, and learned some new things along the way that have made me a better seamstress and (hopefully) a better person.
Here's a quick look back at the rounds:
Judge Inspired: I made the Summer Chevron Dress (tutorial here)
 Recycled or Repurposed: I made these Sweater Sleeve Hand Puppets
 Sew for Someone Else: I made Emmy a Stylish, Comfy Maternity outfit
Anything with Pleats: I made a dress and clutch with Stripes, Leather, Fringe, and Pleats
Whew! Wears me out all over again! But how fun.
I'm going to take a little break from sewing today and spend the morning at the letterpress studio (making time for my second favorite hobby:))
I hope you all have a really awesome weekend, filled with the things you love most!
xoxo