Happy Friday! I'm ready for the weekend, that's for sure. I was full of nerves Tuesday (getting ready for week one of Sewvivor) and Wednesday (waiting for the week one Sewvivor results). Yesterday I found out I MADE THE TOP 8!! (so I have a couple days to breathe before next week's voting gives me an ulcer;) Thank you so much for all of your votes and support! I am so excited to be moving on in the competition, and hope you enjoy following along with my projects. The challenge for next week is to make something out of something else…I think you're going to like what I came up with! And I should have a tutorial for the Summer Chevron Dress ready next week.
Along with the chevron dress, I have a new favorite summer dig: Scout Woven Tee.
I stumbled upon Jen's blog a couple months ago and have been so blown away by her designing and sewing. She also has some amazing and really well put together tutorials. This tee is one of the patterns she sells, and I couldn't resist it. It's a simple, easy fitting, short-sleeved tee. Absolutely wonderful for summer.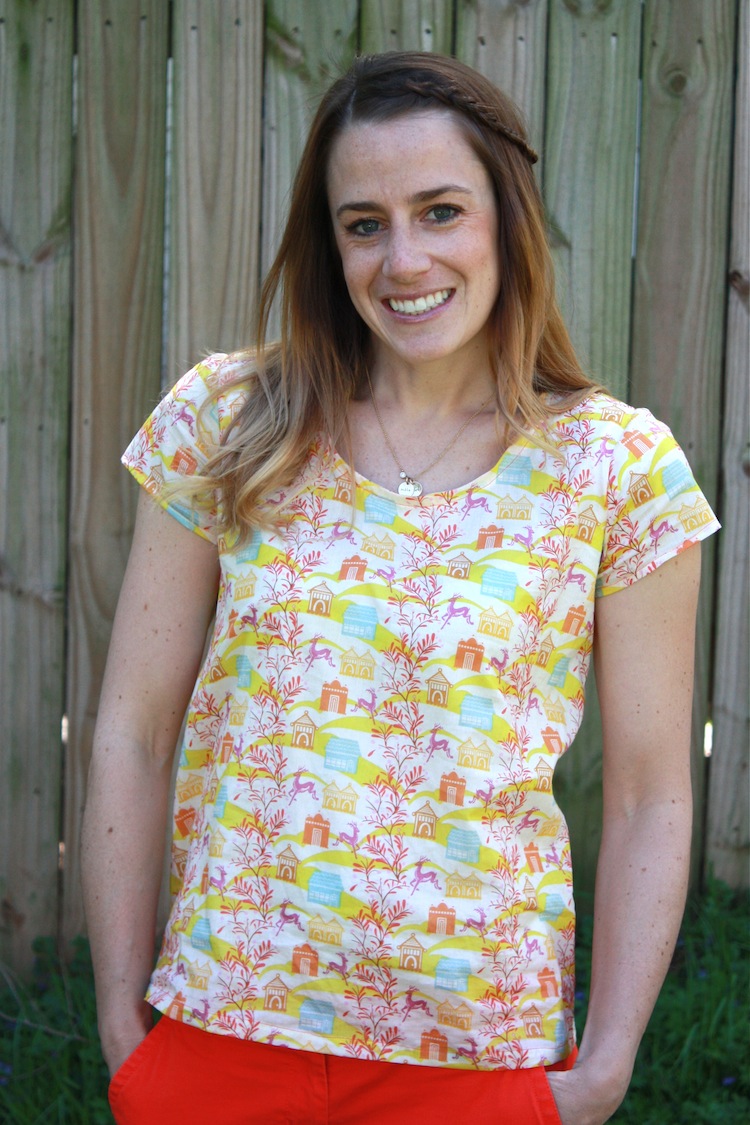 I made it from a super lightweight cotton voile that I bought almost two years ago just because I loved it (even though this weird-looking smile says I hate it. I really do love it.) I've been saving it for the perfect project, and this made the cut.
This was my first time sewing with french seams, and my first time using a facing at the neckline. Both went smashingly, I'd say. Most seamstresses are afraid of sewing with knits–but I feel just the opposite! I am super comfortable sewing stretchy fabric, and tend to shy away from basic woven clothing. This Scout Woven Tee might convert me. I have plans to make it in a couple different fabrics, with some fun additions and modifications. You should try it, too!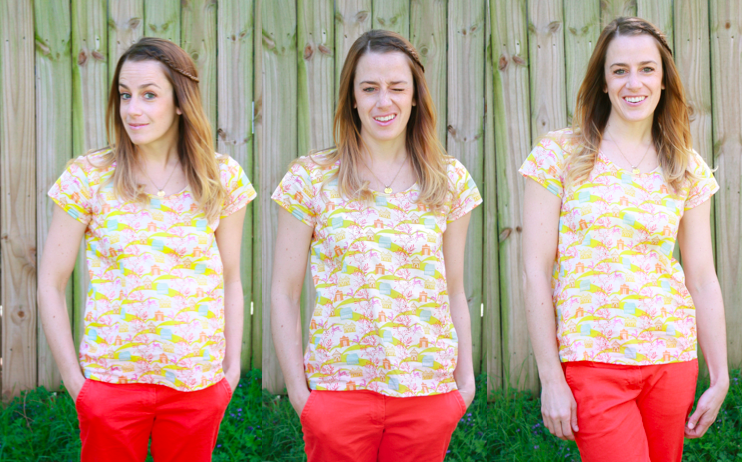 This weekend I am going to:
continue working on the Bow Dress pattern (yep, get excited.)
screen print a new batch of Project Baby Tees
maybe take Dave to the pop-up carnival at the local mall for date night
teach about the Last Supper at the Church Easter Party
swipe some of Milo's egg hunt loot
maybe make myself an Easter dress
sing in church on Easter Sunday
try to find Eliot's missing shoe
It will  also be a good time to check back in with my priorities, and make sure I'm staying balanced. I hope you have a beautiful Easter holiday with family and friends, remembering that we can have hope in Christ.