*Update: Sewvivor 2012 is over and I won! Thank you so much for all of your support!
 I am so excited to reveal my project for the final round: Make Something with PLEATS!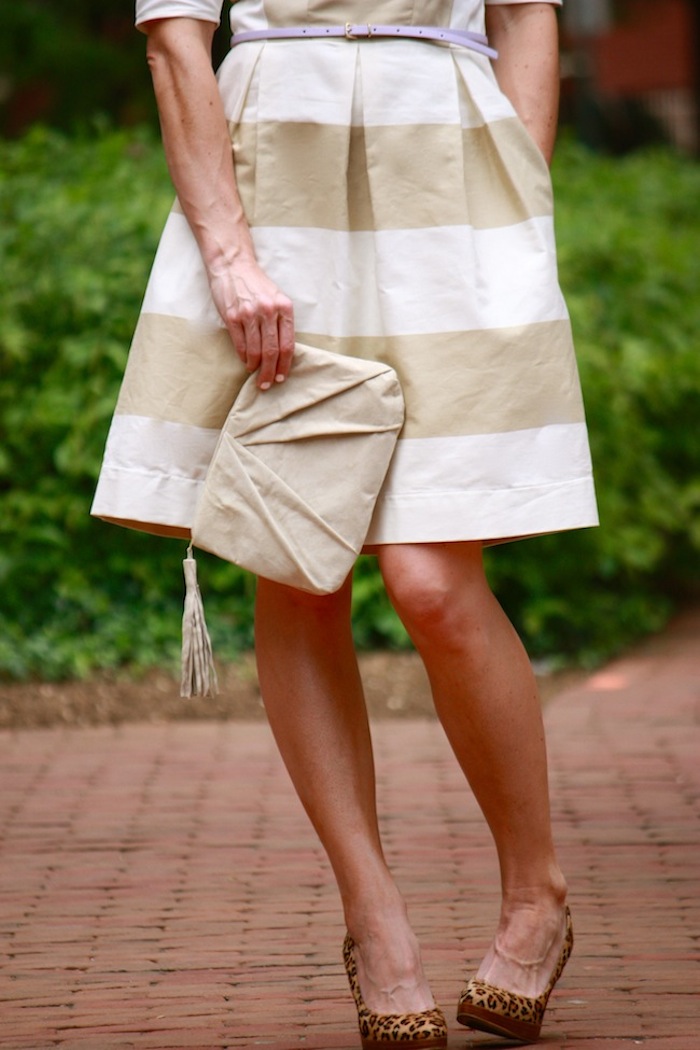 I love pleats (see here and here and here). They are classic and versatile, and when paired with the right material, really make a statement. My entry for this week pairs a classic pleated silhouette with an unexpected striped fabric. And I made a clutch. Out of leather. With a tassel. I'm pretty much in love.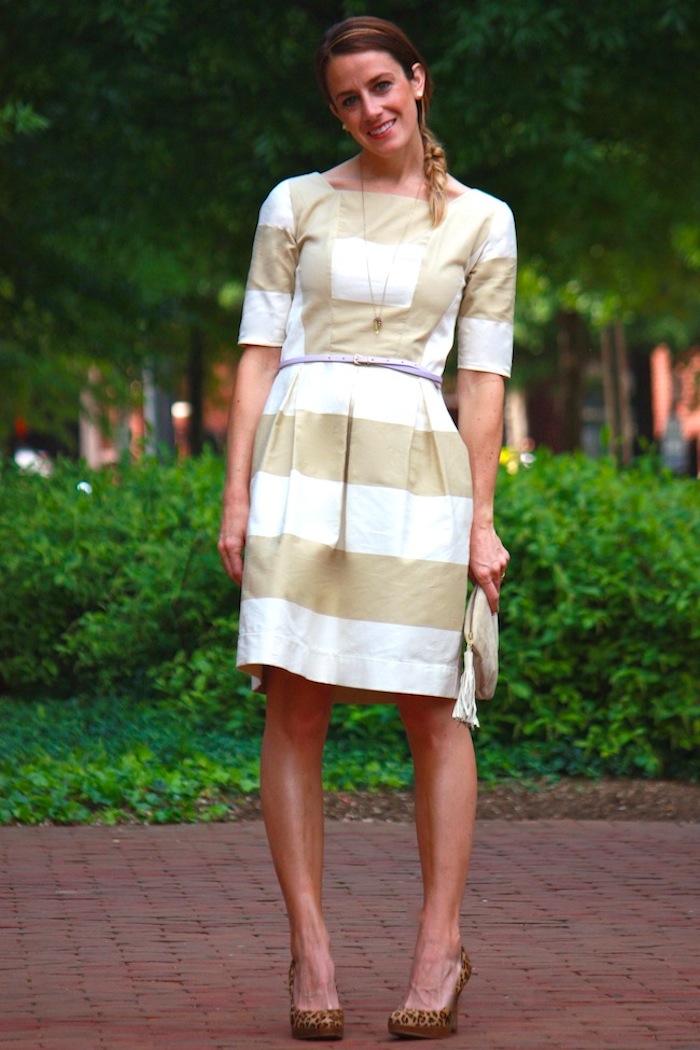 When I saw this striped cream and tan cotton upholstery fabric on my daycation to Charlottesville a couple months ago, I immediately knew it would need to become a dress with a wide box pleated skirt. At that point I had entered Sewvivor, but didn't yet know I would be competing, let alone in the final round! This week's challenge gave the perfect opportunity to create the dress I was designing in my mind. Horizontal stripes on the skirt, front panel of the bodice, and sleeves…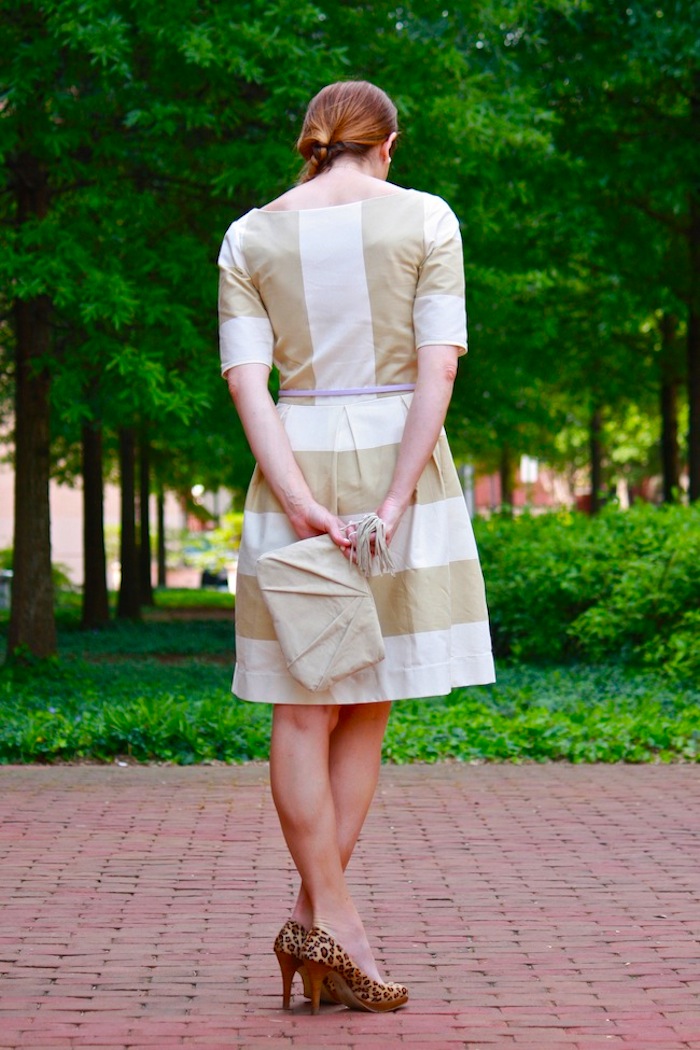 Vertical stripes on the sides and back of the bodice, just for fun!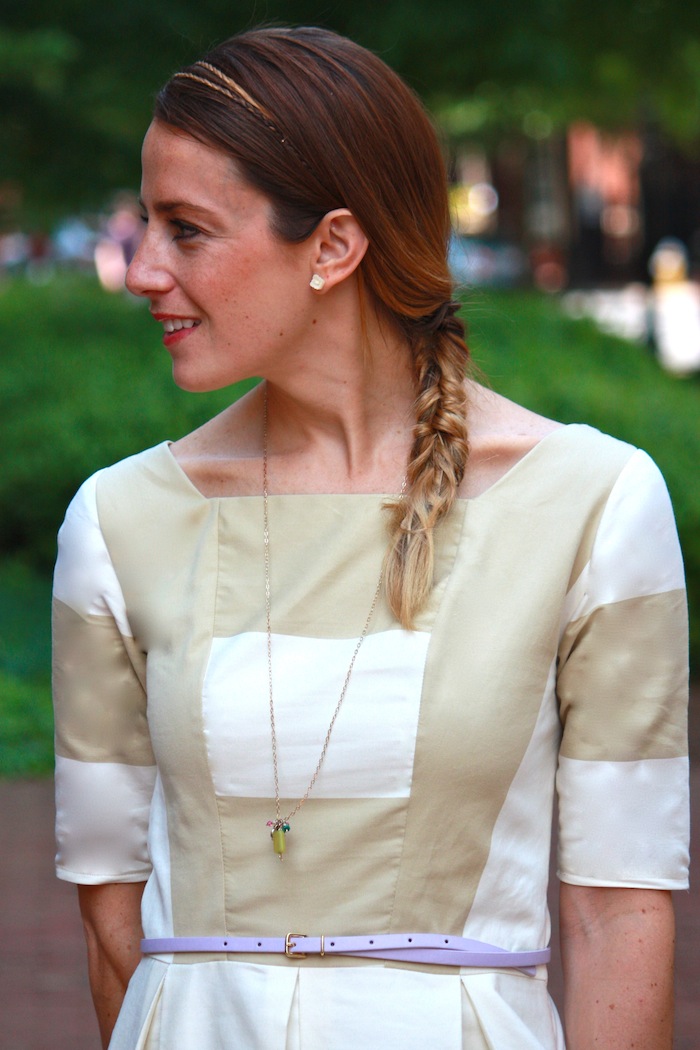 I created the pattern from scratch, draping onto my dress form to make the pieces fit together just right. I took great detail to align everything just so. The stripes on the front continue seamlessly onto the skirt (no…actually there is a seam there, but the colors continue seamlessly;)) The cream stripes on the side front panels, meet the cream stripes on the back panel, allowing the stripes to continue around the bodice and the cream stripe to fall exactly center on the back.
The horizontal stripes on the sleeves are inverted colors to the bodice, mainly because I was dealing with scraps of my one single yard of fabric at that point, and that's how they fit, but I think I would have chosen that regardless, because I love how the cream of the sleeve meets the tan of the shoulder, continuing the stripe there, as well. And how about elbow-length sleeves? I love them, and they're so rare to find.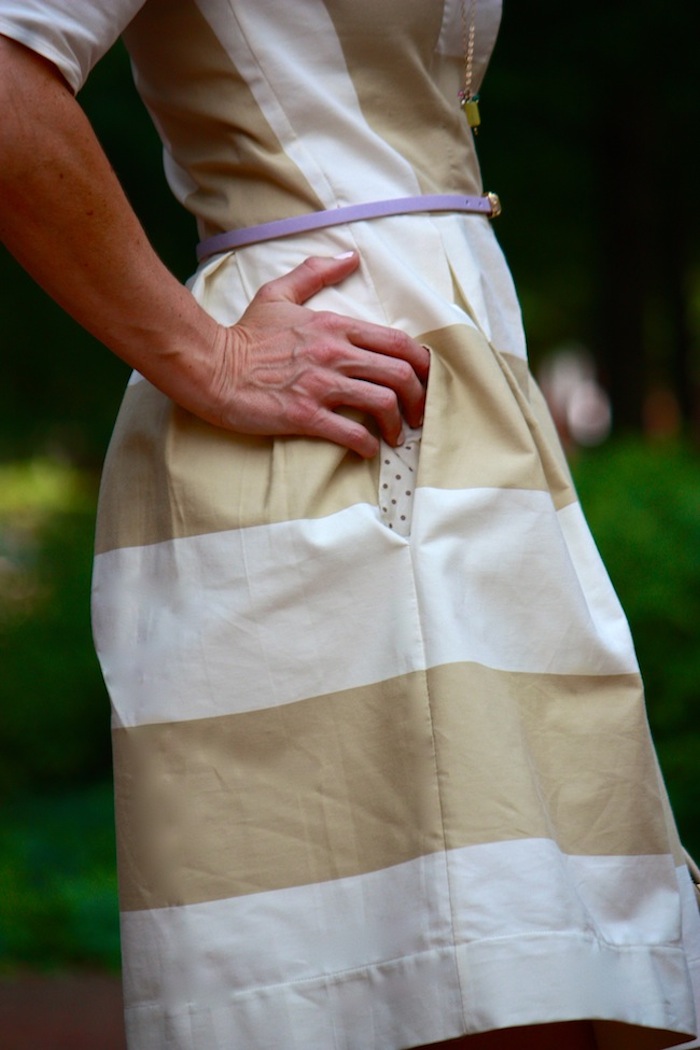 Aligning the pleats to the exact center on the front and back was a little trickier than I planned. I finally unpicked both sides seams, pinned them in place, sewed the separate pieces to the bodice, then went back down the side seams. I used my stripe matching skills to align the stripes on the skirt exactly. Oh, and of course I added fun pockets. Thought the dress could use a little  polka dot with all that stripe!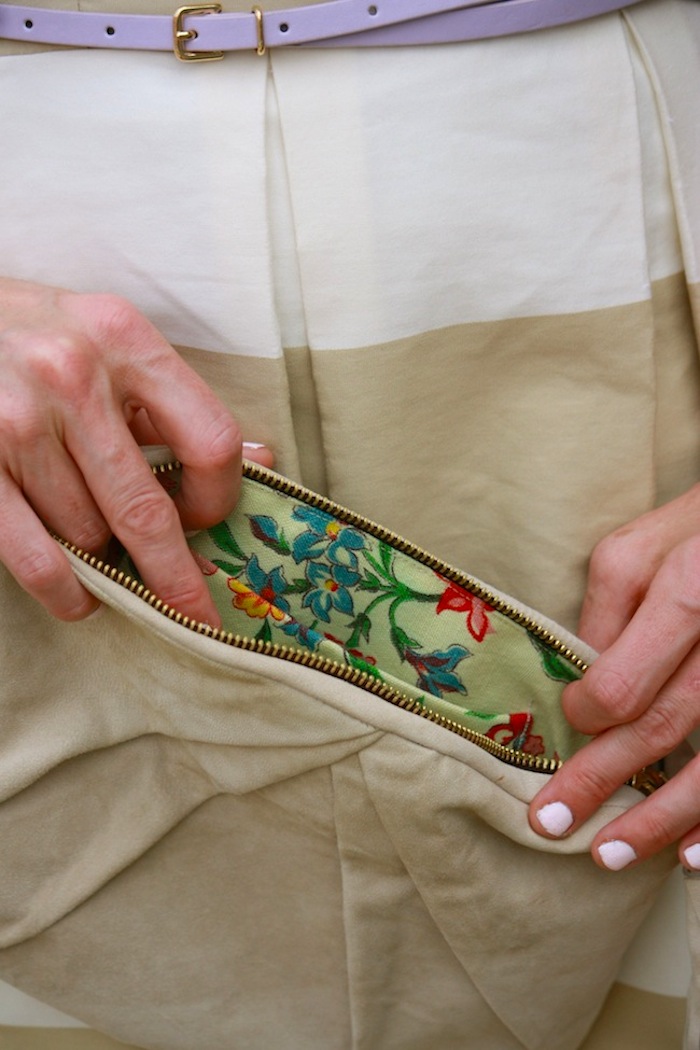 Making the clutch was a totally new experience for me. I had never attempted more than a simple tote bag, and never used leather with my sewing machine! I used this pattern, which turned out to be really clearly laid out and easier to follow than I expected. The soft, calf-skin suede that I used was fun to work with, and I love the texture. It's dreamy. I lined the clutch, including the little interior iPhone pocket (for real-the exact dimensions of an iPhone!) with a vintage floral linen that I bought a couple years ago at the Alameda Flea Market. No project has seemed special enough to use it on, until now!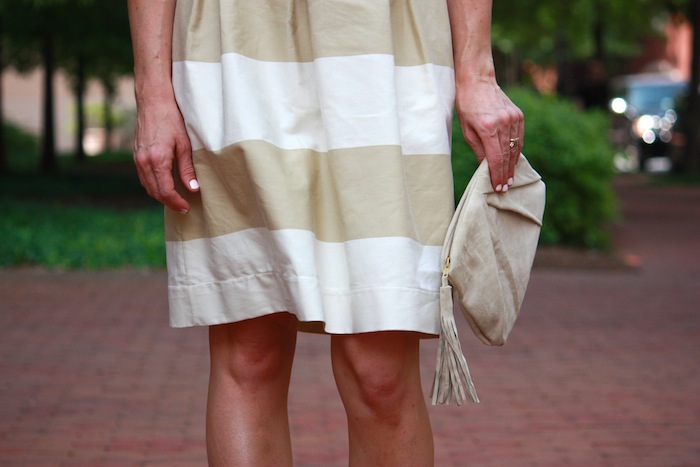 Possibly my very favorite part of the clutch is the long fringe tassel that I made for the zipper pull. I had just enough leather left over after the clutch to slice into strips, and roll up into this funky tassel.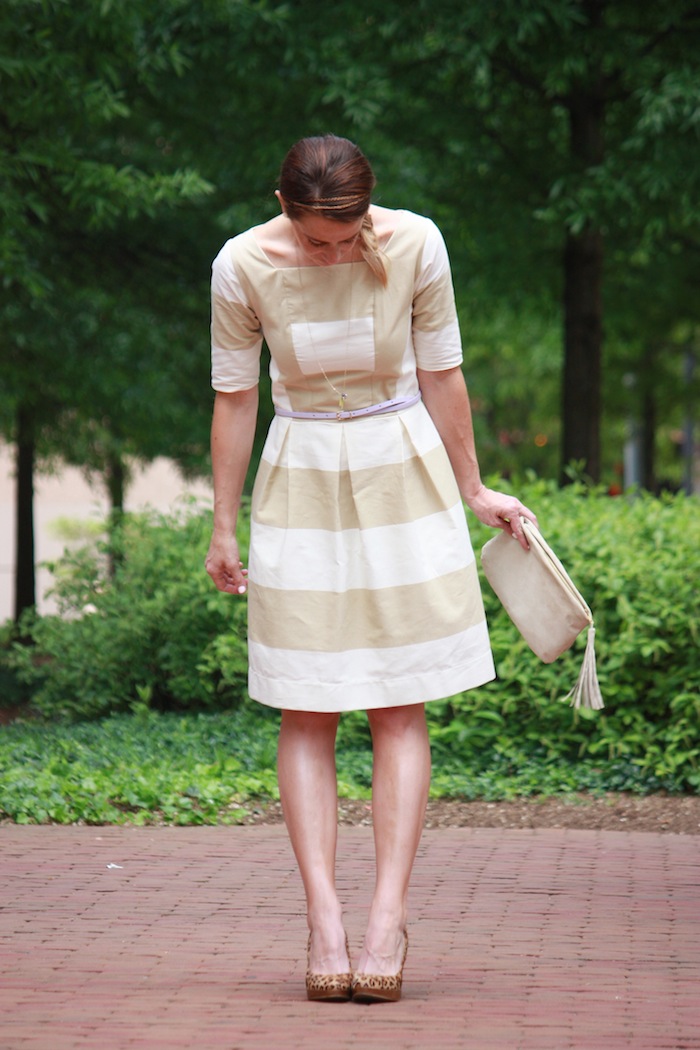 (Earrings: c/o Pretty Little Me, Necklace: made by me, Belt: J.Crew, Shoes: Bakers, borrowed from a friend)
So, what do you think? I'm going to go ahead and declare this my favorite project of the competition, and possibly two of my favorite things I've ever made for myself. So, regardless of today's outcome, I am a winner.
(but seriously, I really do want to ACTUALLY win, so head over and VOTE!! and feel free to share on twitter, facebook, text, etc to invite others to vote as well!! I'll take all the help I can get. Thank you!)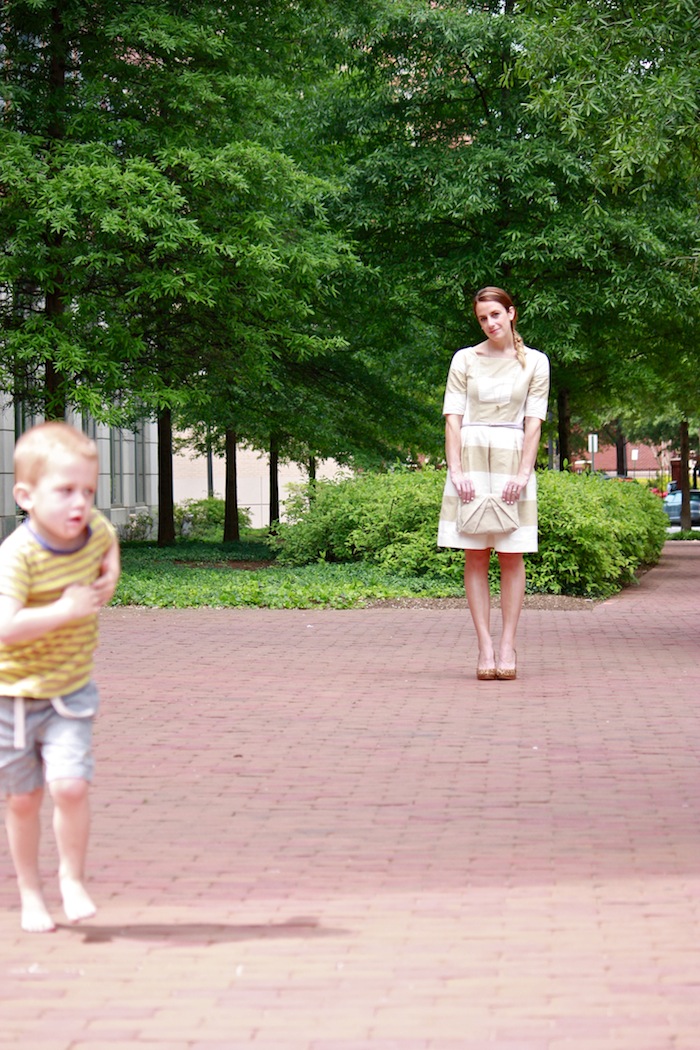 P.S. a HUGE thank you to my dear family for being so supportive throughout these last four crazy busy weeks! Of the little time Dave and I have together on the weekends, he played babysitter and (awesome) photographer so I could prepare my entries.