A couple weeks ago, Dave and I took the boys camping for the first time. I mentioned feeling a little curious about how the weekend would go, because it had been so long since either of us had spent much time roughing it! I needn't have been worried. It felt immediately familiar and comfortable. In fact, it took me back to my days camping as a youngster. My dad took us pretty often, and everything he did is now what I think of as "camping". Like eating egg and cheese McMuffins and Pop Tarts for breakfast. Or rolling up the sleeping bags during the day, so there is room for moving around in the tent. Dave jokingly told me he felt like he had spent the weekend camping with my dad. Sounds good to me!
I was very thorough packing the car. To the point that there was barely room for the four of us to sit! Between the pack and play, tent, pillows, cooler, food bin, clothes duffle and a couple small books and toys for the road, we were prepared for it all!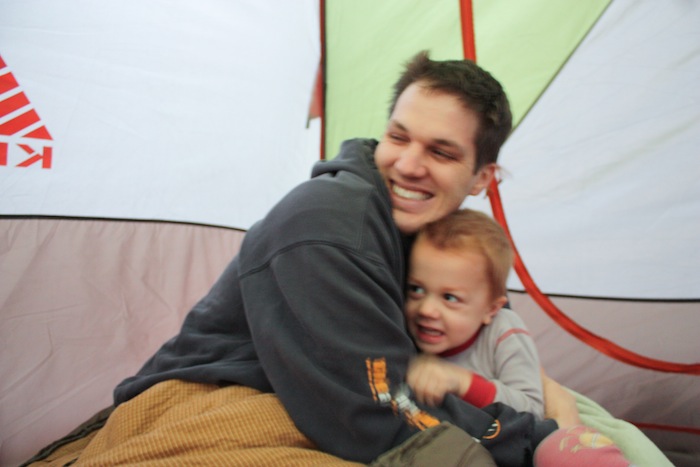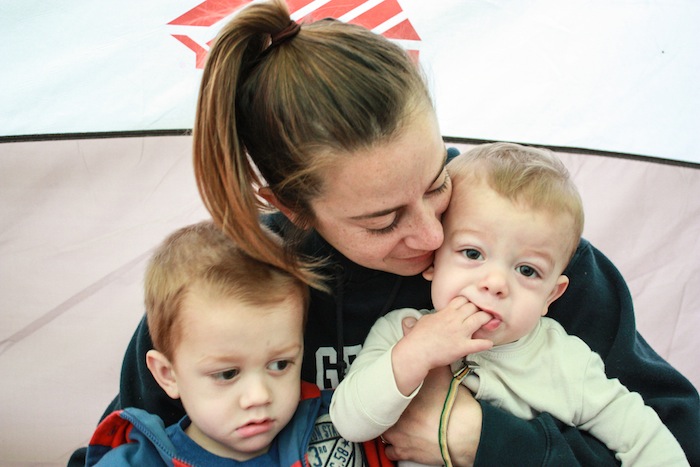 I was completely thrilled with how well the boys slept. We arrived after dark and once the tent was up, Eliot went right to sleep in the pack and play. Milo stayed up with us through lighting a small campfire and roasting the first marshmallows, then he was ready for bed when we were. I think it was a good strategy with Milo to let him stay up with us. There's no way he would have fallen asleep by himself in the tent, and by the time one of us could lay with him while he fell asleep, the other would have been ready to turn in anyway. We were lucky, though, that both of them slept easily through the night and woke up pretty happy. I loved the morning snuggle fest in the sleeping bags. Clearly Milo and Eliot loved it, too;)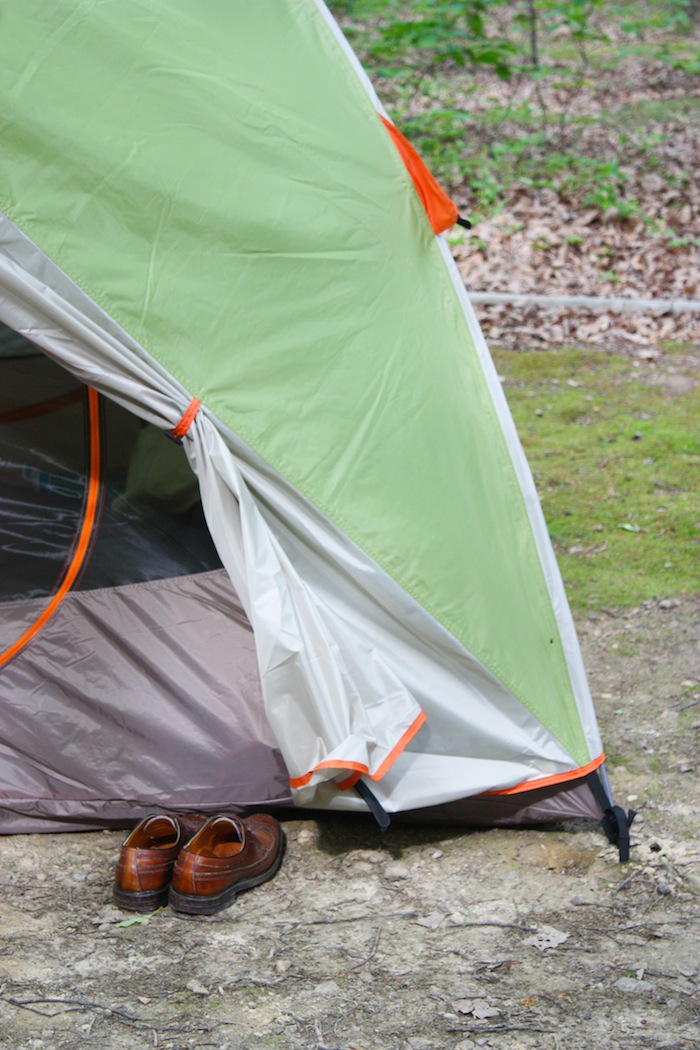 We had to chuckle a little bit about us city folk being out in the woods. I picked Dave up from work for the trip, and so his suit stayed with us. His wingtips gave our tent door a dash of business class.
Mmmm. Pop Tarts and Egg and Cheese McMuffins for breakfast. If there ever is a good time to eat a Pop Tart, it's camping with kids. This was my first time using the camp stove that I bought months ago in the middle of a big hurricane scare.  I loved cooking with it, and sort of want to use it in my kitchen now. (I'm totally over electric ranges, but that's another story.)
One of the challenges of the trip was to figure our what exactly to do with Eliot. He couldn't easily crawl around because of the layer of leaves that blanketed the ground. And he would have gotten super dirty and eaten handfulls of sand. I don't mind a little dirt on my kids, but this would have been unhealthy. He was happy standing next to the picnic table for a while, but then I was sitting right next to him. I thought several times that camping with him will be much easier in a couple months when he's walking comfortably.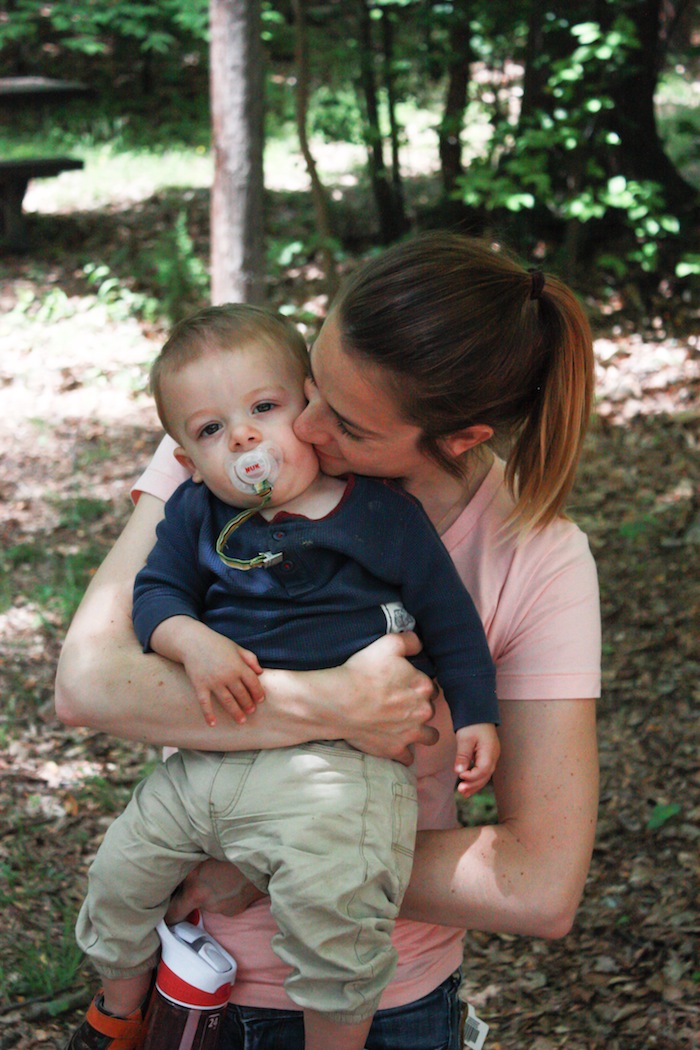 So, he spent most of the weekend in my arms, which made both of us very happy. Oh, how I adore this little bug.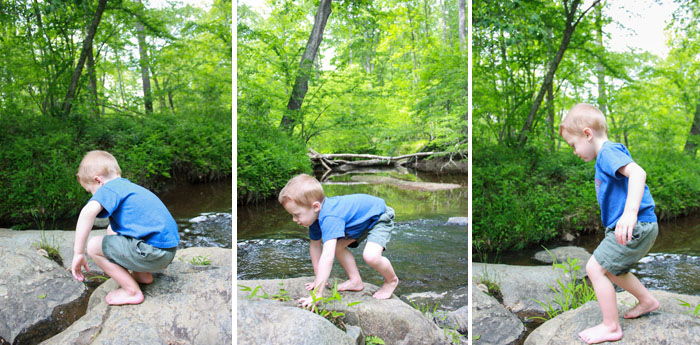 The Forrest where we camped has a bunch of hiking trails, and we chose one that was only about a mile and ended at a waterfall. Milo wandered the trail well. He loved pointing out leaves and stuff along the way. And gathering sticks of course! We all laughed about the size of the "waterfall".  It was basically a small river rapid. You know, the perfect spot for dipping our feet into the freezing water. We hung around on the rocks for awhile while Milo explored and tried his hand at throwing things in the river to see Daddy retrieve them. Like Eliot's sippy cup. And Eliot's shoe. Good thing Dave is a great retriever.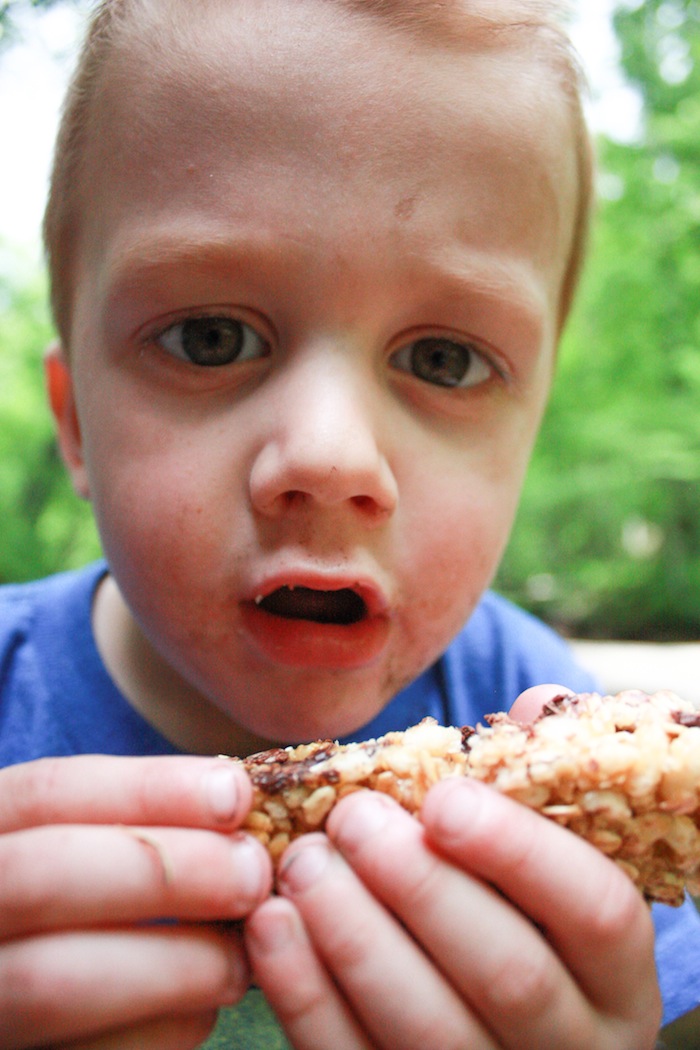 What's a hike without a granola bar? We packed snacks of all varieties for the trip, and it definitely made it awesome. Both because it's fun to eat licorice and donuts, and because the novelty of new snacks helped maintain an upbeat and positive experience. All four of us were in great moods and really content with the trip. I think we were all really rejuvenated by being outdoors and spending such fun time together. And the licorice helped, too.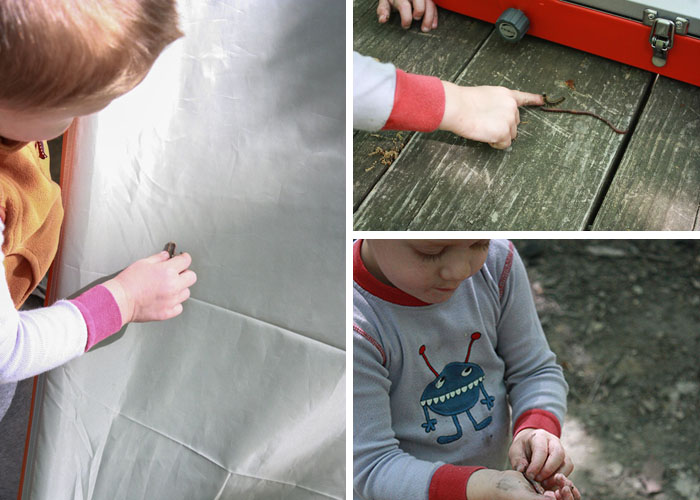 One of the coolest things about nature to a three-year-old? BUGS. Milo made great friends with several worms and a caterpillar. I'm not particularly fond of bugs, but it was cool to see how Milo played with them and was interested in them. During the night, when the temperature was a little cooler, dozens of Daddy Long Leg spiders would creep under the rain fly of the tent and perch onto the outside of the screened roof. In the morning, before we crawled out to make breakfast, Milo would point them out one by one and I would flick them off the tent with my fingers. Pretty awesome game, right? It sure was for us.
One of the fun things about camping, is that camping counts as doing something, so just hanging out at camp feels like an experience. I was so happy to find this hammock in our camping gear, and I tied it up between two trees with some really random rope I found in my trunk. The boys had blast hanging out in it for a few minutes. Then the twine broke and Dave fell right into that stump you can see beneath him. Eliot fell on top of Dave and was freaked out. Milo's side stayed high enough that he wasn't at all hurt. That (and the notice from the ranger that you needed 1.5″ straps to hand a hammock) was the end of the hammock on this trip. I'm really excited to take it next time (with some 1.5″ straps).
S'mores always play a big role in camping trips, and it was fun to use our personalized roasting forks for the first time. On these first ones I used some scrap canvas, instead of the denim. On top of being really cute and really useful, the name tags helped Milo practice his letters, and make sure each of us was using the right stick! "M" for mom and "M" for Milo got a little confusing, but we sorted it out with the "I" and "O".
My Eagle Scout husband made wonderful little fires using sticks that we gathered. The first night, this is about as big as it got. Perfect for one little s'more. The next night, our good friends had joined the fun, and both Dave and Joseph worked on the fire and all we seemed to get was smoke. Little bursts of occasional flame, but mostly smolder. The chocolate and marshmallows didn't seem to mind much. My friend Maren brought these Coconut Dream cookies for totally decadent s'mores and they. were. awesome.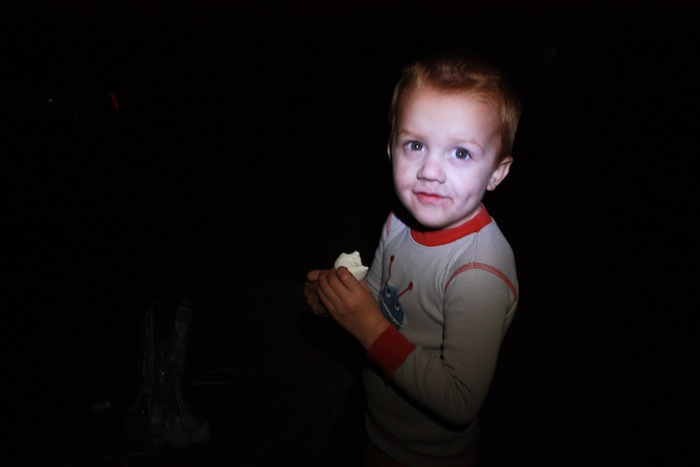 The end of the trip came too quickly. We were left feeling really excited for the next chance we'll have to go camping with the boys. I loved being outside with my family, making friends with worms, collecting sticks and connecting back to nature. I'm sure the boys won't remember this trip, but the ones like it to come will hopefully form in them a comfort in and love of the outdoors. And maybe one day their wives will feel like they've spent the weekend camping with their mother-in-law. And like it!