I'll be enjoying spending time with my family in Utah for a couple weeks. While I'm away I am sharing some favorite little bits and pieces from around my home in this mini-series called Home (Away from Home). We live in a 900 square foot apartment outside of Washington DC, and I try to be thoughtful about the way we use our space and the items we fill it with. I have  a pretty eclectic style, and feel like if I love something, it will work, regardless of whether or not things "go together."  I hope you enjoy these little glimpses of my home. xoxo
I love a good gallery wall, and worked on collecting pieces for mine for months. I didn't want to spend the money for all new frames, and like a more eclectic look anyway, so I decided to buy used and refinish most of them myself.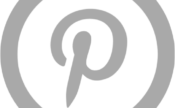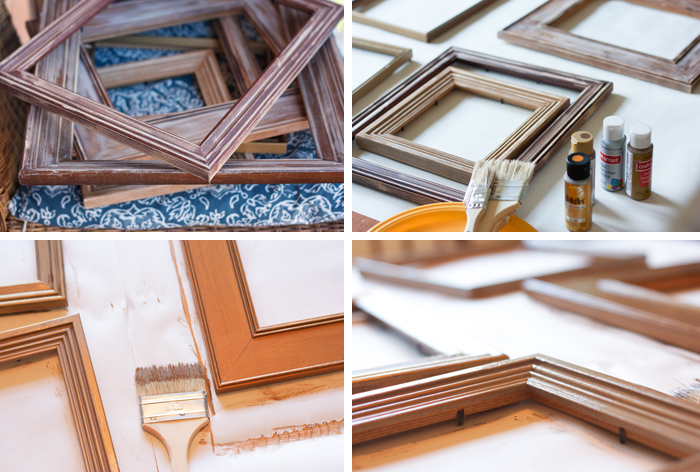 Thrift stores are full of great old frames. I searched for those that were all wood, seemed really sturdy, and had the glass intact. I bought a variety of sizes, sort of eyeballing what I would need, figuring I could use mattes to make up the difference. I decided to refinish them with a variety of metallic hues and black to have the same feel as most of the other frames in my house.
First, I took out the art/photos, removed the glass and all hardware, and sanded them down. Next I wiped them clean and painted them with metallic acrylic paints. Some I used just one hue, and some I added texture to with a couple. After letting them dry I covered over each with a clear gloss spray paint to keep the paint intact. The final step was to add the art! Here's a few of my favorites: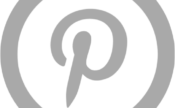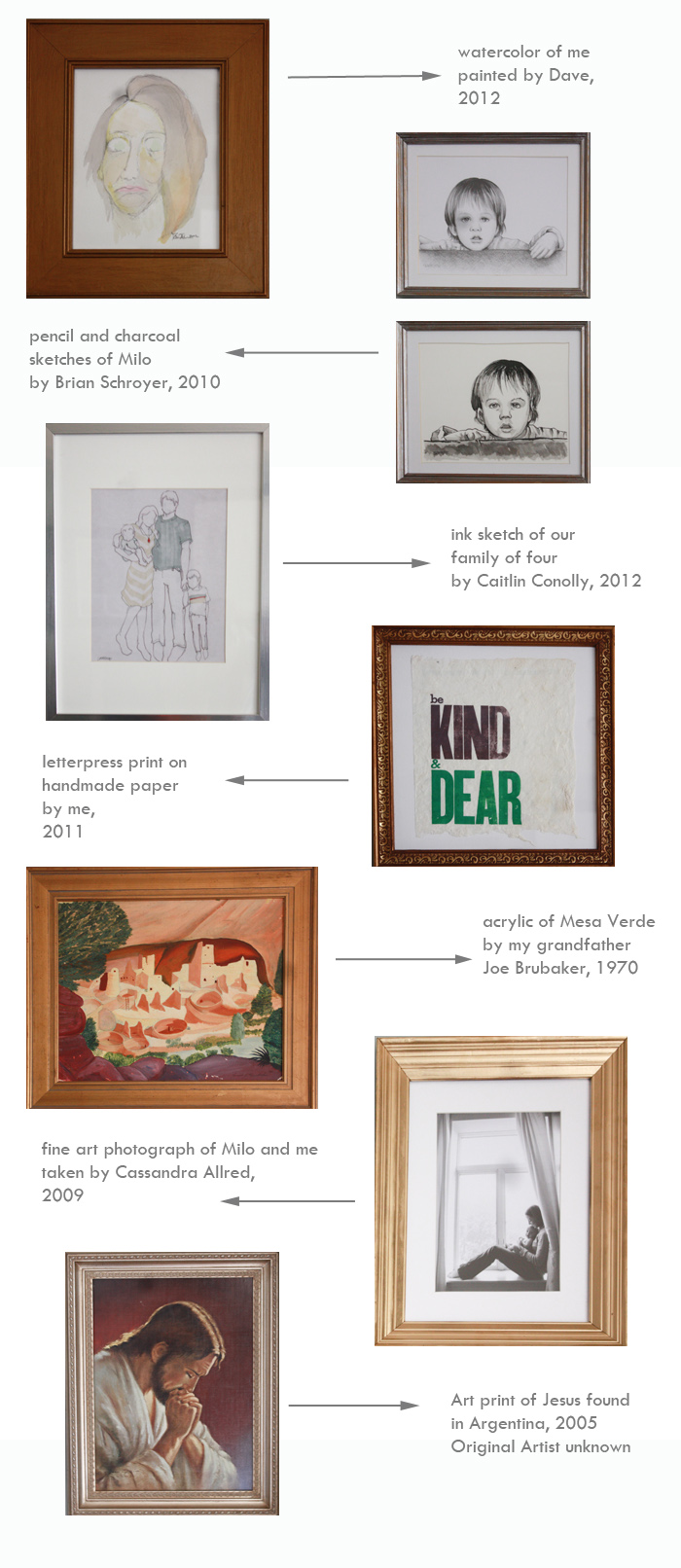 I didn't think very much about whether or not these pieces went together, I just added what I love. I am a total sucker for original art, and have been lucky to have some meaningful pieces.
The watercolor portrait of me was painted by Dave a few months ago. I planned an at-home date night where we both painted live portraits of eachother, sitting at the dining room table. His blew me away with this thoughtful and interesting painting (you'll notice mine of him is not hanging…).
The sketches of Milo were done by our dear and super talented friend Brian Schroyer. We sent him a photo from Milo's 18 month photo session and these are what he sent back (one is a pencil sketch, the other a watercolor, despite my mislabeling it a charcoal). I only expected one portrait, and I adore that he sent these two, every so slightly different ones. I love them hanging together.
The family portriat by Caitlin Conolly was my Father's Day gift to Dave. I adore Caitlin's work (Eliot's bird painting is by Caitlin, too), and am so happy with this sketch of our little family.
I created the "Be Kind & Dear" letterpress art print after a week away with just my boys. It is a line from the Children's Hymn "I am a Child of God" and a good reminder for me of the responsibility I have to be a loving mother to these wonderful boys God has given me.
When my grandfather downsized and moved from his home last year, he invited all of the grandchildren over to see if they wanted any of the senitmental remainders of his home decor. I happend to be in town just then, and was thrilled to acquire this acrylic painting he painted years ago. He mentioned that everyone else had wanted the paintings done by my grandma, but there his sat. Until he mentioned it, I hadn't realize he painted it himself, and of course that added a huge measure of sentimental value to what was already a cool painting. He's not a painter, and I don't know that he completed many (if any) other paintings in his adult life. He told me this one was made as part of a class offered as a diversion by Kennecott Copper, where he worked as an engineer for years and years. I love imagining him and my grandma heading over to the community center together to work on their paintings. She's no longer here, and he is getting older. This piece is especially meaningful to me.
The portrait of Milo and me sitting in the windowsill has been one of my all time favorite portraits of motherhood. It was captured by one of my best friends, the incredibly talented Cassandra Allred. It makes me yearn for more quiet moments to sit and just be with my boys.
When I spotted this print of Jesus at a roadside art sale in Pinamar, Argentina I had to have it. I was serving a prostlytizing mission at the time, and it was a little odd to haul the large print around as I finished out my months as a full-time missionary, but I wanted this to hang in my home forever. I believe in Jesus Christ, and that faith forms the foundation of my life. There are not many depictions of the Savior that touch me quite like this one. It is the only non-original painting that I have hanging in my house (not that I haven't tried to decipher the signature of the author to see how many thousands the original would put me back…) I love that Milo recognizes that it is Jesus, and the Saviors influence is part of our daily life at home.
There are a couple other photographs up, too. A favorite of baby Eliot with his signature quiet stare, another of busy Milo waving an excited hello, and one of college-age Dave playing rugby for the University of Utah. It's a hodge podge of things that are meaningful to us, and definitely one of my favorite parts of my home.