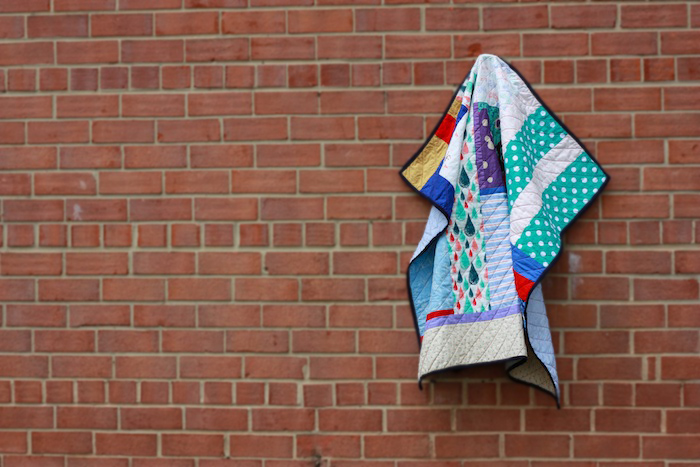 It wasn't until a couple years ago that I realized the vast worlds of difference between quilters and apparel sewists. I was new in the DC area and was invited to a fabric swap at my new friend Katie's home. I was excited to be included with a group of like-hobbied women, and gathered up a bag of some of my favorite chunks of fabric to share. Most was home decor fabric, but I also had a few half-yards of knit jersey and maybe a couple scraps of satin and lace.
When everyone started breaking out their scraps and filling the table, I was awakened to a new world of fabric. These cute quilters were lovingly placing three-inch squares of brightly-colored prints into gradient order. There were a hundred different quilting fabrics, and everyone (except for me!) seemed to know who had designed them (uh…people design fabric…?), what year they had been released (um…released…?), and which of the five most recent quilt they had been woven into. I left the knit and satin in the bag, and my home decor pieces took up about a quarter of the table, at around a half-yard each.
I had a delightful time choosing some bits and pieces that I figured I could use for appliques or bow ties for my then-baby boy. Katie was a kind host and feigned interest in one of my fabrics (I think so I wouldn't feel so out-of-place), mentioning she'd been needing a new pillow. I listened with curiosity as new quilt patterns were discussed. I had never made a quilt. Never even thought about it. So, I decided I should give it a try! A few weeks later, I was invited to Katie's house again, this time for a quilting night. I came prepared with some fabric and this zig zag quilt pattern in mind, and spent a couple hours cutting and stitching squares. Then, I put the pieces into a bag for later. And never took them out again! In fact, the bag is still sitting in my sewing closet…way down on the low priority shelf!
There is something that intimidates me about quilting.
Maybe its that I think it takes too long?  I'm sort of a nap-time seamstress, and more than a couple days on one project begins to wear me out.
Maybe I'm afraid of sewing straight lines? I'm comfortable with the round and three-dimensionality of garment construction, not so much with the squareness of blocks.
Maybe I don't trust my instinct now that I know there is such a vast quilting world? I could be a little bit afraid of doing it wrong.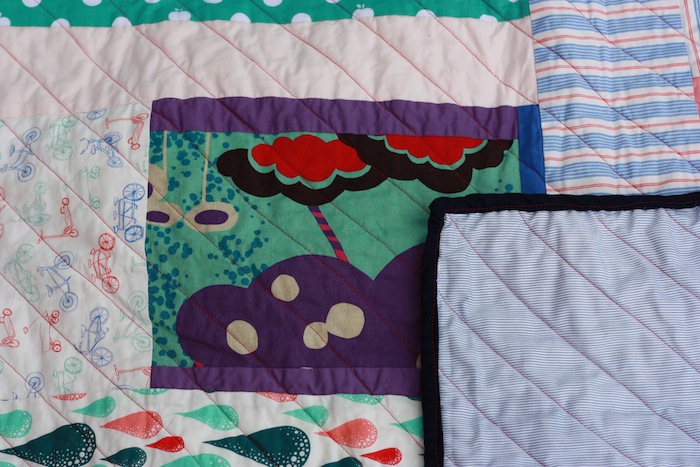 Last year, when I read about Katie hosting the second annual 100 Quilts for Kids charity drive on her delightful blog Swim, Bike, Quilt, I wanted to participate. Unfortunately, the dates fell right within my busy custom Halloween costume season, and I wasn't able to make time. I did, however get inspired to make my very first quilt as a Christmas gift for my second baby boy. The simple, strip-quilt format was something I could wrap my head around, and I am still thrilled with how it turned out. We use it every day.
When I heard it was time for 100 Quilts for Kids again this year, I committed to get over my quilting reservations and make a quilt for charity.
The only way I could get going on this quilt was to set aside all of my ideas about which fabrics from which lines I ought to use, and how the quilt should be constructed. I had to let go of my fear of doing it wrong, and just do it. I raided my stash of fabric (now a little more replete with quilting cottons) trying to pull together both some more current, novelty prints (most from Raspberry Creek Fabric), some bright solids, and a couple older favorites. I cut them all into squared-off strips and blocks, then settled down with my machine and began randomly piecing them together.
Luckily, sometime in the last year, Katie taught me about squaring off edges before adding to them, so I was able to build semi-straight sections. After I built a block (well, more like a grouping) that felt complete, I put it aside and worked on another. After four or five, I began laying them out on top of the striped cotton shirting that I had chosen for the quilt back. I had already cut it to 44″ x 44″, and now could arrange the blocks and fill in the holes. I built the design based on colors and balance, adding and moving as I felt it improved on the whole. The process was really fun and free, and I felt confident with the result.
I finished the quilt top around 10 pm, and double-dog-dared myself to sandwich and bind it before bed. After sandwiching and pinning the layers all of the sudden I remembered something: I needed to QUILT the quilt! Haha, sort of an important step, right? I briefly considered experimenting with free-motion quilting. Then I got real and busted out my new walking foot (I'll save that craziness for another day!) I used the cardboard tube from a bolt of chiffon to draw a straight line from corner to corner, and then added lines on either side until it was finished. Are the lines all completely straight? No. Is that okay? Yes. Like with my first quilt, I bound the edges with double-fold bias tape rather than single fold. This time I didn't unpick it, but just went with it. Old habits die hard, I guess. Next time I'll remember…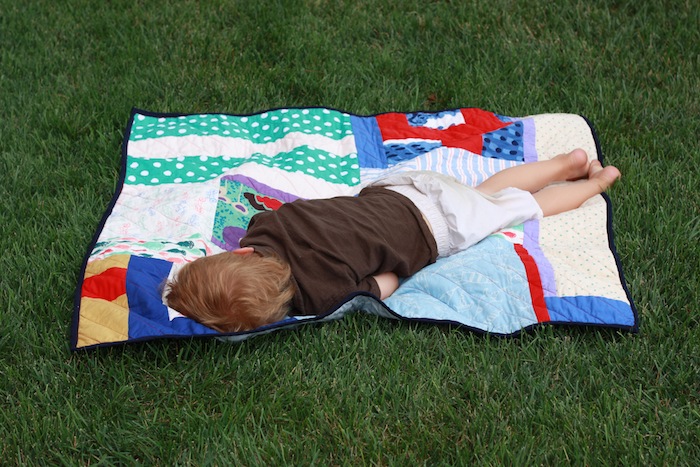 After a wash and dry (and an official trial by Milo), the Double Dog Dare Quilt was officially finished. The process of making this quilt was such a wonderful creative experience (even though it was quick!) and I feel a little attached to it. Something about letting myself just be myself, even though I was making a quilt, was really cool. The chance to give it away only sweetens the experience. I hope whoever receives it will enjoy it's boldness, and delight in it's warmth.
To celebrate the amazing opportunity that 100 Quilts for Kids provides for us to step outside of our comfort zone and share little pieces of ourselves with others, One Little Minute Sponsor Diana at Raspberry Creek Fabric is offering an awesome giveaway today! One winner will receive TWO half-yard bundles of the darling aqua, grey and, orange Flea Market Fancy. Why two of the same bundle? One for you to keep, and one to give away! I would love to see the winner use the second bundle to make a quilt for charity:)
I am trying out a rafflecopter giveway today, so bear with me if it seems different. To enter, simply click below on the Rafflecopter widget. The only required step is to leave a comment mentioning what you will do with the extra bundle. There are additional entries allowed, but not required. The giveaway ends on Thursday, and I'll announce a winner Friday.
Because the giveaway will be managed this way, feel free to use the comment section for feedback and questions. I'll be happy to respond, as usual!