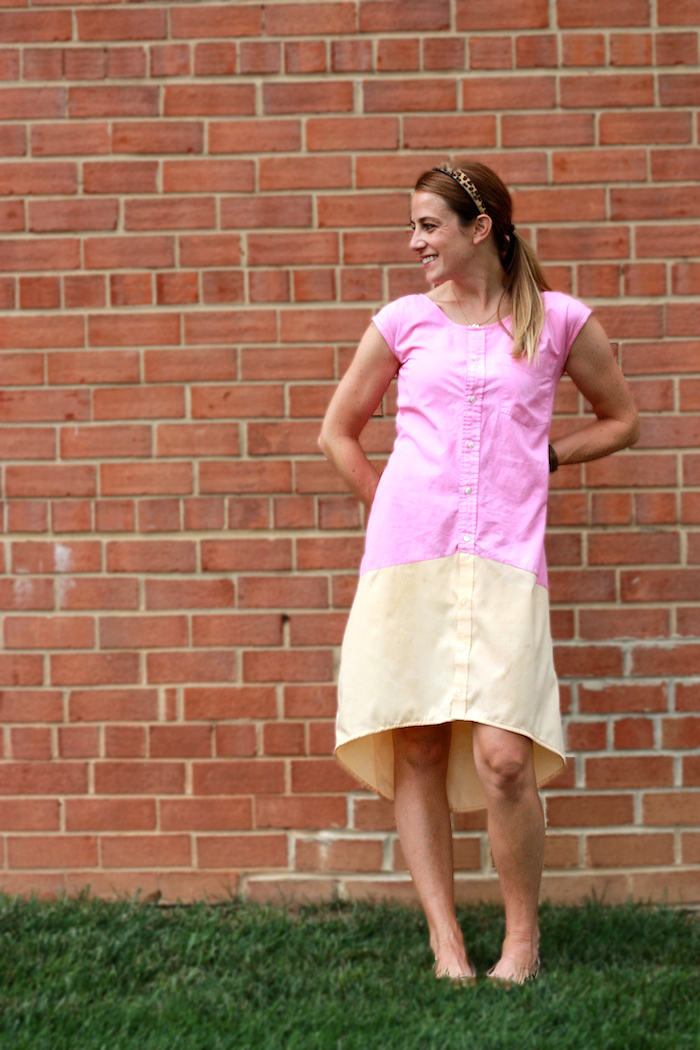 Happy Friday! Do you have some fun plans? I'm excited for pizza night (which at our house is every Friday!) I usually make homemade, but tonight we're taking advantage of the new, close Little Caesars. Can't really argue with a $5 Hot-N-Ready, right?  Over the weekend we've got plans to participate in a grounds maintenance service project at a local elementary school. I can't wait to see Milo set loose with a shovel in a patch of weeds. He'll be thrilled when I tell him to please dig them all up! We're also going to celebrate the birthday of one of our good friend's sweet mom, walk the hallways at church with our busy toddler, and feed the ducks down on the National Mall.
I seem to be racking up favorite clothes items lately, (thank you for all the kind words about my Kelly Skirt!). This iDyed Color Blocked Dress from Men's Shirts Refashion (whew!) is another chart-topper.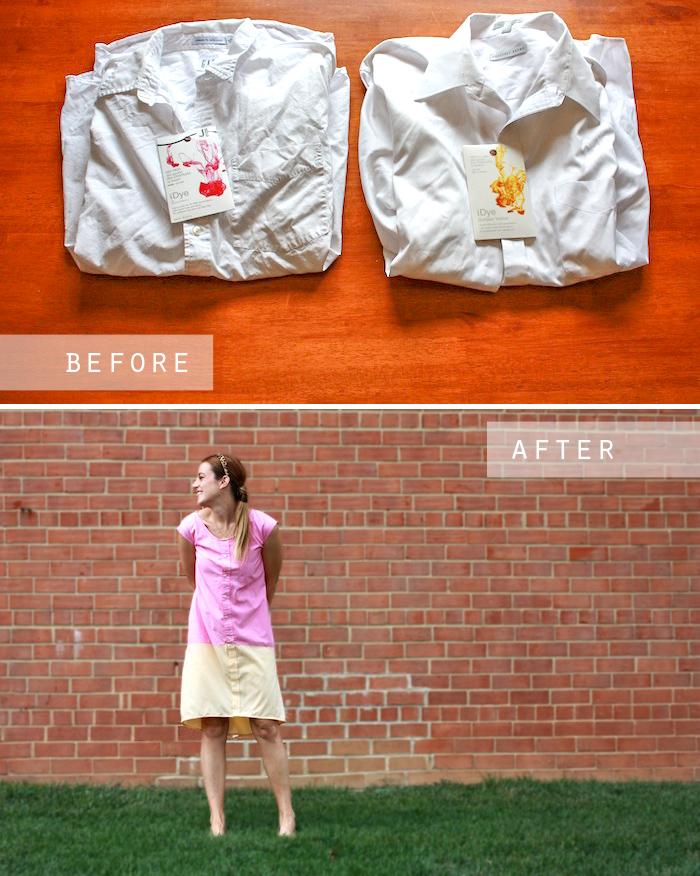 I have been the lucky benefactor of many great quality men's dress shirts, thanks to Dave and his office job. He sorts through his mostly-white collection every so often, and I stand with open arms to receive his cast-offs for refashion. This white blouse refashion from a couple years ago is still one of my very favorites. I also fell in love with the color-blocked dress I made for Kate during the Button-Up Refashion Swap. Inspired by that dress, and with the help of some fun Jacquard iDye, a couple weeks ago I set off to make myself a bright, comfortable summer dress.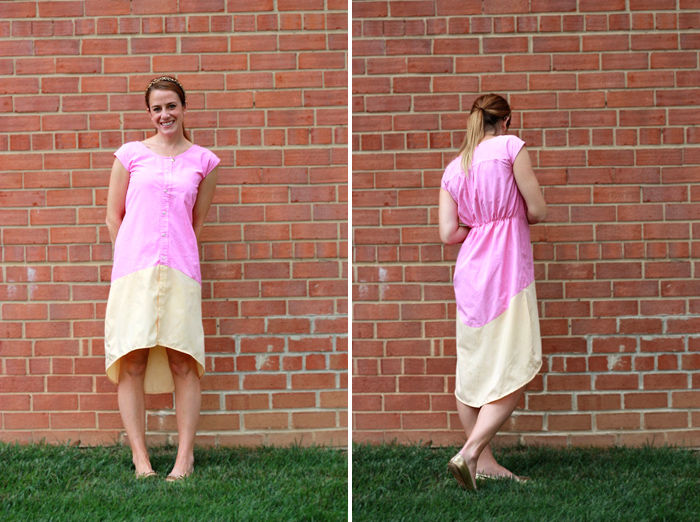 I spent one nap time dying the two white shirts, and a second sewing up the dress. The iDye comes in self-contained little packages, so there is no measuring and no mess. The process was simple, and the finished dress is better than I had planned! I love the high-low hems lately (um, yeah, and pink/orange I guess!) but this dress could easily be made with a traditional hemline, too. It is easy to wear, fun, and stylish without being fussy. I love the bright colors that the iDye produced, and it's stayed nice even through a few washings.
Schools may be starting, but summer is a little ways from winding down here, so I'm looking to get some use out of this little number before the sweater weather kicks in (in which case, I'll wear it with a sweater.)
Even if you don't have a husband passing along his hand-me-downs, white button-ups are a dime a dozen (or close to that…) at any thrift store. Grab a couple, then follow along to make your own iDyed dress! Read on for the full DIY.
1. Choose two iDye colors for your shirts (I used pink and golden yellow)
2. Fill the washing machine with HOT water and add 1 cup of salt
3. Toss in your iDye packet–it will dissolve in the water so no mess for you!
4. Stir/agitate the water until the dye is fully disolved, then add your damp shirt
5. Let the water agitate for at least 30 minutes, then wash normally with a little bit of laundry soap
6. Dry in the dryer, and repeat steps 1-6 with the second shirt
7. Using a well-fitting blouse (not a stretchy tee shirt) as a guide, cut off the sleeves, and down the sides of the top shirt. Cut off the collar and round the neckline.
8. Stitch down the side seams of the shirt, then match them up to cut the hem
9. Cut the hem on a slight diagonal for a high-low hem, or straight across for a traditional hem
10. Lay your top shirt on top of your bottom shirt, and cut following the seams of the top shirt down at a diagonal, allowing for seams. Stitch these side seams.
12. Turn that hemline right sides together, and stitch around it, joining the two shirts.
13. Topstitch along this seam
15. Cut along this line. It will be a matching high-low hem, or an even straight section.
16. Open the shirt to see the hemline, adjust if desired
17. Using the sleeves of the second shirt, cut long, 1″ strips on the bias.
18. Make this into single-fold bias tape, and stitch into the neck, sleeve, and hem openings as binding.
20. With elastic thread in the bobbin, stitch along this line with a small zig zag stitch to add one row of shirring for shape.
You're done!