You know how sometimes you meet people that you just click with? A new couple moved into our area a few weeks ago and I immediately loved Evie. In hopes to get to know her and Joe better, we invited them to dinner this past weekend. Instead, we ended up joining them for dinner at Evie's sister's house. It was a big family party with cousins, friends of grandmas,  memories of old cranky cats, kids running wild in superhero costumes, delicious food, homemade lemonade, and really great people. Oh, and yards of really amazing fabric.
Eh, what was that? Fabric?
Yep. Evie's sister turned out to be Laura Gunn, brilliant artist and fabric designer for Michael Miller!
It was thrilling to see her workspace, and learn a little about the process of going from original painting to fabric. My jaw dropped at her wall of bolts of fabric that she had designed herself! Just when I thought my evening had maxed out in coolness, I heard Laura say "Well, let's get you some fabric…What do you like?"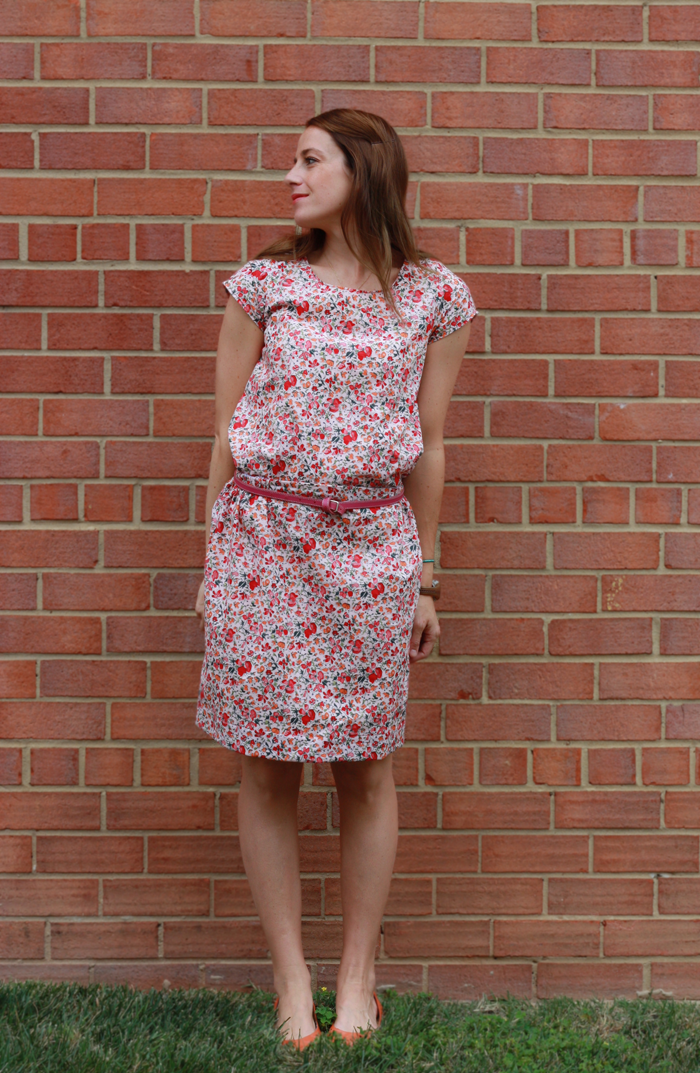 I liked this one: Pink Wee Spring from Laura's Garden Wall collection (I also chose Coral Bells in Yellow from the same collection). Not only was Laura so sweet and generous, but she and her family were so fun to hang out with! It was a really fun evening with new friends, and I can't wait to spend more time with them!
I think I was overflowing with giddiness from the whole experience, because on the drive home I began formulating a design, and as soon as the boys were in bed I sat down at the table and began working on this outfit. While browsing the latest  J.Crew catalog, I had noticed a page (72) where the model is styled head to toe in the same houndstooth print. Shirt, pants, and shoes, all in red and black houndstooth. The caption said something about a head-to-toe "Haberdashery effect." The idea of matching separates stuck in my head…along with the word "haberdashery."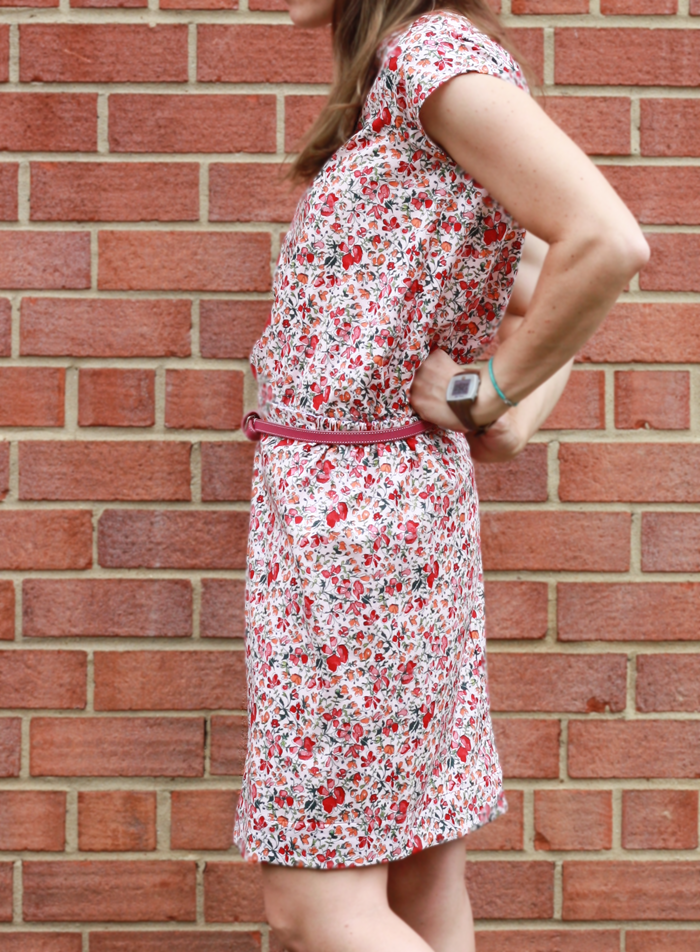 "Haberdasher" turns out to refer to a peddler of small sewing notions, or in American English, to menswear. I think J.Crew was talking about the menswear-inspired look, but what I took from that page was the idea of using the same print for an entire outfit. Rather than sew a dress, which is sort of my go-to when making things for myself (as evidenced by one, two, three, four, five, six, seven dresses I've made for myself in the last year…) I was excited about the idea of making matching separates. (ps look closely at that fabric. Isn't it beautiful?!)
For the top, I began with the the Grainline Studios Scout Woven Tee pattern (here's my first Scout Tee). I love this pattern. I did try something new with the sleeves, which totally failed, so they ended up with an unnecessary seam along the top. No biggie. Better luck next time with my sleeve experiment.
The skirt is a super basic rectangle, but I only inserted elastic at the sides, so the front and back stayed flat. I love that it is easy to pull on and off, super comfy around the waist, and has the flattering look of a flat-front pencil skirt with a little more body.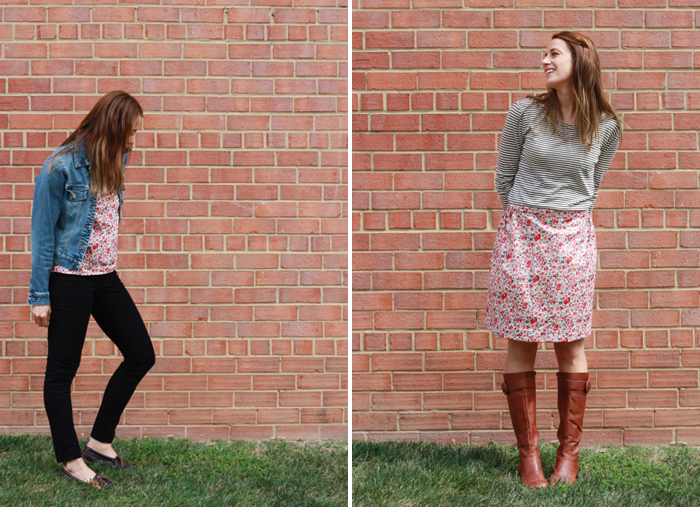 The cool part about making a haberdashery outfit (using my new definition for the word: matching separates) is that the outfit is, actually, separates! Throw on some skinny cords, a denim jacket, and Minnetonkas, you've got one look. A striped knit tee and boots make something different! The fabric is so wonderful, it adds a great element to any outfit. I think me and Pink Wee Garden get along really well…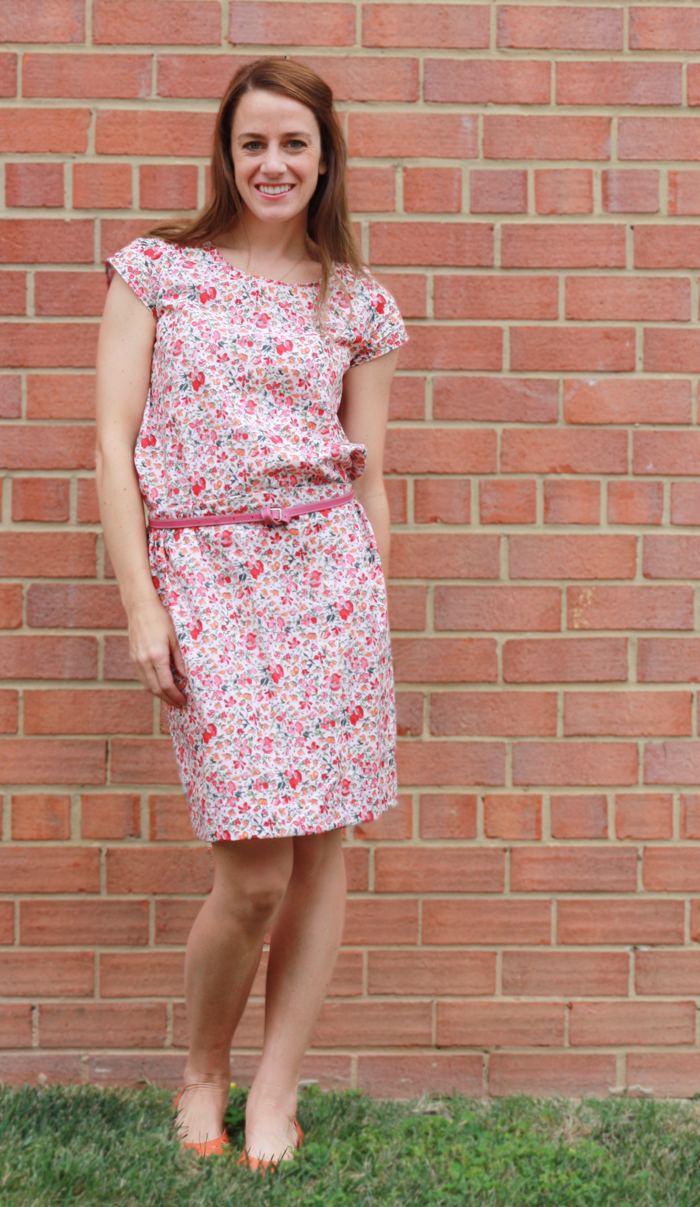 Put them both together, and check out that haberdashery effect…haha. If only I had enough fabric scraps to cover my flats, too, I'd be set! Seriously, though, isn't it great to get a blouse, skirt, and a dress all out of the same two pieces? I see some more haberdashery in my future.
Now to begin scheming something to make with my Coral Bells print…