Do you want to hear a really cute story?
A few weeks ago (while I was in Lake Powell) I had a facebook message from the husband of one of my friends. I have only met him once, so it was really out of the blue. He told me their anniversary was coming up, and he had heard his wife mention that she liked some of the dresses that I have made for myself. He asked me if I would make his wife a dress as his anniversary gift to her! Isn't that so thoughtful? Of course I agreed, and explained the process of meeting with her do get ideas, designing and sketching the dress, then finally making it. He was on board, and gave her a card explaining that  I would be making her a custom dress, from him. I love that!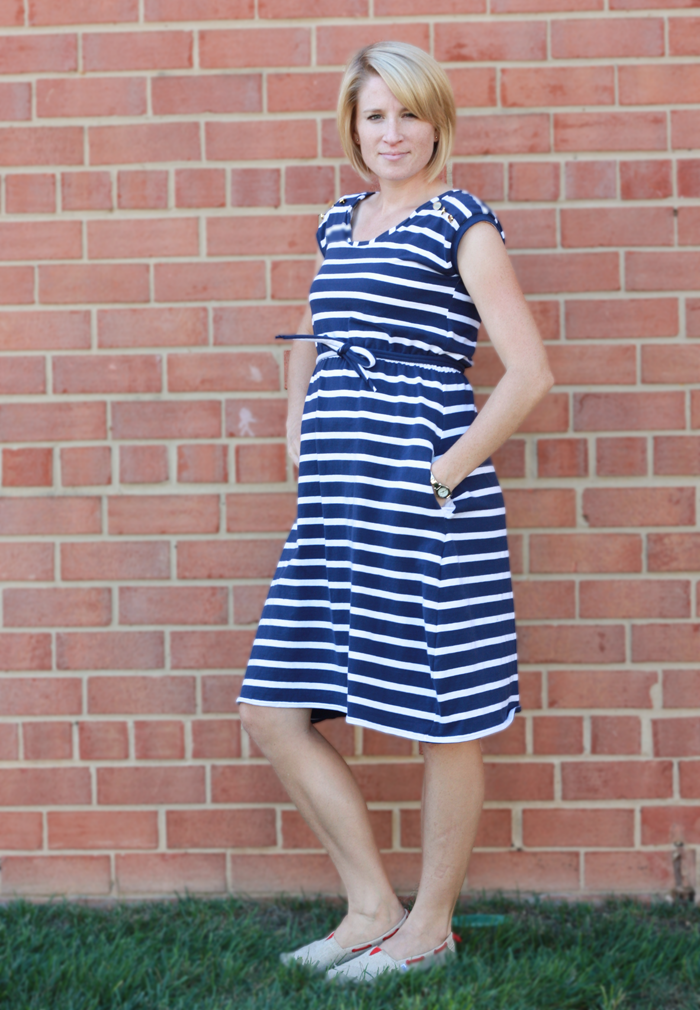 Okay, isn't she gorgeous? You can't tell, but darling Kate is into her second trimester with her second child! When we met to discuss what she wanted, she talked about the dress being comfortable and easy to wear for a while in her pregnancy. We looked at some things she liked (including this dress and this shirt) and decided on a soft and stretchy knit dress with cap-sleeves, an a gathered a-line skirt, tie at the waist, and pockets. Of course. We decided to add gold buttons to the (extended) shoulder seams to give it a more nautical look. I love the result.
I had been salivating over this dress since I spotted it in the catalog, so when we spotted this perfect stripe knit, I was happy Kate liked it! I bought enough to make myself a dress, too. Right after I finished Kate's dress, I had to begin my own so I wouldn't be sad letting this one walk out the door! (Mine is finished, too, I'll share it soon.)
To make this dress, I began with the pattern from the Summer Chevron Dress, and then altered it to fit Kate's measurements. I also added a couple inches onto the back shoulder seams, and took the same measurement away from the front shoulder seams, so the seam sits slightly in front. That's where I attached the buttons. I added a line of shirring just above the natural waist, so as her baby bump grows, the dress will maintain some shape. The tie will keep that raising waist cinched in, too! I finished the neckline and sleeves with a single fold strip of knit, about an inch smaller than the respective opening, to avoid gaping. The skirt hem is just finished with a double needle stretch stitch, but is super rolly (this fabric curls like crazy, making the process a little trickier than usual!) You can see it even flipping up a tad in the photo. I told her if it keeps that up, to bring it back and we'll interface the hem with some stay tape. So far, so good.
What a sweet time of life! Being pregnant with the second is so much different than expecting the first. It can be crazy to try to keep up with a child while sick and exhausted, and it's sometimes hard to find those moments to really ponder on what an amazing miracle it is to grow a baby. I loved making Kate something special to help her feel comfortable and stylish for the next few months, and this dress will transition perfectly into non-maternity wear, too!
Big props to Bill the thoughtful husband, and Happy Anniversary cute Kate!