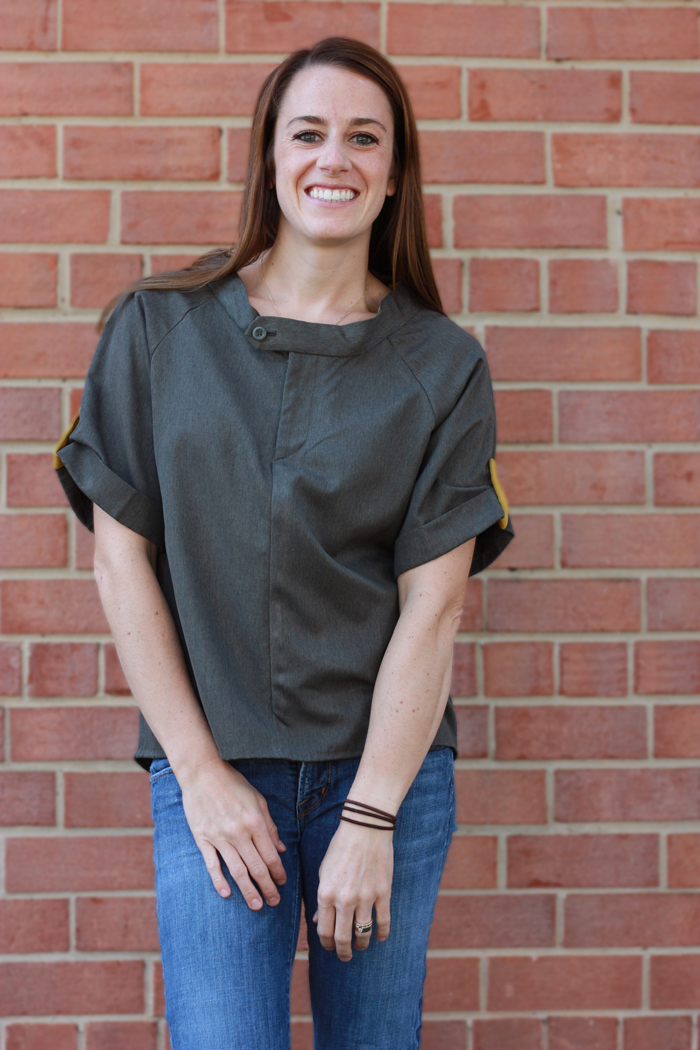 I was thrilled to have Miriam of Mad Mim be assigned to refashion for me in the Trouser Refashion Swap. She and I actually met in high school, at Girls' State political camp (yeah, wha? I don't know what I was doing there…) Back then we took a photo wearing almost matching long red dresses to one of the events. Our similar sense of style has continued into adulthood, and when we became reacquainted through blogging about two years ago, I was fascinated by how much we have in common! I got to hang out with Mim when I was in Utah over the summer, and I can't wait to spend a whole weekend with her as one of my roommates at the upcoming Sewing Summit in Salt Lake in a couple weeks. She is one of the nicest most creative people I know, and I am so happy we're friends!
Mim is an awesome seamstress with really incredible technique, and a great sense of style. I didn't doubt that she would make me something awesome, and she sure delivered! I am floored by the coolness of this blouse she created from some old slacks. It's got great lines (look at the back!), a nice, easy fit, and such fun details! I love the pop of mustard yellow that she added to the sleeve and the neckline. The fabric is really nice and soft, so the whole shirt is super comfy.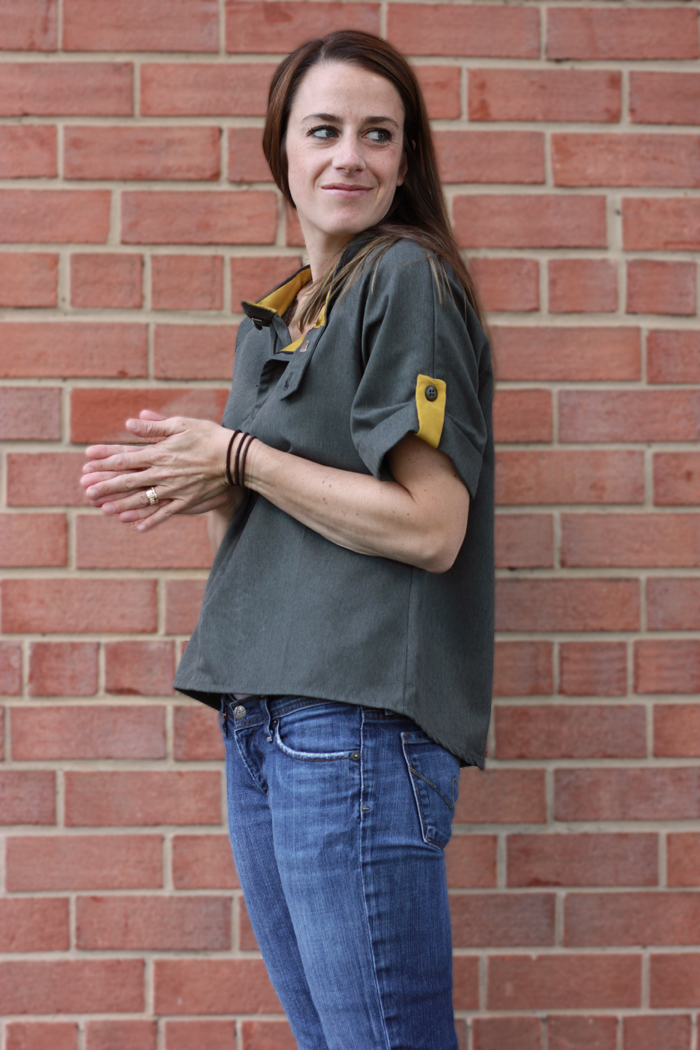 The asymmetrical hem is a great line, and makes the blouse much easier to wear with my normal blue denim (that all seem to have the same gaping waistband in the back.) Oh, and I'm starting a new bracelet trend. It's called: keep finding hair elastics around the house and stacking them onto your wrist. Much more practical than real bracelets…
How cool is this neckline? Cute closed, cute opened. I showed Dave and he was blown away by the creativity. Isn't it awesome!? I love the raglan sleeves. The cut is just so great. And the cuffs? Perfect.
Clearly, I am impressed with Mim's handiwork. (I'm two-for-two. I loved the top Jen made for me in the Button Up Refashion Swap, too!) I can't wait to click through to see how everyone else looks in their swaps, especially Suzannah in the riding pants I made her. Here's the list of participants again, in case you forgot!
Suzannah of Adventures in Dressmaking
Miriam of MadMim
Miranda of One Little Minute
Melissa of I Still Love You
Liz of Cotton & Curls
Krista of Lazy Saturdays
Kelli of True Bias
Kate of See Kate Sew
Jennifer of Grainline Studio
Carrie of This Mama Makes Stuff