I don't know where I got the idea to make myself a sweatshirt with a cat face on the front, but once it popped into my head, I had to make it happen. I've never even had a cat, but somehow I've sort of fallen in love with them (I probably have Jen's Instagram feed to thank for that. Roamy is too cute!) Alt Summit seemed like the perfect excuse to whip up something casual and comfy, and just a little quirky.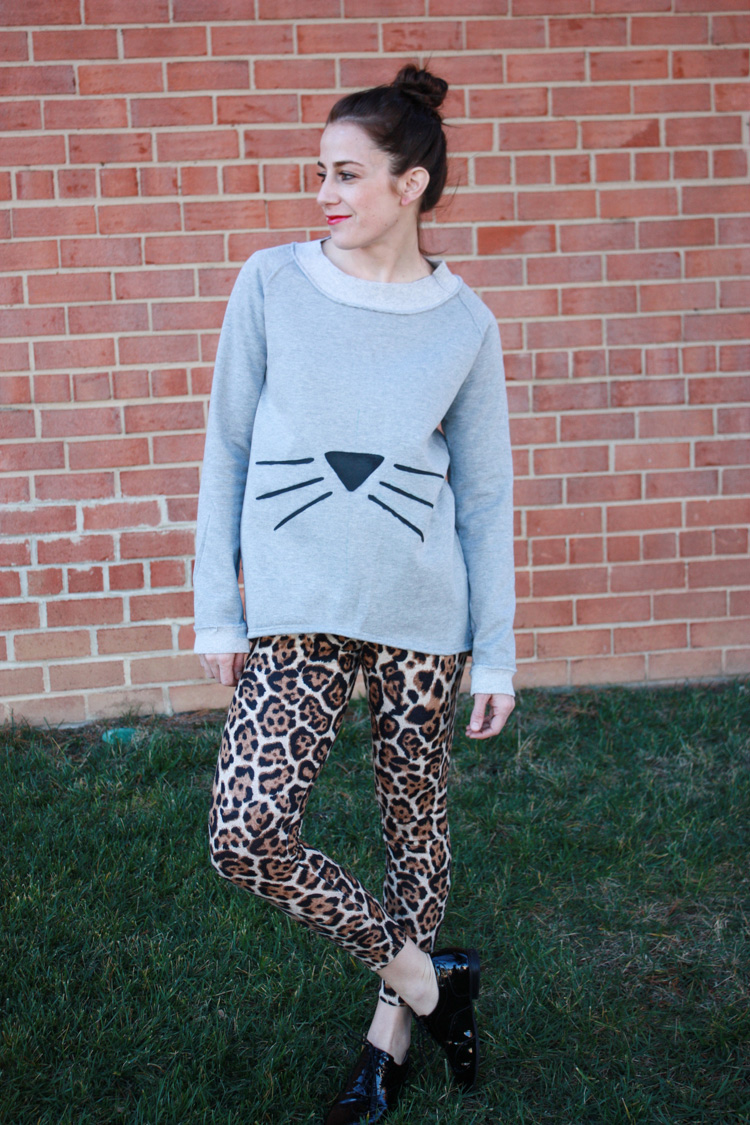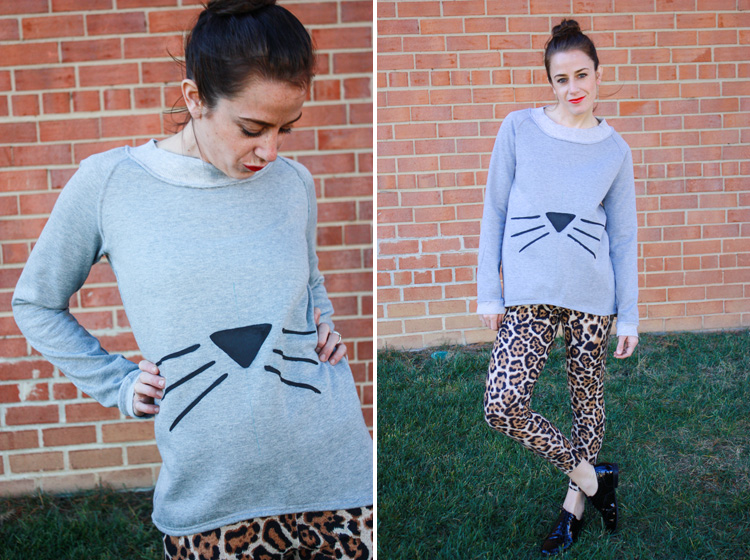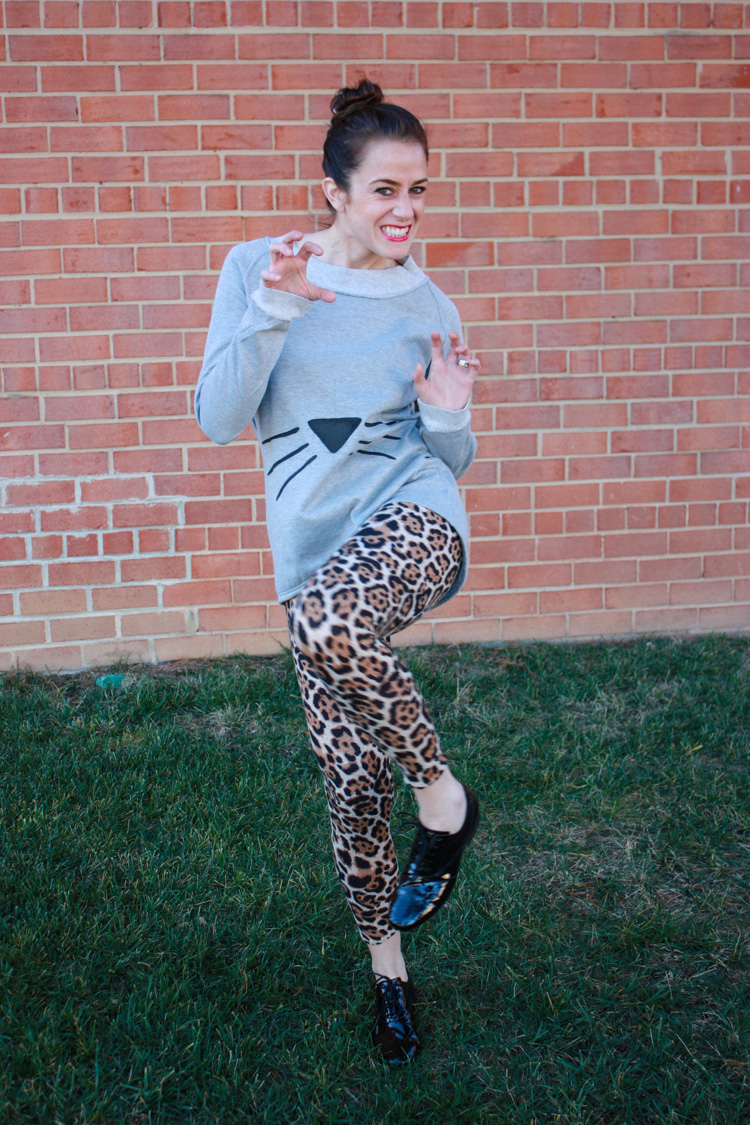 I used Dixie's free Hot Cocoa Sweater pattern to make the plain grey sweatshirt base. It's a fantastic and super simple basic pattern that I'm sure I'll use again. I lengthened the hem a couple inches to make it cover my bum. Also, because my sweatshirt fabric was super stable and almost not stretchy at all, I took in the sides to reduce bulk. I constructed all of the seams with a flatlock stitch, using my Diana.
For the "Cool Cat" face, I simply cut a basic kitty nose and whiskers from freezer paper and stenciled it right on the front! And, it's your lucky day, I've made a free printable Cool Cat Sweatshirt Template for you to download and make one of your own!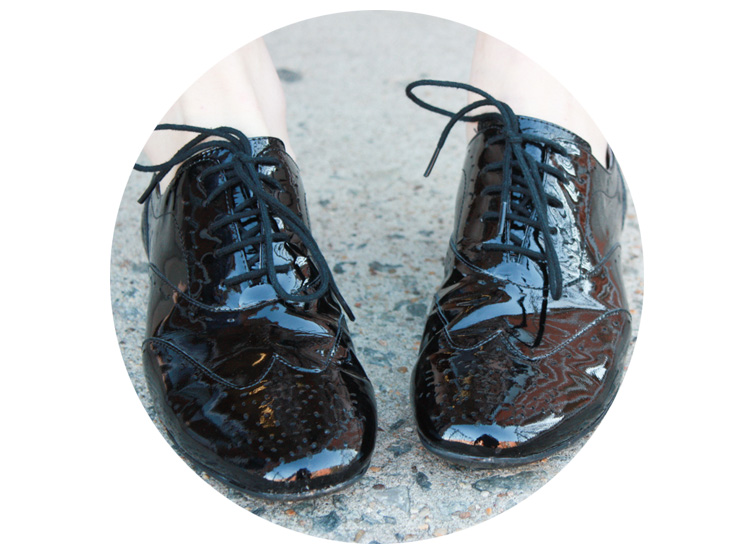 Is it too much to pair a cat sweatshirt with feline leggings? I don't think so! And these shiny black patent leather wingtips (found on sale for $25!!) pulled it all together. And this outfit was quite a hit at the conference! I got a bunch of compliments on the sweatshirt, one from amazing Emily Meyer, who (after talking for a few minutes) told me she was the founder of tea collection, one of my favorite children's wear brands! How cool is that?
Really, I'm very casual and have never ever put so much consideration into my clothing choices before, but I wanted to be as prepared and confident as possible heading into the conference. I think it helped to not have everything planned before, so I didn't waste any time at all mulling over my outfits while at Alt. I just put on what I had planned, and was able to spend every possible minute soaking in the full experience.
I had a completely whirlwind weekend of meeting new friends, learning some nuts and bolts of blogging, and being so incredibly inspired! I'll have a full recap next week, but for now I'm enjoying a decompression weekend in Seattle, then a few more days in Utah before heading home.
If you make a Cool Cat shirt, post a pic on Instagram or Twitter and tag me (@livefreemiranda). I'd love to see it!