My friends, I'm off to party for the next couple weeks. Today I take off for Salt Lake City to attend Alt Summit for the first time. For those of you who don't know, Alt Summit is a huge design blogger conference held each year. It's going to be a weekend overflowing with new friends, inspirational lectures, on-trend fashion, networking with potential sponsors, and lots and lots of over-the-top parties! I've watched recaps of the conference for the past couple years, and always thought it looked incredible, so last year I decided that I would prepare myself to attend in 2013 and when tickets went on sale, I was ready (which was good, since they sold out in just a couple hours!)
After I bought my ticket, the two first things that came to mind were: "What do I want my business cards to look like?!" and "What am I going to wear?" They might seem like silly concerns, but both fashion and business cards are in the spotlight at Alt. Luckily, I've got both figured out in time to feel prepared and confident heading into what I'm sure will be a whirlwind weekend.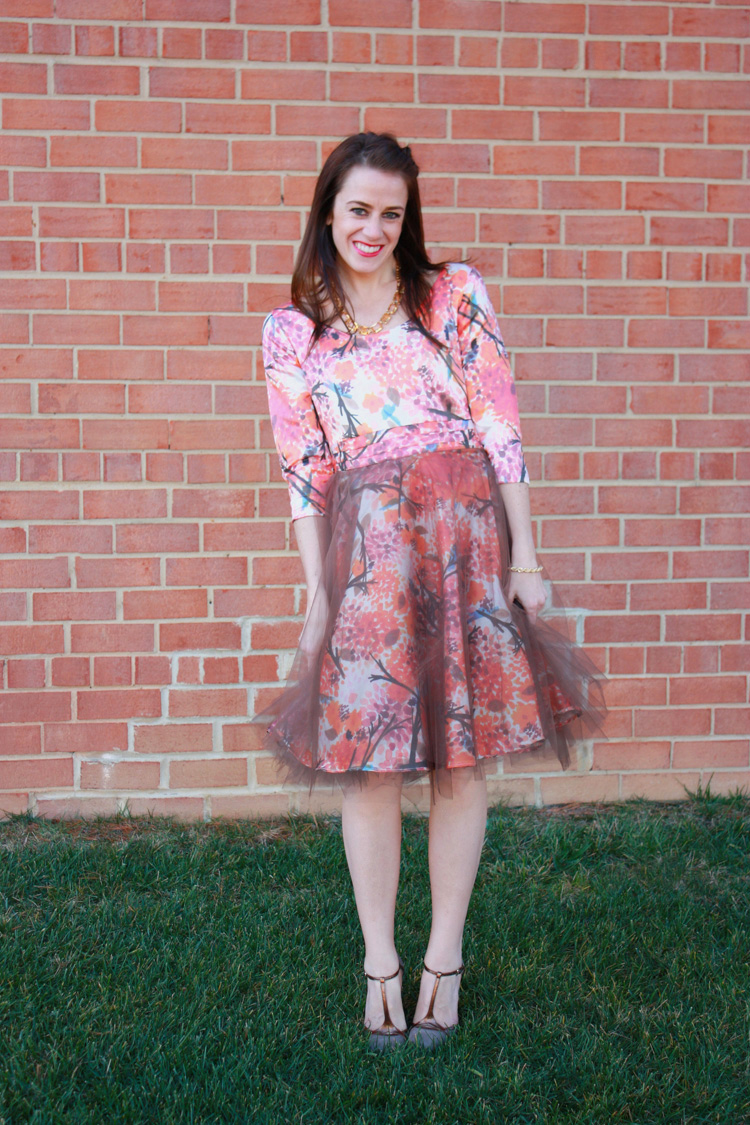 I met Joy Laforme in an online Alt Summit class a couple months ago (ps all the classes are free this month, check them out!), and we got to talking. She mentioned she was a designer, hoping to get into fabric design. She already sells on Spoonflower, but was hoping for a more professional setup. I told her I was friends with a fabric designer who may be helpful. Over a couple emails, the idea emerged for me to create some sample garments using Joy Laforme fabric, that she could use in her portfolio. She sent over a few pattern samples, and I chose my favorite. Then I sketched a couple different dresses, and she chose her favorite. I was to make two dresses, one for me and one for Joy.
Even though the time was short, I thought it would be fun to create a dress to wear at Alt, both because I needed a completely unique party dress, and because I could tell everyone that Joy Laforme designed this gorgeous watercolor print! Win-Win.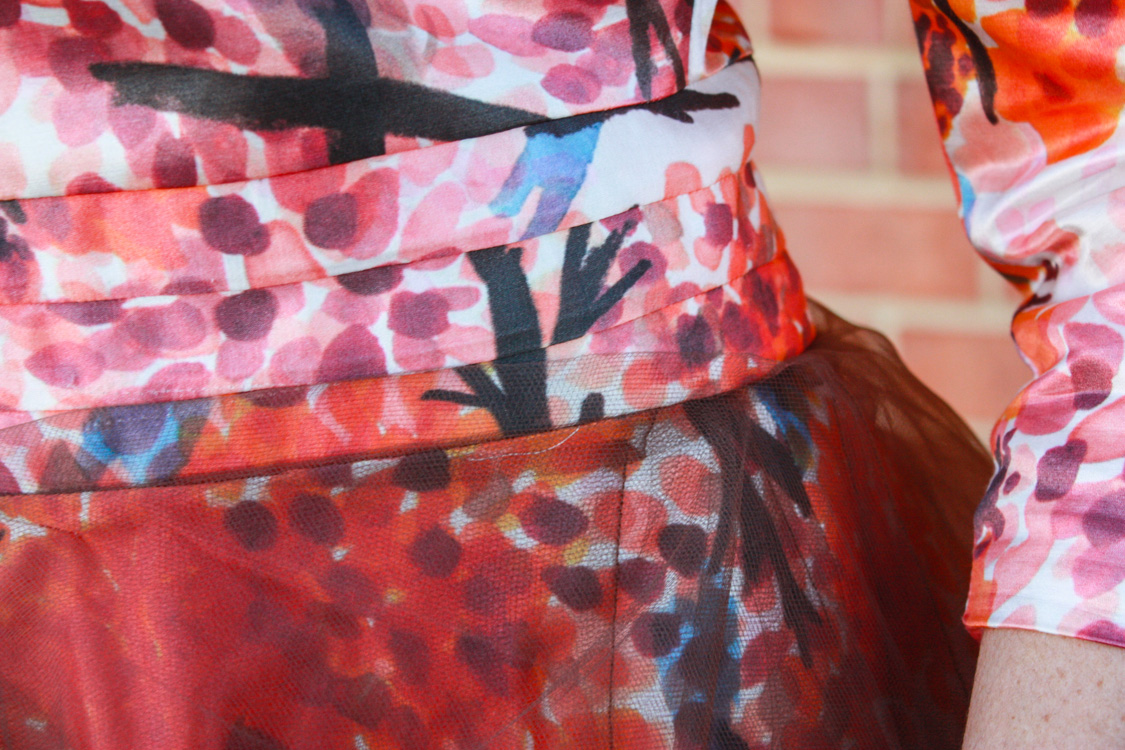 The dress we collaborated on is a whimsical, fancy, and girlish. I just love every detail. This material is the silk/cotton blend from Spoonflower. The silk adds an incredible drape and sheen, and the cottongives the fabric body and a nice weight. I'm totally smitten by it. I think the print just shines on this gorgeous fabric.
The bodice itself is very simple, with side darts at the bust, a deep scoop neck, and three-quarter length sleeves. Longer sleeves are so unusual on party dresses, and I think they are wonderful! The waistband has some pleating detail, and then the three-quarter circle skirt is overlaid with five layers of tulle to break up the print a little bit, and give it some texture and dimension.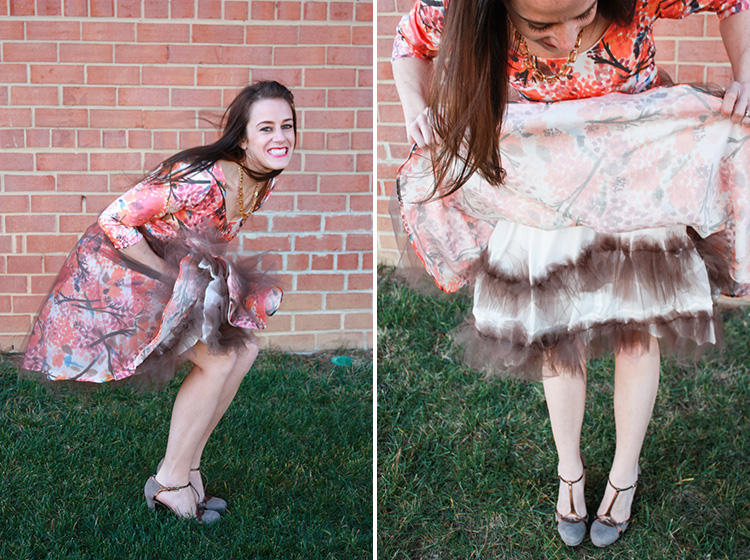 To give the skirt it's fullness, I tightly gathered strips of tulle and added them to the bottom of the lining, creating a little poof at the hemline. It's just enough to fill out the drapes of the circle skirt. And it also makes me feel like a princess! I mean, tulle? On a grown-up party dress? The coolest.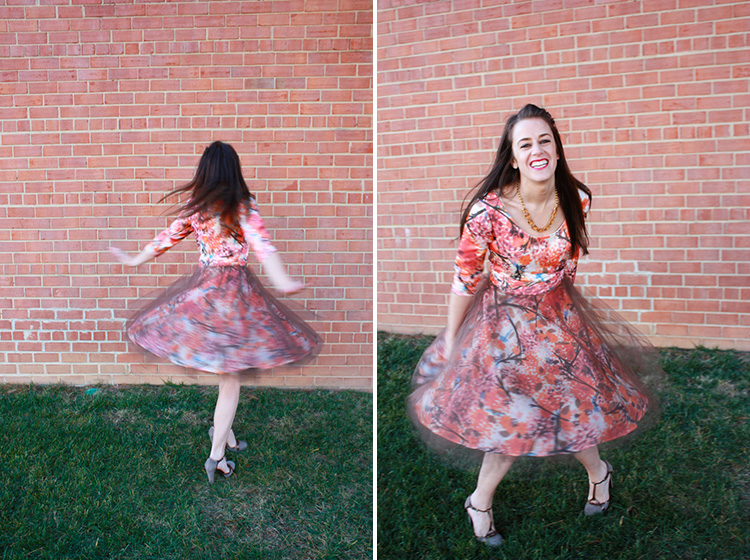 I had a blast designing and creating the pattern for this dress. First, I draped muslin on my dress form to create the correct silhouette, place the darts, and fit the sleeves. Next I traced my draped muslin pieces onto paper, corrected the lines, trued the corners, and double-checked measurements. Finally, I made a second muslin using my paper pattern, to ensure a great fit. I only had 3 yards of this wonderful fabric, and no room for error! Luckily, my precision paid off. The dress fits perfectly. And it is absolutely twirlable. Can you tell I like it?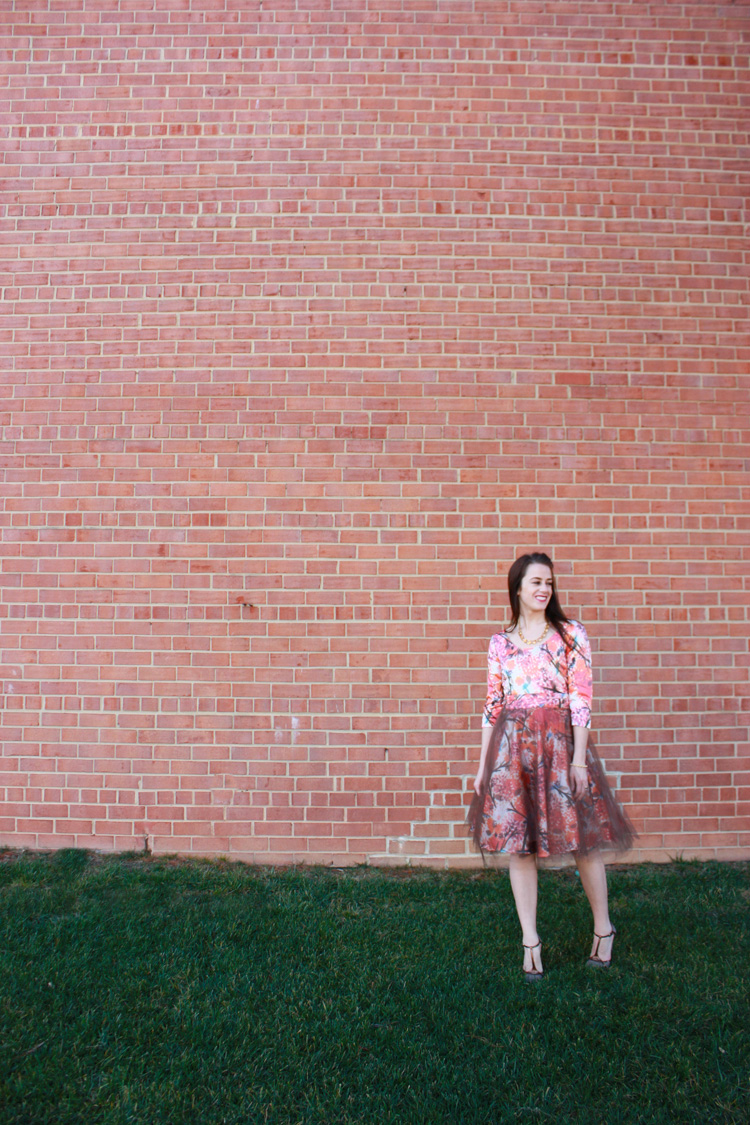 After finishing, I had to complete the outfit with perfect shoes. I did a preliminary search online at my favorite department and shoe stores. Then, would you believe that I popped into Off Broadway Shoes for ten minutes on my way to meet friends for dinner last week and found them? Gorgeous grey suede heels with copper t-straps, on sale. Fate smiles upon the hard-working seamstress.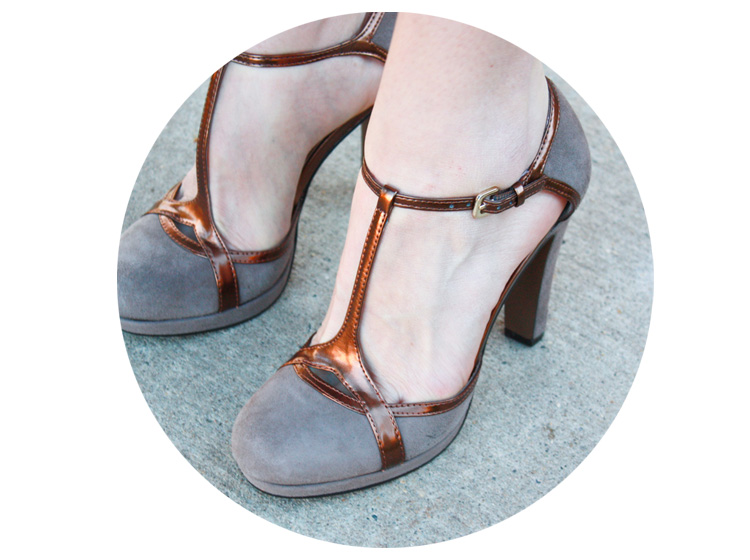 As I thought about and prepared for making this party dress, ideas started to form for all of the other parties and events happening at Alt Summit. Before I knew it, I had designed my whole (mostly new) wardrobe in my head! When I get a design idea, it's pretty hard to shake until it's made, so I decided to go ahead and handmake my Alt Summit wardrobe. And if I was making most of it, why not make it official and go 100% handmade? So I am. Every item of clothing I wear at Alt Summit (except my winter outerwear) will be something I cut and sewed myself. While the Stretch Yourself Series  was happening on the blog, I was busy behind the scenes "stretching myself" by sewing with silk, tulle, sequins, velvet, and lots and lots of knits! I'll be sharing these handmade outfits, my Alt Summit Business cards, and a couple other fun things over the two weeks that I'm away. (After my weekend at Alt, I'll be heading up to Seattle with my sisters and mom for a girls' trip to celebrate my upcoming (ahem….thirtieth…ahem) birthday! Then, I'll spend a few more days with family in Utah before coming home.)
If' you're curious about Alt Summit, and want to "live vicariously" as my good friend put it, follow along with me on instagram (@livefreemiranda)! I'm sure there will be lots of photo ops to share!