This series is sponsored by Baby Lock.  For over 40 years, Baby Lock has been dedicated to the love of sewing by creating machines for sewing, embroidery, quilting and serging – all with ease-of-use, high quality and a touch of elegance.
Every woman needs a great-fitting tee shirt. One option is to make one yourself, either by measurements, or from a favorite tee you already own. Another (much easier!) option is to use the Sewaholic Renfrew pattern! You may have heard of it? I think it's been tried and tested by every single sewing blogger that I read, and thousands of others (seriously, check google image search, this is a must-have pattern.) I was curious if it lived up to all of the hype. And guys, it does!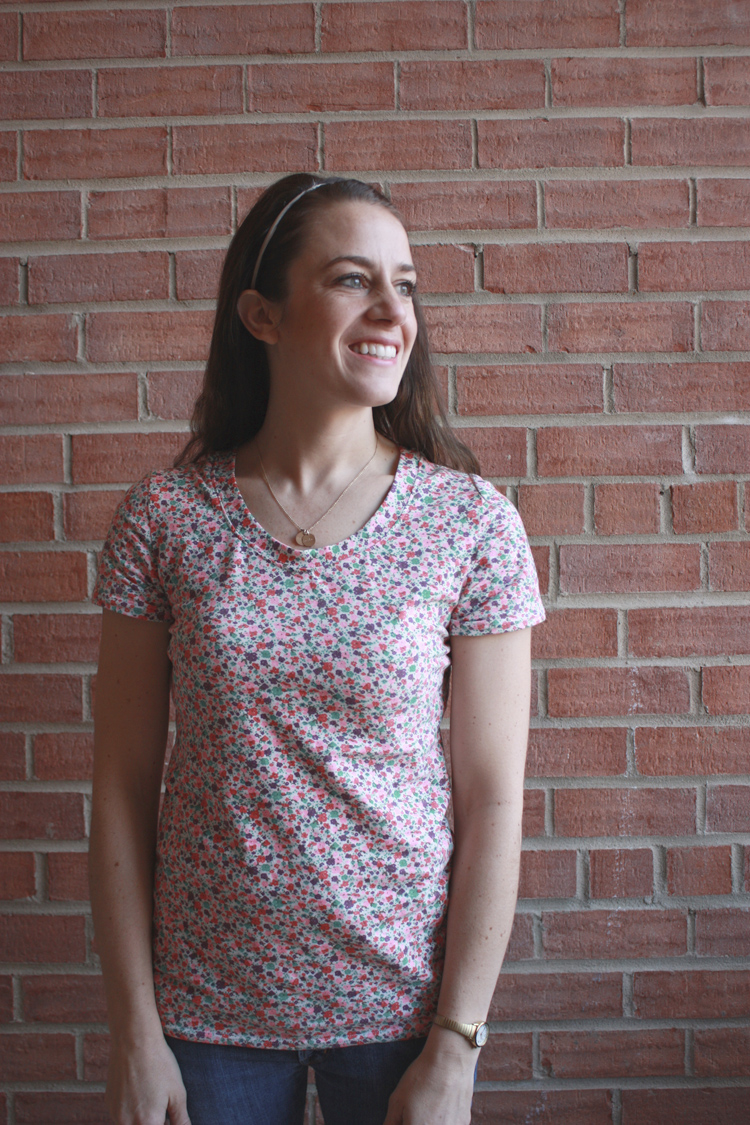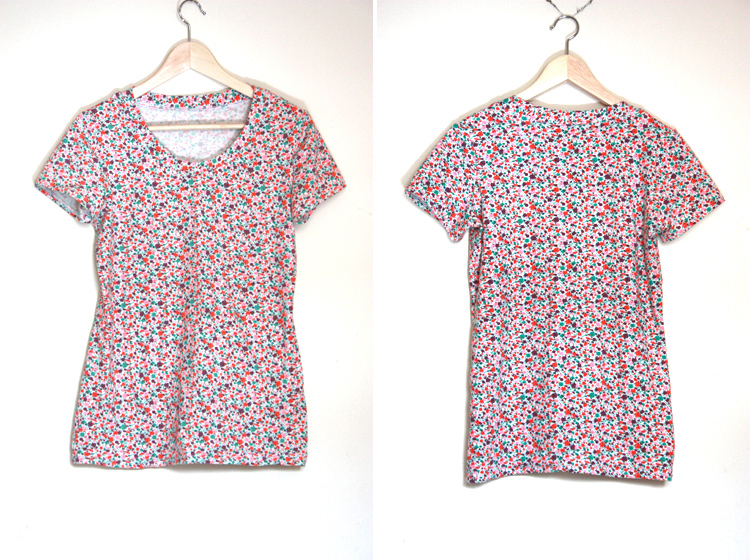 Sewaholic patterns are paper, which makes getting started really simple. I traced a size 4 (I'm converted to tracing) and was able to get to work. I loved that even with all of the possible options, the pattern is labeled really well so I knew right away which pieces to trace for my chosen style of tee shirt. The instructions are also super well written and clear. The details included make this a great first project for even a very beginner seamstress. I was able to whip mine up in just under an hour, start-to-finish.
This pattern comes with three neckline options: round, v-neck, and cowl, as well as three sleeve length options: short, 3/4, and long. Without even being creative you've already got a bunch of possible combinations!  I opted for the very most basic short-sleeved, round-neck tee to get a feel for the pattern before I get all crazy. Which you know I will. I made mine even more simple by finishing the construction without the arm and hem bands, by using the coverstitch on my Diana. Normally, I have a little bit of trouble with the neckbands on tee shirts, but the Renfrew labeling has you match up all the correct points for a super easy neckband insertion.
As far as size and fit, I couldn't be more pleased. This is just the right fit that I love for basic tee shirts. Not tight enough to look like I'm trying to be a teen, but fitted enough to steer clear of the dreaded frumpy. The Sewaholic patterns are written specifically for pear-shaped women, so I was a little worried that it might look too hippy on my boxy body, but I think the length makes it fit around my hips just right. If I were to do any alteration on my next Renfrew, it might be to just make a tiny adjustment for my sway-back.
In addition to being a fantastic and must-have basic, the Renfrew, and all of Sewaholic's Patterns, are just so well branded, I might have to start collecting. I love the technical designs on the envelope cover, which give you such a better idea of the possibilities than a styled photo. And Tasia is just so sweet and talented, I wish I could give her a high five for this awesome tee! It's become a fast favorite!
Pattern: Sewaholic Renfrew in size 4
Fabric: Floral 100% cotton jersey from The Fabric Fairy (no longer available, similar options here and here)
Miriam and I both channeled our inner flower child for our Renfrews! Check out her Renfrew Review today, too!
For a chance to win your own Sewaholic Renfrew pattern, simply leave a comment below before Friday, January 19th! Good Luck!
**WINNER: PENDLESTITCHES** Thank you all for playing!