When this post goes live I'll probably be sitting on top of one of my (four!) large suitcases, trying to zip around the piles of clothing,  Alt Summit swag, Seattle souvenirs, and the 31 yards of fabric I picked up during the last two weeks. I may need an intervention. Once the bags are actually packed, I'll spend the day flying with my two babies across the country and finally, finally, finally be home to my sweet husband and cozy apartment. I can't wait!
Being on vacation (and vacation within vacation) has been really amazing. I've had hugely inspirational experiences, and am excited to sort through my notes and photos to dig out the pieces that I will use to become better and live more fully.
The first night of Alt, I joined Gallery Direct for a wonderful dinner at the Tin Angel in SLC. As I prepared for the conference, I thought the night out would be a perfect excuse to use some gold paillette sequined fabric I picked up on a whim when Dave and I spent a day in NYC last month. The fabric itself was beautiful and a little delicate. I was worried about sitting down on the sequins but wanted to make a dress, so I decided make a shift dress from some toffee-colored china silk and add the sequins just as a blocked section down the front center.
This was my first time working with sequins, and the learning curve was a little steep. I had read in various articles online that I should unpick the sequins from all of the seam allowances. And, turns out I should have! I thought I'd wing some of the construction without unpicking (big surprise, right?) and learned quickly that sewing over the sequins themselves made for a pretty wonky seam. I ended up leaving the front princess seams of the dress imperfect, and with some pressing they look okay. On the neckline and hem, however, I spent the time to do it right and unpicked each and every paillette from the seam allowances. On the neckline I went back and hand-stitched them back on once the rest of the dress was finished.
On the next sequin project, I'll definitely unpick all of the seam allowances before constructing, even if it takes forever. I think the overall finished product will be worth the time. It was nice to get my feet wet with sequins, and I see more in my future.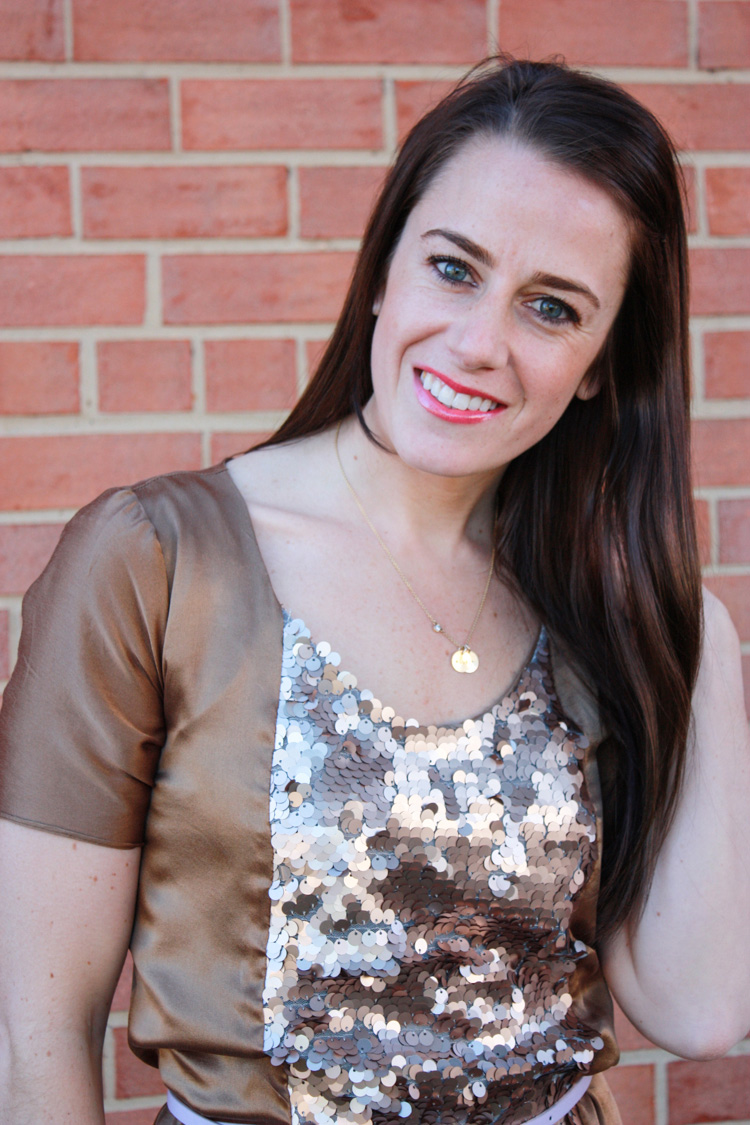 The dress pattern was a modified version of Grainline Studio's Scout Woven Tee. The Scout Tee is one of my favorite patterns. I've made it several times, and love how easily it modifies into different styles of garment. To lengthen this dress I used the same technique as my tee shirt dress tutorial, ensuring I had sufficient ease to fall over my hips and bum. I also lengthened the sleeves a couple inches.
Once the dress pattern was lengthened, I measured out the sequin-blocked section and cut it away and added seam allowance (you know, where I should have unpicked the sequins?) I added a center seam in the back to insert a zipper. Also, I wanted the dress to be fully lined, so rather than just the neckline facing, I cut a second full dress out of lining fabric and stitched it all together.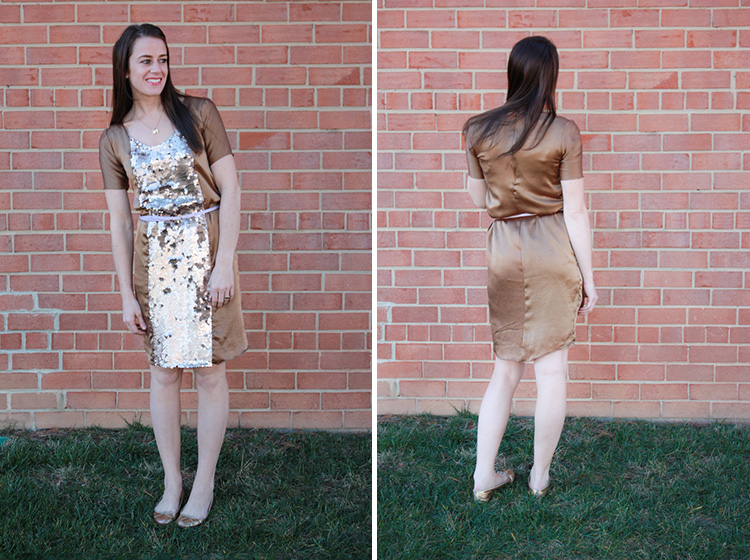 I love the way this dress turned out! I wondered if it would feel too formal for the dinner, but somehow even silky and sequined (and styled with a pastel skinny belt) it seemed to work and I felt pretty and comfortable. This dress was my debut Alt Handmade look, and it made me really excited to spend the whole weekend wearing me-made clothes!
Here's a little recap of all the handmade clothes I wore at Alt Summit 2013:
Wednesday Meeting: Chartreuse Silk Dress + Leopard Wrap Cardigan
Wednesday Night: Sequin Blocked Silk Dress (above)
Thursday Lectures: Cool Cat Sweatshirt + Leopard Leggings
Thursday Night Clue Party: Colonel Mustard Velvet Pencil + Studded Shoulder Top
Friday Lectures: Watercolor Maxi Dress
Friday Night Mini-Parties: Tulle Party Dress with Joy Laforme Silk
Saturday Design Camp: Tribal Leggings + Wool Felted Reindeer Sweater