I absolutely love birthdays. Unlike all of the other holidays, your birthday is a celebration just for you. YOU are the reason for the season! Dave and I both agree that we want to teach our children the true meaning behind the celebrations of Christmas, Easter, Independence Day, etc. In addition, we want them to feel that their birthday is thouroughly special. Whatever curbing of distracting extravagance we may enforce during the other holidays, we want to make up for with thoughtful and meaningful celebration on birthdays. So, even though our Christmas morning gifts might intentionally never rival our neighbors, our birthdays will bring the kind of magic and excitement that our kids (and we ourselves) deserve!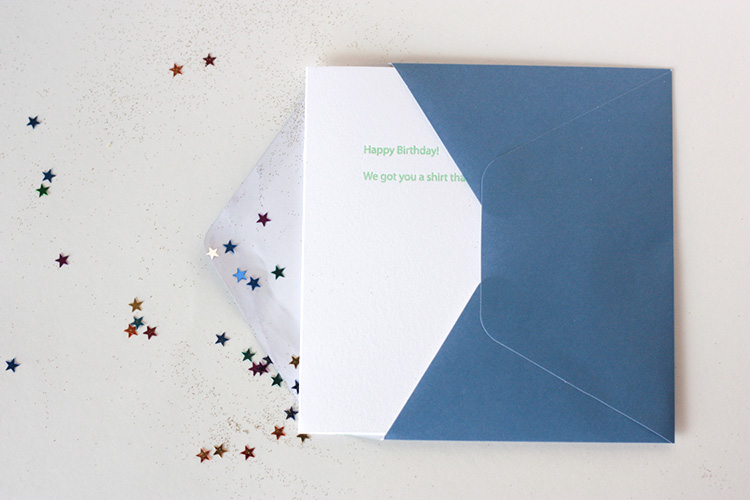 One concrete way that I tried to share extend our birthday love outside of our immediate family was by resolving to send every member of our family birthday cards in 2012. Last year I shared how to make a Birthday Book where all of the birthdays, cards, and addresses can be easily accessed at the begining of each month, and I letterpressed about 60 birthday cards to send throughout the year. I also created simple and silly origami cupcakes from five dollar bills to include in each card that we sent.
All of the advance thought and planning helped me succeed in my goal. I didn't miss a single family birthday (although I was a little late once or twice!) I loved getting an email from Dave's sister Amy who had taken her daughter to get ice cream with the $5 we sent. When Suzanna asked for the super huge sundae with whipped cream and sprinkles, Amy hesitated briefly then remembered it was Suzanna's birthday money, so she could get what she wanted! Attatched to the email was a darling photo of little Suzanna smiling next to birthday sundae the size of her head! It was just the celebration we hoped.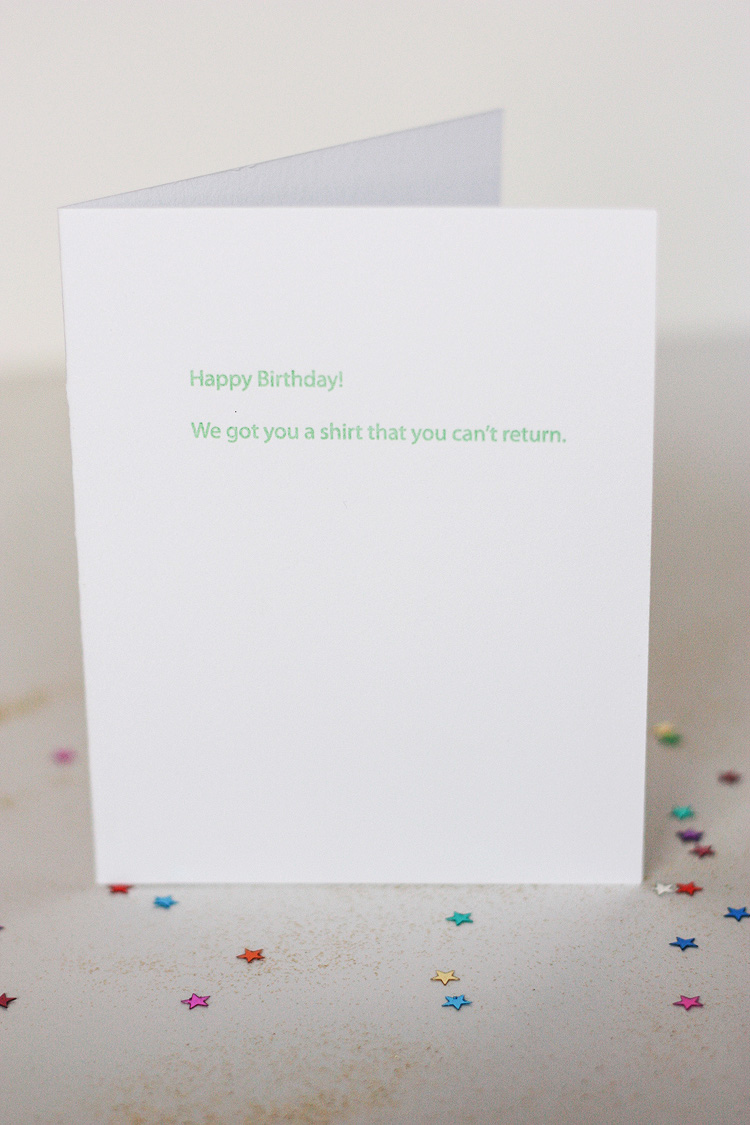 As I looked forward to 2013, I decided to design a birthday card specifically around the five dollar bill that would remain our small birthday gift to everyone in the family. After coming up with a design, I once again letterpressed the whole years worth, enabling myself to be as efficient as possible in my card sending, thus increasing my overall possibility of success.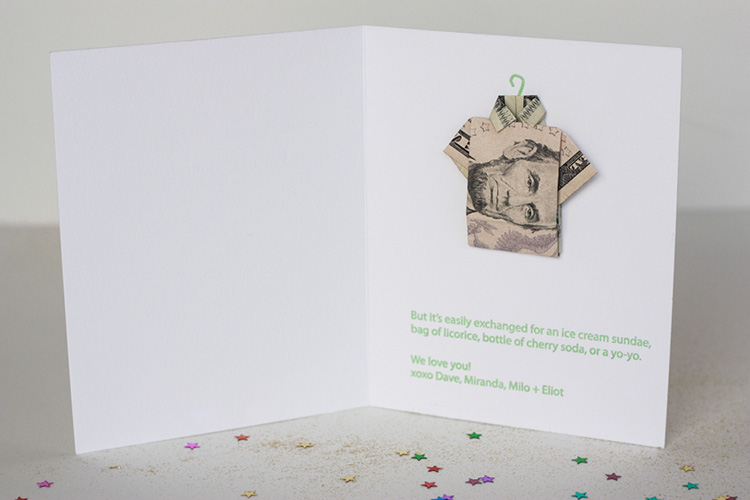 This year's card is a little cheeky, and I love the way they turned out. You can't return that money shirt, but it is "easily exchanged for an ice cream sundae, bag of licorice, bottle of cherry soda, or a yo-yo." I mean, what's a birthday without a cherry soda or a yo-yo, amiright?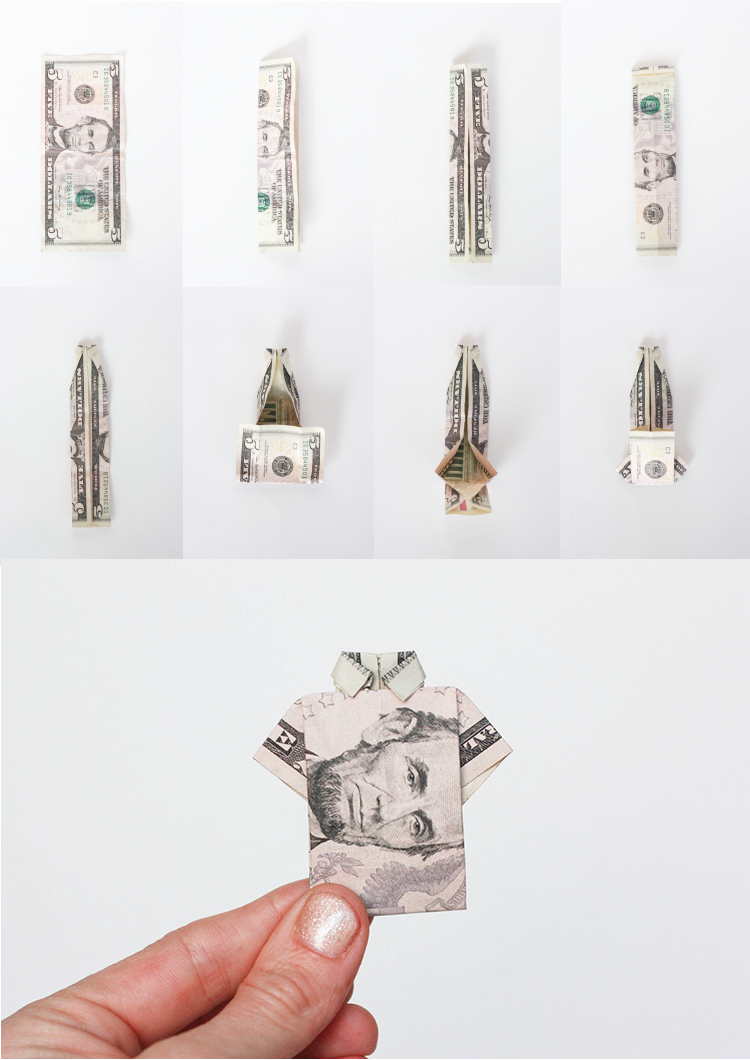 Actually folding the money shirt is a lot more simple than it looks! Once I got these basic steps, I could fold one in about one minute. Add a bit of double stick tape to the back to "hang" the shirt up inside the card, scrawl some best wishes and drop in the mail!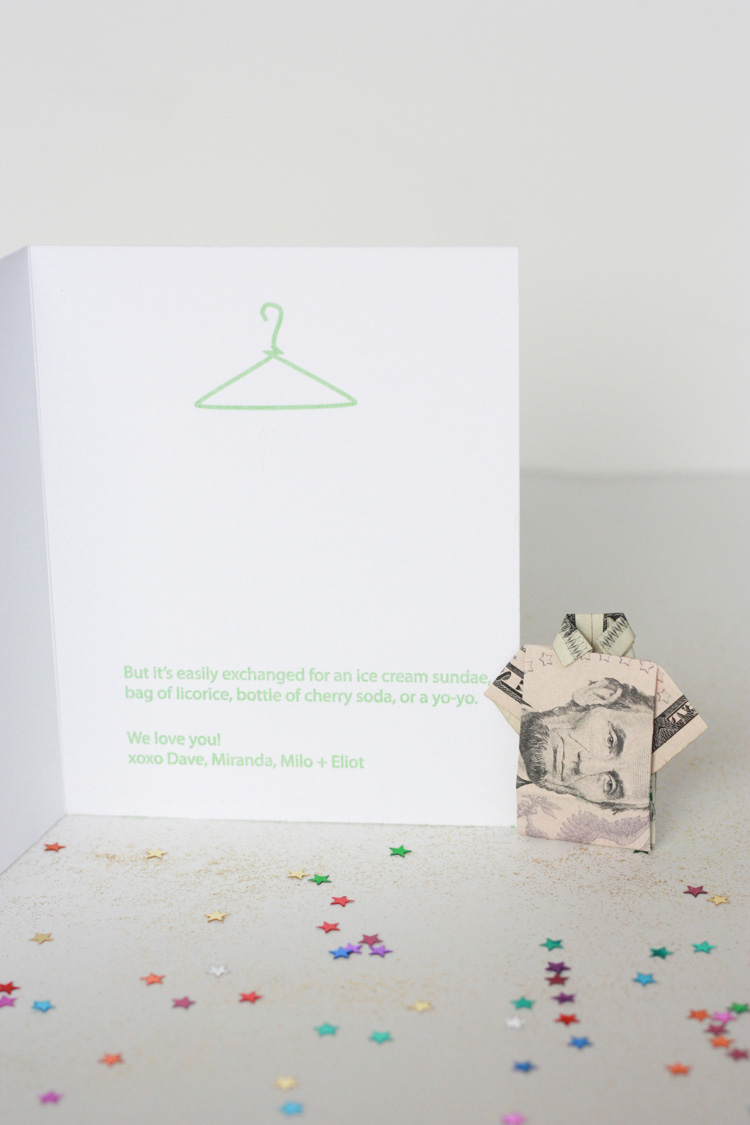 I designed the hanger to fit the origami shirt exactly, and love the way the card looks with the little empty hanger after the money shirt is removed (and hopefully spent on something as cool as a head-sized sundae!)
Although I letterpressed my cards, they would be equally cool printed at home, so I've provided a free PDF in three different colors for you to use! Because the card is two sided, you will print it once, then feed it back through your printer to print the other side. Every printer feeds a little differently, so you may have to experiment a tiny bit! Each letter-sized page will become two birthday cards that fit into standard A2 sized envelopes.

I have had so much fun with these birthday cards, I think I'm going to make our money birthday cards a tradition. I'm already scheeming ideas for next year's greeting!
Do you send birthday cards? What would you buy with your $5?