Hello there! After a three-month whirlwind hiatus from my blog (in which we have moved twice, begun building a house, and discovered our newest addition is a girl!!) I'm excited to share something fun, new, ruffly, and girly as a part of darling See Kate Sew's Ruffle Series 2013. I've been so lucky to be blog-friends with Kate for a couple years. She is incredibly creative and talented, and I loved seeing her ruffle series happen last year… but I'll be completely honest: I don't totally love ruffles.
I mean, I like them okay, but I'm not a very girly girl, and especially having two little boys, I hadn't ever had the chance to get super excited about ruffles.
But then I found out that this baby in my ever-expanding belly is a girl. GIRL! And all of the sudden, ruffles on EVERYTHING seems entirely appropriate! Necessary, even.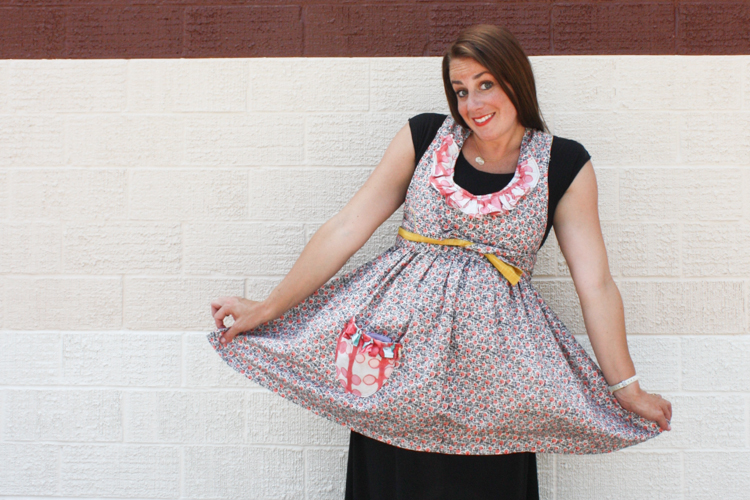 Given my new ruffle-conversion, when Kate invited me to participate in this year's ruffle series, I jumped at the chance to create a sweet, ruffled apron using Kate's new (free for now–get it while it's hot!) pattern. Gotta dress my baby bump in girlish whimsy, right?
The Ruffled Apron Pattern is great. The basic pattern is made up of simple pieces that print out on only six sheets of paper (if you leave the instructions PDF, like I do). From there, Kate invites you to let the creativity flow and mix up the pattern to include as many (or few) ruffles as you want! In fact, Kate is hosting a Sew-A-Long with this pattern right now! (If you hurry, you can bust one out and join the fun.) I think it will be an awesome base pattern to use for lots of remixing in the future. You can check out right here what Jessica from Happy Together and Sabra from Sew a Straight Line did with the pattern as part of this remix challenge.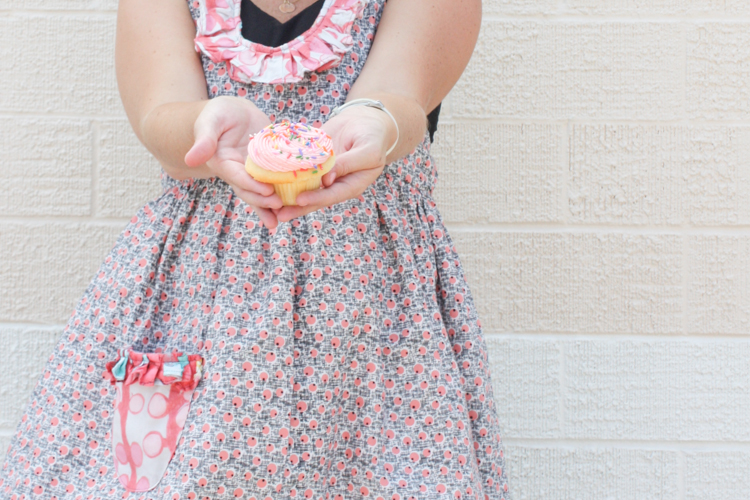 For my apron, I mostly stuck with the basic pattern, but had fun with the fabrics. I bought this main fabric during Sewing Summit last year, and was excited to use it for a project like this that will be worn often (and never grown out of–even at 7 months pregnant!) For all of the contrasting fabrics I used some of my favorite Laura Gunn designs, all bright and happy. I added a tiny bit of length to the ruffle at the neck, so it's extra ruffly, and also went ahead and topped the pocket with a tiny ruffle—because like I said, I'm converted.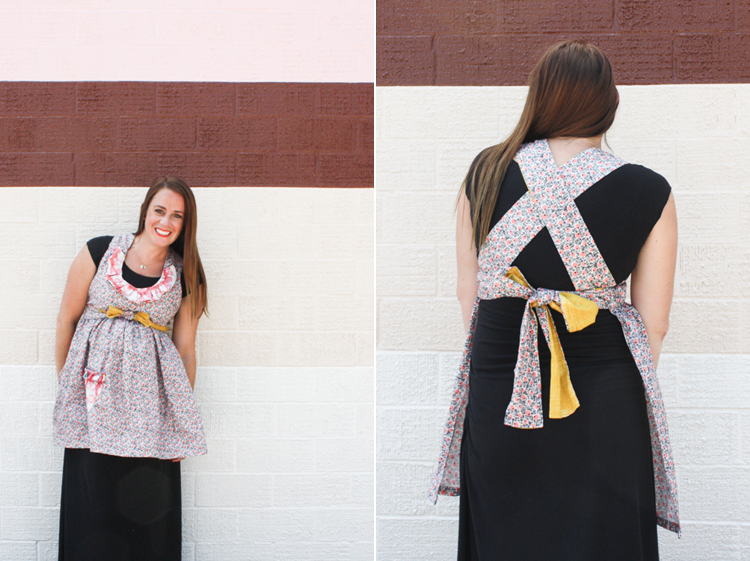 The waistbands are intended to go around the back, but I love that they are just long enough to tie into a cute little bow-tie in the front. When wrapped around the back, though, they make a nice big bow, which is also cute. The neckties are intended to go around the neck like a halter, but I added buttons to the waistband and button holes to the neck ties so I can cross them Downton Abbey style. I think it's more comfortable, and I still have the halter option for versatility.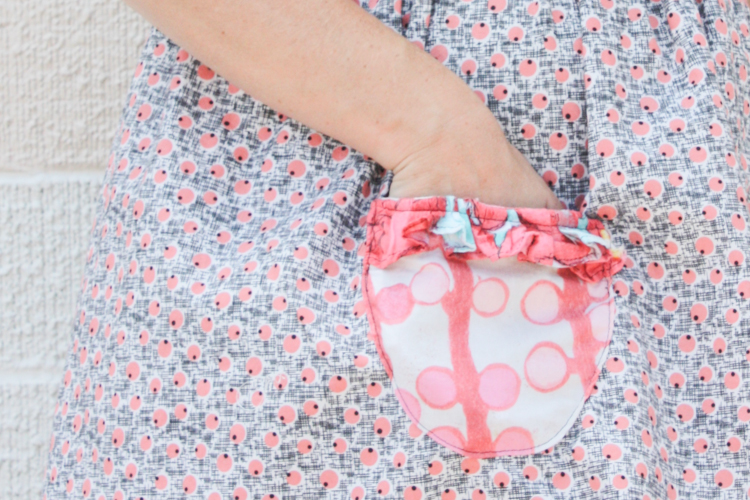 My pocket was a little top-heavy with that ruffle, so I added a bit of velcro to keep it flush with the apron when not in use. Somehow, though, I keep wanting to just put a hand in there, it's so darn cute. Ruffles really can grow on you, right?!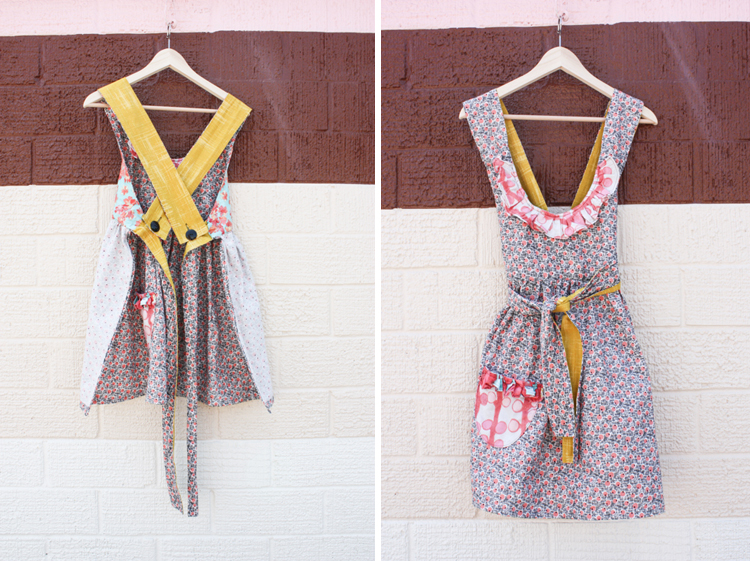 Here's the inside of the apron. You can see how to do the buttons. I found the right fit for me was to stitch the buttons almost to the seam where the waistband attaches to the bodice, but I imagine that will be different for everyone. Also, how great is the lined bodice? I loved the excuse to use another different and happy print on the inside.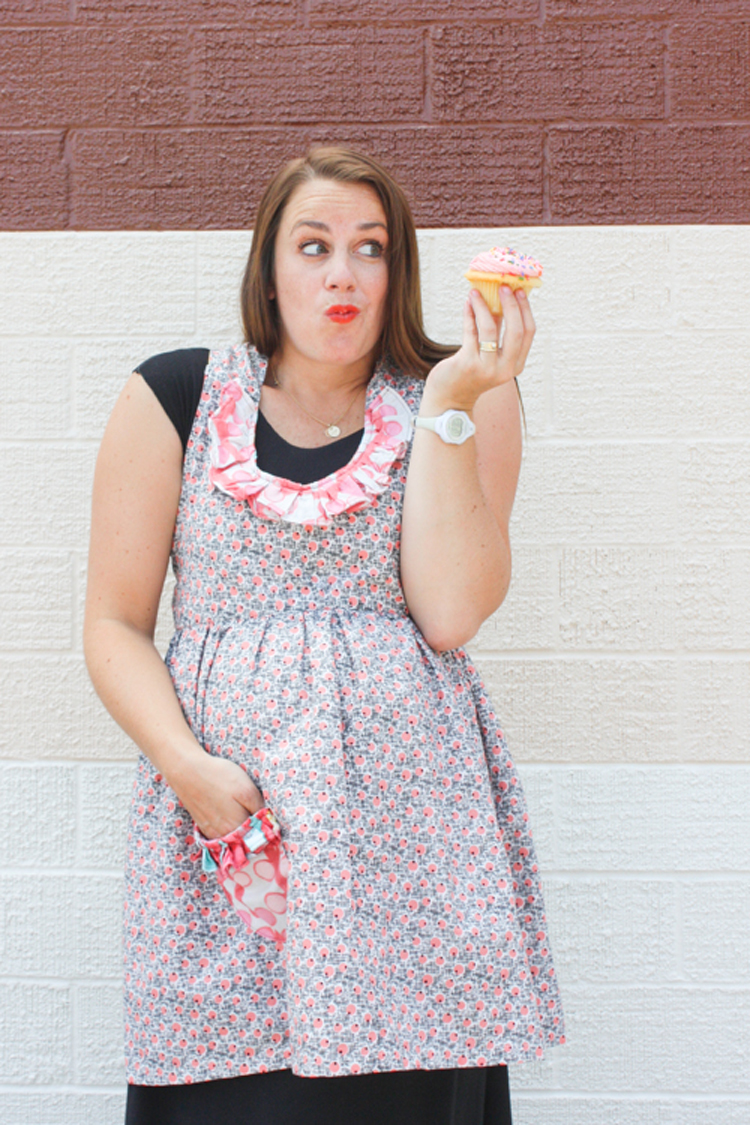 And, let's be serious. A photo shoot with a pregnant girl and an apron just begged for a trip to Austin's Hey Cupcake!  The boys thoroughly enjoyed the excuse to cover themselves in frosting and sprinkles while I took tripod selfies and tried to remember how to get a blog post pulled together.
(While I'm being honest, I thought the cupcakes were okay, but really missed the DC cupcake scene. Dang, now I think I'll have to do some real Austin-area cupcake research…that's going to be tough.)
You'll be happy to know that while this post depicts just a clean, pressed apron and a store-bought-cupcake eating mom, the apron has already seen the real life of my kitchen and been through the wash a couple times. In fact, I've begun inviting the boys to cook dinner with me, and they usurped my two basic, utilitarian aprons. That left me wiping my hands on my stretchy pants until I made this especially girly apron (that simply makes me happy to wear, and that the boys don't want to wear) at the perfect time.
You should probably make one, too.