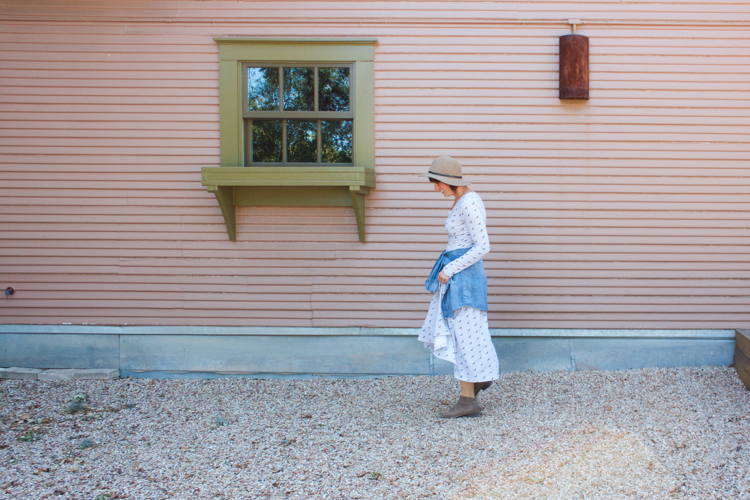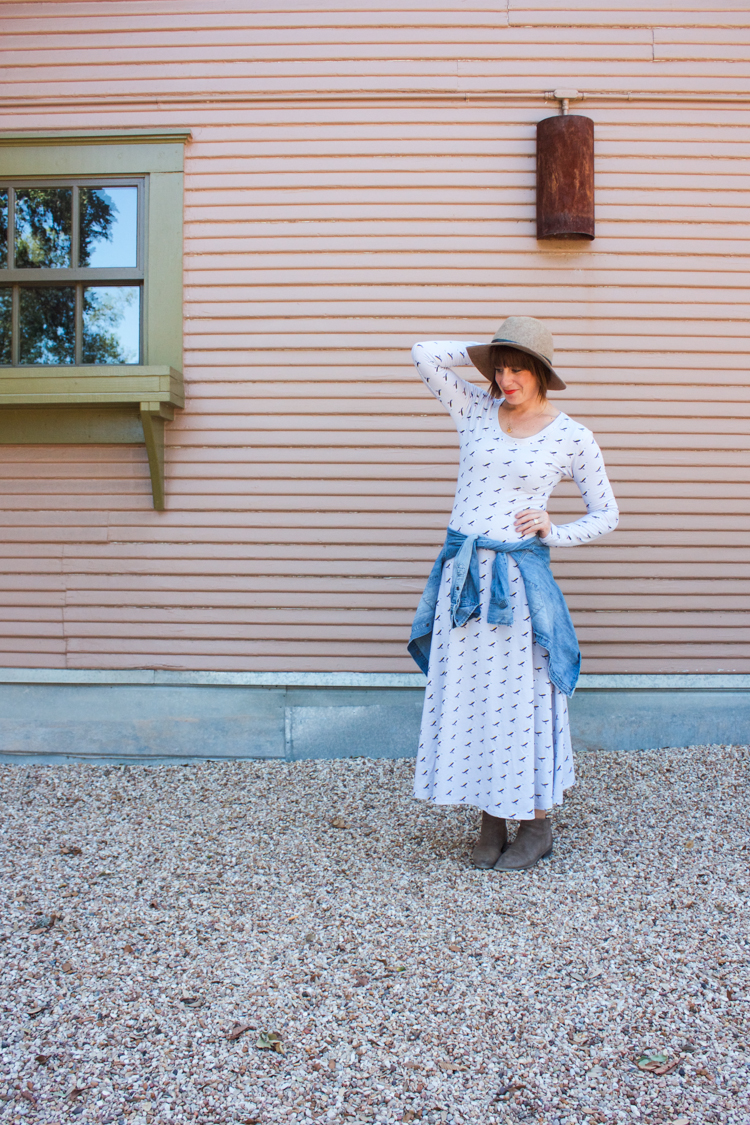 Have I mentioned how much I love fabric? It's one of my very favorite things, and I always jump at the chance to work with something new. This chance is especially exciting when the designers are my friends, the great girls over at Pattern Anthology who just released their first mini fabric line of Riley Blake knit called Idle Wild.
I immediately fell for these birds, and had a long-sleeved maxi dress all worked up in my head before it arrived! The fabric is soft and perfectly stretchy. I think 5% spandex is the most wonderful blend. It recovers beautifully, feels high quality and durable, and is super comfortable.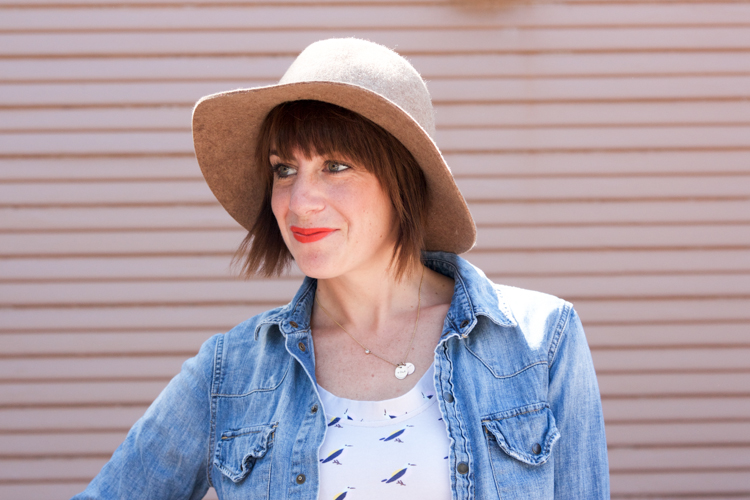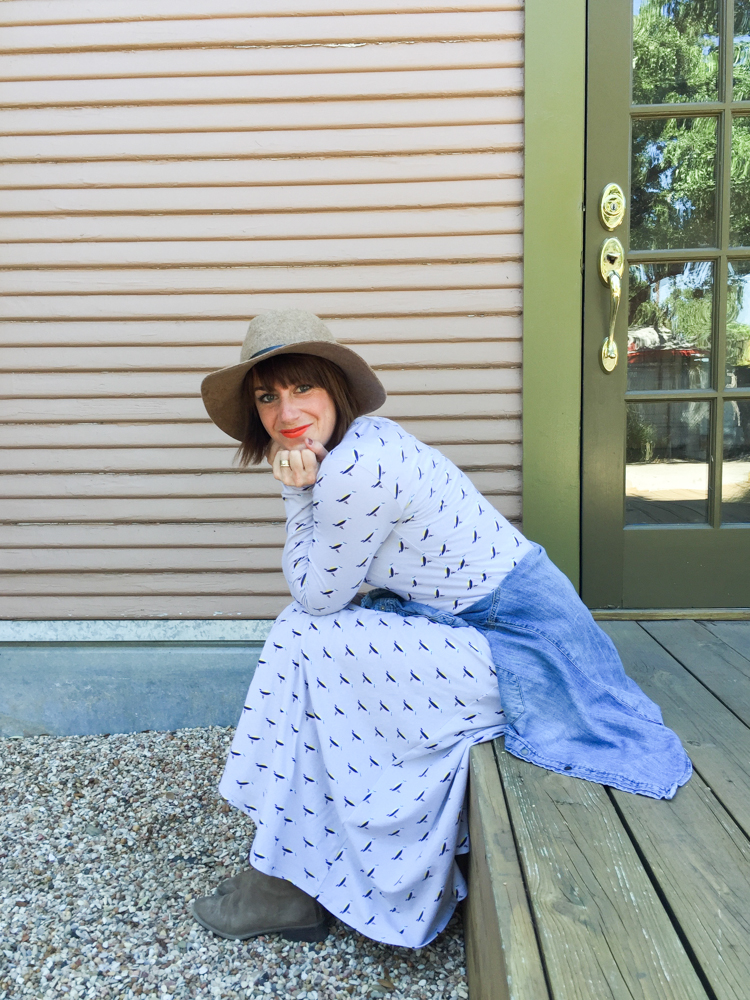 I wanted to make a maxi dress for fall–you know, since the temps have dropped to around 98 degrees around here. Ha! I started with one of my favorite patterns for a knit top, the Briar by Megan Nielsen. Then I modified it into a dress by stopping the bodice at the waist, and drawing a straight line out to the edge of the fabric to make the bottom a quarter circle skirt! It's unusual to have a circle skirt line without a seam at the waist, and I really love the way the fullness drapes.
If you don't have the Briar pattern, here's my tutorial on how to use your own favorite tee shirt to rub off a pattern. Then here's the one you'll need to teach you basic tee shirt construction. And finally here's the one that will help show how to create a circle skirt.  Rather than a full step-by-step tutorial for this dress, using the above resources and the illustration below, you'll be able to make one just beautifully!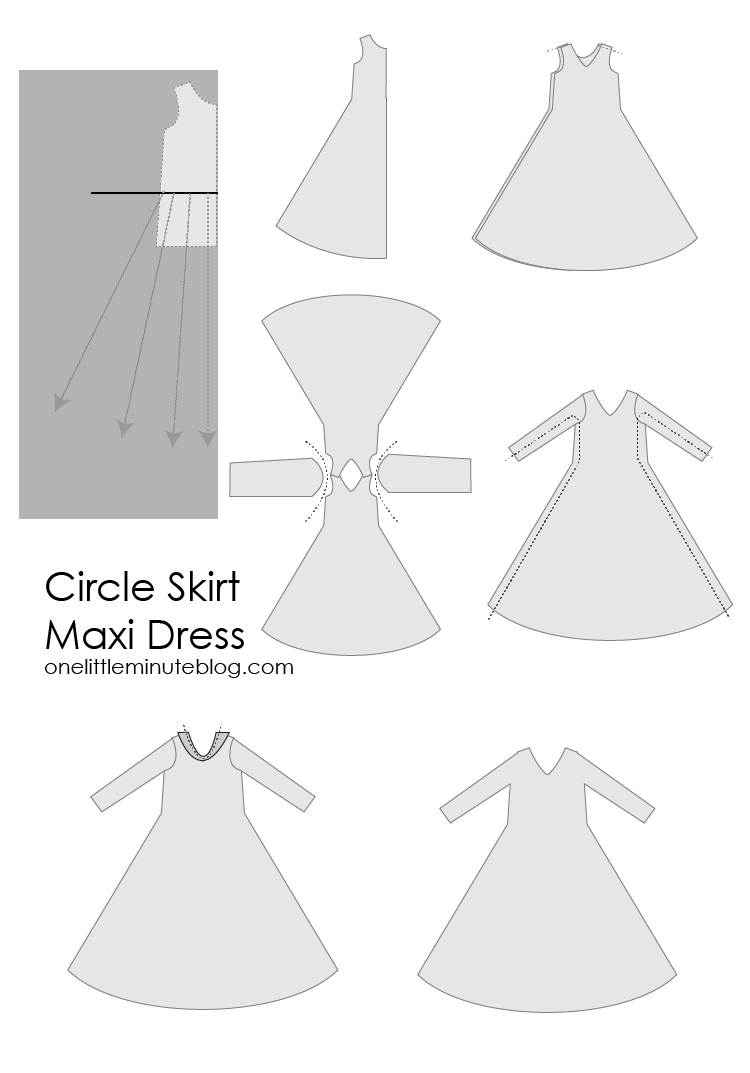 To modify the bodice pattern that you want to use, measure from your shoulder to your waist, where you want the circle flare to begin. Measure that out on the pattern and mark with a line (shown in black)
Measure from your waist to your ankle and make that line from the outer edge of the bodice waistline to the edge of the fabric. You'll be restricted by the fabric width, but it should be perfect for a gentle, quarter circle skirt.
Use that same length measurement to measure the skirt hem along the waistline as shown. That will give you your modified circle skirt dress pattern. *Make sure that on the fold you have a totally 90 degree angle, before you begin the skirt curve, so you don't end up with a notch in the center!
Do the same thing on the back pattern piece, then cut the sleeves and neckband according to the pattern.
Construct the dress the same as you do a tee. Begin with shoulder seams, add sleeves, sew side seams, add neckband, then hem and you're done!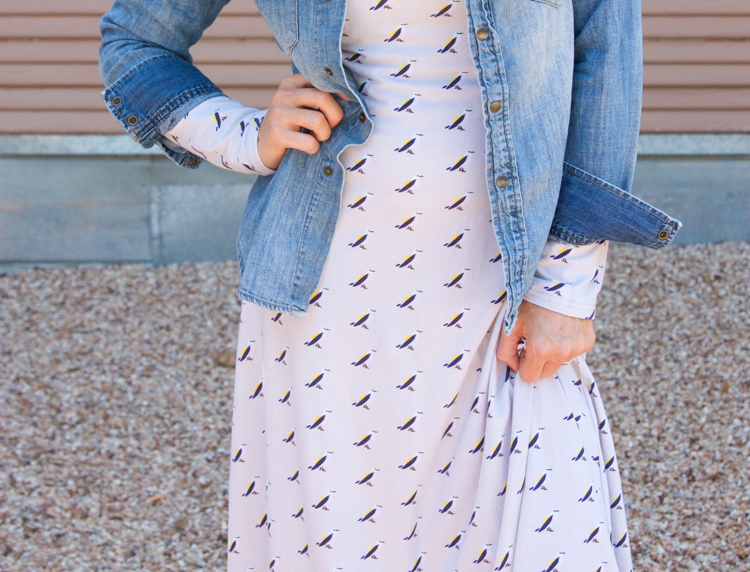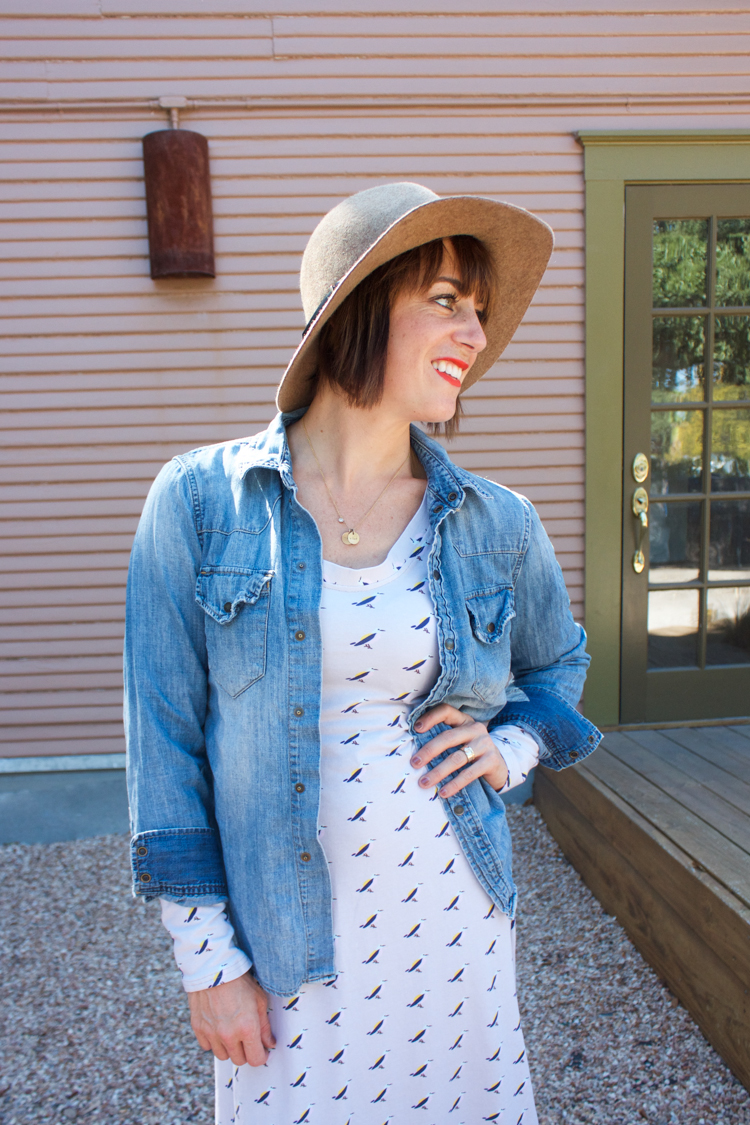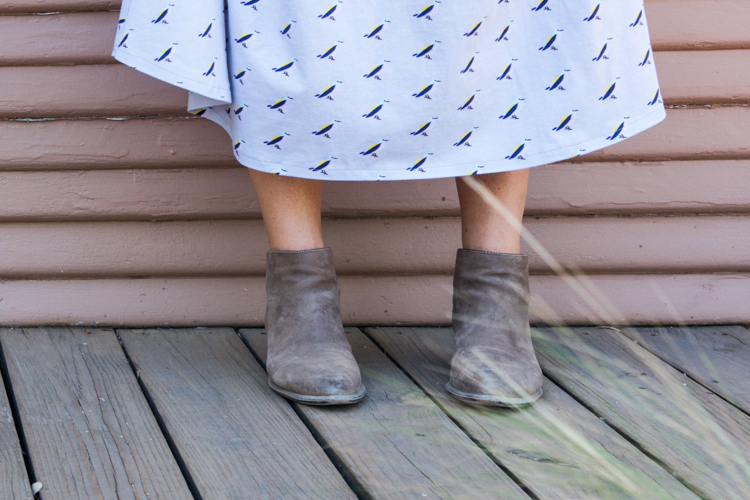 Now I'm going to tell you a funny story.
When I choose this bird print, I was considering my own style, how I like to dress in mostly neutrals with occasional pops of color. In a mix-up, I first received the Idle Wild Bird Print in blue! I didn't immediately notice that the fabric was wrong. I simply thought to myself "Wow! That's sure more blue than I expected!" Then I washed and dried it and went ahead with sewing this dress.
I had finished the dress completely and was looking in the mirror thinking how BLUE it seemed. It was still really cute, but felt more like a nightgown to me, and I wondered why I would have chosen such a colorful fabric when I knew I was more of a neutral dresser. Then I looked back at the website and realized I had been sent the wrong color! Ha!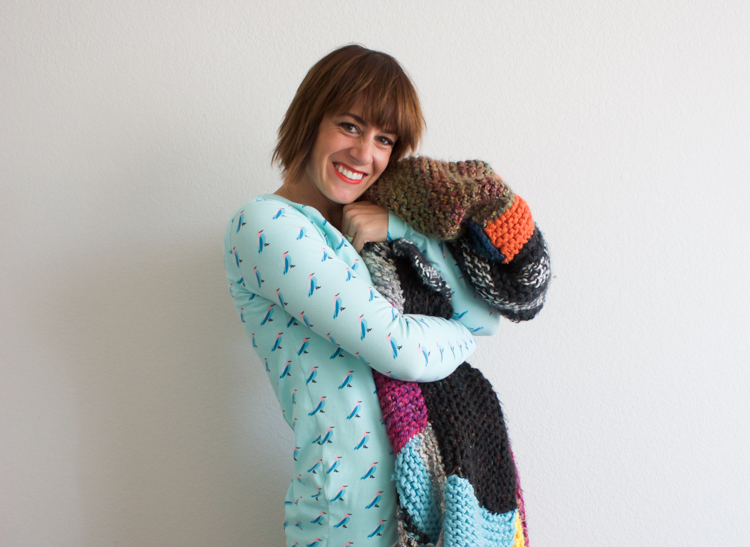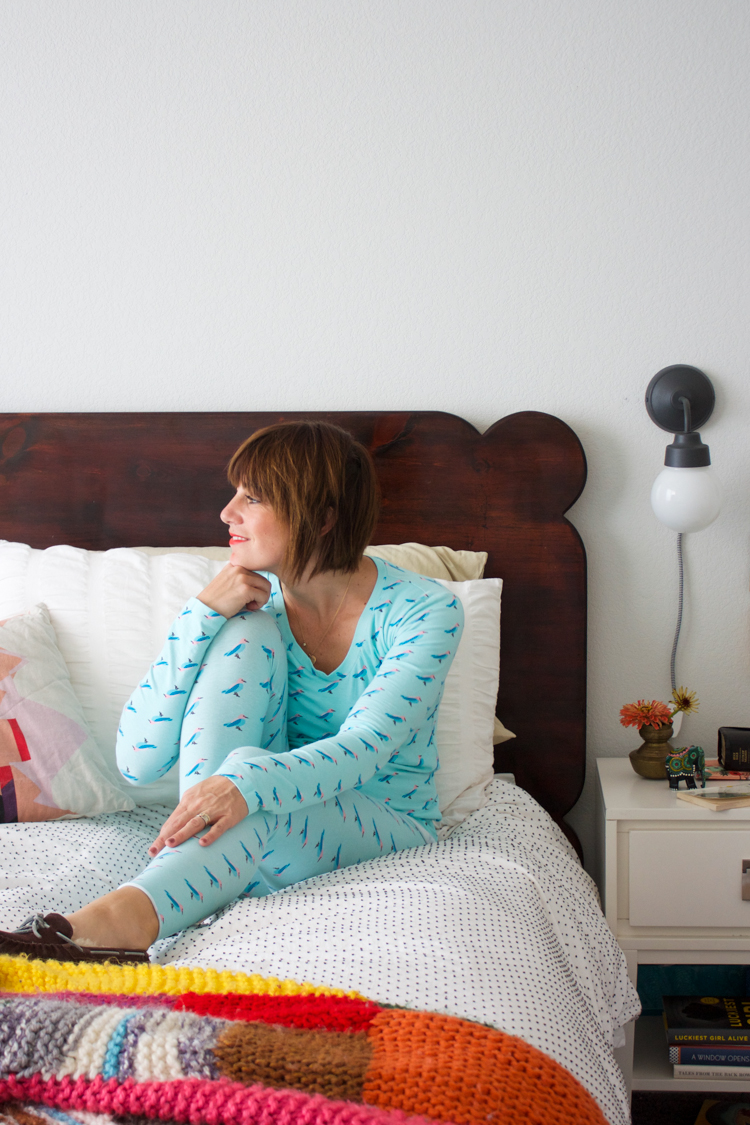 Since I had already sewn and finished all the edges of the dress, I decided it would make a perfect, soft, comfortable pajama set. I used the bottom of the Briar pattern to finish off the top, and left the hem unfinished because pajamas. Then I used the extra diagonal piece of fabric from where I had cut the skirt to whip up a pair of leggings using my self-drafted legging pattern.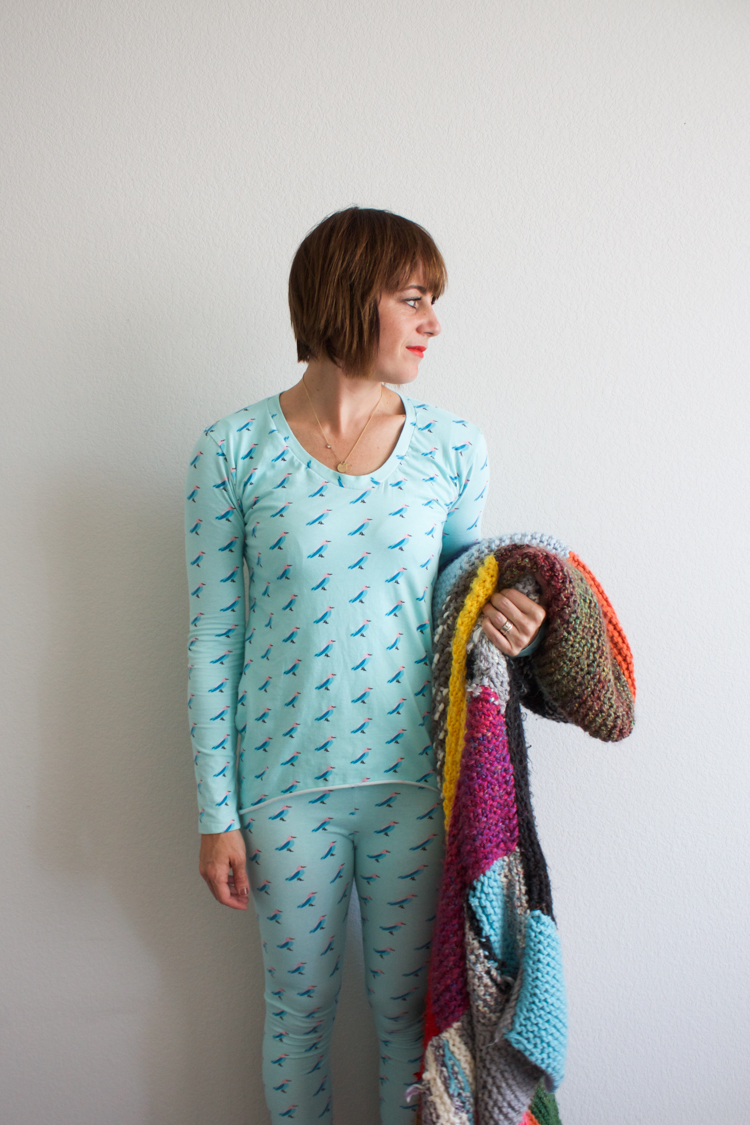 The PJ's are seriously so cozy, and I love the way the dress turned out in a more neutral, darling grey. Talk about a win-win!
The Idle Wild line has a few more great prints and color ways, and I can't say enough great things about the feel, stretch, and quality of the Riley Blake Knits. I've already got new projects brewing with them in mind!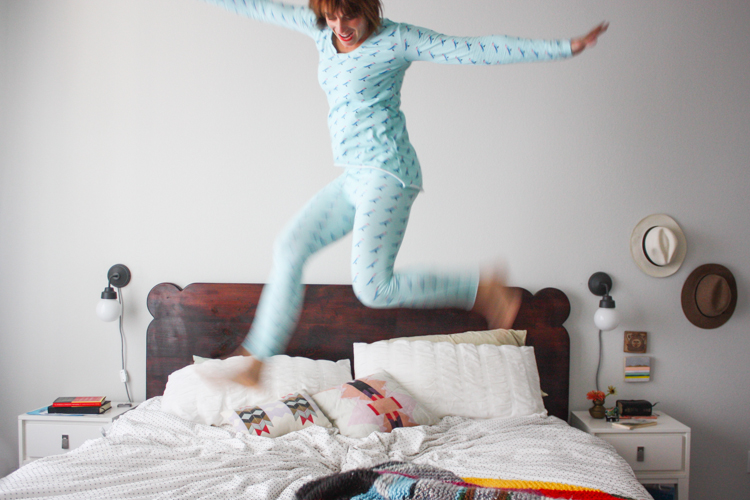 Five Days to Freedom: Tips for Choosing Less Stuff and More Adventure in your Daily Life
Five lessons with practical tips and exercises to help you feel more in control of your life!