Monday morning I sat in my pajamas with my three-year-old on my lap and ordered our groceries online. Then we packed up and went to the pool where we swam, chatted, and played with friends for a few hours. Just after we arrived home our Shipt shopper knocked on the door and delivered the groceries onto my kitchen counter. In a total of four hours I was completely convinced that grocery delivery will be a game-changer in our life.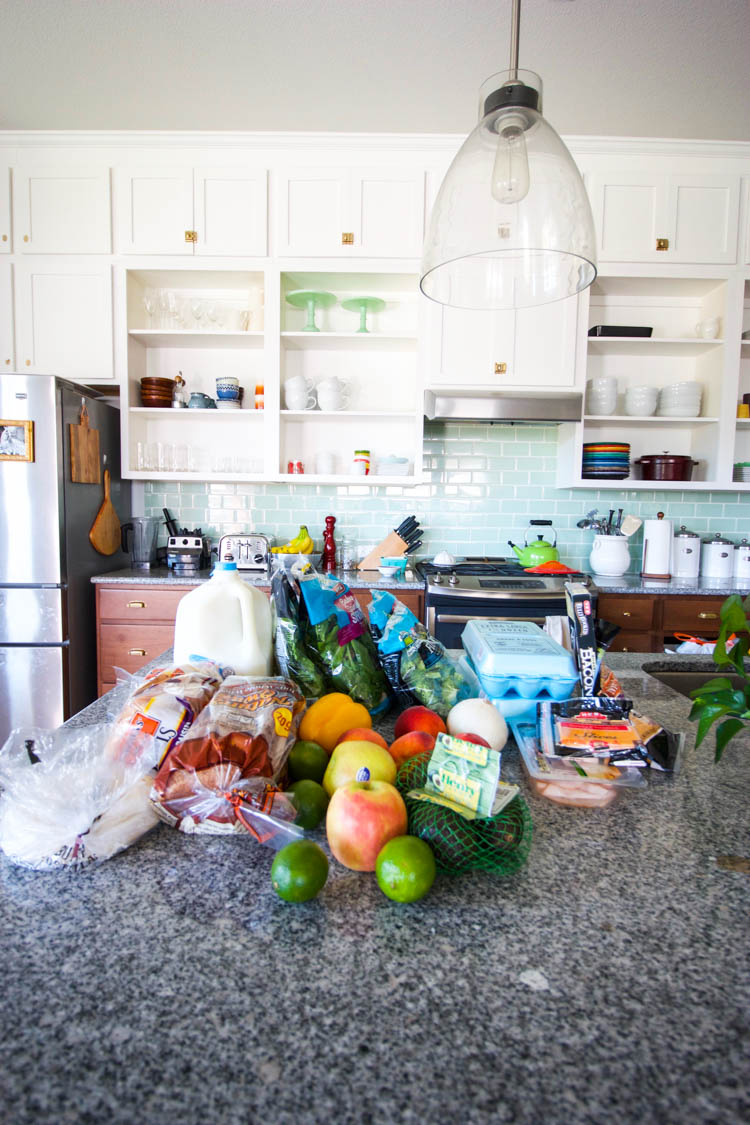 I actually love grocery shopping– when I can do it by myself. But solo errands don't happen often these days with three little kids in the mix. If I have time alone I want to be using it for either working or doing something personally enriching–not running errands.  My time and energy are both precious resources, and when I have an opportunity to easily preserve one or both, I will.
Shipt grocery delivery is just one of those opportunities. The membership-based service sends personal shoppers into the store with the list of groceries selected either on the app or on the website on a computer, which was I did. They have contracted in the Austin area with H-E-B, which is a huge favorite store and added essentially the entire inventory onto the sites for shopping. (Find out if they are nearby where you live here.) I was able to order my full list of regular groceries, adding special requests for the items I knew I wanted but couldn't find online (like the fresh bakery flour tortillas) and the shopper texted me to let me know he had found them.
The membership fee is $99 annually and includes free doorstep delivery on every order over $35. (New members in Austin also receive $25 credit for signing up before the end of the day today! So jump!) I'm a budget-friendly mama, and I break this down to less than $2/week for the delivery of my groceries to my front door. I mean. It's a total no-brainer. Not to mention that I would make up that $2 +more by being physically in the store and impulse buying Oreos and new colors of nail polish on my way out.
The Shipt shopper won't stray from the list like you might. In fact, as a nice feature, they contact you if something specific on your list isn't available. For example, I ordered Fresh Texas Peaches, but there weren't any in the store, so my shopper texted and asked if California Peaches would be an okay substitute. He picked some great ones, by the way.
By the time I finished unpacking and putting away my bags of groceries, I was giddy. I had been able to get everything I needed while staying on budget, and spending more time with my family. Win-win.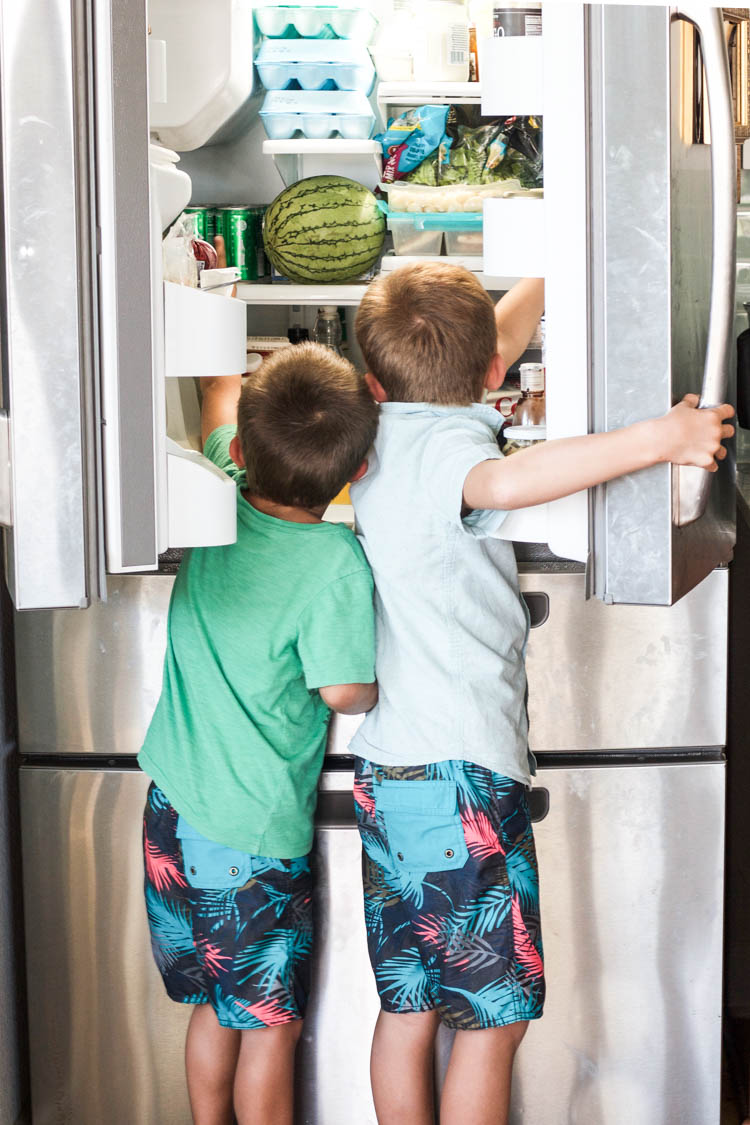 If you've been reading this blog for over a year, you know that I adopted a minimal meal plan last spring.   That post resonated with so many people because meal planning, from the menu ideas to the shopping to the cooking and cleaning up is all a stressful, somewhat draining part of adulthood and especially motherhood.
My simple meal plan includes just seven favorite meals assigned to the days of the week and repeated over and over again. In the post I address some of the obstacles and concerns one might have when considering a minimal meal plan, but let me assure you it works! We've now been maintaining our baseline meal plan for over a year and everyone is healthy, happy, and feeling great about dinnertime. (Bedtime is another story, haha!)
Now that I had tackled the first piece of the mealtime struggle, deciding what to make, I'm so excited to have the second piece, buying the groceries, simplified as well. Having my grocery list set and saved onto the Shipt website and app allows me to re-order the same basics each week without having to look things up again! I talked a lot about automating routine tasks last year in the Energy Management series, and this feature does that literally.
With my baseline groceries figured out, I have brain space to consider what other special circumstances may be happening that I should buy things for. This week I added popsicles, gatorade, and jello for Eliot's tonsillectomy recovery. I also remembered potty training treats for Plum, who I plan to work with while we're home these next two weeks with Eliot recovering. That may be overly ambitious, but I'll try!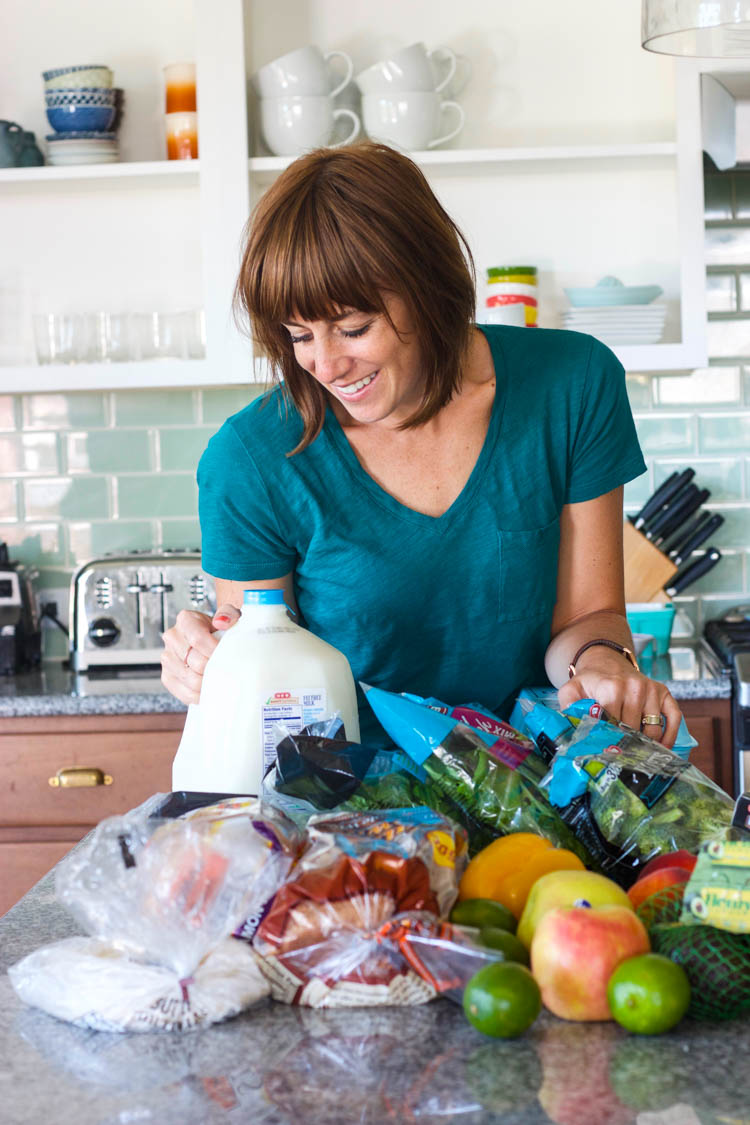 I am continually seeking out ways to simplify and streamline my life so that I have more time and energy for the things that matter the most. Taking grocery shopping off of my plate adds space for something else, like a pool day, and that feels amazing.
Here are some other ideas to simplify your meal times, even if you don't have a grocery delivery option nearby:
Create a Minimalist Meal Plan for your family (Always eat pizza on Friday and tacos on Tuesday…at the very least)
Precut veggies and store them in bags or boxes for to easily add to meals
Organize your fridge by food type, like in the store (dairy, produce, meats/cheeses, sauces) to easily find what you need
Create a habit of packing lunches while you make breakfast and the food is already coming out of the fridge and pantry
Organize your pantry with these practical tips
Plan a freezer meal swap with a group of friends and easily stock your freezer with homemade heat-and-serve dinners
When storing leftovers, pre-pack them into meal-sized portions to be able to easily grab for future lunches
Buy precut, pre-skewered, and prewashed produce if you find yours sits unused in the drawers
Get comfortable with buffet style Smorgasbord meals rather than a traditional entree and sides menu (these are some of my favorite meals!)
Turn on music while you cook to keep kids entertained and instantly create positive energy in the kitchen
Even writing this post and revisiting some of my meal planning tips, I feel more enthusiastic about simplifying the process of planning, preparing, and enjoying meals together as family. I'd love to hear your meal planning tips or concerns in the comments so we can learn from each other!
This post shared in partnership with Shipt, all opinions and experiences are my own.