It's here. That coolness in the air. The crunch of leaves on the ground. Rosy cheeks after an early morning walk to school. Fall, which in Texas feels more like summer everywhere else, is settling in with it's nice seventy-eight degree days and seventy degree nights. Perfect weather if you ask me. Once the days are down out of the nineties, I'm ready for the coziness of a wood-burning fire pit and the sweet experience of gathering round to roast s'mores, tell stories, and create memories. With some sturdy fall basics from At Home, we created an amazing fall fire pit in our yard, perfect for entertaining during the season ahead. When we lit the first fire last week, I also introduced my family to Fire Roasted Cinnatwists, which they loved, and can't wait to share the simple recipe with you today!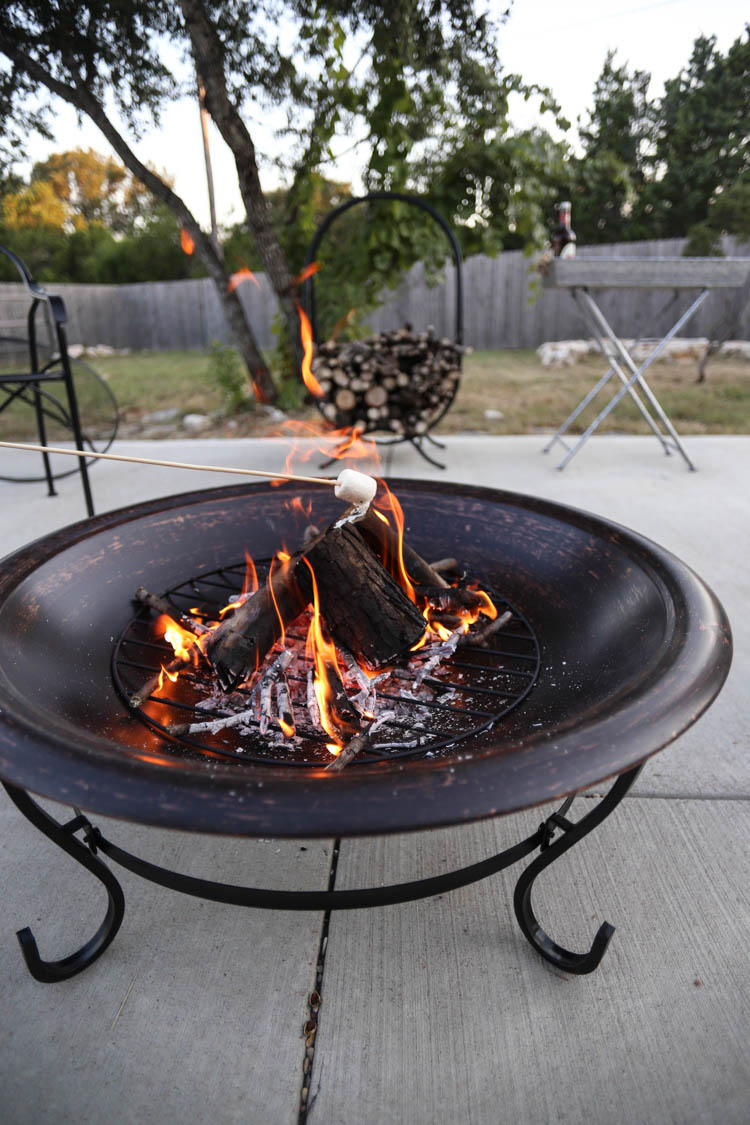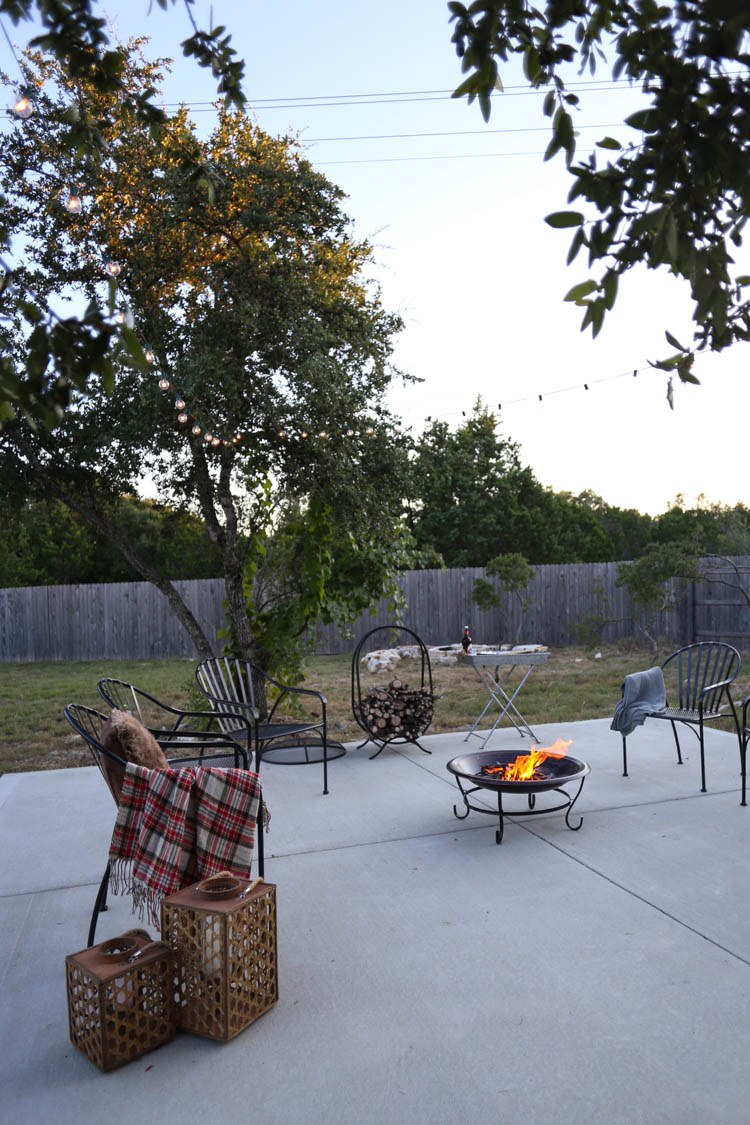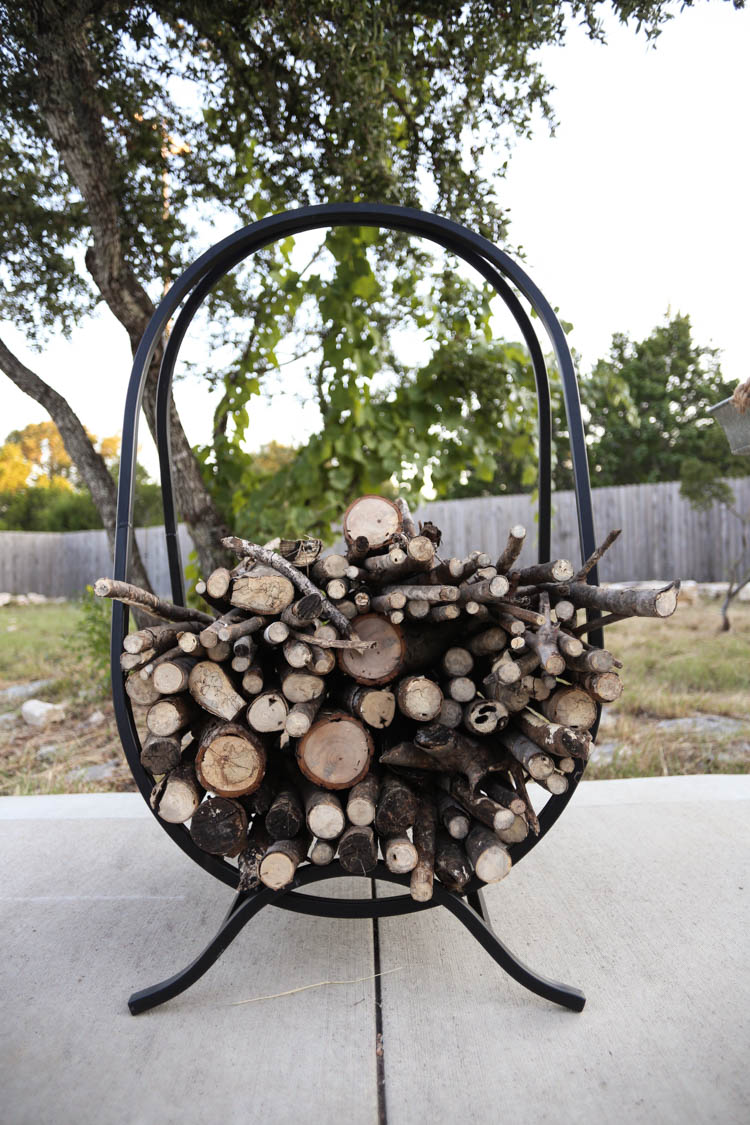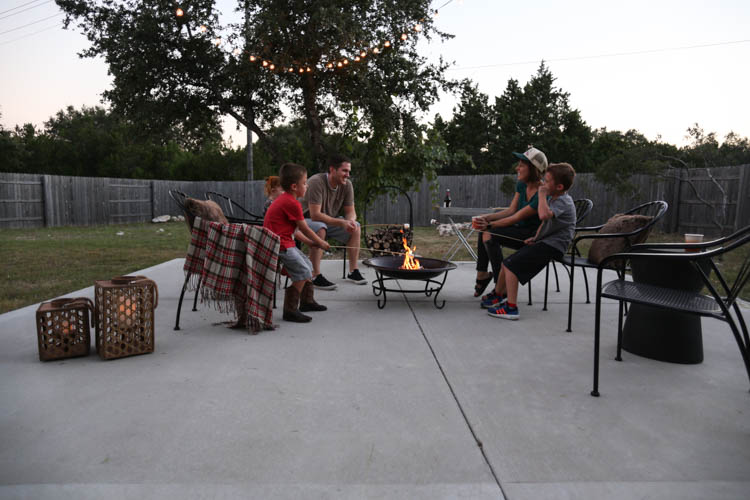 When we built our home, we had a cement pad poured in the yard with the idea that eventually we'd have a big outdoor kitchen and dining area built. Though it hasn't yet been time to add all of that, creating a cozy, modern backyard fire pit on the site was a perfect use of the space. It feels filled up and intentional in a way it never did with the kids scooters and push-toys all over it!
I've loved working with At Home as part of their Inspiration Team these last several months, and this project was really simple to pull together because they really had every single thing I needed (and more!) The clean-lined wrought iron patio chairs will withstand the weather, while still being comfortable with their arms and shape. They compliment the copper fire bowl nicely. I was curious how the big oval firewood holder would look in this backyard setting, as it's designed to be inside, and I love it! Something about an organized pile of cut wood feels so cold-timey cabin to me and takes me right back to my childhood.
I added these gorgeous bamboo lanterns with LED candles for some outdoor accessorizing, as well as the folding galvanized tray (which, by the way, makes me feel like every outdoor table should be folding. It's brilliant!) A couple faux fur pillows and warm, plaid and knit throw blankets finish off the whole vibe and complete the experience.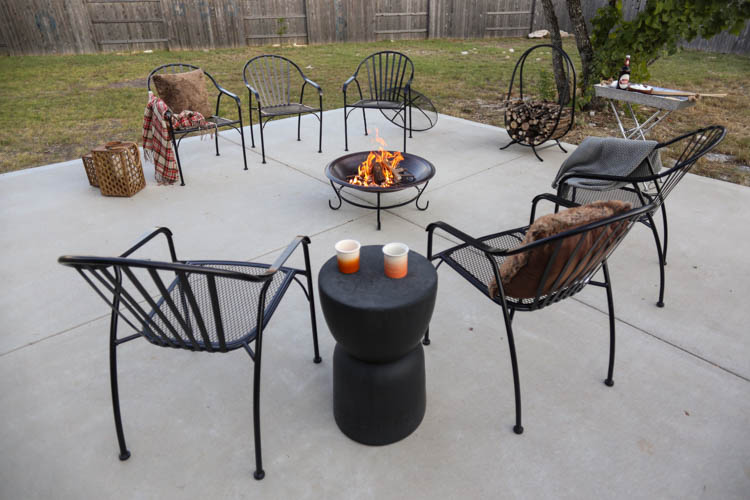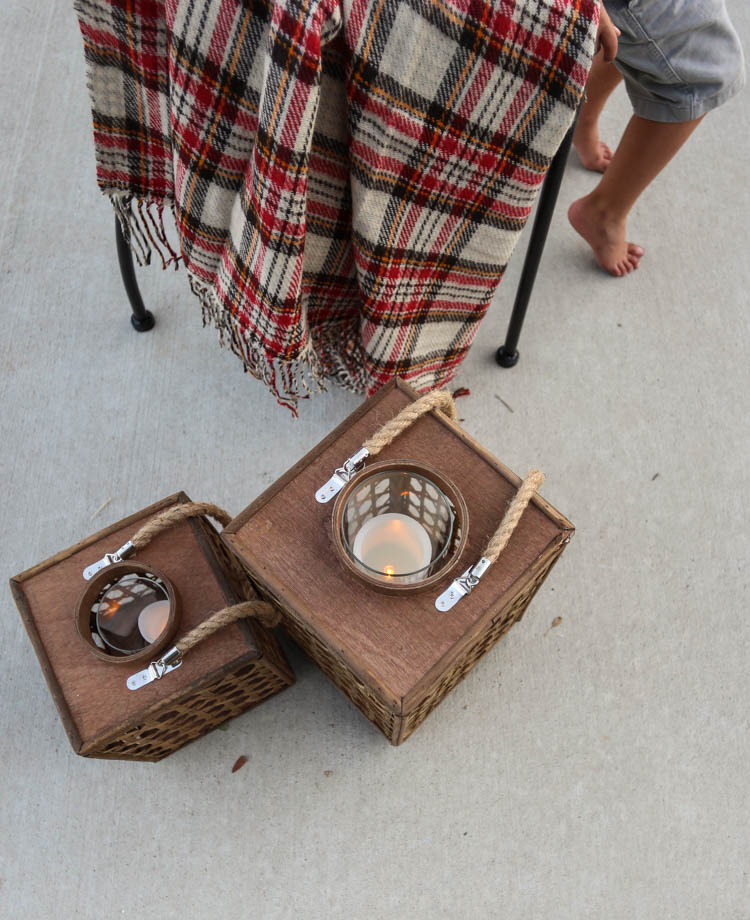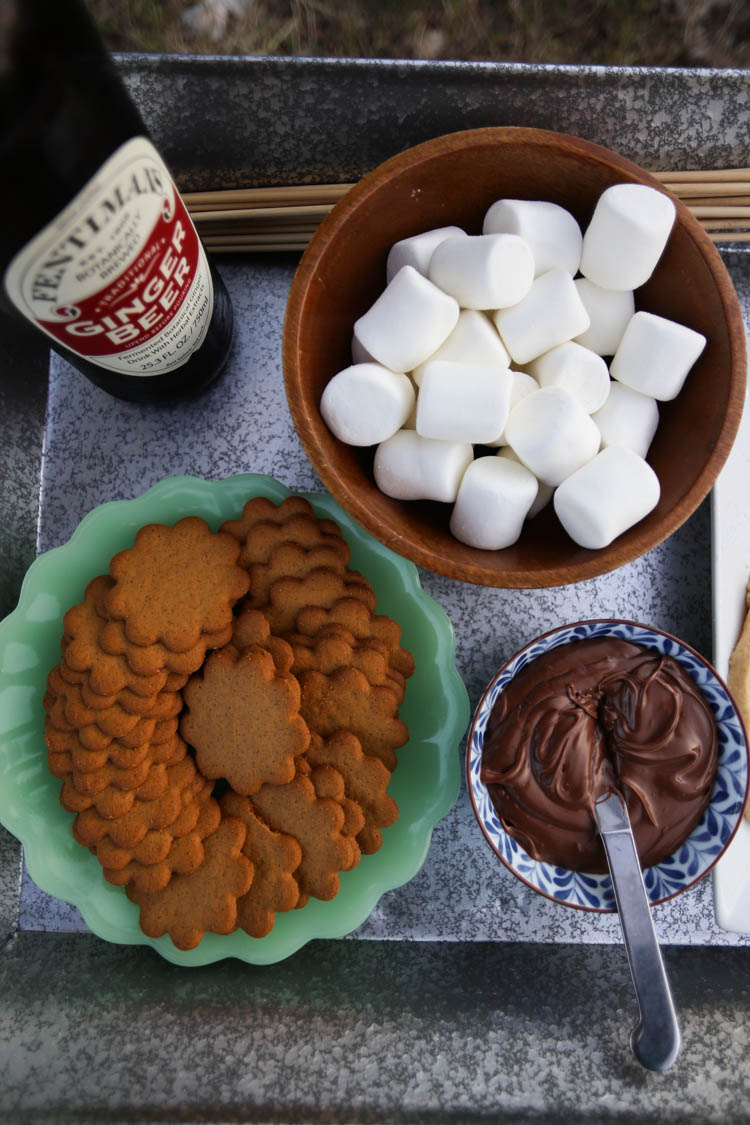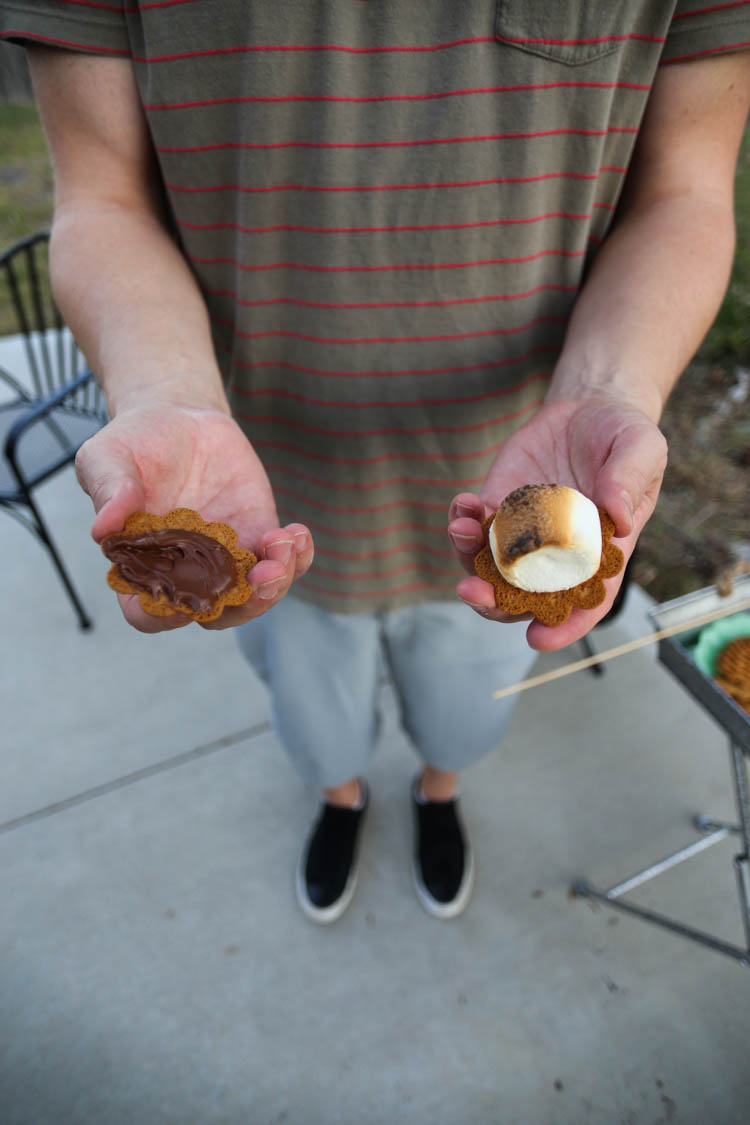 I adore s'mores, but if I'm being totally honest, the whole hard chocolate and oozy mallow thing can be disconcerting. I know, that's weird, and mostly easy to overcome by carefully melting the chocolate onto the cracker around the fire while you roast the marshmallow—but with small kiddos I want to keep things as simple and injury-free as possible. Spreadable chocolate, in the form of Nutella, was like a lightbulb for me as I prepared for this fire pit with the family. Then I took it a step further and set out gingerbread thins rather than grahams, and the entire experience was elevated. Seriously, give the nutella gingerbread s'mores a try and thank me later!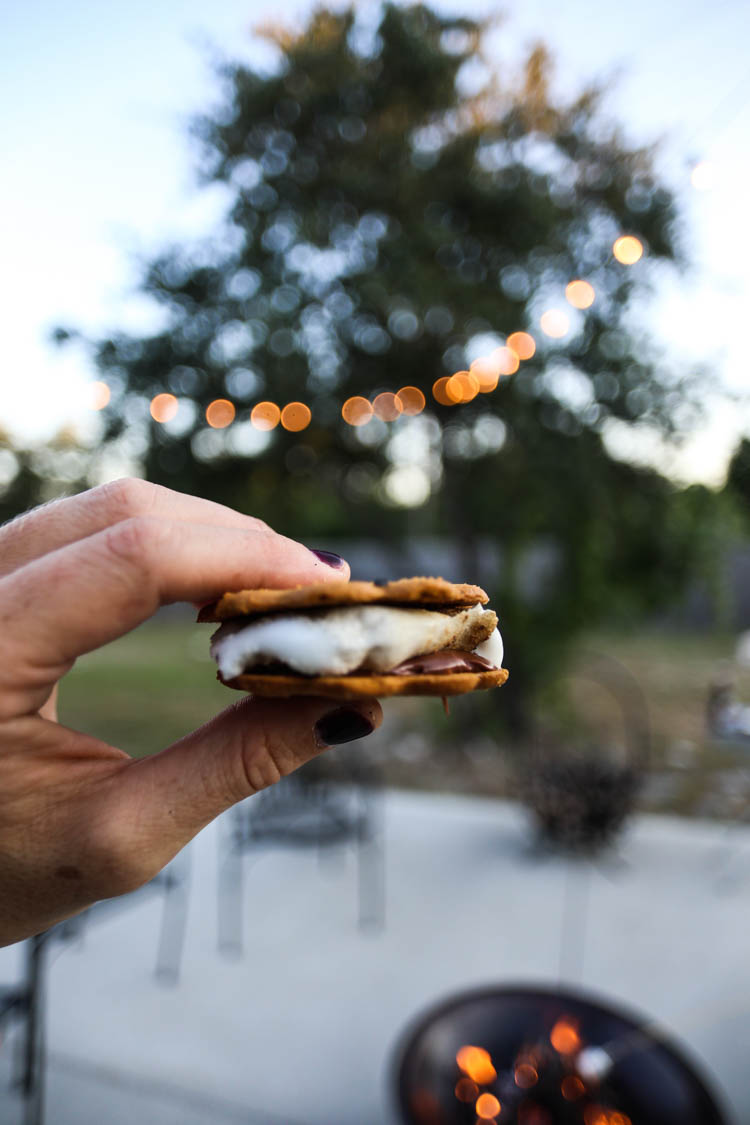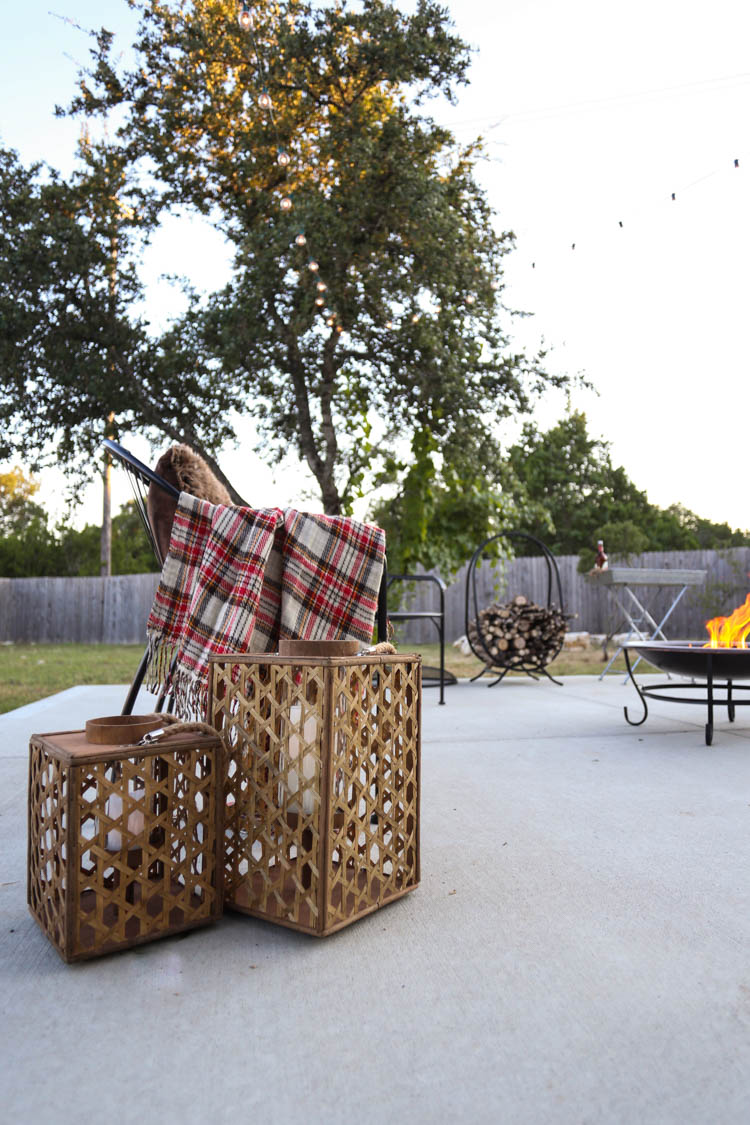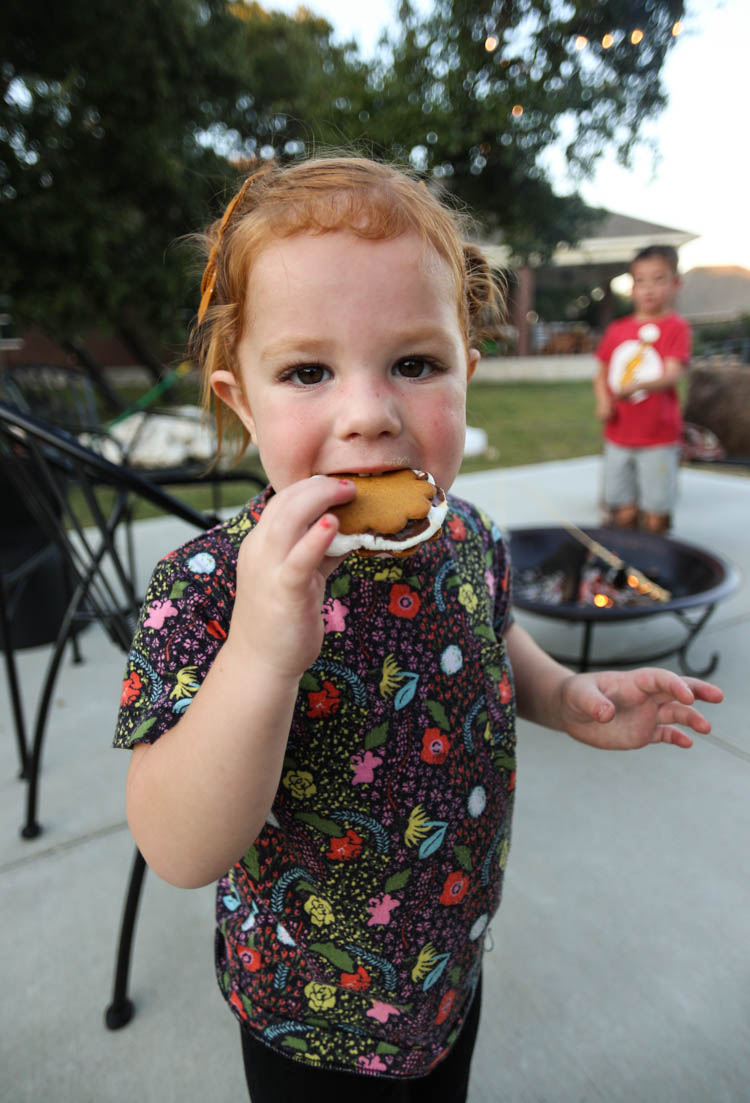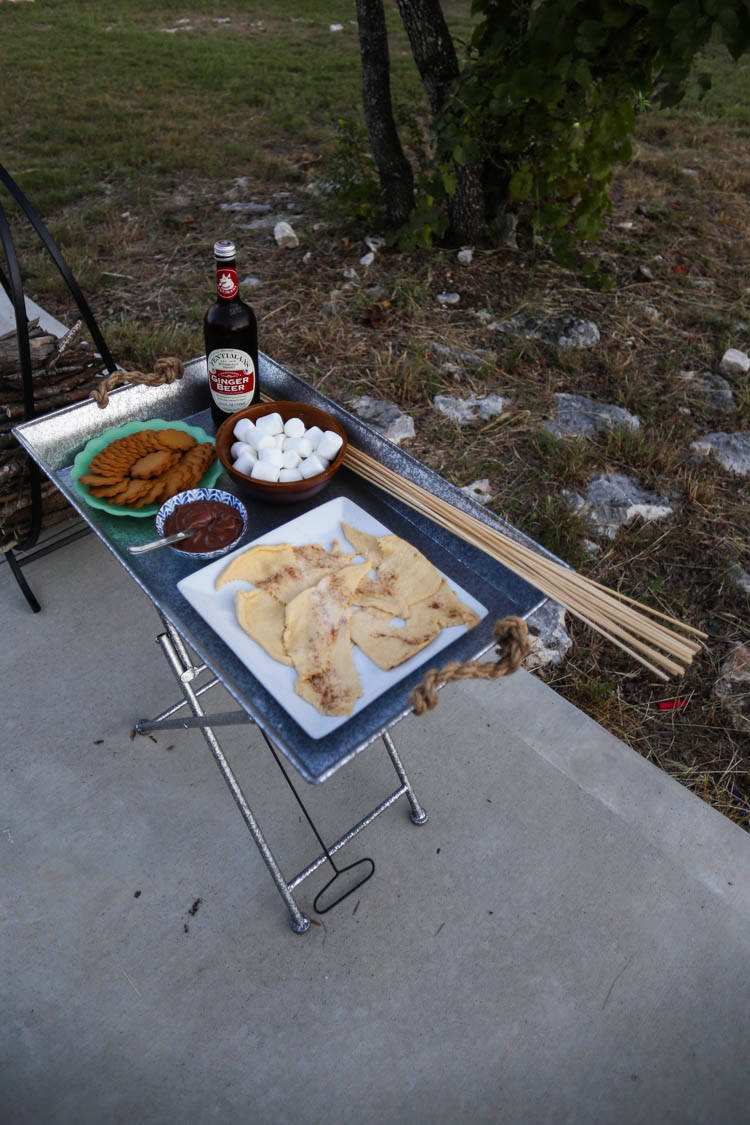 The other new fall fire pit treat that I introduced my family to was Fire Roasted Cinnatwists. I remember my dad making something similar sometime in my youth, using canister crescent rolls. And I remember them being awesome. Here's how you make my version:
Fire Roasted Cinnatwist
1 can refrigerated crescent rolls
1 cup sugar
1 Tbsp ground cinnamon
Stretch out the dough, and spread the cinnamon and sugar mixture over one side. Starting at one corner of the dough, wrap it in a simple twisting motion onto the roasting stick. Hold over the hot part of the fire, avoiding scorching and twisting slowly, for about five minutes or until puffed up and golden brown. Let cool for a few minutes before enjoying off the stick!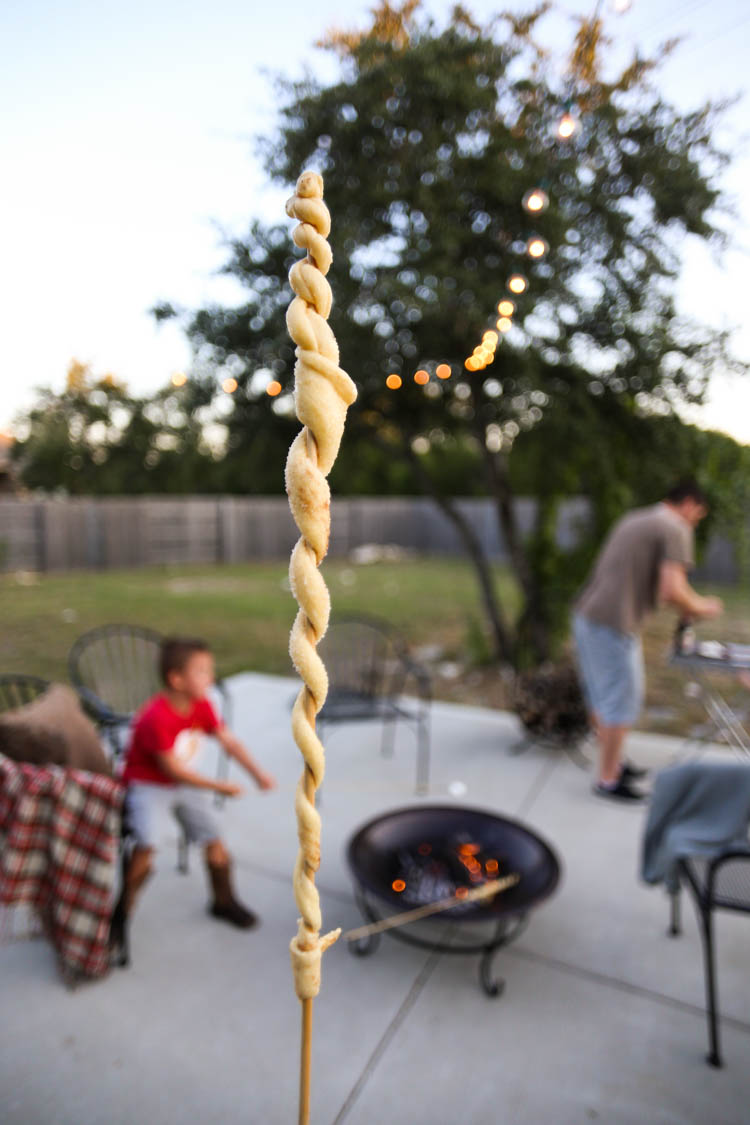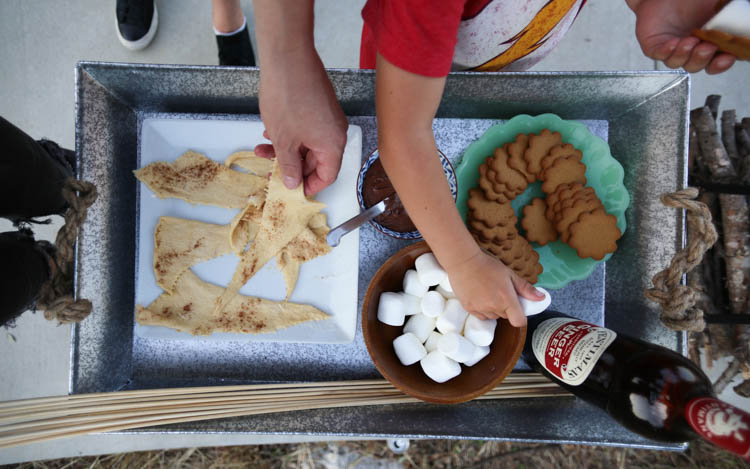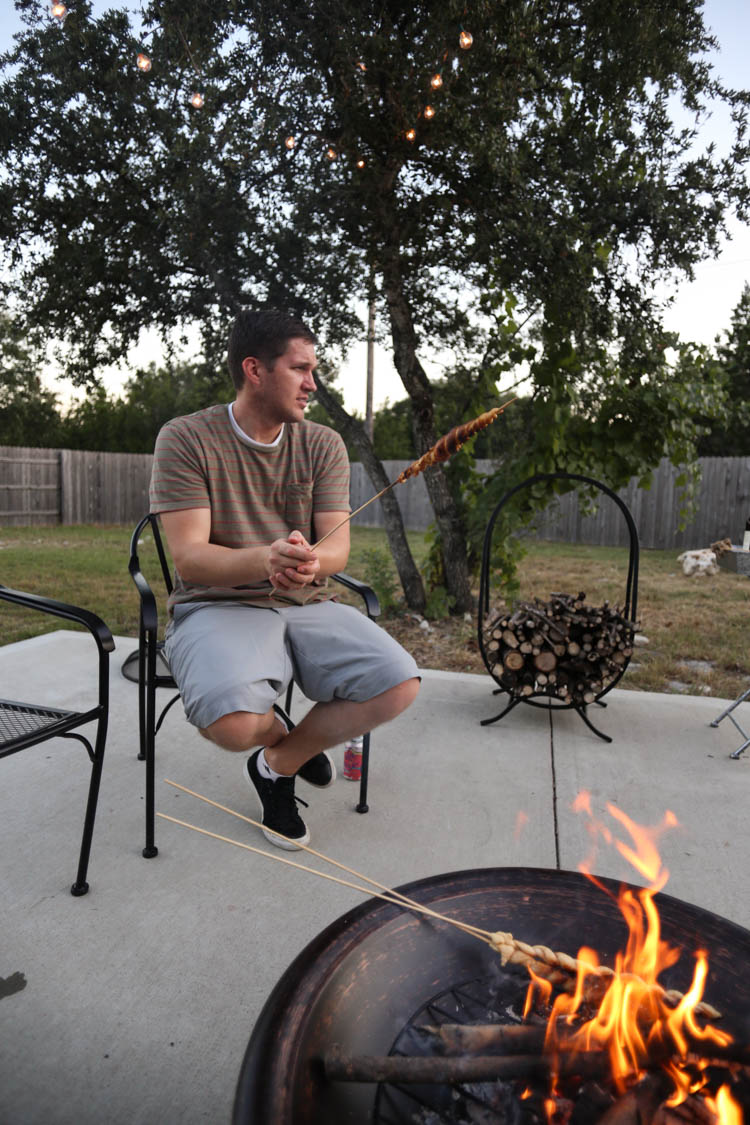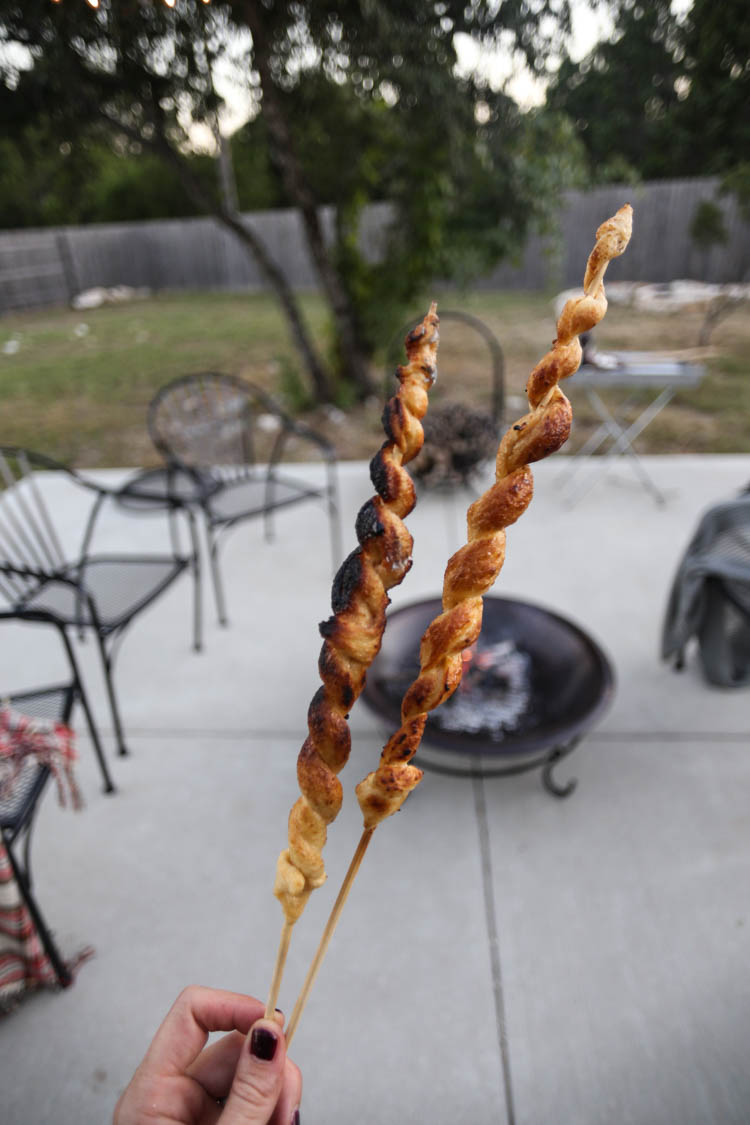 Seriously so good. The sugar mixture brûlées on the outside of the roll like a sweet crust, and the inside stays warm and soft. It's a welcome alternative to the typical campfire fare. I think in the future we'll switch out the sugar mixture and add a hotdog in the middle for a one-step campfire dinner!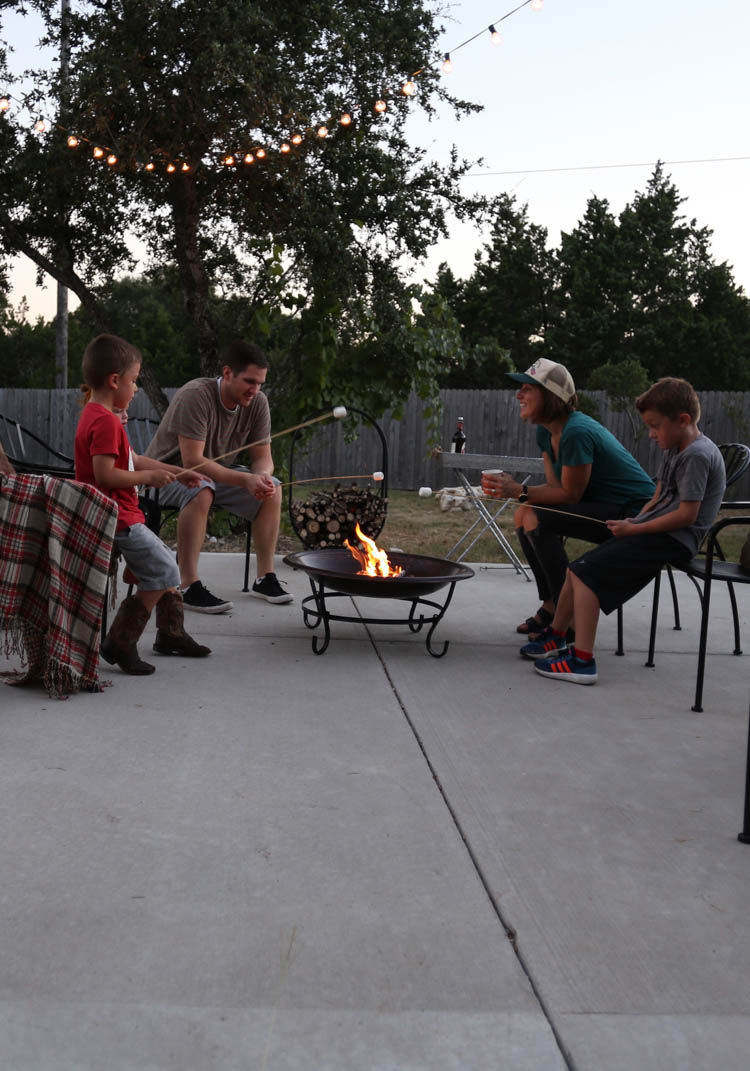 Regardless of what we're eating, time spent around a fire with friends and family is precious and memorable. Now that we've got our whole space set up, I might need to finally (finally) sign myself up for some real guitar lessons so that I can bust out the campfire songs in the yard. That sounds just about perfect.
Created in partnership with At Home. See some of my other Inspiration Team posts here.