A couple months ago I went through one of those crafter's purge days where I pulled every single thing from my craft and sewing closet and set out to reorganize. After a couple hours of working through piles, rediscovering old favorites, and shaking my head at the amount of fabric I had amassed over the last ten years, I hit on a new method of organization that I believe will work better for me than any I've used before. That is, fabric organization by season.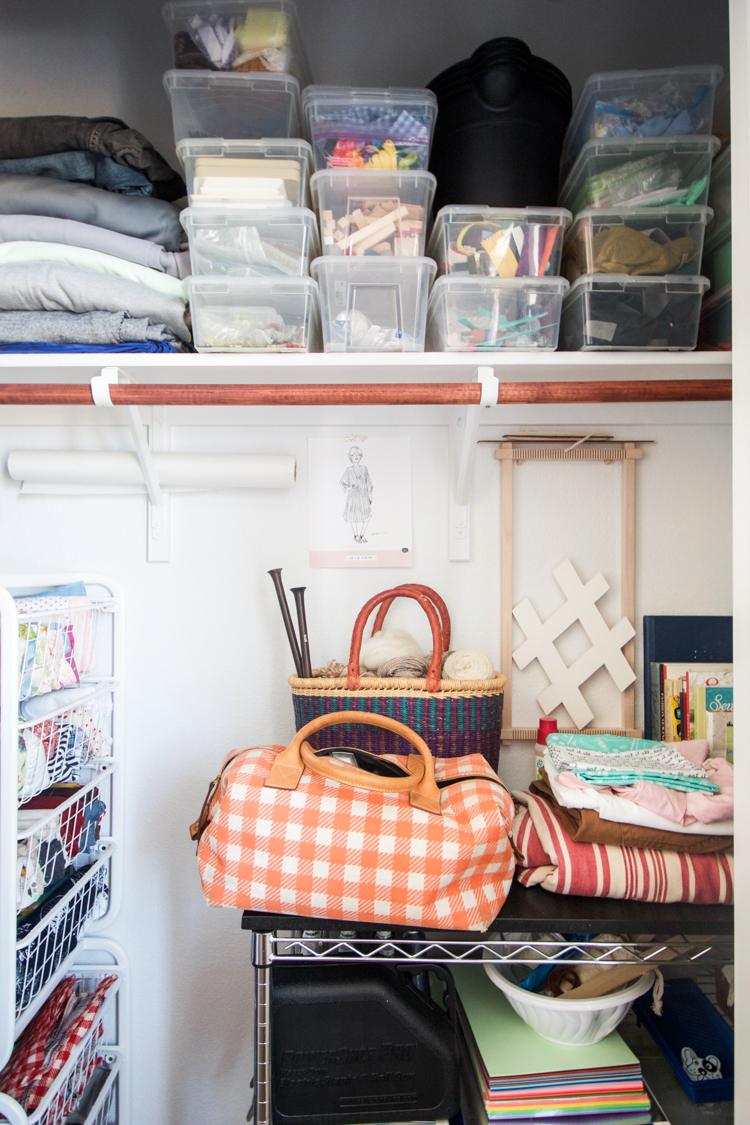 I have been traditionally great at living pretty minimally as far as my wardrobe, meal planning, groceries, and decorating style. The one area in which minimalism seems to elude me is in fabric and craft supplies. However, that afternoon of organizing I realized how just as in the other areas the minimalism creates space for maximizing time and creativity, so would reducing and focusing my collection of fabric and supplies.
I also realized that as I'm trying to sew from my own sewing stash of fabric, rather than buy something new every time I begin a new project, I needed to have the fabric organized in a way that I could most easily be inspired by what I currently have. I spent some quality time deciding what I really love and wanted to keep, and putting the rest–probably over a hundred yards of fabric– into a big bin in the garage to sell or donate at some point. (I mean, look at all of this fabric!)
Next, before trying to put things away, I pondered HOW I like to approach a new sewing project. I realized that when I am trying to work on something new, and because I sew mostly clothing, I most often am searching for something seasonally appropriate! I sew rompers in the spring, watercolor caftans in the summer, sweaters in the fall, and woolen dresses in the winter. Each of these items requires a specific type and color of fabric that fits the mood and style of the season. With that realization, I began separating my fabric into piles by season. I bunched knits in with wovens, lawns with linens, and spandex with lace. Each pile began to feel very much inspired by the season I assigned to it, and I also began to feel inspired by being able to easily reach for a single drawer of fabric when I began looking for a new project.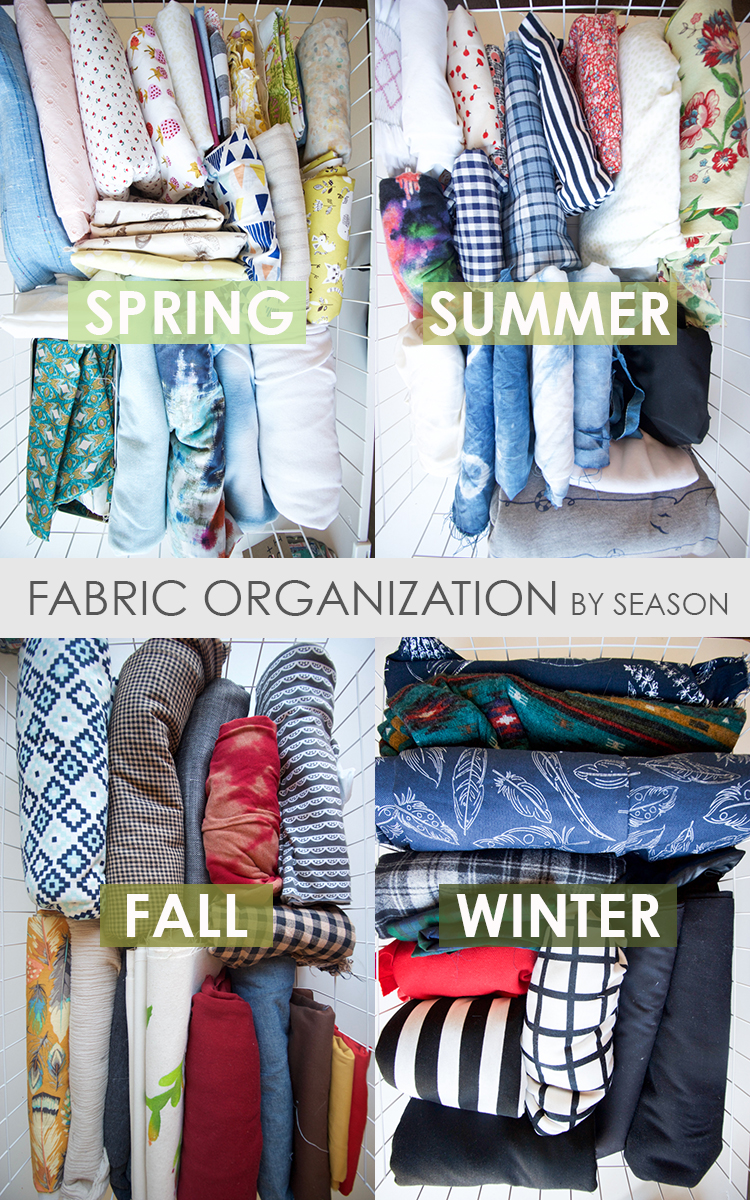 I love the way this fabric organization method will encourage me to use what I have by showcasing the materials that are appropriate for what comes next. Right now I should be digging into that winter basket and starting on a sweatshirt or two for Plum (and also finally whipping up the Nituna coat I've had that Pendelton Plaid ready for since she was one.)
I also don't feel too bad leaving my beautiful floral linens alone for a few months, knowing how refreshing they'll feel in the spring.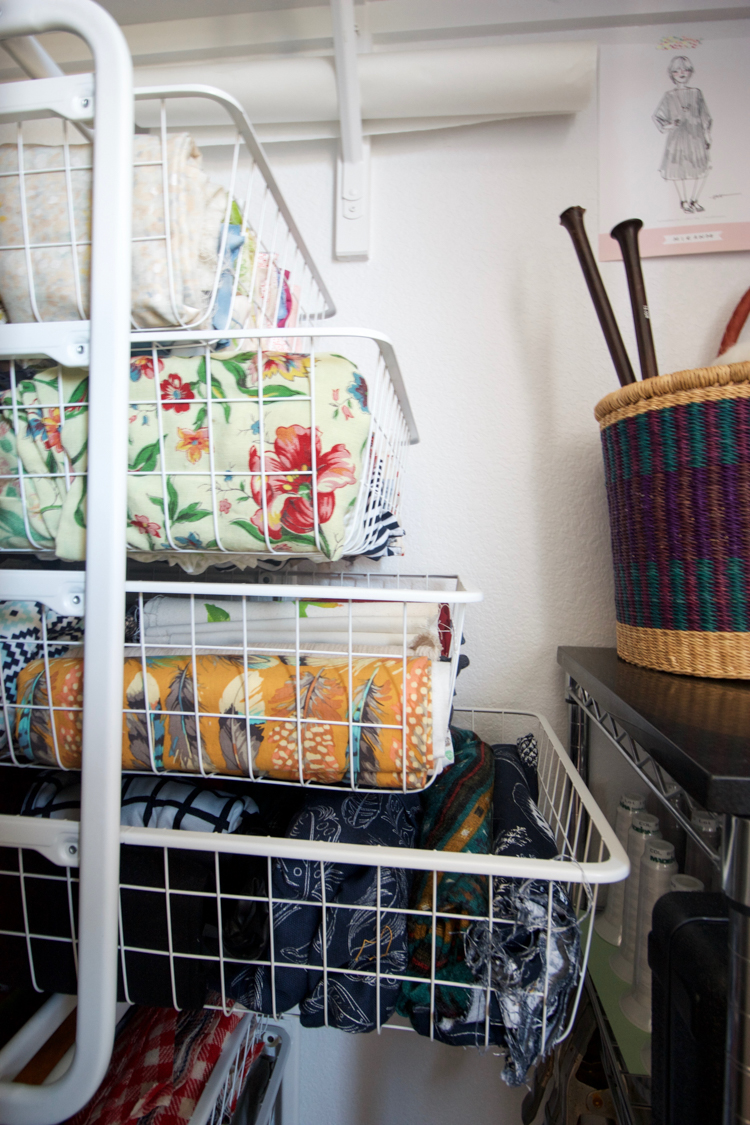 Cheers to minimizing, organizing, refreshing, and feeling inspired by a new way of doing things. I have been happily working on so many other projects lately that sewing had taken a bit of a back burner (until I was down to the wire for Halloween and whipped out our Wizard of Oz costumes.) I'm recommitting to get back in there and use up some of my Winter fabrics before the season blows by.
ps remember when my entire craft room was inside a coat closet? Now look at it!