Episode 134: Take Care of Yourself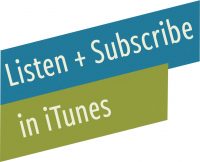 Introduction
Welcome back to the show. You're listening to Live Free Creative with Miranda Anderson.
That's me. I'm your host here every week. Today is Episode 134: Take Care Of Yourself (or Mothering Yourself). I'm going to share a section of an episode that I gave in the first year of the podcast from season one, all about Mothering The Mothers.
I did a whole series actually that year about mothering the mothers and this episode just has been ringing over and over in my head. I feel like I need to hear it again, the advice that I share.
And if you haven't listened to every single episode of the show, then this is one that I hope you will not miss, whether or not you're a mother right now in your life or ever hope to be.
The information and ideas that I share in this episode will help you think in a new way about how to better take care of yourself.
I don't know if any of you out there relate to hitting the pandemic wall. It's been 12 months this week, at least this week for us, since the world shut down and life as we knew it was put on pause.
So many people that I know and have seen in articles and on TikTok. And everyone seems to be talking about this pandemic wall of really getting through this whole year and hoping things are going to change or get better soon. And they haven't yet.
I mean, we're working on it still. It's just been a tricky time and so many of us are exhausted and trying to figure out how to keep going in a lot of different ways.
The very simple ideas and topics that I want to share about today in this episode about taking care of yourself, taking care of your own needs, will hopefully bring you back to the basics and, at a very elementary essential level, help you take care of yourself so that you can go on taking care of your business, taking care of your family, taking care of your own wellbeing.
At the end of the episode today, after the encore segment, I'm going to share some new thoughts about the topic and just add a little epilogue to the things that I shared in the initial version of this episode.
But for now, let's get started with a segment I like to call Peaks of the Week.
Peaks Of The Week
Oh boy, do I have a good one for you!
My very, very favorite thing this week is a pair of socks. Now I was just talking on Instagram about how one of the things that I noticed as I got to know myself through my minimalism journey is that I really like nice socks.
And so I started one pair at a time: when a pair wore out, I replaced them with a nice new pair of Stance socks. And I've mentioned Stance socks on the show before. On Instagram. I said I only have Stance socks.
But that changed when my pair of electronically heated socks came in the mail. They have changed my life for the better. I am a person with chronically cold toes in the winter. My feet get so cold.
I actually have a little bit of a circulation disorder to my extremities. My fingers and my toes, my hands and my feet.
And the doctor said, we can put you on some medication to try to open up those blood vessels, or maybe you just want to try battery operated socks. And I was like, come again? What battery operated socks? This is a thing?
They're really popular for outdoor sports and skiing and stuff in the winter. But I just use them in my regular old life with my tennis shoes during the last week of winter. And I am planning to use them until the summertime when I have to wear sandals all the time because my feet are so hot during the day.
So the way they work is just a little rechargeable battery. There's like a mini pocket on the side of the sock. They're like calf height tube socks. I chose black. They come in a bunch of different colors. And the little charger just plugs into the wall.
I charged it overnight and it has three heat settings. I usually start on the highest setting until my feet get toasty. And then I turn it down to the medium setting so that they last longer.
They've been so wonderful. I've worn them when I go on a long walk. Today I wore them because I was doing some work outside and just my regular socks and tennis shoes and my toes went numb, absolutely frozen. And I knew I needed to go to my office to work and my feet would just be uncomfortable all day.
Once they get to that point where they're so cold, they just aren't coming back without like a hot tub or a hot shower. Until now. I can just plug in my heated socks.
If this isn't what getting older looks like and feels like friends, I don't know what is.
My peak of the week is battery operated, heated socks. They're wonderful. They were about $30. I bought them on Amazon and I will link them in the show notes if you're curious, or if they sound like they'd be fun for you for skiing, or if you like me suffer from just chronically cold feet, you might like them too. I'm just saying.
And of course, with the caveat that, if this sounds like something that would not add value in any way to your life, do not feel any pressure. You will be just fine without battery operated socks.
My second peak of the week is the Peloton app.
Dave generously gave me a Peloton bike for my birthday a couple of weeks ago. He gave me the exercise bike in a note form because he ordered it and it won't be here for another couple months.
In the meantime, I'm signed up before the Peloton app, which I've heard people just rave about Peloton. It's kind of like has a cult following. I know there's lots of people who have a different type of exercise, bike, or treadmill, and then they use the Peloton app anyway, just because the instructors are so motivating.
And I have to tell you that I normally am not super to guided exercise. Unless I'm in a class physically in the gym, I tend to not like it. I don't know why, I just haven't really ever been super into it.
And then I have been trying the Peloton app for a guided run outside and it's actually just been so fun to have someone in my ear. I think this speaks a little bit to like the solitude of the pandemic that it's been so nice to have someone in my ear chatting with me through the run.
So I've tried a few different runs where I put on the app and I've still put my phone in my little running belt. And then the coach sort of coaches me through when to speed up a little bit and when to slow down and take a break and I've definitely run better and faster and had more interesting and engaged runs and workouts since I started using it a couple of weeks ago.
I've also tried a yoga session on there. I think I was just because I have the app and felt motivated to use it. So I did a great yoga session in my room the other day, and I've also used it for some cool-down stretches after my runs.
I'm just really into it and excited about it. And it feels like having something motivating me to get out there and try to exercise.
I know there are live classes you can join. There's a little bit of a social aspect to it that I haven't gotten into where you can kind of connect with friends and cheer each other on and that sort of stuff.
And so far the coaches have been phenomenal and it's been really, really engaging. That's something that I'm really benefiting from right now. And wanted to share.
And the last peak of the week just arrived on my doorstep and I'm already so interested in it.
One of my favorite journal companies, Promptly Journal, just released a journal entitled: The Self Love Journal.
It's a notebook filled with prompts to help you create a more strong relationship with yourself. And today's episode is all about taking care of yourself. I've done the first few pages and recognized how actually taking the time to sit down and settle in with my own thoughts and then respond on paper.
There are tons of studies about this, how actually writing things down creates a stronger connection in your brain than if you just think a thought. So thinking about it, but then actually responding and answering the questions and writing down the answers, has been really a powerful experience.
Each page only takes me about 5 to 10 minutes. The journal is meant to be used daily or weekly or monthly, or maybe you use it for a couple of weeks and then you don't need it for a little while. And then when you're having a hard time or you're trying to reconnect to yourself, you can go back to it and use it.
It's not meant to be something that you hold over yourself as pressure. It's something I can flip through and even see which questions resonate with me today and spend a little bit of time forming a relationship with myself.
I love the girls who run promptly. This is a really inspired project. I think we all can work on our relationships with ourselves and I am thrilled to share about it with you today.
You can find a link to it, if you want to check it out, that will be in the show notes.
So…
Battery operated heated socks, a new exercise app, and a self-love journal. Those, my friends are my peaks of the week.
Let's dive into the episode and remember to listen all the way through the end, because I'm going to share some updated thoughts and ideas for you then.
Main Topic: Mothering Your Physical Health
Now let's jump into this episode. I want to talk today about mothering the mothers. And I want to start by inviting you to remember yourself as a child, how you were looked after by your own mother, by your teachers, by maybe a friendly neighbor or a wonderful nanny. What did those people do for you? Everything, right?
They made sure that you were fed, that you were clothed, that you got enough sleep at night. You probably had a curfew when you were a teenager. You probably had a bedtime when you were a child. You were invited to go to school and to learn and to develop yourself and every step of the way there was someone looking out for you.
My Mother
I can still hear some of the things that my mom would tell me about making sure that I was eating a vegetable or getting enough sleep so that I wouldn't be cranky or grumpy. The next day, she made sure that I was bathed and made sure my hair was done and sometimes we do it in these really fun braids and put flowers in it. For me day, it's one of my favorite memories.
When I was sick, my mom, who was a nurse would make sure that I had saltines and Gatorade or sprite and come check on me and take my temperature and make sure that I was getting the rest, that I needed to feel better. And when I was sick or injured with things that required medical attention, she made sure that I got to the doctor and that I was taking care of, that the follow ups were completed and that I was whole at the end of my treatment.
Learning to Take Care of Yourself
There's usually some inbetween years when you're kind of out of the direct care of your mother or that mother figure and you're learning to take care of yourself. And some of us learned that better than others.
Some of us ate well when given the option. Some of us got enough sleep–I would venture not a lot of us though during some of those college years. And you just sorta start to figure it out, how to take care of yourself, meet your needs and you know, get to the doctor when you're sick or impose a curfew on yourself when you were tired.
And then these women, us, you, me, we become mothers, some of us in a traditional sense where we actually have a child in our arms that we need to take care of, and for me it was at that moment that I became a mother to someone other than myself, that I needed to take care of this little person and then the next little person and then the next little person and put their needs all the time ahead of my own.
Young Motherhood
And what this looked like for a lot of my young motherhood was that I was super sleep deprived, that I never sat down to eat a meal, that I didn't always know exactly what I wanted to be doing or how to take care of my own needs and the needs of my child.
This is a definite paradox. It's an age old question, I'm sure. Although some cultures tend to have it a little bit more right than others.
I think in western culture, mothers are given their children and sent home and invited to figure it out. And if you're chronically sleep deprived, then welcome to the club. If you haven't eaten a real meal, you've eaten goldfish and leftover apple juice boxes, sips here and there before you toss them into the garbage can. Well, guess what? That's life. And when your health is suffering because of some of the wounds incurred during the very act of becoming a mother, then you must have done something right because the rest of us are feeling the exact same way.
We Need To Be Mothered
Now, I don't want to be a downer. What I want to do in this episode is to encourage. I want to encourage you and to remind you that you need to mother yourself, that if you are a mother traditionally or not traditionally or not yet, that you get to be responsible for loving and caring for yourself the way that you do for your children.
How do you mother your children? How did your mother mother you? Take all of that positive and remind yourself that you need mothering. All of us do. In today's episode, I want to dive into a little more detail on three specific aspects of mothering ourselves. When it comes to physical health. One of them is going to be sleep, one of them is going to be food or eating and then taking care of our own injuries or illnesses. I'm going to share specifically about some of the wounds of childbirth that I realized just a few weeks ago that I am still needing help to recover from.
First Aspect: Sleep
So let's start with sleep. Women, we need to sleep. I just read a fascinating article that was entitled, something like, "Why are we torturing the mothers?" And it went specifically into how sleep deprivation has been widely recognized as a form of torture. We're talking about real torture, like torturing terrorist type of torture.
Keeping people awake night after night after night is not safe and it's not healthy. Yet, so many of us accept this as part of what it means to have children.
I remember in nursing school, one of my professors told us that if you got less than eight hours of sleep at night, your judgment level the next day would be like someone with a blood alcohol level that would be convicted of a DUI. I don't know the specifics of what that exactly percentage looks like, but one of the questions on her exams was "Did you get eight hours of sleep last night?" And it was a graded question. I mean I guess you could have been dishonest if you hadn't, but she cared so much about us getting enough sleep so that we could operate on our fullest ability that she added it to her nursing school tests for points.
In the article that I referred to, that I will link in the show notes at livefreecreative.co/podcast, it talked about how chronic sleep deprivation means that you are up consistently not getting enough sleep consistently and not able to recover from your sleep debt. I love that term sleep debt.
I remember a study that I read years ago and I'm going to have to find it so that I can link it, that it talked about how you could recover from your sleep debt with just one to two good solid nights of sleep–even if you had been up, you know several times a night, several days in a row, you didn't have to add up. (Like if I was up for five days in a row, then I need five solid nights of sleep to recover.) *correction* In digging for this article, I found I had misunderstood this point! In fact, you can not recover from chronic sleep loss in just one or two nights. The correct way to recover is by adding a couple hours of sleep every night until your body feels rested!
Advocating for Your Own Sleep
But women, who is going to advocate for you to get that sleep? That's my question. Who is mothering the mothers? The answer most likely is that no one is, and so you have got to do it for yourself.
You have got to tell someone that you need help. If you have a young baby that still waking up to eat in the middle of the night, this may look like taking some extra work to have your partner pitch in and do some of the night feedings. Maybe that means learning to give the baby a bottle, maybe it looks like, rather than trying to get everything else done and bounce back to normal as soon as possible, once that baby's born that you really take it seriously to sleep during the day and find someone to help with the laundry or hand that job over to your partner for the first couple of months except every single offer for help that people give you.
So often I've seen young mothers who say, I've got it all together. I've got it figured out. I can handle this, and yet they're not sleeping and they're not eating.
We have to advocate for ourselves. When someone offers help, say yes. If no one is offering, then ask.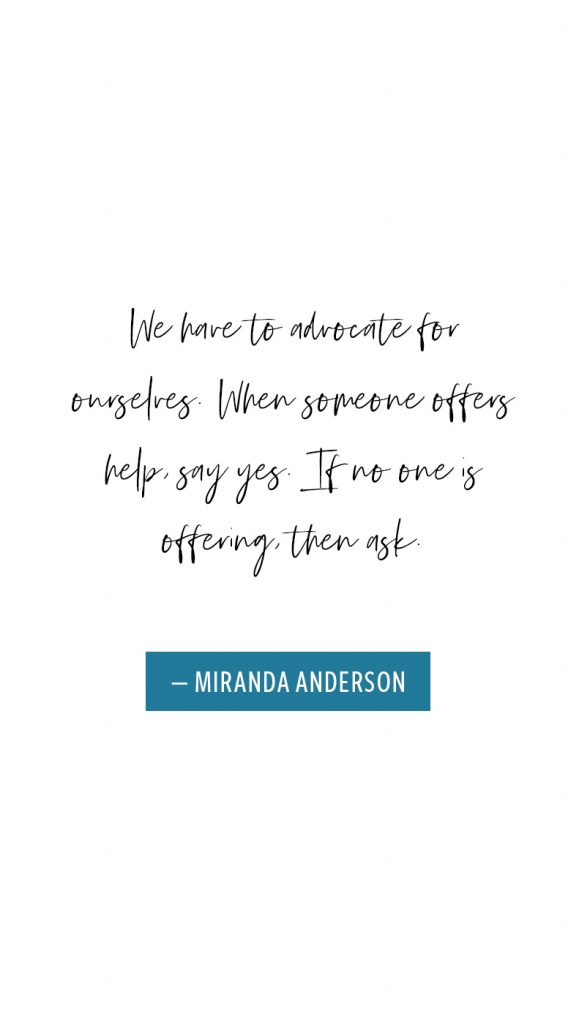 Once your kids get a little bit older, if becomes a little bit easier to get a good night's sleep. Yet I can still be guilty of not getting the sleep I need by choice because I am working on a project, or I get involved watching Netflix, or something else and I'm not protecting my sleep. I'm not mothering myself.
What would my mom say if I imagine myself right now as still being her daughter in the way that she was looking out for me as fully as she was when I was younger? She would invite me to go to sleep because she would tell me I need my sleep so that I can be fully aware, fully functional, and have all of the coping that I need, and all the patience and joy to embrace the next day and whatever it might bring.
How many of you find yourselves over tired? Not because the kids got you up all night, but because you simply didn't go to bed. You have to mother yourself. This goes as much for people who have their own children in the home. As for people who don't have children or who have, don't have children living at home anymore. We are responsible for taking care of our own sleep and protecting it.
I Thought I Didn't Need Much Sleep
I am learning to be better at this. I can't tell you how many years I told myself that I was a person who didn't need a lot of sleep.
I would go to bed at like three in the morning after putting the kids to sleep and then sewing or working on a blog project until the wee hours of the morning. And then I'd groggily climb into bed, go to sleep, and wake up at six to go running with my running group, and then get the kids ready for school, and start the day all over again. I felt like I was high functioning.
But then when something little things sometimes went wrong, I kind of felt like I couldn't cope or I would be less patient than I wanted to be. Both with myself and with my kids and with other people. I wasn't as creative because I felt exhausted. When we don't get sleep, we don't function properly.
Making It Practical
Now, I want to make this as practical as possible and I know that some of you have scenarios that feel hard to overcome, whether it's young babies at home or kids that are still getting up in the middle of the night, or just worry or anxiety, or maybe you work a night job and you have a hard time putting yourself to bed during the day. I can't address every single circumstance and I wouldn't have all the right answers anyway because our lives are so different.
But what I want to invite you to do is to consider how you can advocate for yourself. How can you solve the sleep problem? How can you ensure that you are mothering your own sleep, that you're taking care of yourself with the same love and tenderness that you do your own children?
I know that there are solutions and I know that you can figure it out if you need help for figuring out a babysitter or talking to your partner about sharing some of the load when it comes to sleep. He may say that he needs to be alert for work all night and that's true, but you also need to be alert for taking care of those children and taking care of yourself. So maybe if you get up all week that you could sleep on Friday night and sleep in to your heart's content on Saturday.
Maybe for a season that this means not doing all of the other things that you want to do so that you can sleep. Maybe not doing that project, not saying, "Yes" to that responsibility because sleep is valuable, it's important and you need to be the one who makes sure that you're getting enough.
Second Aspect: Eating
Okay, number two, let's talk about eating.
You guys can see where this is going. It's the same thing. I laughed thinking about even this morning, even as I have been considering this and pondering on it and getting ready to share this episode, I was making breakfast for my kids. They usually have scrambled eggs, fresh backyard eggs and toast in the morning or sometimes oatmeal. We have like a hardy breakfast.
My kids don't go to school until a little bit later so we have a lot more time, which is nice in the morning to have a nice breakfast. So Eliot made the scrambled eggs while I was putting toast in the toaster and I poured some chocolate milk and then I put plates in front of each of the kids and I had a plate for myself.
But I started to pick it up to eat it as I was standing so that I could put away dishes from the dishwasher. As I was going to do that, I remembered that I was about to sit down and record this episode where I was going to advise you to mother yourself when it came to your eating habits, to sit down and enjoy an actual meal, to not just grab handfuls here and there and tell yourself that you're too busy or you have too much going on to take care of the way that you eat.
And so I sat down with my kids. It took five minutes. It wasn't like an hour long leisurely brunch. I sat down in the chair and I chatted with my kids as I eat my eggs and I eat my toast and I took a few deep breaths. The dishes are going to be there.
Aligning Our Actions With Our Values
Mothering ourselves when it comes to eating means aligning our actions with our values. Like I shared–and Natalie Norton shared–in that episode a few back, aligning our actions with our values means we know the way that we would like to eat. We know what's healthy. We know everyone's eating habits are a little different. What you like to eat, what times you like to eat, those sorts of things, and I think it looks a little different for everyone.
You know what feels right for you, but how often do you actually do what feels right?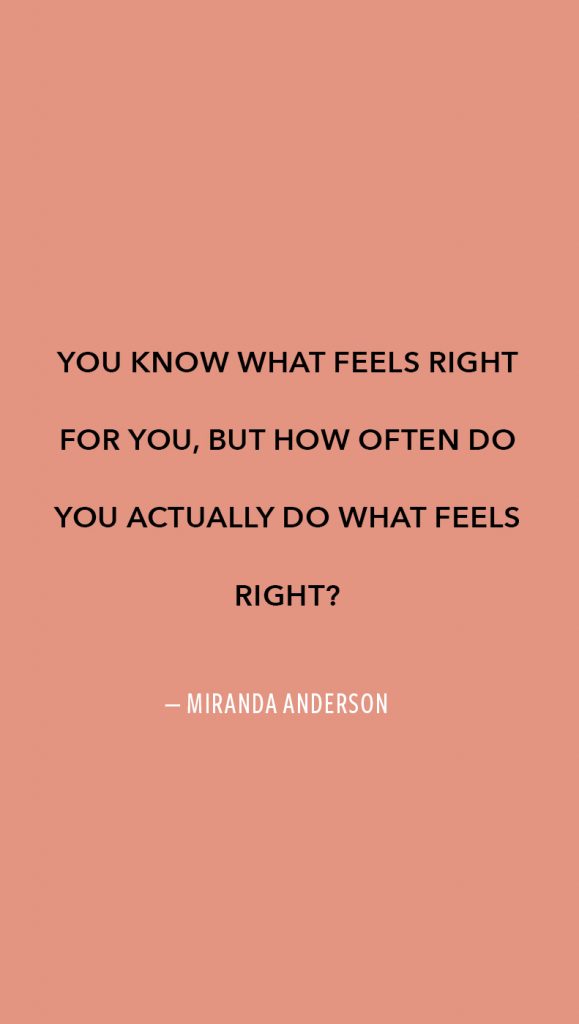 What If You Were Your Own Child
Do you eat the way that you tell your children to eat? I know that I always encourage my kids to choose a vegetable at each of their meals or to eat until they feel satisfied and not not eat anymore. Or if they get home from school and have an afterschool snack and an hour later they're hungry again, but dinner's almost ready. I say, "Why don't we wait a few minutes and we can eat dinner?"
While I don't think I'm overbearing, I consistently coach my kids around eating habits. I want them to have a positive relationship with food. I want them to feel comfortable making choices. I want them to eat when they're hungry and not overeat. I don't want them to use food as an emotional trigger or buffer even though we all do that. But do I do those same things for myself?
This is just an invitation for you to ponder. How would you treat yourself if you were your own child? That's what mothering the mothers is all about. It's flipping the script a little bit and recognizing that we as mothers need someone to take care of us and that person is ourselves. We need to advocate for ourself. You will know what your own challenges are surrounding food.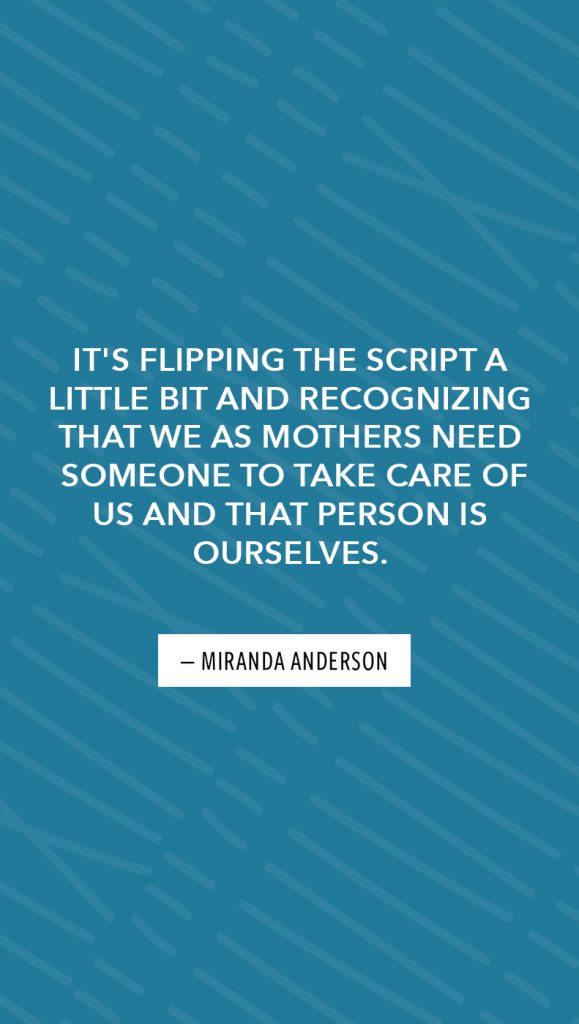 If You've Got This, You Can Help Someone Else
Maybe you feel like you're doing great on this one. Maybe you eat healthy foods, the kind that you know nourish your body. You sit down for a couple of meals a day. You enjoy your food, chewing it slowly and tasting all of the wonderful sensations that come with eating.
If you've got this one nailed, then great. Maybe there's someone around that needs a little bit of help. If you're making a fresh, wonderful dinner every night or a few nights a week and once in a while you could double batch it and give some to someone in need. Someone in your neighborhood, someone in your congregation at church, someone at school who just had a baby.
We need to take care of ourselves when it comes to meals. And this is also a really, really fun one where we are able to easily take care of others.
Benefits of Healthy Eating
When you're eating properly nutritiously you feel more balanced hormonally and emotionally, you're able to think properly. You're able to have the energy that you need to accomplish the tasks at hand. I often think about that acronym, HALT: halt, hungry, angry, lonely, tired.
There's a reason that "hungry" is first on that list. I think I can definitely be "hangry." I mean Dave jokes with me about that, and Plum has just entered this phase where she will get just like so emotional about little tiny things and as soon as she's hungry. She kind of goes off and starts crying about something silly, like you know, my shoe buckle came undone, and just the waterworks. And Dave and I just look at each other, "She's hungry," we know right off and she doesn't know that she's hungry. But we can tell by the way that she's acting by the way, that it's manifesting in her emotional state, that she's hungry and we get her something to eat.
We get her a snack or we have a meal and she's back to her pleasant, totally wonderful self.
Raise your hand if you relate. I know that I am that way when I feel especially overwhelmed, it's usually because I'm hungry and after I sit down and have a handful of almonds or a bowlful of chocolate ice cream, whatever the case may be, I usually am able to feel a little bit better.
Challenge Yourself to Sit and Eat
Sometimes it's just taking that break and sometimes your body actually needs food. You have a low blood sugar, nothing's working properly. You need to feed yourself more than just leftover snacks or fast food in order to feel the way that you want to feel. I want to give you a quick challenge with this one.
I don't know if everyone has a problem with sitting down to eat their meals like I do, but I know breakfast and lunch are tricky for me. We all sit together as a family at dinner, but I will often eat breakfast or lunch on the go as I am heading to work or as I'm running errands and have a quick rx bar in the car.
I want to challenge you every day this week from today until whatever day of the week you're listening on next week to eat all of your meals seated, sitting down and enjoying them and maybe as a bonus putting your phone aside and just eating. Treat eating itself like an activity that is important enough to matter, to have space set aside for it.
I am excited to do this and I'm going to share when I do on Instagram so you can check that out @livefreemiranda, and I invite you to share as well. Maybe I'll make a hashtag for that challenge and say #takeaseattoeat. Something like that. That's good one actually. So look for that.
But I think even just the act of taking a seat to eat, because I'm going to run with that and now that I came up with it, that creates the space where we actually then are thoughtful about the meal and then maybe we're not just grabbing a bag of potato chips or not that there's anything wrong with potato chips.
I'm not going to tell you what to eat because, number one, I'm not totally qualified for that. Even though I did work as a diabetes educator and nutritionist for five years, I am not going to approach that. And also because you know better than anyone else. And so, I think just creating the space by sitting down and having your meals can be really helpful. I tell my kids this too.
I mean, here's another thing. Mothering the mothers. I'll tell my kids, just sit down and eat and then you can go play. Don't take your popsicle stick out on the trampoline. Just sit down and have your meal and enjoy it. So let's try to do that together. Okay. Who's with me?
Third Aspect: Healing
Finally, let me talk about healing ourselves physically from injury or trauma. Specifically, I'm going to talk about wounds of childbirth.
Regular Check-Ups
But before I get there, I want to just advocate as a healthcare professional. I'm just going to pull the nurse card a little bit. Even though I'm an registered nurse, I haven't worked as a nurse for about five years, but I am educated as a nurse. I have a current license as a nurse and I just have to advocate as a healthcare professional that we need to be taking care of our health.
When was the last time you saw a doctor for a physical?
When was the last time you had blood work done?
Are you keeping up with your breast exams?
Do you see a dentist? Are you taking care of your oral health?
All of these things that we know that our parents did for us as we were growing up are the things that we now have to do for ourselves. It's sometimes is referred to as adulting, making a doctor's appointment for an annual exam. That's adulting friends. That's also mothering, that's thoughtfully caring for yourself and your body and your health.
I know as well as anyone that the healthcare system can feel very complicated and everyone's financial and insurance situations are very different and so you will know best for yourself. But I have to recommend that you keep up, keep on top of having a medical home. That means having a provider that is aware of you and has your history somewhere so that if something does happen that you know where to go.
Healing After Childbirth
Okay. Now I know I had a lot of questions and interest about my current struggle with the wounds of my own child bearing years in the form of diastasis recti, which is the separation of my abs that happened during my pregnancies and a weak pelvic floor.
If you haven't heard of either of these things and you have had children, then chances are you want to inform yourself. Because both of these things affect everyone who carries a child to term. And the stretching that happens during pregnancy naturally separates our abdominal muscles to some degree. And in some people they're able to easily come back together. And in a lot of people, about 40% of women who carry a baby to term, those muscles don't come back together on their own. And in fact they can't, unfortunately, because of the tissue involved, the muscles will not naturally come back together after that point.
A permanent solution for that is surgery, but it's not covered by insurance and it's considered a cosmetic surgery. The secondary treatment, which can be as helpful but has to be maintained for the long term, is physical therapy. Learning the specific exercises that you need to know to strengthen the layers of muscle that surround your core, including your pelvic floor.
My Childbirth Experience
So let me just back up for a second and tell you my experience. I had Milo and had a fairly straightforward pregnancy. I gained a lot of weight, but I don't know that that was unusual. And then I had him vaginally and I tore a little bit and had some stitches and then was sent home and pad my six week follow-up. They said everything's looking good. And then that was that.
A couple of years later I had Eliot and again I had a hard pregnancy, but physically I, you know, gained a lot of weight. I had this big belly and my back was sore, kind of textbook pregnancy and then he was born and I was repaired and I was sent home and went on my merry way.
And then I was pregnant with Plum and I gained even more weight with Plum because she was 11 days late and I had a natural child birth with her natural vaginal childbirth.
By the way, in case you are a child birth person and you want to know more about my birth stories, I just have to call out that I did record them with The Birth Hour, and I will link all of those episodes in the show notes in case you're interested. I go into lots of detail.
So Plum was a natural water birth and her delivery was uncomplicated and I delivered her in a birthing center at about six o'clock in the morning and by eight o'clock in the morning I was back home in my own bed recovering. That's very fast, faster than even the couple days that you get in the hospital. But I was happy with that.
My mom was there to take care of me as she was with all of my pregnancies. I was super lucky to have my mom. We didn't live in town and she came into town and she took care of me, took care of the baby, did the laundry, did the dishes, really just took over for a week and then Dave's mom came and did the same thing for another week.
My Diastasis Recti
And then we really were just on our own at my six week followup with Plum, I noted that, you know, my, my belly was still big the way that it is after you have a baby. And the doctor noted that I did have a large separation. This is what's called diastasis recti, the separation between your outer abdominal muscles. And she recommended that I see my primary care doctor to decide what we wanted to do moving forward.
And so I went then to my primary care doctor and she told me that the only way to repair that type of deep wound was with surgery. And then she explained a little bit about what the surgery entailed and told me that I needed to be definitely sure that I was done having kids by then because the way that it's done binds your abs together so that then you can no longer expand them to accommodate another pregnancy.
Putting Off Surgery
So although I was mentally done having kids, it just felt really early to make that decision. And so I decided to wait five years to see how I felt about it and that I could decide whether surgery was going to be the right option in five years.
Fast forward, I'm recovering and healing and feeling okay. Actually I took it a lot slower with Plum than I had with any of the boys and really soaked in her her infancy and her babyhood and I didn't try to get back to exercising as quickly and I didn't try to bounce back. I just really soaked in knowing that I needed time to heal and I needed time to feel better and feel a little bit more like myself. And I'm glad that I did that.
Then we moved and I didn't really have a reason to see an Ob/Gyn because I wasn't planning on having any more babies. And so it took a while. But one thing that was kind of persistent and lingering from plums pregnancy was that I had this lower back pain, just kind of dull ache. It wasn't ever sharp. It didn't feel like I was dying. I just kind of hurt all the time and I always would kind of laugh it off and say, "Oh, I'm just getting old." I feel like an old woman. I have this consistent lower back pain. And it was really kind of annoying. And some days it felt better and some weeks it felt really bad, like a lot worse.
And so I tried a few different things and I tried yoga and I tried, um, a heating pad and a few different things and it could feel better for a time, but it was just persistent. At the same time, I had learned a little bit more about diastasis recti and seeing that there were some online programs that encouraged pelvic floor recovery and abdominal support specifically for diastasis recti. And so I did one of these programs and I did six weeks of exercises and I felt like I was doing it right and doing it well.
I Thought I Noticed Improvement…
And I noticed some improvement in the way that my abs felt like I felt like they were getting a little stronger. And so I thought I was doing it and I was really proud of myself. And I also learned about some of the things that you're not supposed to do, like running and weight lifting and things that are hard on that particular condition. And so I had stopped those things for a while.
But after I did this exercise program I thought, "Gosh, I feel pretty good." And I didn't really know how else to exercise because running and weightlifting is kind of what I've always done and what I enjoy. And so I started back up, you probably know that a few weeks ago I ran a half marathon and I had been training for that for weeks and felt really good about it. In fact, two weeks before I ran the half marathon, I had made an appointment to see an ob Gyn just to check in cause it had been a couple years and I felt like it might be time to, like I was talking about earlier, advocate for myself and just do my regular checkup.
…But Then I Saw A Physical Therapist
I should mention that it's recommended to do an annual exam with an Ob/Gyn if you are of child bearing age. So a couple of years was even stretching it. I hadn't gone in a while. And one of the things that I mentioned in my checkup was that I had this persistent back pain and the doctor diagnosed again my diastasis recti and she said, "You know, the first thing that I want to do is send you to physical therapy because even if you do end up getting surgery, physical therapy is the first place to start. So let's do physical therapy first and then we can talk about surgery down the line."
I was sent specifically to maternal health physical therapy. So this is not just a regular physical therapist that I would have gone to. You know, like when I hurt my knee skiing and tore my meniscus when I was in my twenties and I spent six months doing exercises that an orthopedic physical therapist. This is not the same thing.
This practice of physical therapy specializes in maternal health. They specialize specifically in the muscles and ligaments and bones surrounding the pelvic floor and the abdomen and the back. All of the places that are affected by childbearing and child birth. This is their specialty.
I actually didn't know really what to expect and so I went in and was surprised when I was asked to put on a gown and they explained to me that they were going to do an external exam and that on my next visit they would do an internal exam because the pelvic floor muscles are deep and you can't assess them from the outside, which is probably part of why so many women go without noticing or understanding that there was something wrong.
Pelvic Floor and Abdominal Dysfunction
They handed me a packet and it talked about all of the things that the symptoms of pelvic floor dysfunction and of abdominal dysfunction that we call normal motherhood, like peeing a little bit when you laugh or having persistent lower back pain or abdominal pain or that little Mama Pooch, that doesn't seem to go away no matter how much you diet or how much you exercise, that kind of badge of motherhood, all of those things are not normal.
Those things are not healthy post baby years. Those are all symptoms of a deeper problem of something that is actually happening that can be healed within yourself.
I'll be honest, I was very overwhelmed and a little bit emotional when I realized that this issue that I thought I had kind of overcome and taking care of myself through the little exercise programs and getting really fit and healthy, that I in fact still have quite a wound from my child bearing years. My abs are very separated and my pelvic floor is very weak and these are all things that need to be taken care of. They need to be healed. The way that they're going to be healed for me right now is by doing physical therapy and I'm going weekly and sometimes twice a week. I've had a lot of people when I reached out and shared about this on Instagram, a lot of people asked if I could share the exercises that they're giving me or things like that.
Healing Is Individual
And the truth is it's just so individual. They're tailoring the exercises every visit to my body and my progress. And the other thing that has been really tricky and why I recommend that you need to mother yourself. If you have had children yourself physically that you probably need to see a physical therapist. You probably should have seen one right after childbirth, as part of the post-partum care in every single other developing country except for America.
The issues that you may have with your post childbearing body are going to be different than the ones that I have. And so just sharing the exercises that are sort of cut and dry for me might not be the ones that work for you. I at my last visit asked my physical therapist what she would recommend to women who have had babies and maybe didn't have any follow-up care.
This is the reality of the wounds of childbearing and childbirth. They are not recognized. They're invisible. We carry bodies inside our bodies for 9 to 10 months, and we get them out either by squeezing them through our tissues and muscles or by going under the scalpel and having them extracted through major surgery.
Then we're sent home and we put all of our care and focus on taking care of that little infant, and we need to do that. We need to take care of our babies. But moms, we also need to take care of ourselves. Who mothers? The mothers. We have to.
My physical therapist who's wonderful and was so passionate shared with me that in every single developing country except the United States, there is a built in post-partum care that includes physical therapy, sometimes lasting up to six months. Of course, we know that in lots of other countries there is a lot more care given to families in terms of maternity leave and paternity leave and all of those things, but specifically regarding a mother's health post childbirth, there is so much that can be done and it's kind of a blind spot in our healthcare system.
Why I Share This Message
I felt really kind of betrayed, not only by the doctors who had watched out for me and I saw midwives, I saw incredible women who supported me, all through my pregnancies, and then they all kind of dropped the ball at the end. I didn't know enough to support myself during one of my appointments.
I left the physical therapist, and I called Dave, and I was crying because it was kind of emotional and I told him I am a white middle class, highly educated college graduate who was also a nurse, and I worked for years as a healthcare professional. If I don't know this stuff, if I've never heard about how to take care of myself after I have a baby and I have all of these privileges, how is there hope for anyone else? Anyone who circumstantially doesn't have the same benefits of understanding or of education or have access to healthcare?
And this is why I felt really called to share this message, not only about these specific wounds that we incur, childbearing and childbirth, but also just generally about how our health matters to your health matters, to taking care of yourself matters.
You need to mother yourself, and love yourself, and think of yourself, and care for yourself, as you do for your children.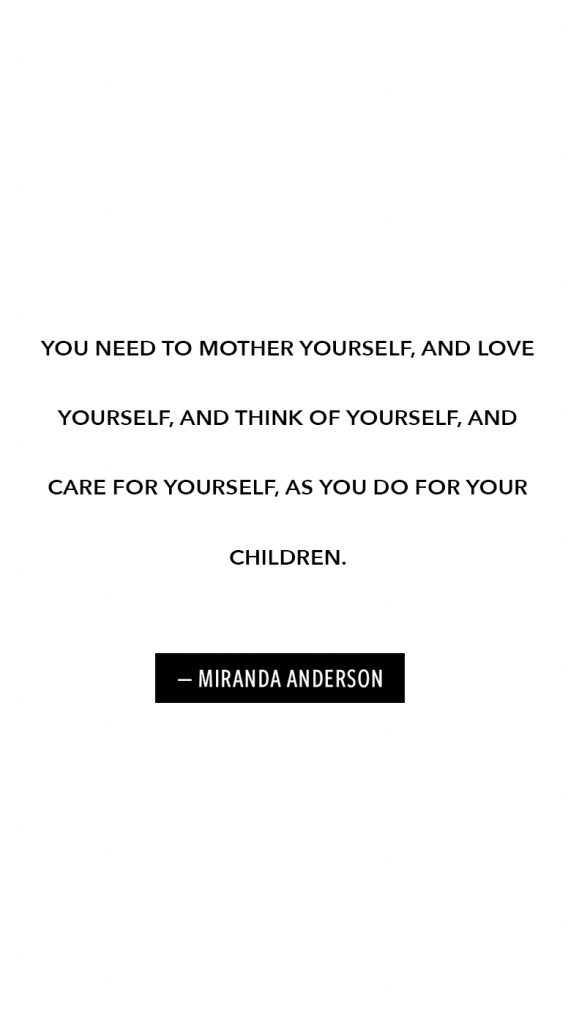 My physical therapist also went on to share that in third world countries or are not as developed countries. They don't have the same maybe built-in system for post-partum care and physical therapy that are in other developed countries, but that culturally there is a natural community surrounding the mother.
Sometimes sisters and aunts and neighbors and members of the community will come sit in and basically move in and live with the young mother so someone can take care of the baby and everyone else can take care of the mom, and they'll feed her, and bathe her, and clothe her, and help her rest, and help her exercise, and make sure that her body is healing properly. All of the things that you would do for your child.
If your child went through such a traumatic event, a major surgery or a body changing circumstance like childbearing and childbirth, what would you do for your child after going through major, major bodily trauma? You would sit with him or her. You would care for them. You would feed them. You would let them rest. You would create a situation in which they could heal. You would make sure that that child had access to therapy and to doctors and to follow up and to specialists and to whatever they needed in order to heal in order to become whole.
It was incredible for me to hear this therapist tell me that all of the symptoms that we call normal after childbirth are not normal, they don't have to be, you don't have to live feeling like you have been permanently damaged by the bearing and birthing of your kids.
She shared that some women come in and their forties and fifties, their kids are grown and they have problems that stem back to 20 years before or 15 years before when they had their children. And they never took the time to care for themselves.
She said that sometimes during menopause, which is you know, this natural part of a woman's hormonal journey that all of the things that are unresolved in childbirth, we'll come back to haunt you and by then it's a lot harder to take care of them because you're not as young and your body doesn't bounce back quite as easily.
Final Thoughts: Take Care of Your Physical Health
So to finish this episode, I want to invite you in whatever stage you are to mother yourself and your physical health, to take care of your sleep, to take care of yourself and eat, and to take care of your own physical health, including as the case may be, the wounds of childbearing and child birth.
The best way to assess and take care of that last one is to see specifically a maternal health physical therapist, someone who is trained specifically in caring for and healing your inner workings as a mom. Depending on your situation, your insurance or lack thereof, you may need a referral from an Ob/Gyn. You also may be able to just reach out to one directly and go see them.
I know with my insurance I did happen to get a referral, but with my insurance I could have just called and made an appointment myself. When I shared about this on Instagram, like I mentioned, I had literally hundreds of women reach out to me to share their stories and how they feel like something has been wrong for years and now they might have an idea of what it is.
And so if in sharing these ideas more of you will have the permission that you need to take care of yourself to mother yourself than I am more than happy to be sharing my own experience.
Conclusion
Okay guys, that was a big one. Sleep. Eat. Heal, that's our goal.
I hope that this idea of mothering the mother, and mothering yourself, is something that will stick with you, that you're making decisions about how to take care of yourself, that you'll remember that you matter, that you are someone's child and to take care of yourself the way that that mother would want to care for you, the way that you care for your own children because we need you.
We need you healthy. We need you whole. We need you vibrant and alive and happy and fulfilled. Your children need you that way. Your partner needs you that way. Your community needs you that way.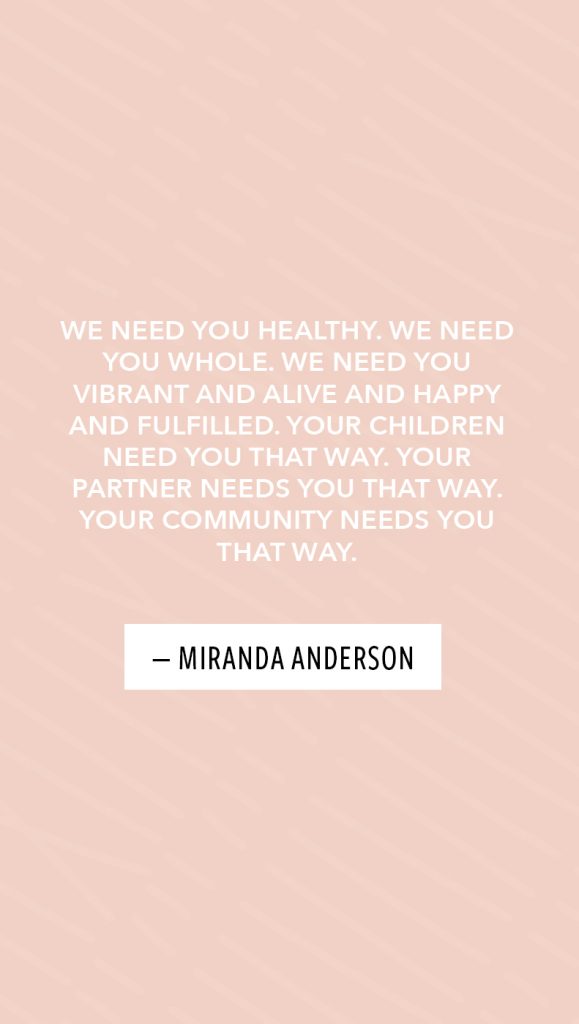 As a companion to this episode, I want to invite you, if you haven't yet listened to Episode 19, entitled Wholeness in Motherhood. This is a great time to revisit this episode. If you haven't heard it, listened to it for the first time and if you have heard it given another lesson, I think that you will enjoy it especially right now as we're talking about motherhood.
A Few New Thoughts
Don't you feel like you needed just a little reminder of how important it is for you to take care of some of your own essential needs?
I want to just share a couple additional thoughts that I've had in light of the last couple years, the last year.
It is not selfish to have needs.
First is this, it is not selfish to have needs.
I think so many of us just wish that we didn't have any needs so that we didn't have to take care of any needs. It's not selfish to have to sleep, to have to eat, to have to go on a walk by yourself, to have space and time to think and to be, to have relationships.
These are essential for our human development and for our wellbeing. And it doesn't indicate weakness or inability to buck up and get through everything if you need to take time to be a human, to take care of yourself.
So that's the first one. I think I've found myself thinking over the last year, it would be so much easier if I didn't care about this, or if I didn't need this, or if my body felt fine regardless of what I did or ate or how I moved.
And the truth is that it isn't. I need to take care of myself.
The best way for me to take care of other people and take care of my kids is for me to take care of myself first.
Now, actually I wanted to give you a quick update. I just remembered in the episode I talked about my diastisis recti. I did several months of physical therapy and that helped a lot and it didn't totally correct the issue, but I learned some exercises and things that helped with my core strength.
And then I was referred to a chiropractor for the lower back pain. And I did about six months of weekly–twice weekly–visits to a local chiropractor. And that almost has completely eliminated my regular back pain.
The pain that I had for five years that I thought would never go away. And I thought it was just part of my humanity now, part of my being after having my kids, that I was just going to have chronic back pain.
It's mostly gone away and I manage it now with occasional chiropractic visits and also trying to keep up on being mobile and exercising and yoga. I felt like it was a miracle. And I also felt like it was so helpful that I got the ball rolling so that I could then take care of myself.
So it's just another reminder to advocate for yourself and your health. You don't have to live with some of these health problems. You can hopefully find some solutions and things that work for you and invest in your health.
Taking care of your body includes taking care of your mind.
And as I spent a lot of the episode talking about physical health, I wanted to just make the connection to you that your brain is part of your body.
And that mental health is also physical health. It's part of our system. It's part of our anatomy and physiology. And I'll talk more about mental health in an upcoming episode in a couple of weeks.
I want to make sure that you understand that as you care for yourself, for your body, that involves caring for your mind. It involves taking care of your thoughts and your beliefs, the experiences that you have as a person, the stories that you tell yourself, all of those things matter.
And you can advocate for yourself with your mental health as well.
Like I said, I have an episode coming up all about this, or you can listen to the companion episode to this episode. This was Episode 38 originally. So Episode 39 and Episode 40 are also in the series about mothering yourself. You can go back and listen to those.
I have two more quick thoughts.
Create a life you don't need to escape from.
One is this. I wrote down: create a life you don't need to escape from.
What does that look like? What does it look like if your everyday life was something that you felt comfortable in, you felt fulfilled and satisfied with.
It would have some time in relationships. It would have some time for you to take care of yourself, those key words I've said over and over again in this episodeo.
You'd have some time outside maybe. You definitely have good food and good meals in there. You may have some creative experiences. You may have some academic experiences.
What lights you up? What feels good in your life? What feels like it fills your soul?
Even in this time that we still don't feel like our lives have picked up where they left off a year ago, and they won't probably for a while, what are some things, even if they're small things, that feel like coming home to yourself every day, rather than daydreaming of how you can escape into something different.
How can you bring some of the feelings that you would get if you escape, how can you bring some of those into your daily life, into your home life?
It's something that will be different for everyone. And I think it's an interesting idea to consider.
Love yourself enough to take care of yourself.
And the last thought that I have, as I'm talking about taking care of yourself, the way that your mother would, or the way that you would mother yourself.
Imagine just loving yourself so much that you want to take care of yourself. How can you lower your expectations for your achievements, for the things that you think you should be doing? How can you drop the shoulds? Drop the idea that there is a particular way that it's all supposed to happen right now?
And drop the idea that if you stray from that or something happens and interrupts the process that you've done something wrong or that everything's gone wrong.
How can you lower the expectations to acceptance and curiosity as you take care of yourself, as you try, rather than kind of roadblocking into, gosh, I should be able to do this better? Or if he would just change then I would be able to do what I want to do? Or I should be able to feel differently about this?
What if we just tried to accept what's happening? Or find ourselves whole within it, whole in our inability to be perfect, whole in our brokenness, whole in our sleep deprived, anxiety riddled, stressed out, overwhelmed, armed existence.
I say it a lot. And I want to say it again. Wherever you are right now, whatever you're doing right now in your life, is just right. You're not meant to be doing more right now. You are enough. You don't have to do any more to prove yourself, to prove your worth, to prove your worthiness, to prove your success.
No one has to know your name in order for you to be special and unique and wonderful and worthwhile. No one has to buy what you're selling. Your kids don't have to obey in order for you to be a good mom. You don't have to have a partnership. You don't have to be in a relationship. You don't have to have a bigger house or better clothes or a different job.
Where you are right now is just right.
Take a deep breath and allow yourself to feel that. That's where healing begins. That's where taking care of yourself begins. It begins from where you are today.
Conclusion
I want to thank you so much for tuning into the show and listening to this episode. I hope that you learned or remembered something important that will help you feel a little bit better, help you live a little bit more fully into the person, into the woman, into the life that you want to live.
I want to quickly remind you of a couple fun things that I have coming up.
There are two spots left for my creative camp in hurricane Utah, April 14th through 18th, 2021. That's coming up soon. It's going to be an incredible time. If you have a small business or a project, a passion project, a hobby, or you just need a break and you want to just be in company of women, all safe with precautions to be taken care of.
We take care of you at Live Free Creative Camp. I'll link in the show notes where you can find the information for that.
And if what you really need is something to look forward to in the summertime where you can come and kayak and canoe and craft and learn and be in company of women at grown-up summer camp that is happening July 28 through 31st in Thatcher, Idaho. There are six beds left and a bunch of camping spots.
I would welcome you to either of those events. I hope that you can come join me. I can't wait to see your faces. I know we're all craving connection. We're craving community. We're craving time to relax and to be outside and to enjoy the sunshine and to learn from one another. And summer camp is going to be an incredible place to do that right on the river with the Hot Springs.
We'll have yoga. We have an on-site chef. We have a book club. We have craft classes. It's going to be so wonderful. So grab a friend and come, or come on your own and meet friends there. I can't wait to see you at camp. I
hope you have a wonderful week and take care of yourself. You deserve it. I'll talk to you later.