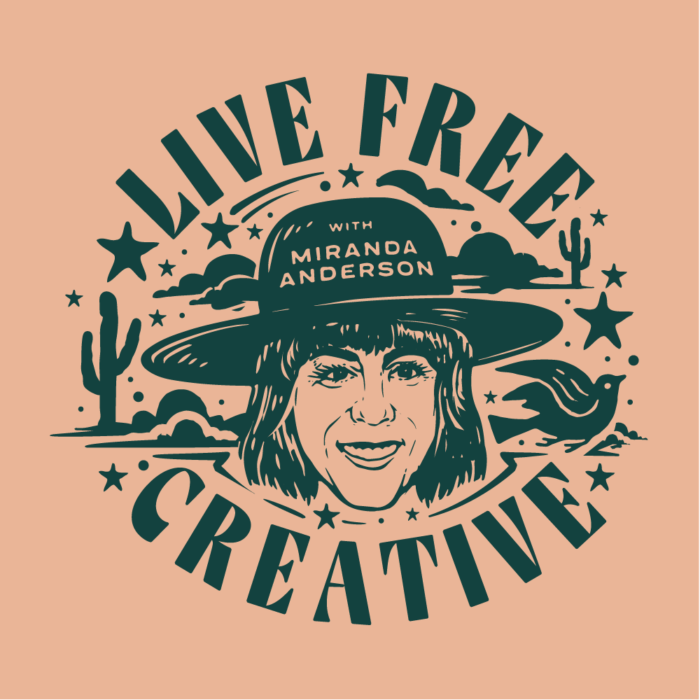 Episode 162: Make A Big Dreams Map

Hello there. Welcome to episode 162 of Live Free Creative Podcast. This week, we're going to talk about big dreams. How to think about them. How to write them down. Why they matter. Hopefully, as you finish out this year, you can come up with some big dreams to point you in the direction of fulfillment and joy and purpose in the coming year.
This episode is brought to you by Golden Coil. My very favorite, fully customizable paper planner company, where I don't only write down my appointments and schedule for the week, I also use it as a place to hold my own big dreams, goals, plans, ideas, brainstorms notes, and everything else. Golden Coil was started by two sisters. It's a women-owned company.
They had this idea that everyone's life and goals and plans aren't the same, so why should their planners be? With an attention to quality and detail and find design, they created a website where you can customize your planner, choose your layouts, your tracking pages, your note pages, and then it's all built for you.
With an incredible, beautiful linen, leather-like or designer cover, 80 pound super soft and delicious Mohawk paper inside, a golden coil to keep it altogether and help it lay flat on your table, and a pocket in the back, which I use for stamps and checks and all sorts of things that I like to have on hand with me.
I've been using Golden Coil for years and years. You've heard me talk about it now over and over. Right now, there is a sale happening for Black Friday. You can use that code: BLACKFRIDAY at goldencoil.com to receive 15% off your planner or notebook order on November 26th through 29th.
If you need some help wading through the many options on the website, you can head to Instagram, go to my Instagram @livefreemiranda. I have not one, not two ,but three highlights showing the different ways that I've used Golden Coil over the years. You can just get a feel for the different layouts that I've chosen, and that may be helpful for you in choosing your own.
Also, I will link in the show notes that live free creative.co/podcast the four planning episodes that I did last year in partnership with Golden Coil. I get specific in those episodes and a blog post about the actual layouts that I've chosen. That may be helpful as well. So, you can use the resource of my Instagram highlights or also heading to the show notes livefreecreative.co/podcast. You can look at my Golden Coil blog post show notes, and that will also be a great resource for you.
I have loved hearing from so many of you and seeing on Instagram getting tagged by so many of you who have gotten a Golden Coil in the last couple of years, based on my recommendation and have fallen as hard and love as I am.
Visit goldencoil.com and use the code black Friday for 15% off this week.
Segment: Notes From Nature
I'm excited to share a new segment with you today. This is something I'm going to call Notes From Nature. And each note from nature segment is just going to share a little lesson that I've learned lately from the outdoors.
A couple of weeks ago, I was taking a surf lesson in Costa Rica, and I noticed that every time I was paddling right before I caught the wave, I felt like I was standing still. I was paddling as hard as I could. And I felt like I wasn't going anywhere. I asked the surf instructor about what was going on and he explained that the wave gathers energy from the water in front of it.
So, it's a spiral where you think of a wave as just sometimes crashing on the shore. Instead, a wave functions by pulling back all the water ahead of it to use. It gathers that up before it then crashes down forward.
So, there's this moment where I'm paddling and it doesn't feel like I'm going anywhere because all the force that I'm using is being directly countered by the wave, pulling all that water into itself before it comes over forward.
I really loved this metaphor of the wave gathering itself together with force before it propelled me forward. That being the same moment that I felt like I was failing or that I wasn't going anywhere, it was a good reminder to just keep paddling because eventually all that momentum is going to send you flying towards your goal.
Episode: Big Dreams
How do you feel about the phrase "Big Dreams?" Does it make you excited? Get you motivated and pumped up? Or does it feel a little bit anxiety-inducing or frustrating or annoying?
We're heading into resolution season, into dreaming season, into goal setting season. The end of the year and the beginning of the next is always a time where people everywhere turned their minds to the possibilities.
Something that I love about writing down my big dreams. They are the acknowledgement of possibility. Hope is one of my very favorite feelings. It counters disappointment. It counters worry. It counters some anxiety. It keeps me future-focused. Hope gives me perspective and helps me enjoy the process.
For me, writing down my big dreams isn't just a process of setting goals. I think of them as two entirely different things. Writing down my big dreams is a way that I acknowledge the abundance that exists in my life. It's a way that I invite abundance into my future and it helps point me in the right direction so that at times throughout the year, when I feel a little lost– which I will tell you happens quite frequently for me. I get to a point, whether it's a day, whether it's a hormone thing, whether it's just a mood thing, I get to certain days where I feel like I don't know exactly what I'm doing or why I'm doing it.
I feel, not purposeless, but maybe a little directionless. And on those days during those times, it always is helpful for me to flip to the front of my planner, where I have my big dreams map and to look at some of the things that were inspiring for me at the beginning of the year, some of the directions that I thought I might want to explore.
The Difference Between Big Dreams and Goals
Let me tell you a little bit about what I identify as the differences between writing down my big dreams and setting goals. Big Dream Mapping is a brainstorming process, where goal setting is (for me) a more specific delineated process where I like to choose things that are realistic and that are time sensitive and that are relatable, that I believe I can accomplish.
I'm going to tell you that I write down some big dreams that I don't know if I can accomplish them. I mean, I think I could, I'd like to try, but I'm also okay if I don't. My big dreams helped me broaden my horizons. They help give me a jolt of creativity and of excitement and of motivation.
I don't hold myself to them with routines and specific daily processes, the way that I do for specific goals or plans that I lay out for myself. I believe that big dreams are the beginning part of the whole process, because it's from my big dreams map that I often pull something and turn it into a goal and then break it down into plans and systems and routines when I've decided that I'm going to work on it.
Big Dreams are Motivation and Direction
For the most part, my big dreams kind of hang there as a place where I can find inspiration, a place where I can find perspective and directly. I want to share four benefits of dreaming big. And then go on to tell you or explain the process that I use to create my big dreams map each year. This is something that I'm going to work on this week as we have the holidays, and my kids are off school and I'm going to have some downtime to just hang. This is when I'm going to deep dive into my dreams and hopes for the future and map it all out.
1. Big Dreams Guide Your Goals
So, the first benefit I want to mention is that creating a list of your big dreams is the first place to begin working on specific goals.
So, while I don't consider my big dream list as a set of clarified, measurable goals, it's a place where I go to get the inspiration for the types of goals that I want. To work on for the direction that I want to go. Sometimes thinking outside the box is helpful as you get started on, then, you know, breaking it down into something that may be more time-sensitive realistic or attainable sooner.
Also, a lot of times, Goals have some runway that's needed to sort of prepare and getting pointed in the direction of some big dreams can help build that runway so that when you're ready to set specific goals, you're already in the head space to do that.
2. Big Dreams Connect You To Your Inner Purpose
The second benefit of writing down your big dreams is that it will connect you to your inner purpose and help you find some meaning in your life.
Oftentimes when I get a little bit existential, when I go into existential crises mode, it is because I'm not connected to my purpose. I'm not connected to meaning greater than myself. And my big dreams helped me to do that. They help establish a foundation for me of the things that matter the things that feel important, the things that I want to contribute to the world and they can serve as sort of an anchor point for the choices that I make in my everyday life.
Am I moving in the direction of my dreams or am I simply moving in circles?
Something that I think is interesting about big dreams is how different yours will look than anyone. Else's how they'll look different than your sister or then your parents, or then your spouse even.
Big dreams are personal, and they can give you an insight into your own inner workings. If you're not feeling super connected to your core values, to your belief systems, your truth, and your purpose. If you feel a little bit like, I don't know what my purpose is, writing down some big dreams and recognizing what your desires are, what comes out of you.
That can be helpful into understanding some of the things that are happening inside. The things that matter most to you, the things that you want to feel connected to.
There isn't a wrong way to do this. There isn't a wrong dream to put on the list. Nothing is silly, nothing is ridiculous. This is an exercise in possibility and exercise in abundance and exercise in hope and perspective.
3. Big Dreams Are Fulfilling
Another benefit of dreaming big is that you'll often feel more fulfilled and accomplished even just by getting clear on what some of your dreams are, even if they don't all happen and come to fruition, giving yourself some clarity, feels like accomplishment, giving yourself the chance to explore your hopes will feel really fulfilling. Especially this time of year with the holidays coming in the minutia of what you're being advertised to or what other people are finding important or what you hear from all different sides as where you should be finding your meaning or where you should be spending your time, your money, your resources.
It can be powerful to give yourself the gift of 20 minutes or 30 minutes or an hour to sit and dream. To turn off your distractions, turn off your phone, set it aside. You can turn on some nice music if you want, but generally just allow yourself to tune into yourself, to listen to the things that your soul is seeking.
DaVinci Was A Big Dreamer
I'm reading a book right now called Think Like DaVinci. I highly recommend it. I will link it in the show notes. For those of you who are in my Patreon Group. We are doing a book club on it. It's been fun to read. One of the things that I've been struck by is how Leonardo DaVinci was such a big dreamer.
I was really fascinated to learn that one of the bridges that DaVinci designed in 1502, so over 500 years ago, was built and found to be structurally sound engineered perfectly in 2001, 500 years later. The dream that he had for this bridge and the way he designed it was used and functional and brilliant.
In fact, many of the things that DaVinci drew out sketched wrote about were not proven or even found to be correct until hundreds of years later. Just a fascinating example of how sometimes dreaming big doesn't have to look realistic for right now. It can be an exercise in creativity and exercise and ingenuity and exercise in hope and abundance.
4. Big Dreams Can Build Self-Awareness
The final benefit I want to mention dreaming big is that it can help you stay aligned and give you a lot of self-awareness. Often when I do this exercise of writing down my big dreams for the year, I will stop and ask myself the question. Why do I want to accomplish this dream? Or what, why does this dream feel important? What is the purpose of this one for me?
Two people may put down the same big dream and have an entirely different reason for being called to that dream. Opening your mind, and allowing yourself to dream bay can help you get to know yourself even better.
My Big Dreams Map Process
Now I want to tell you about the specific process that I use when I do my big dreams map.
You may choose to do it the way that I do it or to write them down, however you want. I want to encourage you and challenge you to write down your big dreams for this coming year, sometime in the next week between now and the next time the podcast comes out next Thursday, I want to encourage you to write.
Your big dreams, whether you do it in the front of your planner, like I do in a place that I can refer to it all year long, or if you do it on a piece of paper and then stick it up on your mirror or on the inside of your closet, I would love for you to be able to access your big dream map all year to give you hope and clarity.
I keep referring to this as a big dreams map, because I don't want you to write a list. I want you to start in the center of your page as if you're doing a brainstorm mind map and write down "Big Dreams 2022" or whatever year it is coming up, depending on when you're listening to this. If you're listening currently, we are weeks away from 2022.
Write Big Dreams In The Center
Write Big Dreams 2022 in the center. Circle it, and then I start to write words, ideas, dreams, hopes all around it on the page. I'll connect those main ideas back to the center. And then if I can clarify even further, or if I can write down one or two steps that that big dream may entail, then I add those on as little extensions of the main idea itself.
Write Ideas Around It, Connecting Themes
So, for example, in 2021, one of my big dreams was to have three sold out retreats. So, from my big dreams, I have written "three sold out retreats" that circled. And then from that, I made space to write down each of the retreats that I knew I was hosting in 2021, the spring retreat in Utah, the fall retreat in Vermont, and the grown-up summer camp retreat in July in Idaho.
Writing down each of those gave me a space to look back and to prepare for and to record as each of them approach during the year. Another big dream that I wrote down for 2021 was to write 50 newsletters. I don't know if you are signed up on my newsletter list, but a newsletter is an email that I send every few weeks to give you an update on the recap of the podcast.
Sometimes I share products or ideas or inspiration. Sometimes I link to blog posts or to books or other things that I'm enjoying. It's just meant to be a place where I can add value. In addition to listening to the show where I can give you some additional insights, ideas, and motivation. I will tell you, I did not write anywhere near 50 newsletters this year.
Where I intend for it to be weekly, they usually end up bi-weekly or monthly. So maybe I wrote about 20 newsletters this year. By writing down my Big Dream, which is to write one every single week, I allowed myself to focus on it.
So even though I didn't accomplish the goal or the big dream of all 50 newsletters, I did keep reminding myself that something that I want to do and want to do a little bit better. Maybe this coming year, I'll be able to get closer to that weekly newsletter goal.
One of my big dreams for this year that I wrote down is to find an agent for my next book. That was a big dream and is probably one that I'll transfer to next year. I didn't even look for an agent. I didn't even finish my proposal yet for this next book that I have an idea for.
Putting it on my list didn't mean that it was going to be something that I pursued as if it were a written down specific goal. It helped keep it in mind, helped me continue to think about, and I kind of brainstorm it. There's not a timeline for these big dreams when I take them from my big dreams list and move them into.
Big Dreams Guide Your Goals
My goals and break them down into specific action item steps. That's when I usually give them a timeline. My big dreams are a place where I can just have some of those ideas out there. I can already see looking at my big dreams list for 2021. There are several things that I don't know if I'll add them again.
Next year, one that I've had on there for the last couple of years is to reach out to a magazine, to feature the before and after of our house. Now, this is something that few years ago, may have felt more aligned with the DIY part of my blog. And now after a few years of having it down, I haven't made any moves on it. It hasn't felt like a big enough priority to take it from that big dreams page and move it into my goals list.
And when I asked myself for clarity, what is the purpose of this? Or why is this something that you're interested in? It doesn't resonate as fully as it did a couple of years ago. And that's okay.
The seasons of our life are going to change. The things that we're interested in are going to change. And this is one reason why giving yourself this space to write down some big dreams and then come back to them and then adjust them and change them and only move forward into the next year. Writing down the big dreams that still feel important that still light you up and give you purpose, meaning, and clarity.
Of my big dreams for 2021 that I did move off the big dreams sheet onto goals and planning and making it happen were to take Eliot (my middle son) on a parent trip. We like to rotate one child individually on like a one-on-one or one-on-two trip. And this year was Eliot's year, and we just didn't have anything planned at the beginning of last year.
And so, I wrote it down as something that we wanted to do. And then soon after the year began, a plan began to emerge because we have a deal with our kids that when they read all the Harry Potter series, when they finish it, we will take them to Harry Potter world at Universal Studios. Eliot latched onto that idea in March and started reading this series. He set a personal goal to finish the whole series before his birthday at the end of June. And as the beginning of June approached, and we saw that he sure enough was going to make it through the whole series. We decided to plan his individual child trip for his birthday. So, we celebrated his birthday, just Dave and Eliot and me in Universal Studios, took him to two days of Harry Potter World.
It was such a fun trip and a big dream checked off the list. The other one is also trip related. For the last couple years, our, most of our vacations have been thwarted in one way or another, either canceled or adjusted because of the pandemic. So, it was simply with hope and love and a big dream in my heart that I wrote down that we would be able to travel to Paris for Christmas this year.
That's the type of big dream that requires a lot of advance planning for budgeting, for logistics, and a lot of things out of our control, like the pandemic, how that would go, whether France would even be accepting visitors because I wrote it down as a big dream. It's something that we referred to and thought about all year long. A few months ago because of the changing climate, the ability of everyone in the USA to have vaccines, and the way that the borders have been opening, we decided to make this dream a reality.
We're so excited to celebrate Christmas morning at home, and then hop on our flights to spend the week after Christmas in Paris with our kids. As a bonus, my husband's parents who are currently living in Frankfurt, Germany, are going to take the train down to spend the week with us exploring the city of lights.
It's been fun also because when we decided to for sure, make this trip happen, we told the kids about it. Rather than it being a Christmas surprise, they've known for a couple months. This is our big family Christmas. They know that this experience as a family takes the place of their Christmas list and the presence they may have expected under the tree.
Instead of we're going to enjoy a beautiful brunch, open stockings, and then hop on the plane. It's been so fun to plan and prepare and to take something off the big dreams list and make it happen.
Our big dreams don't just happen on their own. We don't usually trip and fall into the fulfillment of our biggest hopes in our inner most desires.
These are things that we need to, first, dig up by creating some space, to think about them and write them down and do so. Without embarrassment, you don't have to share these with anyone. You can write them down. Keep them just for yourself. What are some big hopes? What are some big dreams?
I love to write down big dreams on the page, like I mentioned, start brainstorming them and I like to do this without some rules.
I don't try to be realistic. Sometimes the most unusual and absurd ideas are those that lead to the biggest breakthroughs or that give us the most information about a pivot that we may want to make in our life. Writing them down helps you to see clearly and make connections and find the themes.
Last week's episode 161 is all about the reasons to write things down on paper. If you need some encouragement to do that and not just write this in the notes app on your phone but break out a piece of paper or a page in your planner and write it all down. You can listen back to that episode.
Shoot For The Stars!
I want to finish by telling you a funny story about our family theme for this year. Every year, we come up with a school year theme and we do a fun fancy back to school, dinner, highlighting the theme. And this year I chose the theme shoot for the stars shoot for the stars. We had this astrology themed dinner. It was fun.
We talked about our strengths and weaknesses and some dreams that we might have. And I told the kids "shoot for the stars and you may land on the moon." And everyone started laughing and said, mom, that's wrong. You said it wrong. You're supposed to "Shoot for the moon so that you might land among the stars." which is of course a quote by Elizabeth Rose.
I got a good laugh out of it. And then decided that I like my way to, you can shoot for the stars. And you may end up setting up shop on the moon, and that will be just as great.
Allow yourself to dream big, to think outside of the box, to get creative and open yourself up to possibility.
The new year is a new chapter. We don't know what's going to happen. The question that you get to tune into as you create your big dreams map is:
What do I want? What do I desire? What would light me up? What would make me feel happy and fulfilled? What just sounds fun.
It doesn't all have to be serious. What does sounds fun? What sounds interesting? What am I curious about?
I really do hope that you take the time to write down your big dreams for the upcoming year to sit with. And think about them, allow yourself to feel them to feel the joy and the hope that comes with opening your mind to the possibilities ahead.
This Podcast Was A Big Dream
I want to thank you so much for tuning in to Live Free Creative Podcast. This podcast itself was one of my big dreams a couple of years ago, and I'm so happy to be sharing weekly inspiration ideas for you living your life a little bit more on purpose.
If you enjoy the show, some of the best ways that you can support it are by subscribing leaving a written review on iTunes, taking a screenshot, and sharing it on social media, tagging me and sharing with your people why you enjoy listening.
I appreciate you so much. And I just want to leave you with the message that your big dreams. You matter, you're doing a really great job and I am thankful for you. Have a wonderful week. I'll chat with you again. Next time. Same time, same place. Bye-bye.