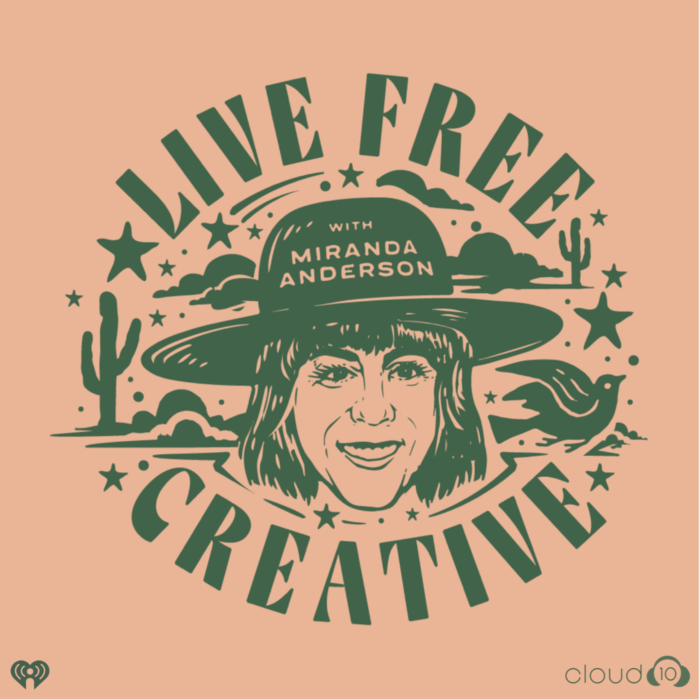 Episode 163: A More Intentional Holiday Season

Hello, my friends. Welcome back to Live Free Creative Podcast. You're listening to episode number 163: A More Intentional Holiday Season.
DECLUTTERED registration opening soon. Click HERE to learn more!
If you want to know as soon as the doors open in a couple of weeks to sign up for my six-week intentional living masterclass (that will begin the first week of January) you can head to the show notes and right at the top, we'll have a link for Decluttered.
You can check out a little bit of the basic written information for the course, and if you're interested in being notified when the doors open, you can pop in your email and I will make sure that you know as soon as you can register to join me on this six-week shopping pause and intentional living masterclass, where we will declutter your home, your heart, your schedule. It's like a mindset reset, which is exactly what so many of us need after the overwhelm of the holidays, we can jump into the new year feeling like we are making space on our schedules in our minds and in our homes for the things that matter most to us.
I'm so excited about it. I've been working on it. It's so good. This is the same course that I have offered six times over the last two years, and I am adding a week and revamping a little bit of it. I am also adding a fun accountability group bonus option where you can finish the six-week masterclass and dive right into 12-weeks of accountability group coaching calls where each week we tackle a specific area of the house to declutter, revamp, organize, and lighten up. So, by the end of March, you have essentially reset your whole house in addition to resetting your mindset and your schedule.
It's going to be incredible. I'm so excited about it. You can sign up if you're interested. I can't wait to tell you more.
The Holidays Are Upon Us
Now tell me. Can you feel it that subtle magic, maybe for some of you, it shows up more of a feeling of like anxiety or stress?
The holidays are upon us. It's December. I can see downhill straight to the end of the year, and it feels pretty good. We got the tree up in our house last week. Milo was very excited because it was the first year that I let him come out on the roof of our porch with me to put all our Christmas lights up.
I like to put them right around the edge of our porch and then up on the little dormers. So, we have this cute, very simple single strand of white lights up around the borders of the porch. It's cute at night, makes it all glowy and fun. I just love this time of year.
Are you feeling calm and peaceful and excited?
Are you feeling a little stressed out or overwhelmed?
Are you worried about some of the family interactions that you have coming up or the activities?
Does it feel like things are kind of getting overloaded?
Are you disappointed about some of the things that you were hoping would be able to happen this year for Christmas, that aren't going to maybe happen the way that you expected?
All the things that you're feeling are okay. We're not supposed to just feel magical. We're not supposed to just feel happy and joyous right now.
We can, however, have an impact on our own emotions, by what we seek. And so, while there are always going to be elements of the holiday season that remain outside of our control, our circumstances, other people's behavior, other people's words or actions or decisions…including those other people that live under your own roof.
We can try to bring some of the locus of intention back into our own heart and mind. I believe that by setting our sights on a specific feeling that we're hoping for and encouraging that and planning around that we can really inspire ourselves. Then, that kind of bleeds over into those around us, into having our holiday season feel as close to the way that we want it too as possible.
The episode that I want to share today is about having a more intentional holiday season. This episode is one that I aired back in the second season of the podcast, and I love it because it gives a specific and simple way to think about the upcoming holidays and to prepare for them.
Wrap Your Arms Around The Things You Can Control
If you can think about wrapping your arms around the things that you can control and just like hugging those things tightly, and then releasing all the things that you can't, that is what this episode can do for you.
When it originally aired, this was Episode 66, and I aired it a couple of weeks before Thanksgiving.
So, as you're listening, you'll notice that there's a couple of references that I make to Black Friday and the shopping that happens then. Of course, we're past that now for this year. Right? So however that went for you, whether you're a big black Friday weekend family, or whether you sort of just let it slide by and, you know, log offline and it just ignore your emails for a few days like I do, I think the points that I make about that type of hustle and bustle and urgency are well-laid. Because some of that urgency stays with us during the holiday season, unless we consciously disregard it, consciously release it. That is what I'm hoping this episode does for you today.
Consciously Release The Hustle
It helps you to get back into a space where you realize what you have control over this season helps you make some decisions and personal decisions about how you want it to go, how you want it to feel, to choose with intention the things that you want to include, not include. Set yourself a budget. Set yourself up for financial success to come out the end of this year feeling good about the choices that you've made, that you are choosing things ahead of time, rather than acting upon impulse that you.
No matter what your goals are, what your hope is for, these aren't like achievement goals. These are like fulfillment every day, moment, and memory goals. These are things that you can exercise some amount of influence over, and that is powerful. There is a free printable download that accompanies this episode. Find it in the show notes!
Segment: Pause For A Poem
"Thunder rumbles in the mountain passes lightning rattles the eaves of our houses. Flood waters await us in our avenues. Snow falls upon snow falls upon snow to avalanche over unprotected villages. The sky slips low.Great and threatening.
We question ourselves. What have we done to so a front nature? We worry, God, are you there? Are you there, really? Does the covenant you made with us still hold into this climate of fear and apprehension.
Christmas enters streaming lights of joy, ringing bells of hope and singing carols of forgiveness high up into the bright air. The world is encouraged to come away from ranker come the way of friendship.
It is the glad season. Fear ebbs to silence and lightening sleeps quietly in the corner. Flood waters recede into memory. Snow becomes a yielding cushion to aid us as we make our way to higher ground.
Hope is born again in the faces of children. It rides upon the shoulders of our agent as they walk into their sunsets. Hope spreads around the earth, brightening all things even hate which crouches breeding and dark corridors in our joy.
We think we hear a whisper. At first it is too soft. Then only half heard. We listened carefully as a gatherer strength. We hear a sweetness. The word is peace.
It is loud now. It is louder. Louder than the explosion of bombs. We tremble at the sound. We're thrilled by its presence. It is what we have hungered for not just the absence of war, but true peace, a harmony of spirit, a comfort of courtesies, security for our beloveds and their beloveds.
We clap hands and welcomed the peace of Christmas. We beckon this good season to wait awhile with us. We Baptist and Buddhist, Methodist and Muslim say, come peace. Come and fill us in our world with your majesty. We the Jew and the Jesuit, the Catholic and the Confucian implore you to stay awhile with us. So we may learn by your shimmering light how to look beyond complexion and see community.
It is Christmas time, a halting of hate time on this platform of peace. We can create a language to translate ourselves to ourselves and to each other. At this Holy instant, we celebrate the birth of Jesus Christ into the great religions of the world. We jubilate the precious advent of trust. We shout with glorious tongues that the coming of hope, all the Earth's tribes loosen their voices to celebrate the promise of peace.
We angels and mortals believers and nonbelievers look heavenward and speak the word aloud piece. We look at our world and speak the word aloud piece. We look at each other than into ourselves and we say without shyness or apology or hesitation, peace. My brother peace, my sister, peace, my soul. Amazing peace." -Maya Angelou
The Holidays Are Upon Us
Do we just need a minute to bask in the glory of such a beautiful poem, such beautiful words?
I know it was a little bit longer than you might be used to with my poem segments, but I think that we can handle it. I think we can handle it and just if you tuned out, I want to invite you to go back and relisten, three minutes of incredible words by such an incredible poet.
What really stood out to me was the idea of harmony of spirit and courtesy of courtesies. This idea of peace just embedding itself into us and flowing out of us, and what an incredible visual that gives me the idea of peace.
We are coming upon the Christmas season, the holiday season. I know that there's a lot of debate whether we should start talking about Christmas before or after Thanksgiving, but I think that with the way that society works right now, people hit the ground running on Black Friday.
A few weeks ago on Instagram, I asked what my audience was hoping to hear from me in the podcast. I said, I'm recording a few upcoming episodes and I would love to get your input regarding what sorts of things you're ready to hear right now. And one of the overwhelming responses like so much that it deserves its own category was the idea of intentional holidays, minimal holidays, how to approach the upcoming holiday season without feeling overwhelmed, without feeling busy, without feeling stressed out and without feeling like we totally lose control of what we hope and instead revert back into what is easy and what we've always done even if it's not the thing that we really want to do.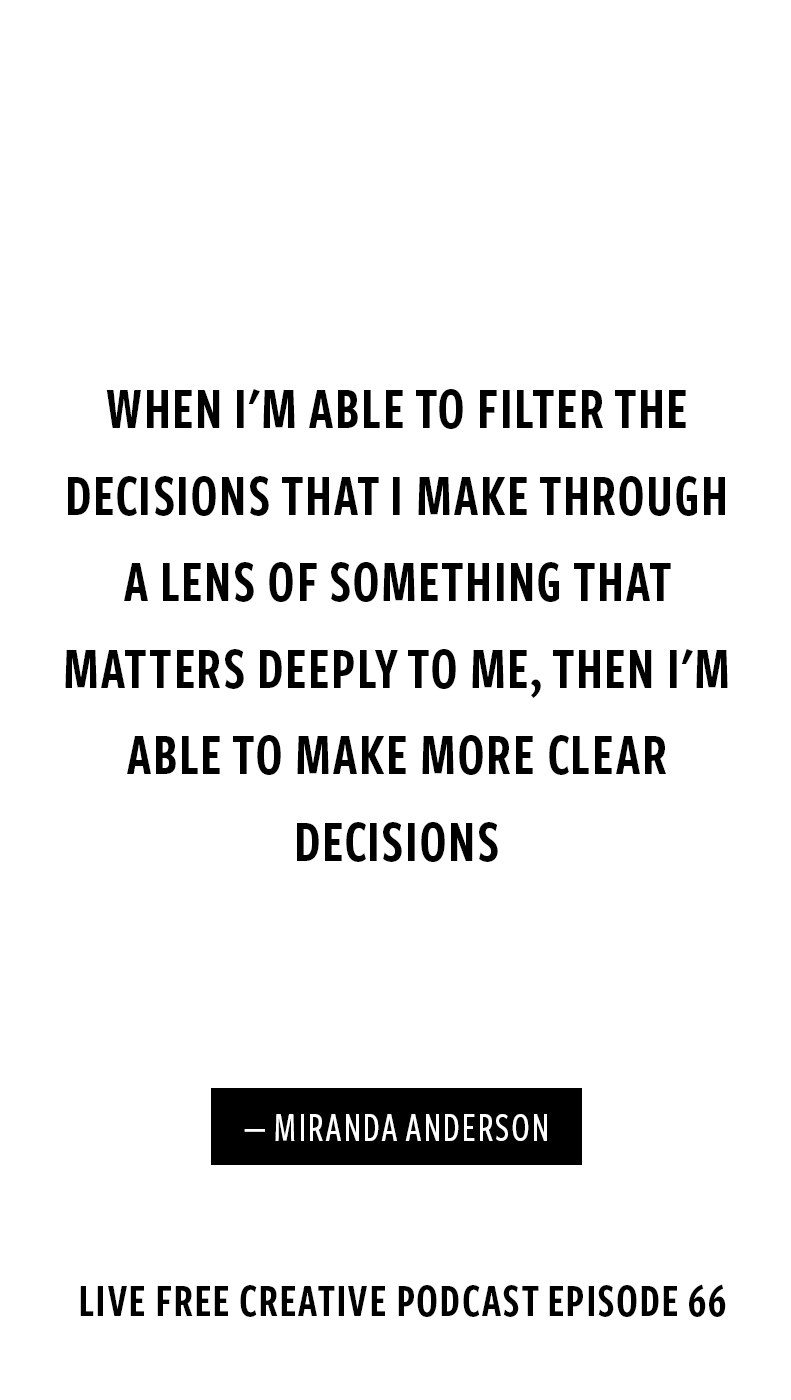 How To Have An Intentional Holiday Season
So today's episode is going to be all about having a more intentional holiday season and I want to mention right at the get go, there is a really helpful ultimate guide to an intentional holiday season in the show notes available as a free download.
Download the Ultimate Guide To An Intentional Holiday Season Here!
It's going to help guide you through the steps that I'm talking about here. It's so great to listen to podcasts and get inspiration. I listened to a lot of them and I know that I often listen and think, "Oh, that's such a good idea" and then because I don't have a place to write it down or I'm not taking notes. Usually I'm listening when I'm running or on the road. A lot of it, it just stays in my head as good ideas and so my goal with this podcast has always been to give you some action items, invite you to actually make changes in your life and live more aligned with your values.
So I have created this worksheet so that you can listen to this episode. You can print it off even before Thanksgiving and have a headstart on creating an intentional holiday season for yourself and your family.
Create An Intention
I want to start with the idea of actually creating an intention. Do you know what intention means? The definition of intention is to have a plan to have a plan in place so that you can execute based on your true desires rather than being pushed around by other people's ideas or just simply following the pathway that is laid out in front of you.
There is a fantastic example of this in the classic Alice in Wonderland when she stumbles upon the Cheshire Cat for the first time and she asks him, "Would you tell me please, which way I ought to go from here?" And the cat says, "That depends a good deal on where you want to get to." Alice says, "I don't much care where." And the cat says, "Then it doesn't matter which way you go."
"So long as I get somewhere!" Alice adds as an explanation. "Oh, you're sure to do that." Said the cat. "If you only walk long enough."
Do you feel like you have sometimes approach the holiday season like Alice where you're looking for what should I do? What should we create? How should we spend our time? How should we spend our money? You know, you really want to get somewhere. You really want to have a beautiful, magical, memorable season, but you don't really know what the pathway is.
One Word for the Season
Creating an intention for the holiday season is one way that you can start to guide the decisions that you make. Now, a lot of people have heard of the idea of setting a word of the year every year that was made popular several years ago and I know that around the beginning of the year, the new year's day, people online and everywhere are sharing their word of the year.
This is their intention for the year. It's meant to serve as a touchstone for the decisions that you make throughout the year, something that you want to focus on. Well, a meta enough, my word of the year that I wanted to focus on in 2019 was focus. I focused on focus and that has enabled me to accomplish the exact things that I wanted to accomplish this year.
Now, I didn't accomplish a lot of secondary or tertiary things, but I did accomplish the things that at the beginning of the year at the outset were the most important to me and I can gauge that my year was a success because of that, because I was true to my intention. Now I would like to invite you to create this same scenario as you approach the holiday season by setting an intention. And I think a word is a great way to do that. So think of what you would like your word of the season to be.
Some Examples of Choosing a Holiday Intention
A couple of weeks ago when I started thinking of this idea and I started talking about it with my own family. At first, Dave was like, so what do you mean? And I said, well, there's lots of different examples.
Let me give you some examples so that we could work through them. And the examples, it might seem like they're really similar because they're kind of holiday-ish words, but I want you to consider how the decisions that you make may be different depending on which intention you set or which words you choose. So here's some examples:
Some Words
Peace like I talked about in that incredible Maya Angelou poem. What decisions would you make if your intention for the holiday season was peace? Are they different than what decisions you would make if your intention for the holiday season was Magic? Magic is another good word for the holidays. What about service or giving? What about fun? Another word you could use is connection. You could choose the word family. You could choose the word adventure. You could use the word joy, or even a word like flow. Think of one word or a couple words.
It can be a phrase if you want. I mean, this is about choosing something that evokes the feelings that you would like to have this holiday season. For some of you, it may be dialing things down so that you're able to feel connection or you're able to feel peace.
For some of you, you want to, you know, be really excited and you want to maintain that magic and you want to feel the elements of surprise and joy. And this isn't to say that you choose one intention and that's the only thing that you feel the whole holiday season. Because of course, all of these things mixed together to create our experience.
However, I have found that when I'm able to filter the decisions that I make through a lens of something that matters deeply to me, then I'm able to make more clear decisions.
Okay, so work on this a little bit. You may want to talk to your spouse. I tried to talk to my kids a little bit about it and of course my kids want the intention to be "fun" and I'm like, well that's good. I mean, I like that and so maybe we'll go with that. We are still working on ours. Maybe by the time this episode airs we will have figured it out, but it is really great to choose something that's going to guide your decisions. This is the map your roadmap for the holidays. And so choose the one that resonates the most with you and you don't have to use one of the ones I shared.
You can come up with your own intention, with your own word.
Now I want you to consider how this word or how this intention is going to allow you to interact with some of the things that that you naturally will do during the holidays. For example, how will this intention guide the way that you interact with your family this year?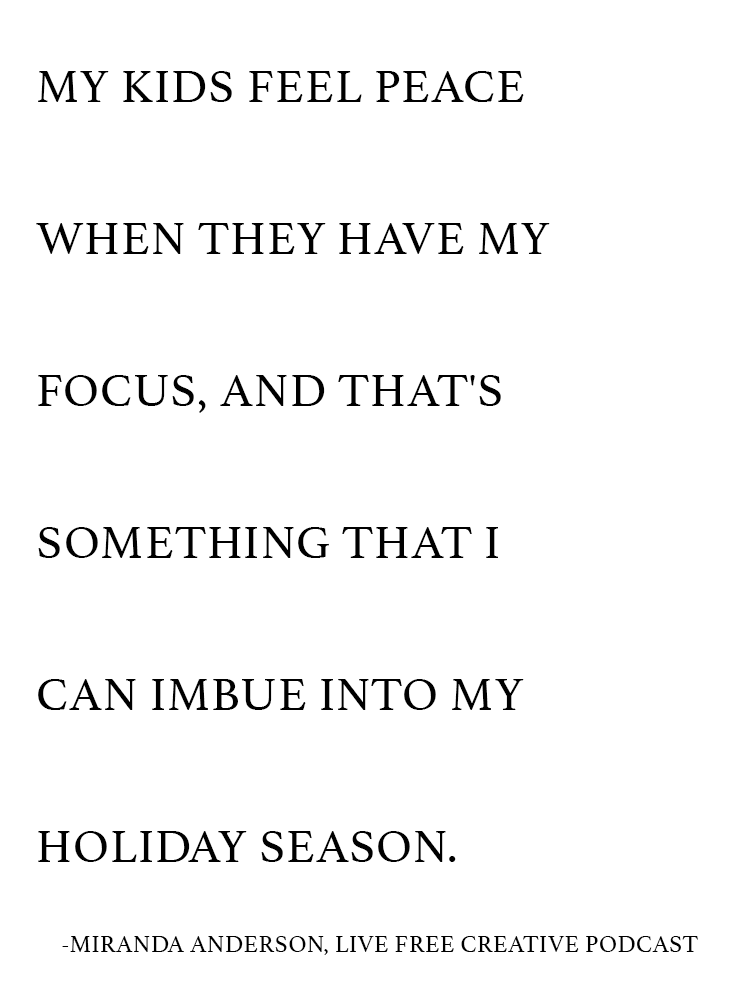 How to Apply Your Intention
Peace
I'm just going to choose one and go with it for an example. So let's use "peace" because I loved that starting out. If I choose peace as my intention, I'm going to try to use this to create family experiences that are filled with peace.
I have three young kids, so peace is not something that we often come by. However, it is something that I can bring to the table as the mom. So setting ourselves up for by planning ahead, the types of activities that I know my kids already enjoy so that there is a higher likelihood of peace.
This means opting out of ice skating because my kids hate ice skating and I love it and I think it's so fun around the holiday season, but my kids don't like it so I'm not going to drag my kids to go ice skating even though I know that it would be really cute to take pictures of and like "Maybe they'll get to like it this year?"
If I'm aiming for peace, I'm going to choose things that I know that they enjoy. Experiences and activities. You know what brings peace the quickest in my house when I actually sit down with my kids and interact with them on on their level rather than trying to manage them in doing their own activities when I get down in it with them, when we pull out a game and we play a game altogether, when we're working on a puzzle, when we're reading books, when we choose a family movie, when we go on a walk together and my attention is 100% on them, my kids feel peace when they have my focus and that's something that I can imbue into my holiday season. With the clear intention to do so.
Magic
Now, for example, if I had chosen the intention magic, I'm going to think about this a little bit differently. I'm going to then maybe choose some activities that feel a little bit surprising or have this element of whimsy. Maybe I will decorate a little bit differently for magic than I will for peace. The music that we play during the season, it might be a little bit different. Some of the activities that I choose for my kids might feel a little bit different. The same goes for all of the different intentions that you might have.
Intention Can Guide Our Gifts
Our intention can also guide our gifts. Now I'm going to do an entire episode in two weeks about gifts. And so look forward to that. Some ideas for minimal gifting, some ideas for creative gift, giving some ideas for gifts of experience, ways to not have gifts, like the commercial aspects of gifts and, and of the holiday season overtake our whole experience, which can be tricky. How does your intention relate to your gifts? It's the same thing.
So you know with the intention of connection that can guide my gift giving that I try to ensure that the gifts that I give create connection and example of a gift that creates connection is something that people get to do together. That's not a solo activity. So the difference between giving someone a game boy for example, or giving them a board game that you play with as a group or maybe connection.
An example of a gift of connection is something where I, part of the gift is the connection itself. So my oldest son is really into photography and a couple years ago on his birthday we gave him a DSLR camera and it was a hand me down so it wasn't, it's not in tip top shape and it's kind of gone downhill in the years since then.
So an example of connection would be a new camera along with a coupon book or a plan to spend, you know, an hour a couple times a week actually going out and shooting together and talking about photography and teaching him about photography. So the camera itself is like a tangible physical item. But the the connection that it creates is that we get to spend time together as I teach him about the things that I've learned about photography, that in fact I learned from my dad who did this with me when I was young. Now that's some, a few examples of how to use your intention to think about your gift giving.
Now in the PDF I have an entire gift guide worksheet so you can right now ahead of black Friday ahead of December ahead of all the sales ahead of all of that. You can take some time with intention.
Remember, intention is planning both who you plan to get, gifts for, family members, friends, neighbors, coworkers, whoever is on that list, who shows up for you and to start planning what types of things you think would make for a great gift.
Now again, think about your intention, your word, think about the way that you hope this holiday season feels for you. I did an episode a few weeks ago, I guess a month and a half ago now about conscious consumerism and aligning our shopping habits with our internal values. This is also something to consider as you shop for gifts with intention or maybe you decide that you want one of your intentions to be, you want your intention to be creativity and so rather than shopping for your gifts, maybe you're going to hand make some gifts to exercise your creativity and to and to spread that connection.
Maybe you want to give gifts of experience and so rather than having to hit them all, you're going to think about what classes are nearby or what types of passes or a gift card to a cool coffee shop or a fun local restaurant.
A Great Question To Ask Yourself
I think a great question to ask ourselves as you were creating our gift plan for the people that we're, we're going to be shopping for is "Who else can we benefit through giving this gift?" We can give a gift that also has a third impact. We get to feel the joy of giving. The person gets to feel the joy of receiving and someone else through our purchase is benefited.
Whether that's supporting a company that also is doing good in the world, whether it's supporting a local shop that that is, you know, keeping their, their, their shop alive. It's a really important question to ask ourselves during the season and depending on what your intention is and what you hope to feel this season that will guide some of these decisions.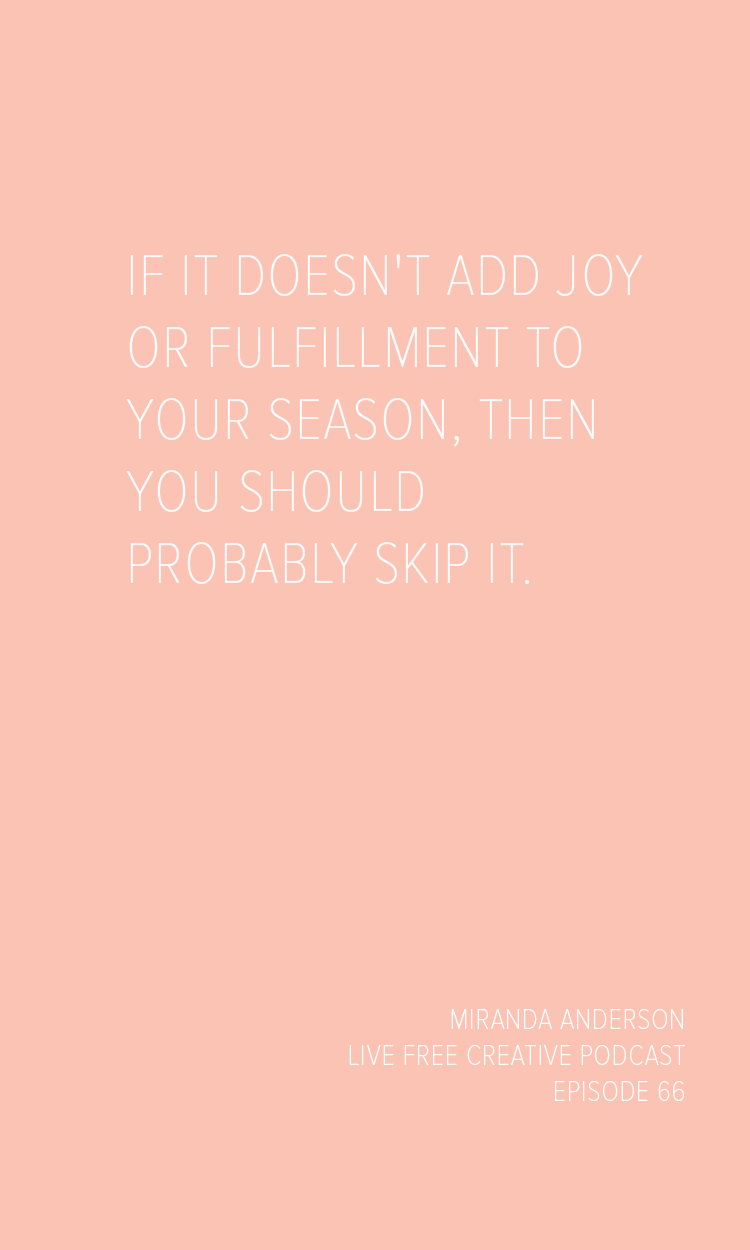 Choosing Activities With Intention
Another way that your intention can help is through the activities that you choose to do this season. I think we sometimes forget that we are in the driver's seat of our lives, especially when we approach times like the holidays that are really surrounded by wrapped up in traditions. There are actual traditions that are passed down, you know, through your family. And then there are social traditions or cultural traditions that are created.
When we see a majority of people doing the same types of things, we start to believe that that is the right way to do it. That's not necessarily true. If it serves you, and if you find value in doing some of the activities that are touted as "what you do during the holiday season", whether that's going to the see the lights, whether it's doing gingerbread houses, whether it's going ice skating, like I already mentioned, my family will not be doing, and I've mentioned this in in the podcast I did about a magical minimal holiday last year too.
Ice skating just isn't on the list for us unless it's Dave and me leaving the kids at home. Are those things that you love? That bring you joy? That fill you up? Or are they things that you do in order to check your holiday list, checking a box or doing it because you think that's what you're supposed to do?
If it doesn't add joy or fulfillment to your season, then you should probably skip it. So again, on the ultimate intentional holiday worksheet, I have a place where you can write down your activities and I've had a plan. I have a place for you to write down all of your holiday activities, the things that you normally do or that you think that you should do. And then where you can actually check the box of whether or not this is a yes or a no this year.
I think it's okay to do this every year to decide based on the season of life you're in with your kids, with your work, with your family, with your relationships, with your financial situation, with the amount of energy you have with the state of your health. Right now, the holiday season to all outside sources looks the same year over year, but your life is not the same year over year. You do not have to conform your life to fit the culturally accepted idea of what you should do during the holidays.
You Are In The Drivers Seat!
You can fit what the holidays look like in your life to your personal needs and values and this intention that you're using this year to guide the decisions that you make. So considering that, what are the types of activities you would like to include? Would you prefer that your weekends during the holiday season are filled with time at home in your cozy pajamas and slippers, watching movies, drinking hot cocoa, eating popcorn, baking cookies, and enjoying time together with your family, playing board games and card games together.
Would you prefer that your, your free time during the holidays is filled with traveling to nearby towns, day trips and weekend trips to see the sights and the lights and the museums and the displays and all of the things that are going on, going to the Nutcracker and going to the symphony and, and trying all of the treats and, and being out and about and feeling the hustle and bustle of the season. Does that light you up?
You get to choose. So I want to invite you to evaluate all of the different activities that come to mind and then through the lens of the way you'd like to feel this holiday season. Decide whether it's a yes or a no and if it's a yes, put it on the calendar and get excited about it and build some anticipation for it. And if it's a no, then don't give it another thought.
It's fine if everyone else is doing it. You get to enjoy the things that you enjoy.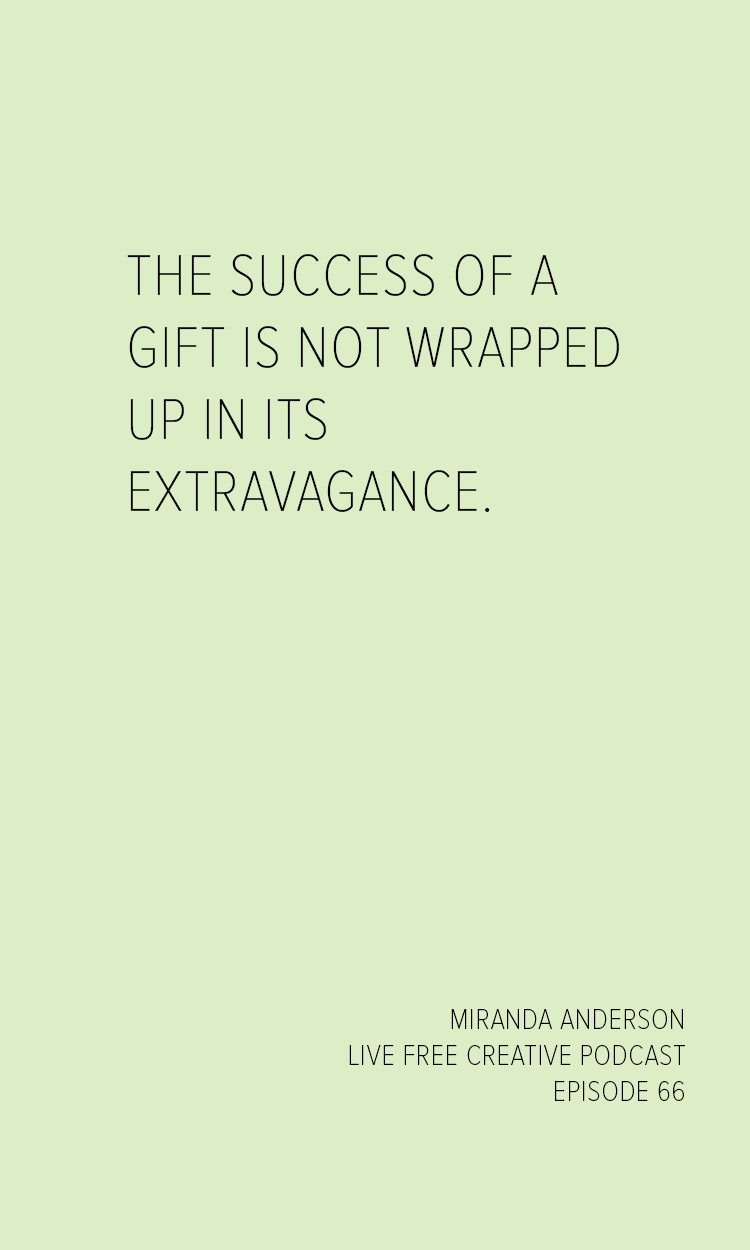 Setting A Financial Intention For The Season
Now before I get too far, I have to talk about another really important intention to set for the holiday season and this is your financial intention or whether or not you're going to use a budget. And if you are going to use a budget, how you're going to break it down.
Be realistic with the way that you want to spend your resources this season. There isn't a right and wrong and I also have to say that more does not equal better when it comes to spending around the holidays. More money spent on gifts and even on activities and and adventures does not mean more peace or more love or more fulfillment. I address this in my book More Than Enough in Chapter 13 about Giving and Receiving Gifts and I just wanted to share a quote from that chapter.
"The pressure to buy big, glamorous, expensive gifts during the holidays is ever present and sometimes we can feel like our love is measured by how much we spend or how big the boxes, but all of that focus on materialism takes away from the real joy of the season and can leave more than our wallets feeling empty. In contrast, when we spend our holidays focused on togetherness, spending time, and fostering real connection, we find ourselves all filled up by the season."
I feel that it is really important to acknowledge this truth that your love is not measured by the amount that you spend during the holidays, that the success of a gift is not wrapped up in its extravagance. I want you to reflect for a minute on your own life and some of the most wonderful gifts that you've received, the most memorable things, things that have served you really well, that were super thoughtful and just made you feel loved.
Were those the most expensive, luxurious gifts that you've ever received? Did the amount of love and connection you feel directly correlate to the expense of the item? In my own experience that has not been the case.
Some of the most memorable wonderful gifts that I've received were inexpensive, thoughtful things and beyond that idea in principle. Again, another thing that I talk about in Chapter 13 of the book and something that I'll address in an upcoming episode is the idea that we can't control how the gifts are received. So even if you go to great lengths to create great extravagance and a lot of expense, that doesn't necessarily guarantee that the gift will be well received because that's something we cannot control.
We only get to control our end of the gift giving process, how much thought we put into it, how much love we give with, and I think this third element of how much good we can do by our purchase or through the activities that we create.
That's really where the gift itself is given regarding an intentional budget. There isn't, like I said, a right or wrong way to do this. There is simply doing it with planning and intention. Even if you have a ton of money, that doesn't mean that you have to spend a ton of money at Christmas time because it's Christmas time. I know that it is the most expensive time of the year, but it doesn't necessarily have to be because you get to choose that and if you're feeling strapped or you're feeling a little bit like you don't have the amount of money that you wished that you had as you approach the holiday season, I want to remind you that money is just one piece of what creates experiences during the holidays. So much more important than money is the resource of time, the resource of our attention, the resource of our love, the resource of the connection that we create.
So many incredible memories can be made with very little or no money and so don't discard your holiday season or feel like you have to go into shackling debt, consumer debt because of the holidays. Understand that you can create a budget with intention and the further ahead you do this, like right now is a great time to start thinking about this and talking about this because that gives you some time to in infuse creativity and in fuse thought and a little bit of a runway so that you're able to allow yourself to feel the way that you want to feel.
Creating An Intentional Attitude This Season
And that brings me to my last point regarding intention. I want you to consider an intention for your attitude this holiday season. This one probably goes above and beyond and underneath and around an inside out of every other thing that happens during the holidays. The way that you approach it with your mindset and your attitude is going to determine the, the success of the holiday season, how you feel about it.
You get to choose the things you want to do, the way you spend your time, the way that you give gifts, the amount of time and money that you spend out in the world, and you also get to choose how you feel about every single bit of it. If I choose as my intention, the word peace, then guess what I get to feel during this season. Peace. Guess how I do that by assuming a demeanor and an attitude and an outlook of peace, of letting things roll off my back of being the stalwart, one of understanding that it's okay if things don't go according to plan.
Allowing myself to feel that harmony of spirit that Maya Angelou who talked about, that's how I bring peace to the holidays. Now what if I want my holidays to be fun, to be joyous? That's the attitude that I bring to them.
I bring fun, I bring anticipation, I bring excitement. I don't bring nagging and yelling and frustration and stress. I bring that bubbly, glowing energy to the table and to the things that I do.
A quick look over your worksheet, after you've gone through this episode and you fill it all out, I want you to come back and and think about this again as you have made some decisions. This worksheet is about making decisions, it's about planning and then taking action using this roadmap that you've created.
As you go back and look over it after you've filled it out, I want you to consider this. Have you set yourself up for success in the intention that you created? If I want my holidays to feel slower than they have in the past, I don't want to be stressed out. I want to feel calm, but I have said yes to a hundred parties and thirty-two traditions and shopping at every different store around town for the gifts, I probably haven't set myself up for success as well as I could have.
It's going to take a lot more energy for me to bring on a an emotion of calm and an attitude of calm when I am consistently required to be somewhere because I've made so many commitments. As you approach the holidays with intention and with planning, then you will be much more likely to create the experience that you want.
Your Season Is Your Own
As just a reminder, I feel like it's really important for me to tell you again, I've been saying it this whole episode, but your holiday season does not have to look exactly like anyone else's. The things that you choose to do, to spend time on, to spend resources on can be and should be unique to your family and even unique from all of the other years that your family has had because this year is different and because you are different. Because you are ever evolving and as you're learning and growing and developing, even as an adult, you may realize that some of the things that have served you in the past no longer serve you.
And that there are other things that you would like to invite in great depth into your life that haven't yet had a place. The way that you do that, you make these adjustments and you align yourself more fully with your own values is by choosing and planning and then you're able to carry out that plan.
This ensures that rather than taking any path or the path most used because it's all laid out for you right there, that you're able to choose with intention and follow your own path, that you don't have to ask the cat which way to go. You've decided which way to go. You've created a map for yourself and so you know where you're going and how to get there.
As a final note, I just want to remind you to reflect on this truth that will resonate for you because it is true. The things that matter most this holiday season are not things at all. The time spent with those we love the memories created through the simple everyday experiences that we bring into our life by saying no to the things that don't serve us.
We don't have to do it all. We simply get to do what we want to do according to the intention that we have for the season.
I hope that this podcast has helped you at least give you a little bit of a guideline to creating the holiday season that you want. It has already been so helpful for me and my family to start thinking ahead to making sure that we're leaving space and creating space for the things that we really want to do. And that we're able to give some great intentional "nos" to things that try to creep in during the holiday season. And we can say "yes" to the things that matter the most and that will feel the most like the way we want to feel this season.
A Note On Black Friday
So get started on this intention and you can start bringing this attitude and this idea with you through next week through the the Thanksgiving holiday through Black Friday. How helpful will it be for you to already have a budget and to have a list of potential gifts before the sales even begin?
I want you to know that I've chosen to pretty much disregard Black Friday and enjoy the day after Thanksgiving as a wonderful finish to the holiday weekend with my family and friends. So if you start to feel the FOMO or the pole of missing out on all of the incredible deals, I want you to know that I'm in your corner, that you're not the only person in the world not out shopping at midnight and buying a bunch of things that you might not need just because they have a good price.
I choose to spend that time with my family and then when I do buy, to buy with intention and to buy with a clear head and to make deliberate decisions. I want you to know that that's possible and that it's okay if you love Black Friday and that's your favorite thing, that's amazing and I'm so happy that you find joy in that and if you don't know that, that's also okay.
I hope you've enjoyed this episode. I really want to encourage you to grab that download and to start filling it out as you apply the information and these ideas to your personal experience and your own life. That is where the real power in this episode and the idea of setting an intention for the holidays comes from.
It is through the action that that permeates your life and enables you to then actually put in practice the things that you want to do for the season. So make sure you head to the show notes where we have that download waiting for you and get really excited. Next week's episode is a really fun episode all about gratitude for Thanksgiving. It comes out on Thanksgiving day on Thursday, so you can even turn it on for your family when you're, you know, cooking Turkey and you're hanging out in the kitchen.
Look forward to that. And then the following week's episode is going to be an Epic episode about gifts and gift giving. And so I'm going to give you tons of ideas for gifts for a minimal pared down holiday that are still wonderful and magical and exciting.
Share Your Worksheet On Social Media!
So look forward to those next couple of episodes. I can't wait to have you back here then I'll talk to you soon. And hey, if you download the ultimate intentional holiday worksheet, I want you to share it on social media. Let your friends and family know that this is an available free tool for them to use this holiday season as well. The first page has a spot where you can write your intention for the holiday season and share it on social media. I want to invite you to download it, to work it out, figure out your word, your intention, take a picture, share it on social media.
I'll be re sharing those on my Instagram feed and I will also be choosing a few random people who share their intention for the holidays to send a special intentional holiday gift surprise package in the mail. So make sure that you download that you work through the worksheets, share your intention on social media and get excited for the best holiday yet because you are going to create a clear intention for the way that you want to feel and then set yourself up for success in feeling that way.
Okay, friends, this has been so fun. I love the holiday season and I love it even more in the last few years since I remembered that I get to choose the experience that I want to have and I've created that through living with intention. I want to mention if you have not read my book more than enough, it is another fantastic tool to read this time of year right now to help you remember how to cultivate abundance through your everyday mindset.
My book is about our specific year of not shopping, but it goes much beyond the idea of not shopping. I talk about patience and gratitude about developing an adventure mindset, about giving and receiving gifts, and it couldn't be more perfect for the holiday season.
So if you've been sleeping on it and you haven't yet made that purchase or gone to your local library and requested it or checked it out or borrowed it from a friend, please put it on your list and buy. Put it on your list. I mean pick it up and start reading it because it is going to change your attitude and mindset surrounding approaching the holiday season.
It's available on Amazon as a hardcover book, as a Kindle version and as an audible so you can listen while you cook and I can't wait to chat with you again next week!