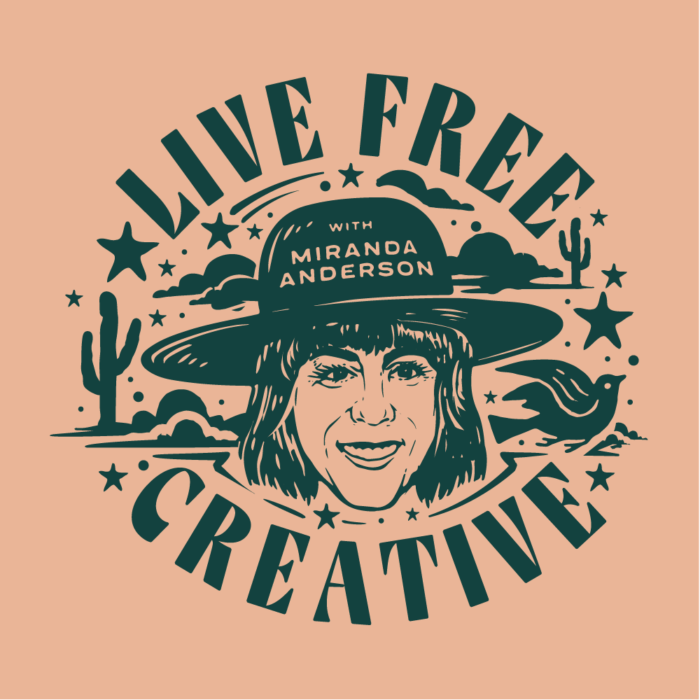 Episode 197: Holding Things Lightly

You're listening to Live Free Creative, an intentional podcast with practical tips for living your life on purpose. I'm your host Miranda Anderson. And I believe in creativity, adventure, curiosity, and the magic of small moments. I hope that every time you listen, you feel empowered and free to live the life that you want.
Hey there. Welcome back to the show. You are listening to Live Free Creative podcast. I'm your host Miranda Anderson. Today's episode is number 196. And we're going to be talking about Holding Things Lightly.
I actually did a bonus episode, all about holding things lightly back in 2020, I went back to listen to it, to think I could just re-air that episode. It was over on the Patreon group. And so it hadn't been heard over here.
And while so many of the principles are the same. All of the examples that I gave were really different than the world that we're living in now. Thank goodness.
It was such an interesting time, like mid 2020, right?
When everything that we knew had seemingly overnight been snap changed, closed. Canceled. We were staying inside. We were protecting each other. We were hunkered down in this alternate reality. Gratefully, thankfully we are emerging. Many people that I know feel like life is all the way back to normal.
We have definitely been facing different challenges and sometimes it feels like the world is upside down in a way that it might not ever fully recover, but we're not going back. We're moving forward. We're facing new situations as they arise.
And when we really tighten our focus on the things that are within our control which is something that we're gonna address in this episode today, we have a lot more peace and clarity.
It was interesting to listen back to some of the examples that were a little bit stressful actually. And I thought, rather than air an episode that the principles are good but with examples that are all quite unrelatable, I am excited to share some new examples.
It was a great opportunity to refresh my thoughts and kind of revisit this idea of what it looks like and what it feels like to hold things lightly in our lives.
As you're listening to this episode, I am just a few days home from grown up summer camp. I am so excited to share more about the actual experience and next week, the episode is going to be all about summer camp lessons.
I'm gonna share some of the lunch and learn topics. Some of the things that I learned and observed and am really excited to tease out the principles and values and inspiration from that experience for all of you listening, who most of you were not in attendance at grown up summer camp. And so I'm excited to share some more of that with you in the spirit of grown up summer camp.
Today's episode segment is going to be a Pause for a Poem:
Pause For A Poem
Stars
Here in my head, language
keeps making its tiny noises.
How can I hope to be friends
with the hard white stars
whose flaring and hissing are not speech
but pure radiance?
How can I hope to be friends
with the yawning spaces between them
where nothing, ever is spoken?
Tonight, at the edge of the field,
I stood very still, and looked up,
and tried to be empty of words.
What joy was it, that almost found me?
What amiable peace?…
Once, deep in the woods,
I found the white skull of a bear
and it was utterly silent-
and once a river otter, in a steel trap,
and it too was utterly silent.
What can we do
but keep on breathing in and out,
modest and wiling, and in our places?
Listen, listen, I'm forever saying.
Listen to the river, to the hawk, to the hoof,
to the mockingbird, to the jack-in-the-pulpit-
then I come up with a few words, like a gift.
Even as now
Even as the darkness has remains the pure, deep darkness.
Even as the stars have twirled a little, while I stood here,
looking up,
one hot sentence after another.
-Mary Oliver
So beautiful. I love the reminder to stop and look up at those stars.
Sponsor: OSEA Skin Care
Now let's take a quick minute for this week's sponsor. This week's show is sponsored by OSEA skincare. I don't know about you, but having healthy, smooth, dewy looking skin is one of my favorite things. Especially during the summer when we spend so much time outside and the sun and wind and elements just tend to strip away a lot of that moisture from both your face and the rest of your body.
OSEA has this amazing algae body oil that hydrates and smooths and moisturizes your face and your body. I converted a few years ago to face and body oil instead of regular lotion. And I can tell you, it has made all the difference, especially as I'm getting a little bit older. I feel like adding this lightweight body oil to my routine has helped my skin look more healthy and smooth and nourished and glowing, just like you want it to for the summertime and all the time.
I love that OSEA Malibu is a family owned company that was. Inspired by the ocean, sun earth and atmosphere. All of its products are vegan and cruelty free and natural infused with incredible ingredients like this in Daria, algae, AAI, pulp, and Baso seed oil. Find your new skincare routine and body care favorites@ocmmalibu.com and get a special discount just for our listeners.
Take 10% off your first order sitewide with promo code LIVEFREE. You'll get free samples with every order and all orders over $50 get free shipping. You're gonna want it all. So go to OSEAmalibu.com, promo code LIVEFREE. Especially after camping, I can tell you that some of those little mini luxuries, like having a little beautiful, delicious smelling face oil packed into your camping bag, helps the mornings and the evenings, even out on the trail, feel really delightful.
So make sure you check out that OSEA.
Main Topic: Holding Things Lightly
Let's talk about holding things lightly, shall we? I want to begin by just inviting you–if you are in a position that you can do so–to close your eyes, to relax your jaw, take a deep breath. And as you exhale, at your shoulders, settle in.
I have felt a little bit tense over the last little bit. And sometimes I just need a reminder to let it all go, just breathe in and out, to loosen up that jaw, loosen up those shoulders and that neck, maybe a little reaching for the sky and reaching for your toes and shaking it out a little bit.
Become aware of your body. Become aware of the places in your body that you feel like you're holding tension, that you're carrying weight–the weight of problems, the weight of emotional difficulties you're working through, of systems that you're hoping to improve, or goals that you're setting out to achieve, or relationships that you're actively engaged in and that are creating a little bit of friction in your life.
All of those things live in us in different places. And it's really nice to just take a second every day. Take a moment, if this is your moment, to just allow yourself to settle right into it and relax it and release it.
I noticed a couple months ago that I would be concentrating on something and I was clenching my teeth tightly, clenching my jaw. And I started to feel like my jaw was getting a little bit sore. It wasn't until I noticed the pain that I started to recognize that I had been clenching tightly.
I had to consciously remind myself, become aware of my body and remind myself, to relax my jaw to just release it. It's okay. Create a little bit of space.
I talked to a friend the other day at the gym who is just experiencing a big move. They have to move into an Airbnb and then move from the Airbnb and a few months into a house. And it's been stressful. And I said, how are you doing? And she said, I just feel it all right here. And she pointed to her shoulders, at the base of her neck, she said, it's really just, I'm just carrying that stress right here.
Yeah. I know that feeling. I know that feeling of wanting to just be able to hold everything, to control, to feel like it's safe, that the outcomes are going to be what we hope for, that we are doing all that we can. And sometimes our expectation for what 'all we can' looks like far exceeds our actual reality and the resources of energy and emotional capacity and stability that we have within ourselves at any given moment.
I think there's something really beautiful about the hope of wanting to do our best and wanting things to work out a certain way and to put as much energy as we can into that direction. Where that starts to fall apart is when we start to believe that we have the ability to control things that are very much outside of our control, where we want to step into positions of action.
An expectation for outcomes that don't rely on us where we're unable to make the decisions or to manipulate the pieces in the way that we would like the story to end up. Those situations are when I want to invite us to remember to hold things lightly.
And I'm gonna explain a little bit more about what that means to me and how it's been helpful in my life.
Rock Climbing
I wanna start with two examples from my adventuresome youth. The first one is when I was in high school, I started to rock climb at a gym a little bit more seriously than the occasional hobby growing up in an outdoorsy family. I had rock climbed a couple times. I had done some repelling in the canyons of Utah, where I grew up.
It wasn't until high school and maybe the first couple years of college that I started to rock climb as an independent hobby. Something that I sought out. I got my own membership to a local rock climbing gym. I had a couple friends and a boyfriend that I had for a little while who was really interested in rock climbing.
I think I've shared a story here before of one of my most embarrassing dates that took place at a rock climbing gym. When the person, this was a first date, the person that I was on a date with became very competitive and very frustrated with the fact that I could rock climb.
One of the short bouldering roots that he started to try was difficult for him and then he just got stuck on it because he couldn't quite reach the top. And he was so mad he didn't talk to me for the rest of the night. He just continued climbing that same route over and over again. And yeah, that was our first and only date.
So this is the world of rock climbing that I got interested in. And one of the very first things that I learned that was so instrumental in my progress as a rock climber and really enjoy it was when I was holding on to the rock–to a hold–and I was making a decision.
I didn't know yet where my next move was. I wasn't actively climbing when I was just hanging on. I had an instructor say, you have to just relax your shoulders and straighten your arms. So imagine that you're holding onto a rock wall and you're holding with your elbows bent. And so your biceps and your triceps and maybe your lats are all engaged.
Everything is you're using muscle that whole time to just death grip onto the wall. Now, when you're actually climbing and you're like pulling up, it makes sense to engage all of those muscles. But when you're simply looking for your next move or your kind of pausing in between, you burn out your muscles really quickly by staying engaged and gripping everything so tightly.
This instructor said, lean back, straighten out your arms, and relax. It's almost like you're just resting your fingers around the hold, but you're not actually even holding it. You're allowing your hand to rest on it while you lengthen your arm and you relax into your shoulders.
And this became my pause position when I was in the middle of climb, doing a short bouldering route that I didn't know, or that I wasn't familiar with the next move. Rather than clenching everything tightly and using all of my muscles and engaging my whole body to hold on.
I would lean back and relax and just hold lightly.
I would allow the frame of my skeleton basically to keep me suspended without burning out all of my physical energy. You can imagine that when you're climbing up a rock wall, whether in a gym or outdoors, once you get past a certain height, the idea that you're going to just relax all of your muscles doesn't feel very natural.
In fact, the higher you get, the more it feels like you must cling on with a death grip for dear life if you mean to make it to the top. And yet when you do that, you are inadvertently sabotaging your ability to reserve energy for the rest of the climb. You need to relax. And hold lightly, if you want any hope of continuing to the top.
Running A River
Now, my second example of this came when I was working as a river guide in central Idaho. I spent one summer working with a whitewater rafting company and we would do five-day trips, five- or six-day. I don't remember. I think it might be six day, five night trips.
We would load all of the boats up with gear, we'd have food for the whole time. We served as the rafters, the guides, the chefs, the entertainment, the naturalists. We did it all.
There was a crew of I don't know, maybe eight of us, and we'd have a group of about 30 passengers each week. It was a phenomenal life-changing, wonderful experience.
And when I was in training, I remember this particular incident, the water level was really high. It was early in the season. The runoff from the mountains was increasing the water level. And so some rapids at a high water level wash out completely. And some of them get really big, really dangerous.
Rivers are so interesting that way. They're always changing, day to day, even the water level will create an entirely different line of where it is safe to attempt to face a rapid early season.
We were doing these training runs and I remember my really big fall into a rapid. I was on a paddle boat, so I was holding a paddle sitting on the side, paddling, and we hit the rapid a little bit wrong.
So imagine a wave on a river is usually formed by a big rock under the water. And so the water is rushing over the top of the rock and then it comes over and the momentum brings it around and it curls back underneath, especially if the rock is facing a little bit down river, it creates what a rafter would call a hole.
A hole is where the water is actually coming back up river, underneath the rock. And you can get caught in a hole where it's like a washing machine. The force of the water will actually just churn you around and around and around.
Luckily we were on a team, we had helmets, all of the safety precautions were in place and I fell off a rapid into a hole. Our boat was trapped in this hole and I remember being underwater, my head hit a rock.
Luckily I had a helmet on and my instinct was to swim, to paddle frantically in any direction to get myself up to the top of the river where I could breathe.
The problem with paddling in any direction when you're underneath a river in a hole, is that you don't know which direction is up underwater. It's dark, I'm a little bit disoriented from being quickly underneath the water unexpectedly.
The safety advice that we were given. And I think it remains intact today. I'd have to check on river safety, but I imagine that the advice is the same. When you're caught in a hole, allow your body to relax completely because the river will spit you out. If you swim against it, you could be swimming yourself down to the bottom or swimming yourself right into the rock.
If you allow your body to just relax and you release, there's a much higher likelihood that you'll be washed out again. I have to emphasize when you are. In what feels like a life threatening situation underwater, the last thing that is your instinct to do is relax.
Your whole body goes into this fight or flight, where you must do something, you must manage this, you have to fix this. You have to find the air.
And the safest thing to do for your physical, emotional survival is to relax.
Here's the truth, swimming underneath a rapid gives you the illusion of control. It gives you the illusion that you are doing something that will benefit you. The truth, the reality of what's happening is that you're actively working against your best result.
Holding Tightly In Life
Now, those are extreme adventure life examples. I want you to think right now about some of the things in your life today where it feels like you're holding really tightly some of the goals or the outcomes or the hopes that you don't actually get to control, but that you really want to. You really wanna hold onto these things.
Some examples of things that we hold tightly to might be opportunities that we hope for the outcomes of choices that we make, the way that other people react to our decisions. Sometimes we hold really tightly onto some of our physical belongings. Our dreams and plans, our friendships and relationships.
And I think a really poignant one for me lately has been as a mom, I am working on this and I'll talk more about this, but I hold pretty tightly onto the idea of the way that I expect my children to behave and the choices that I expect them to make.
I am learning that those things are well beyond my control.
A couple personal examples that I wanna share to illustrate the way that I am actively exercising this in my life.And like I said, this is something that I'm working on. I am not perfect at this by any means. And I am reminded of it over and over again.
When I feel myself clenching up, when I feel myself trying to swim against the current and I need to relax. Holding things. Tightly always feels like a lot of effort and holding things lightly feels like ease and acceptance.
Appreciating Without Attaching
In fact, I really like the differentiation between holding tightly and holding lightly as appreciating without attaching. So when we hold something really tightly, we are very attached to it. We're attached to this idea of an outcome, an idea of a relationship or a person, or we're actually attached very deeply emotionally to a physical item.
When we are holding something lightly, we can appreciate it and not attach to it.
So I'm going to give you an example of, both a positive and a negative example, not positive or negative, but one in which it works out, according to the thing that I hoped for. And one in which it doesn't, I'll start with the latter actually.
Snow Cones
This is really interesting because I've never shared about this here. This big idea that my family had. Now you should know. And if you've listened to the podcast for any length of time, I am an idea person and I am a doer. So we have a good idea. I have a good idea. I generally go for it and try to explore it and experiment with it. And then wait to see what happens.
Last summer, we were driving home from a Lake Powell family vacation that we all love. And we started to talk about, as a family, how there are not very many snow cone shops in Richmond, where we live. When we visit salt lake in the summer, we can go to a different snow cone shop every single day for three weeks and never repeat because they are everywhere.
They are set up on the corners of gas stations. Some of them are in little trucks and food truck parks. They are, you can get a snow cone anywhere.
And in Richmond, it's just not really a thing. And in fact, in Austin, one of the things that felt so fun when we very first moved to Austin, one of the first places that we went to was a snow cone truck downtown. And it felt like home to me because there's just snow cones all over the place in the summer in Utah.
Well, we recognized that there were not a lot of snow cones in Richmond. And this is like a six hour drive. We're all together as a family. And we start to brainstorm starting one.
What if we started our own snow cone truck? What would that look like? Where would we park it? What flavors would we want to have? What would be the branding and the theme?
And by the end of that drive, we had a full business plan. We had a name and I had worked on a logo. We had a menu and some ideas. I had started looking up different places to get some of the components.
Fast forward a few months, I find a vintage trailer that is going to be the perfect home for our snow cone truck and I'd buy it. And then we start to get quotes about renovating it and fixing it. And I find this great ice shaver and I get all of these things lined up.
I have these amazing books like how to start a food truck for dummies.
And you should know that when Dave and I were first dating, I've always loved food trucks. And we've talked about having some sort of food truck for years, like it's been this like pie in the sky. This would be really fun. We'd love to do it. And here was the chance. This was gonna be our year.
We had the truck, we had the name, I have the snow maker. We had recipes we started trying at home. And all of these things were just lining up and it was feeling really good. And then we unexpectedly, from one day to the next, decided to move into a new house.
When I looked at the hand that I was holding the snow cone business in, I realized that I needed to open it up wide and let that one go.
The capacity that I would need to renovate and run a new business was not going to measure out or balance in any way with the capacity that I now recognize I was going to need, as we are moving in, doing a little bit of renovation, decorating, redesigning, reorganizing our entire household.
There are times in my life when I would've held so tightly to this dream, this opportunity. In some ways we were 75% there. Everything was ready to go. We just needed to finish the renovation on the trailer and set up shop for the summer.
This was gonna be the summer right now that we would be selling snow cones on the street corner in Richmond. And I recognized that was a dream that I needed to release, not hold so tightly, but hold it lightly enough that I could recognize that it wasn't the right time anymore.
It was a great time, great opportunity. And then things changed and it was okay. As things changed to allow the other circumstances in our reality to change as well.
Although it was disappointing for us and the family and all of those fun ideas have gone onto the shelf for a while, maybe forever, who knows.
It's not like we threw it across the room and said, we are never gonna have a snow cone track or any sort of food track. We decided that right now is not the right time. We let that one fly away so that we could focus our time and energy on the things that require it right now.
And allowing that grip to be lightened has created so much ease in the new direction and new decision that had to be made. If we had wrapped up all of our identity or any idea of success in this opportunity, this venture, then we would be feeling really sad, really bad about it.
Holding it so tightly when it had to be pulled out of our hands or we would've moved forward with it and been so burned out because the time and energy required just wouldn't match with the things that we're also doing right now in our lives.
So that was one that we were able to hold lightly and say, you know what? It's okay. Now is not the right time. It's okay that this isn't going to end up the way that we hoped and planned, because reality is different from what we expected. And we're going to be open to that.
Grad School
Now, the other example of opportunity that did work out was my application and acceptance to grad school. It was a long process. Something that I thought about for a couple years before actually digging in and getting my letters of recommendation and writing my essay and editing and getting everything lined up. Getting my school records and transcripts all sent over and getting my interview done and everything just prepared.
This was something that I really wanted an acceptance to. I really wanted to go to this program. I was really looking forward to it. I was really excited about it. And I also kept reminding myself that this was an opportunity sitting in my open palm. And if it did not work out this time, that would not mean anything about me, that it would be okay to not be accepted. It would be okay.
I would be okay if that opportunity didn't end up with the outcome that I really hoped for. Even just a couple of days before I received the phone call with my acceptance, I remember telling Dave I had been doing some visualizing and I would visualize opening up an email with an acceptance and how I would feel and allow myself to feel those emotions ahead of time. And then I would go through the same motions, but imagine that the email had said, I'm sorry, thank you for your application. We're sorry, we weren't able to accept everyone, blah, blah, blah. And how that would feel and allowing myself to rehearse those emotions and feel ahead of time how that might feel to have to let that one go this year.
This I think is a really interesting and helpful practice allowing ourselves to imagine ahead of time different scenarios, especially when we are not in control of those outcomes, to be able to invite and experiment with in our minds, some different scenarios so that we can prepare ahead of time and also allow ourselves some space emotionally to acknowledge some of the feelings that may arise and how we want to show up, how we want to do cope or manage those things.
Letting Go Of Decisions Made By Others
This reminds me of a time, a couple years ago, when I was reading an article written by a friend of mine, Meg Conley. She's a fantastic writer that dives into some really interesting, sometimes hard and difficult and controversial topics. And treats them with a lot of care.
One of the things that she was talking about, she has kids similar ages to mine. I think her youngest is probably a couple years younger than my own youngest, but she has three daughters and she comes from my same religious upbringing, my same faith tradition, which is a very high demand, all encompassing, faith tradition and culture. Just a really robust sort of all encompassing religion and identity.
She was commenting in this article about how she had started to allow herself to acknowledge the possibility that her children might choose a different faith tradition than her own. I thought this was a really interesting and thought provoking idea. In our faith tradition, the expectation, the hope, I would go so far as to say the ultimate desire that a parent has for their children is that they follow in this particular religious, spiritual pathway and that in doing so, we all receive the glorious blessings of heaven.
The idea that families are meant to walk the same spiritual pathway and that there's a lot of safety and a lot of connection and a lot of togetherness in this life. And in future postmortal existence. That's all very tied up together.
Now I related to this idea of exploring the possibility of my children not following the same faith tradition because of the experience that my own parents have gone through of having most of my siblings choose an alternate spiritual pathway.
Now that sort of letting go by a parent, this is just one way to think about it. And it's actually a very loaded scenario. The religious tradition, especially of a very high demand religion, is pretty weighty and the tendency for a parent to want to hold so tightly, just like white knuckle, the identity that their kids remain in their mind, faithful to this particular path.
That's something that you can really easily want to just not let go of, not hold lightly. In fact, it feels maybe like a personal omission of faith to allow for even the possibility of thought that this would not be the pathway that your kids would choose.
I think a lot of Mormon parents think that it's their job to do every single thing within their power to ensure that their children have a testimony of this particular pathway and spiritual tradition and culture to carry them into their future.
Hearing Meg discuss in this article that it had occurred to her that this might not be something she could control, that it might not be within her own hands to decide what her kids would choose for their own spiritual and religious tradition or pathway or journey as they grew up.
And rather than feeling overwhelmed, saddened, in despair or grieved about it later, that she would allow herself to hold that expectation lightly, that right now she could choose that regardless of the spiritual choices or the religious affiliation that her children choose in their future as adults.
She wrote in this article that she wanted to play this out in her mind so that regardless of their decision, she could be unconditionally loving, supportive, open, hopeful, and helpful to them as they grew into their choices.
That felt revolutionary to me. And I thought that's something that I can apply, not only to religious tradition, but to so many aspects that I think is within my ability to control as a parent, where it actually is not.
The reality is that many of the decisions that my kids make starting even now as teenagers are not things that I can control. And if I hold so tightly to the identity that I expect of them or that I hope for them, that might actually fight against the outcome that I truly want, which is for them to know that they are loved unconditionally, supported unconditionally, and that I am always going to be a safe place for them to come home to.
This could be about the religion they choose. This could be about the career path they choose. It could be about the types of activities that they want to be involved in. It could be about the friends and relationships that they have.
I think it's really interesting to think about from the perspective as a parent, what outcomes or ideas or identities are we holding really tightly to, where it may be beneficial for us to take a deep breath and relax on and trust the things that are outside of our control to be okay, even if they don't end up exactly the way that we expect.
Surrendering To Things Outside Our Control
I'm a little embarrassed to admit this, but some of my favorite philosophy, inspiration, and even poetry comes from Instagram. I follow a bunch of people that I really enjoy. One of them is Y Pueblo, which is a pen name for a poet named Diego Paris.
One of his quotes that I saw the other day on Instagram reminded me of exactly what this episode is all about. Here is what it says.
Letting go does not mean you've given up. It doesn't mean you don't care. It just means you are releasing the attachments of the past that keep getting in the way of your happiness and mental clarity. Letting go is the unbinding and disentangling of old behavior patterns that keep pulling you into unnecessary mental tension and worry when you can just be okay with things, not having gone a certain way. Life begins again. Making peace with the past or future opens you up to love adventures and invites you to apply the lessons you have learned with new calmness.
I love the idea that when we hold things lightly, when we let go of the grip. Now this doesn't mean that we are letting go and dropping necessarily. It means that we're opening up our palms in surrender to things outside of our control, being outside of our control, that we're acknowledging and accepting that there will be circumstances and people and relationships and opportunities and outcomes that we don't get to choose.
And that's okay. In fact, that can feel like relief. I don't have to swim against the current. I can relax and allow the current to carry me to where it is I need to go.
I want you to ask yourself again, we're gonna revisit a couple questions.
What are you holding tightly to right now in your life that's causing tension and worry, where you could flip your palm over and open up those fingers and whatever that hope is, or that outcome is, or the possibility is that you just have been white knuckling?
Can you allow it to sit on your open palm? You don't have to drop it or throw it across the room. You can allow it to sit on your open palm until it either remains or it blows.
There are guaranteed to be things that are outside of your control, that you are trying really hard to hold onto. And what you're actually doing is simply draining yourself of the physical, spiritual, mental, and emotional energy that could be used for things that you can control.
If you are listening and wondering: What are the things I can control? What can I hold onto a little bit tighter?
I will say I think that it's a great practice in general, to even hold the things in our own control fairly lightly and allow ourselves the flexibility of changing our mind or changing course as necessary even within our own personal decisions.
I also think it's helpful and really provides some clarity that anything outside of yourself, your thoughts, your beliefs, your actions, your choices, your decisions, your efforts, anything outside of what you embody in the actions you take is outside of your control.
You cannot control outcomes. You cannot control other people's thoughts, behaviors, ideas, decisions, choices. You also can't control the weather. You can't control technology. You can't control the assignments put upon you by other people.
You can control how you react and whether or not you respond in the affirmative or politely decline. But you can't control what they then think about the decision that you've made.
There's something really terrifying about letting go of some of this control that we really want to maintain. And there is also something so relieving and relaxing and the sense of ease and wonder that we welcome into our lives when we acknowledge that our hands are open for things to flow into our lives and also open for the things, relationships, ideas, beliefs, and outcomes to flow out of our lives as necessary.
Conclusion
I want to just remind myself and remind you in the process that we can appreciate things and not attach to them, that we can care about things and not feel like it's our job to carry them.
As we wrap up today, I just want you to take both of your hands and clench them as tight as you can, tight so that you start to feel the blood rush away from them and pulse back into your forearms.
And then slowly, open them up.
Slowly, allow your fingers to unfold and your hands to open wide and feel the ease that comes when you allow it. When you stop trying to grip it. And you open up to see what possibilities the future may hold.
I hope that you have enjoyed listening to this episode and hopefully you have come up with a couple things that you've been white knuckling that you can slowly ease your grip on and hold it a little bit more likely.
I hope you have a wonderful week and I will be back here next week to share some summer camp lessons. I'll chat with you, then have a good one. Bye-bye.