I just returned from an exciting, month-long road trip though Utah, Arizona, and Texas. Everywhere I stayed, I saw good friends. The type of friends you can not see to talk to for months and then pick up right where you left off. As I chatted with my friends, I realized that when our conversations looped into skin care, make-up, or hair products, I had a few solid recommendations that I was able to offer again and again. You know when you love a product so much you want your friends to know about it? Well, these are those products for me. Here are 10 must-have beauty products for your thirties (and anytime!) that I regularly recommend to my good friends:
Skin Care
This is one of the newest additions to my simple, daily beauty routine and I am completely obsessed. I have been trying for YEARS to find a daily face sunscreen that didn't feel greasy, burn my eyes, affect my make-up, or have too low an SPF. I tried this new sunscreen as a sample while in New York City with my sisters a few months ago and have been absolutely hooked. I wear it every day, without fail. The clear, gel-like texture goes on as smooth and dry as powder, and doesn't dehydrate my face. It literally disappears into my skin in the most fascinating way and I think everyone should know about it. I also bought this refresher spray from goop that can be used later in the day ON TOP OF makeup! It's another new fave.
2. Face Oil
It only took me 35 years to realize that while a lot of people suffer from oily skin and need alcohol-based products to dry them out, my skin is the EXACT OPPOSITE and I need daily, nourishing moisturizer to keep my face healthy. I began using natural face oil last year and haven't looked back. My skin feels more soft, moisturized, and radiant than I ever remember. I use it in the morning before putting on makeup or sunscreen, and also in the evening after washing my face (often with a face wipe.) There are many different brands and types, and this is one I have loved that isn't a hundred dollars.
I don't remember where I was introduced to this miracle exfoliator, but it came in a swag bag and I almost didn't notice it until I began using it and noticing how well it worked! I recently ran out and was happy I could easily order it on amazon, and now I'm rolling with my new tub. I keep it in the shower, where I can drab a dollop and scrub my face clean every week or so. The tiny crystals really do take off all of my dead skin without drying out the rest of my face, and I love the way my face feels clean and fresh after I use it. It is the perfect preparation for my face oil and make-up.
Makeup
4. Gimme Brow
I have fairly full eyebrows without any makeup, and I love how this tiny brow brush goes on naturally and just gives my brows a little boost. The brush and paste feels similar to using mascara, so it is super easy to use and comfortable even for a makeup amateur like me! I am on my second wand, and about ready for a third. Each one has lasted about 6-9 months with regular use.
Okay ladies, this eyeshadow system was a total game changer for me last year and now I use it every single day! Not only is the makeup great quality, but the Flekk system is designed in a way that teaches you to apply your eyeshadow in a more professional way. The easy-to-read guide is like a paint by numbers system, and there is even a set of brushes that corresponds to the palette so you know exactly what to use where. I feel like my makeup skills and confidence has increased dramatically as I've used my palette, and I love having one simple, easy system with all of the colors and brushes I need! BONUS: you can get 20% off your full FLEKK order using the code LIVEFREEMIRANDA
6. Maybelline SuperStay Matte Ink
I got on the LipSense train for a minute, but realized although I loved the color stay aspect, I didn't love reapplying gloss often or the way my lips felt when I wasn't using it. This long-lasting SuperStay lipstick has the same staying power that I appreciate, but it is more of a set and forget type system! The colors go on matte, which I appreciate, and even after a full day of talking (ha! That's my life!) it looks and feels great. I always get compliments when I wear this bright red, and I also love this nude pink and this darker purple.
Body Care
I use many natural products in my beauty routine (and household, for that matter) but some seem harder to switch than others. I was in a regular deodorant rut, until I started using this awesome new all natural deodorant from Milk + Honey. It works amazing, smells great, and keeps me feeling confident, even in the humid heat of the south. I use a whole slew of Milk + Honey products that I love (this lotion, this body scrub) and this deodorant is one of my faves.
You know I'm a bath mama, and it has been so fun to elevate my baths with these all natural bombs from one of my favorite bath companies. They come three to a box in a monthly subscription, which means I can always have one on hand for when I need to relax. I also occasionally share with the kids who think they have won the lottery when we drop the fizz ball into their bath! I notice a difference when I am intentional about creating a relaxing, cozy space for myself as I bathe, and these make the experience so much better.
Hair Products
I have a WHOLE hair post coming up soon, because I feel like I have finally hit my stride with my hair routine. I rarely wash my straight, thin locks, and have instead begun regularly using dry shampoo to both add volume and clean up any oil (which I rarely have, because I am dry like a lizard.) I started using this dry shampoo a couple years ago, when my hair was recovering from serious bleach damage, and it became an instant fave. I think it is worth the investment, because it truly works better than cheaper dry shampoos. This one is the hard-hitter you can use even after exercising and sweating and walking one block in the humidity.
Along with my dry shampoo routine, I have also fallen in love with this sea salt texture spray from Verb. It adds a little boost of lift to my otherwise pretty limp hair, and after a couple days of using it, I feel like my hair has a whole new life! Day three through six or seven (after washing) are definitely my favorite hair days, and using this boosting spray is definitely one of the reasons why!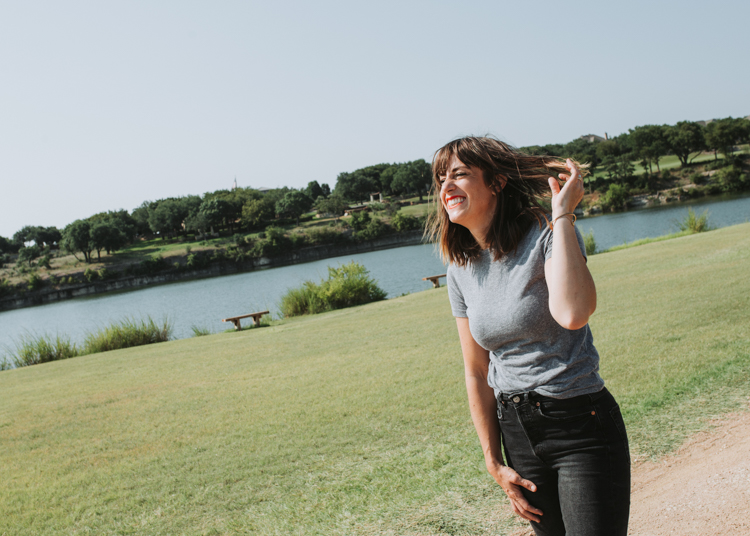 Conclusion
Friends, there you have it!
Some of my very favorite, most highly recommended beauty products. I wish I could meet each of you at the park while our kids play and we sip a cold beverage and chat about how we are so much more aware now of the products we use and love to take care of our skin, hair, and body as we are getting older. We would laugh about our forays into white eyeliner in junior high and trade favorite recently read books and recently made recipes. I hope you find something on this list and discover it is exaclty what you have been looking for!
And I would love to hear some of your very favorite, most recommended beauty products in the comments! What do you share with everyone you know?