Capsule Wardrobe + Fall Fashion Remix
Hey there friends! I'm excited to share today some ideas about capsule wardrobe or minimal wardrobe planning. I began using a capsule wardrobe in September five years ago, and it immediately resonated with me as a simple, intentional way to not only take the time and worry out of getting dressed every day, but also as a reinforcement of the ideas of minimalism and emotional abundance that I try to embrace in my life.
I was also inspired by Caroline's fashion remix on Instagram, and I decided to pull together a quick set of eleven easy fall outfits using only eleven pieces of clothing, including shoes (not including accessories.) Caroline used ten, but I mis-counted, so I had eleven and added an additional outfit to make up for it!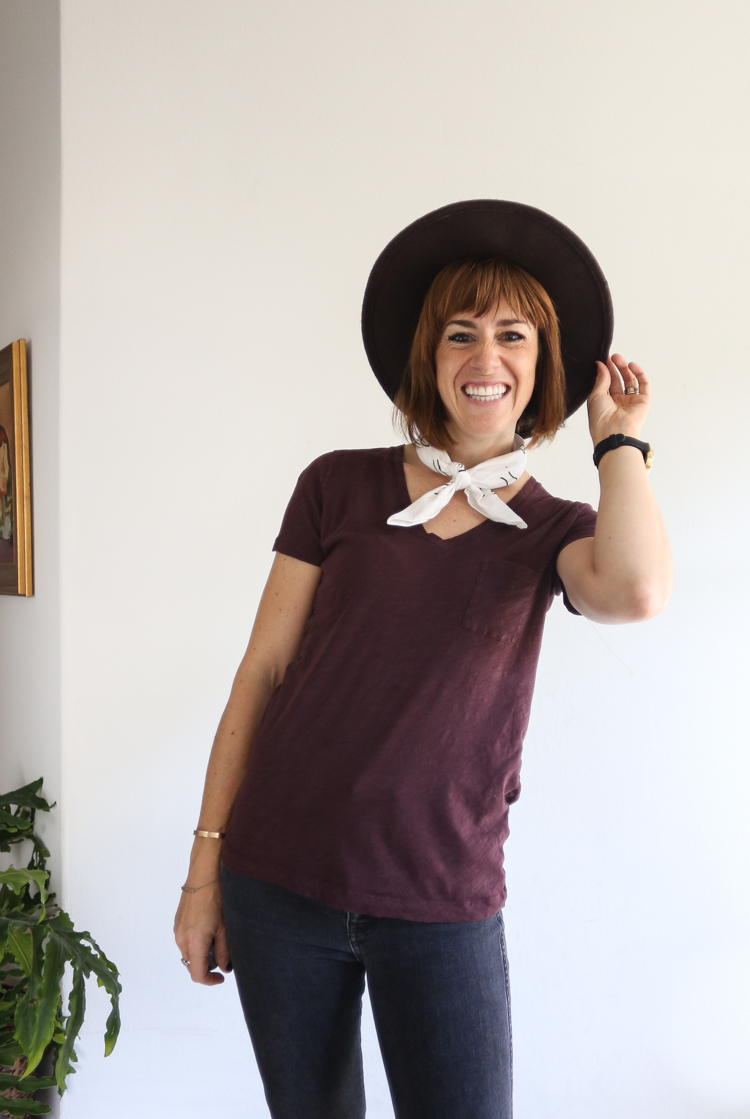 Capsule Wardrobe Concept
Let me begin by introducing the concept of a Capsule Wardrobe. This simply means that you create a specific set of items to wear, mixing and matching, for a given season. The program I used to begin recommended paring down to around forty pieces including shoes, tops, bottoms, skirts, and dresses. The capsule does not include pajamas, exercise clothes, accessories like scarves or hats, jackets, or special occasion clothing like a cocktail dress.
The way I achieved my initial capsule wardrobe was by taking EVERY SINGLE THING out of my closet and going through them one by one making piles of definitely keep, definitely toss (or put away for a different season), and the maybes to review when I was counting.
Having lived in Texas at the time, I didn't have need for too many really cold weather clothes, and wear tee shirts beneath sweatshirts and such most of the year, so I found that my first fall capsule ended up taking me through all the way until the middle of the next summer when I needed to switch out a couple of the jeans and sweaters dresses and shorts. Other than that, I have operated using the same basic capsule for the last two years! In that time I have worn literal holes in the knees of two of my pairs of jeans, magically and naturally transforming them into distressed versions.
I love a lot of things about capsule wardrobing. The most obvious being how little effort, time, or energy is wasted getting dressed each day by eliminating the unnecessary decisions. Basically everything in my closet is something I love to wear, that fits well, and makes me feel like myself. I have learned, however, that I need to replace things as they wear out. That was something I didn't expect! Before capsule wardrobing, I don't know if I ever wore a single thing enough to actually wear it out, and it's kind of a great feeling.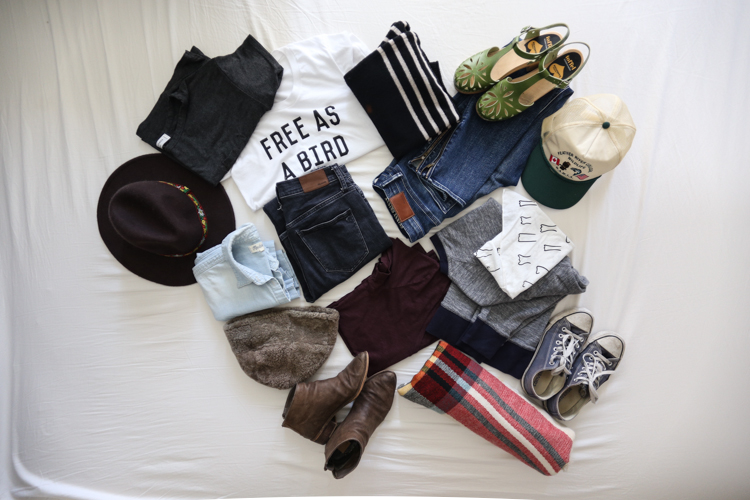 Fashion Remix
Yesterday, I pulled out a bunch of my newish favorite clothing items, and whipped together a fashion mix to share.
Let me tell you what's included. I'll both describe each piece and share a link for the actual item, or something like it, because of course yours will look different from mine, depending on your style, and what you love. I'd describe my style as casual, earthy, and natural.
Fall Fashion Remix:
(*These four items are all Madewell brand, but came from ThredUp, which is an online clothing consignment store. I'm going to talk a little bit more about it in a bit.)
Accessories for this remix include a cheeky neckerchief (designed by my talented friend Becky), wide brimmed hat, trucker cap (my grandpa's), cozy fur beanie (mine was a souvenir from Peru), and plaid blanket scarf (I found this one in the Target Dollar Bins for $7!), my daily diaper bag, basic daily bracelets from here and here, this smart watch, and this new smart ring, too.
Okay, are you ready for some mixing and matching? This will give you an idea of how a capsule wardrobe works, on a small scale. One dress, two pairs of pants, three pairs of shoes, and five tops into eleven outfits.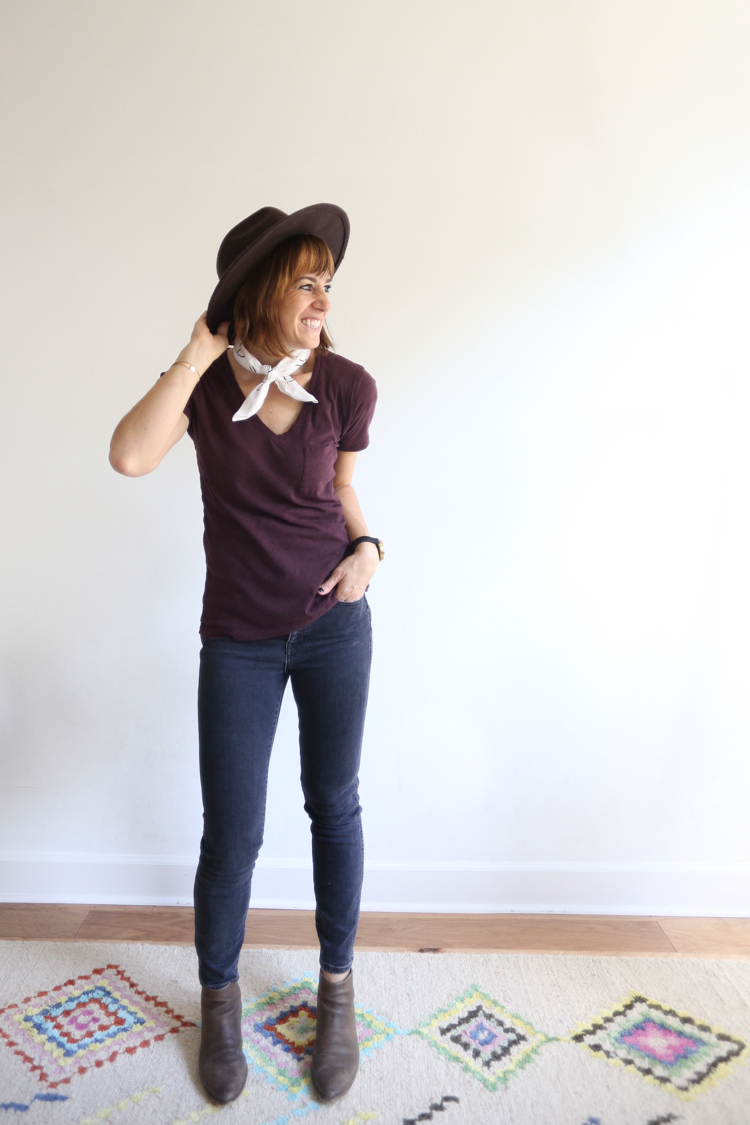 #1 basic tee, black skinny jeans, ankle booties, neckerchief and hat to add some design elements
This is a comfy go-to, and looks thoughtful without being fussy.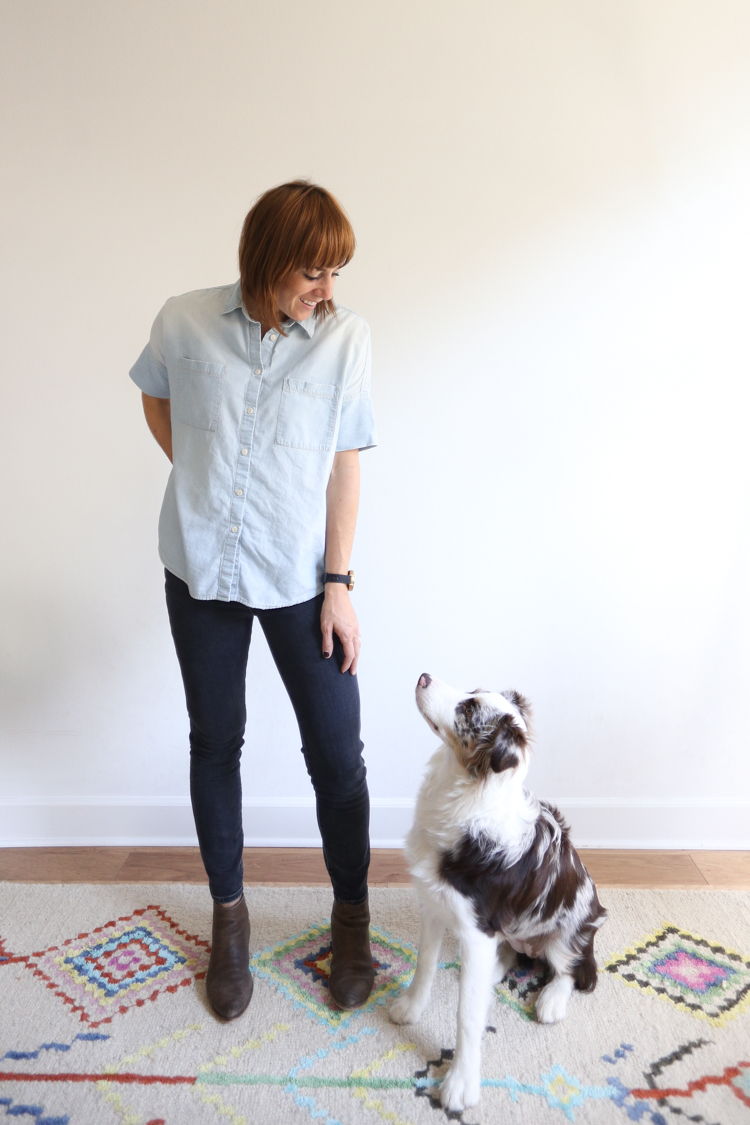 #2 chambray top, black jeans and booties, with a puppy as my accessory
Buttoned up and black jeans means I could wear this to an event, or meeting (if I ever had those to go to) but still feels practical and comfortable for every day.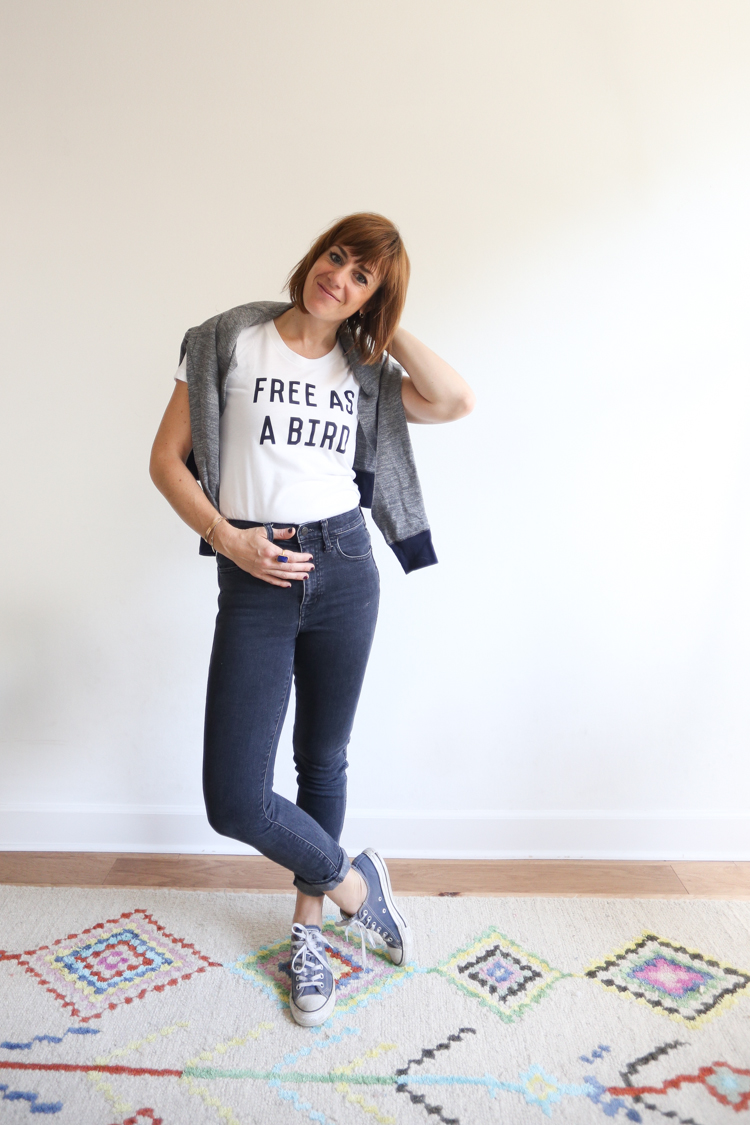 #3 graphic tee tucked into high waisted jeans, chucks, sweatshirt for the chill
This outfit is a little more on the cool, hipster side of my comfort level, but feels practical and fun for an outdoor concert date night downtown or mini golfing with the kids. Or anytime.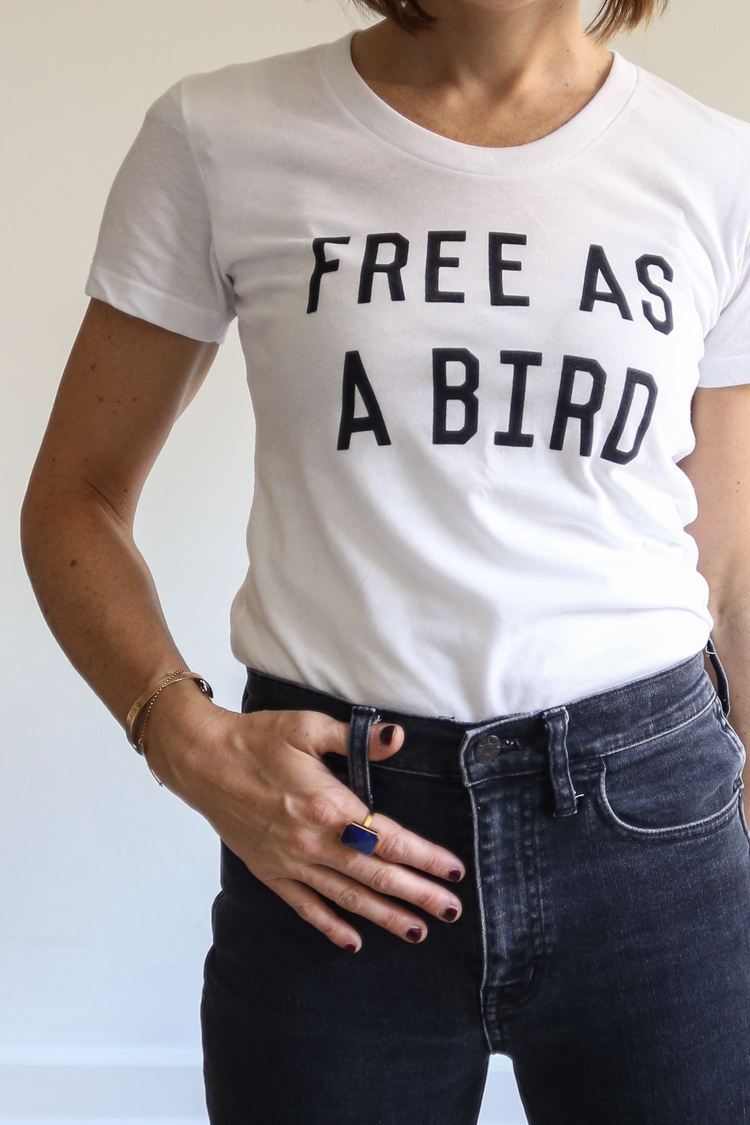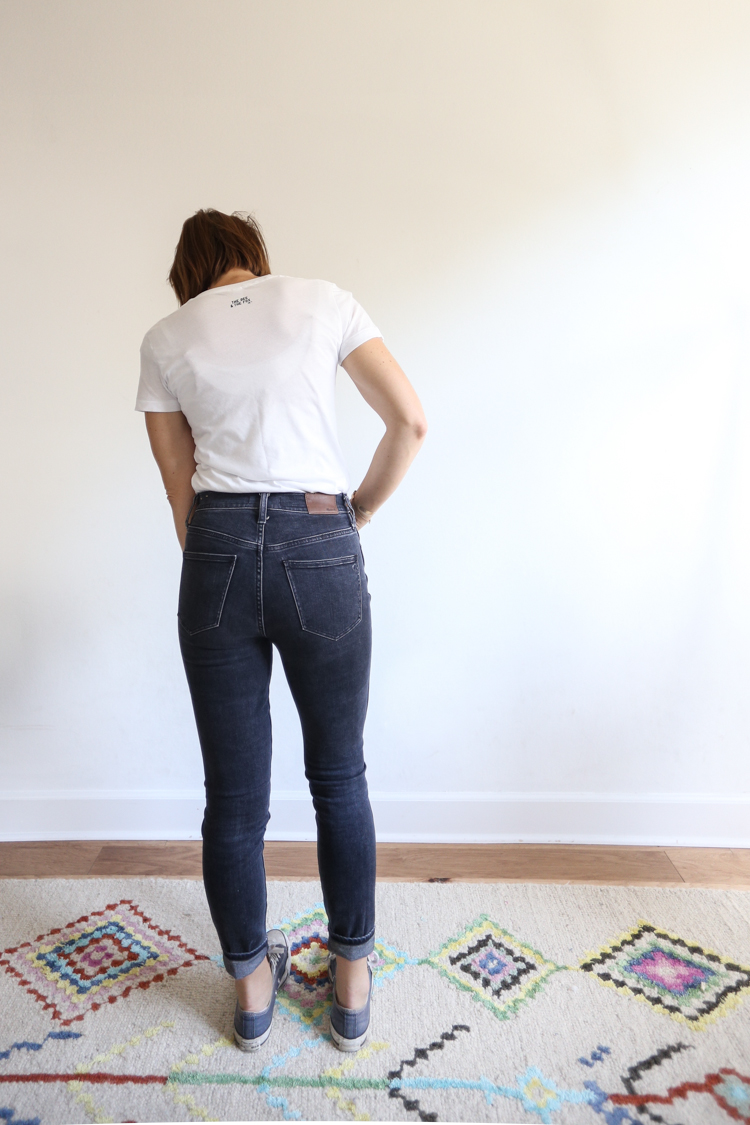 Jean Talk
Let's pause here to talk jeans for a bit.
After Eliot was born five years ago, I went on an epic hunt for the most perfect jeans for my body type and style. In two days I went to more than ten stores and tried on likely around a hundred pairs of jeans. One of those pairs was these bad boys from Madewell, which at the time was new-to-me shop just opening up in Georgetown, DC. They fit high around my waist, so when I was sitting down and chasing my toddler, I didn't show off my undies. They also had just enough give to fit tightly, but not like paint, and stretched comfortably over what I like to call my athletic thighs.
We were on a student budget, but I bought two pairs (which felt like spending a fortune) and threw away all of my other pants that day. I wore one pair of black and one pair of blue for years, until adding another pair of black last winter. I still have both the original pairs, too. The black have massive natural holes in the knees, and I've mended a hole in the inseam, and the blue have a hole in one knee and the other is wearing through. I adore them both, still.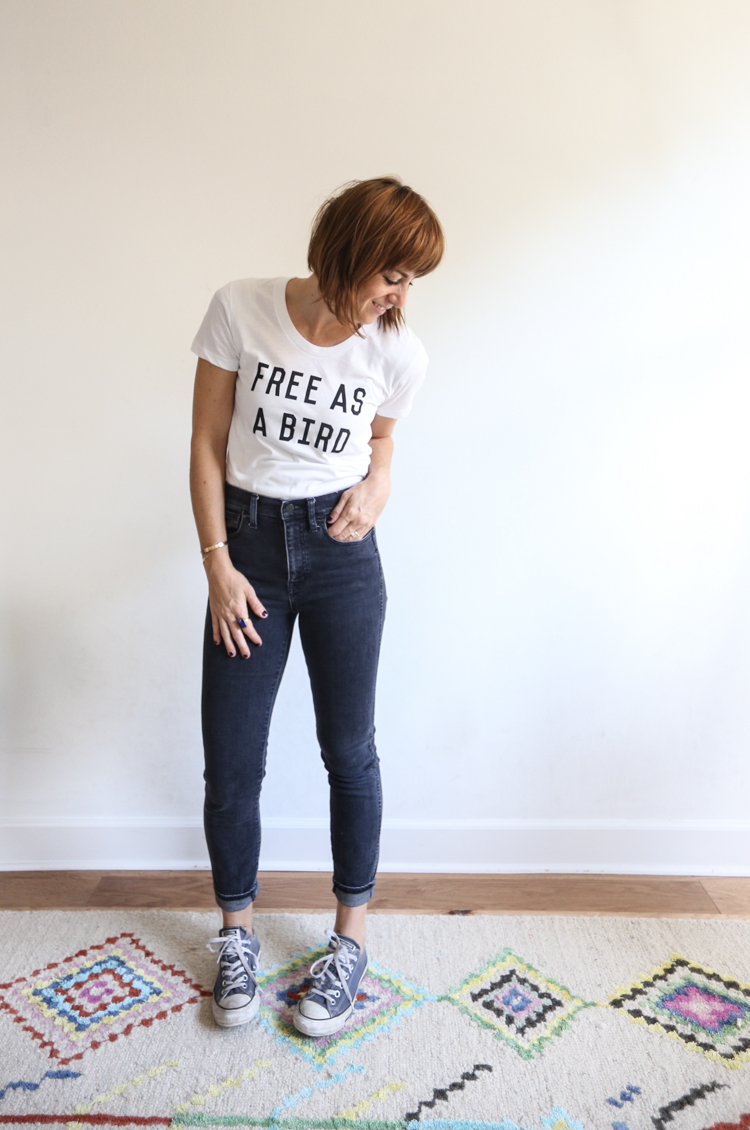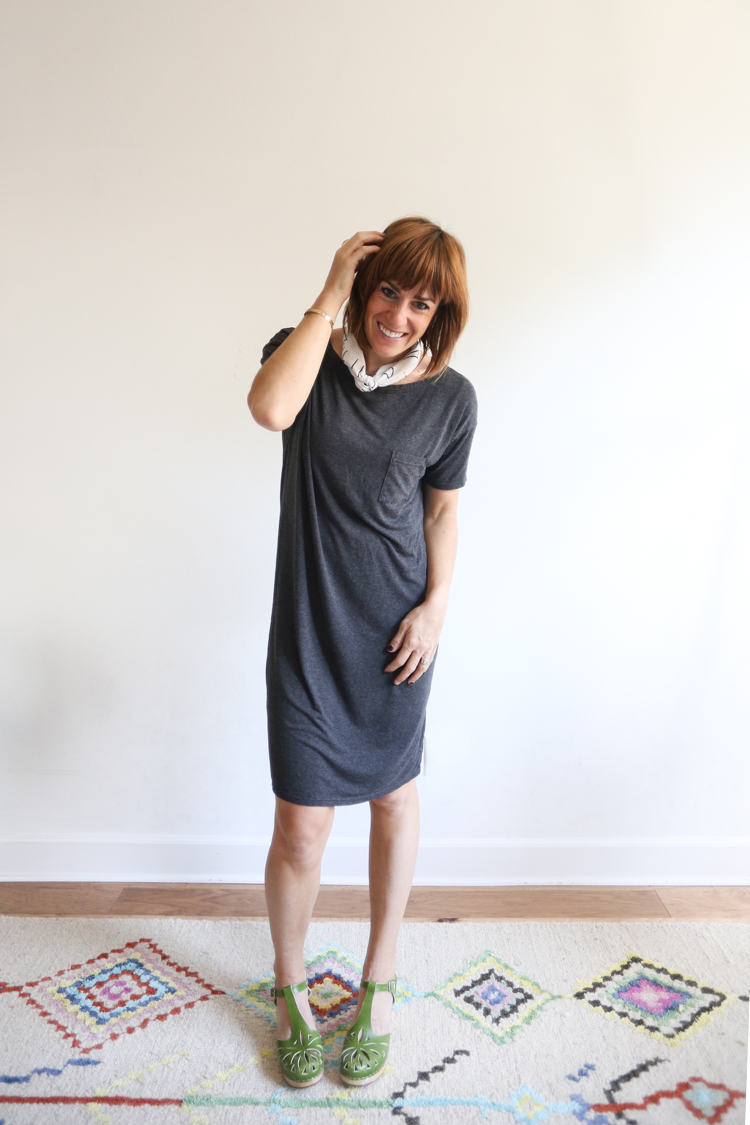 #4 tee shirt dress, neckerchief, clogs
This outfit feels a little more dressed up, for a nicer date night or a girls night out on the town. Shoes are a fun place to add a little bit of color to an otherwise neutral palate.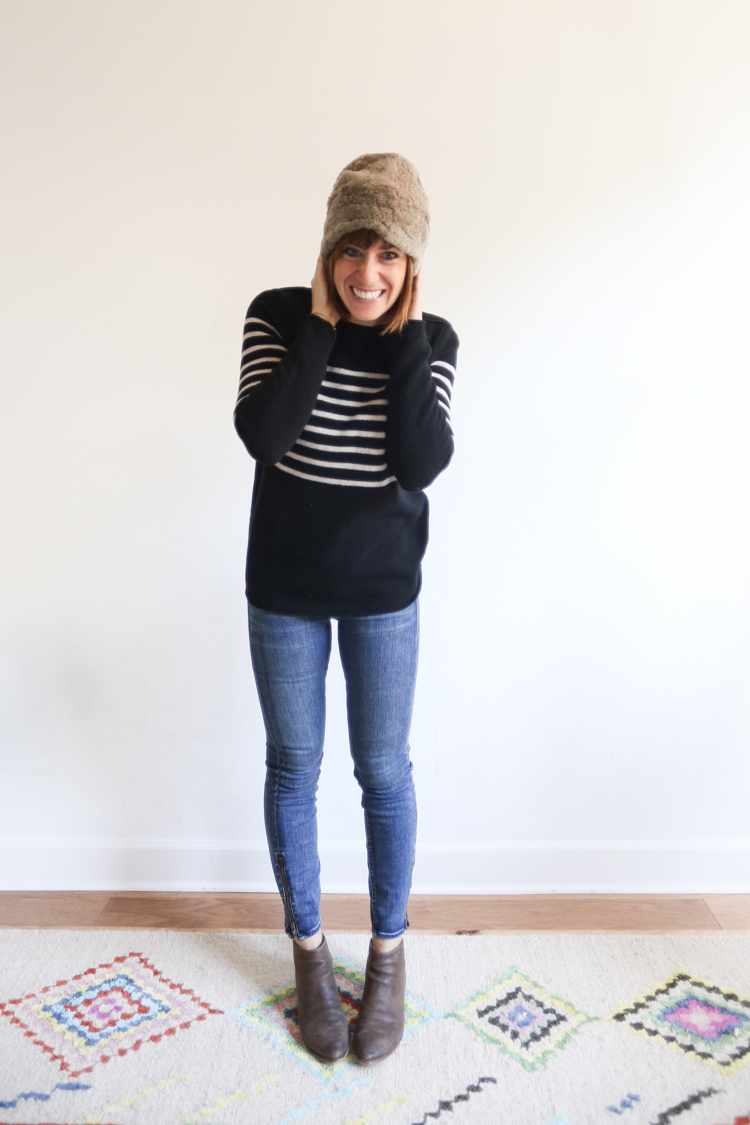 #5 blue jeans, striped sweater, ankle booties, fur beanie
This outfit feels like a welcome to the fall weather! The sweater and beanie warm it up, and make it realistic for an outdoor family adventure.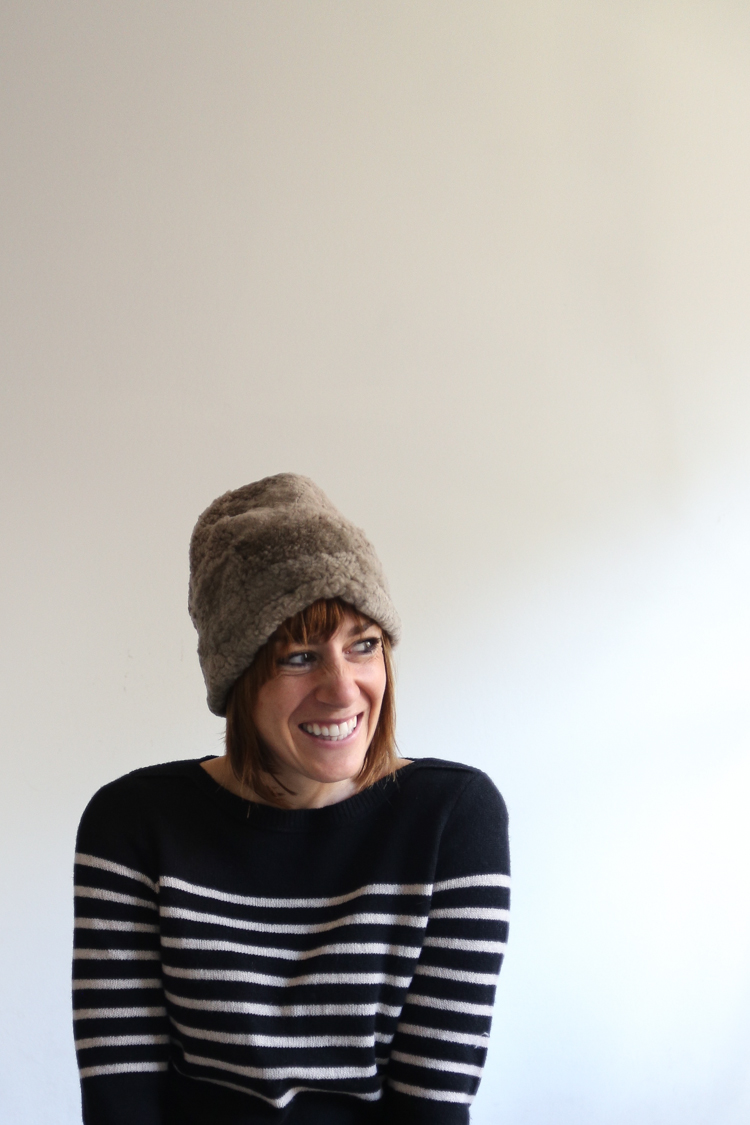 Truth: I bought this hat as a souvenir from a trip to Peru before I was married. It's meant to be worn the other side out, with the alpaca skin showing, and the fur turned up as a brim. Turns out when you experiment with things you already have, you might surprise yourself in discovering new uses that you love!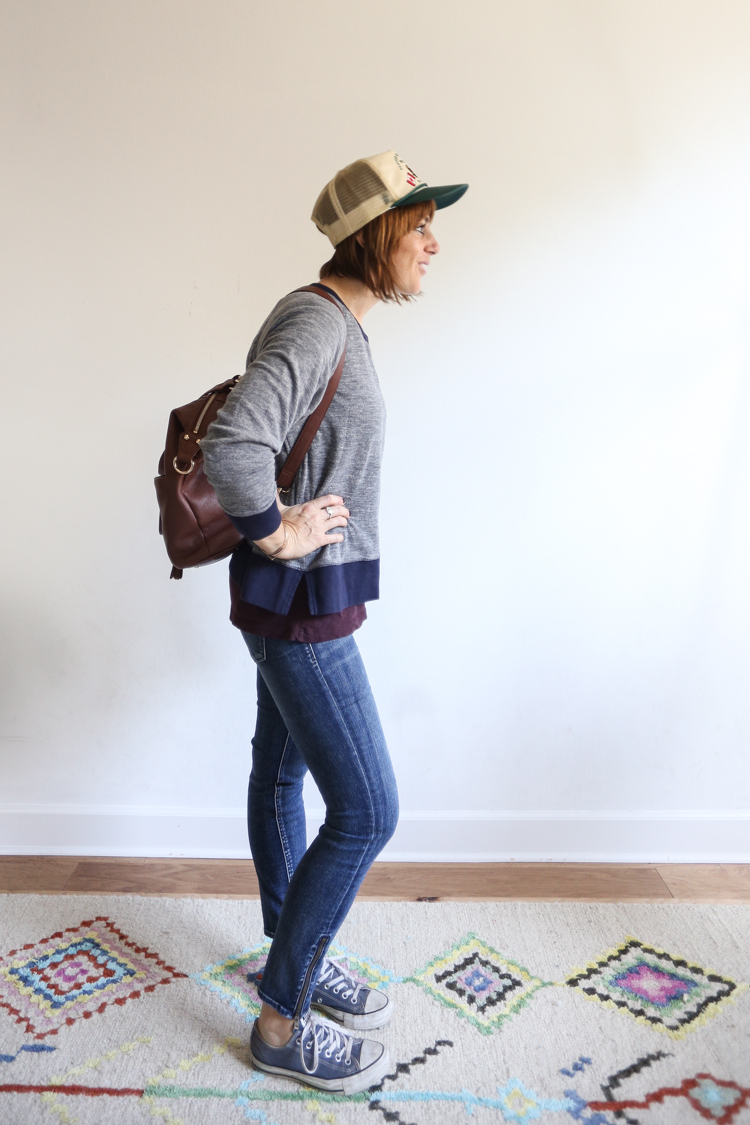 #6 sweatshirt, blue jeans, chucks, trucker hat, diaper backpack
This is likely how you'll find me on day eight of no hair washing, running errands with the kids after school. Adding a hat adds some intention, even though it may seem backyards, and I'll say it again, well-fitting jeans can make an outfit.

#7 basic tee, blue jeans, chucks, sweater scarf
Another example of putting all the basics together and ending up with a casual, comfy momiform. A blanket scarf is a super versatile accessory, and feels like a must-have to me!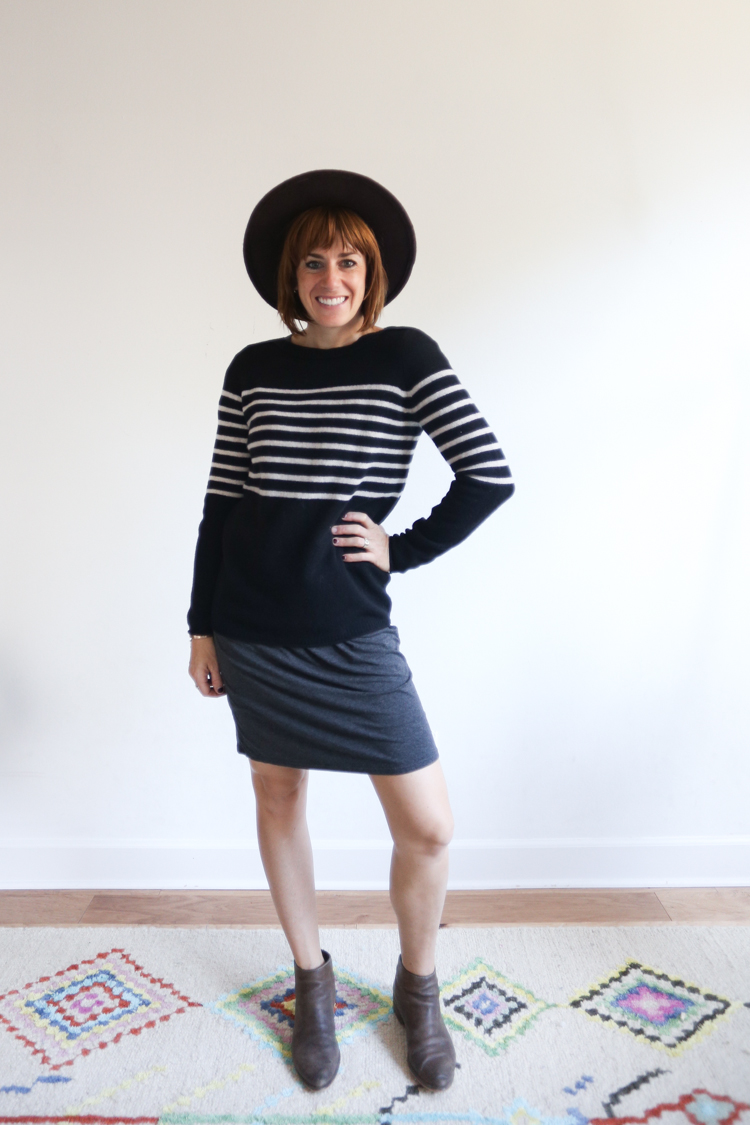 #8 striped sweater layered over basic tee dress, ankle booties, wide-brimmed hat
Add layer over a dress and it magically becomes a skirt! I use this method a lot when I'm traveling, and love simple variation tricks like this.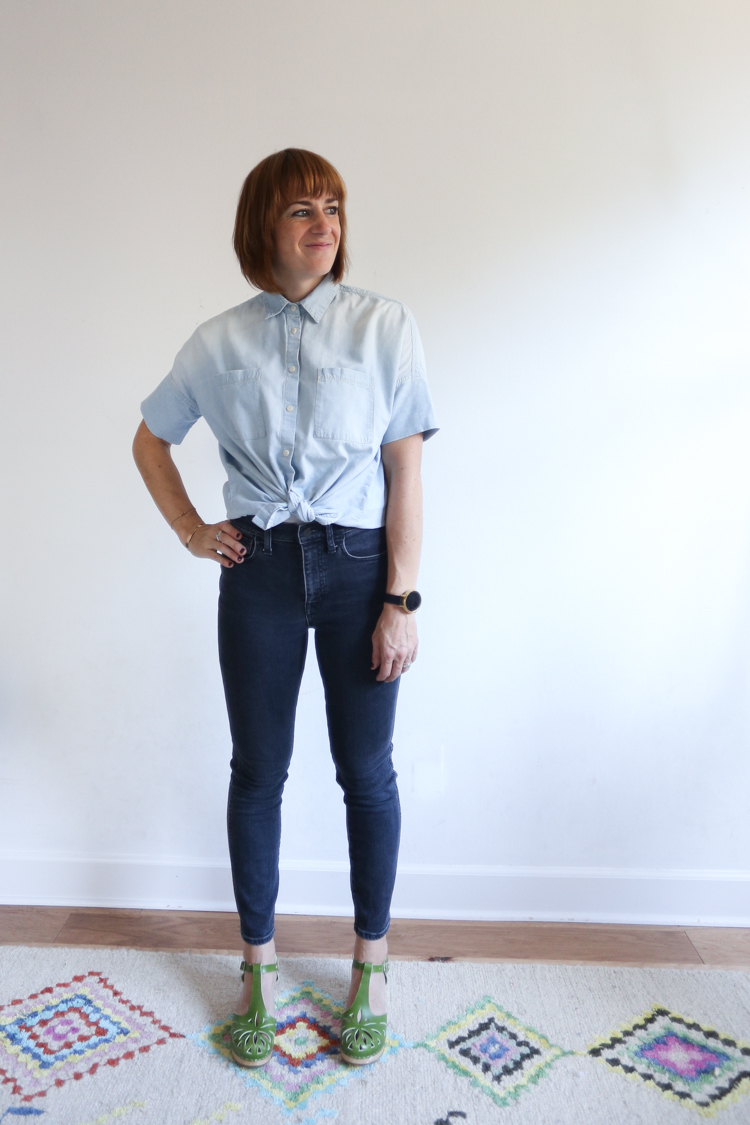 #9 chambray button-up, tied at the waist, high-waisted black skinny jeans, clogs
Capsule wardrobes are all about wearing the same things different ways, and this is a good example. Buttoning the shirt to the top and tying it at the waist totally changes the shape and style. It becomes more formal, and paired with clogs looks like a thoughtful, rather than thrown-together outfit.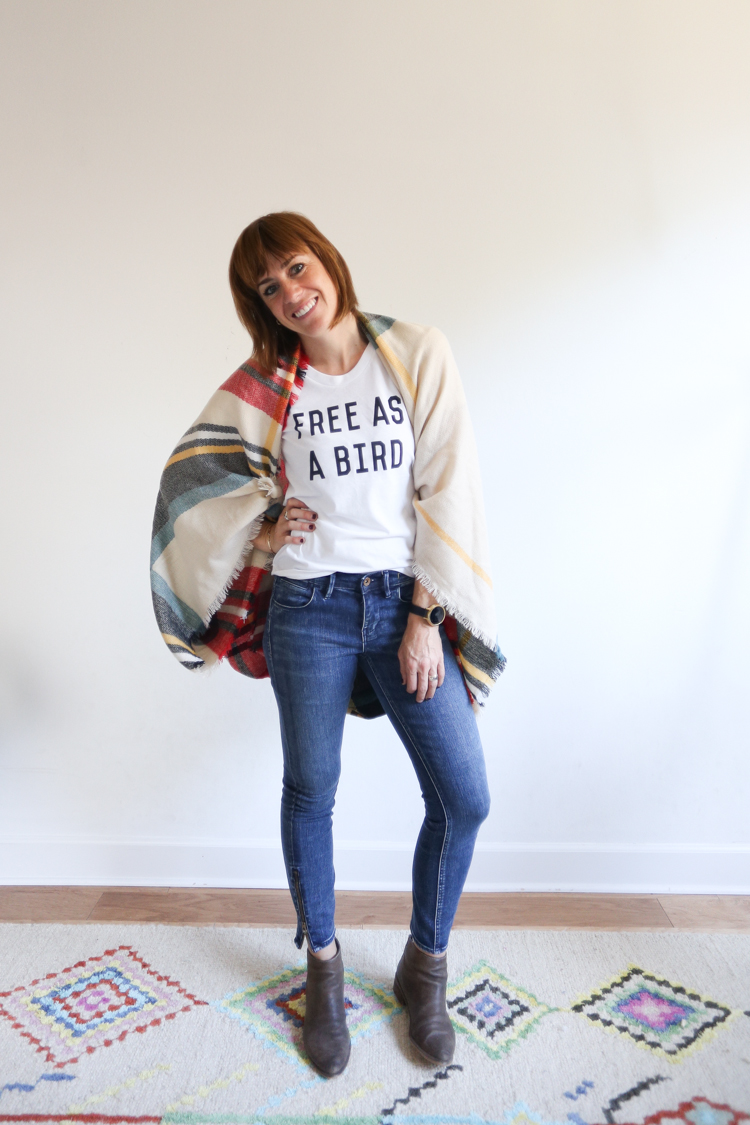 #10 graphic tee, blue jeans, ankle booties, blanket scarf tied as a kimono
Did you know when you tie the corners of a blanket scarf it becomes a kimono top? Try it! It adds an easy, cozy layer that will stay put even as you run around behind the kids, put them in and out of their car seats, and pick apples at the farm (if you're lucky enough to live somewhere with apples nearby!)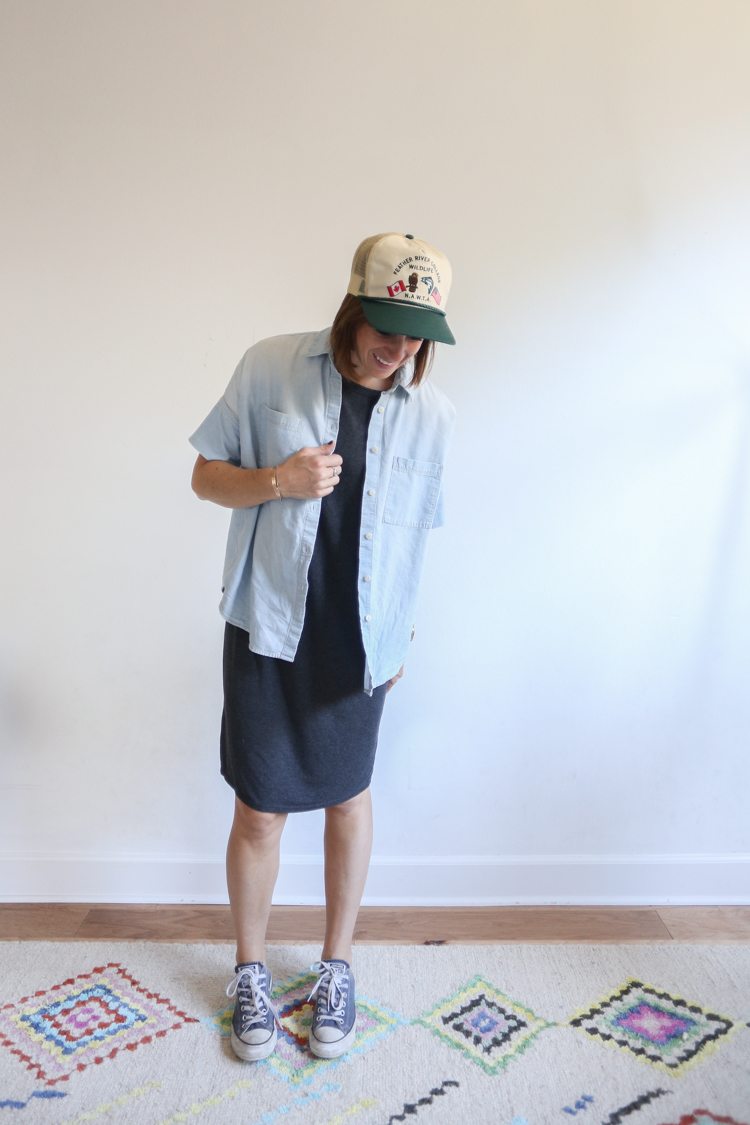 #11 tee shirt dress, chucks, chambray button-up as a jacket, trucker cap
This outfit could be an ode to my sweet grandparents who are together in heaven, watching over me. My Papa was never without a trucker cap, and Mamo wore button-up shirts over tees on the regular. Paired with a tee shirt dress and chucks, the outfit feels layered and casual, changing the shape of the dress to a the boxier button-up. Another everyday sort of look, which is about what I have to offer!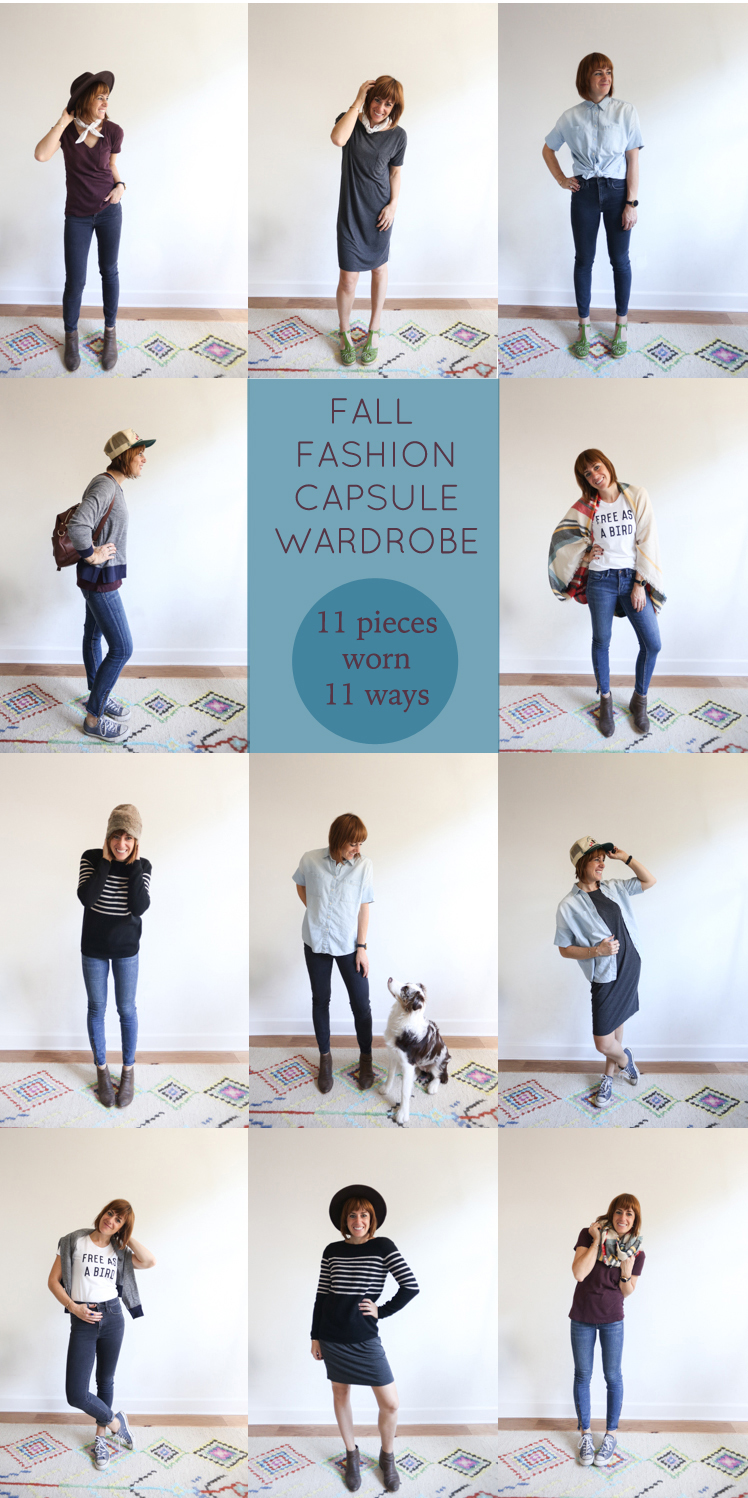 Minimalism and Contentment
Eleven pieces of clothing, eleven outfits. There's a fall remix for you, and a look inside a mini version of a capsule wardrobe.
Now, imagine you chose forty of your favorite items! After what we just did, forty seems like a ton of clothing to choose from! Over the years, my single season capsule has sort of merged into a year-round capsule, where I keep about 60 items out, but only actually wear 30-40 of them during a season. With my closet being large enough, I can simply hang the spring/summer and fall/winter tops separately, and choose that way.
To finish off this post, I want to share some general thoughts on minimalism and contentment.
When I was a young child, my dad would give me a back-to-school budget and then take me shopping for clothes. I could choose what I wanted, as long as I stayed within my budget. I remember one specific incident, when we were nearing the end of the shopping day and I was running low on funds. I spotted a levi jacket in Gap Kids that I loved instantly and even though I didn't have enough left to buy it, I turned to my dad and begged for him to make an exception because I LOVED IT SO MUCH I COULDN'T LIVE WITHOUT IT! He gave me some advice that I've never forgotten and has proved to be true in my life. He said: "Miranda, there will always be something that you want. The next time we come into the store, when you have more money saved up that same jacket might not be here, but something else that you really love will, and you'll be able to get it then."
It was a lesson in patience and financial management, but also a lesson about contentment, gratitude, and satiety. I had already spent the whole day shopping! I don't remember a single thing that I bought that day, but I'm sure I really liked all of it! Yet, so quickly I became enticed to want more.
A couple years ago, a similar concept stood out to me when I was listening to this talk at my church's semi-annual general conference. The speaker, sharing thoughts on priorities, stated this profound idea "There is no end to what the world has to offer, so it is critical that we learn to recognize when we have enough."
In a similar statement that I read in this great book last night the author quoted Dennis Prager when she said, " …'human beings are insatiable." In other words, no matter how much we have, something inside of us quickly becomes dissatisfied with that and establishes a new benchmark by which to measure happiness…'Because human nature is insatiable our brain, with it's rational and philosophical abilities, not our nature, must be the arbiter of whether we are happy. We must be able, in effect, to tell our nature that although we hear it and respect it, our mind, not our nature, will determine whether we are satisfied."
Maybe this seems like weird concept to share at the end of a post about fall fashion, but the idea and implementation of a capsule wardrobe has encouraged me to be so much more thoughtful about what I chose to add to my closet. I'm not a big shopper in general, partly because when I get into a store, I immediately create that new benchmark for myself of how I want and need so many of these wonderful, beautiful things. But when I am being intentional, rational, and thoughtful about what I have and what I need, my brain can override my nature and create a lovely system for conserving the time, money, energy, and emotion that can be lost in that downward spiral of always needing more.
Finding happiness within the daily routine and rhythms of our lives brings a peace and contentment not found in the ever-moving rat race, and thoughtfully minimizing my belongings has helped me stay on that track.
I'd love to hear your thoughts or answer questions that you may have! Find me on Instagram or leave comments here and let's continue the conversation!
xo