I recently returned home from a much-anticipated girl's trip to Europe where my sisters, mom, and I visited London, Paris, and Amsterdam. I am sharing about the trip in pieces by city, and will link them all together for the full itinerary once they're all posted. See the London recap HERE and Paris HERE. When planning for our trip, my two sisters and I decided to divide up the itineraries between us. We each took one city and planned where to stay, where to eat, and what to do. 
To finish off our girls trip to Europe, we spent two days exploring Amsterdam. It was the first time any of us had been to the city, and we were excited to discover what it had to offer. We all reached out on social media (as you do) for recommendations, and received some great tips. I loved the time we spent in the city as well as out in the beautiful Holland countryside.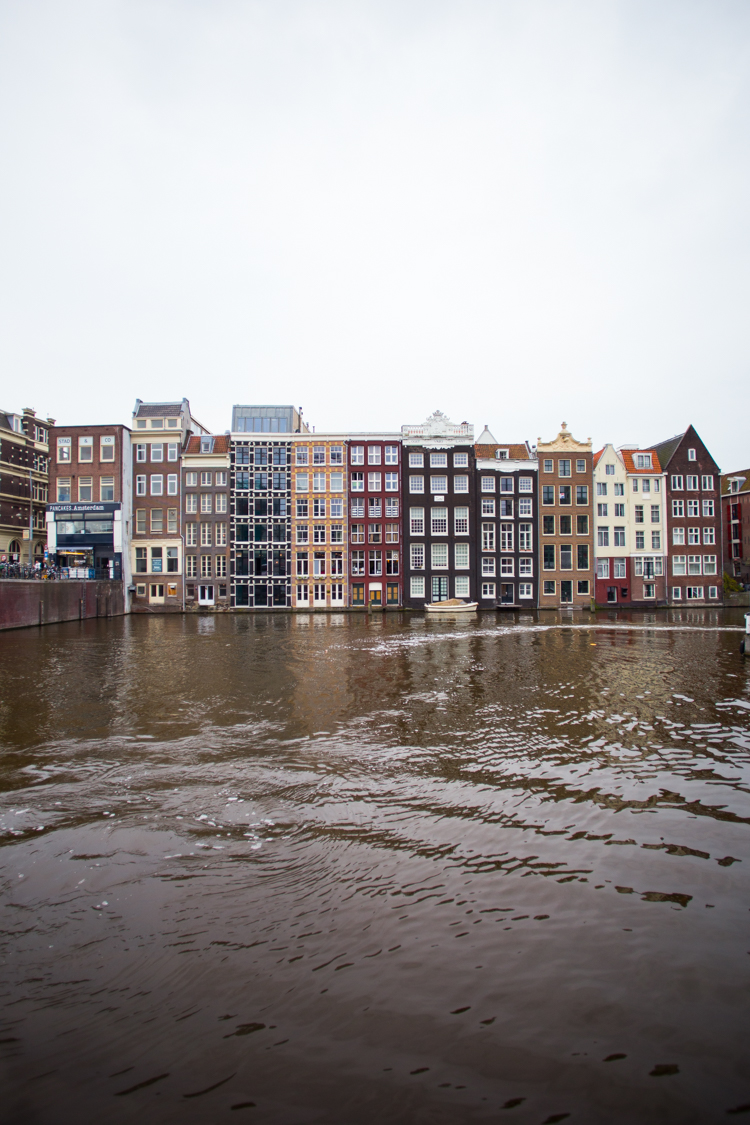 This was my first visit to Holland, and I was immediately in love with the architecture and design of the city of Amsterdam! It is absolutely picturesque. The historic buildings just ooze charm and you know they all have stories to tell. All of the main city streets in Old Amsterdam are canal streets–so these tall buildings line the waterfront. Basically everywhere you look is a postcard. Beyond the beauty and charm of the city, there is a really fun vibe to Amsterdam, and I was happy to visit.
With it being our first time there, we faced a couple unexpected challenges  First, we assumed as it is such a bike-friendly place, it would be fun to rent bikes. That was not the case! There are SO MANY BICYCLES we could barely stay on the path, and rarely found easy bike parking. The city is small enough I will plan on using uber or walking on my next visit.
Second, the inner city along the canals is really really busy. Just full of people on foot, bikes, and in cars. I was a little overwhelmed by the masses, and enjoyed our time on the outskirts of town much more than walking through the downtown area. We did see lots of call-girls in windows, even outside of the red light district, and there was a definite adult-vibe happening in a lot of the downtown areas. I would be careful bringing my kids back to say really clear of most of the inner city craziness.
That said, we had a really fun time exploring and eating, and I'm happy to share some of our highlights and a millions gorgeous photos.
Our first stop was an amazing open boat tour (take the river cruise from Pier D) that introduced us to the city and it's incredible canals and architecture. Even in the rain, this initial view of the city was breathtaking and such a great way to begin.
The Floating Flower Market is unique to Amsterdam, and such a fun place to wander. We sought out US Customs approved tulip bulbs to bring home as souvenirs and gifts. (Mine are still in the closet. I hope I didn't ruin them!) Of course I also found the cactus section and felt right at home.
One of the most famous visits for tourists is the Anne Frank House. It has been historically preserved, and the story came to life as we wandered through the rooms where Anne and her family stayed hidden away during World War II. The lines are super long, even having bought tickets online ahead of time, so make sure that you head over with time to spare and bring a little snack for the wait.
The Van Gough Museum houses a great collection of Vincent's works, as well as some other beautiful art. It was a wonderful way to spend a couple hours and is not too far outside of the city center.  If you have a few extra minutes, visit the nearby I Am Amsterdam sign and museum.
Outside of Amsterdam proper we loved visiting Zaanse Schans for incredible views, windmills, cheese, and those classic wooden shoes. We watched a shoe making demonstration and walked all along the water. It was a beautiful place to spend an afternoon.
Over in the classic fishing village Marken we all oohed an ahed the really beautifully designed homes and buildings, ate the BEST street cart potteries, and fell in love with old Holland. I almost wanted to just move right in (and became completely convinced my next house will be dark blue or black on the exterior.)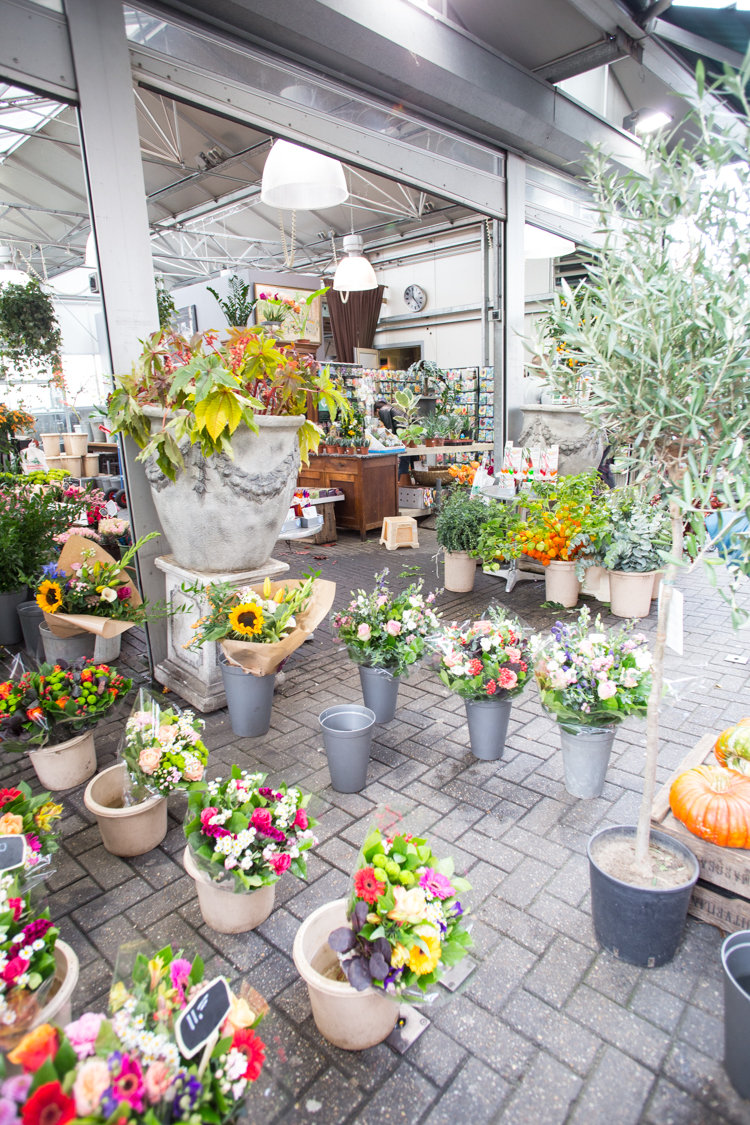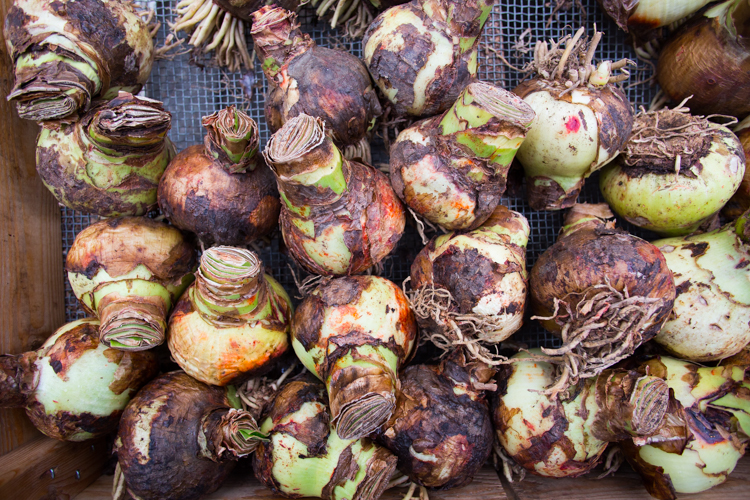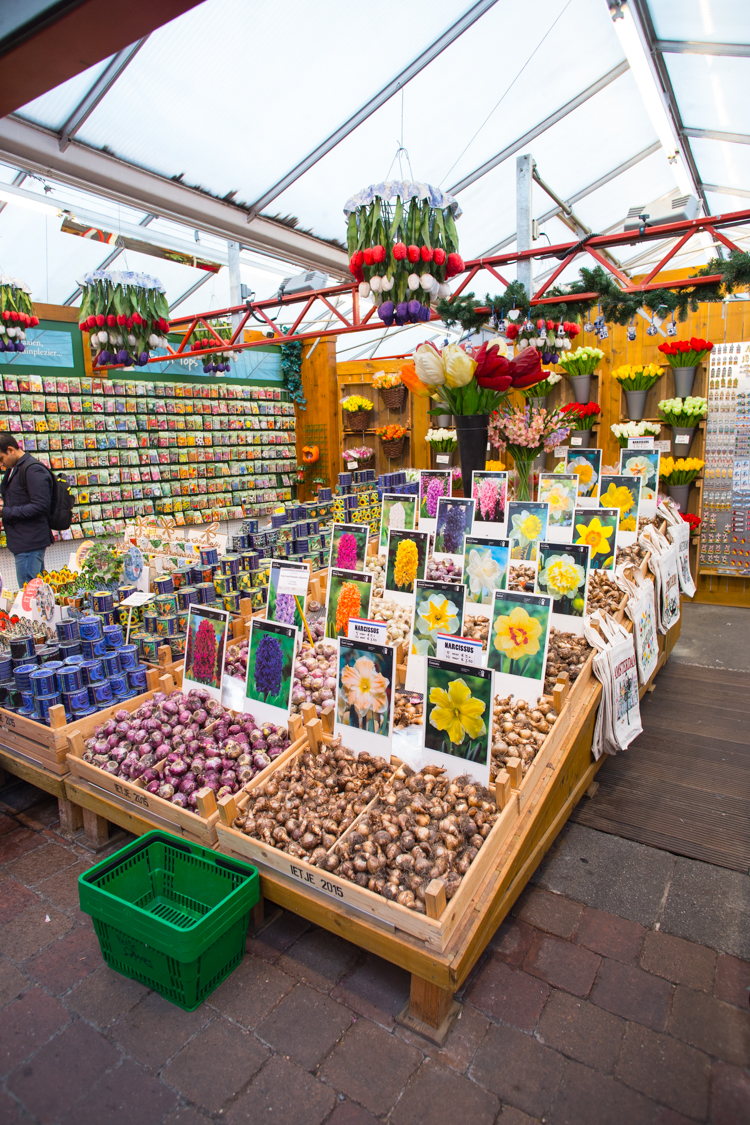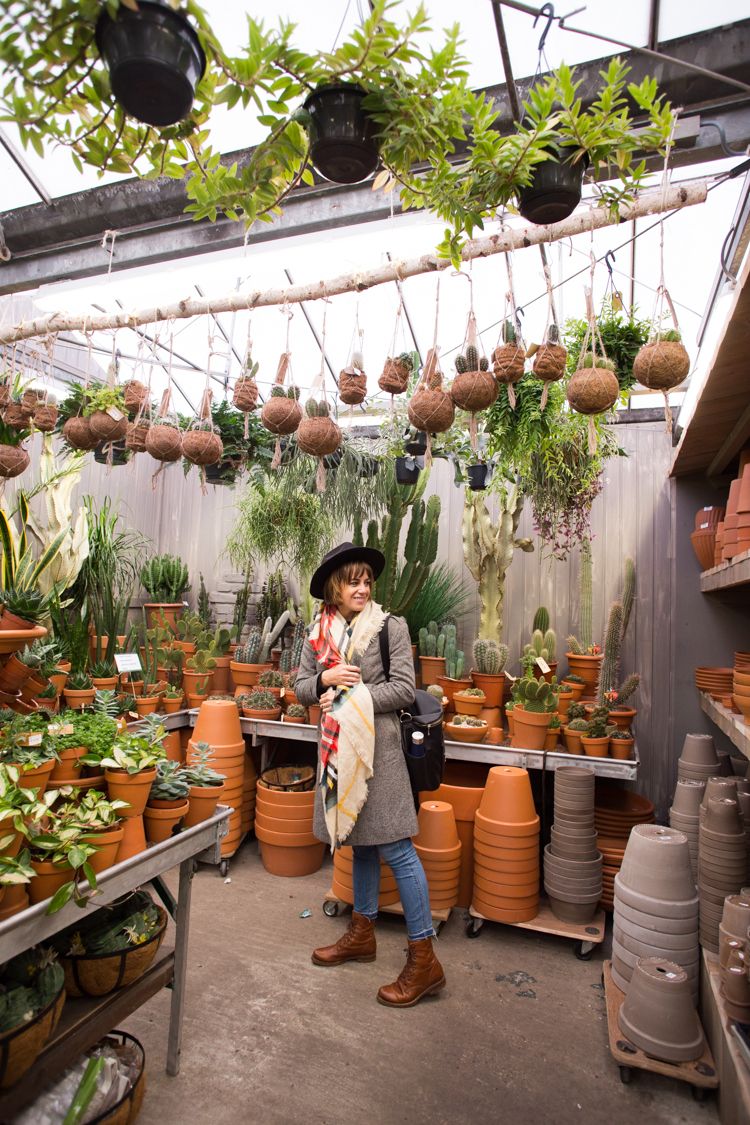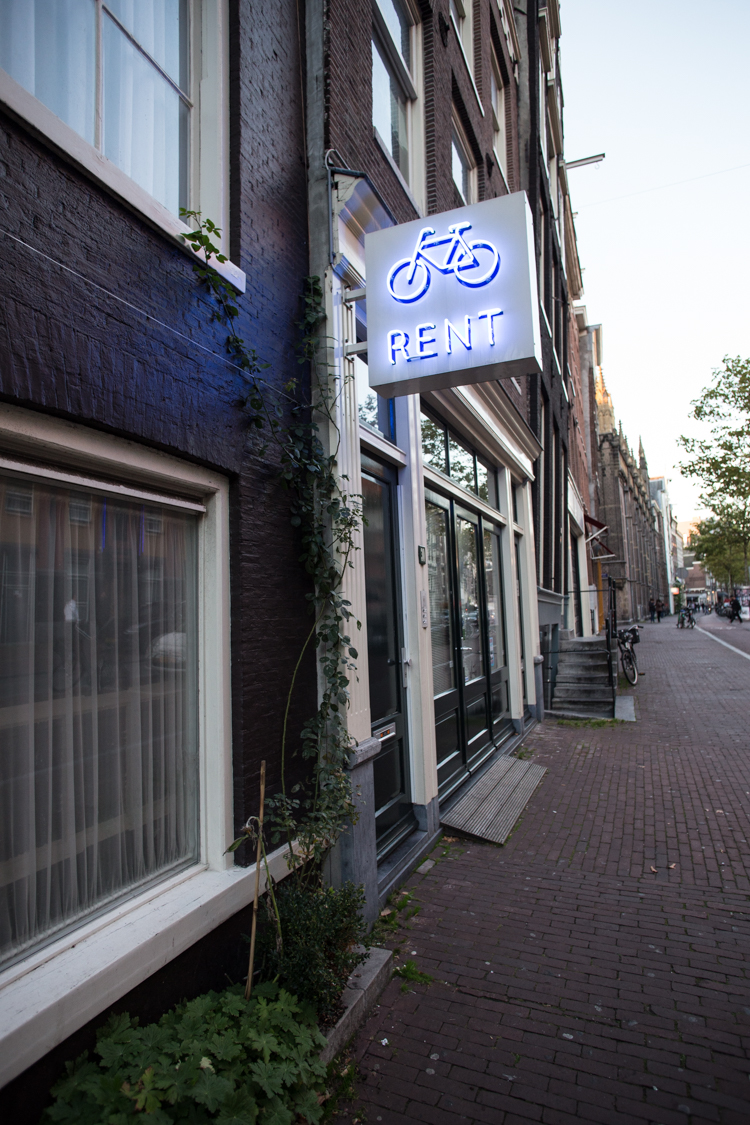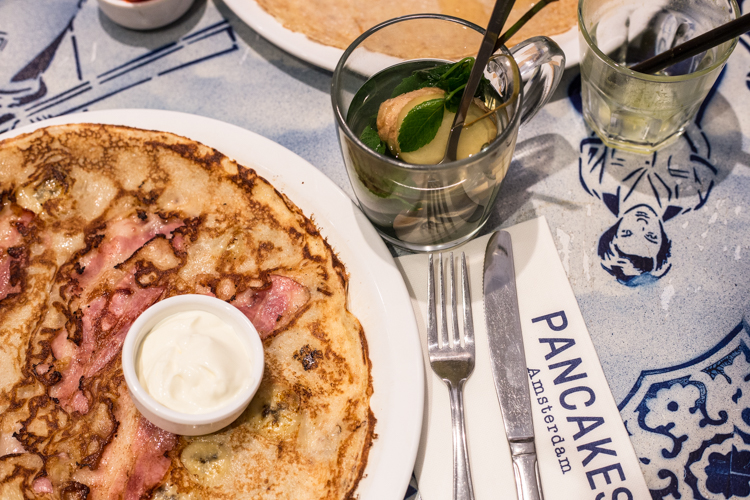 FOOD
Soon after arriving we enjoyed a warm crepe and hot cocoa at Coccette. We were surprised and delighted by the cocoa coming as chocolate chips, sweetened condensed milk, to mix our own creations.
The treats around town are Poffertjes, which are kind of like the dutch version of danish aeblekivers. Buttery and fluffy and amazing. We also ate bunch of stroopwaffles, crispy cookies filled with caramel that are available everywhere. They're sweet, and good.
Pancakes Amsterdam was highly recommended, and there are a couple around town. The location we ate at didn't have a full menu, so we all ordered Dutch Pancakes, which were like thick crepes, and they were delicious.
D&A Hummus Bistro was a fantastic Medditeranean feast, with cool vibes and really good food.
We also loved our dinner of stuffed baked potatoes at Jacketz, which had recently opened and had just hit #1 on the Tripadvisor top ten list.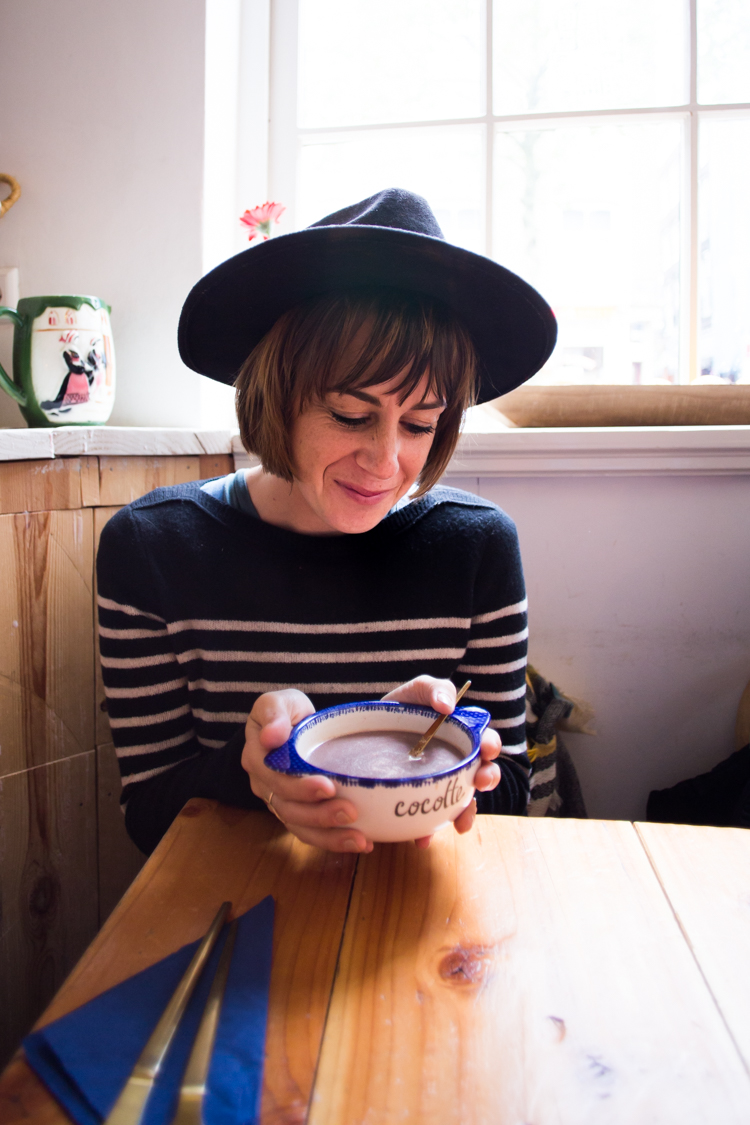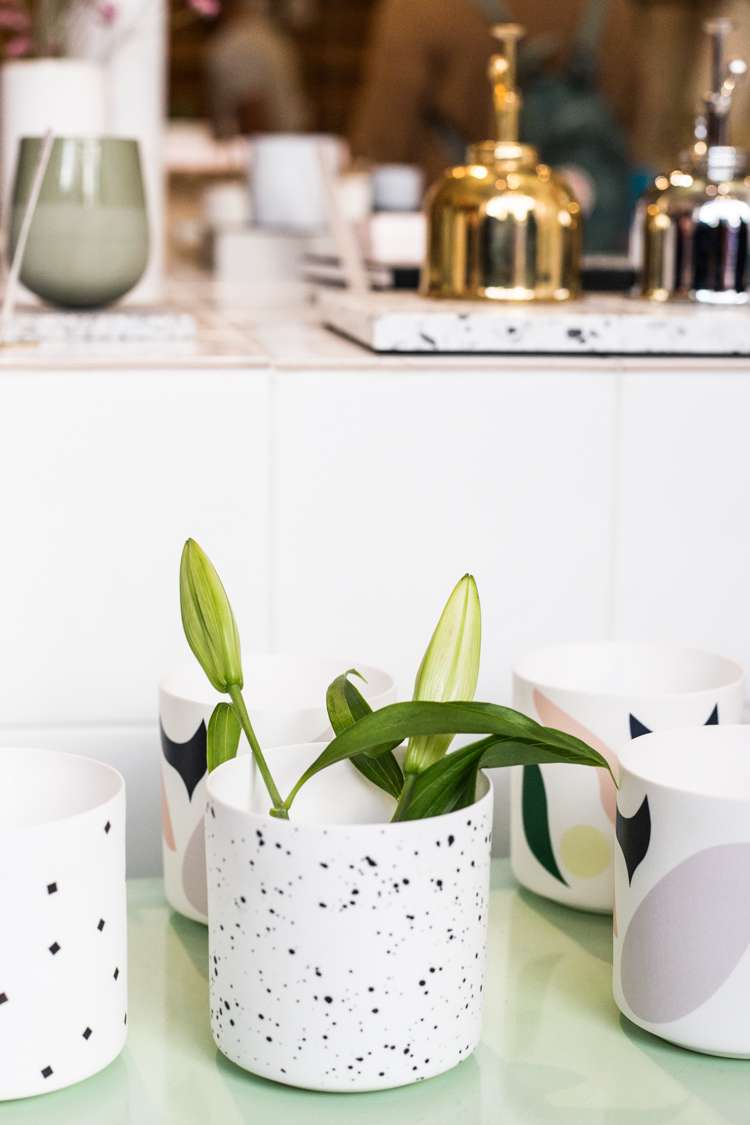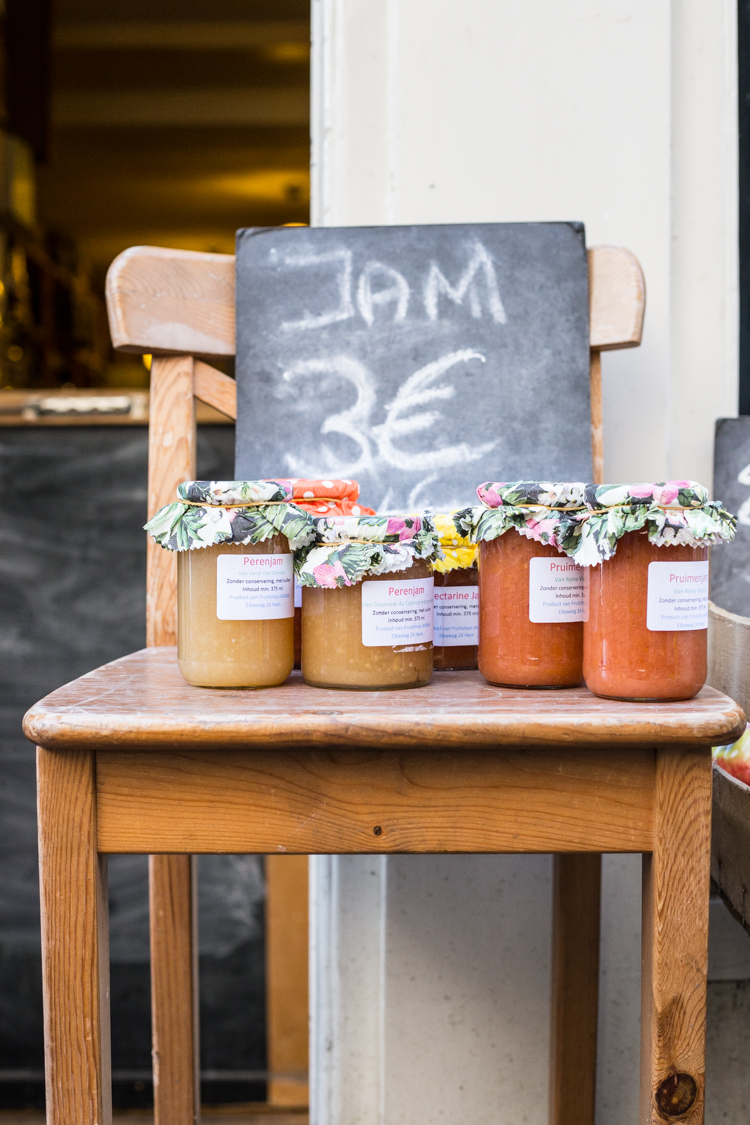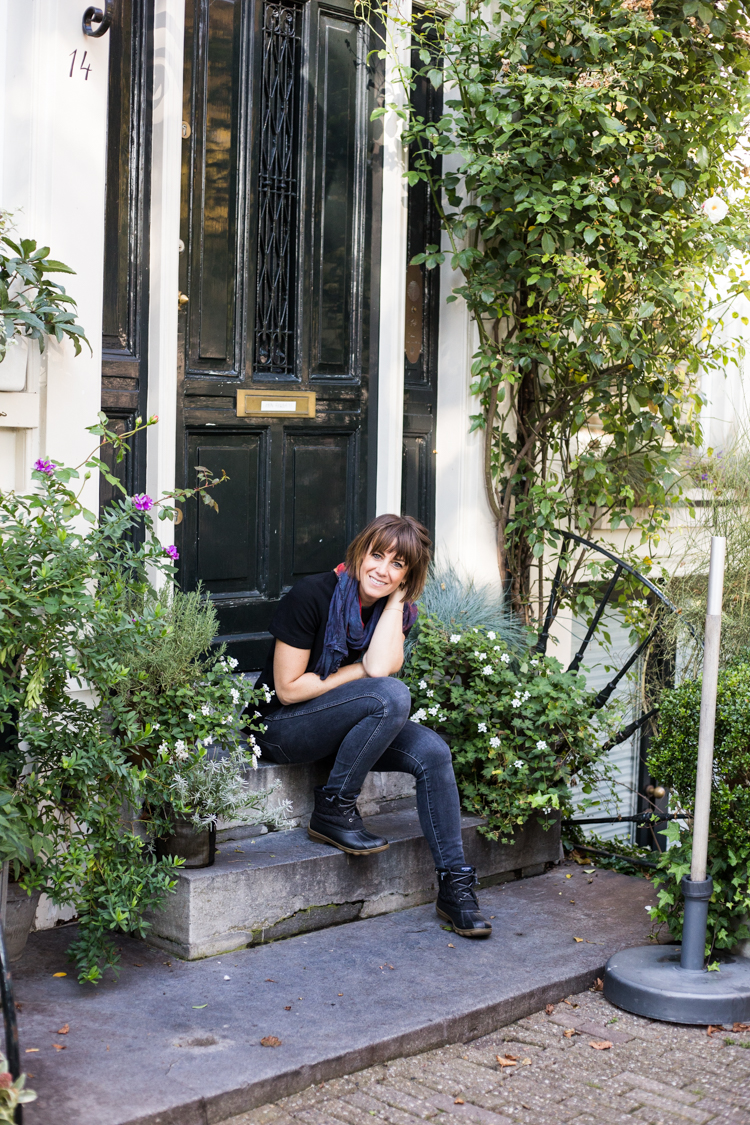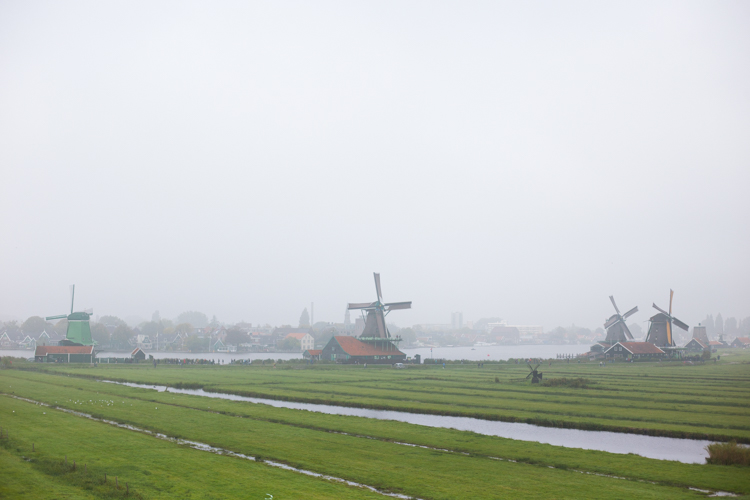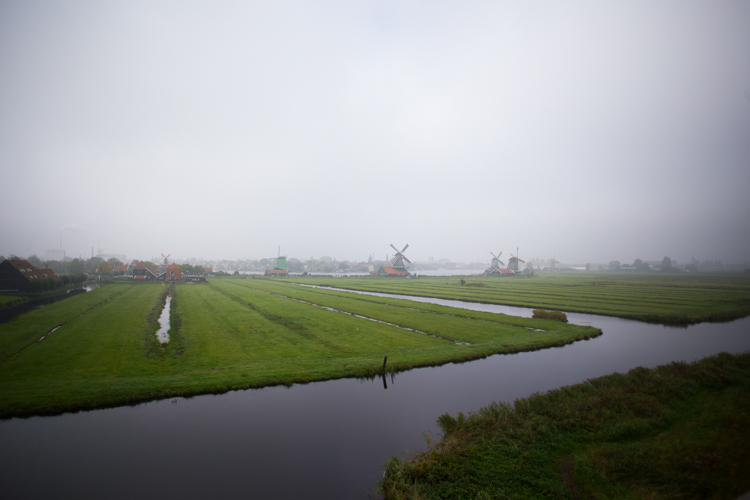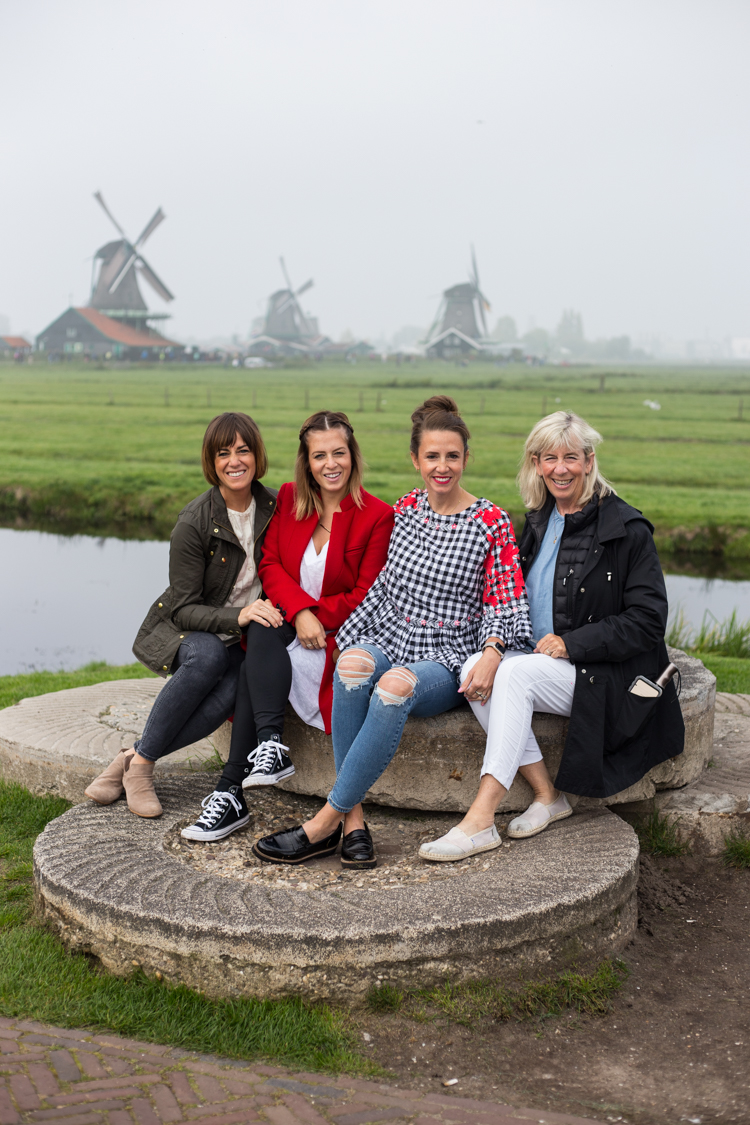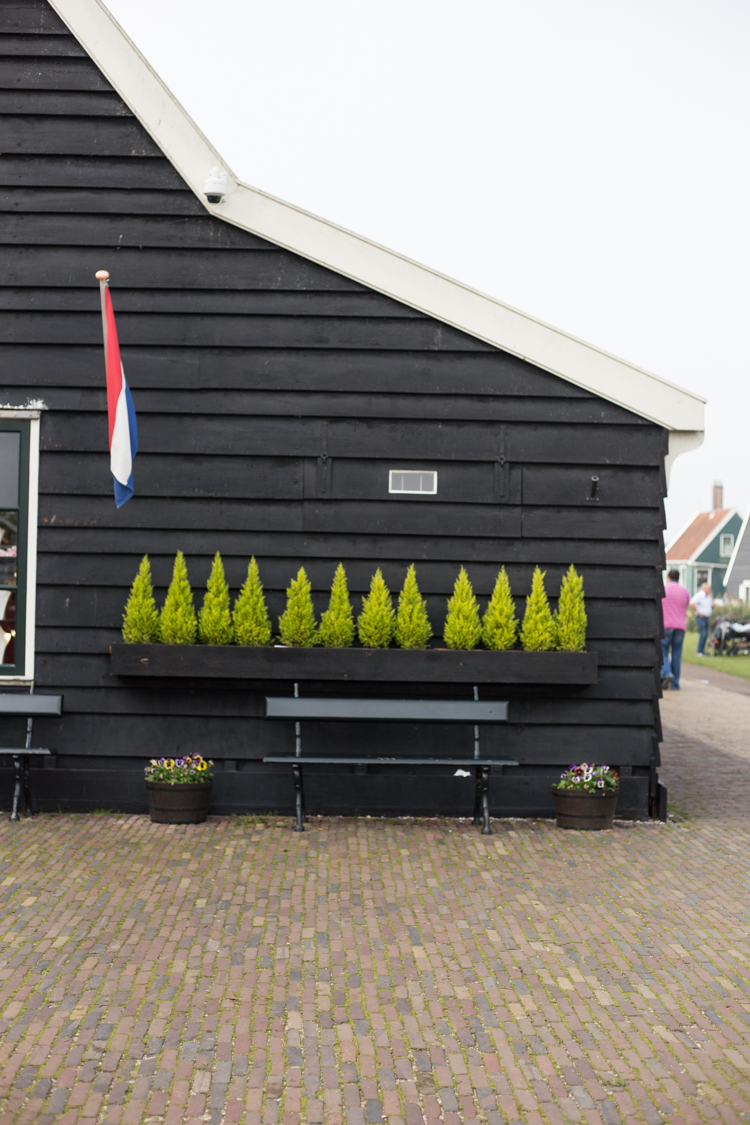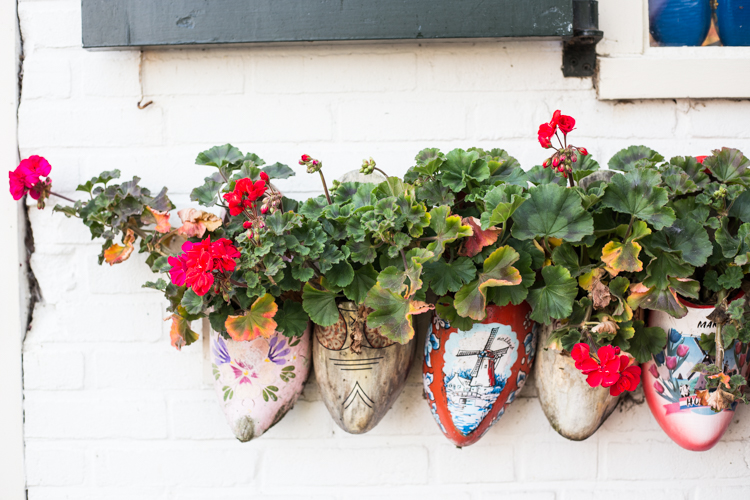 SHOPPING
Of course, on a girls trip, there is always lots of shopping. We saw all of the same, big, international stores in Amsterdam that we had seen in London and Paris. The smaller, local boutiques were where it shined.
Wandering in and around downtown we saw a bunch of these shops, and sought a couple out as well. The 9 streets are known for their cute shops, as is a street close to the train station.
We loved A Store Without a Home, Restored, and Universe on a Tee Shirt.
I brought home all consumable goods to share with friends and family like stroopwaffles, Tony's Chocolonley chocolate, Dutch Tulips, and Old Amsterdam cheese. All things you can buy in the USA, turns out, but they were still fun to tote home.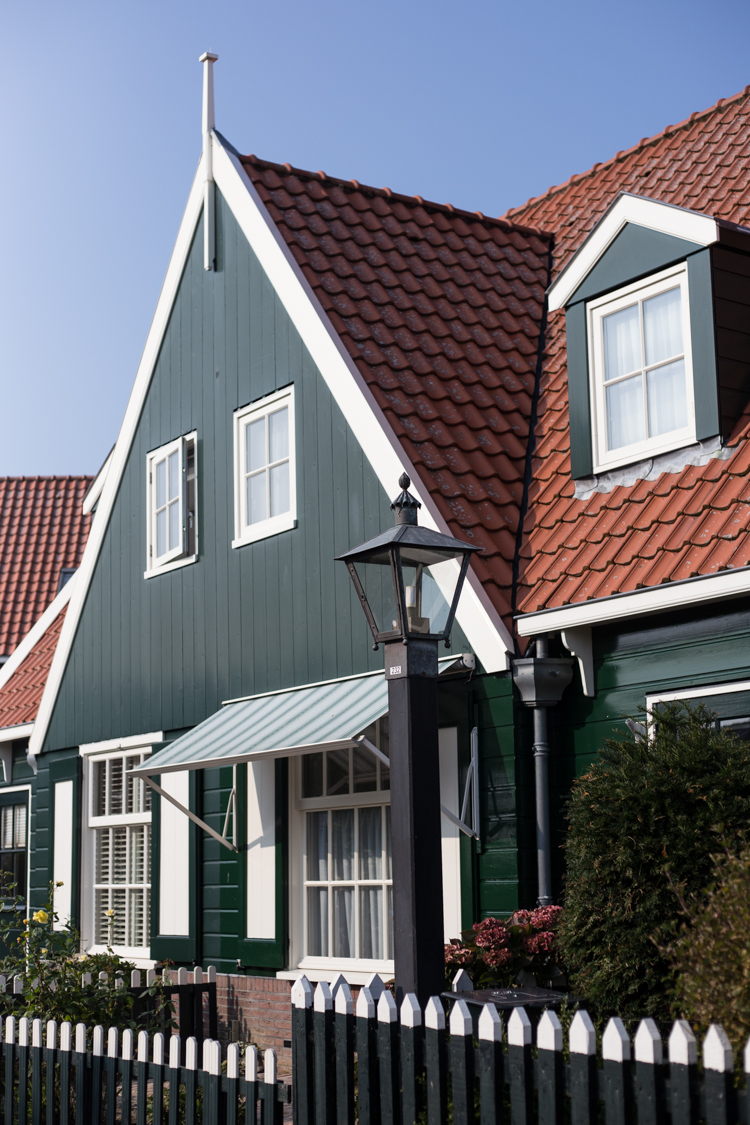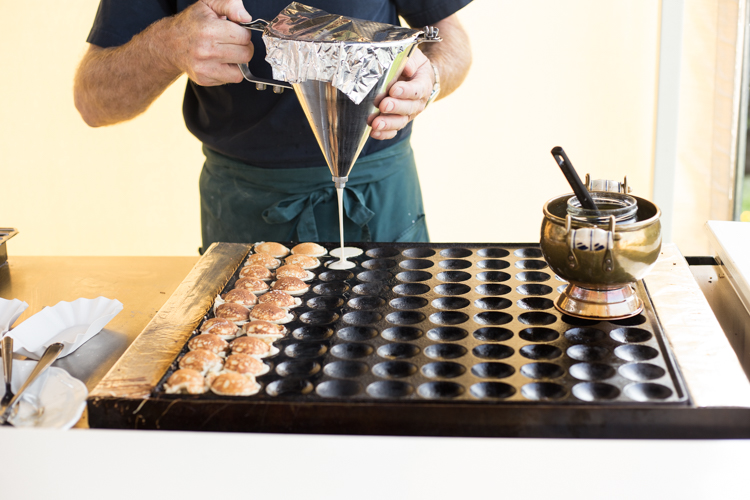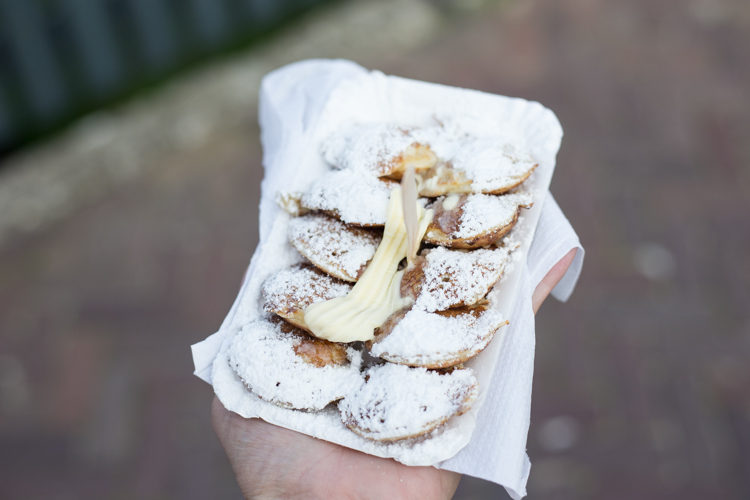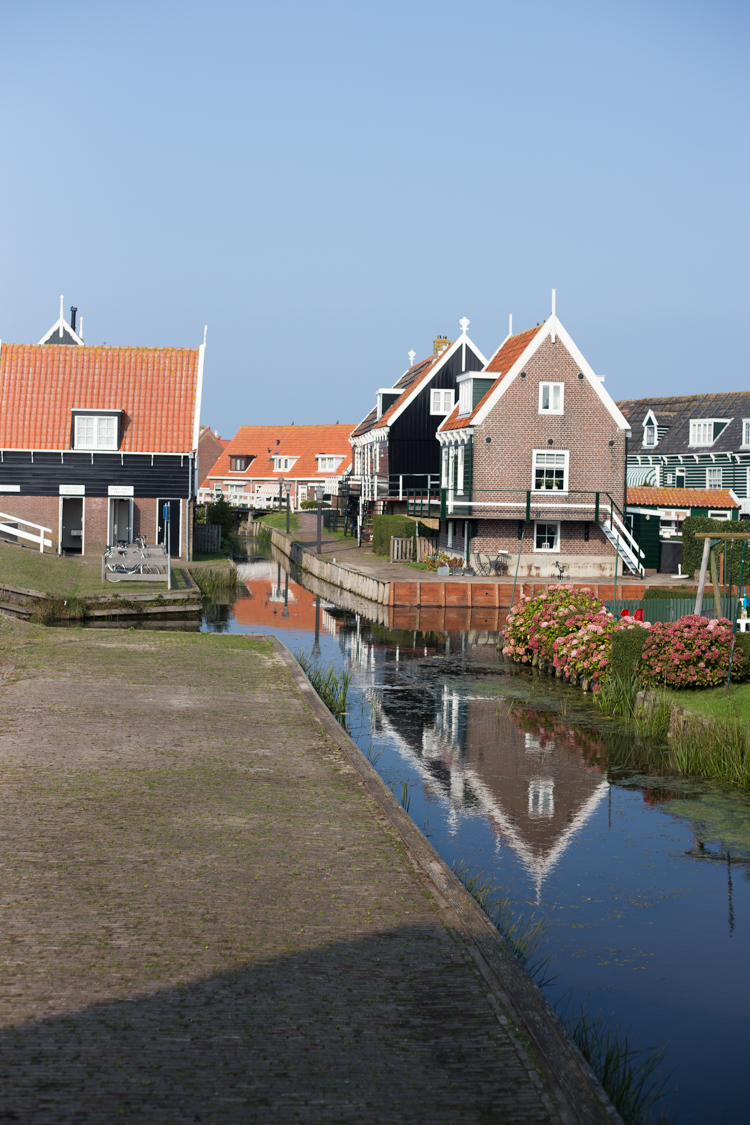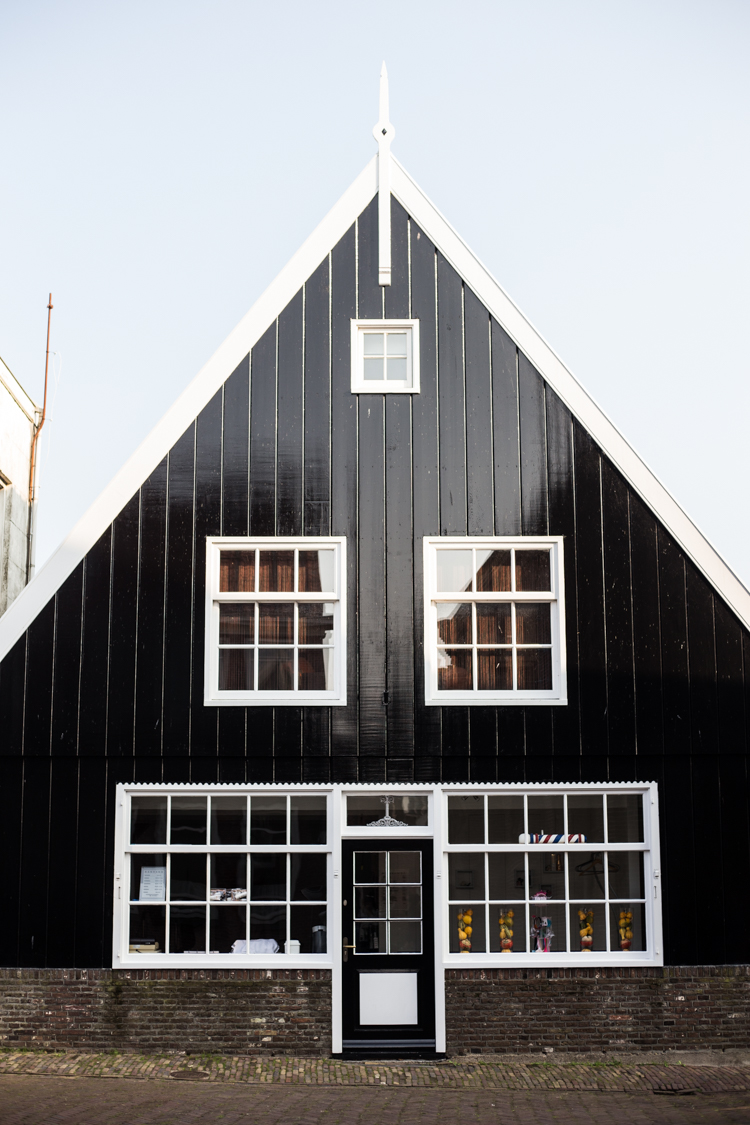 Our time in Amsterdam was really unique. I had a great time discovering somewhere new with my sisters and mom. Maybe it was the newness of the location, but I walked away more inspired by the colors, sights, architecture, and overall vibes of Amsterdam and Holland than I did the two days we spent in London or one day in Paris. It's funny too, because I think I enjoyed my time in both of those cities more– they were easier and more familiar. But, Amsterdam left me thinking and dreaming. It is definitely a place to visit.
The whole girls trip was a complete success, and I am already looking forward to our next adventure together! You can find links to all of the cities right here!
SaveSaveSaveSaveSaveSave
SaveSave
SaveSave
SaveSave