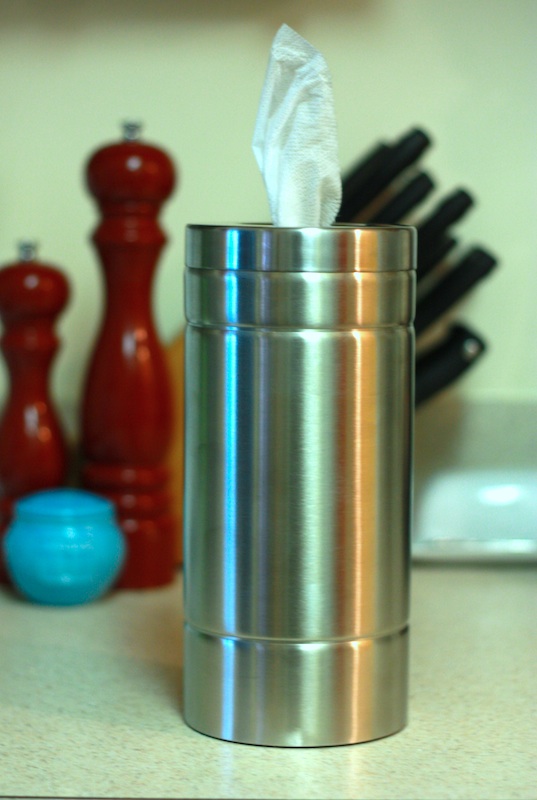 While I'm making lists, I thought I'd share another fun one: 29 things I would want for my birthday if I didn't already own them (aka 29 of my favorite things). In no particular order:
my kitchen wipes dispenser (pictured above). I looked all over for something like this to put my Clorox wipes in on the counter. Then spotted this perfect, simple stainless steel one a few months ago on eBay and got it, and I haven't seen one since! If I spot a source, I'll let you know. It's awesome.
comfy, cute, and slip-on shoes for when my hands are full of children-which is always
my everyday jeans (in chartreuse)
my dress form, makes sewing more fun than it already is
red lipstick, because I'm finally old enough
this simple necklace I've worn almost every day since I received it on my 16th birthday
my all time favorite cook book
a close second, which is more like a kitchen textbook (that I could read all.day.long.)
mini latte bowls, for my (almost) daily scoop of ice cream…and everything else
the perfect lens for this amateur's low light apartment
my iphone-we've gone through a lot together…
these silly little picks that have helped me finally floss daily!
the most wonderful baker's twine ever (I have red and black. It's a toss up.)
my new water bottles, gracias Costco
the queen of standmixers
nice, sharp knives that will last forever
this powder that adds a little texture to my thin, flat hair (thanks for the tip Cassi!)
these awesome pens that I use every single day (even their case is cool-it stands up on it's own!)
A neat book for the DIY design lover in me
how could I live without my sil pats?
Ah, wonderful water straight from the fridge
The best Trader Joe's treat ever (so sorry if you're an unlucky no-TJ's person)
This perfect book for keeping track of Milo's hilariousness
These tiny scissors (that I now hang around my neck when I sew. Indispensable:)
our no mess butter dish-it's like a little covered butter bowl!
 My trusty early morning running shoes
any of my several striped shirts
boon spoons (old and new) that make baby food a breeze!
I'm a grinder not a shaker-these are the best
Happy Birthday to me! Turns out I already have everything I could possibly need. And what I love most of all is the TIME I get to spend with my boys enjoying all of the above and all that life offers.
Today was the best. We enjoyed traditional birthday aebleskivers at home, ate cupcakes and played at the park in Georgetown, met Missy for empanadas in Dupont Circle, had a little quiet time (otherwise known as nap time-on days that Milo actually naps:), braved a movie with the boys, ate a wonderful picnic style dinner of all of my favorite foods at home, sang Happy Birthday, made a wish, and devoured chocolate cake and vanilla ice cream. It could not have been sweeter.
 I've got some fun things planned for next week, so enjoy your weekend and check back in Monday!
xoxo