3 Simple Ways to Celebrate St. Patrick's Day
I don't really know what has happened to this year, but all of the sudden we're almost a quarter of the way through it and St. Patrick's Day is upon us! Even though I really love celebrating, I don't go over the top with decorations or themed crafts. We do have a fun breakfast tradition, and I love adding another simple activities to the day to make it feel special without being stressful. Here are three simple ways to celebrate:
Themed Pancakes
We don't make the eggs or milk green, rather turn the pancake breakfast itself festive. In fact, I usually call St. Patrick's Day "St. Pancakes Day", because that is one easy tradition I can get on board with! We've done a little something different every year, but I think different rainbow-themed pancakes have been my favorite. I'll probably do a twist on  this, this year, by adding a rainbow of fruit right on top of a wide, buttermilk pancake.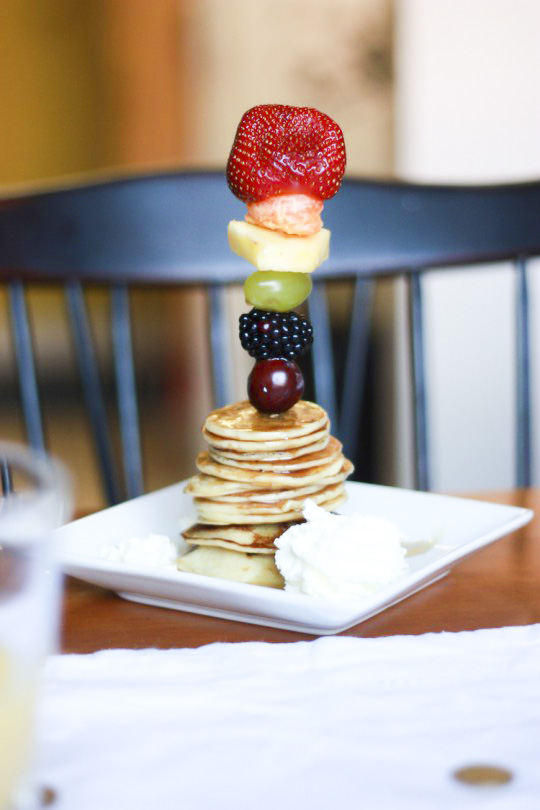 Luck O' The Dice Card Game

I just heard about this newly created game and was excited partner with them for this post. I mean, leprechaun cards, gold and silver coins, and a handful of dice? My kids were in heaven! At first glance, there seemed to be a lot of steps to each turn, but once we got rolling it the instructions made sense and the turns were quick and fun. I love that it takes a little bit of strategy, a little bit of luck, and a little bit of risk to play well. (And it doesn't hurt that I won the first round!) Milo is old enough to play his own hand with some help, but the other kids got to play with us in teams. Or play pretend with her own cards and coins, in Plum's case. We love good games to play with friends, and this one is going to be a year-round favorite! In addition to being really fun, super well-designed, and a great game for St. Patrick's Day , I love the charity arm of the company, Dice for Dentistry. They donate a percentage of the proceeds from each game sold to Smiles for Life, a charity that provides dental care for children in developing countries.  I'm giving a couple games away today over on my instagram account. Also, they're also offering free priority shipping so your order can arrive in time for St. Patrick's Day! You can order it on Amazon.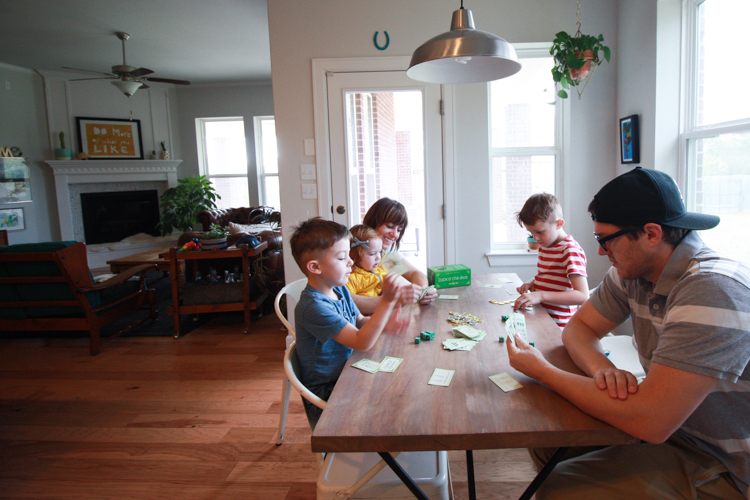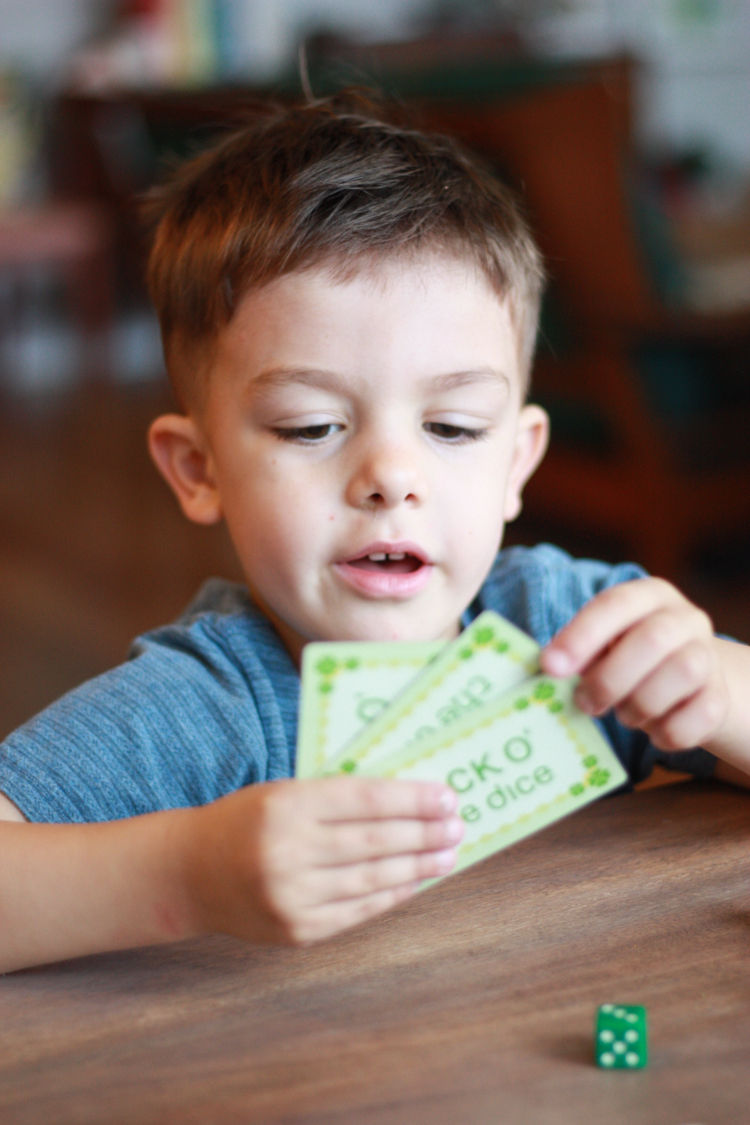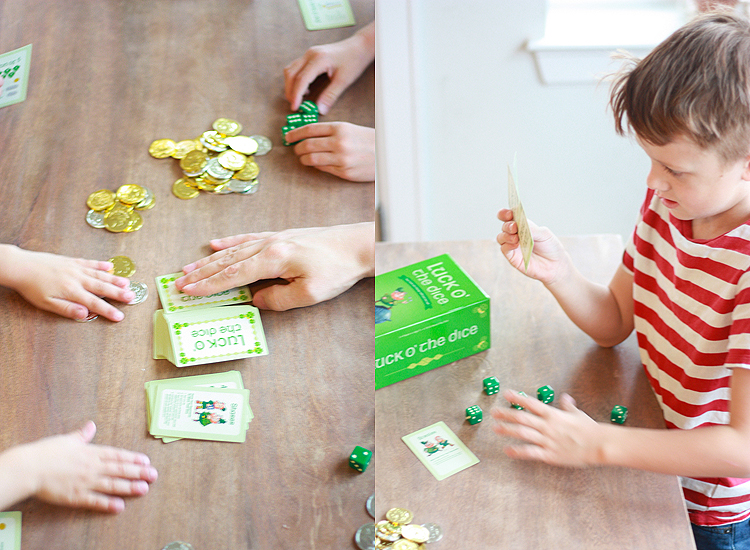 Herb-Infused Drinks
Like I mentioned earlier, I'm not really excited about green milk for St. Patrick's Day. I am, however, always excited about fresh green herbs piled into my drinks, like this simple homemade lemonade. To make it even easier, grab some fresh herbs and use store bought lemonade, or even just water! Cucumber and mint is a favorite green-infused water, and the lime in this spicy ginger soda would go well with some woodsy rosemary, too. Adding some leafy greens looks and tastes better, and is just as simple to make so you can join in the festivities, without adding to your to-do list.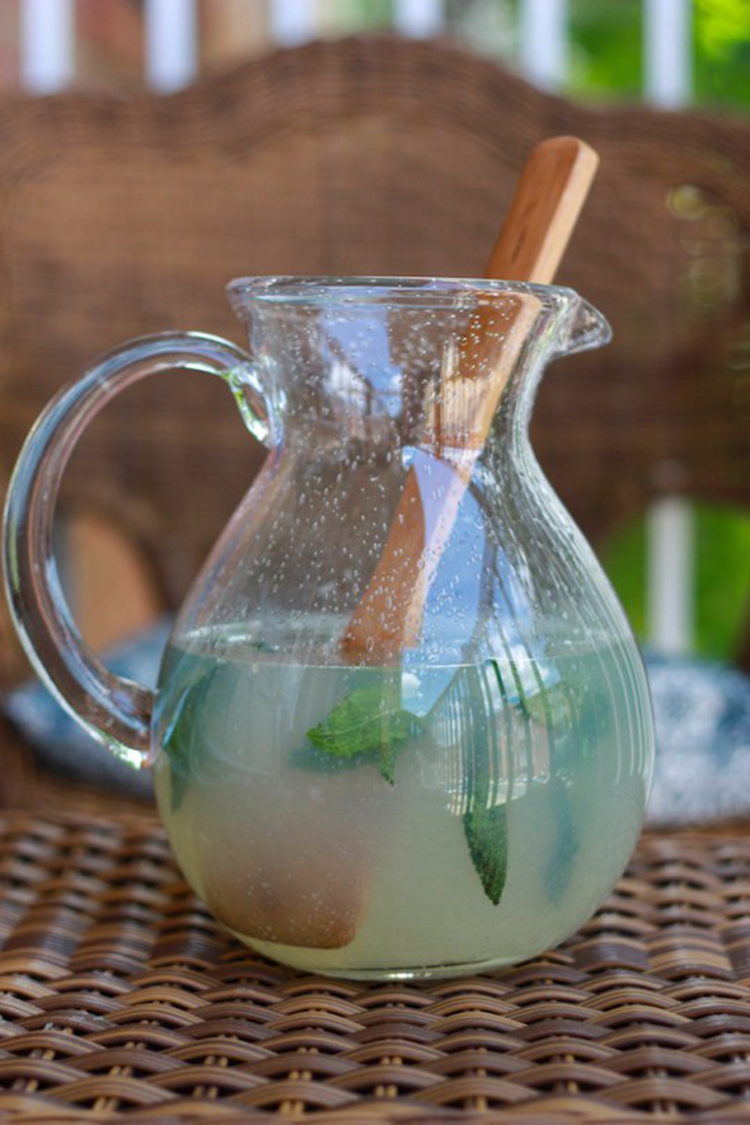 Happy St. Patrick's Day! I hope you have some fun, and enjoy these simple ways to celebrate!