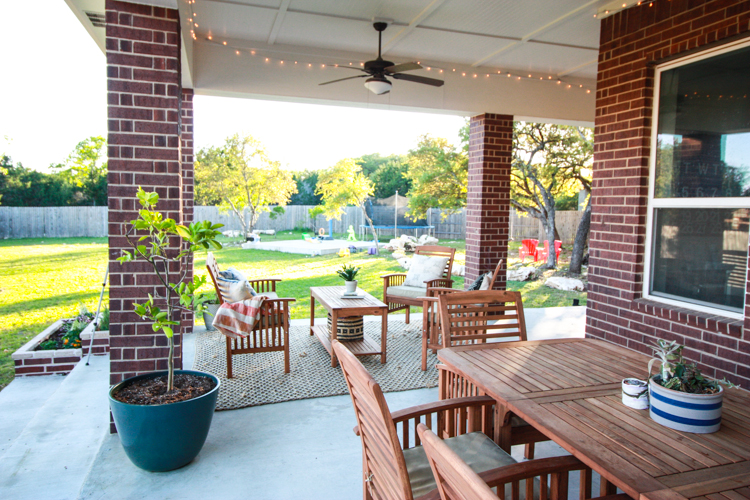 I've always loved being outside, whether on a weekend camping adventure, or simply tucked onto a patio chair with a good book. One of the major factors in our move to Texas from the DC area was being able to have a home with a large outdoor space, and the weather to be able to use it often. We chose a nice big lot, built a big covered patio, and then for the last two years it's sat virtually empty. I didn't really know where to start! I finally pulled it together in the last couple of weeks and am so excited to partner with Walker Edison to share my 5 Tips for creating the Perfect Patio.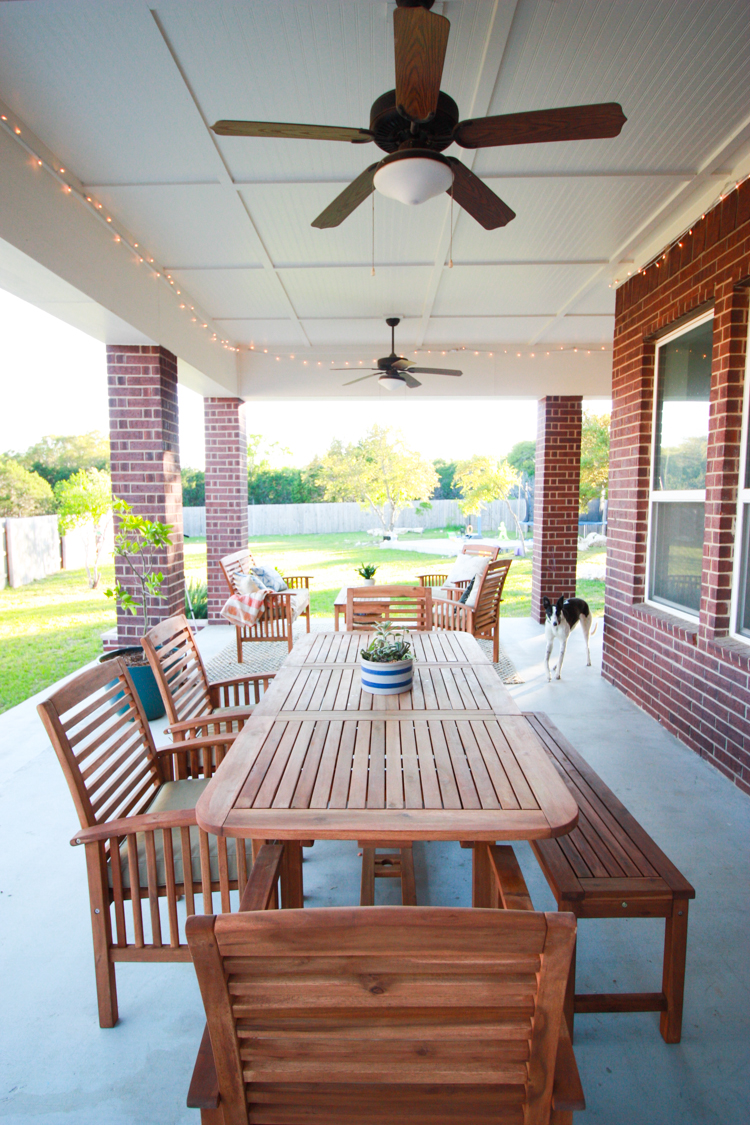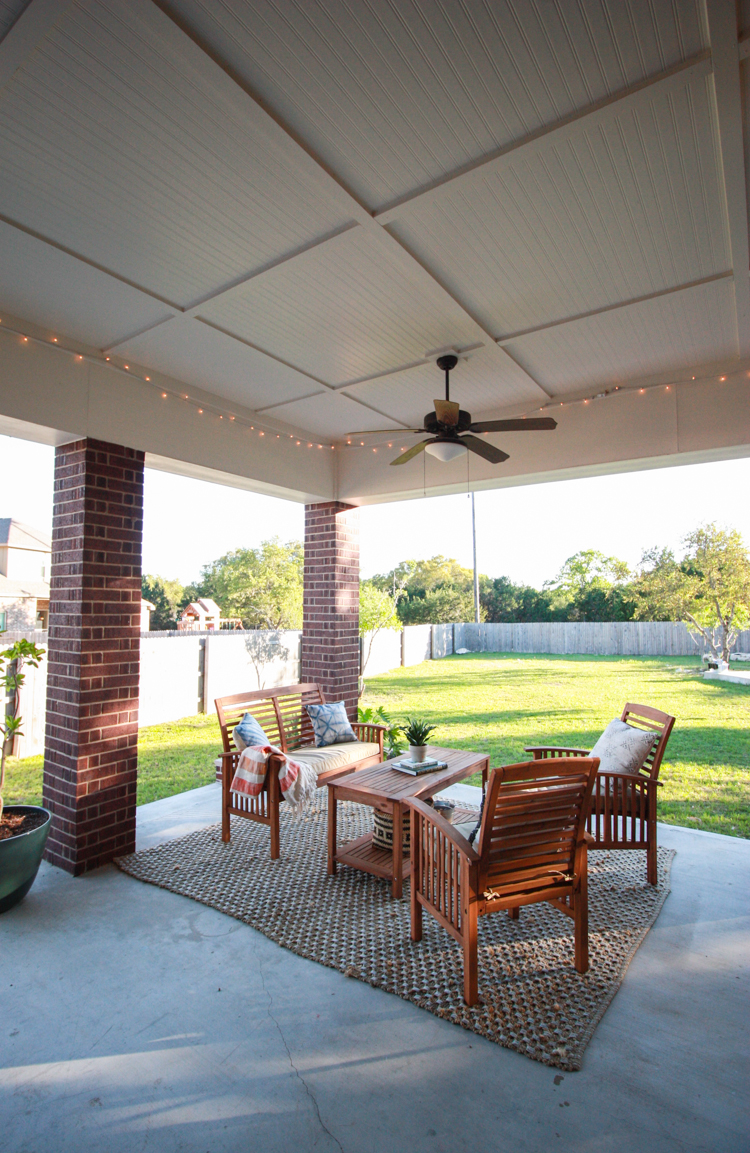 1. Start at the bottom, and work up
Using an outdoor rug works wonders to define the gathering space, create comfort, and make the patio decor feel intentional. Starting with a rug gives you a specific area to work within, because outdoor spaces can feel really overwhelming. Inside, a 10×10 room feels large, but a 10×10 area outside is dwarved by the relative space.
There are outdoor rugs at any price, size, and made of all types of materials. This one is natural jute, so it's not suited for extremely wet conditions, but since it is protected by the roof, it does great here. Sisal or polypropylene are options for a non-covered patio space. They both will hold up well in any type of weather.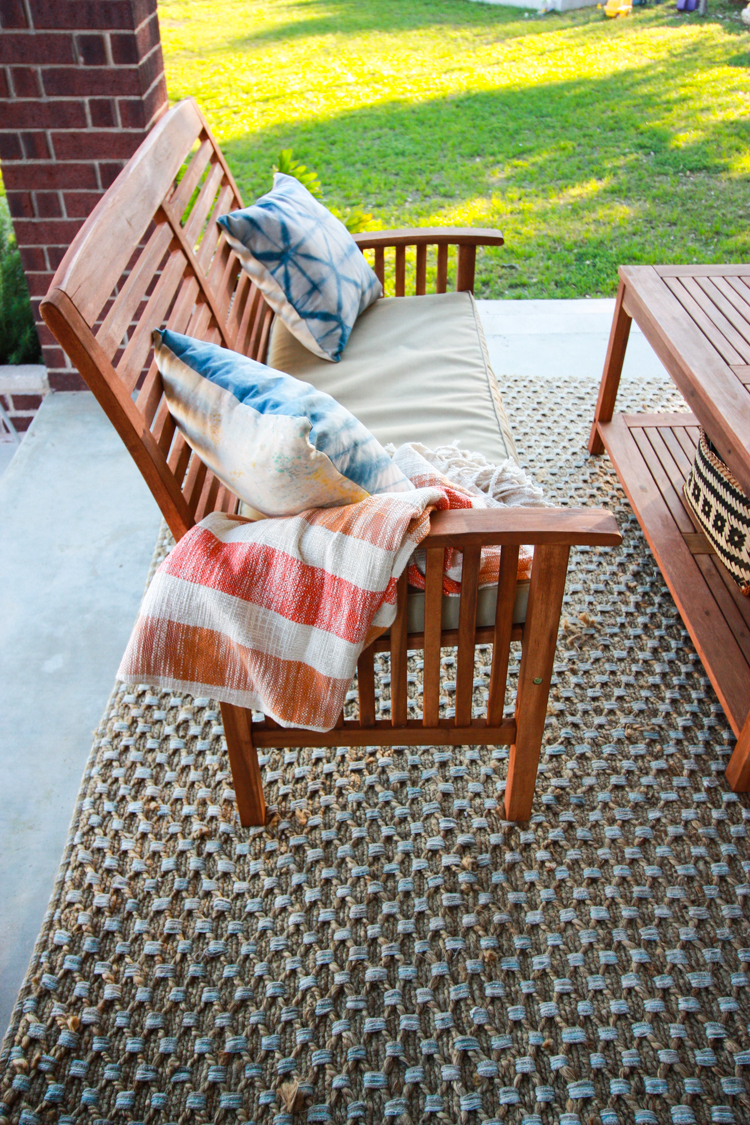 2. Add furniture suited to your specific needs
Our patio serves not only as a hang-out spot for mom and dad, but also a gathering area for the whole family, our formal dining room, and the primary entertaining space for the house. We really needed two separate, but related zones on the patio: a sitting area and the dining space. I fell in love with the Walker Edison Sundowner line of patio furniture that fit both needs beautifully.
The 4-piece conversation set has two armed chairs, and an armed bench, all that come with weather-proof cushions. Then the coffee table brings them all together. I love the simple, modern design and the durable construction (I put it all together myself in an afternoon.) The dining set comes with 4 chairs that are identical to the conversation set, and I love the idea of being able to pull them all together if needed on occasion. I also love that it has the bench, because we often are squeezing lots of little bodies in a row when we have friends to dinner, and more fit along that bench than would on a set of chairs. The table itself has a fold-out leaf system that I intend to keep out all the time, but it's nice to have the option to change sizes.
When you're choosing patio furniture, consider what you want to DO in the space, and make sure that what you find allows for that to happen easily and often. Do you need lots of seating like a sectional? A fire pit? Thick cushions for extra comfort? Stackable chairs? Figure out those needs, then find furniture to fill them.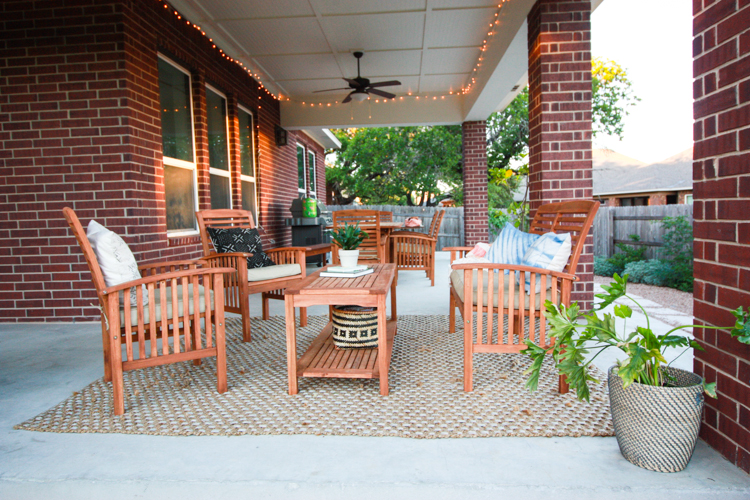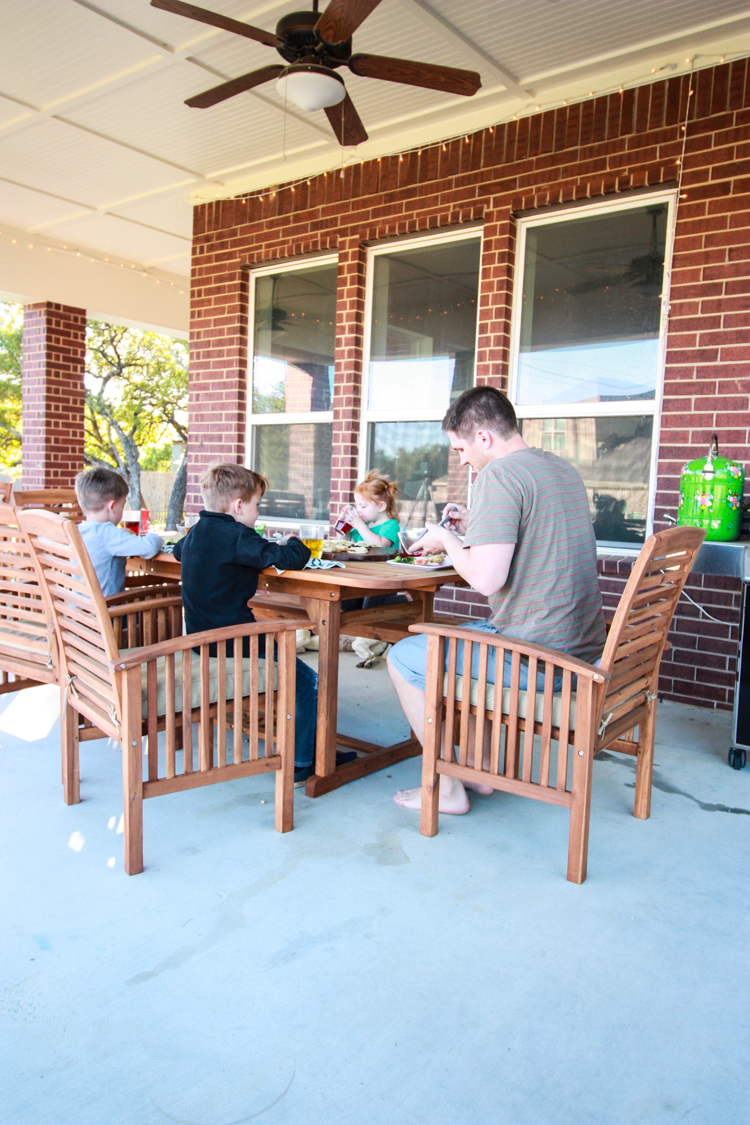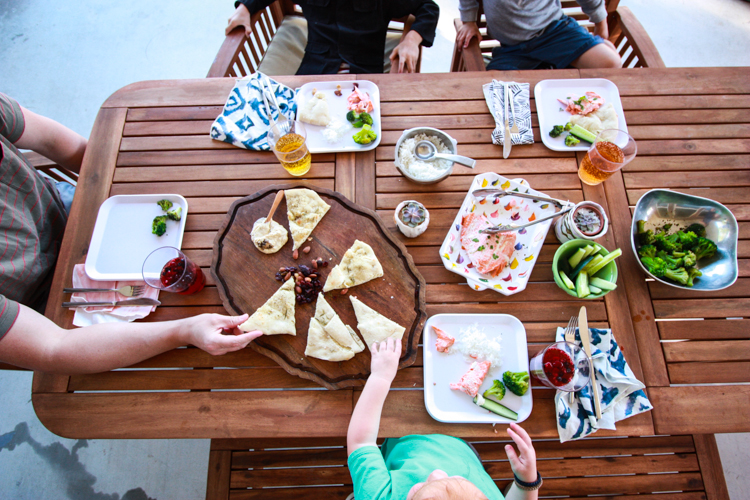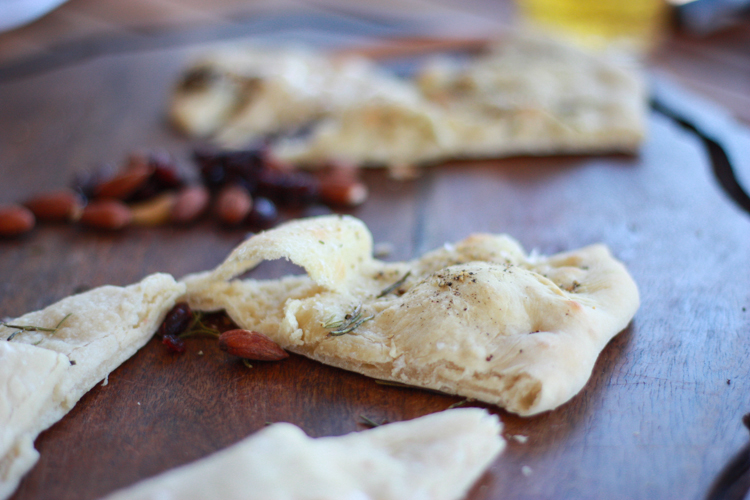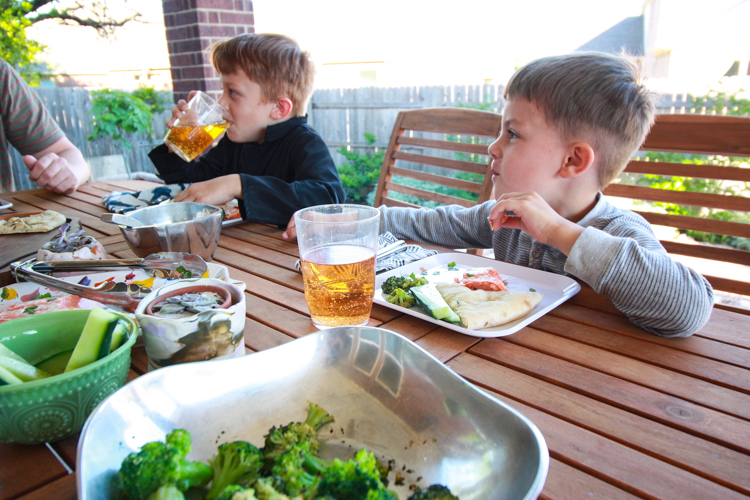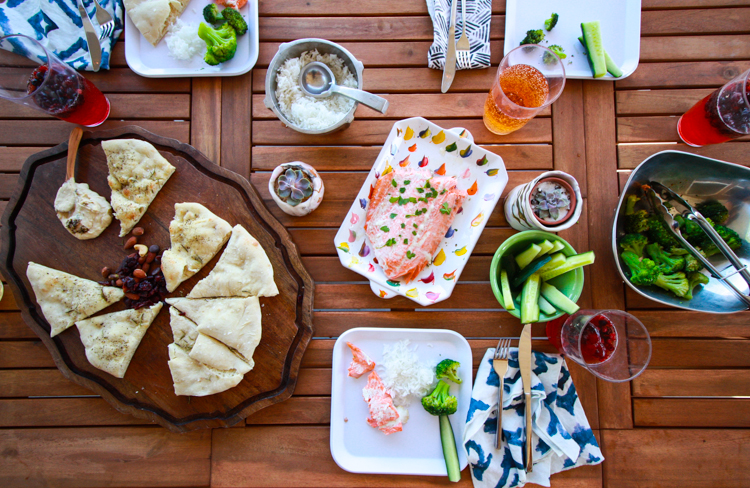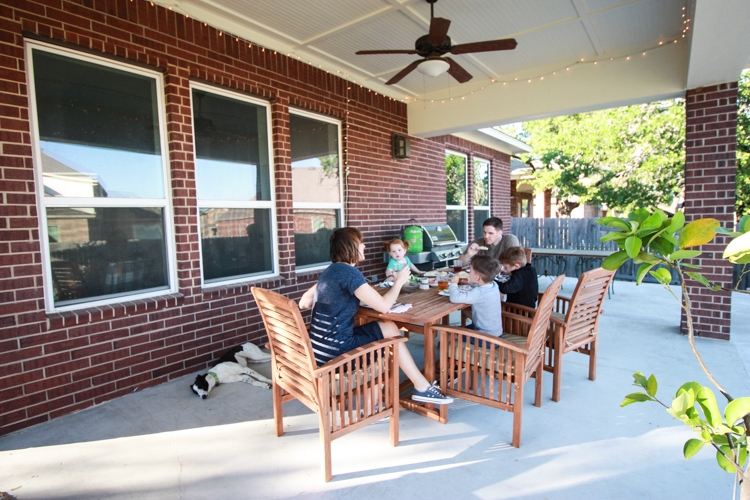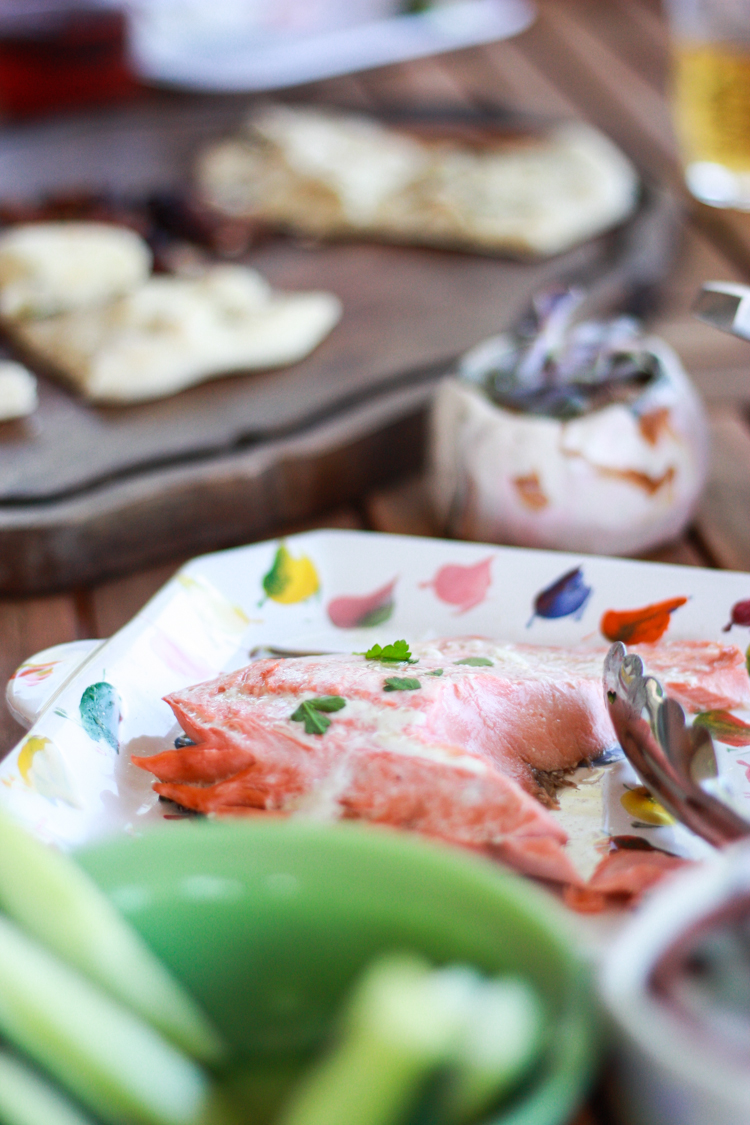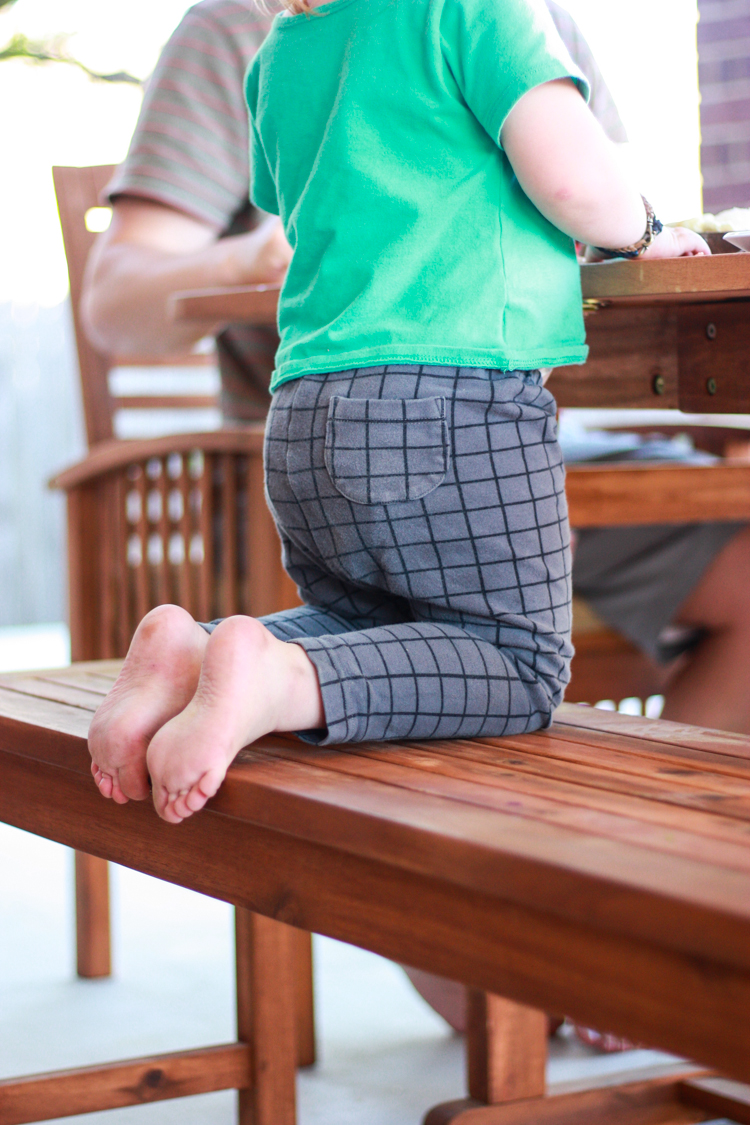 3. Layer textiles and plants to add coziness
Once you have the rug and furniture covered, you can think of your outdoor space the same way you would think about an indoor space. Add a pillow everywhere that will be comfortable to have one. Make sure there is a cozy lightweight blanket within arms reach for when the sun goes down and the temps drop. You'll start to feel the space come together with these small details. For uncovered spaces, use weather-proof fabrics like Sunbrella, and consider keeping the throw in a clear plastic box beneath the table or bench.
Use potted plants outdoors just as you might inside (here's a whole post I wrote about decorating with plants). Don't just rely on the lawn and garden beds to bring life to the outdoor space. Adding some potted plants here and there really makes the space feel thoughtful and planned. Not to mention how much easier it can be to find an outdoor plant that will live easily! I have a few outside, including this sweet little guy in my DIY face planter, and a persian lime tree in a huge pot.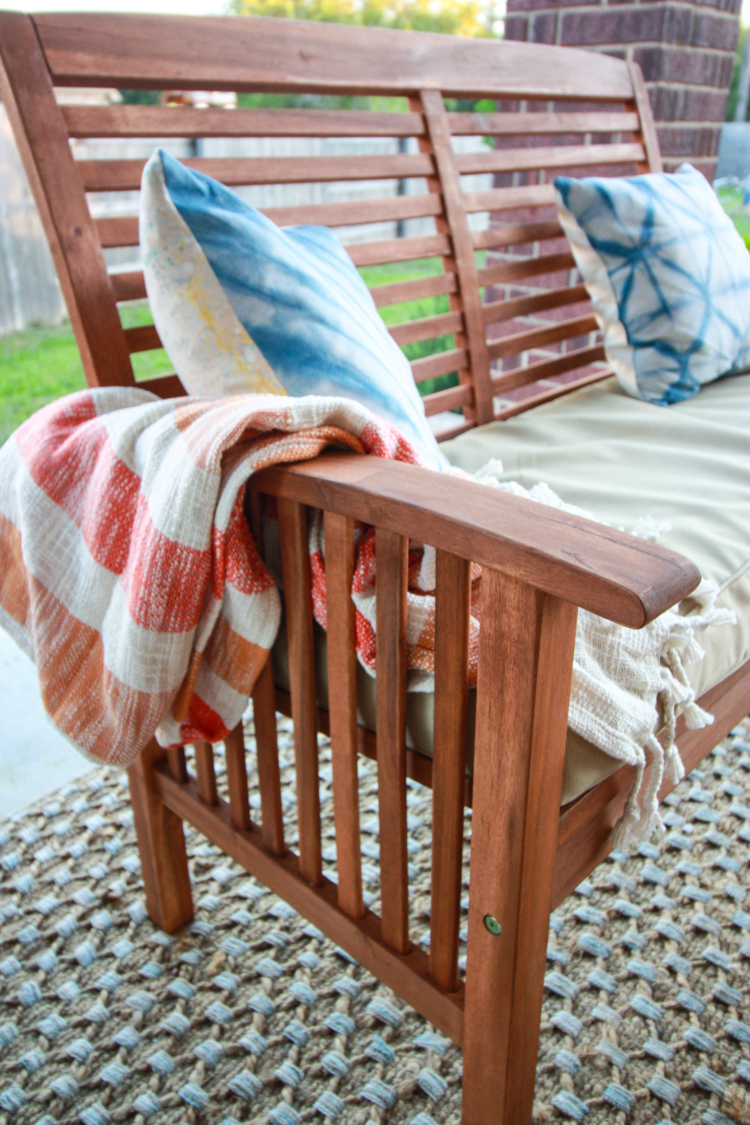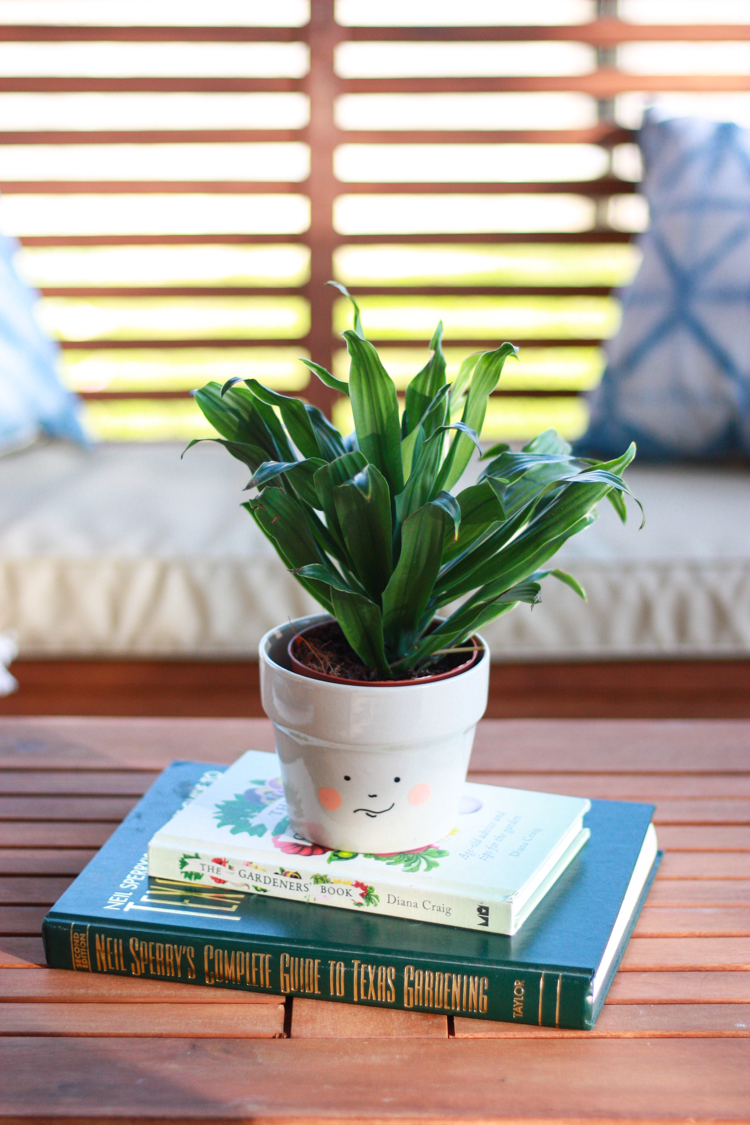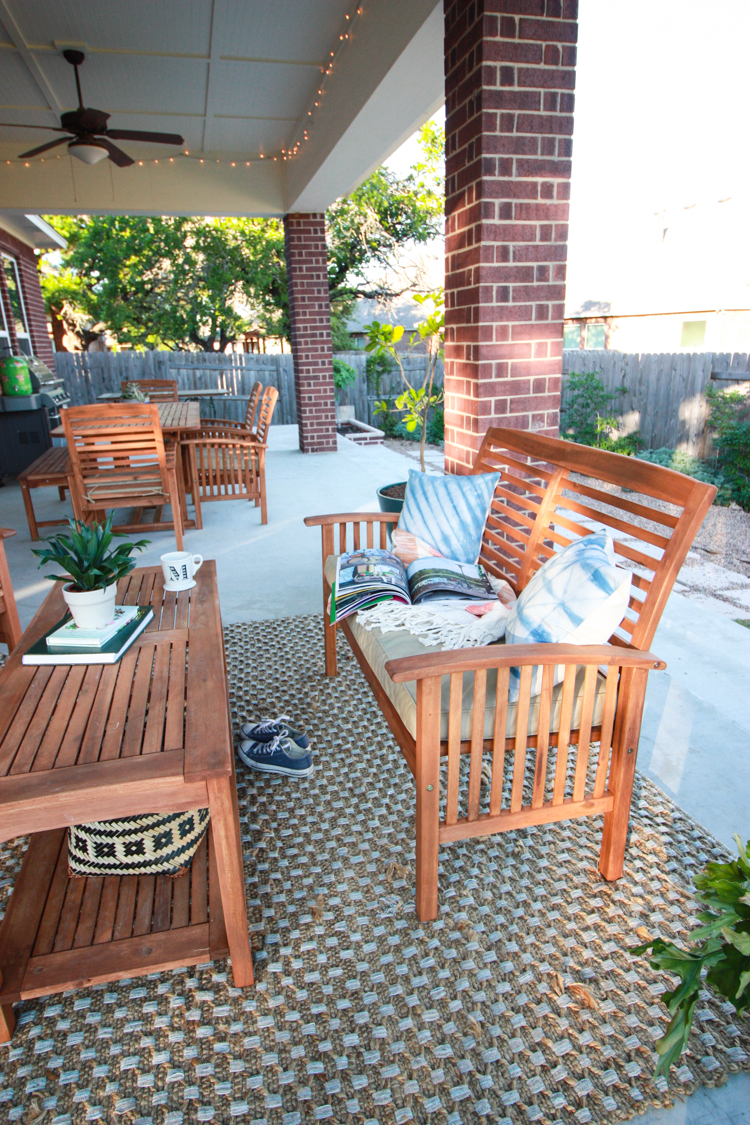 4. Have Activities on Hand
If you want to get the most use possible out of your patio, limit the need to go back indoors! I stashed some cute little puzzles, sidewalk chalk, sunscreen, bug spray, and some favorite gardening books outside under the table so that we can come out and stay out! Again, if you're working with a non-covered patio, use a plastic box with a lid to store your activities and tools, rather than an open basket. You'll still have the benefit of having everything nearby, without worrying about them being ruined in the rain.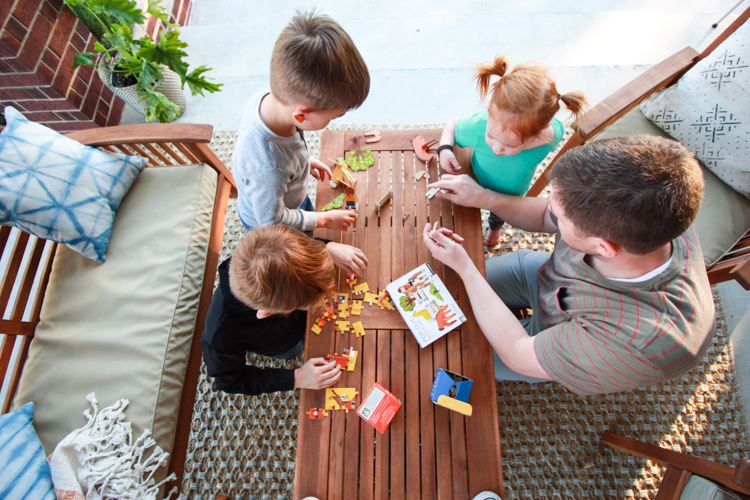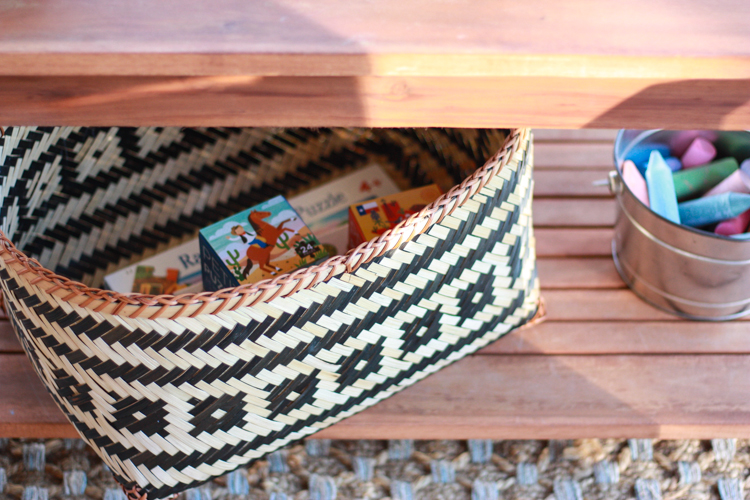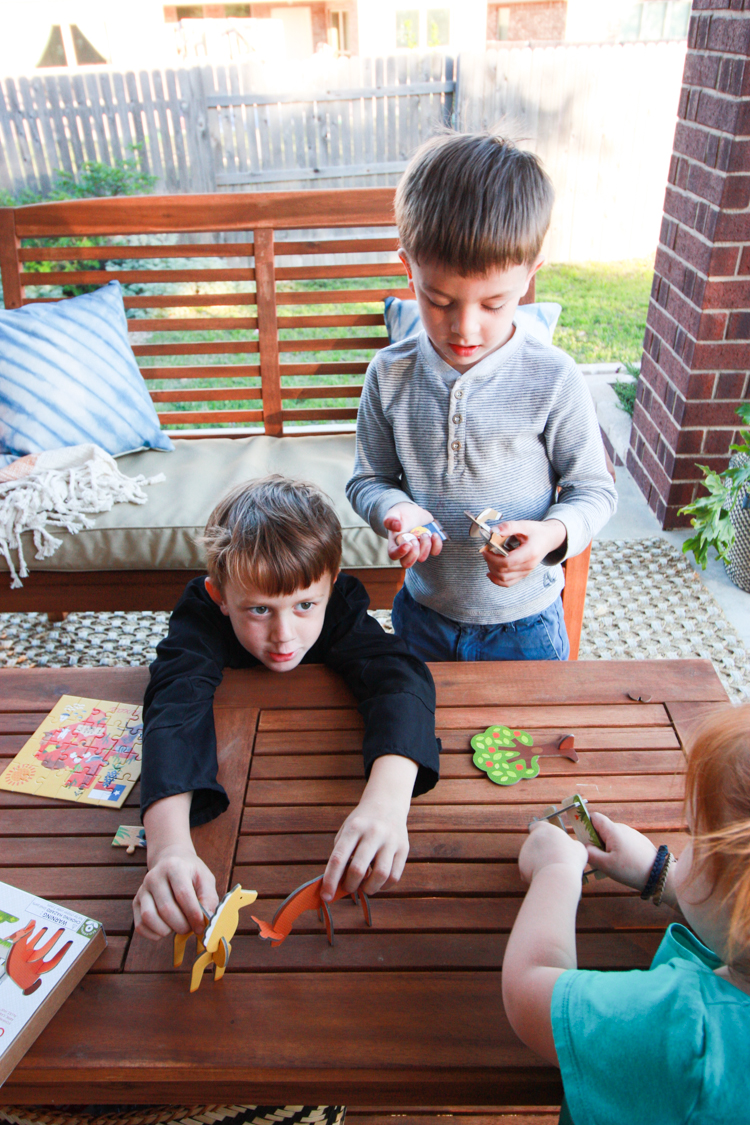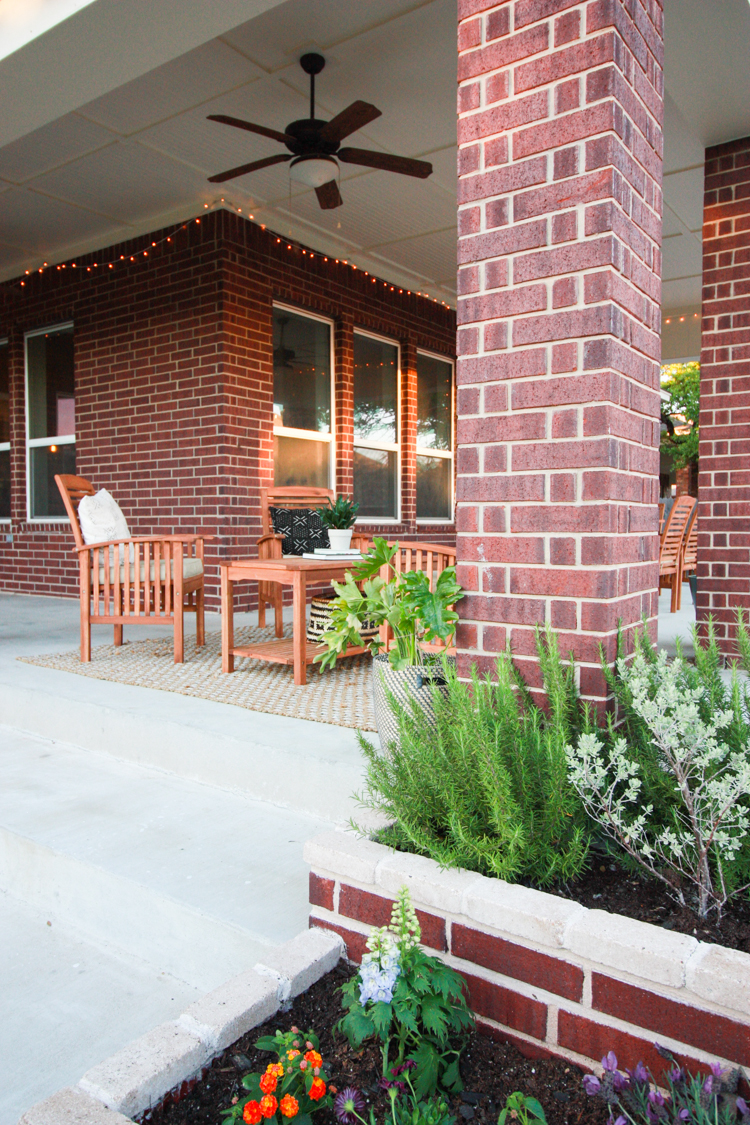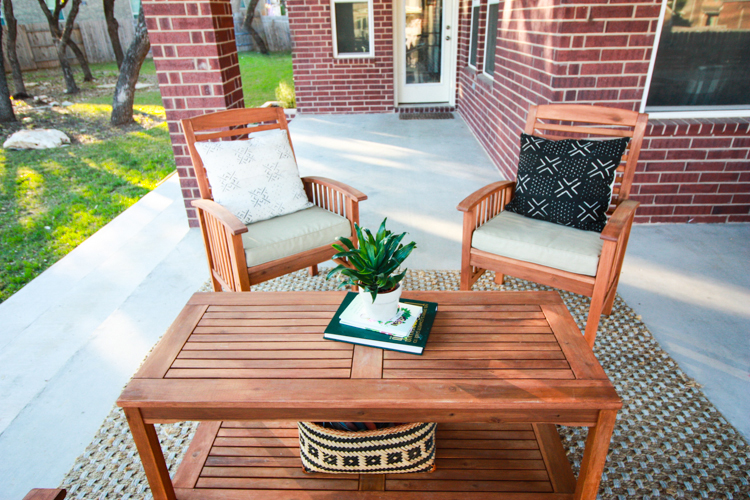 5. Finish it off with lighting
Every outdoor space needs some sort of lighting. It's as much fun to hang out on a patio after dark as it is while the sun shines, and that can easily be achieved with a simple string of twinkle lights, a strand of outdoor bistro lights, or even some hanging pendants in the trees above your space.
We have overhead lights with fans on our covered patio, but I still hung twinkle lights around the perimeter to add some magic and coziness to the space. If you are working with an area without an electrical outlet, consider solar powered twinkle lights!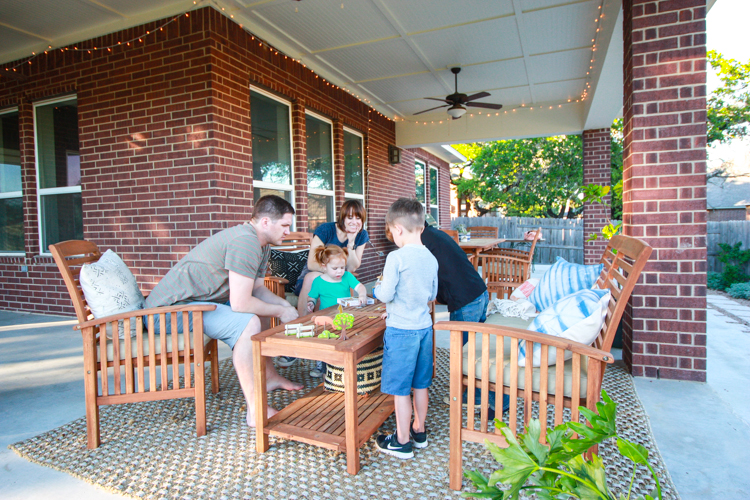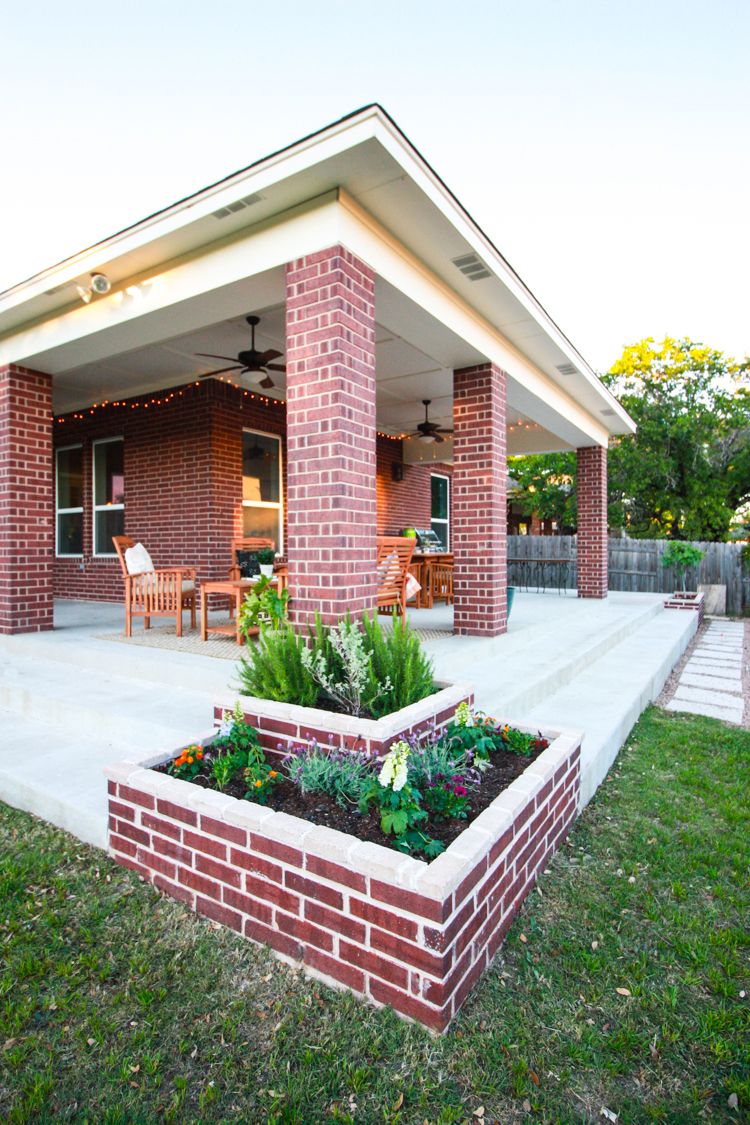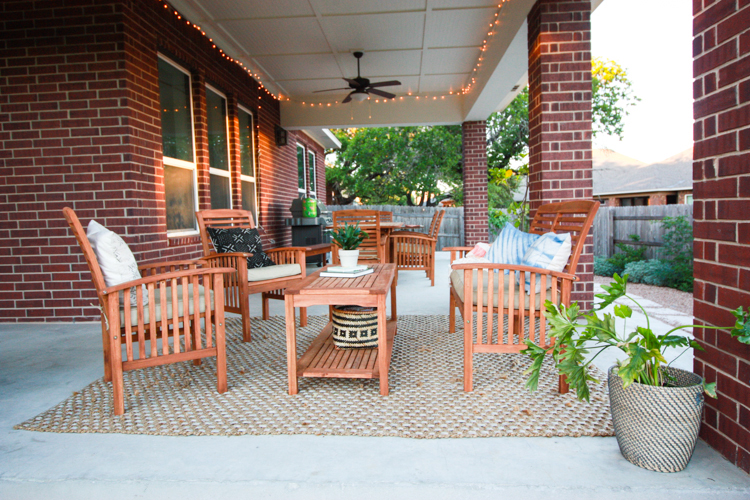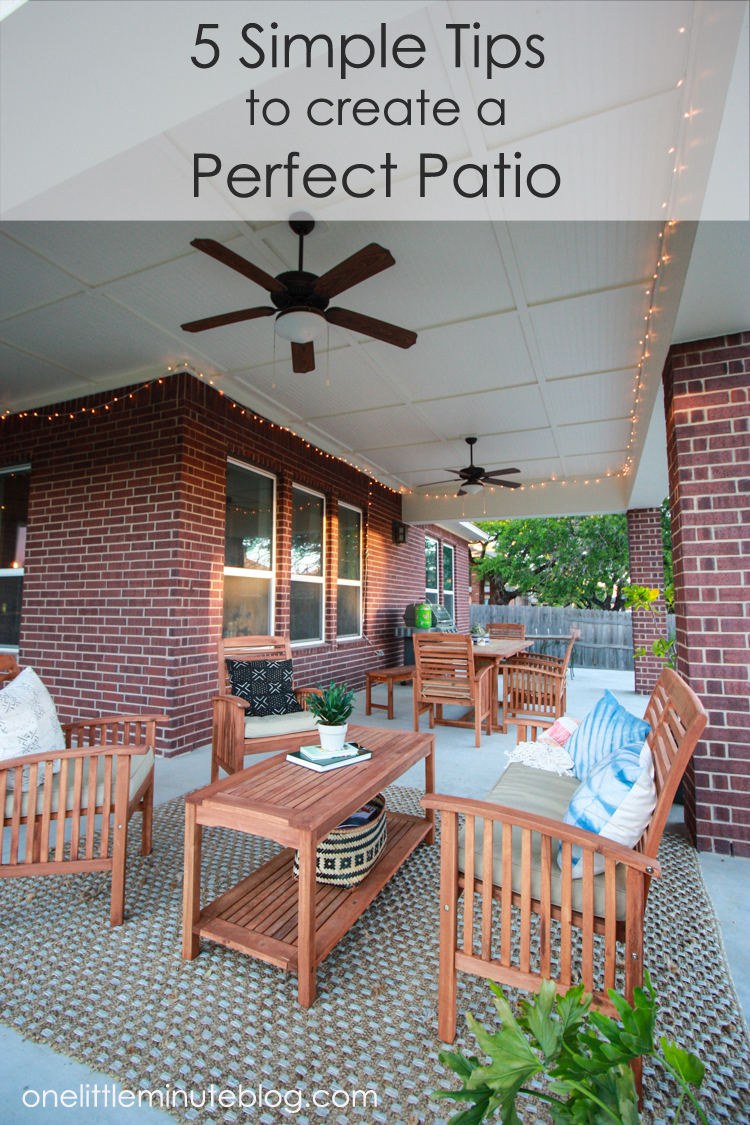 When you start with a great rug, add furniture to fit your lifestyle, cozy it up with layered pillows, textiles and plants, make sure you have activities on hand, and then finish it off with some fun lighting, you will have created the perfect patio for you!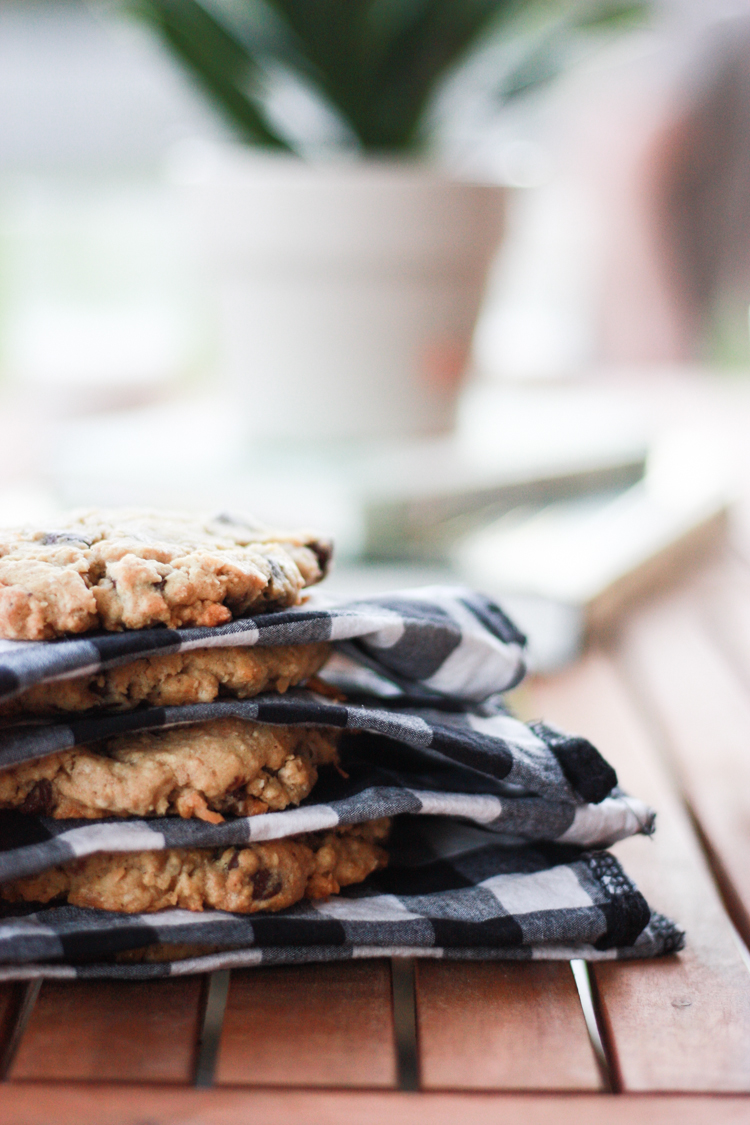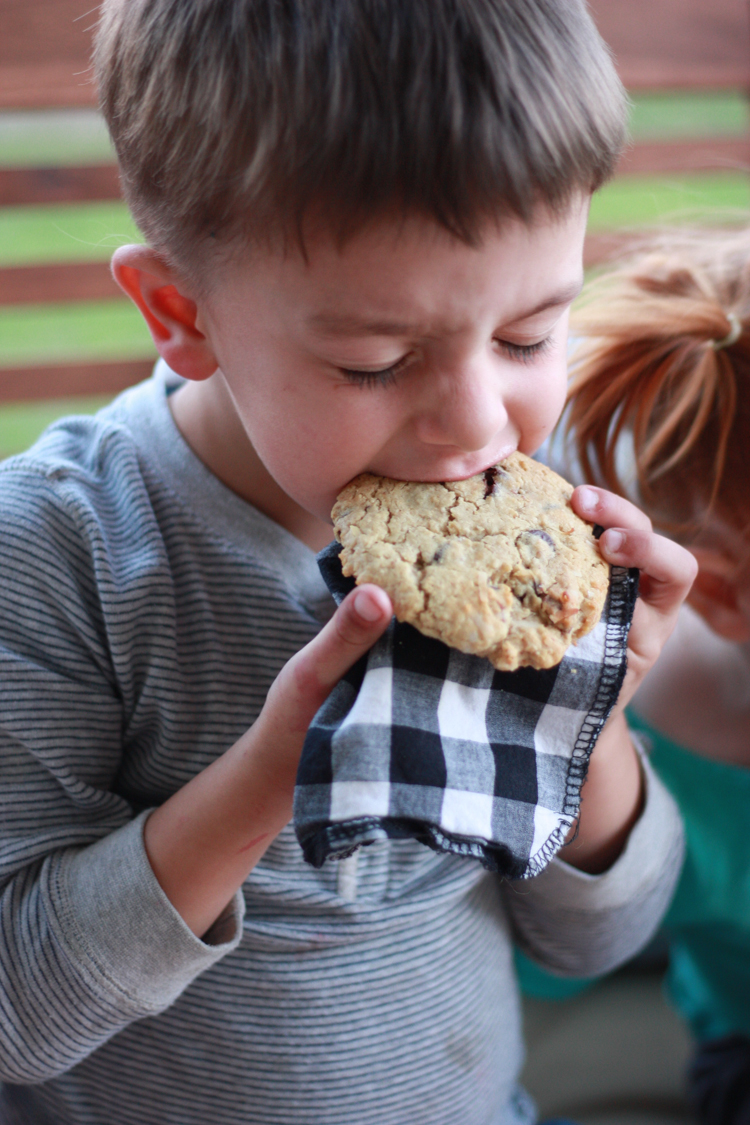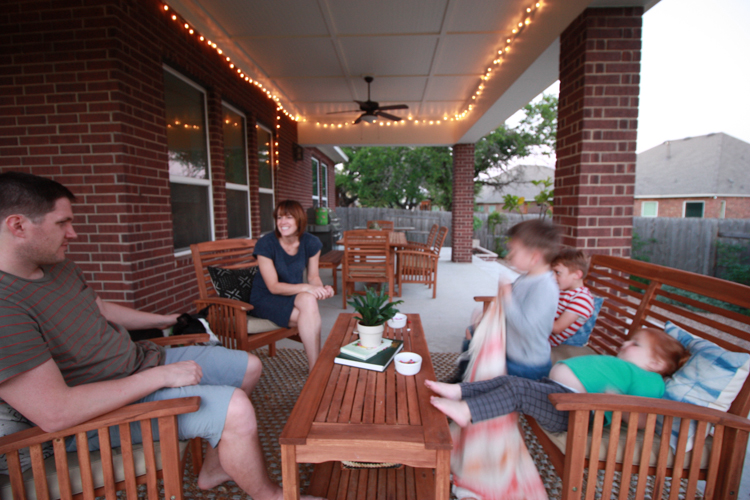 You and your family will be able to enjoy time together outside throughout the upcoming spring and summer, and if you live somewhere like us, all through the year!  I have already have been wandering outside more to chat on the phone, have an afternoon snack, or snuggle up on the bench while I watch the kids jump on the trampoline. The patio has become a perfect gathering space to sit and enjoy our favorite chocolate chip cookies and wind down before bed.
Cheers to creating the perfect patio which bridges the inside and out, and creates more space for togetherness and memories.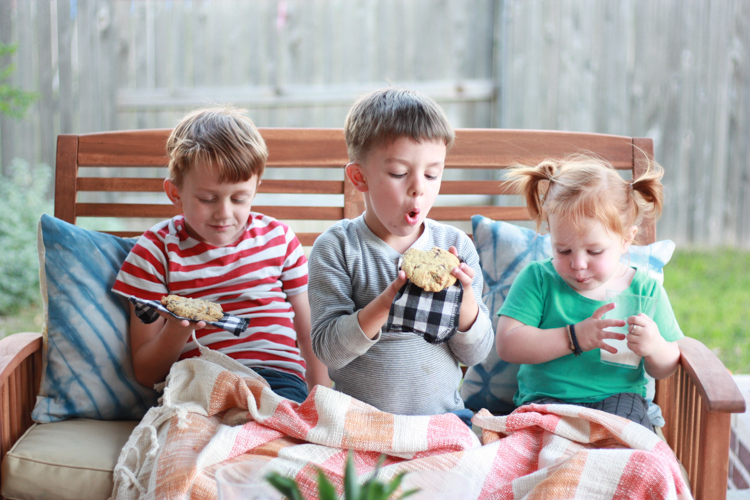 Thank you to Walker Edison for sponsoring this post. All opinions and ideas are my own, as always. And thank you for supporting the brands that support this blog!