Introduction
With the kids home from school all day in the summertime, we are always on the hunt for simple,  active family adventures. Hiking on some of the many easy trails around Austin is a great way to get out that summertime energy and enjoy the beautiful outdoors (usually before noon or in the early evening to avoid the heat).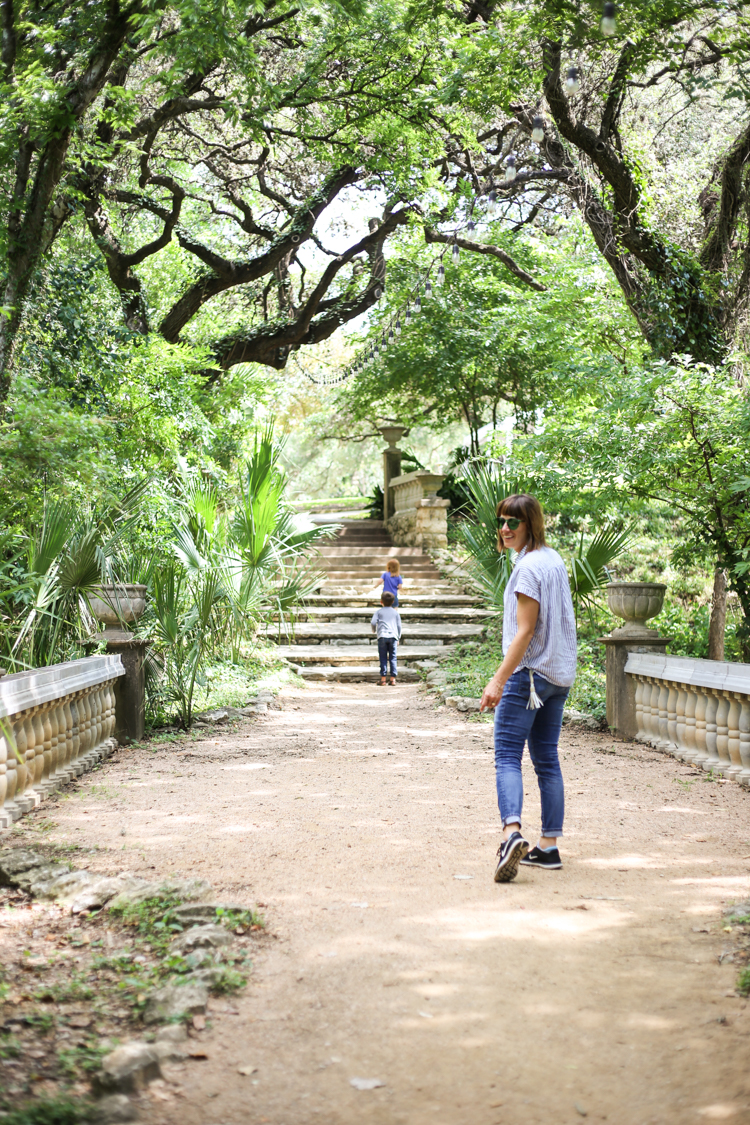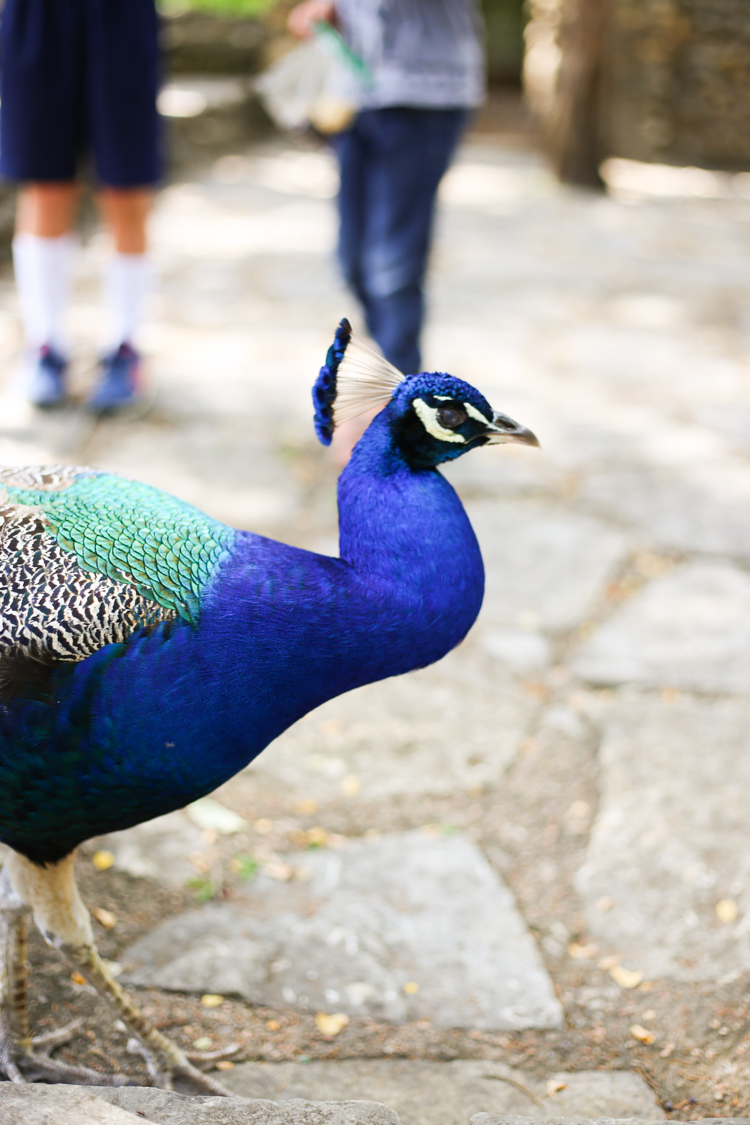 Taking my three young kids on hikes is a great way to spend quality time together. I'm always amazed by where their imaginations take them as sticks turn to magic wands and birds and squirrels become friends. Of course, their little legs have a different pace, strength, and endurance level than an adult, so we stick to trails and pathways that are short, beautiful, and offer some sort of unique adventure along the way.
Of course, I always pack some snacks, drinks, and often a picnic to enjoy along the way. What are summer activities without summertime snacks? I like to create a fun trail mix of crackers, dried fruit, and chocolate chips for them to enjoy on the trail.
If we're going to stay for a picnic, and it's rare that we don't, I pack simple options like cheese sticks, fresh fruit or applesauce cups, and some rolls. The kids like to pick from the different options, and everyone seems to enjoy a smorgasbord style. We always have a blanket or picnic mat in the car to be able to throw down, and rather than packing everything along on the hikes, we often eat near the entrance either before or after.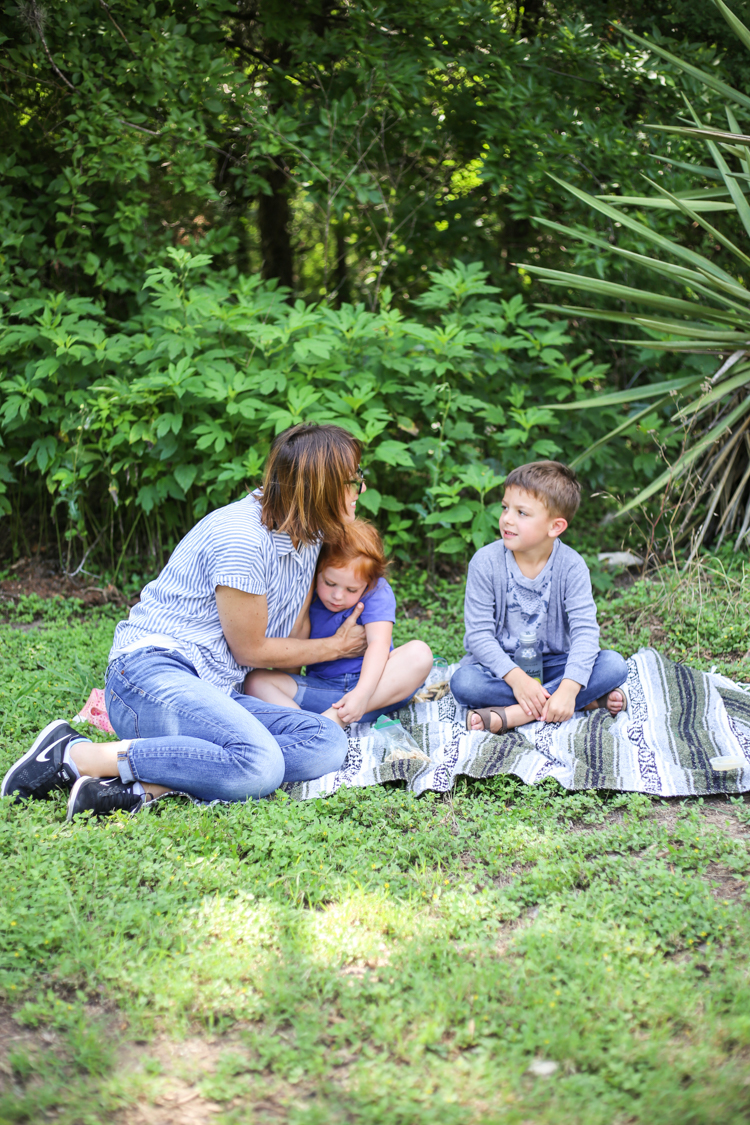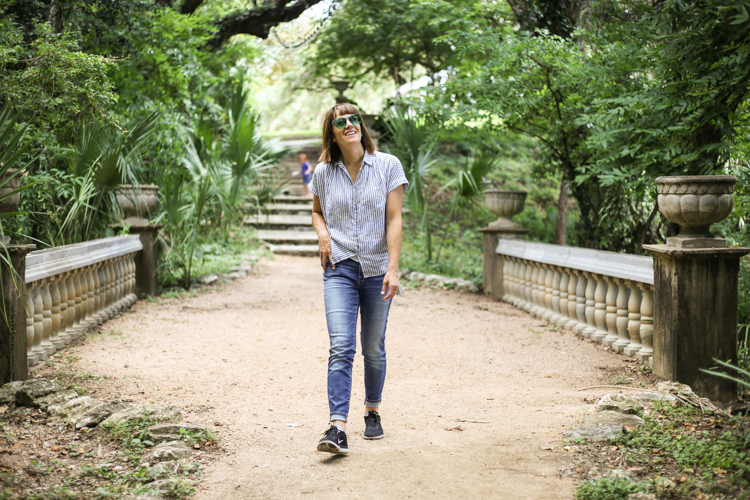 Where to take the Family Hiking in Austin
These are all super family friendly hikes, and would even be easy with kids young enough to need to be carried, or worn in a backpack the whole time. I usually have at least my youngest in my arms or on my shoulders for part of any hike, and all of these recommendations are perfect for little hikers-in-training.
1. Mayfield Park and Nature Preserve
This historic home and grounds is an exciting retreat, with resident peacocks roaming the grounds and bullfrogs lounging on lilypads. The surrounding nature preserve has miles of easy trails through the trees, down near the lake, and crossing a couple small streams. There are enough different pathways, you could come several times before seeing it all.
2. The Contemporary Austin at Laguna Gloria
With huge modern art sculptures scattered throughout the grounds at Laguna Gloria, there is always something interesting around the corner. Nestled right up against the lake (literally next door to Mayfield Park) the flora feels almost tropical. The incredible gardens, hard-packed walking trails, and myriad new sights make this one of our family's favorite places to visit, picnic, hike, and relax.
Mount Bonnell is on every single must-do Austin list for a reason: it's a wonderful, easy hike with a magnificent view of the city. The half-mile trail (or optional hundred or so stair steps) to the summit both get you to a paved overlook with historic information as well as a couple concrete picnic tables. We usually take the rocky trail up so we can admire all of the incredible lake-front homes and beautiful view, keeping the kids well away from the cliff edge. Then, on the way down our boys take us on one of the "secret passageways" or lesser-worn trails that wind down through the trees to the street.
Winding in beneath Capitol of Texas Highway, this trail system feels a little out of place. And then you get down into the trees, down near the water, and feel like you're a hundred miles away from civilization. We like to park off of Old Spicewood Springs road, and head onto the trail there. Although, there are parking areas and trailheads in several different places along the Bull Creek trail.
5. Austin Nature and Science Center 
Although not technically a hiking trail, we love the winding pathway around the pond and to the dinosaur dig section of the Nature and Science center located in Zilker Park. Especially for really young kids, this will feel like a "hike" and was the perfect place to start breaking our kids into the idea of hiking. Knowing they get to play in the sand at the dinosaur dig is great motivation to keep those little feet moving, and we love to stop in and see the visitors center, and the live animals on the way out.
This is another really short hike, but so worth the trip. The view of the Pennybacker Bridge is really quintessential Austin, and there is a great, flat area at the top to sit and rest, picnic, or take photos. Parking is a little odd, just along the side of Capital of Texas Highway, on the right just before crossing the bridge. The trail heads up the rocky hill and is a 5 minute scramble to the top. Once up, you can follow a little trail along the side of the cliff to the right for a short distance.
We will miss all of these favorite places to go hiking in Austin as we move to Richmond, VA this fall. We will be excited to return and visit when we can!