When we started out on the no buying things experiment, I got a lot of questions about how we would handle celebrations such as birthdays. To be honest, I wasn't quite sure. That was part of the experiment. Last week we celebrated my birthday, and we started to figure it out a little bit!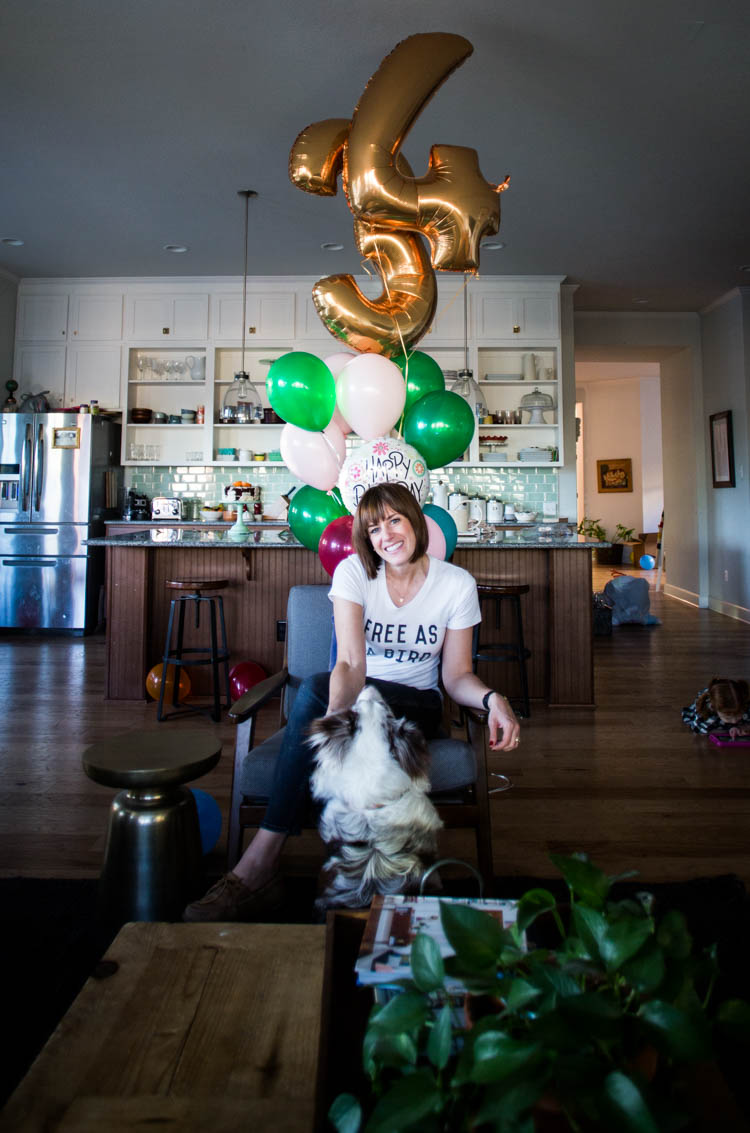 With my mom in town the week before last, showering us all with gifts, we had already worked through some of how we felt about receiving gifts with gratitude and grace. It helped set me up for this week and knowing that gifts maybe involved. And they were! They were lovely.
My in-laws, knowing that we are striving for less stuff this year, sent over a replacement slow cooker. They saw on my Instagram stories a few weeks ago that the handle of our old one had finally broken after 10 years. In addition, that older pot, which had been a wedding gift, was too small to reasonably feed our family. I was hugely grateful for a new, larger, beautiful slow cooker to replace it.
You know you're getting old when a slow cooker feels really exciting. But friends, it's a beautiful pot! Large enough for my now sizable family, digital which is something that I  had a never had before. And it works beautifully. I had just gotten home from Costco when it arrived, and popped a pork butt in to cook. We've been enjoyed my green chile pulled pork all week.
The slow cooker came in a giant Amazon shipping box, which meant that I got to intentionally dejunk some more items to fill it up and donate. I think this will be a great practice that lasts even beyond this year. Intentionally giving things away as a balance for receiving more.
 The old slow cooker went right into that Amazon box, along with additional clothes, shoes, and items that I had piled into the laundry room months ago, awaiting donation. I actually realized it's as much work for me to print and ship these amazon boxes with their new partnership program as it is for me to pack them up and drive to the local Goodwill drop-off. So, I've been doing that instead. Either way, the act of consciously removing unneeded items as new and more useful items come into my life feels good. 
In addition to the slow cooker, I also had some very sweet friends bring over gifts: an Austin mug that I already adore and have been putting to good use. I think this is an important thing that I'm learning: part of the gratitude involved with our stuff is intentionally using it. Then it is not simply idle stuff. The problem comes when we stockpile so many things that we no longer can use them.
I also had a sweet friend who–sensitive to the no stuff soapbox–brought over an arm full of my favorite Mrs. Myers cleansers. Of course those are things that I will use and consume and go through on a regular basis. It was so thoughtful! I'll add consumables like fun soaps and lotions to my list of gifts to give along with experiences like restaurant gift cards and movie tickets. 
As far as my own family, we didn't do gifts. We had already discussed beforehand that we wanted to share meaningful experiences instead. 
Dave filled the house with balloons so the whole place felt like a party. The kids woke me up with breakfast in bed: a frittata. That went with Dave's theme of "A Frittata and a Piñata" for the morning. Yes, he's clever. I know!
Dave filled a piñata with candy, and we  broke in the backyard before the kids went to school at 7:30am. By 8am I felt like I had celebrated enough for my whole day! Morning birthday celebrations have a fun way of setting the tone for the day. 
When the kids came home from school, we read books and played games. I made myself a really delicious birthday cake, and will share the recipe on Wednesday. It was good.
We ate dinner at home (because I wanted loaded sweet potato fries that we could make ourselves) and then we went out bowling as a family. The kids loved bowling, I think it was Plum and Eliot's first time. I loved being there with them, sharing a fun memory and enjoying time together. When we came home we shared birthday cake and ice cream before heading to bed, exhausted from all the fun.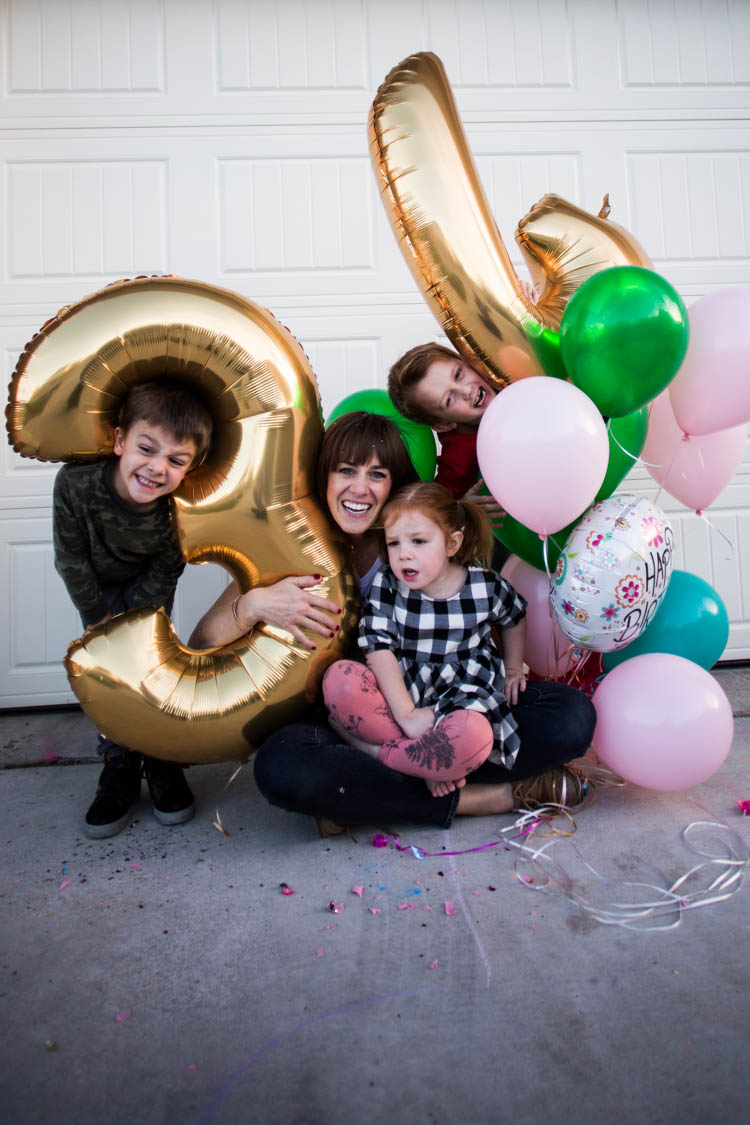 If I'm being honest, it did feel a little weird to not open a wrapped gift from my family on my birthday. I think it was more from the habit of expectation than really needing anything, because I don't.  I actually almost bought myself a replacement pair of Birkenstocks. (The last pair was recently thoroughly enjoyed by our puppy. She literally ate them. Gone.)
Then I both realized it's not quite sandal weather in Austin, yet. And, I wanted to do the birthday without buying myself a gift! I wanted to walk the walk. 
My birthday was filled with love, thoughtfulness, family experiences, memories, some wonderful gifts, time spent baking and celebrating, and lots and lots of gratitude. Looking around at my life and recognizing how wonderfully full it is. I really couldn't ask for more.