Has it already been a whole week?! Our Christmas was wonderful and cozy this year. We stayed home with just our little family, though we spent the holiday surrounded by good friends (and lots and lots of good food!) I attempted to pack around my real  camera for posterity sake (what will ever become of Instagram in 20 years?) but turns out I'm out of practice taking photos of regular life — as opposed to diy crafts, so the captures are a bit spotty. (Resolution for 2013? Take pictures of real life again!)
Christmas Eve we visited the National Christmas Tree (truth: we actually only go for the trains). No luck having little eyes on the camera, the boys were completely mesmerized by the trains! We followed up with lunch at the famous and charming Ollie's Trolley in down town DC, which is such a fun and completely random place. If you haven't been, you should go. Just don't touch the antiques.
After some long winter's naps, we pulled together a salad and a cheese plate and headed to our good friends' home for a big dinner and Nativity. I've never seen so much amazing food together in one place. Bacon wrapped dates? Yup. Thousand Day Gouda? Two, actually. Roasted turkey and ham? Mmhmm. Artichoke dip, seven layer dip, swedish meatballs, eggrolls, shrimp cocktail, homemade rolls, cheese, cheese and more cheese? A plenty. And the company was great, too.
As the youngest in attendance, you'd think Eliot would have played baby Jesus. Nope, he was a cute and wandering Joseph. Milo wanted to be a king, then a shepherd, and finally he settled on a cow, which suited him. He mooed to his hearts content.The tender moment of the scene may have been this little king laying Jesus' head on a pillow, then giving him a drink from the golden goblet he brought as a gift. What a sweet moment!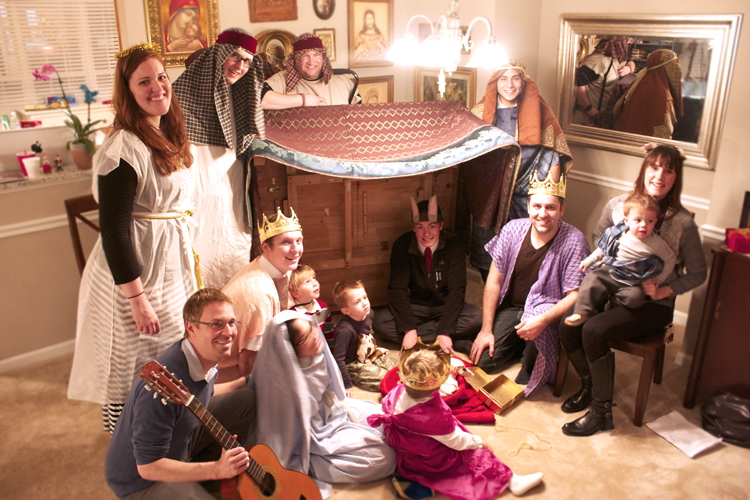 The entire cast were fantastic. The hostess had a box of costumes all labeled in zip lock bags and ready. Great idea, right? And I loved the turned-over table as a stable. Mental note for the future.
After all of the food and fun, the boys went to sleep easily and Dave and I got to work helping Santa set out his gifts. Thank you Ikea for the new art station. And the candy-striped rug from the As-Is section for $4.99? Can't beat that! It was fun to put the gifts under the tree, finally. Even though Dave and I tried to keep it really simple (art supplies to share from Santa, one gift each from us) with all of the gifts from grandparents we all felt really spoiled.
If you follow me on Instagram, you'll already know that this Captain America costume was the winning gift of the day. Milo has taken it off maybe twice, once for washing and once for church. He kills me.
Thanks to my parents, Mamo and Poppa, we matched my family on Christmas Morning. Who else wore these amazing gold polka dots from Target? A million people, I'm sure. They were perfect Christmas PJs!
 After spending ALL day nestled at home playing with Christmas toys and eating leftovers from Christmas Eve, we pulled ourselves together for a fun Christmas dinner with some other of our favorite friends. It was another delicious meal, this time complete with a play-room in the basement for the kids to entertain themselves while the adults had a chance to talk. We feel really lucky to have made such awesome friends in the last couple years. It made Christmas at home really feel like Christmas at home.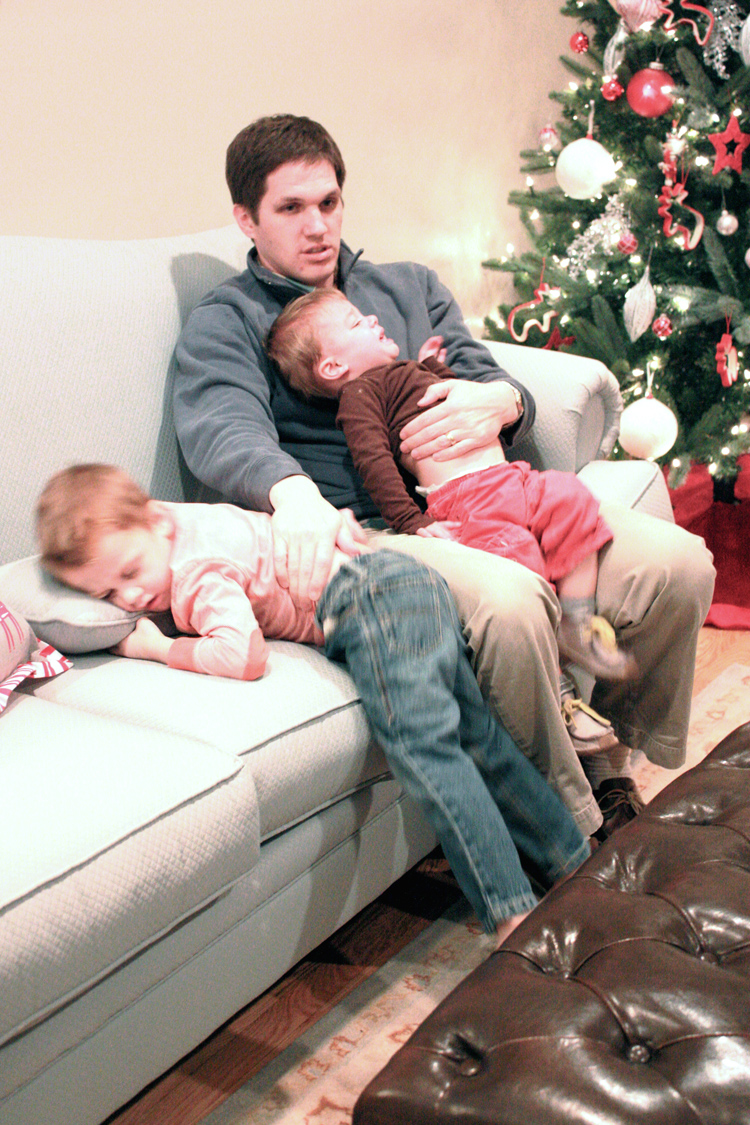 And then the hours ran out and the boys were ready to actually  go home. Haha, cute tired boys. They slept well Christmas night.
Whew! And then my sister flew out Wednesday morning (last second!) and we spent most of last week hitting all of my favorite restaurants and hot spots around the city. And then the weekend came again! And now we're gearing up for a wonderful New Year's celebration! I just adore the holidays!
My life feels like it's been on pause this last week, and I have totally loved it. I have so much to catch up on (on this blog and in life) but I am taking things one day at a time and really enjoying the everyday moments. I've been sewing a lot for myself (dreamy) and can't wait to share a few fun things. I've also been working really hard on a big, huge, wonderful sewing series with the fantastic Miriam of Mad Mim that will be taking place January 7th-19th. We're going to teach you all about sewing with knits. So, make sure to tune in for that coming up in a week! I may check in before then, but regardless, have a super fantastic Happy New Year!!
Thank you so much for reading along with me at One Little Minute. xo