The Adventure Art Print Shop by Live Free Creative Company is here!
Art To Inspire Adventure
After years of making traveling and exploring a priority, and taking photos all along the way, I finally decided to make a gallery of my very favorite photos available for instant download to people all over the world. Each of the images in my digital art print shop has been chosen especially for the way it inspires adventure and beauty.
These art prints offer an option for super affordable, lovely, sometimes quirky and very special pieces of art to be curated for your space and printed at any size! It can be really hard to find great art for your home and office, and I hope you'll be delighted by some of the diverse options I have gathered from my collection of photographs over the years.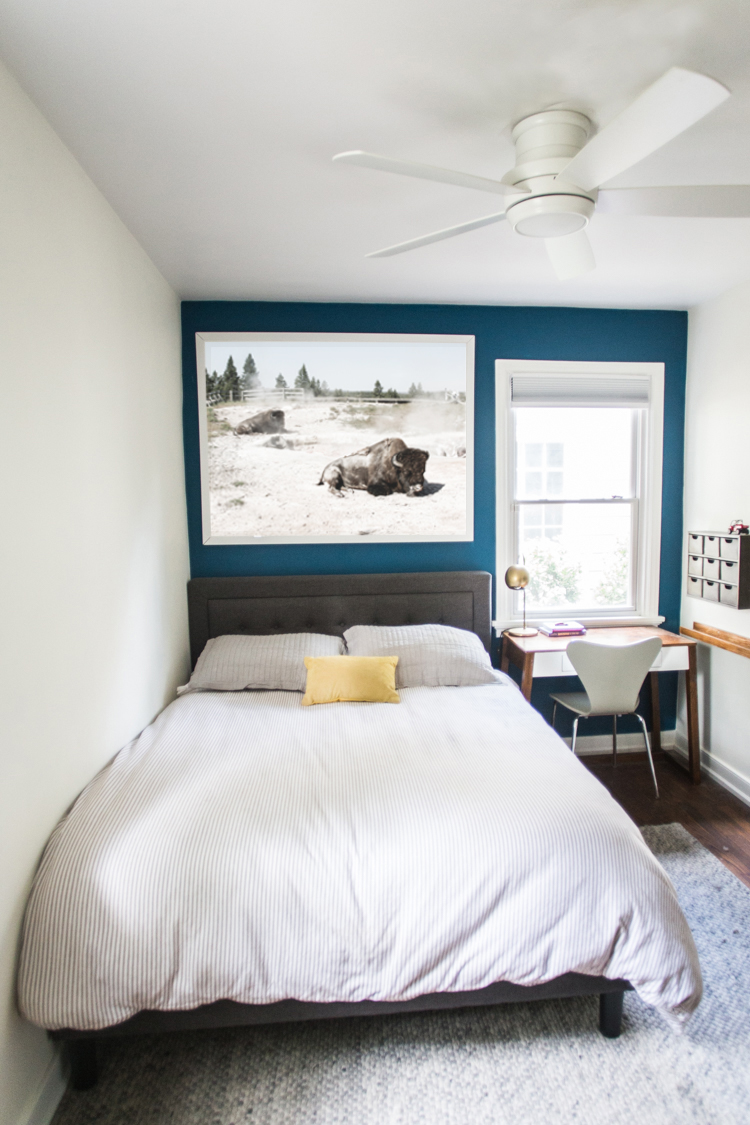 Bison Springs art print pictured
Digital Downloads
One amazing feature of this shop is the ability to purchase a digital file that will be delivered to your inbox immediately upon check-out. At that point, you can send the file to any of a number of printers (I'll discuss options in the next section) or even print them from your home printer, if you want.
The files are high resolution and although each varies slightly, the largest can be printed up to 4′ wide, which is HUGE and AMAZING!
Because of the digital nature of the files, you will be able to reprint the files from time to time if you want to give them as gifts, or reprint a different size when you move or redesign a space. Each image has been edited and digitally mastered for small and large scale art printing.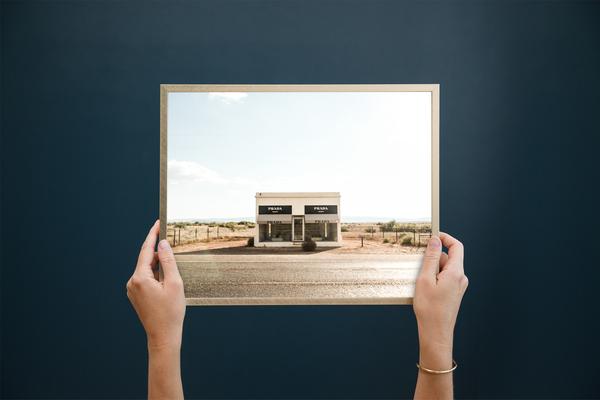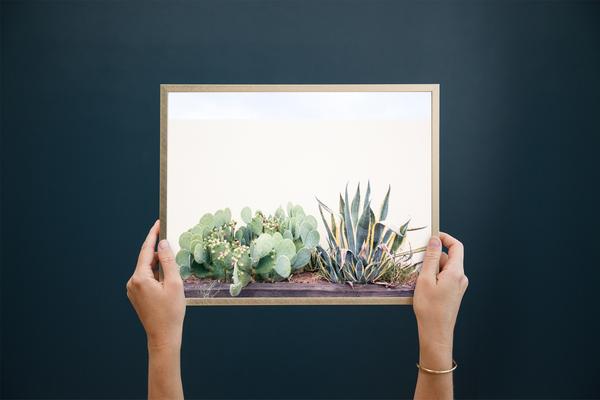 Prada, Marfa and Desert Buddies pictured
Affordable Printing Options
By now, most people have some experience with digital printing. I have had files printed several different places and here are some of my favorites:
TABLE TOP PRINTS
For the smallest sizes, you can have prints in seconds at a Kodak Photo Center at a local convenience store. I have found them at CVS and Walgreens, and you can send the photo right from your phone and wait as it prints instantly.
Costco is my go-to for smaller-scale digital photo printing. Up to about 20″x 30″ the price and quality can't be beat. I love the matte option for printing, and the pricing stays under $10 for even large prints! The smallest sizes are under a dollar! If you live near a Costco and want quick turn around and easy printing, this is a great option.
POSTER PRINTS
Large, poster sized prints can be uploaded to EZ Prints or MPix which both offer small and large format prints at great prices.
Aspen Creek is another option for great, large format prints. You can also have large prints made at your local Kinkos.
ENGINEER PRINTS
Kinkos is my go-to for ordering black and white Engineer Prints. They are printed on thin, blueprint quality paper which is why the price stays low. Staples also offers this option, in black and white or color, starting at only $2.99!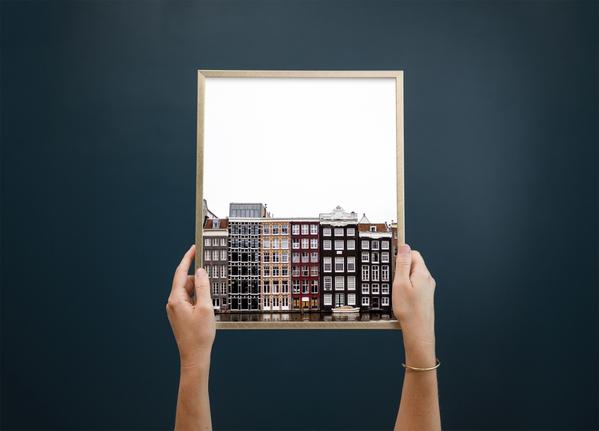 Dutch Canal and All The Pink Buildings pictured
Framing Your Prints
One of the best parts of offering digital prints is the flexibility you have in choosing how you want to print and frame the pieces for your own home, sizes, colors, and styles.
Frames come in so many options and here are a few of my favorite ways to have my art prints framed.
RETAIL FRAMES
So many retailers offer amazing frames at good prices these days. Target, Hobby Lobby, Michael's and JoAnns all have great looking ready-to-buy frames in standard sizes.
ONLINE FRAMING
If you're looking for the easiest option, Framebridge and Art.com can't be beat. You upload your digital Adventure Art Print file and they both print AND frame it, then send the whole thing right to your door. The quality in both of these shops is amazing, and this is also such a great way to order an art print as a gift!
CUSTOM FRAMING
Sometimes you have a very specific need or size that will best be managed by a custom frame shop. I love a local frame shop for both the huge array of options and the friendly service, as compared to a bigger box framing option.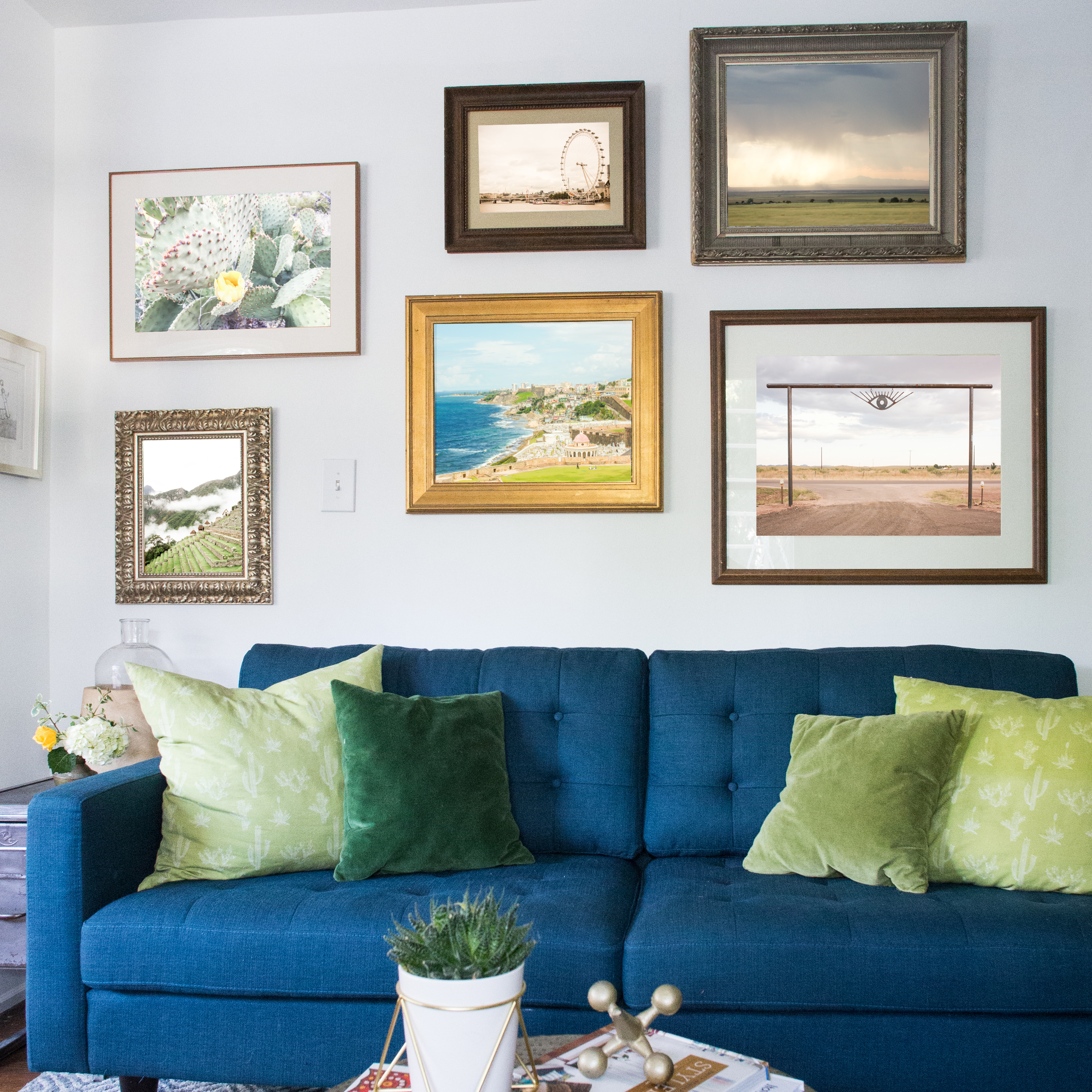 Pictured clockwise from top center: London Eye, Watercolor Sky, El Cosmico, La Perla, Machu Picchu Steps, Cactus Bloom
Hanging Your Prints
There are so many creative ways to hang art if you're not the framing type or like a variety of options. I snagged a vintage pants hanger for 50 cents at my local thrift store that makes for a unique way to change out art. Luckily, this type of hanger has become more popular and you can now find similar things such as these:
String-O-Pics (print photos in size 4×4 or 5×5 & hang prints of places traveled or on your bucket list!), Frame Sticks, Vintage Pants Hangers, Wooden Dowel Hanger, Wooden Print Hangers on Etsy, Photo Clip Frame, Wooden Print Hangers on Amazon.
Choosing Art Prints For Your Space
There are lots of different ways to decide on which Adventure Art Print may be best in your space. I'll share more on this later, but for now here is a really easy way to choose: WHAT DO YOU LOVE? Which of the prints speaks to your wandering soul? We should always intentionally choose pieces for our spaces that make us FEEL the way we want to feel.
Rather than choosing by colors or format, start by scrolling through and noticing your reaction to each photo. At the end of the day, hanging something you absolutely love will matter more than any other factors.
Size, framing, and whether you choose one large print vs a grouping of smaller prints for a gallery will depend more on the space and your individual style, and I will talk all about that coming up soon!
Rainbow Cliffs and No Rushing Allowed pictured
New Prints Quarterly
The initial launch of the Adventure Art Prints is large, with over a hundred beautiful options taking all over the world. And, as I continue to travel, I will continue to share my very favorite pieces for you to download and enjoy. Hop onto the Live Free Creative Email List for exclusive discounts, notifications, and continued inspiration.