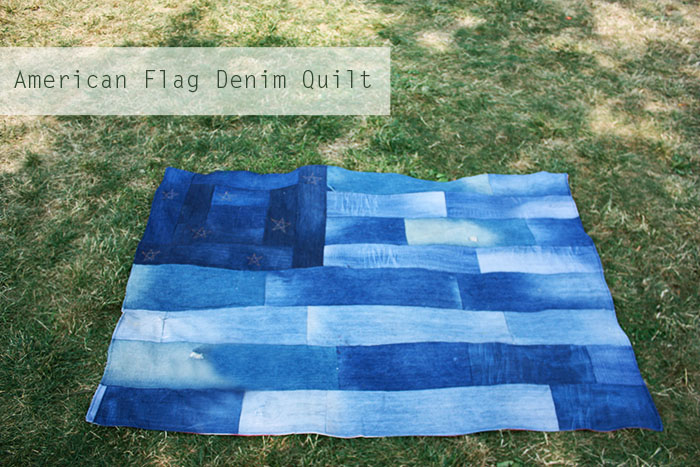 It's July, the month of patriotism and picnics! And what better way to welcome it than with an American Flag Denim Quilt? If you've ever visited the Madewell store in Georgetown, you might have noticed their huge denim flag quilt hung high up on the wall (easily spotted from the sale loft, which is where you'll find me.) It was made by incredible denim quilter Julie Floersch and I saw it for the first time when my sister Chelsea was in town. Once I saw it, I couldn't get it out of my head!  Quilts made of blue jeans are so practical and durable, but usually sort of ugly  not my taste. After a friend donated a bag of clothes to my repurposing pile, I figured I had sufficient denim to get going on my own version of a flag quilt.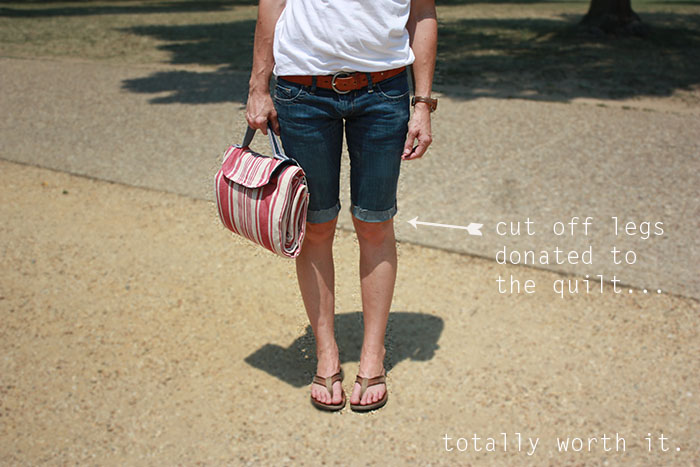 As it turns out, after laying out the whole quilt, I was lacking about four feet worth of denim for the bottom corner. I dug up two of my own pairs of jeans that weren't my favorite. One pair, some old maternity jeans, was used completely. I ended up only needing the bottom half of the other pair, so I cut them off into with some nice summer shorts to go with my new denim flag picnic blanket. Perfect.
Oh, and you see that little striped bag there? Yep, that's the quilt, all folded up and ready to carry to wherever the summer winds might blow! I can't take an ounce of credit for the genius design of that fold-over handle. That came from Cherie at You and Mie, and her awesome Sunburst Picnic Blanket guest post. Seriously darling. Since she's got the whole handle thing  covered, I'm only including instructions here for the actual piecing of the flag quilt top. But if you make one, you should totally add the handle. It is amazing.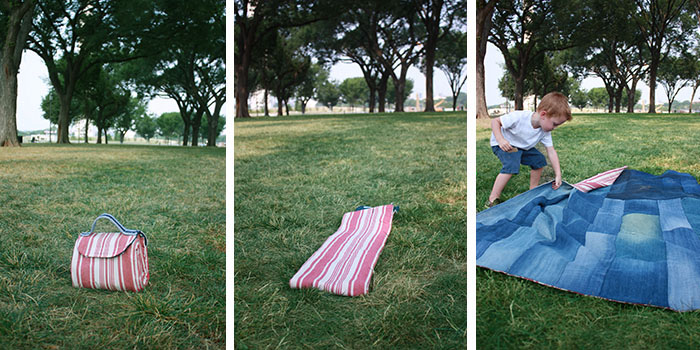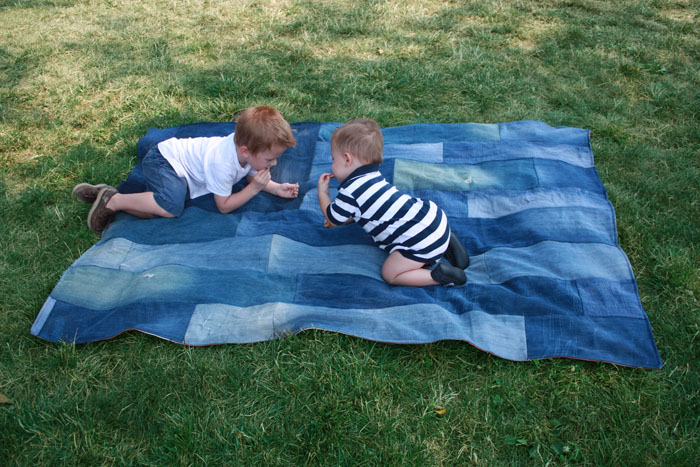 The urge to make this blanket came suddenly on a Thursday afternoon. The boys had both fallen asleep at nap time, and so I took a half hour to cut the legs off of my pile of denim. Later that night, when the kiddos were down for the count, I decided to just whip the whole thing up and finish it off. I'm impatient like that. So, did it quick and dirty. I serged all of the denim pieces together. I hadn't ever heard of a serged quilt top, but hey, it worked. Once the top was pieced, I looked through my fabric stash for something to back it. Of course I couldn't wait until morning to go to the fabric store…and I knew I must have something that would work.
It was a lightbulb moment when I spotted my old red and beige striped tablecloth sitting on the shelf in the dining room. I bought it on clearance from Willams-Sonoma years ago (cool, available options here and here) and I actually never liked it much as a tablecloth. It was absolutely perfect for this blanket! I laid the quilt face down on the cloth, trimmed the edges, threw a few safety pins in there to keep it sort of straight, and stitched around the edge pillow-case style. Once I turned in right-side-out, I added the handle (per Cherie's directions) and top stitched around the whole thing. Seriously so easy. It's definitely not perfect, but it has a lot of character! I debated about actually quilting it, and finally decided to stitch in the ditch along the striped seams. It would probably have been totally fine, but now it's certainly secure.
I've created some instructions for putting together the quilt top.  It is very simple, and I am by no means a quilter, so you could probably think of a better way to do it. You can download the PDF version to print by clicking anywhere on the below image (or right here.)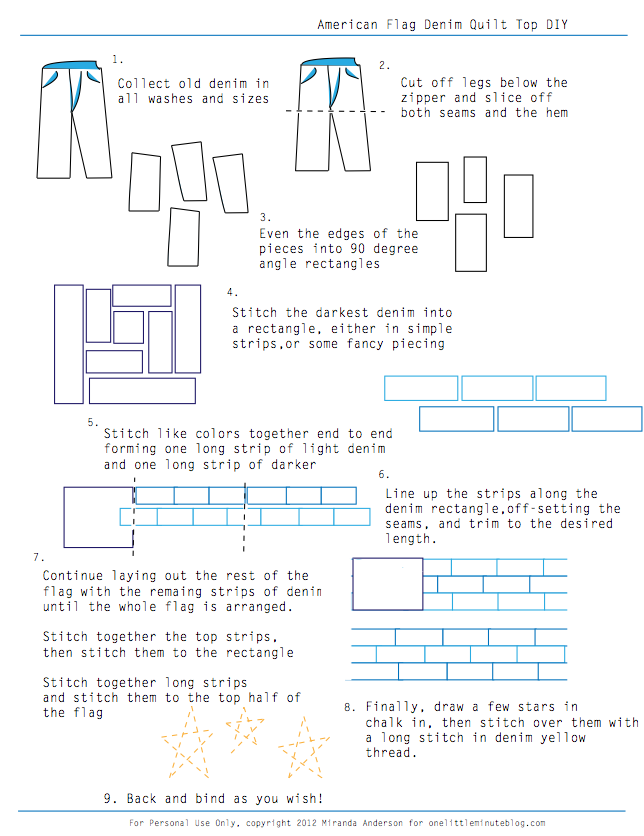 I went back and forth about adding stars to the finished quilt. The quilt at Madewell has a bunch of hand-stitched white stars that I don't totally love (and their flag is pieced using all different parts of the jeans, not just the leg panels. But I like the little-cleaner look of the plain denim.) I finally settled on some simple machine-stitched stars using actual denim thread and I love the way they turned out. Now we're ready to enjoy our watermelon and sweet potato chips in style!
I look forward to many picnics on this blanket. Lots of time spent lying and watching the clouds go by. Many days sitting watching the boys run around collecting sticks and catching bugs. I hope for a few more children to one day gather here and share a seat with us. Something about this quilt makes me think of our family's future, and that makes me so happy. Pretty sweet emotions for a pile of old denim and a clearance tablecloth, right? That's some serious synergy.