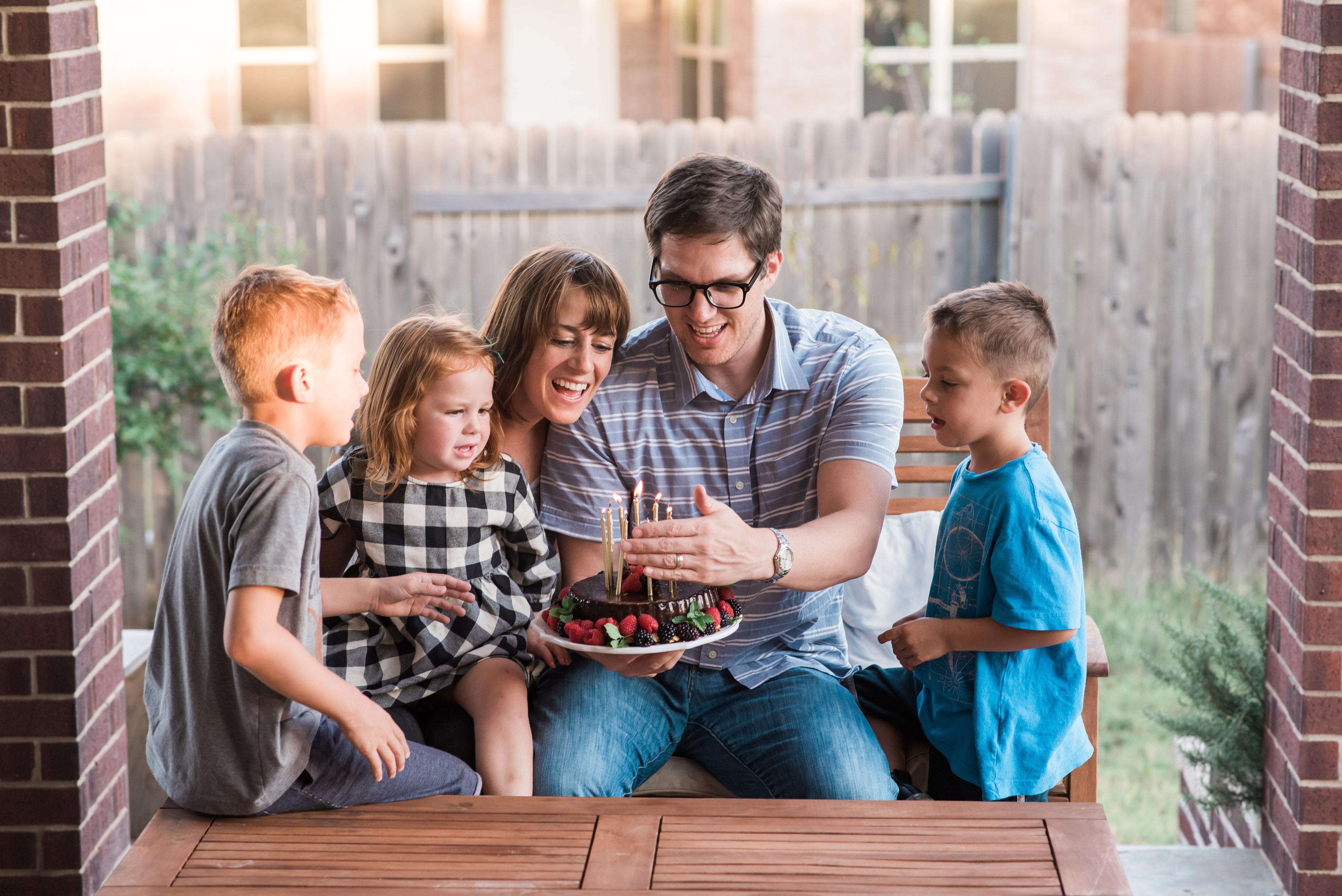 Wedding Anniversary as a Family Birthday Celebration
Dave and I celebrated our fourteenth wedding anniversary this past weekend. Along with sneaking away for a couple days of relaxation and connection with each other, we came home in time to celebrate our "Family Birthday" with the kids! For the past ten years, our anniversary has not only been a time to celebrate our love, marriage, and choosing each other. It has also been a really fun time to join with the kids in celebrating the formation of the family, and including the kids in the party!
How It Began
We first saw the idea for a family birthday anniversary when Dave's older sister and her husband shared about making a family birthday cake for one of their anniversary traditions. I had never heard of the notion of a family birthday– I had never actually paid that much attention to my own parents anniversary, either. Wedding anniversaries up to that point seemed very much like a parent thing, where they escaped their kids and celebrated each other (the more quiet and relaxing, the better!)
The idea of not only allowing, but actually intentionally including the kids in the celebration of a marriage sounded so fun. I also loved the idea of our kids feeling like our marriage wasn't just for us–it is also one of the bonds that creates safety and wholeness for our family to grow up and learn together. Dave and I agreed to add Family Birthday to our anniversary celebrations each year, and the rest has been delightful history!
Three Simple Traditions For Celebrating Your Family Birthday
While I love a great tradition, I don't love overcomplicating holidays or celebrations. I want our traditions to add value and fun to our lives without adding stress or pressure. We have two solid family birthday celebration traditions, and a few ideas that pop in and out depending on the year. I'll share four here so you can get your own tradition juices flowing!
1. Family Birthday Cake
One of the easiest ways to make a party feel like a birthday is to add candles to a cake, sing, and make a wish! We celebrate each family birthday with a birthday cake, candles, and singing to ourselves. "Happy Birthday to US…" makes us all giggle and is really a fun and simple tradition.
This year, to mix it up and add something fun, we each chose a different cake flavor and stacked them together to make a 5-tiered birthday cake (I chose chocolate, Dave chose spice cake, Milo went with lemon, Eliot chose cookies and creme, and Plum settled on strawberry!) I made a double batch of my favorite butter cake recipe then divided it five ways and added the different flavors. While it was more work than a typical store-bought birthday cake, it was so fun!
Add a cake and you've got a birthday party!
2. Wedding Film Viewing Party
When was the last time you pulled out and watched your wedding video (a photo album would serve the same purpose!) We now watch ours every year on our anniversary during our family birthday party! The kids love seeing their mom and dad so young and dressed up for the event. We laugh at how much people have changed, and how long ago it seems. It has been so fun for our kids to become familiar with the events that officially began our family, and it's a fun walk down memory lane.
If you don't have a wedding film, a photo book or some photos would also be so fun! Pull them out, ooh and ahh at the beauty (and sometimes silly) details!
3. Family Story Telling
This tradition takes little to no preparation and no extra money or resources. Simply make time during your family birthday celebration to share stories about the family. This year, we went around the dinner table and talked about some of the funny memories we have of each child as babies and toddlers. We shared some funny memories from our own past and the story of dating and deciding to get married.
Stories, especially family stories, create such a powerful identity in kids. There is no better time to set aside space to share than on this special family day!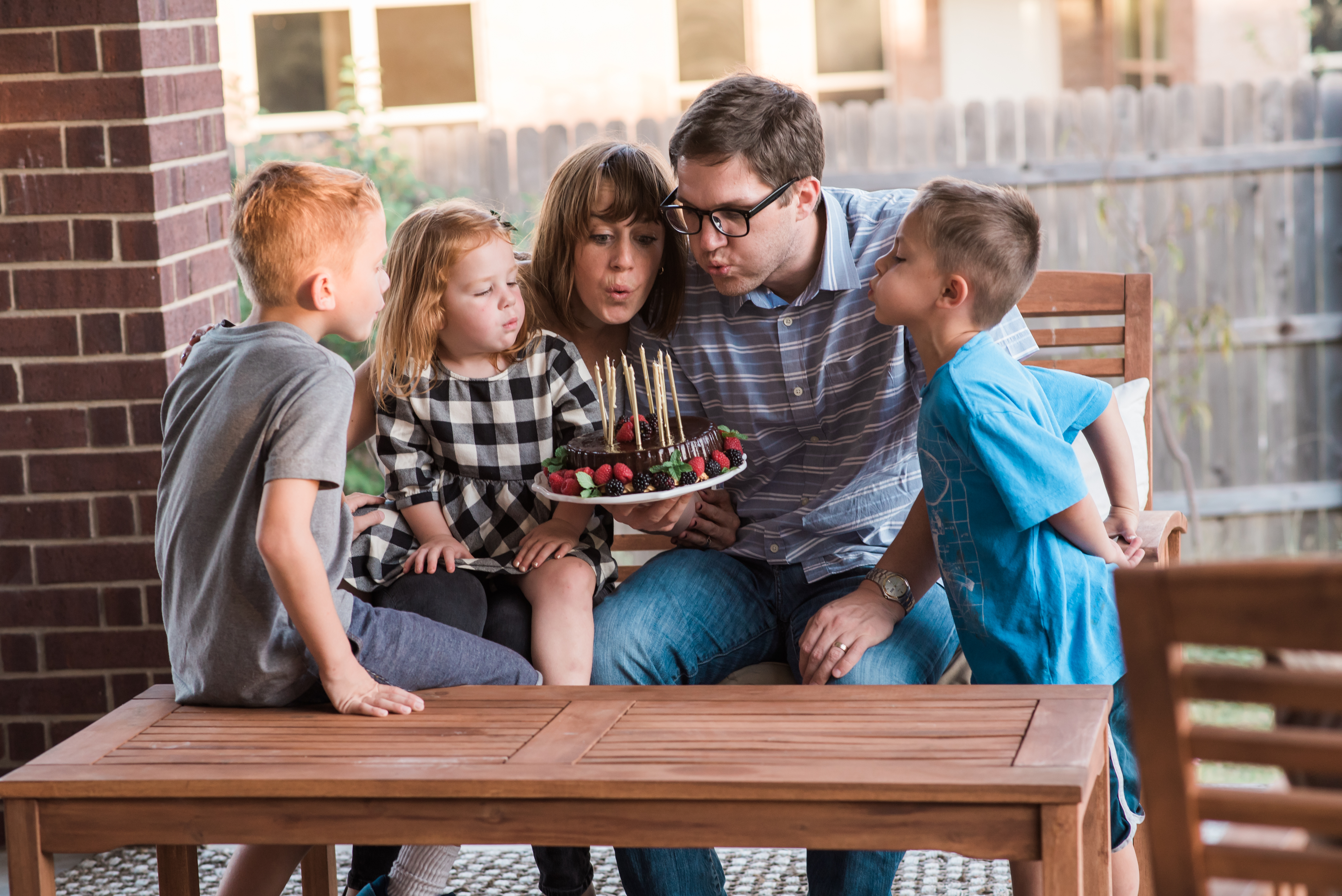 In the years since we began celebrating our Family Birthday in addition to our wedding anniversary, we have looked forward to and enjoyed the weekend even more than before! I love our kids knowing when our Family Birthday is, and feeling part of the celebration in a meaningful way.
Tips for Non-Traditional Families
What if your family doesn't look like ours? Can you still celebrate? OF COURSE!
Every family has a family birthday, you might need to use a little creativity to decide when it is you want to celebrate!
If you are a blended family, with previous marriages, maybe decide to celebrate the most recent marriage (of current partners) to celebrate the family birthday.
If you are a single parent, you might consider celebrating your family birthday around the time you discovered you were pregnant, or around the time the foster/adoption was final.
If you and your partner aren't married, but have children, dig deep for a fun date from when you decided you wanted to be together long-term, and celebrate then!
There are as many different right ways to celebrate a family birthday as there are types of families! Be creative and discover what makes your family unique, then celebrate that.