When we considered moving to Austin, I flew out for a couple days on my own to explore the city and pick up on the overall vibe. You see, I love to really discover the places we live; learn the secret spots, nooks and crannies, and enjoy the small things that make each city different. Because of this tendency to dig deep wherever we settle down, I often am asked for recommendations of things to eat, do and see. Of course, I love to share them, so this new series Around Austin, is going to be another way for me to do that! 
Each post will feature a favorite place to eat, and something additional to see or do in the same area, creating a nice bundle of short adventures. To kick off the series today I want to share three favorites! Torchy's Tacos and the Greetings from Austin Mural are both quintessential Austin experiences, and the third, Holy Cacao has become a not-to-be-missed spot in my book!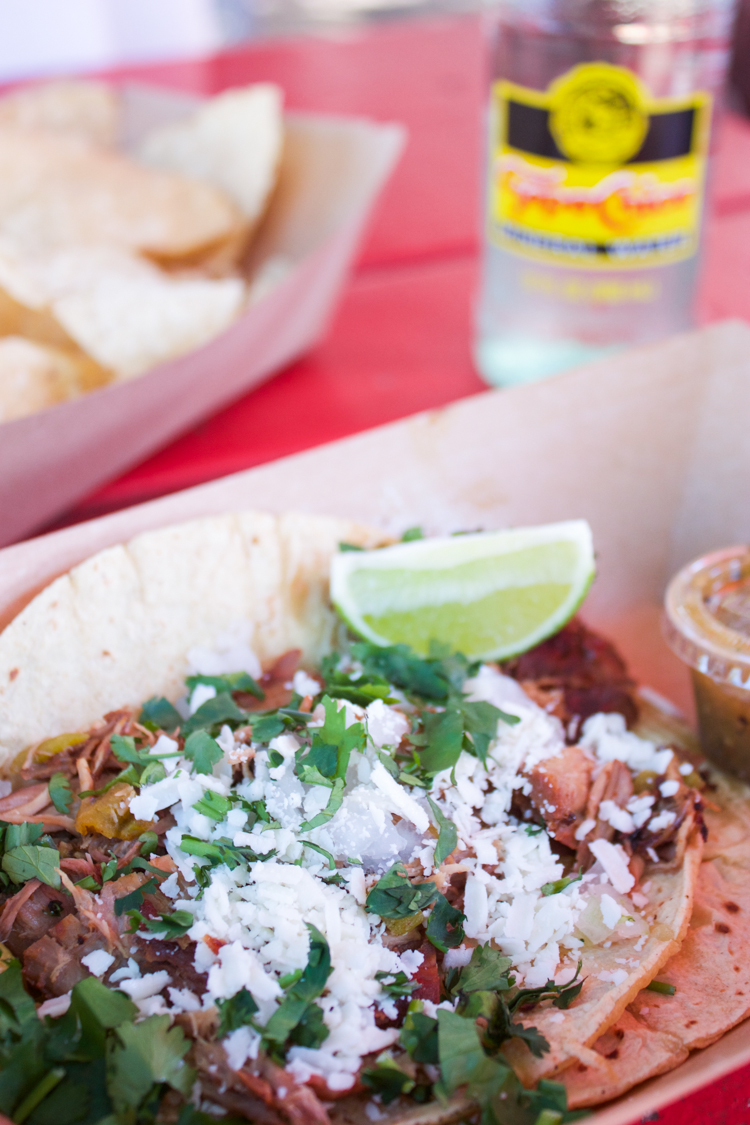 On my first day in Austin, almost three years ago, I got a bunch of advice from friends on Instagram about where to eat and Torchy's Tacos came up about five times! I had been exploring on the famous South Congress Street, and noticed there was a Torchy's Truck a few blocks away, on South 1st street. I didn't realized then that I had stumbled upon the original Torchy's trailer, and that the taco stand had blown up in recent years to include over 30 stores all over Texas (and a recent new one in Boulder, CO.) All I knew was that the tacos were amazing, and the chips and queso were an introduction to a new addiction. So. Good.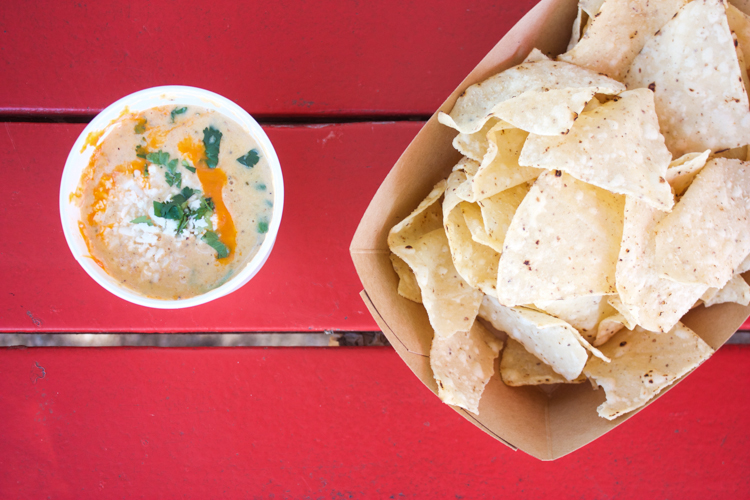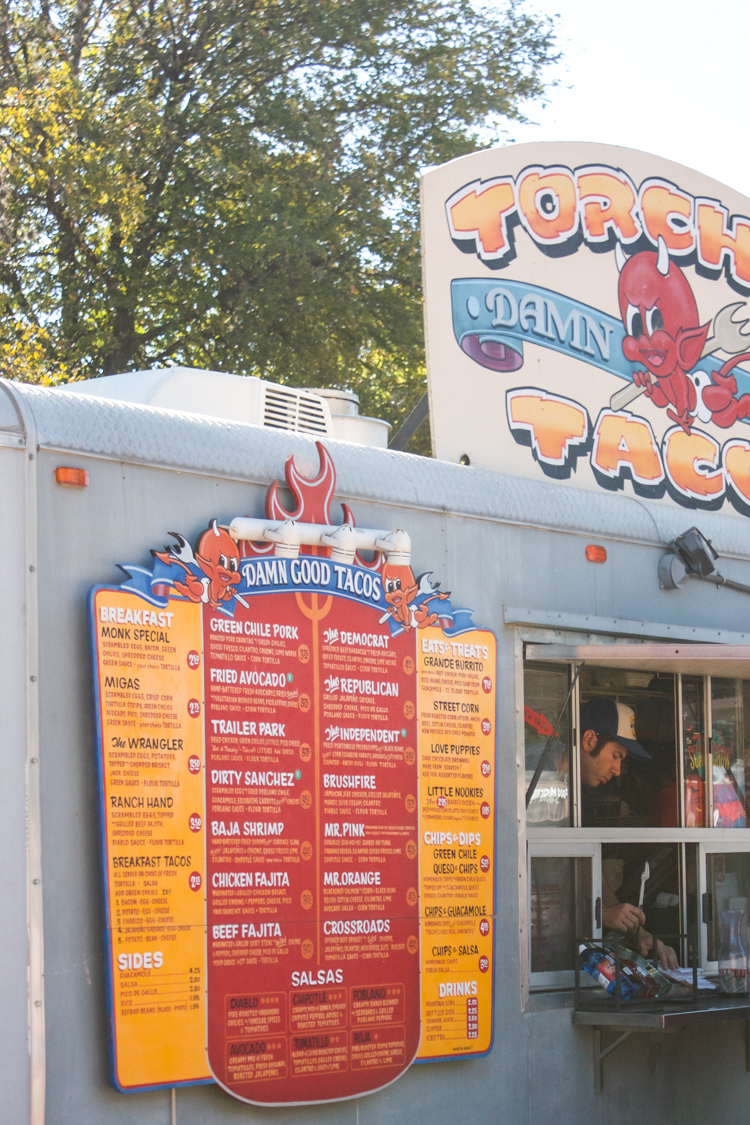 These tacos don't pretend to be of the authentic Mexican variety. The Trailer Park features fried chicken + green chile that can be made "trashy" with the addition of queso. Each Taco of the Month is different, and one of my favorites included a waffle + bacon INSIDE the tortilla. Right? My current go-to is the green chile pork, which is a pile of perfectly seasoned, moist, pulled pork topped with onions, cilantro, and queso fresco. I take mine on corn tortillas with extra lime.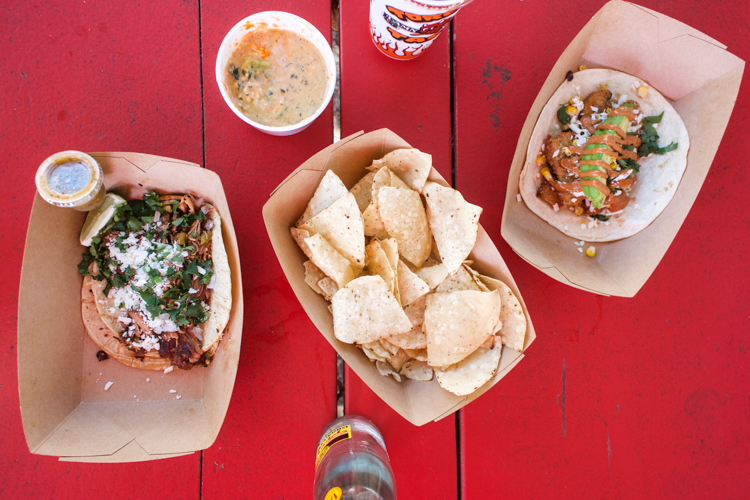 While there are Torchy's locations much closer to my house, that I frequent all too often, this original trailer is my very favorite. I love food trucks in general, but this location is especially set up with an indoor and outdoor eating space, bathrooms, and even a ping pong table available.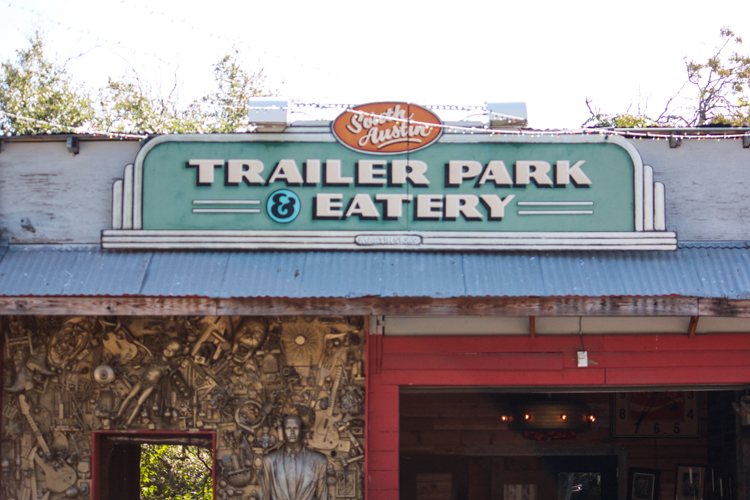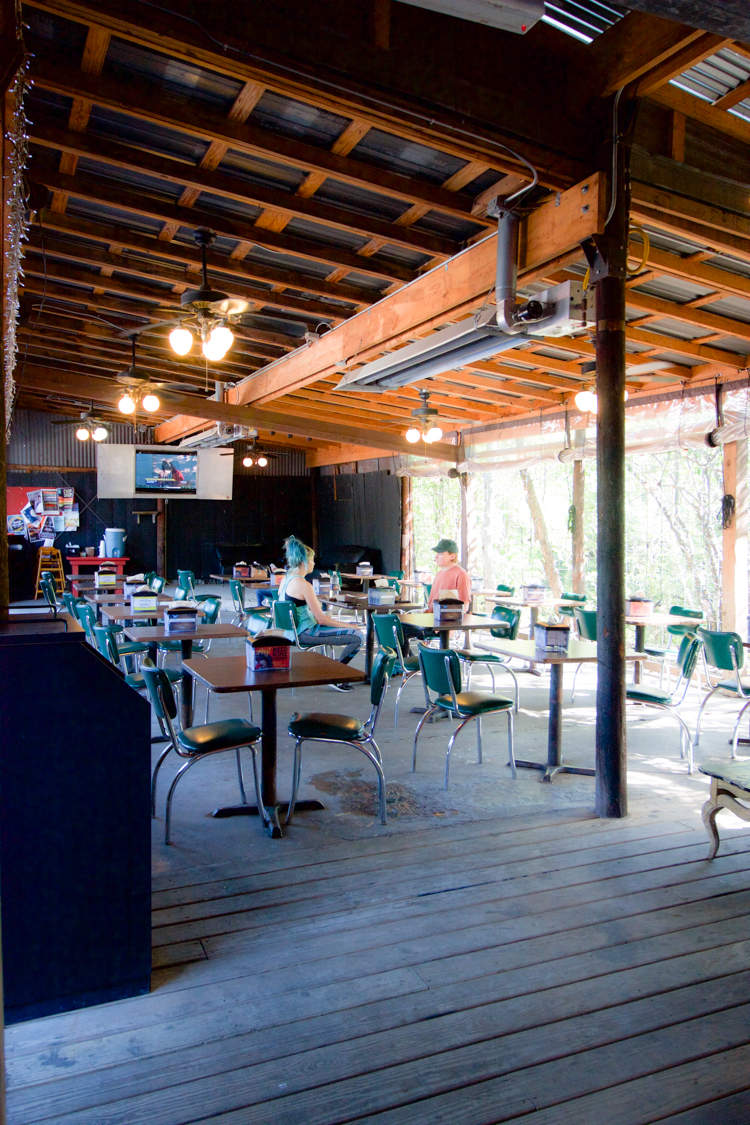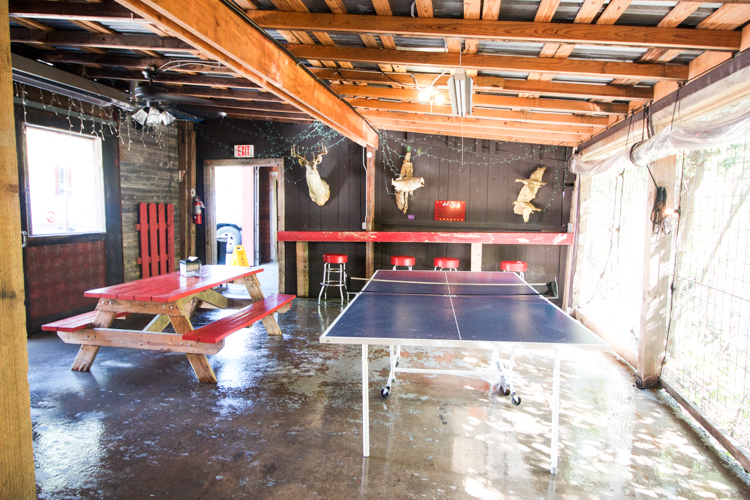 The other reason this trailer park location remains my top choice is that right next door, in an unassuming little trailer with a cute striped sign is Holy Cacao, which serves the absolute best frozen hot chocolate I've ever tasted. Ever. People think I'm setting them up for disappointment when I exclaim how delicious this deep, dark chocolate shake is– and then they taste it and their eyes widen and they agree.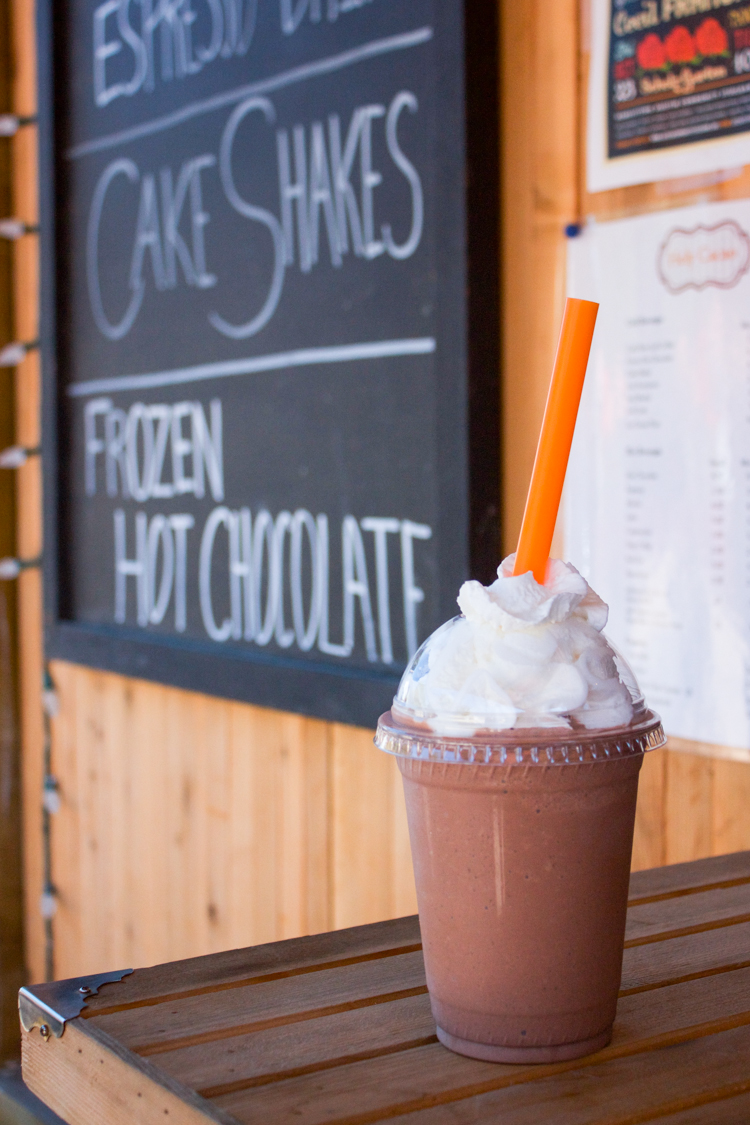 I first tried the Holy Cacao frozen hot chocolate because my Paypal App was offering a coupon, and now I don't eat at Torchy's without picking one up. At $6, it's more expensive than a typical drink, but totally worth it. The shop also sells some yummy cake balls, which my kids love as their dessert, and in cooler weather they offer hot hot chocolate in addition to the cold. (There are also a variety of coffee drinks, their trademark Cake Shake, and a few other sweets, but I come for the frozen hot chocolate.)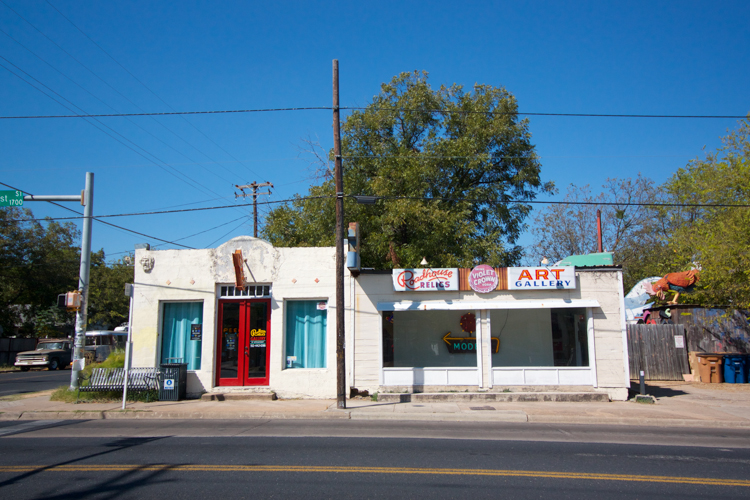 A short walk down South 1st street will burn a few of your taco + chocolate calories and land you outside of Roadhouse Relics. It's a super cool art shop where vintage-inspired neon signs created by artist Todd Sanders. If it's open, it's worth a duck inside and walk around, because his work is really amazing.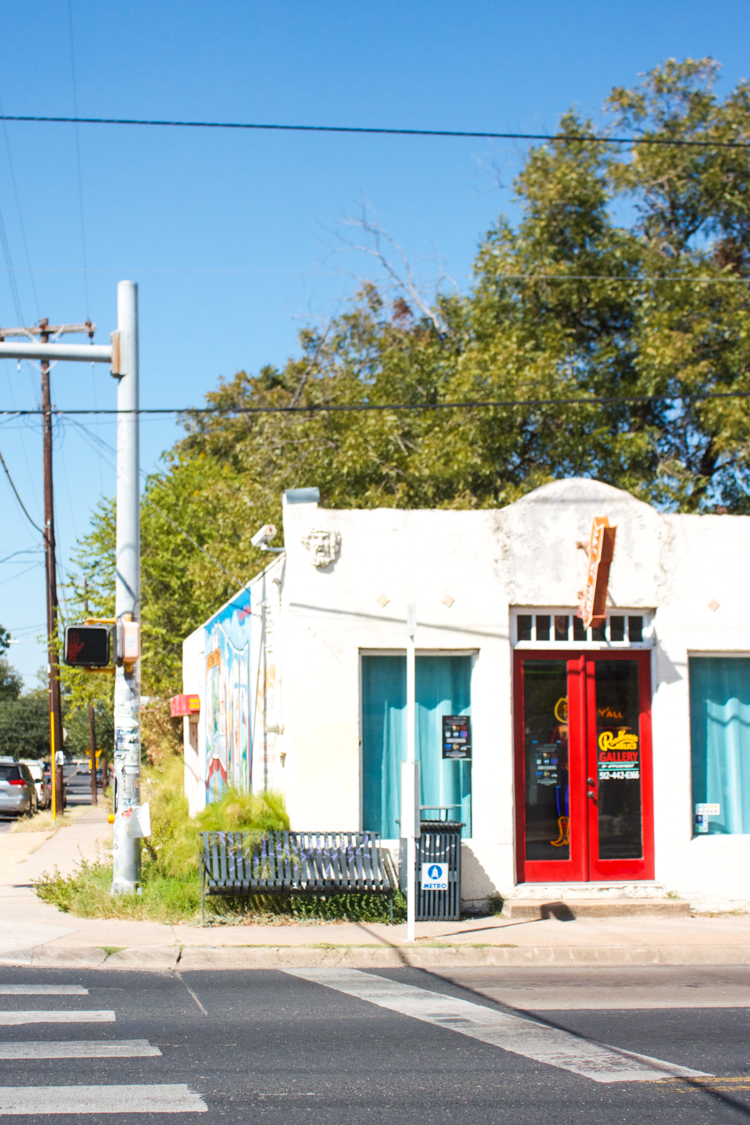 Just around the corner, painted on the side of the building, you'll find the famous Greetings From Austin postcard Mural. The mural was originally painted in 1998, and is an iconic Austin backdrop. In 2013, with the help of individual donors and some local businesses, enough money was raised to restore the mural to it's original glory so it's brighter than ever.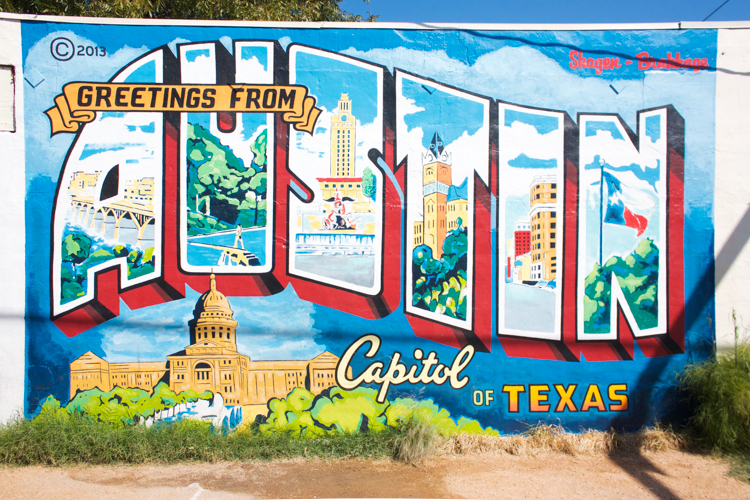 Be aware of the cars on the street behind you as you jump in front for a classic Austin photo-op. You Were Here!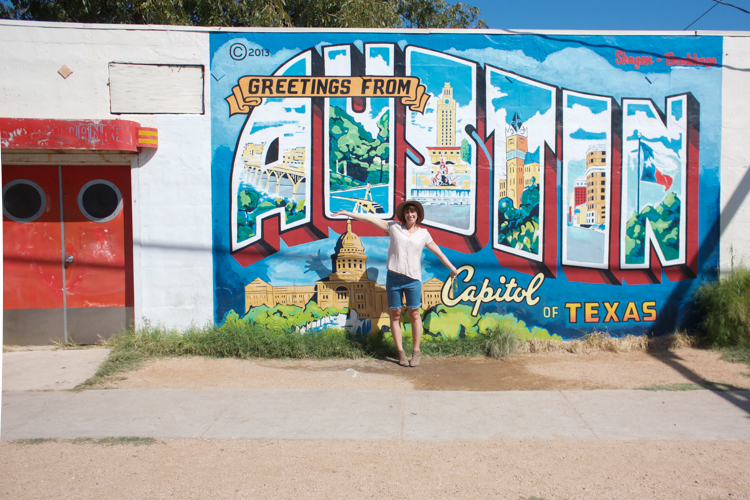 You can hit all three of these favorite spots in an hour or two, and will have the beginnings of a real Austin experience in your pocket when you're through! This map will give you an overview of these Around Austin features, and clicking on it will take you straight to google maps so you can get directions to head out on your own adventure.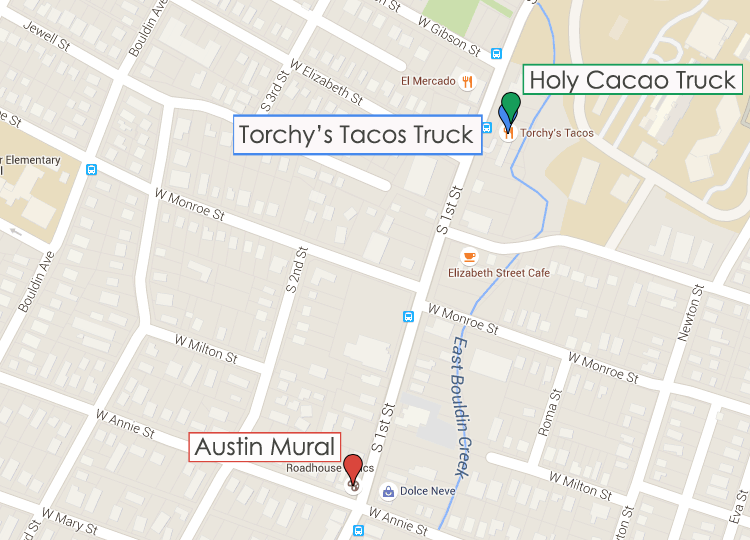 I can't wait to continue sharing! My plan is to share a new Around Austin adventure every two weeks. Follow along on Instagram or Facebook to make sure you don't miss any.