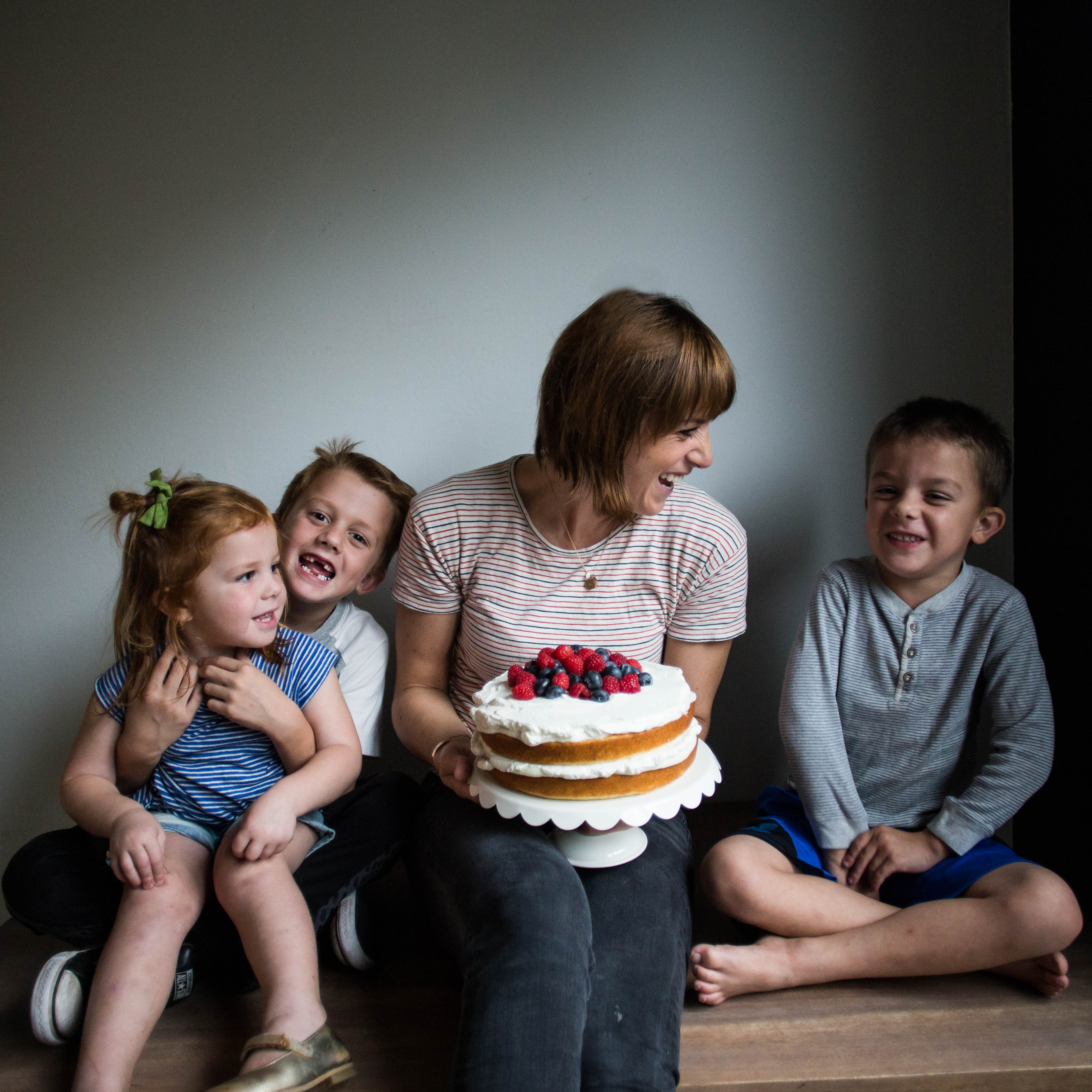 Back in the fall, in the midst of the crazy election, there emerged what I thought was a funny hashtag, started by baking blogger Sarah Kieffer. #BakeAmericaCakeAgain quickly grew into a movement of hundreds of bakers and cake lovers sharing beautiful, delicious cake photos around the internet. Because cake, of course, is one thing we can all agree upon. Especially if it's something like this naked cake with berries that my kids and I whipped up to join in the fun.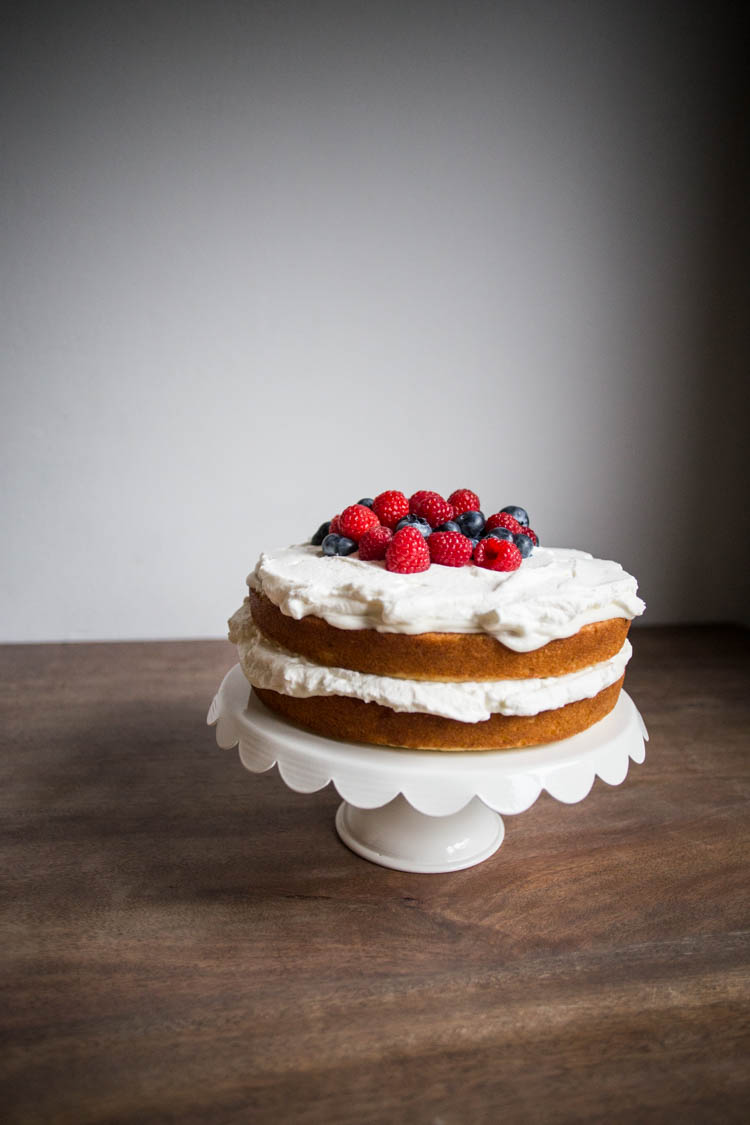 We have a thing for cake over here. I bake pretty regularly, and love bringing my kids into the kitchen as well. When I was growing up, cake came from a box. And after jumping into the world of baking several years ago, I realized it's almost as simple, and much more delicious, to bake a cake from scratch.
This easy yellow cake version is a favorite recipe from the Smitten Kitchen cookbook. (Which, by the way, is one of the top three cookbooks I own.) It's a one-bowl recipe that turns out beautifully as a sheet cake, in round pans like this, or even as cupcakes. Deb knows how to write them.
I added a layer of fresh whipped cream between each layer and on the top, then added a pile of fresh berries. Red and blue for America. And Texas. And because those are conveniently the only colors berries really come in.
I've shared the recipe here below so you can enjoy one of your own. This simple and sweet cake would be perfect for Valentine's Day, Mother's Day, Independence Day. Well, I really can't think of an occasion this one wouldn't be welcome, so knock yourself out.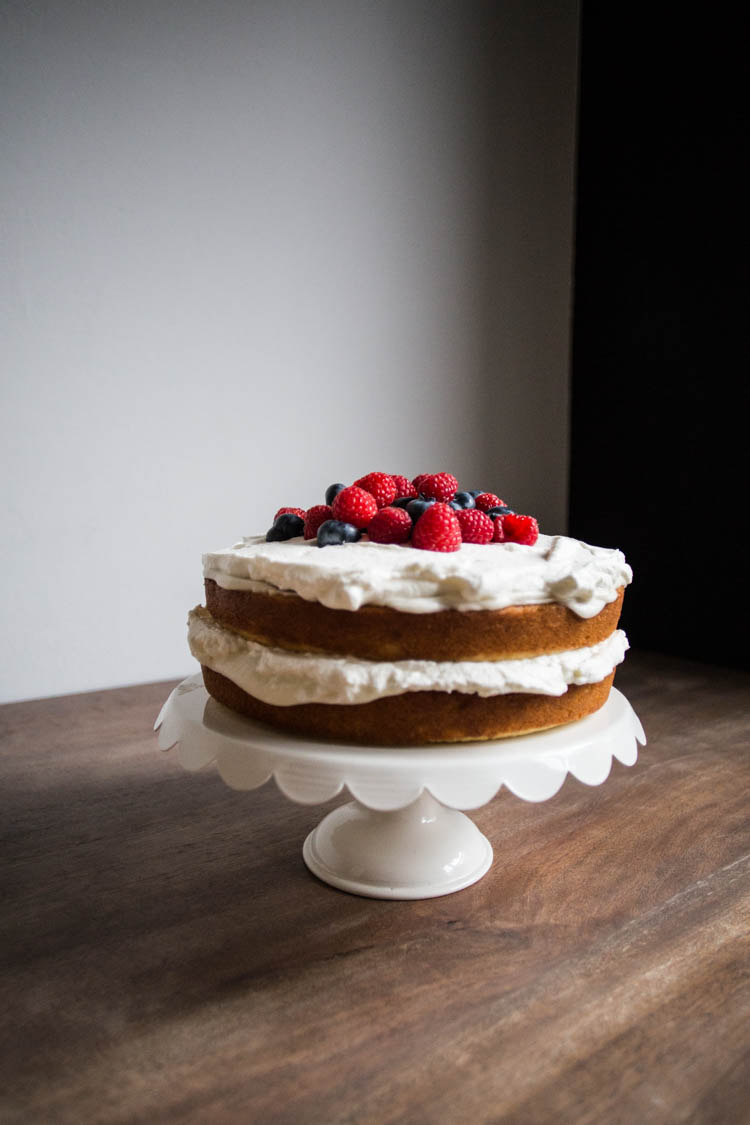 Naked Cake with Berries
Ingredients
12 Tablespoons butter
2 3/4 cups all-purpose flour
1/4 cup cornstarch
1 1/4 teaspoons baking powder
1/2 teaspoon baking soda
3/4 teaspoon salt
1 1/2 cups sugar
1 1/2 teaspoons vanilla extract
3 large eggs, at room temperature
1 1/2 cups buttermilk, well shaken
1 pint heavy whipping cream
1/2 cup powdered sugar
fresh berries
Takes ,
serves 12.
Instructions
Preheat the oven to 350. Butter two round 9 inch cake pans.
Beat butter and sugar in a mixing bowl until light and fluffy. Add vanilla. Add eggs one at a time, beating until well mixed. Add buttermilk until just combined. Batter will be curdled. Whisk all remaining dry ingredients in a bowl, then add to the wet mixture in three batches, blending between until incorporated.
Spread mixture evenly between two buttered cake pans. Bake until golden and a toothpick comes out clean in the center, 30-40 minutes. Let cool completely. I put mine in the freezer for a half our.
For whipped cream, add heavy whipping cream and powdered sugar to a bowl and mix on high until thick and fluffy. Layer half between the two cake rounds, and pile the remaining cream on top. Pile berries in the center and enjoy!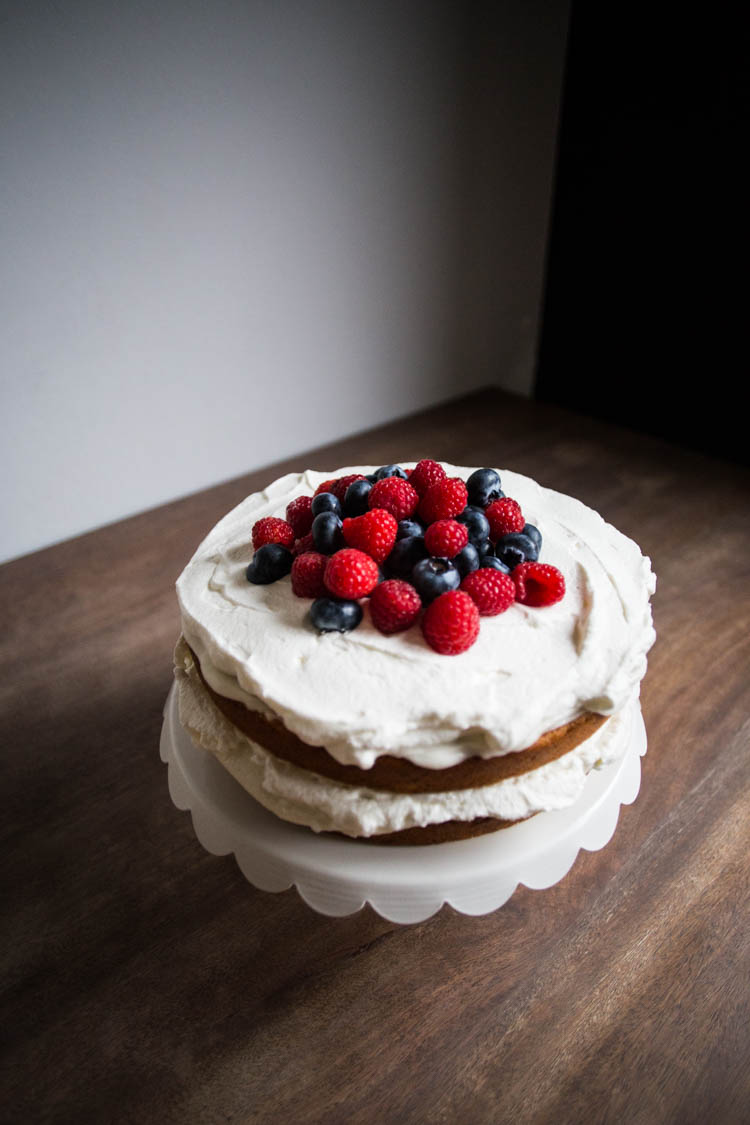 Got cake on the brain? Here are some other cake posts you might enjoy:
This really is the Best Chocolate Cake ever.
My mother in law is a cake genius.
When I turned 27 we were snowed in, and decided to film a little cake baking video. It's still a classic.
This raspberry dome cake still blows my mind.