Friday Pizza Tradition
For over ten years, our family has maintained a "Friday Pizza Night" tradition, complete with a family movie. We switch between locally made pizza, cheap delivery, and this very easy homemade pizza with the absolute best, quick homemade pizza dough ever.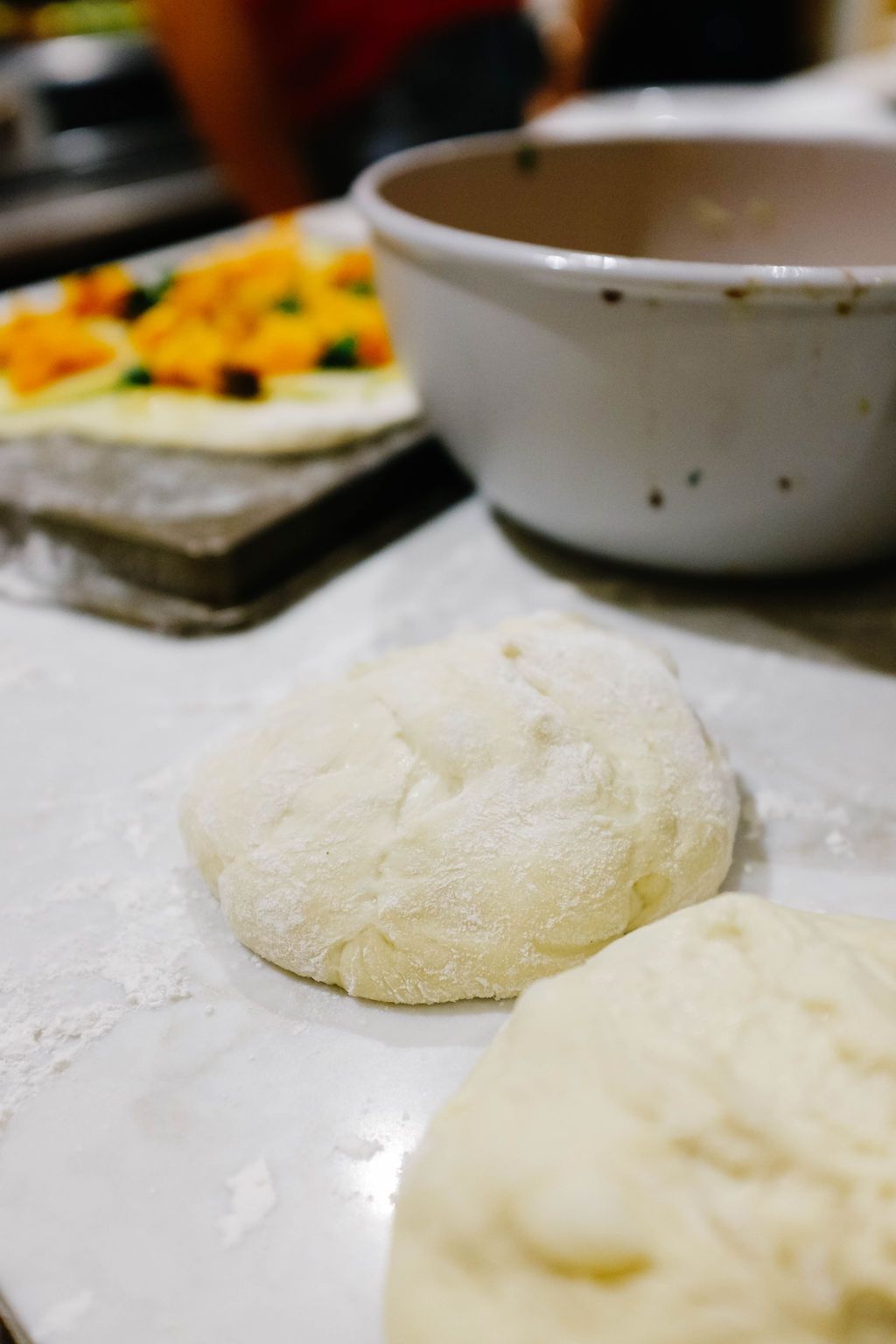 Quick Homemade Pizza Dough
I love pizza. Especially thin crust, with a nice chewy inside and a crisp edge. This recipe makes amazing, no-fail dough in 30 minutes and just the bowl of a stand mixer. It is simple and delicious, perfect for an easy kick-start to the weekend.
I originally found the recipe through a friend who swore by anything Ina Garten, and this California Grilled Pizza was no exception. I've adapted the recipe a tiny bit– adding a little salt, occasionally some fresh herbs, and cooking it in the oven at 500 degrees rather than over the open flame.
Once the quick homemade dough has risen and rested, it becomes a creative practice to top it with any combination of interesting toppings.
My kids usually stick to crushed San Marzano tomato sauce and fresh, shredded mozzarella. I vacillate between any number of salty/sweet combinations.
Some of my favorites include:
grape and gorgonzola with red chile flakes
pear with butternut squash and fresh arugula
goat cheese with fresh basil, thinly sliced zucchini and lemon zest
The pizza is your oyster!
Best Quick Homemade Pizza Dough
Ingredients
1 1/4 cups warm water
2 packages dry yeast
1 tablespoon honey
3 tablespoons good olive oil
4 cups all-purpose flour
2 teaspoons kosher salt
1 teaspoon dried oregano
Takes ,
serves 2.
Instructions
Combine the water, yeast, honey, and olive oil in the bowl of an electric mixer fitted with a dough hook. Mix. Add 3 cups flour, then the salt, and mix. While mixing, add 1 more cup of flour, or enough to make a soft dough. Keep kneading on low 10-15 more minutes until smooth.
When the dough is smooth and ready, turn it out onto a board prepared with flour and knead by hand a dozen or so times. It should be smooth and elastic.
Place the dough in a bowl coated with olive oil and turn it several times to cover it lightly with oil. Cover the bowl with a kitchen towel. Allow the dough to rest at room temperature for 30 minutes.
Divide the dough into 4 equal parts and roll each one into a small ball. Place the balls on a baking sheet and cover them with a damp towel. Allow the dough to rest for 10 minutes. Use immediately, or refrigerate for up to 4 hours. (Sometimes I skip this step and the dough works out fine!)
Roll and stretch each ball into roughly a 10-12 inch circle and place them all on baking sheets sprinkled with cornmeal or lined with parchment paper.
Preheat oven to 500 Degrees. Top each pizza with desired toppings, and slide into hot oven.
Top each baked pizza with a sprinkle of sea salt and drizzle of olive oil and enjoy!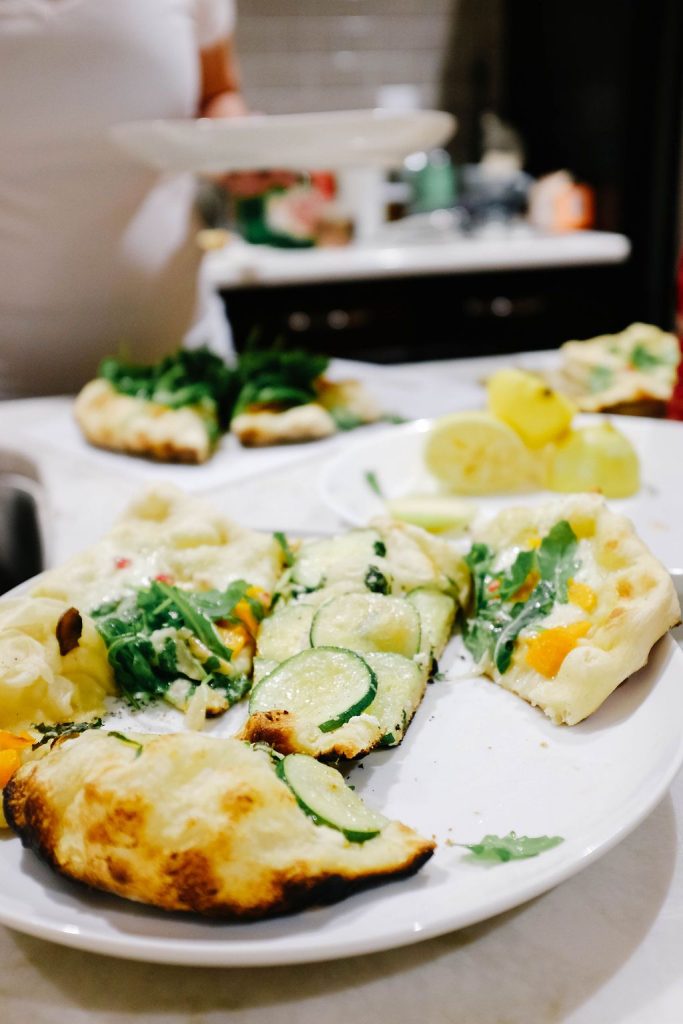 Images by Heather Mildenstein Photography