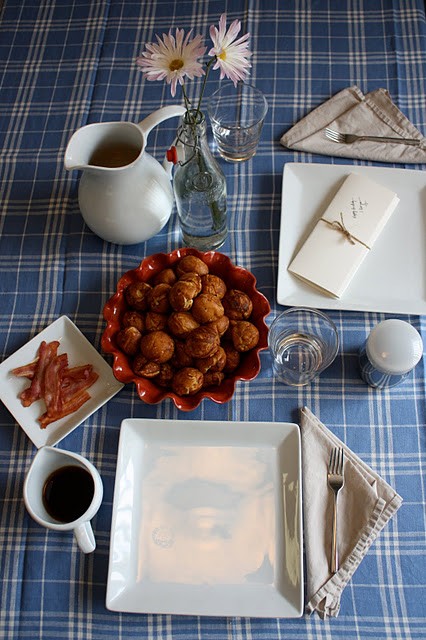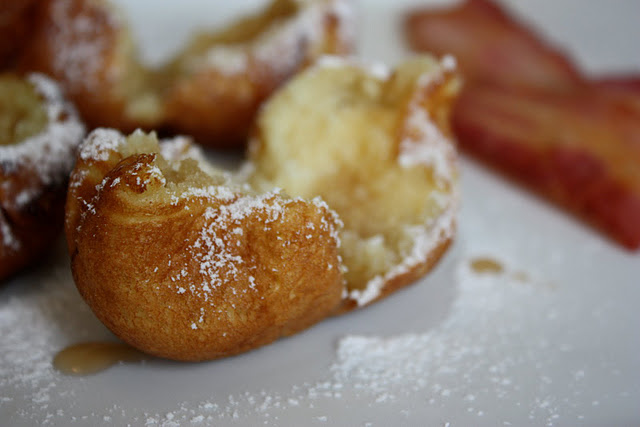 These fantastic little balls of Danish pancake-y goodness are a tradition in my family. Not only for Birthday breakfast, but for EVERY holiday breakfast of the year…but there's a catch, you can ONLY have them on holidays, which makes them super special.
Now, because you're my friends, I'm going to let you in on a little secret. Mamo's recipe:
1. Heat pan over medium hear while preparing the batter.
2. Beat egg whites until stiff and fluffy. Set Aside.
3. Combine remaining ingredients (except applesauce) and blend until spoon. Just before cooking, fold in lightly the beaten egg whites.
4. Brush each cup with cooking oil.
5. Spoon batter in to each cup to 2/3 full. As cakes begin to brown, turn by a quarter with a fork (or knitting needle or chopstick) to allow batter to run into the cup and continue forming the sphere.
6. To add "aeble" to the "skiver," place one small spoon full of applesauce into the center of each skiver before beginning to turn.
Serve with powdered sugar and syrup. Makes about 30 aebleskivers…you'll want to make them all and save the extras to eat the next day…not on a holiday…but not cheating!