When my older sister turned thirty, she wanted me to go to Paris with her to celebrate. Although that sounded like a dream, it just wasn't in my student budget, so I came up with a different idea. I planned a girls' trip to San Francisco, complete with a full itinerary of shopping, eating, and sightseeing. We were to browse, eat, and enjoy everything about the city that we could squeeze into a weekend! The weekend was such a hit, we decided to make a tradition of it. For each of the four sister's thirtieth birthdays, we will take a girls' trip (except, because the caboose is so young, we'll do her girls' trip in two years, when she turns 16!)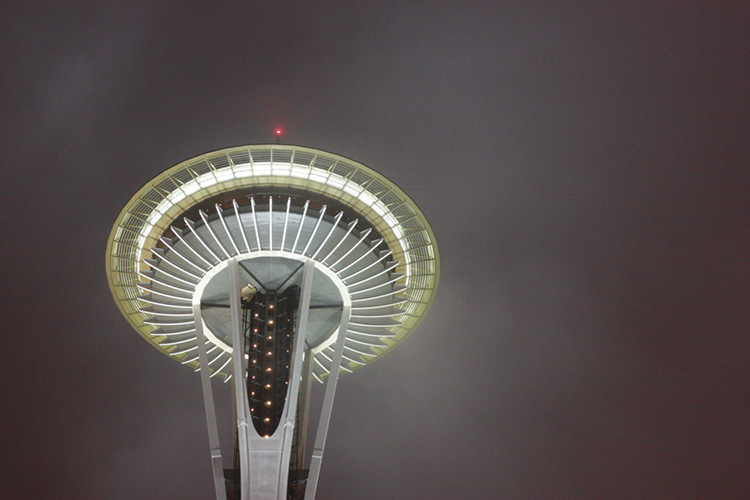 As I approached my thirtieth, the anticipation built, and I was excited to find out where we were going, and what we'd be doing for my birthday trip! About a week before I left for Alt Summit, I got a packaged invitation to join my sisters and mom for a weekend in Seattle!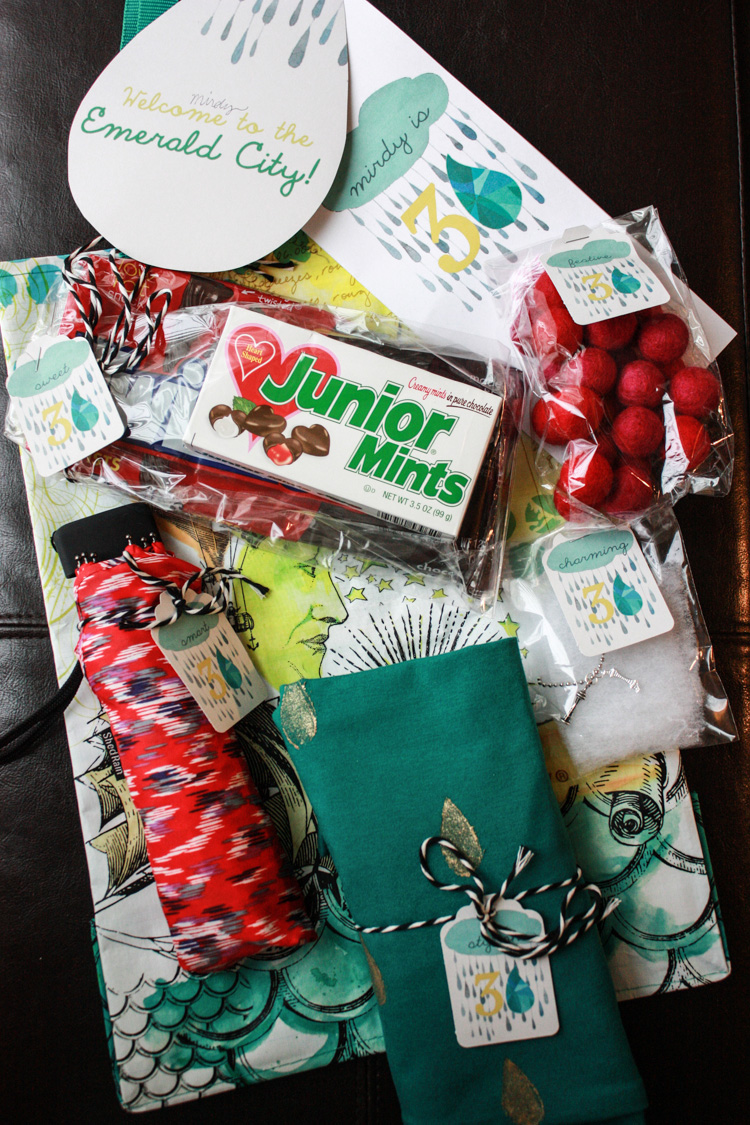 The first morning of the trip, we all awoke to gift bags filled with goodies patterned after those I had put together for Chelsea's birthday trip. Each favor had a tag with a characteristic of "Thirty": Charming (charms on a necklace), Festive (materials to create a wool felt garland), Sweet (candy), Smart (umbrella), and Stylish (a hand-stamped infinity scarf)! The bag also had a Girls Guide to the Emerald City, outlining all of the fun places we would be visiting.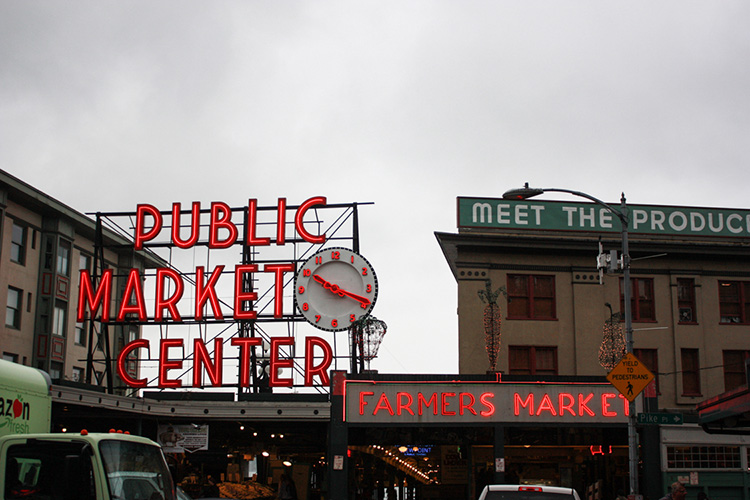 The whole trip was a blast. I think a birthday trip is an amazing way to celebrate! I'm excited to share the list of restaurants, shops, and sights we visited, so you can take on Seattle with as much vigor as we did! ( A special thanks to our cousin Stephanie of Stephmodo, who was a huge resource in the planning for this trip.)
I think it's easier to look at a list, so I'll list all of the spots first, then expand on those I have photos of. If I don't have a photo, I'll expand a bit at the top. Sound good?
Where to eat:
*The Crumpet Shop: Have you ever had a crumpet? They're delicious. I like mine with lemon curd.
*Quintessential Gourmet: This specialty Olive Oil and Vinegar shop was one of my ultimate favorite stops in Seattle. I was blown away by the flavors and varieties! I brought home Persian Lime Olive Oil, and three types of Balsamic Vinegar: Coconut, Cinnamon, and Lavender. It's all we've been using to dress our salads lately, and is delicious!
D'Ambrosio Gelato: amazing, amazing gelato. There are a few locations, so be sure not to miss one!
The Seattle Bites Food Tour was one of my favorite parts of our whole trip. We spent a couple hours on a guided tour of the market, sampling several shops and learning a ton about the history of Pike Place. The market is such a Seattle institution, and I loved hearing about it's beginning. I would highly recommend the tour for anyone visiting.The $40 price was quickly made up in tons of great food (I was full by the end), and rich history.
 The Donuts are delicious, and I learned this time that I like the Turkish Delight more because it's cool than because it's delicious. But I still think it's delicious.
The gourmet pizza at Serious Pie was really great, but the homemade root beer was off the charts!! If I lived in Seattle this would be a regular stop (pizza is my favorite food…after cheese and chocolate.)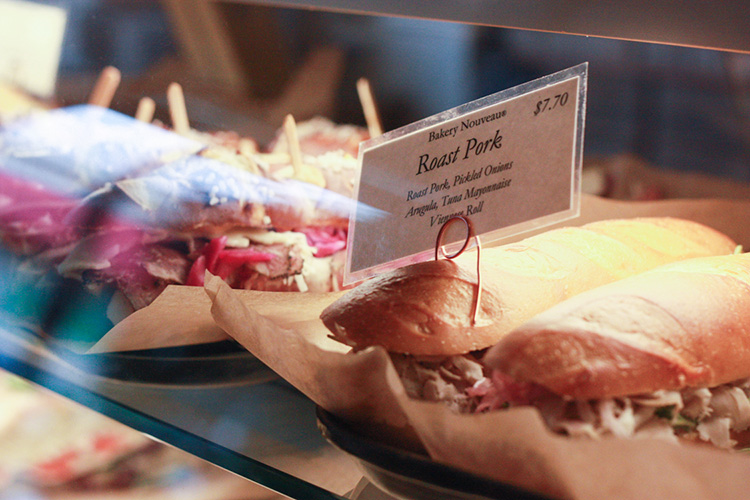 Bakery Nouveau was a great stop for lunch. Everything looked and tasted amazing! I hear the croissants are to die for. I'll have to try them on my next visit!
The Walrus and the Carpenter was such a fun and delicious stop. It's a hidden gem off of Ballard Street (a super fun shopping area) and we were lucky to sneak in early and get a table. The place is an oyster-lover's paradise. I tried (and enjoyed!) my first oysters. The other dishes we ate were inventive and fresh. But my very favorite thing was the super crusty house made bread and fresh churned butter. I'm a sucker for good bread.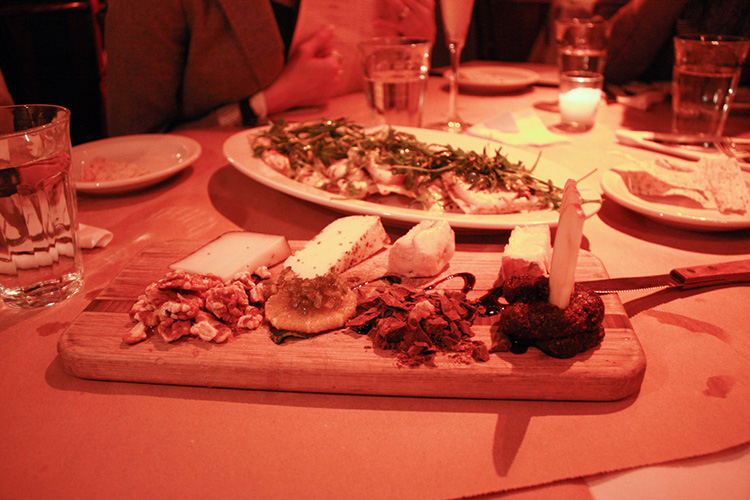 The Pink Door was our last dinner out, and my very favorite food experience in Seattle. The restaurant doesn't have a sign, just a pale pink door off an alley way near Pike Place. The cozy, cool atmosphere was dimly lit and filled with eclectic decor. Apparently there is a trapeze show on the weekends?! We started with the cheese board (big surprise) and some roasted flatbread. The cheeses came paired with fitting sides: nuts drizzled with honey for the comté, dark chocolate shavings with the bleu. After the starters we were all completely satisfied! And then the entrees were equally as delicious. For me, this place is a must-stop when in Seattle. Get the cheese.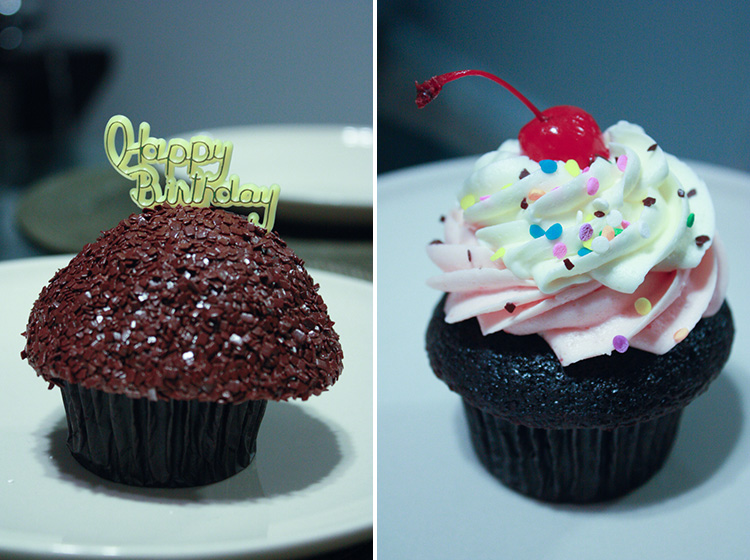 Since it was a birthday trip, I thought we should celebrate with some local cupcakes! I didn't go to the trouble of organizing a tasting, but instead took the recommendation Jenny gave me to try Trophy Cupcakes. They were delicious, and completed the trip.
What to do:
Local Honey scrub at Salish Lodge
Fashion Exhibit at Wing Luke Museum
The Salish Lodge is perched atop a cliff, next to a river that suddenly drops into a spectacular waterfall named Snoqualmie Falls. The location picture perfect, and the lodge itself fits the dreamy scenery. We spent a morning in the spa, getting scrubbed down with sugar and honey from the bees that are kept at the lodge, soaking in the private hot tub, and relaxing by the fire. I'm typically not a spa-goer, but after this experience, I believe every girls' trip should include a spa date.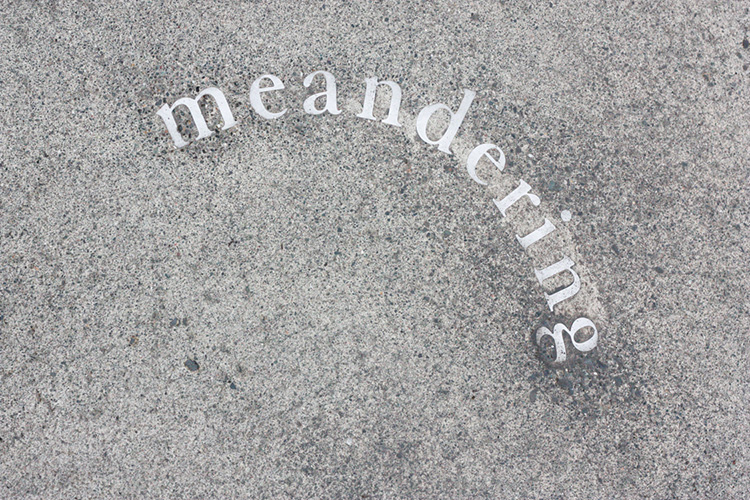 Outside the lodge on the sidewalk, they had cemented metal letters into the path: meandering, rumbling, tumbling, crashing, etc. I loved the subtle whimsy. This is an idea that I'd love to include in my own house or yard someday.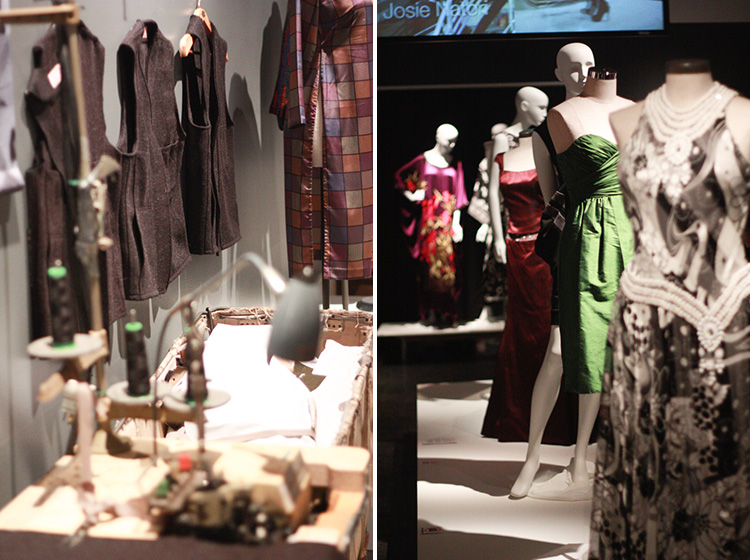 The Wing Luke Museum tour was fascinating. We learned all about the Chinese and Asian history in Seattle, and walked through the old hotel adjacent to the museum that used to house families of Asian immigrants. My favorite part of the museum (and the reason we visited) was the Special Exhibit about fashion. The exhibit showed the progress of Asian designers from sewing factories to the runway. I loved seeing the industrial side of garment creation, as well as the showroom of high-fashion looks by Asian designers such as Vera Wang, Andy South, Luly Yang, and Josi Natori. I just swoon over creative fashion, and this exhibit was so inspiring.
One of the days of our trip we were so happy to have my little brother Taylor come up from Portland to hang out with us. We spend some time on the picturesque Alki Beach to take photos. The day was pretty gray (as were all of the days), but the scenery was gorgeous.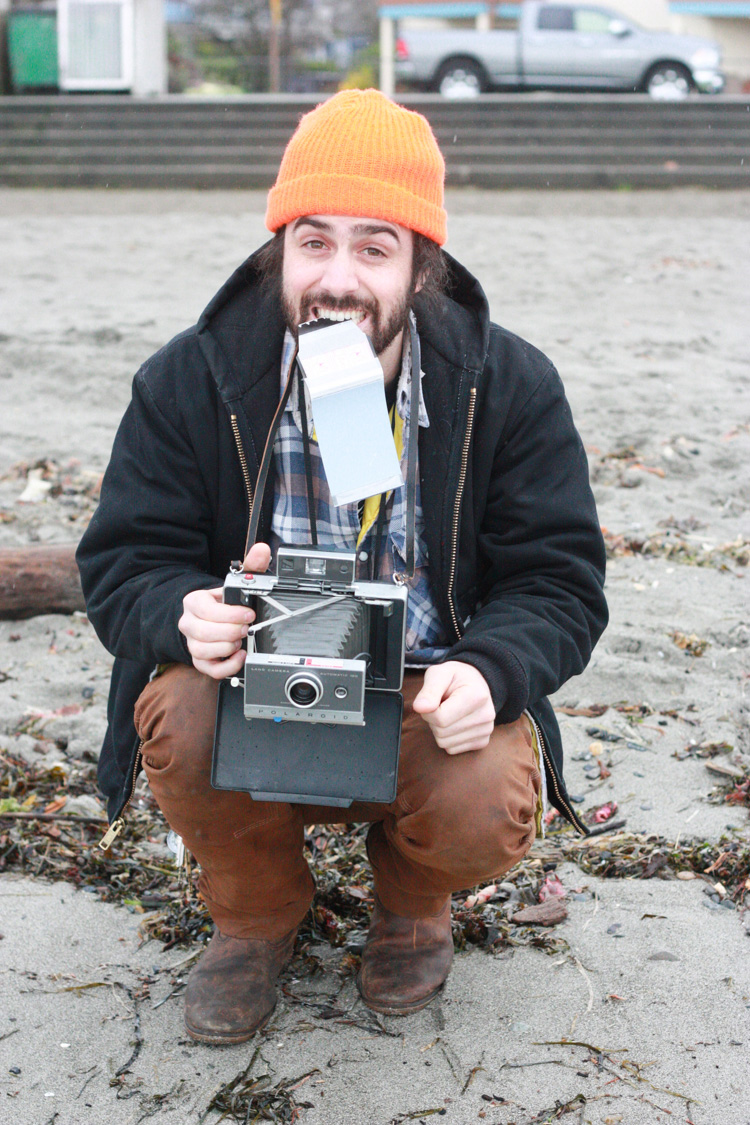 This guy has a film camera in hand all the time. He took a killer polaroid of the girls (that I hope to see in my inbox sometime soon.) That old camera was my grandfathers, and still works beautifully.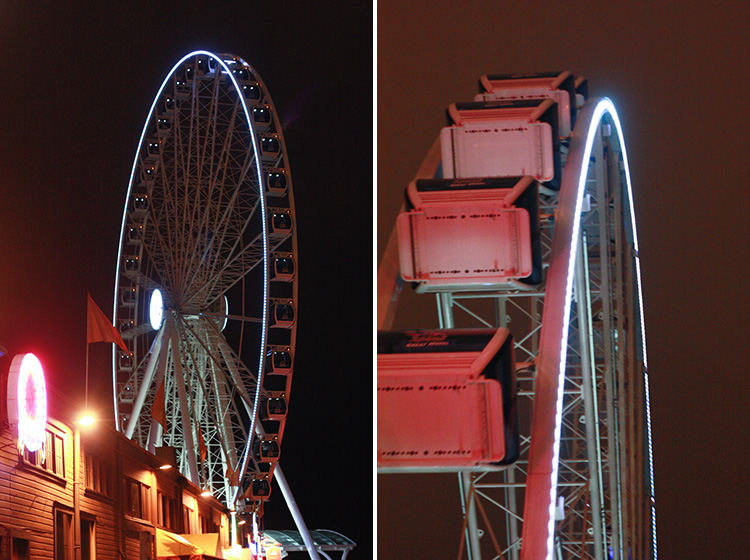 The Great Wheel was a fun little outing. We ended up nearby one of the evenings, so hopped on for a ride. The views are pretty, and I mean, how often do you get to ride a giant ferris wheel? We crammed all six of us into one little box and we got a little loopy. I think this would be such a fun date, with a cup of hot cocoa and a blanked to snuggle with.
Everyone agreed that the Chihuly Garden and Glass museum was a must-see. The exhibits and gardens were spectacular. I loved learning a little bit about Dale Chihuly. What a talented guy.
Where to shop:
Watson Kenedy : This vintage-inspired boutique would be the perfect place to find accessories for home, or gifts for friends. I loved wandering, and could have spend hours ogling all of the beautiful things.
Nube Green: Filled with refashioned, repurposed, and recycled goods, this little shop was a unique stop. I loved the kids section.
Totokaelo: Possibly the most inspiring, though wildly expensive boutique I've ever set foot in. The displays were spot-on, I wanted to move the entire home design section into my apartment, and the racks and racks of designer clothing had my mind spinning. If I had a million dollars, this Rick Owens jacket would be the first thing I bought.
Meadow Boutique: We didn't make it over to this little shop, but it came highly recommended and looks darling.
Butter Home: This was another one we missed, but it is definitely on the list for next time (and I'm so happy I can order online!)
Lululemon Outlet: The Burlington outlets are about 2 hours outside of Seattle, but if you love Lulu, it's worth the drive. I kind of joked with my sisters about this stop, because I'm not totally on the bandwagon with spending more on exercise clothes than I do on my regular wardrobe, but this outlet helped to convert me a bit! It is not a factory store, but instead receives the actual unsold retail items from the previous season. I found several pairs of running shorts and skirts for $19 each (normally $70-100). I'm still not above wearing my old buddha tee and leggings to the gym, but I sure feel cute in my new digs.
Drygoods Design is a darling little fabric shop and workroom nestled among the fabulous shopping on Ballard Avenue. The selection of quilting fabrics was super well-curated. I noticed a bunch of fun japanese prints that I hadn't ever seen before. They also have a smaller selection of knits and apparel fabric, as well as some gorgeous bolts of Liberty. I wished I had a project in mind, because I'm sure I would've found just what I needed! I did bring home a couple darling prints that I can't wait to use. Also, for locals, the class selection looks awesome!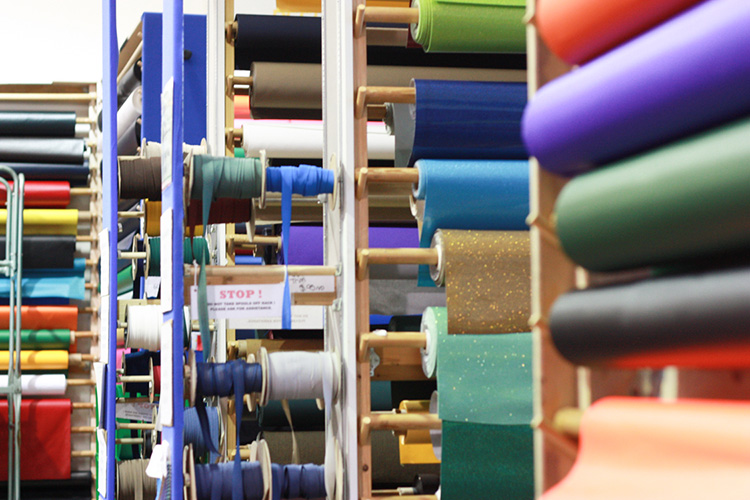 I loved walking into the outerwear fabric mecca of Seattle Fabrics. Immediately I imagined myself whipping up parkas, fleece vests, sleeping bags, and sails…you know, for our someday-sailboat. I just adore fabric, and this place has a lot of it. Most of the bolts are pretty specialty (think: Marine Grade Awning Fabric and Weathermax 65). I did find some great waterproof rip-stop nylon to make Eliot a windbreaker, and lovely yellow fleece that already became fleece vests for both boys.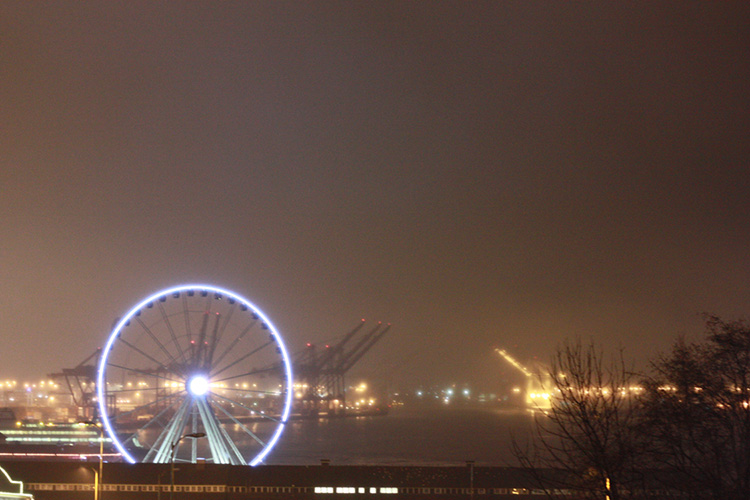 The three-day trip was filled to overflowing with tastes, sights, inspiration, and relaxation. On top of all of the going going going, it was so awesome to spend time with my sisters and mom, who I don't see often. I'll tell you, they are pretty cool.
Having a birthday experience, rather than receiving a bunch of birthday gifts will always be my first choice.
Do you ever go on birthday trips? If you could choose a new city to explore, which would it be?