Blood Orange Chocolate Cake
When I couldn't resist a beautiful bag of blood oranges in the market last week, this blood orange chocolate cake was born.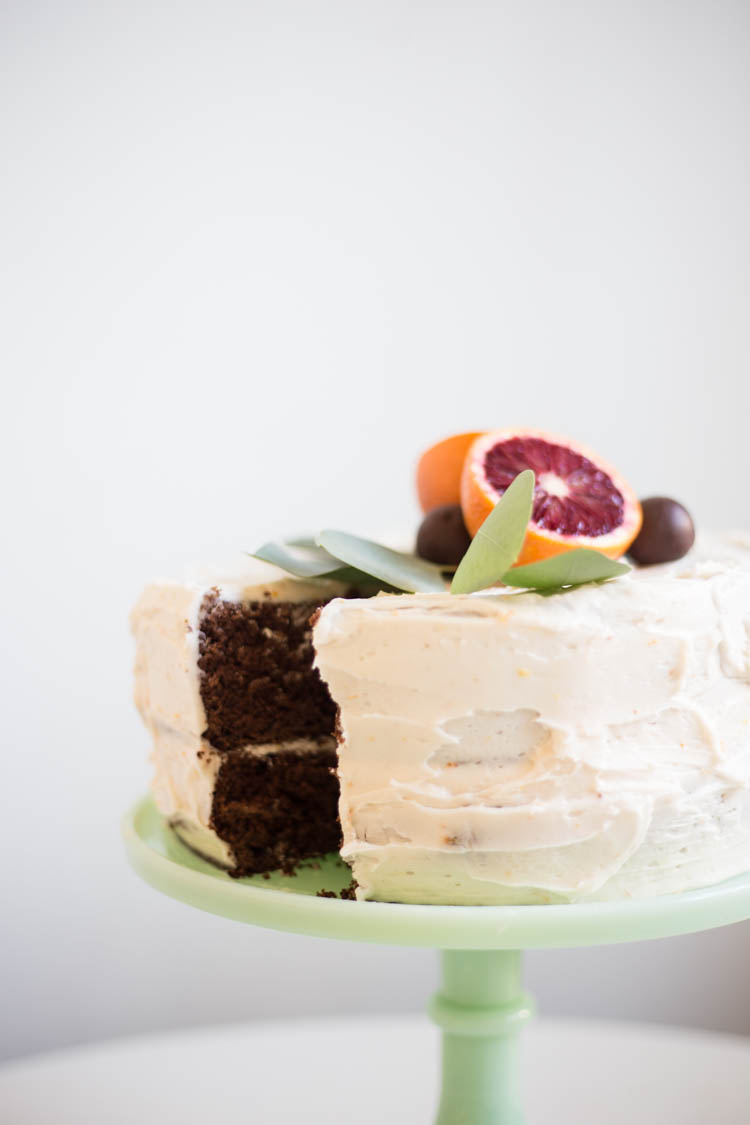 Simple & Delicious
This cake is special. The process to make it is pretty simple, and the result is deliciously different. Blood orange is subtle and tangy, adding a nice depth to the chocolate and flavor to the blood orange buttercream. Topping the layered cake with dark chocolate Lindt truffles along side a beautiful cut orange makes it effortlessly chic and perfect for display at a party or shower.
I'm glad I snuck these photos and a slice beforehand, because about an hour after I shot them I found Plum on the counter, double-fisting cake. Ha! Turns out it's irresistible, even for a toddler.
Styling info, in case you're interested: Jade Cake Plate // Scalloped Jade Plate // Gold Flatware (similar)// Shibori Kitchen Towel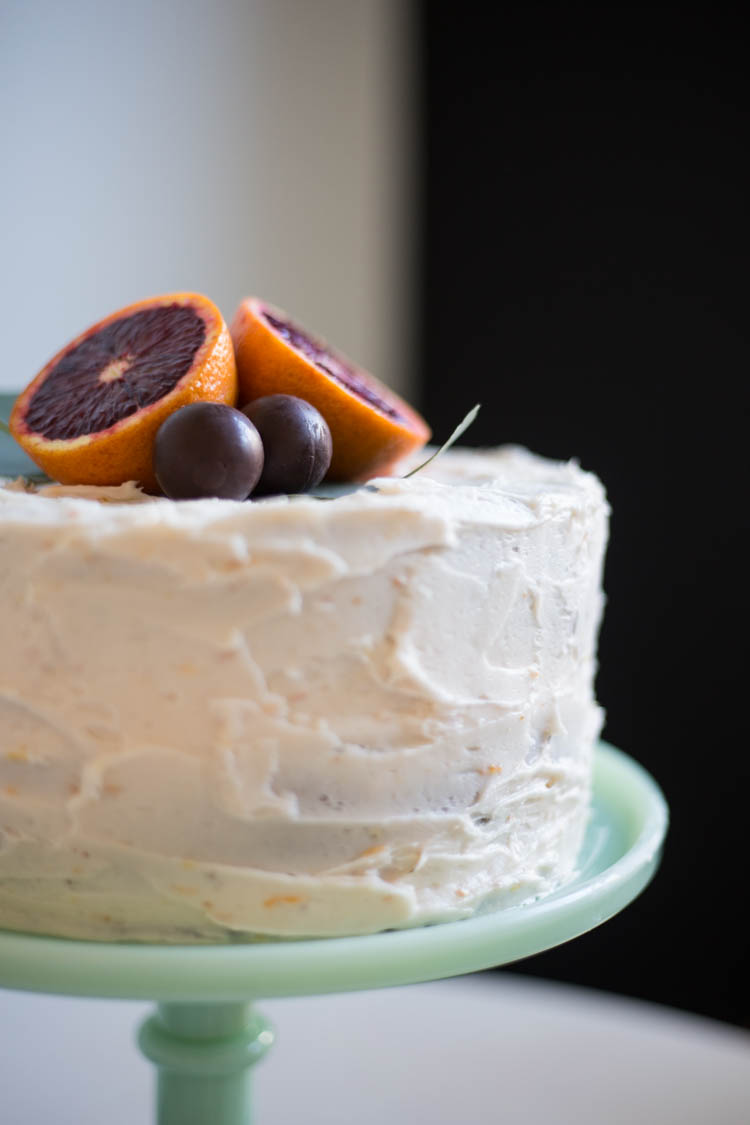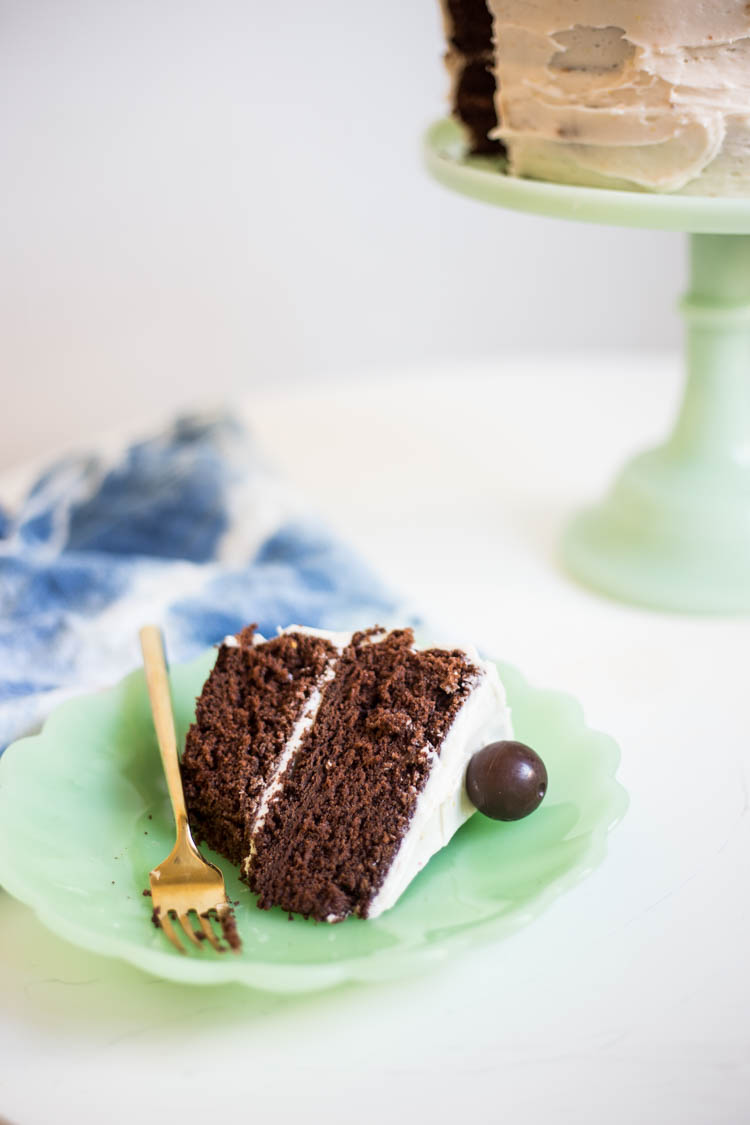 Decorating & Serving Tips
For the blood orange chocolate cake layers, I used my favorite chocolate cake recipe and added a little blood orange zest and juice to bring in that citrus flavor. The buttercream is my go-to basic recipe, again with zest and juice added. I'm sharing both full recipes here below for you to easily recreate something similar. I highly recommend it.
When I served the slices, I added a truffle to the end of each. My kids thought they had won the jackpot with a piece of cake and a piece of chocolate for dessert. That's what birthdays are for, right? (Okay, and anytime. You all know I eat like it's a celebration most days.)
As far as decorating the blood orange chocolate cake, here are a couple simple tips:
Freeze the cake layers before trying to frost. This helps keep them solid and in place while you frost, and also cools the buttercream as it is applied, so it goes on smoother and more easily. I was able to stack and frost this cake in just a few minutes without any crumbling issues.
Cut the orange then dry it off before placing it peel-side-down on the frosting. This way the juice won't ruin the frosting.
Fresh greenery goes a long way. I pulled some Eucalyptus leaves from a floral arrangement on my counter, but you could use any decorative or herbal greenery.
Lindt truffles echo the sphere of the citrus and look just right on this cake. Plus, they're delicious.
Once it's frosted and decorated, it can sit on the counter to thaw so it is room temperature for serving, rather than melting into more of a mess during the party.
Luckily, we didn't finish the entire cake as a family, so I have some slices frozen, ready to pull out the next time we have unexpected company after dinner. Or when my midnight chocolate craving hits, which is often.
Find the recipe below. I hope you enjoy it as much as we did!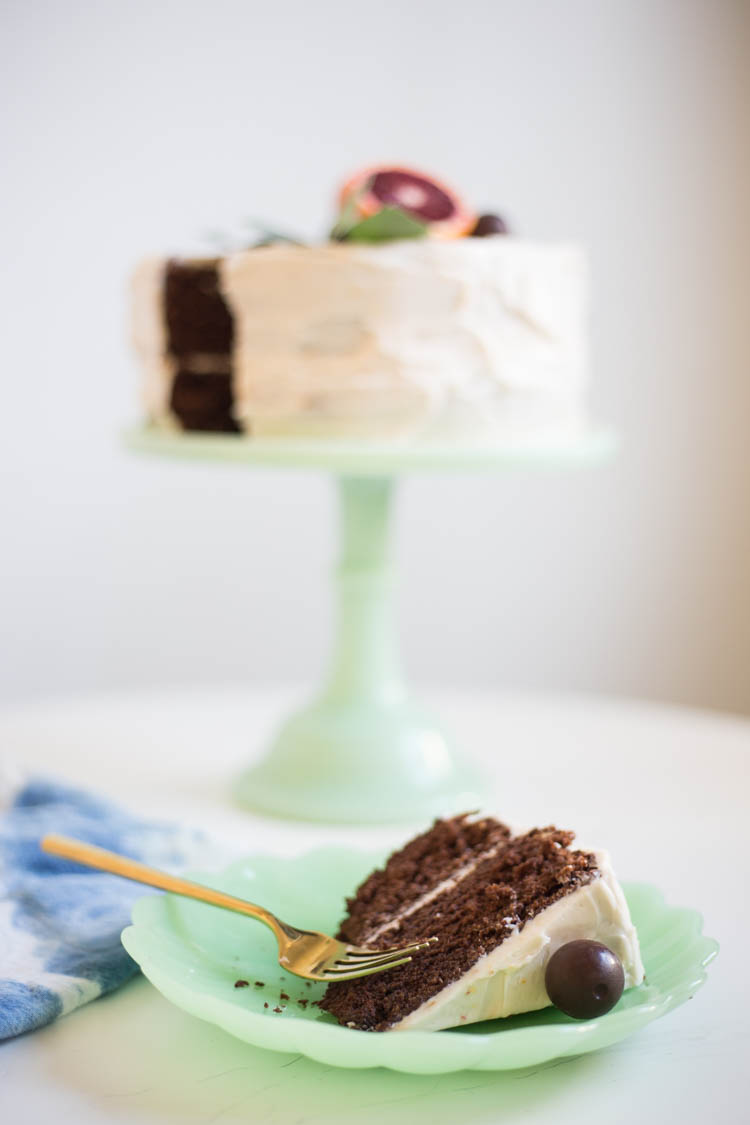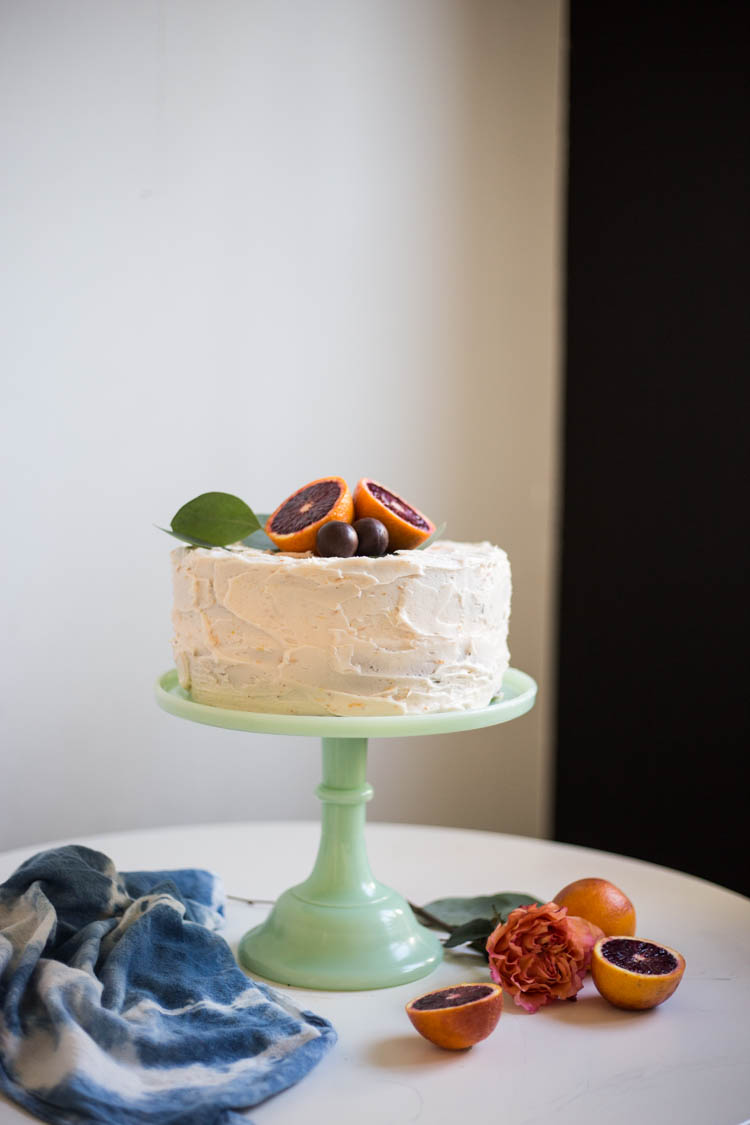 Blood Orange Chocolate Cake
Ingredients
3 1⁄3 cups flour
1 1⁄3 cups cocoa powder
3 cups sugar
1 tablespoon baking soda
2 teaspoons salt
12 ounces butter, softened
2 3/4 cups buttermilk
1 teaspoon vanilla
5 eggs, room temperature
zest of one blood orange
juice of one blood orange, or 1/4 cup
Takes ,
serves 12.
Instructions
Preheat oven to 350°F.Grease and flour two 9″ round baking pans.
Whip butter and sugar until soft and fluffy. Add eggs one at a time. Combine dry ingredients in a bowl, including blood orange zest.Mix buttermilk and blood orange juice in a bowl. Alternate adding dry ingredients and buttermilk mixture to the first bowl until all is incorporated.
Pour into 2 prepared pans and bake for 45-55 minutes or until a toothpick comes out clean.
Let cool for 10-15 minutes then invert onto a cooling rack.
Wrap and freez for ease in frosting, or wait until all the way cool to frost.
Blood Orange Buttercream
Ingredients
1/4 cup soft butter (soft is important!)
1 1lb bag of powdered sugar
Juice of 1 blood orange, or 1/4 cup
2 Tbsp heavy cream
1 teaspoon flaked sea salt
zest of one blood orange, or 2 Tbsp
Instructions
Combine ingredients in a bowl and beat with an electric mixer until smooth. For thinner frosting add a bit more cream, for thicker, more sugar.
Take the frozen cakes from the freezer. Put a dab of frosting onto the plate to secure the first layer, then add a layer of frosting to the top before adding the second layer. Frost a second layer over the entire cake. Use a spatula to create a natural texture, then add a cut blood orange, fresh greenery, and some chocolate truffles to the top.