This was one of those situations when the house chose us, not the other way around.
In fact, the day before I spotted this little yellow cape cod on Zillow, I had been telling my sister that in 5 months of looking at homes in the Richmond area and going to open houses on the weekends, I felt more confused than ever.
Not only was I unsure about the neighborhood, schools, and style of house I wanted. I hadn't even settled into a clear idea of the size I was looking for! We had decided to downsize from 2400 sq ft in our beautiful Austin abode to 1000 sq feet in our Richmond rental house, and really had loved the lifestyle of both!
Living in a smaller space had opened up some creative organization, and I we had been living really comfortably and cozy in the small rental. I imagined we would want to at least add a bedroom and a bathroom, but other than that didn't have any clear desires.
There are so many darling neighborhoods in the area, and we have friends in a lot of them. I did keep feeling pulled towards the city, living a little closer to Dave's office, my studio space, and the kids school felt like a good decision. Not to mention the convenience of riding bikes to the local market, and being a stones throw from museums, restaurants, and a lot of the features we love about the city.
What I really wanted, though, was a place our family could settle in, become part of a family friendly, interactive neighborhood and local school community, and start feeling more rooted in the area.
I was also looking for a place we could add our own style and design too, and a fixer upper needed to be selling at a price where we had some room to renovate. I told the realtor I wanted the worst house on the best block in town.
Then, one day I was zooming in and out on Zillow, and stumbled across this house. It was within the same school boundaries where my kids currently attend, in a cute, historic part of town, and it hadn't been "flipped" to sell which meant the price was right and I wouldn't feel bad pulling out recently added cabinets or finishes to make it my own.
I quickly texted the realtor to make an appointment to see it. Then spend the rest of the day photoshopping the exterior to get ideas for things I could do to add curb appeal. Yellow isn't my color.
We walked in a couple days later, and as soon as I stepped inside I felt at home. This odd, cozy, cute little house was just right for us.
At 1500 sq ft, it isn't too big or too small. It is 3 bedroom, 2 bathroom, with a living room, dining room, and patio room area. The third bedroom/master and bathroom make it more functional as a longer-term home for our family, although I'm not committed to staying forever. It will be the perfect next chapter in our story.
As an older home it has lots of walls and closed off spaces, and those can be easily widened, and opened creatively to add more flow. There are windows in every room and beautiful original hardwood floors, and a nice sized fenced in yard for the kids and the dog to run wild.
The block is filled with kids. There is a tree house in one yard and play grounds in several others. The families are out strolling, walking dogs, and biking to school.
Basically, it is both not at all what I expected, and exactly what we need. I fall more in love with it every time I am there, and I am giddy with ideas for making it just right.
The above video walks you though the rooms. However, if you, like my friend on IG said, "hate YouTube", then here is a fun photography tour of the spaces. I thoroughly documented so that we will have lots of "before" photos for all of the changes I expect to make!
Entry/Living Room/Patio Room:
You walk through the front door into the living room, with the dining room visible through the walk way in front of you, and what used to be a screened in porch off to the left. That little "patio room" has such amazing windows and light, I am excited to fill it with plants!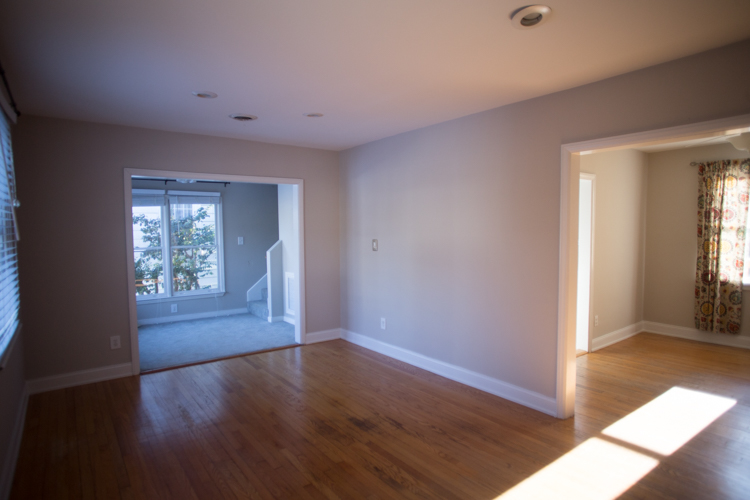 Dining Room:
The small dining room is behind this walkway, and divided from the kitchen by a wall. Both walls seem like great places to use a sledge hammer, and let the light flow from room to room!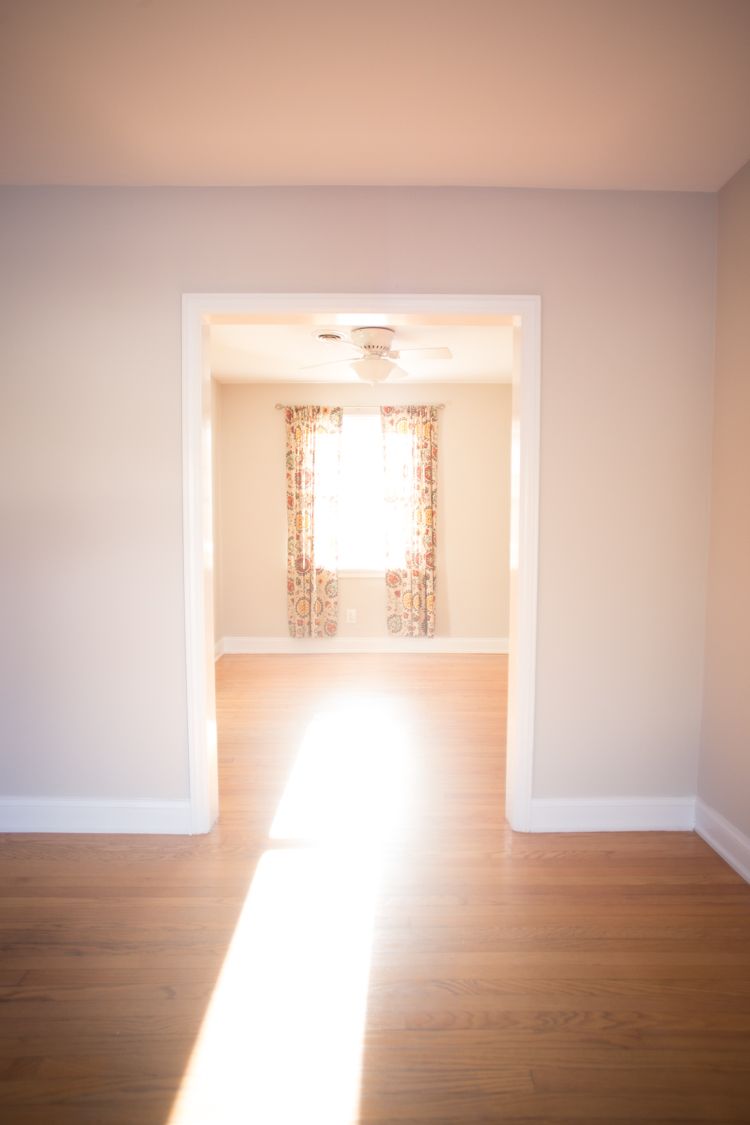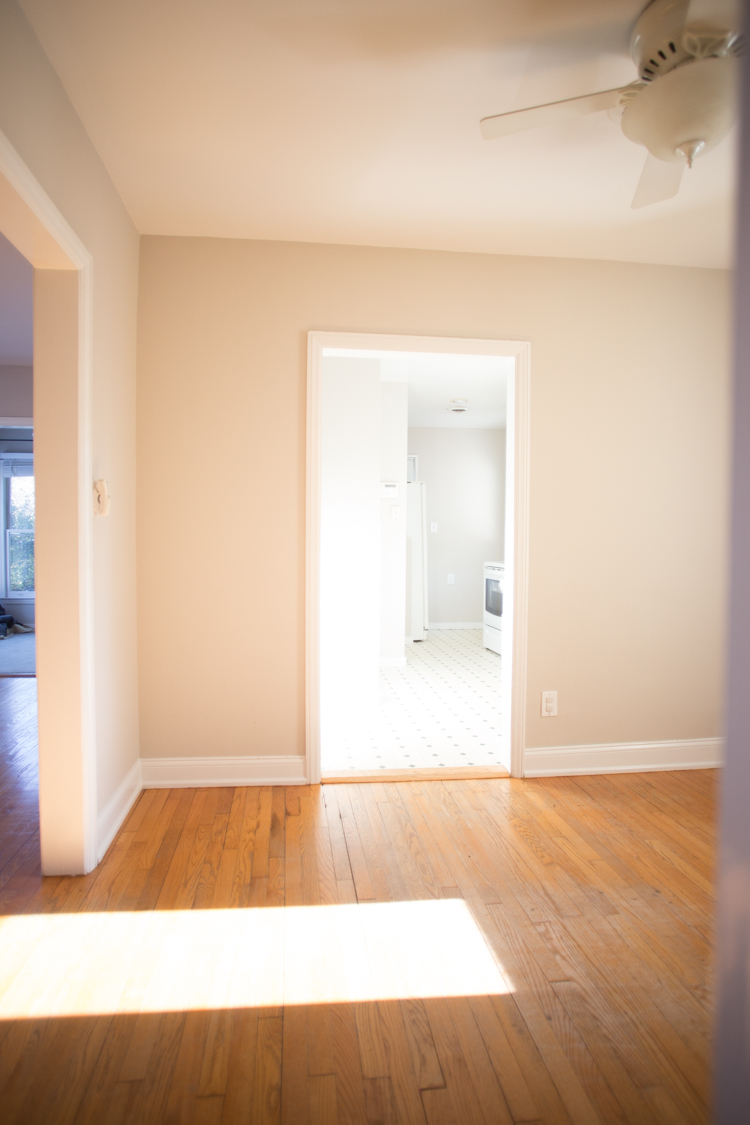 The Kitchen:
This kitchen has seen some odd renovations. I would love to see how it was arranged originally. For now, it is cabinets along one wall, and a coffee bar, laundry closet, pantry, and refrigerator all along the other in steps.
So many plans in here. So much potential.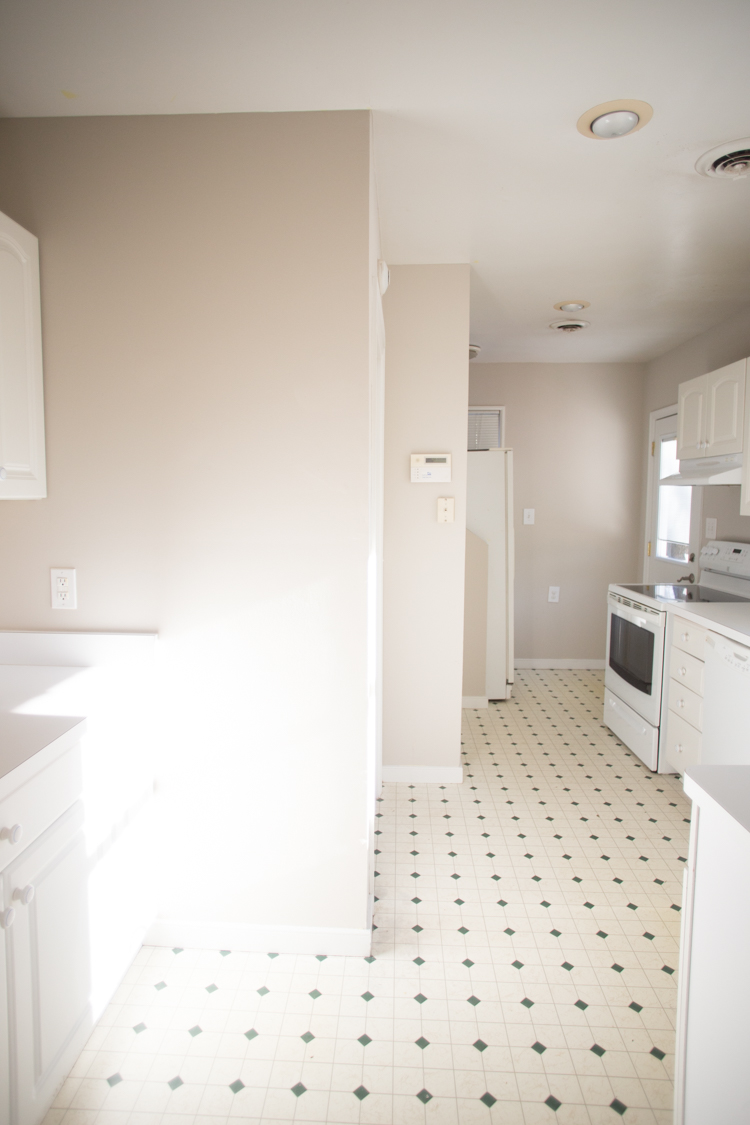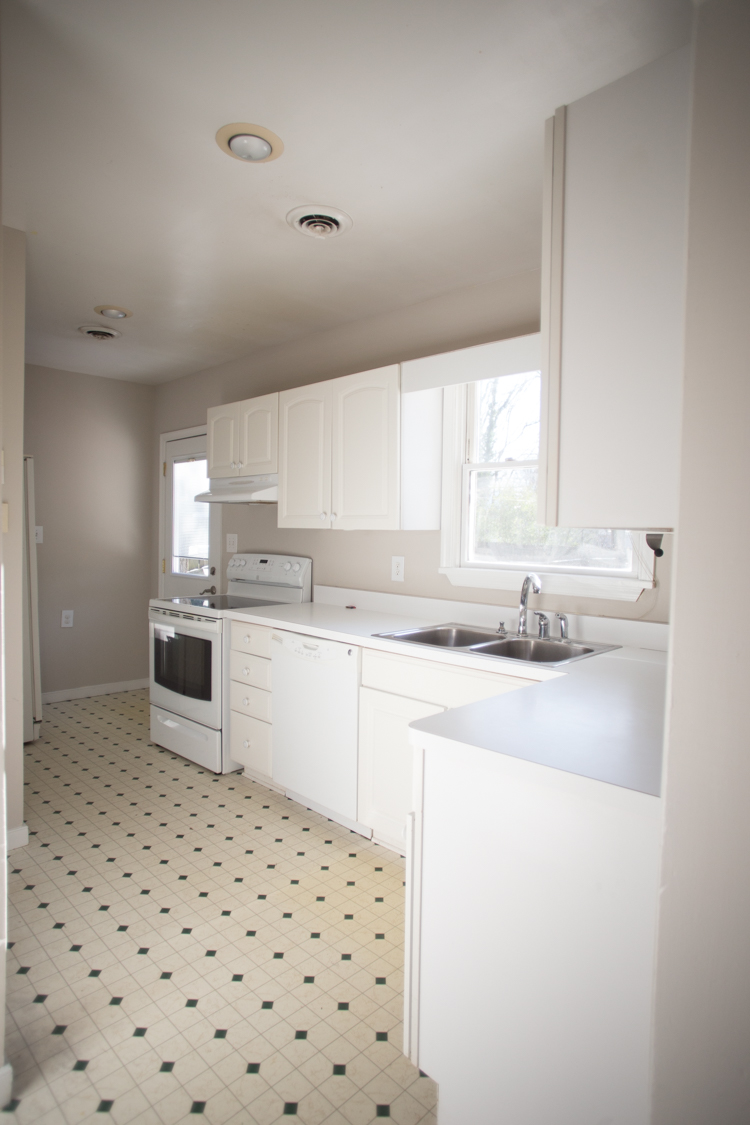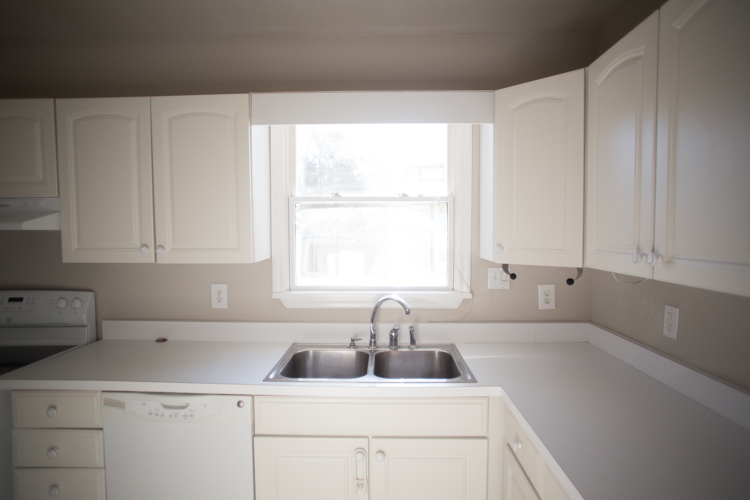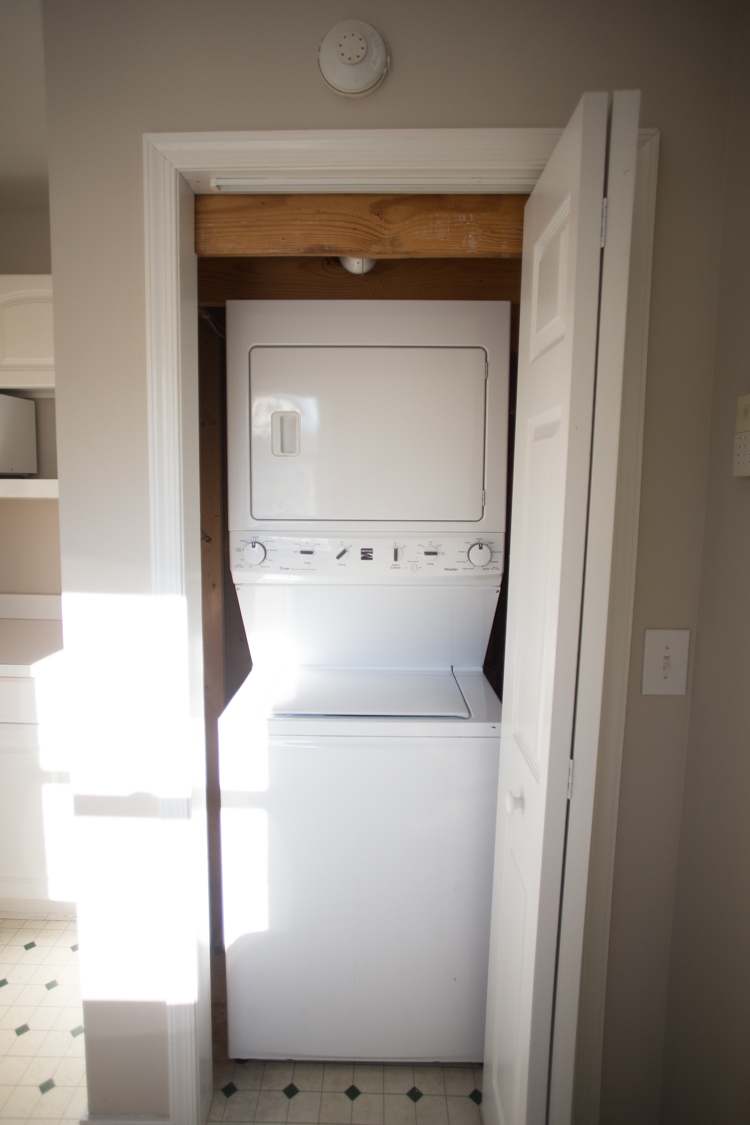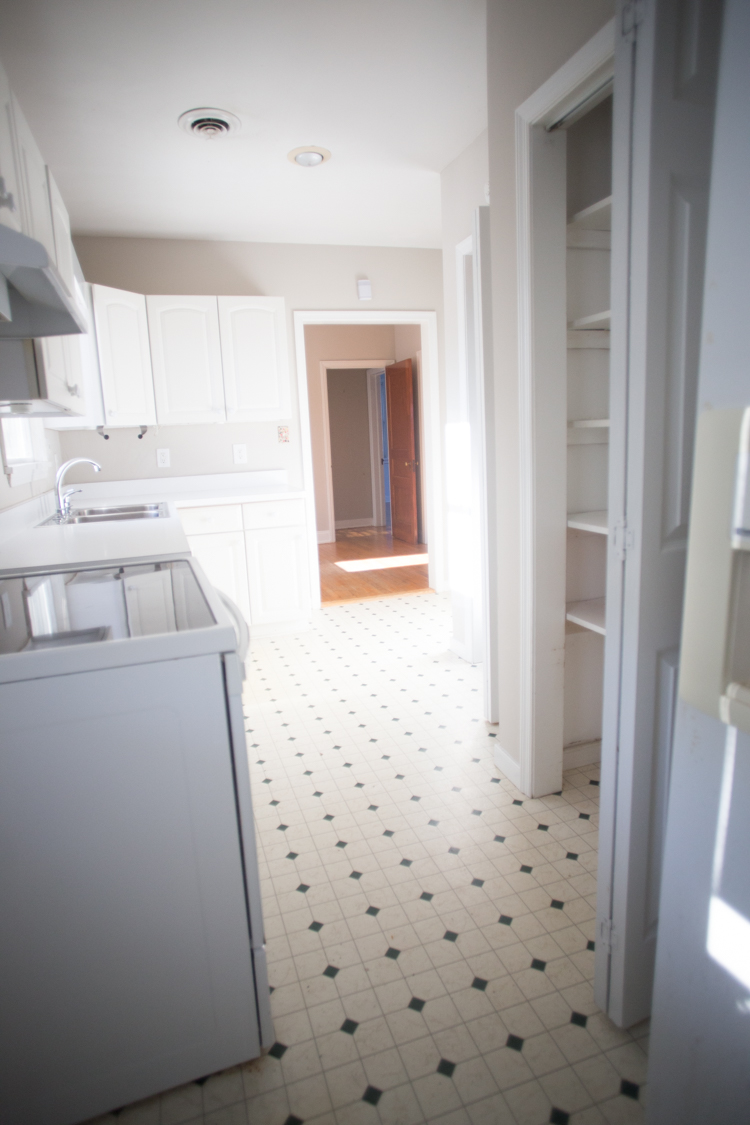 The Yard:
I love that there is already a great wooden porch built on the back of the house, as well as a small playground and shed for storage. The spring will be a fun time to plant some more trees and a garden back here and create some intentional outdoor living spaces.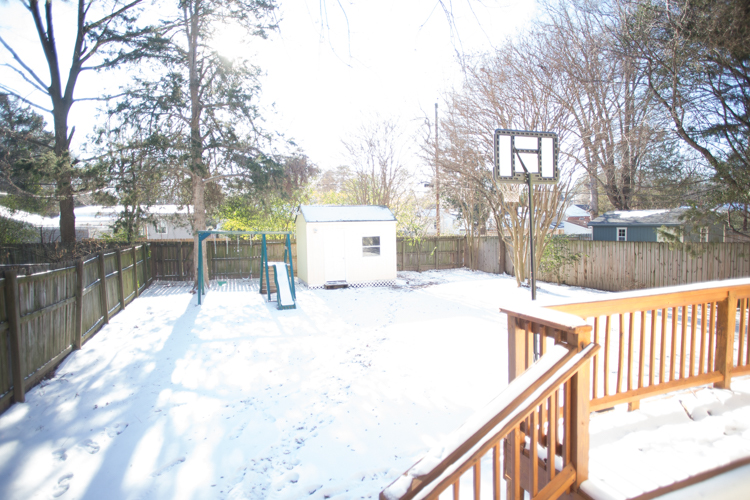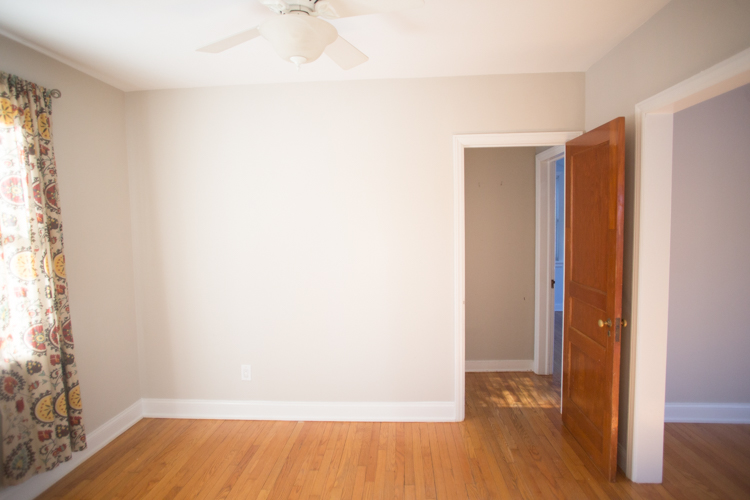 The Downstairs Bedrooms:
Through the dining room there is a hallway to the bedrooms and bathroom. These two will be for the kids, with one doubling as a guest room when we have friends or family in town.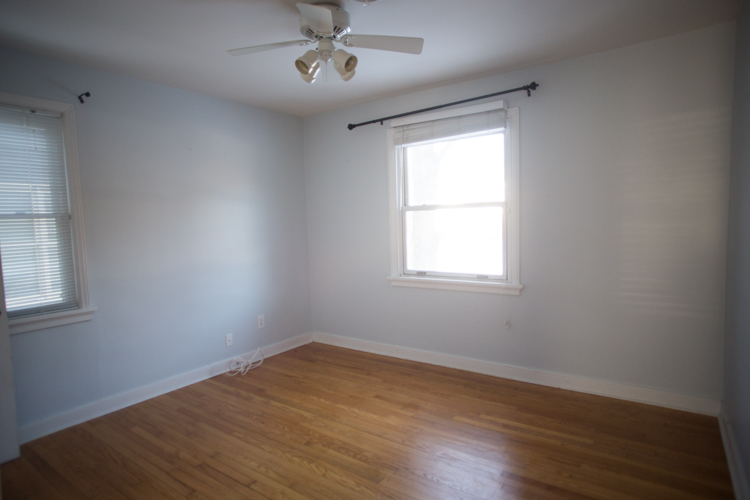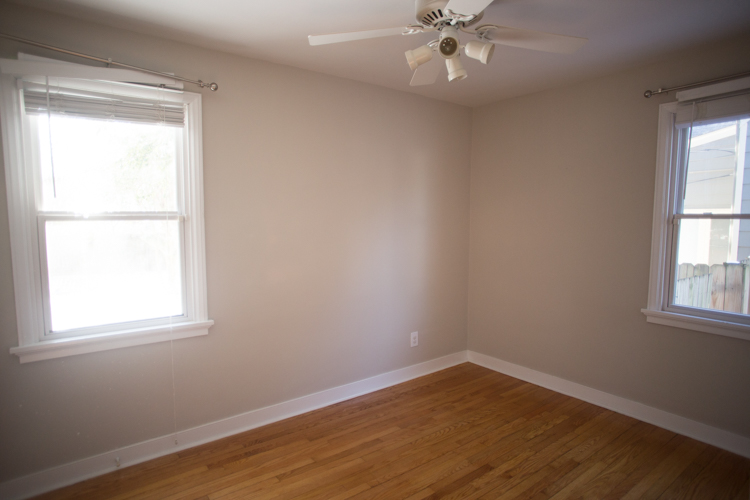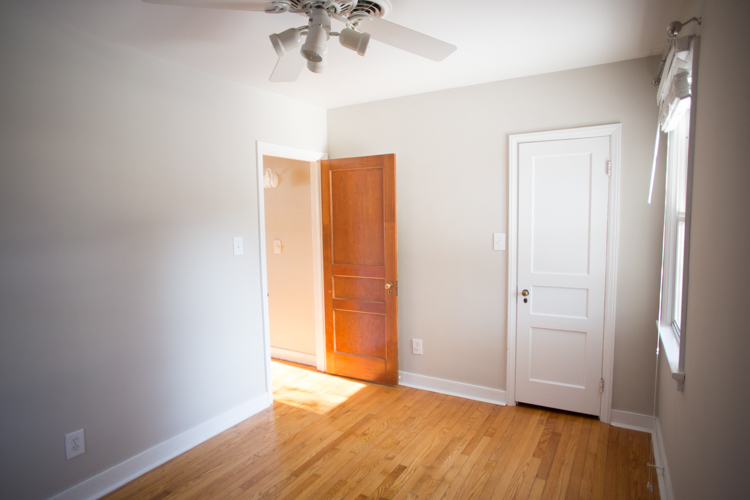 The Downstairs Bathroom:
Quite possibly my favorite room in the house! This 1948 original tile is in great condition and absolutely darling. I am excited to add fresh paint to the walls and vanity, change the mirror and lighting, and freshen it up a bit!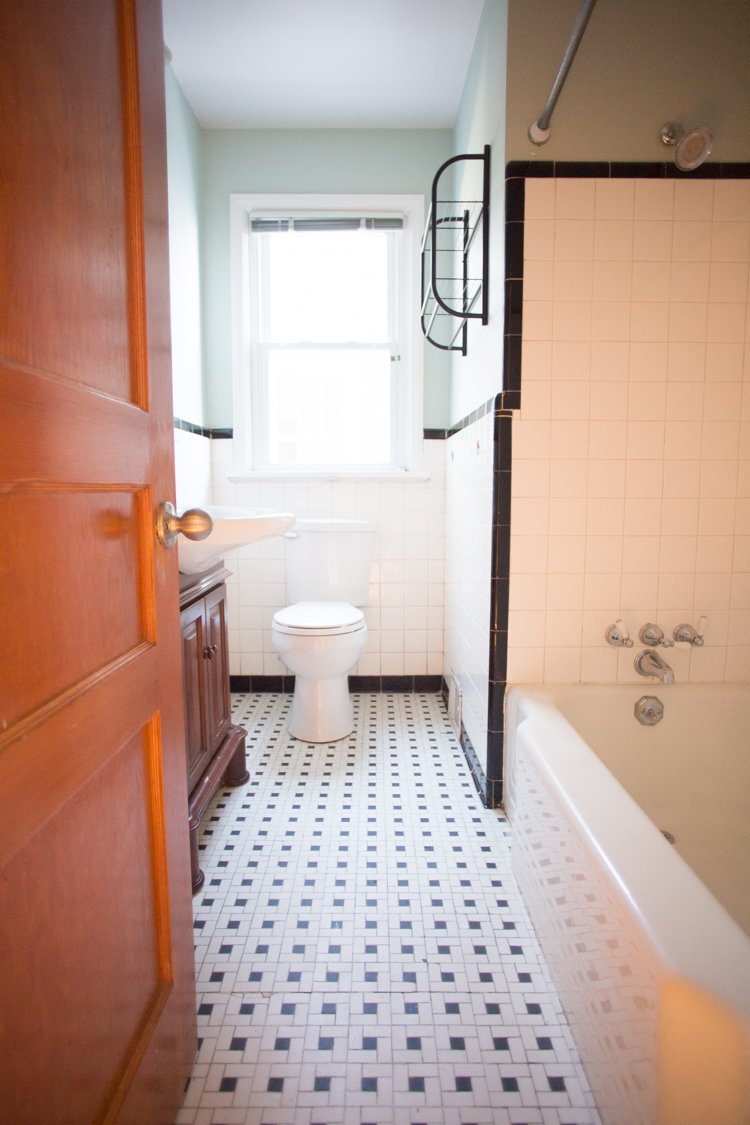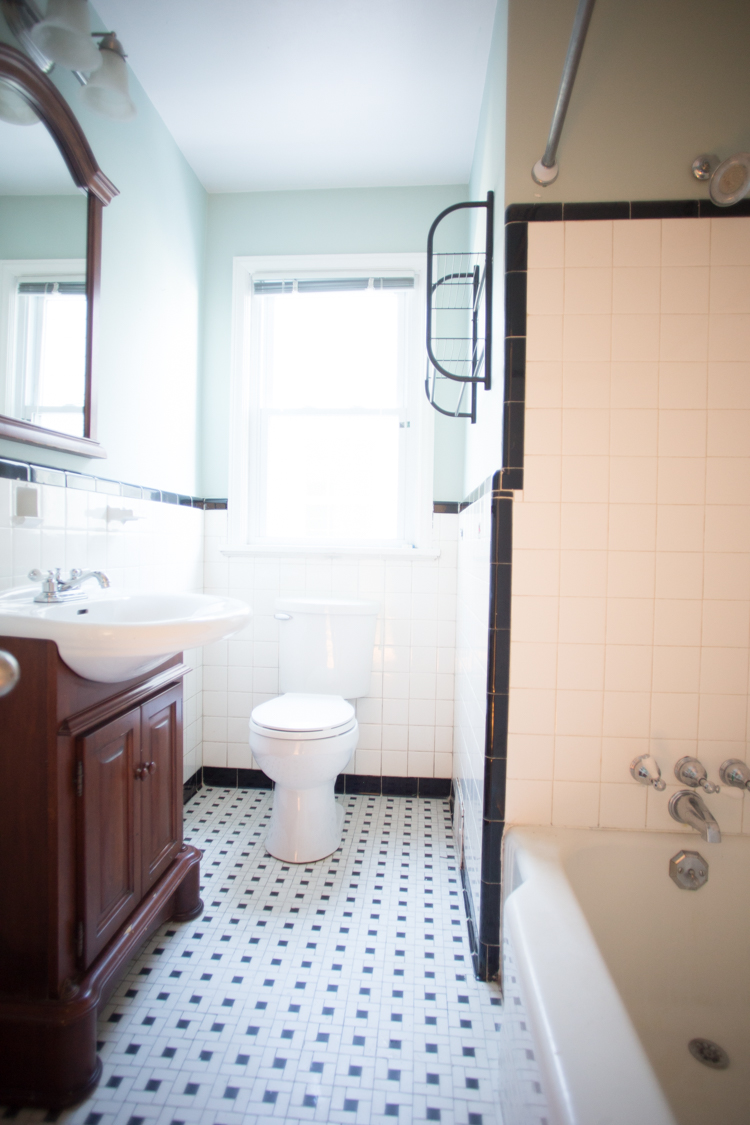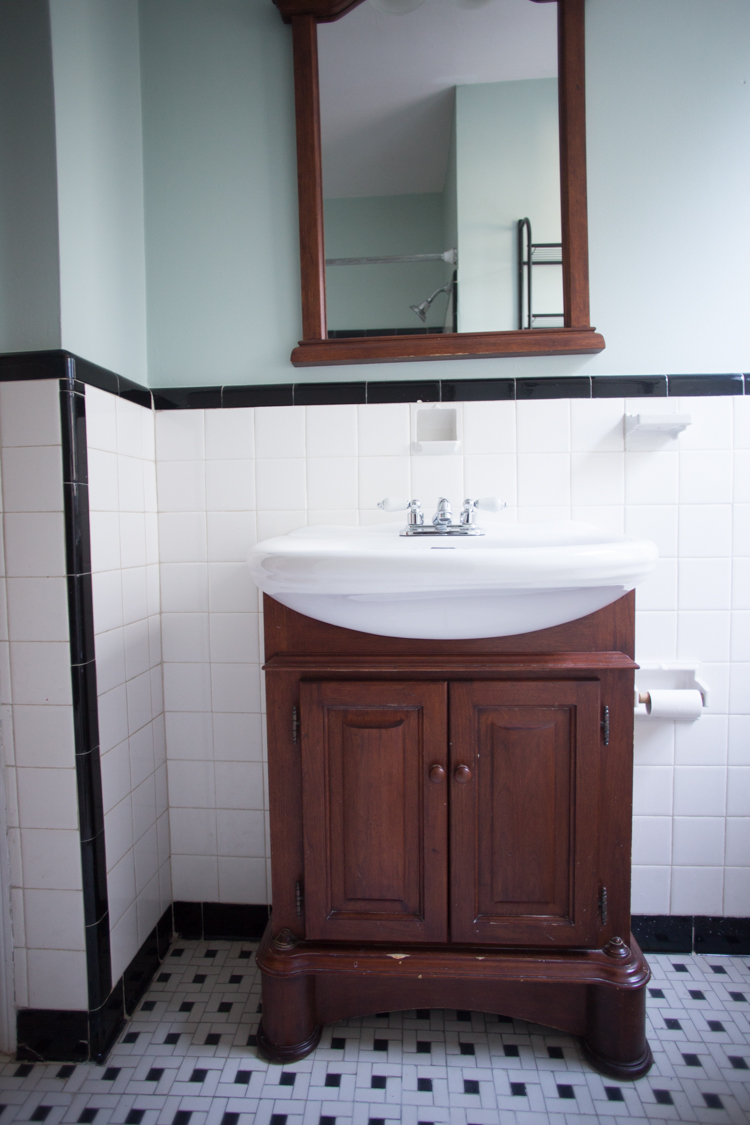 The Master Suite:
In the video, I kept calling the upstairs "the master suite" which sounds so pretentious and hilarious given what a quirky space it actually is. The carpet has to go (I am firmly in the no-carpet camp) but other than that, there is so much character up here!
Those dormer windows! Those angles!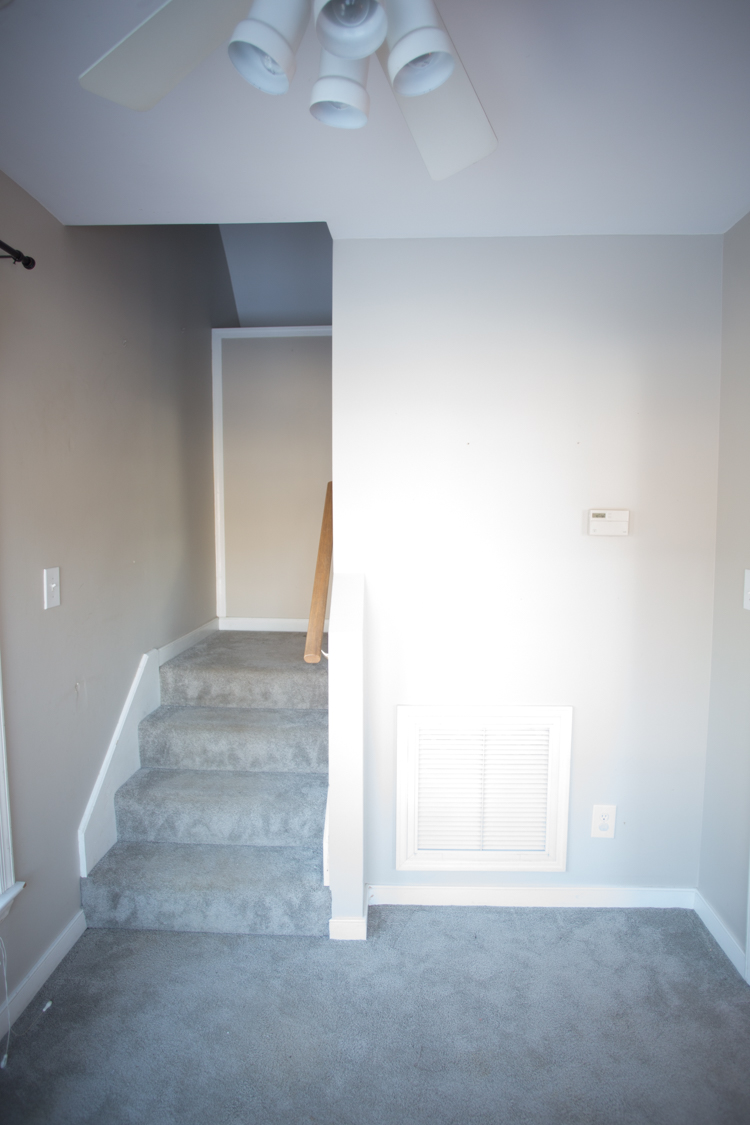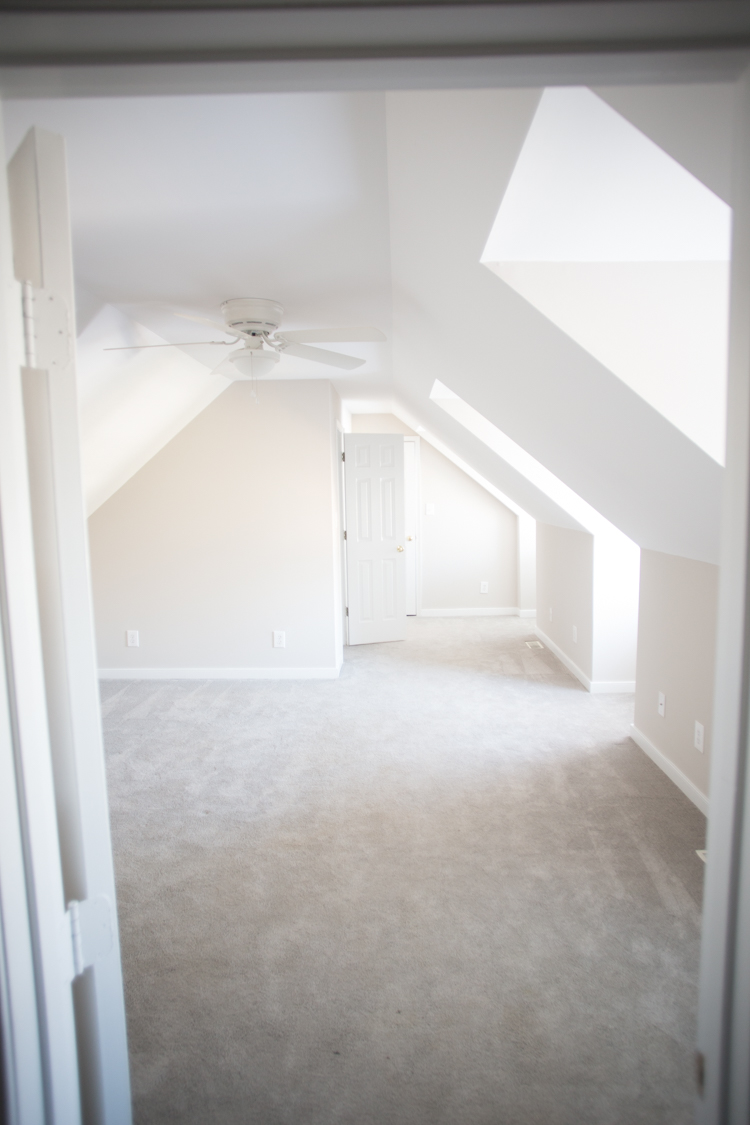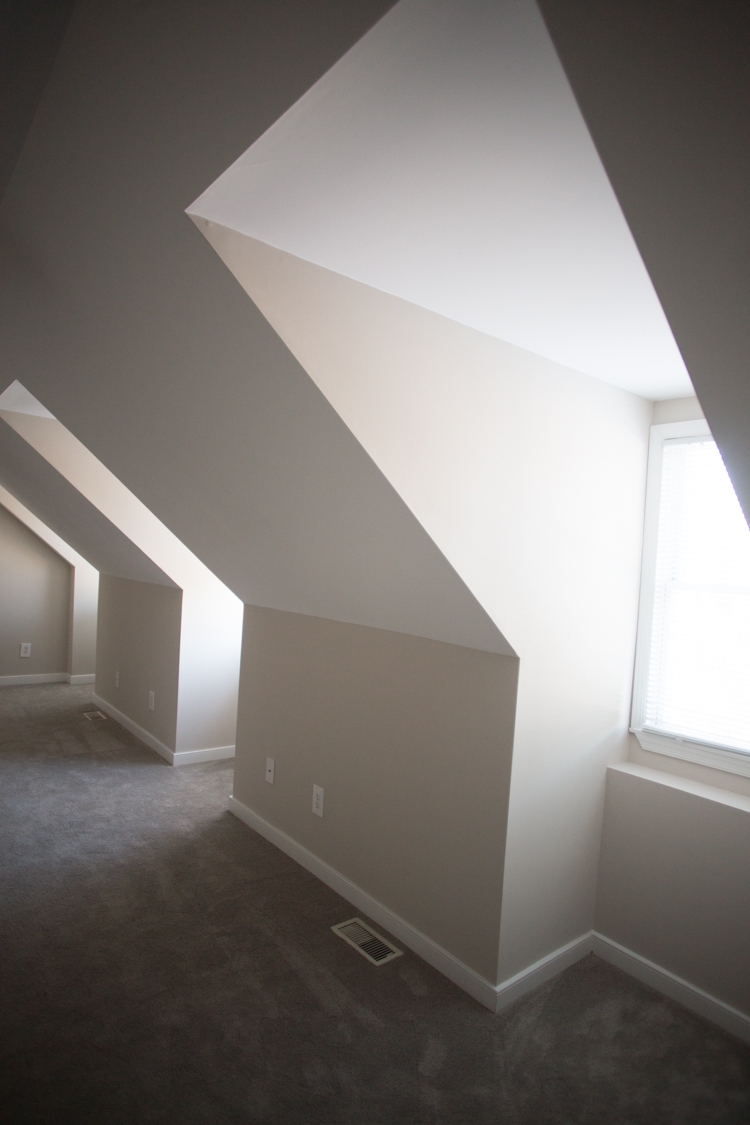 The Master Bathroom:
This is not my favorite part of the house, however I am happy it has been added so that we have less work to do in the future. It is a little, tiny, not very charming space, with lots and lots of potential.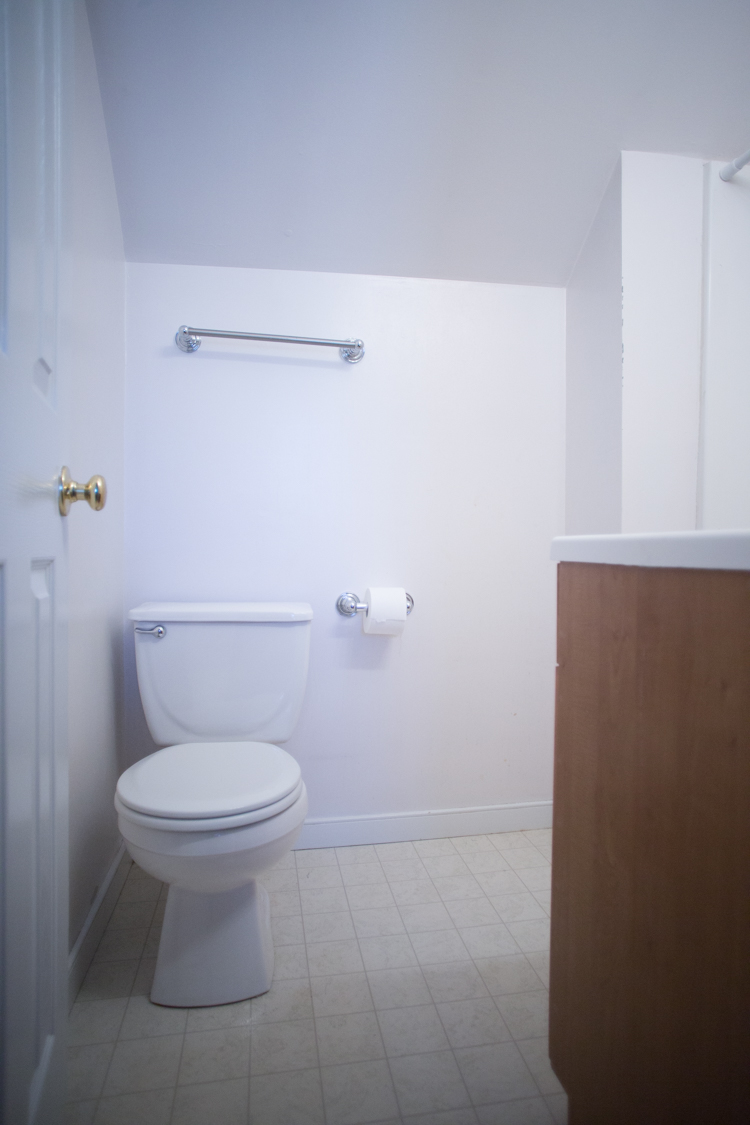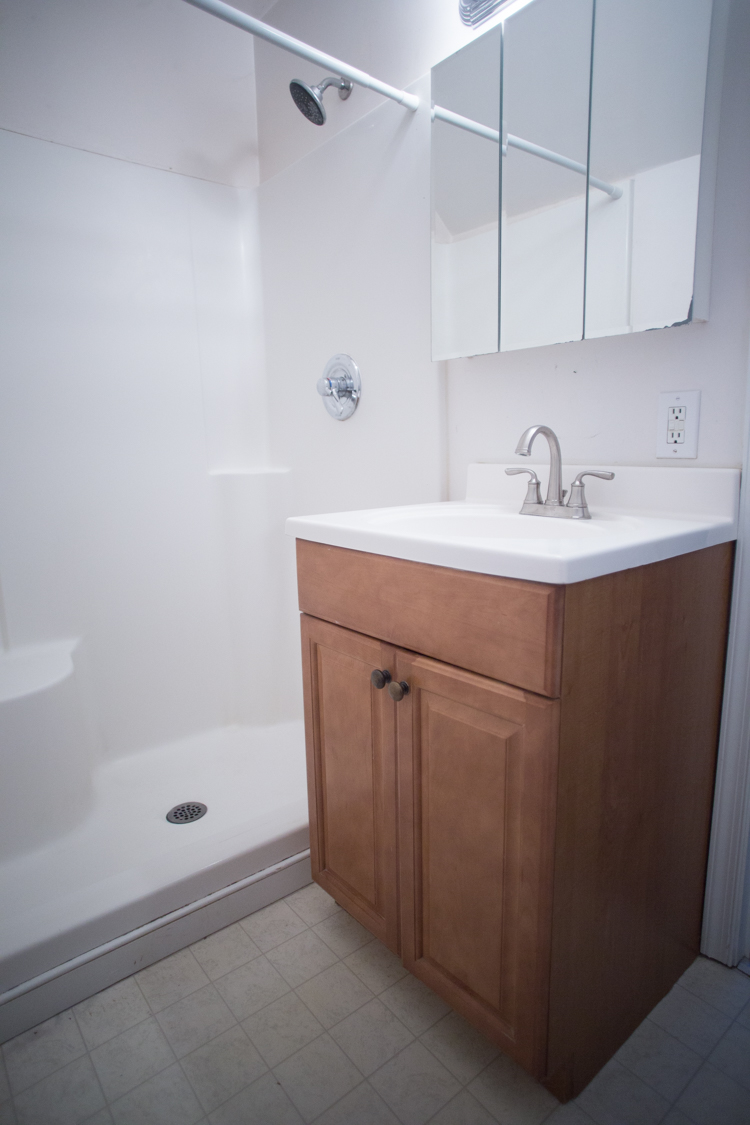 So, there she is! Our cute and cozy new home. We are up to our eyeballs with ideas, design inspiration, plans, hopes and dreams.
The renovation will happen in phases, with the major stuff (opening walls, adding a new kitchen) happening before we move in sometime this spring. Then, we will continue to add charm and details and make changes here and there along the way until we feel like it is all just right.
The master bedroom and bathroom will be phase two. Adding a cute front porch (with a swing!) will be phase three. And so on and so forth. You know how that goes. I'm always up for a project!
We are planning to share a weekly renovation vlog on YouTube each Wednesday, and I'll also be adding those to the blog with additional commentary, as I did today.
Our hope in sharing about this new adventure is that you find some inspiration for your own home projects, realize that even small homes can be perfect, and get some ideas about new ways to organize, decorate, and renovate to add personality, functionality, and charm too the place that you live.