This post is brought to you by the The Propane Education & Research Council. For more information, visit Propane.com.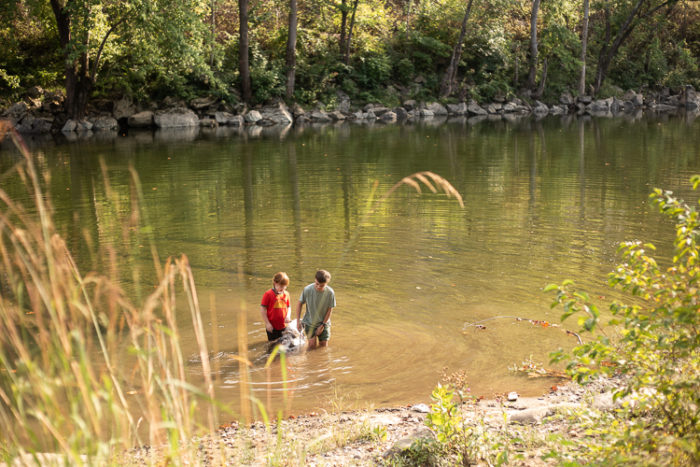 Camp Cooking
I grew up camping year-round and learned from a young age a thing or two about camp cooking. My dad, a long-time Scoutmaster and outdoorsman, taught us small tips like pack cheese to eat with the first day's meals, because it would melt by later in the trip or how to make a pie while on a multi-day backpacking trip.
In fact, one of my very earliest memories involves sitting by the campfire in the Uinta mountains of Northern Utah while my dad mixed chocolate instant pudding, powdered milk and water in a plastic bag, poured it into a premade graham cracker crust, and invited me to help dot the top with Reeses Pieces.
We were miles from civilization, yet after a meal of fresh-caught fish fried over the tiny propane backpacking stove, we had a chocolate peanut butter pie for dessert.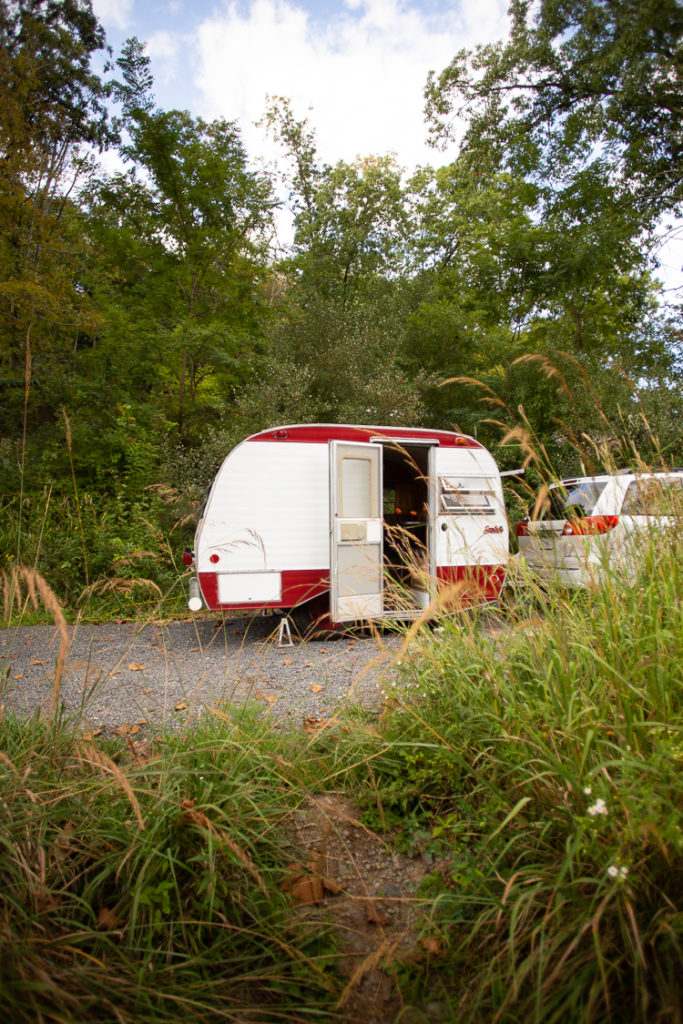 Camp Kitchen
As a camping mama, I think of those memories while I prepare for camp cooking with my own kids. We always wake up to hot cocoa or spiced cider, then eat a hearty hot breakfast. I let the kids pack PopTarts as a special camping treat, but they know our meals (especially that morning meal) will always be delicious. It helps ease us into the day after what is sometimes not a great night of sleep.
Our current family camp kitchen has served us well for many years, and I love both the ease of setup, the portability, and the reliable flame on the two-burner propane stove. It has become my right-hand camping kitchen sidekick. It fits easily on the end of the picnic table, folds out with amazing windshields, and screws into any portable propane cylinder.
Other Camp Kitchen Tools We Love:

Our Very Favorite Camping Breakfast Sandwich
One menu item that my whole family gets excited about when we go camping is this amazing, buttery, melty, ham, egg, and cheese muffin. It's savory and oozy, and when you add a swirl of hot honey you can even dial up the experience!
Even when making these for a crowd of hungry campers, there is a specific formula that I follow (taught to me by my dad, of course!) that makes each and every sandwich perfect every time. Let me tell you all the secrets.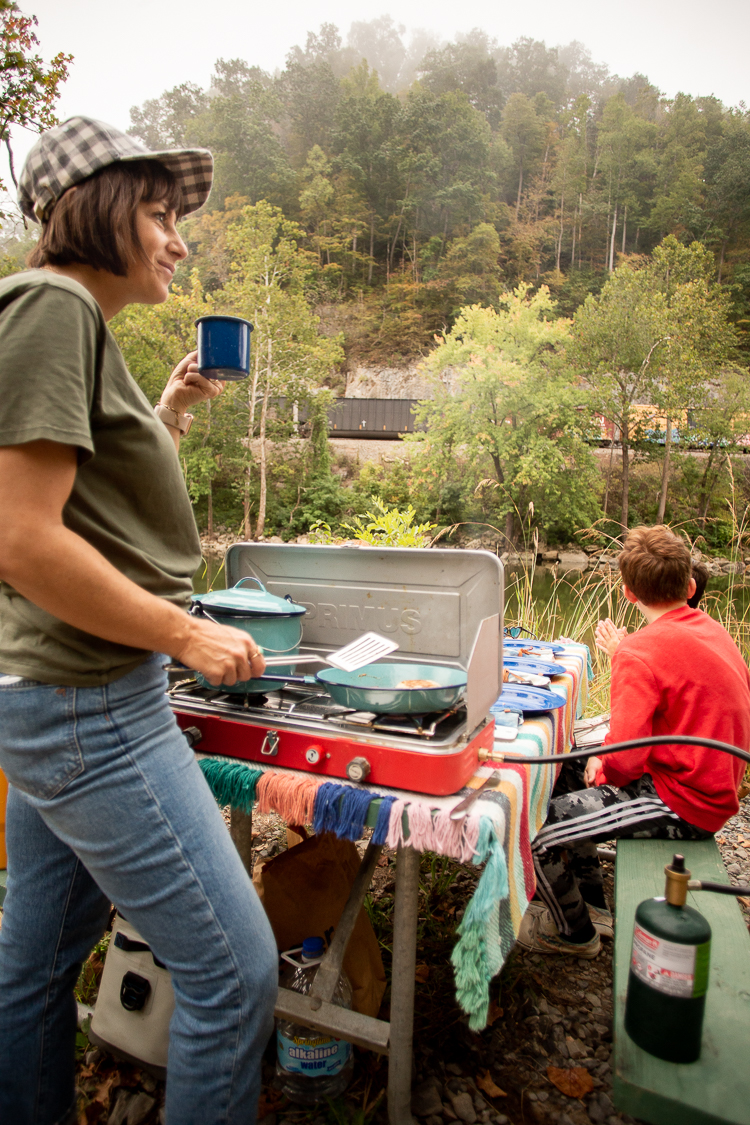 Step One: Toast the Muffin
Slide 1 Tbsp of butter onto your fry pan over medium heat and let it start to melt. Lay two halves of one english muffin face down on the melted butter to toast.
Step Two: Brown The Ham
Throw one slice of (*all natural, humanely raised) ham on the hot pan next to the toasting muffins. Remove the bread when it's brown and set on a plate.
Step Three: The Perfect Egg
Crack your (*backyard, or free-range) egg next to the ham and let sizzle for a moment. Flip the browning ham. Then, when the whites are opaque, break the yolk and flip the egg.
Step Four: Melt The Cheese
Add a slice of (*sharp) cheddar cheese to the top of the turned-over egg and lay the top half of the muffin on top of the cheese. This will help the cheese get nice and melty.
Step Five: Stack It Up
Use your spatula to pick up the slice of ham and lay it on top of the bottom half of the muffin. (*optional: add a swirl of hot honey to the bottom muffin before adding the ham). Scoop-up your egg/cheese/muffin top-half, and stack on top of the ham/muffin bottom half. You've done it!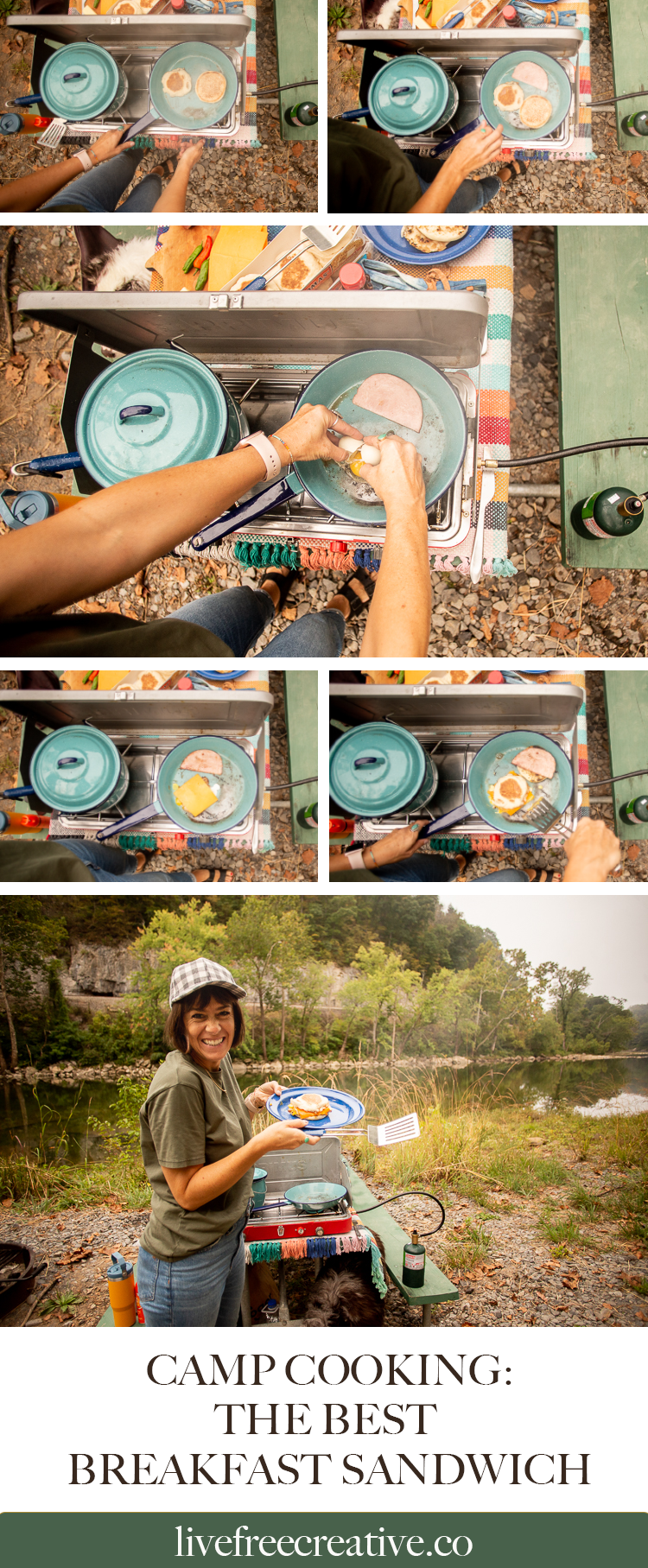 If there was a competition for breakfast sandwiches, this would be the gold-medal winner. It tastes like camping in the very best way possible — all thanks to our trusty little propane stove.
We like to tote along some fresh fruit on the side, and enjoy a slow, outdoor morning with a steaming mug of cocoa.
Camping With Kids
There is something inherently magical about being off-the-grid for a while. Letting the kids wake up to the sunlight and pace their day by the rush of the river and the calls of the birds. In our ever-more-connected world, being able to just leave it all behind for a while is a huge privilege and blessing.
Knowing my kids will grow up connected to the wilderness through small adventures in the great outdoors satisfies my mama heart. I love creating, in real time, the memories that will shape their views of the world. I love passing on the secrets (yes, even of a camping-style breakfast sandwich) that they'll carry with them into their own families someday.
The Propane Education & Research Council (PERC) is a national nonprofit based in Washington, D.C., that provides leading propane safety and training programs and invests in research and development of new propane-powered technologies. PERC is operated and funded by the propane industry. For more information, visit Propane.com.