As the summertime approaches, we are always looking for fun treats to share with friends at neighborhood get togethers or play dates. Combination desserts always win everyone over by appealing to a lot of different tastes, and being a bit more exciting. Like this sweet and salty Caramel Popcorn Ice Cream Cake I created in partnership with Dreyer's. It would be so fun at a movie themed party, after a fun dinner party, or just for something a little different to serve.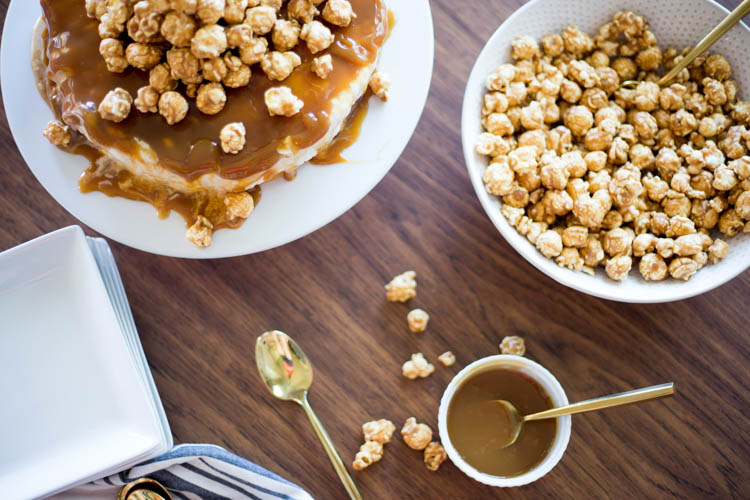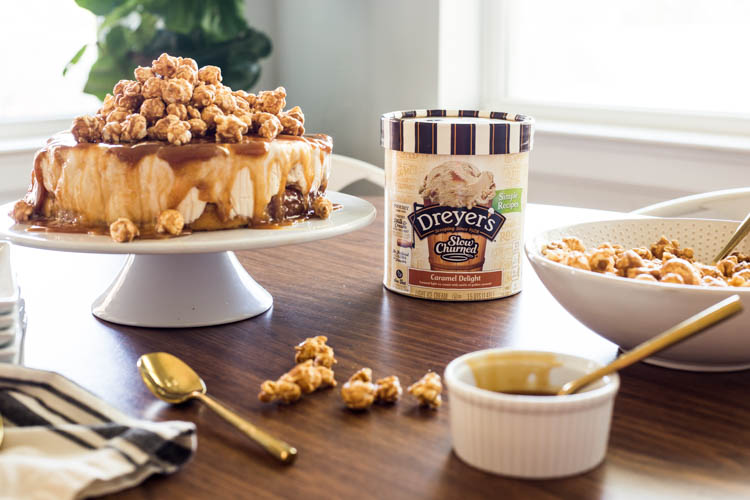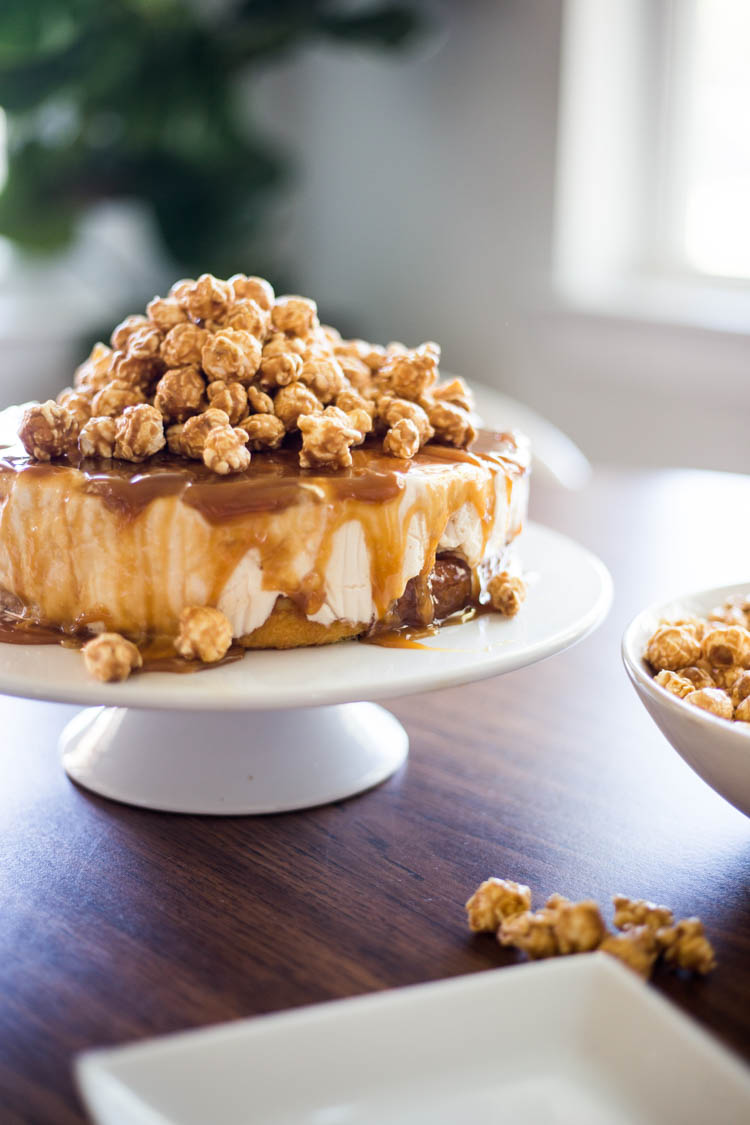 The smooth, creamy Dreyer's Slow Churned Caramel Delight Light Ice Cream pairs sweetly with a fluffy butter yellow cake, then when topped with salted caramel topping and crunchy caramel popcorn, every bite is irresistible.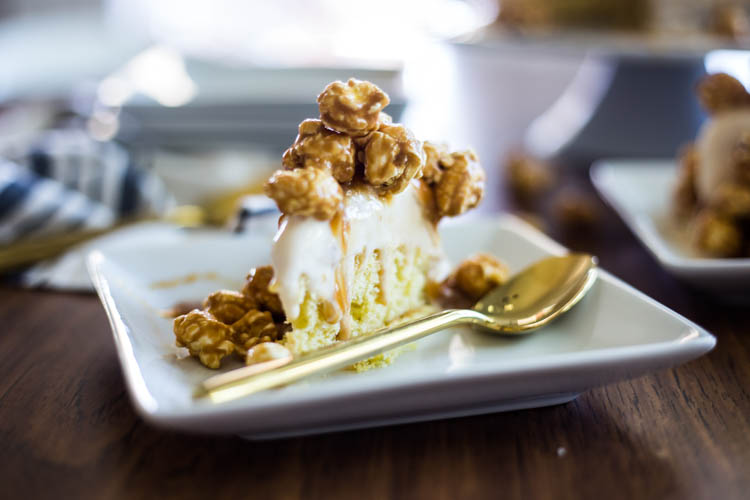 We appreciate a good dessert, and also really appreciate when we can feel good about the ingredients. Like how this Slow Churned Caramel Delight ice cream features non GMO ingredients, 1/2 the fat and 1/3 less calories than full fat ice cream. There are no artificial colors or flavors, and the ingredients include fresh milk and cream. Sounds like a dessert I can get behind.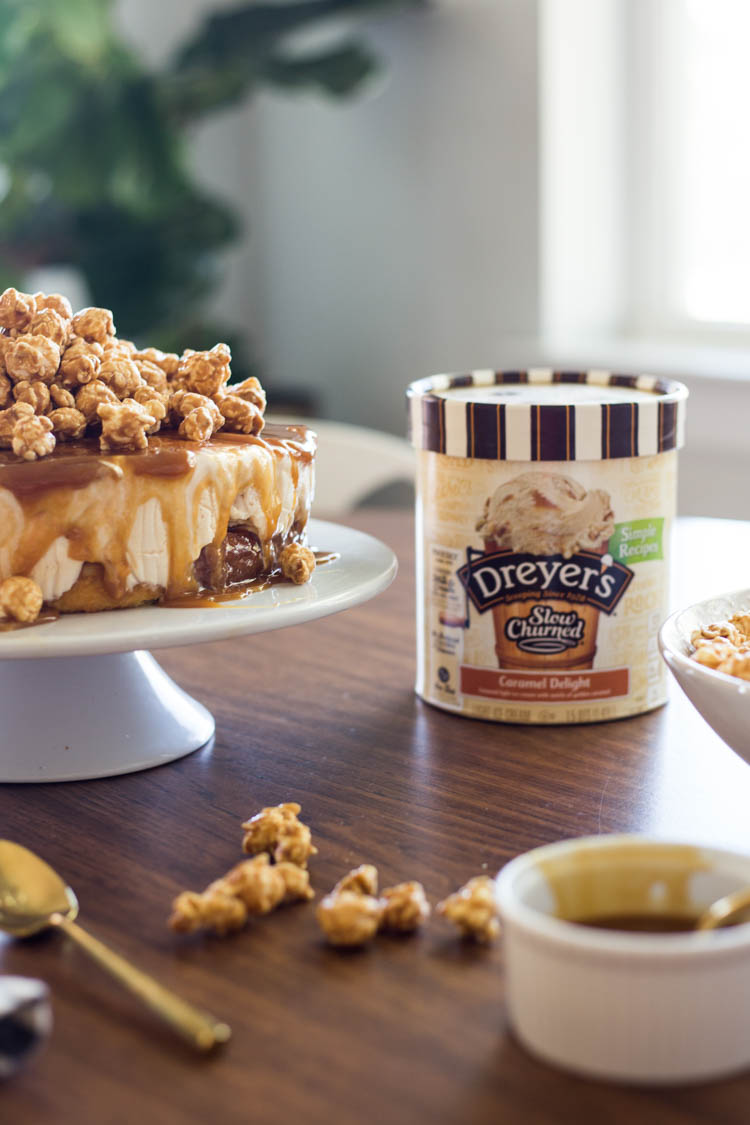 We recently shared this caramel popcorn ice cream cake with family during a celebration weekend and everyone "oohed" and "ahhed" over the delicious flavors, as well as how much fun it is to put together and eat! A little novelty, like adding your own crunchy popcorn and a drizzle of caramel while serving, makes for some memorable moments.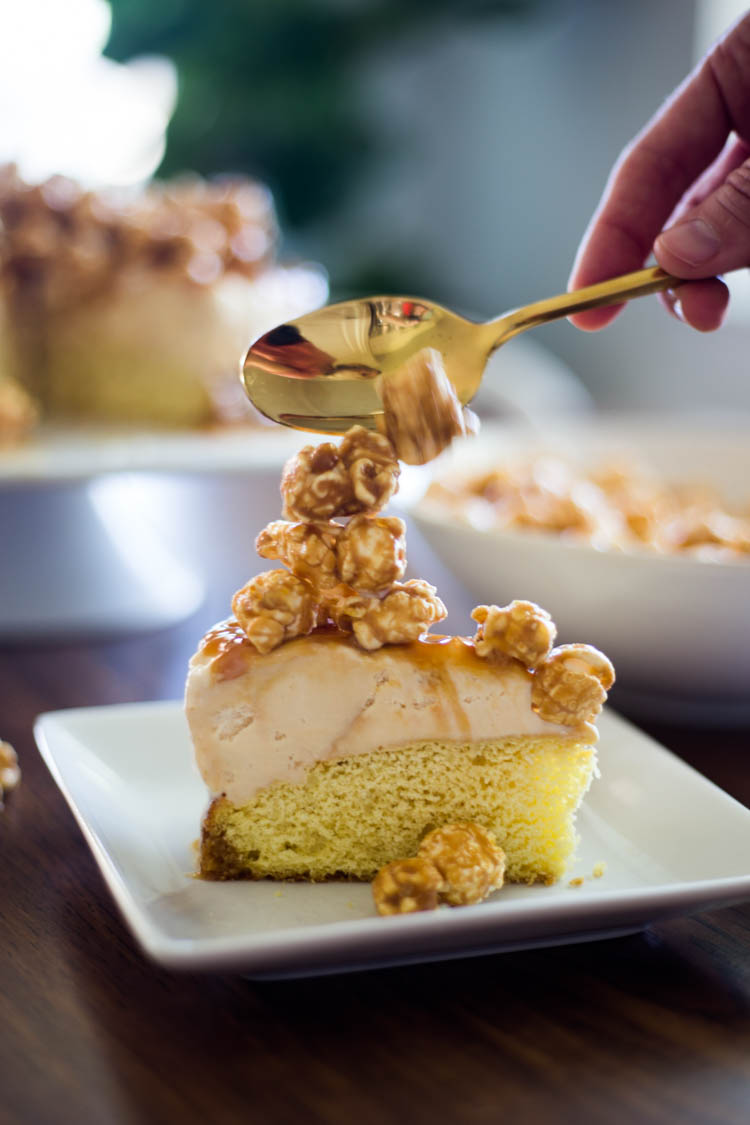 The steps are super simple, so anyone can put one of these fun caramel popcorn ice cream cakes together in a flash. You can use your favorite yellow cake, whether homemade like this one, or from a mix. You could even find a plain yellow cake at a local bakery and sub that in for a no-bake option.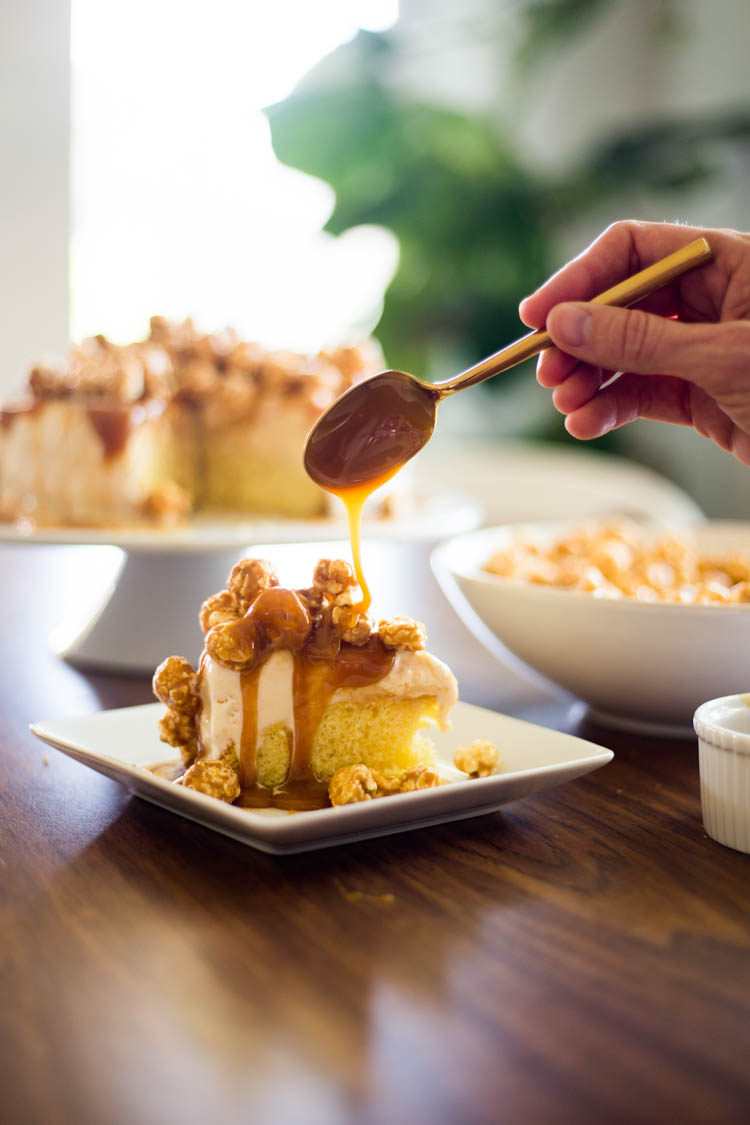 Are you ready to make your own?
Here's what you'll need:
1 carton of Dreyer's Slow Churned Caramel Delight lite ice cream
1 layer of your favorite yellow cake
2 cup of salted caramel topping
3 cups of crunchy caramel popcorn
plastic wrap
springform pan *optional

Layer plastic wrap into the bottom of a springform pan. If you don't have one available, you can use a deep cake pan. Make sure to leave a few inches of plastic hanging out on all sides.

Pull the carton of ice cream out of the freezer to soften for 5-10 minutes before scooping.

Lay the yellow cake layer into the bottom of the pan.

Scoop the carton of Slow Churned Caramel Delight Light Ice Cream onto the cake, covering the whole area.

Spread the ice cream out flat.

Put the cake into the freezer for the ice cream to harden again.

Pour 1 cup of caramel topping onto the cake, then return to freezer. Save the other cup of topping for serving.

When you are ready to serve, pile a handful of crunchy caramel popcorn onto the top of the cake.

Set up a simple buffet with the caramel popcorn ice cream cake (sliced into 12 pieces), a bowl of caramel corn, and the caramel topping. Let each person serve themselves a slice, then top with more crunchy popcorn, and a drizzle of salted caramel topping.

Eat and enjoy!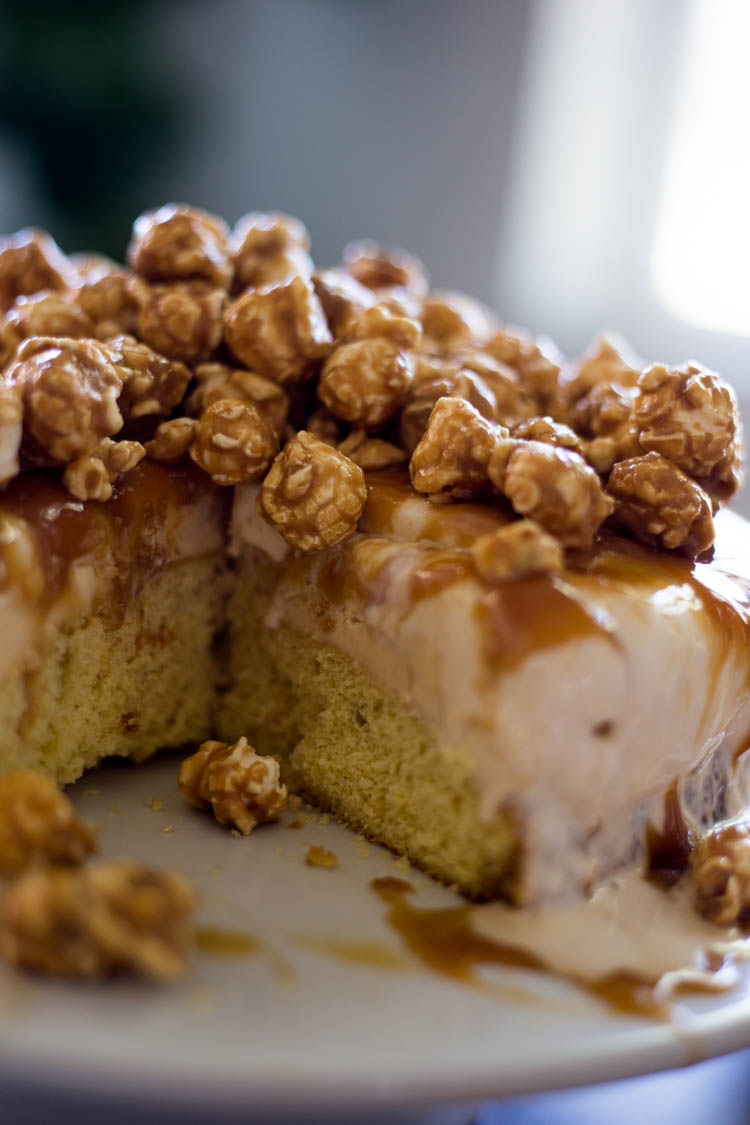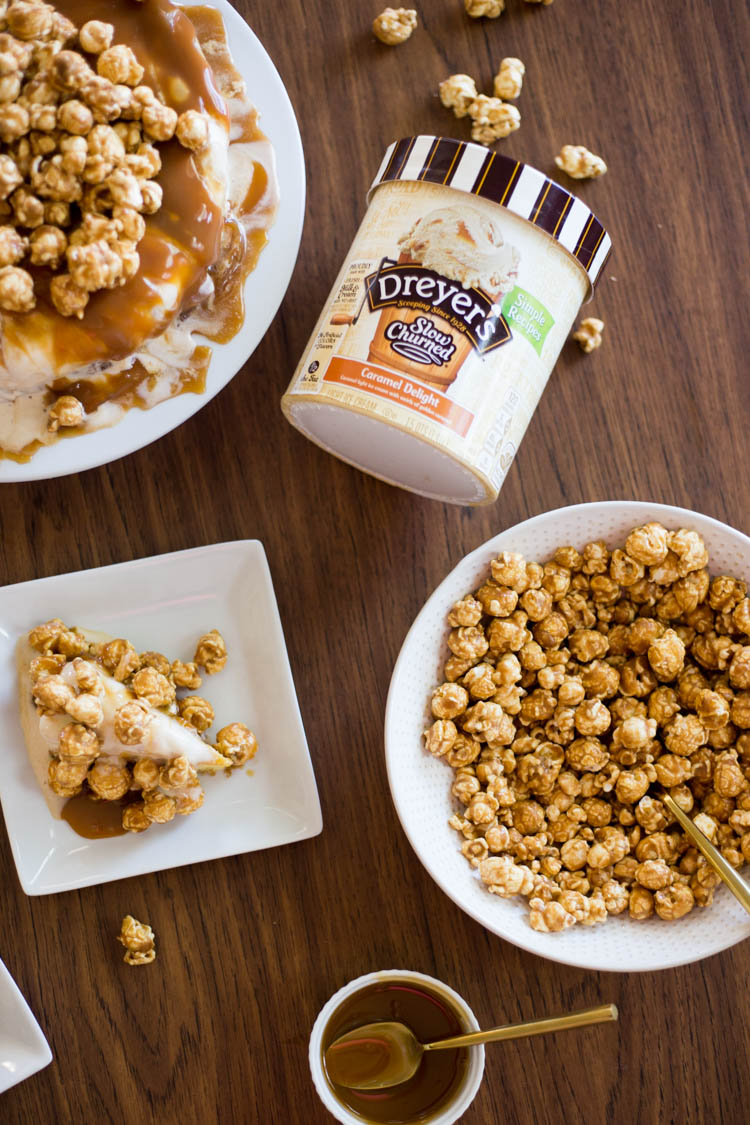 Created in partnership with Dreyer's Ice Cream.