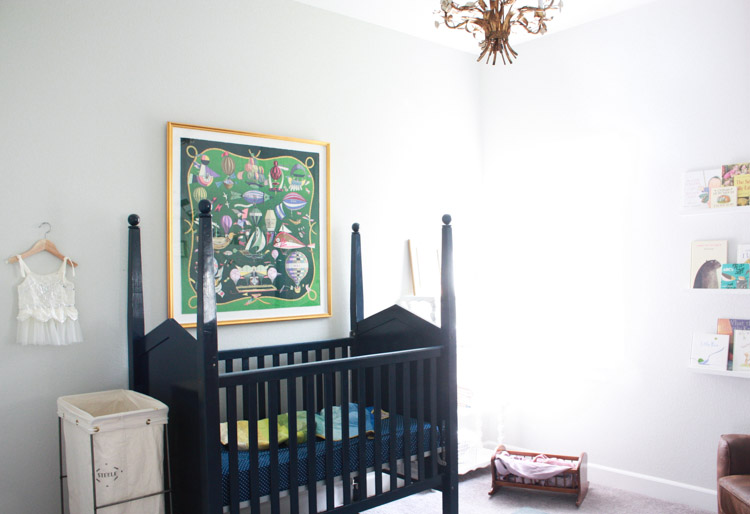 We built our home when I was expecting Plum, and naturally I had her nursery on my mind. My collecting things for her began years before that, though. Even before I knew I would ever have a girl I started picking up special things here and there that have all come together sweetly in this space. It's always been easier, more affordable, and more meaningful for me to slowly decorate over time as I fall in love with pieces during my daily life. My design style is eclectic and collected, so it works well for me to pull together a bunch of different elements that have the common thread of simply being something that feels right to me. I always love the results of slow design, and need to remind myself that from time to time when I get anxious that 80% of our home feels unfurnished and unfinished. It will take time, and thought, and the stories we live that bring unexpected and interesting items into our path will add to the richness of our home.
This collected nursery (one of the only mostly complete feeling rooms in our house right now) is being featured over on Ministyle Blog today, and I thought I'd share it here too, expanding a bit on some of the details and telling the stories that brought this room together as a beautiful and meaningful place.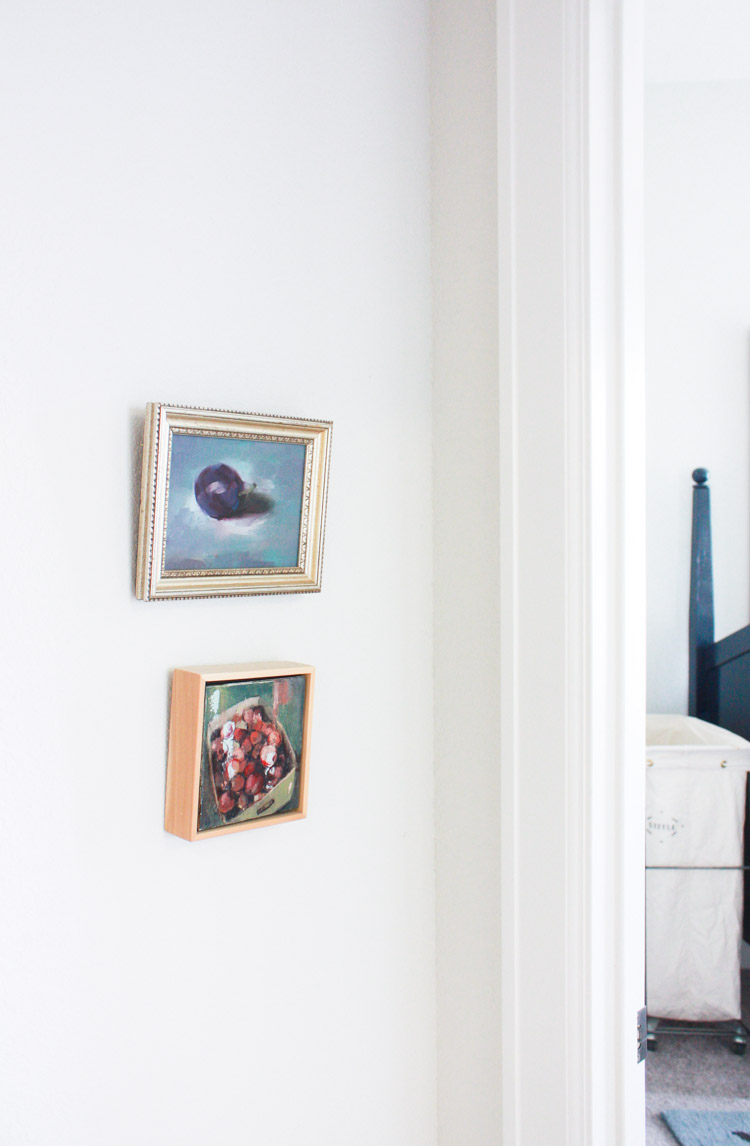 My mom is an artist, and an art collector. I inherited her love of original paintings, and have been buying them, even just tiny ones that I could afford, since before I was married. When I was about eight months pregnant and saw this still life "Plum" on artist Leslie Duke's Instagram feed, I immediately claimed it to hang in her room. Once I got it up on the walls in there, though, it practically disappeared because the scale was so off balance. I moved it to the small wall just outside her door, and together with "Basket of Apples" by Darci Bertelsen it makes a perfect welcome to the space.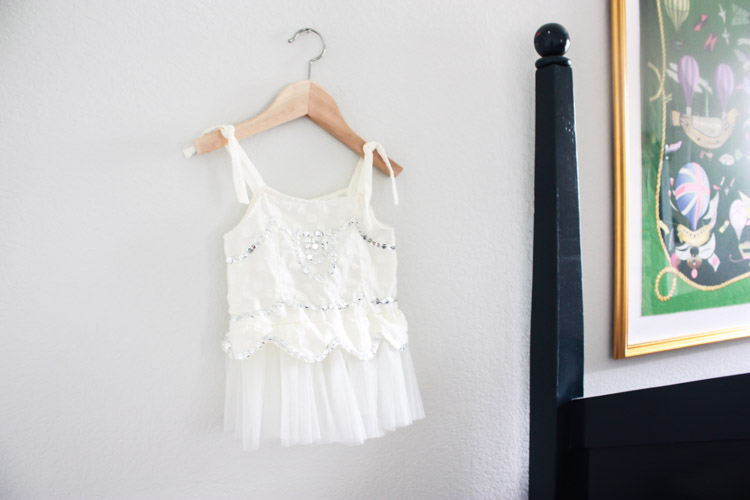 I made this hand-sequined dress months ago and she quickly grew out of it. Until a couple weeks ago I had it simply hanging in the closet, but am so glad I pulled it out. Where most of the room feels a bit more sophisticated and hearty, I love this dress as dainty, girlish decoration.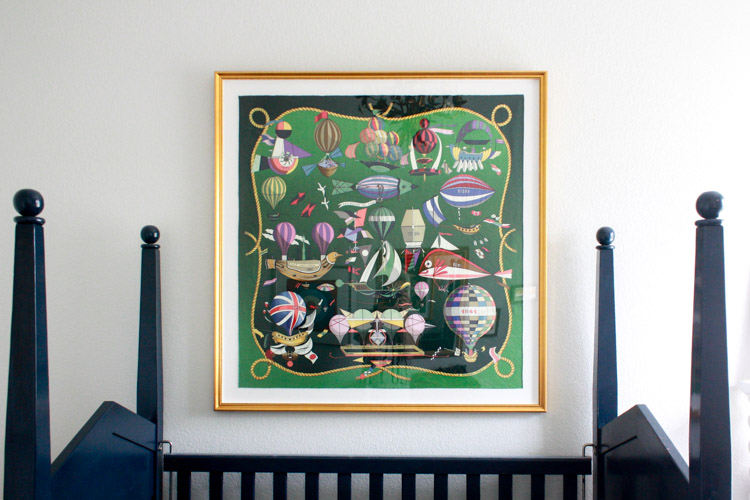 This amazing vintage scarf has such a fun story. I picked it up at a neighborhood clothing swap in New Hampshire and thought the colors were amazing. I didn't examine it too closely, or think too much about it as I wore it to church wrapped around my shoulders, or as a belt when I was pregnant with Milo, or tied up in my hair at the beach. Fast forward six years, we had moved to Texas and I was once again going through my closet. I came across the scarf, held it up and thought the whimsical hot air balloons and flying machines would make a beautiful addition to the nursery. So, I began ironing it gently and looking at it closely. Along the bottom I came across an Hermès copyright logo and stopped in my tracks. A few quick internet searches confirmed that the beautiful silk scarf that I'd been casually donning to parties was an authentic 1984 Les Folies Du Ciel Hermès scarf! It felt like I had discovered a secret treasure!
After looking around at the many framing options available, I settled on sending it off to Framebridge, a new online custom frame company with flat-rates for different sizes. I am really impressed by the simplicity of their process, and the results are so beautiful. The scarf was outside of their largest option, but with a quick email they were able to confirm the price and their ability to handle the special item. The finished piece is about four feet tall and wide, and shipped back to me in a box the size of a wall! I couldn't be more pleased with how it looks finished and hung. It's a piece that will look great in the room as Plum grows up, too.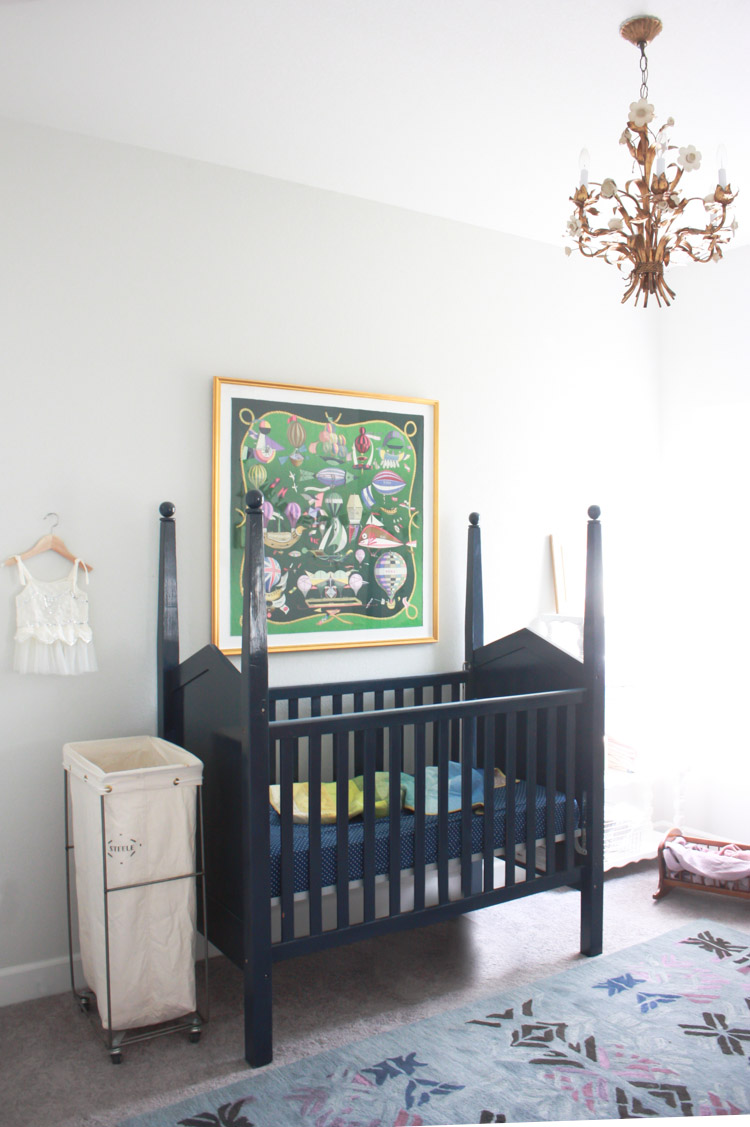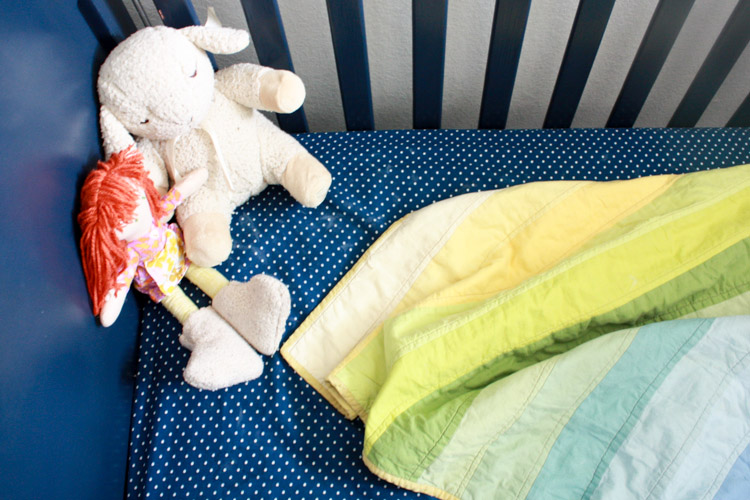 The amazing "heritage crib" is by Bratt Decor (no longer available) was a hand-me down from my older sister. In our apartment, the crib was built into the closet, so we needed one and she thoughtfully passed it on. My mom repainted it from the original red to this midnight navy, which is quickly becoming my favorite furniture color.
I think the only truly necessary crib accessory is a sleep sheep. I got one when Eliot was baby and having a hard time sleeping through the night, and it did the trick. Something about pressing the button for those waves triggers sleep in my babies. It's like magic. The I handmade the doll while I was pregnant, and really debated on hair color. I finally settled on red only to discover a few months later that Plum was a redhead herself! The color melt quilt was the first quilt I ever made (for Eliot) and since I haven't finished Plum's baby quilt yet, this one is on lend for now.
The industrial laundry caddie is from Steele Canvas, a company I love dearly and have been a fan of for years (here and here). I love how their baskets can become room decor because they're so great looking. We have one in every bedroom as a pretty, practical laundry solution.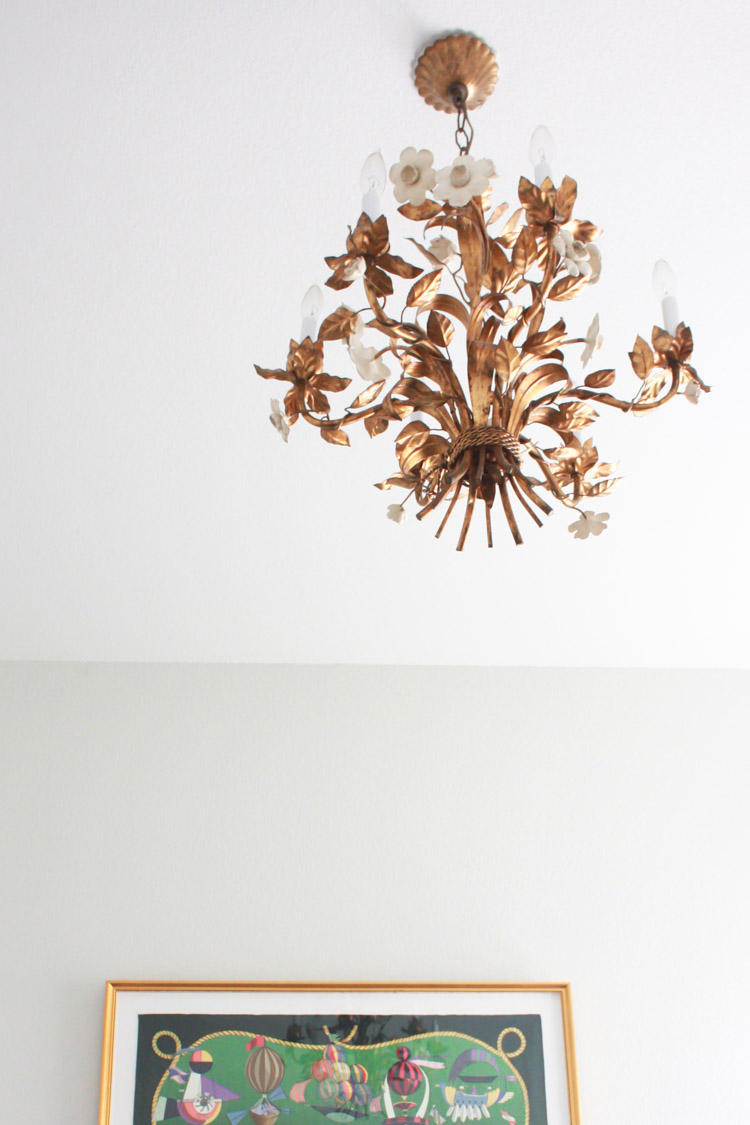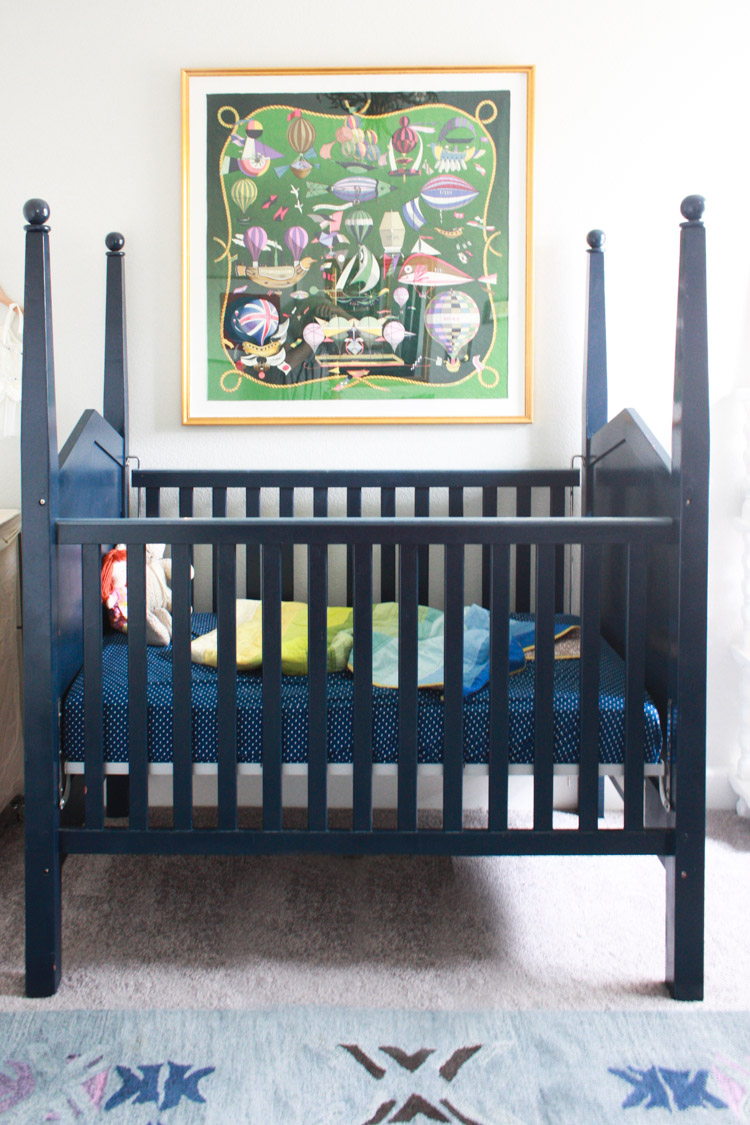 I fell in love with this rug a few years ago when we were living in DC, but on vacation in Utah. The moody blue, grey, and black combined with the soft mauve and pinks felt like just the tones and I wanted in the room of my "someday daughter". I knew I would regret it if I left it in the store, so I bought it and wrapped in garbage bags to check on the plane. It stayed wrapped and stored for almost three years (Dave thought I was crazy) until I rolled it out in this new room after we moved in. The designer is Alyson Fox, who is an Austin artist, and now that we're here in Austin I feels like it came full circle! The other thing I also became emotionally attached to while on vacation was the vintage chandelier. I was six months pregnant with Plum and on a girls' trip with friends in San Diego. We visited an architectural salvage shop and I simply couldn't leave without it. So, I stopped at UPS on the way to the airport to ship it safely home. I may be a little crazy, but the stories and circumstances make everything feel interesting and bring sweet memories.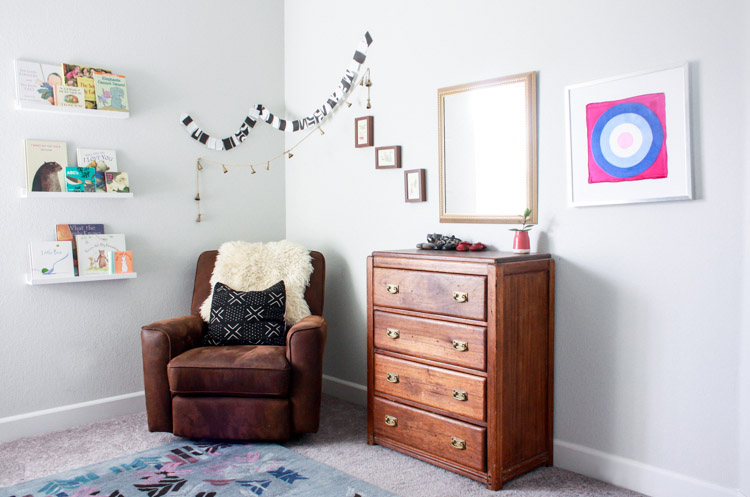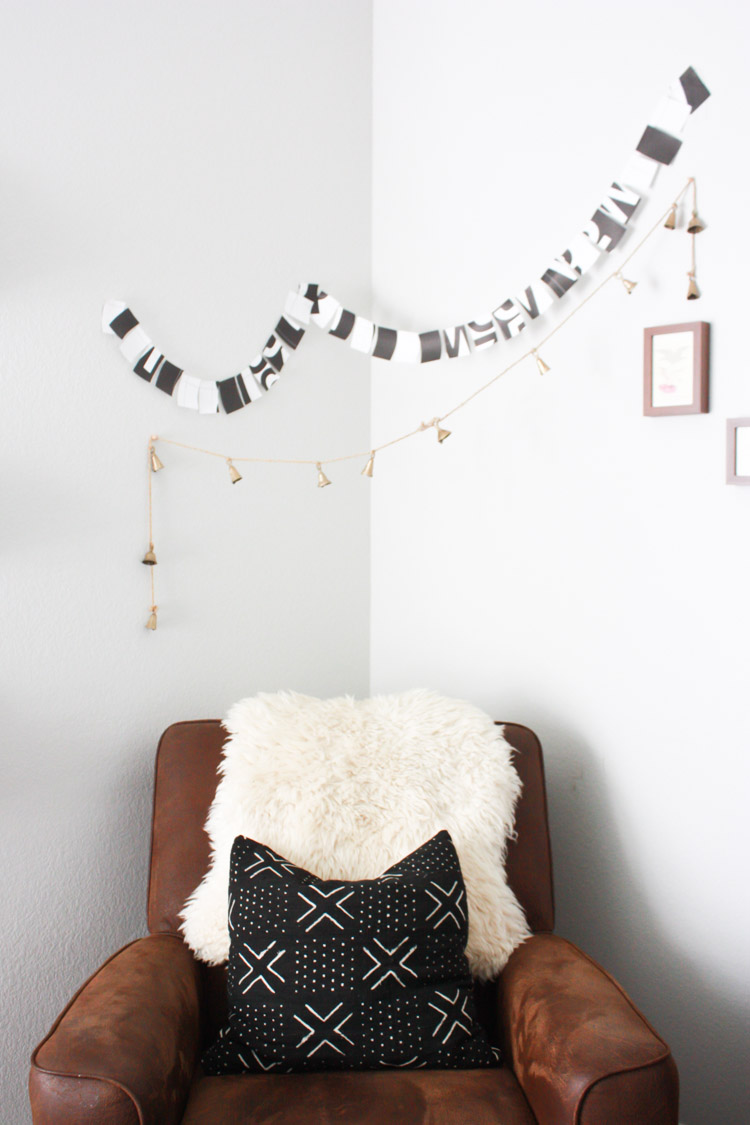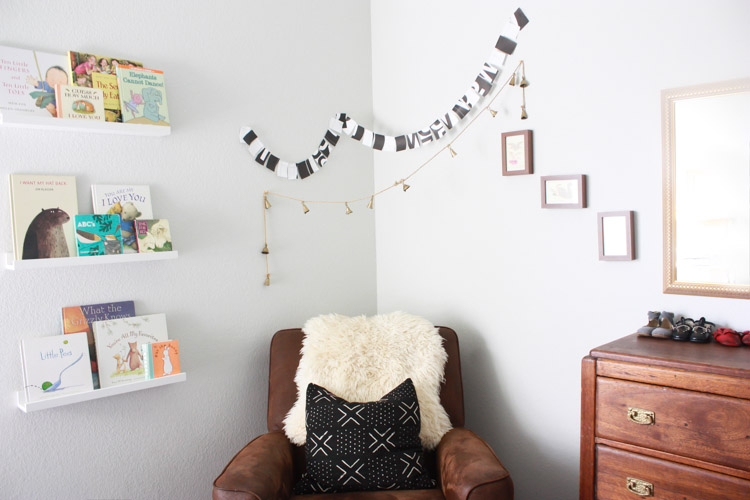 I love the warmth of wood tones and leather, especially in a cool-colored room. The antique dresser was in my mom's guest room until I was married and she passed it on to us. I love the lines, the brass hardware, and the sturdiness of it. We custom ordered this glider when I was expecting Milo and it has been amazing. I wanted a chair that was actually comfortable, without being too overstuffed or round, and this style ended up being the perfect combination. I think everything is better with a little sheepskin, and kind of toss them around to add texture and coziness to my house, and I love this simple mud cloth pillow from my little sister's new shop Mae Woven pulling in some black from the rug and pendant. We snuggle up here every afternoon and evening and pull down favorite books from the simple Ikea shelves to read together. The chair for two has easily become a chair for three, or four, as everyone piles on.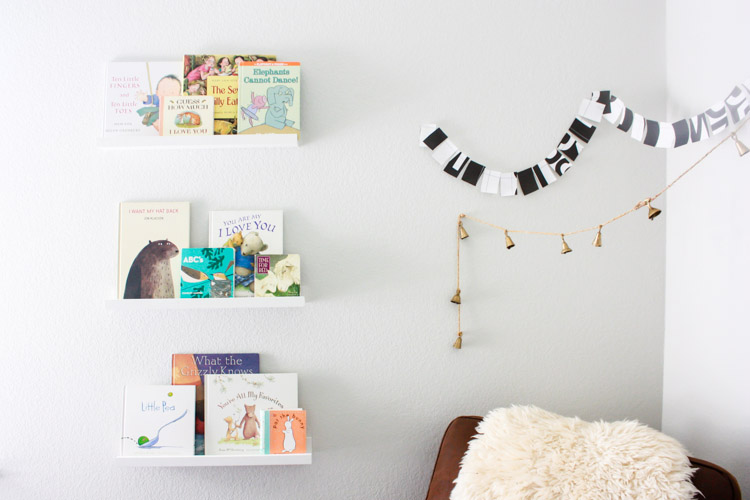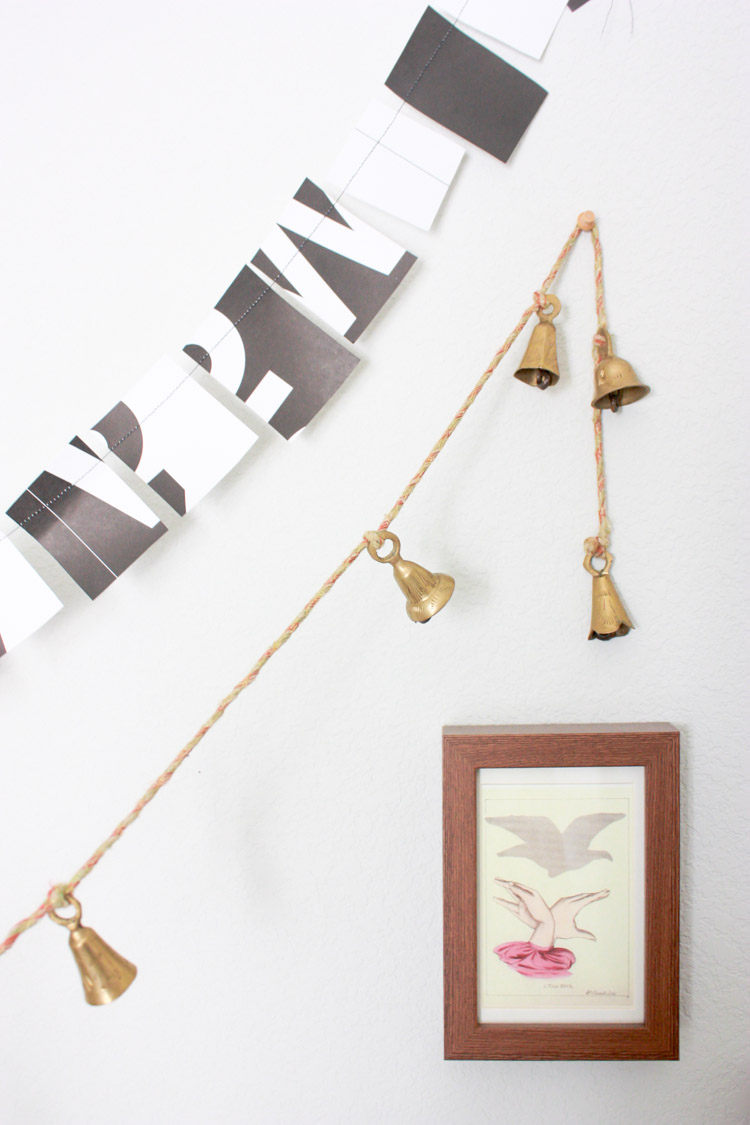 My grandfather brought these cord of brass bells home from time he spent living in Bombay, India (similar available here) and I hung it with one of the paper garlands from Plum's first birthday celebration as a fun juxtaposition of new and old. These vintage postcards have the coolest shadow puppet drawings on them. I spotted them at the Tail of the Yak when Dave and I were on an anniversary trip in the Bay Area, and they were easy to pack home.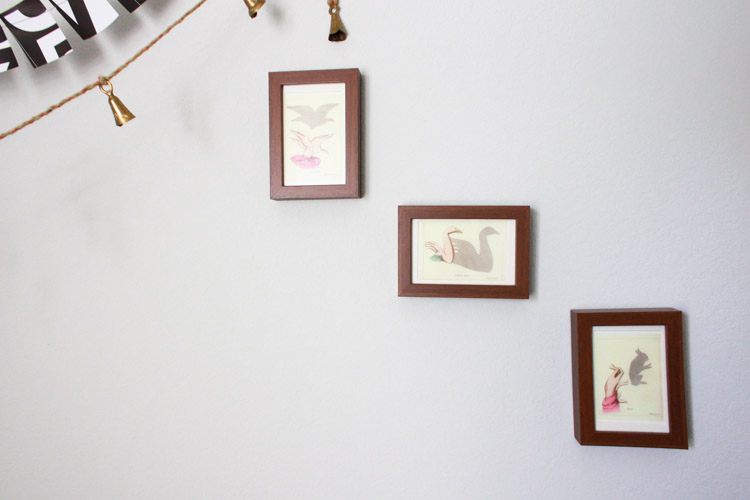 I don't know if I'll ever tire of gold frames. I love them, and when this gold framed mirror was up for grabs at a neighborhood decor swap last year I picked it right up. I keep most of Plum's clothes in the drawers and closet, but it's no wonder that kids' shoes are a typical nursery decor, because they're so cute! Plum's go-to are Freshly Picked moccasins, and she also has a sweet pair of Fox Paws and a little vintage pair of mary jane's that I rescued from my neighbor's garbage can.  The little ceramic vase was a gift from the potter, Robert Siegel. I wandered past his booth at the Park City Arts Festival, and stopped to take a photo. He asked me which vases I liked best, then picked them up and gave them to me! They're beautiful, simple, and I try to keep some fresh flowers or greenery around, even if just from my yard.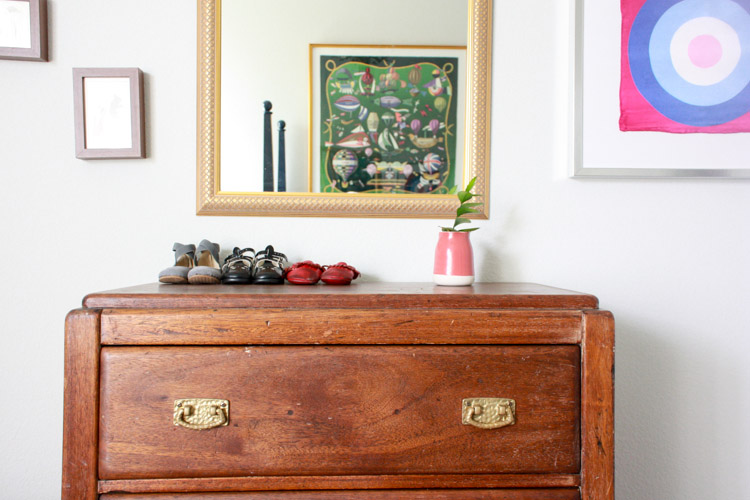 The Bullseye scarf was a great thrift store find when I was on vacation in San Francisco for my sister's birthday several years ago. It's been too small to use for anything practical, and I initially imagined turning it into a throw pillow. Once I decided to frame and hang the Hermès scarf, this one seemed a perfect fit for this opposite wall. I love the colors and the simple, bright graphic, and it's really fun to hang unexpected art.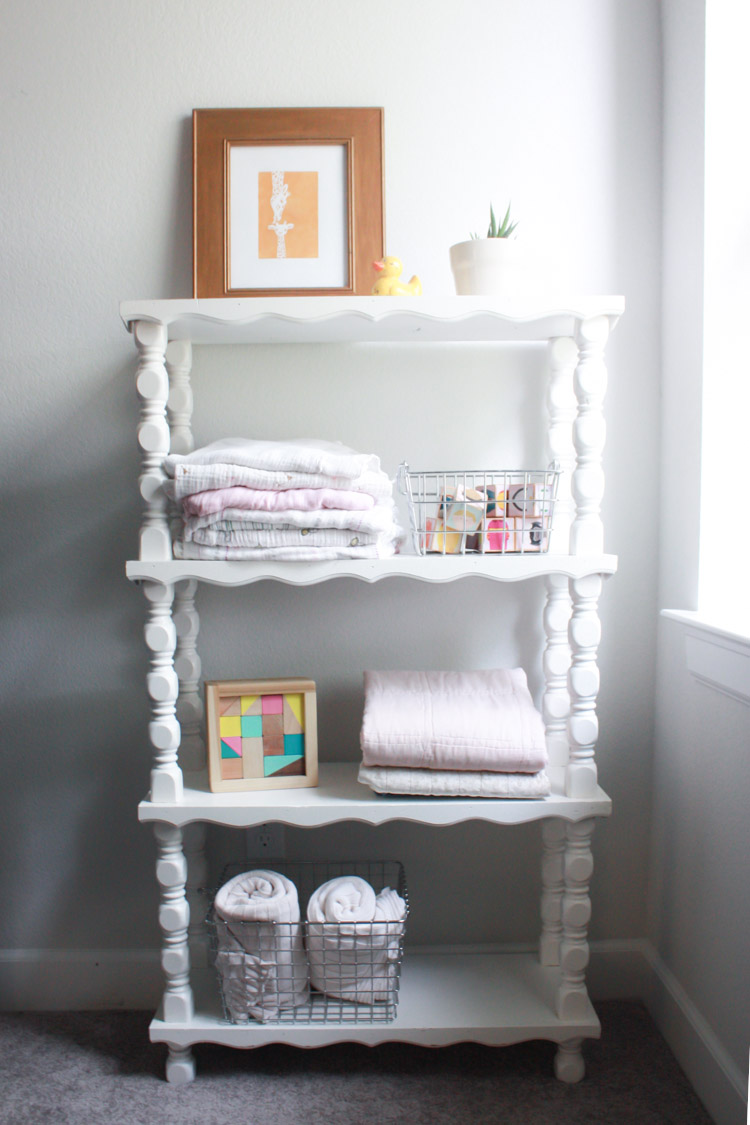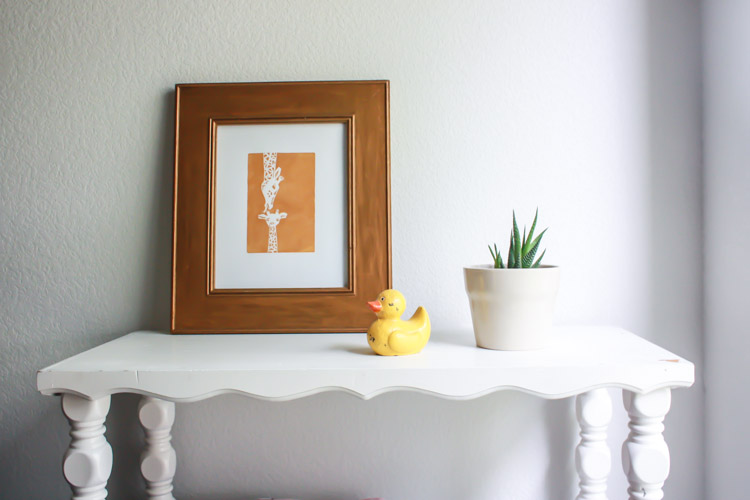 Last month I went to Round Top Antiques Fair for the first time, and spotted this white bookshelf. It was being used as a display, but when I asked I was told it was for sale. I left it in the booth initially, then after wandering the fair for a couple hours I couldn't stop thinking about it. We dropped back by the booth just before we left, and I'm so happy I did. The clean white paint with ornate turned legs and scalloped shelves add such a fun, unique design element to the room. Not to mention that I finally had somewhere to put the piles of blankets that we go through as well as some of our favorite toys Mixmates and Morgan Blocks.  I also was happy to have a great home for this hand carved giraffe stamp print by one of my best friends Miriam Tribe, and the heavy cast iron rubber ducky that I bought at Red Barn Mercantile in Alexandria for Milo's nursery.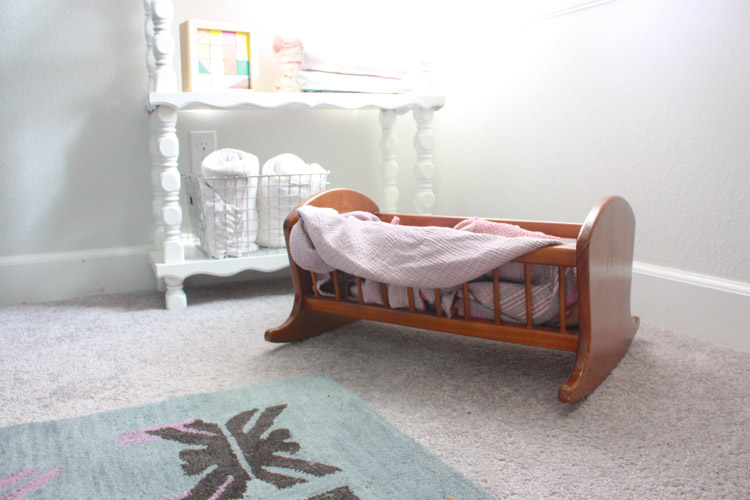 I thought the nursery was pretty pulled together, and then the other day I walked past this perfect wooden doll crib in a local thrift store. Plum is just starting to love "babies", and I loved the design as another addition to her space. So, even being finished the room is still a work in progress. Someday I may paint, or add window treatments. But for now I'll continue enjoying our time spent together here, surrounded by things I love. We'll keep growing and changing, collecting things we love, and bidding goodbye to those we no longer need.