This last cotton project from January is one of my favorites; a simple, beautiful plush footstool with hairpin legs. The footstool is stuffed with natural cotton batting, covered with a heavy canvas followed by a sweet, watercolor double gauze, and those hairpin legs give it the perfect touch of mid-century design. I made this one specifically for Plum's bedroom, so it is small and short. You could use these same steps to make from a small footstool to a large padded bench, so get creative and make something you will love!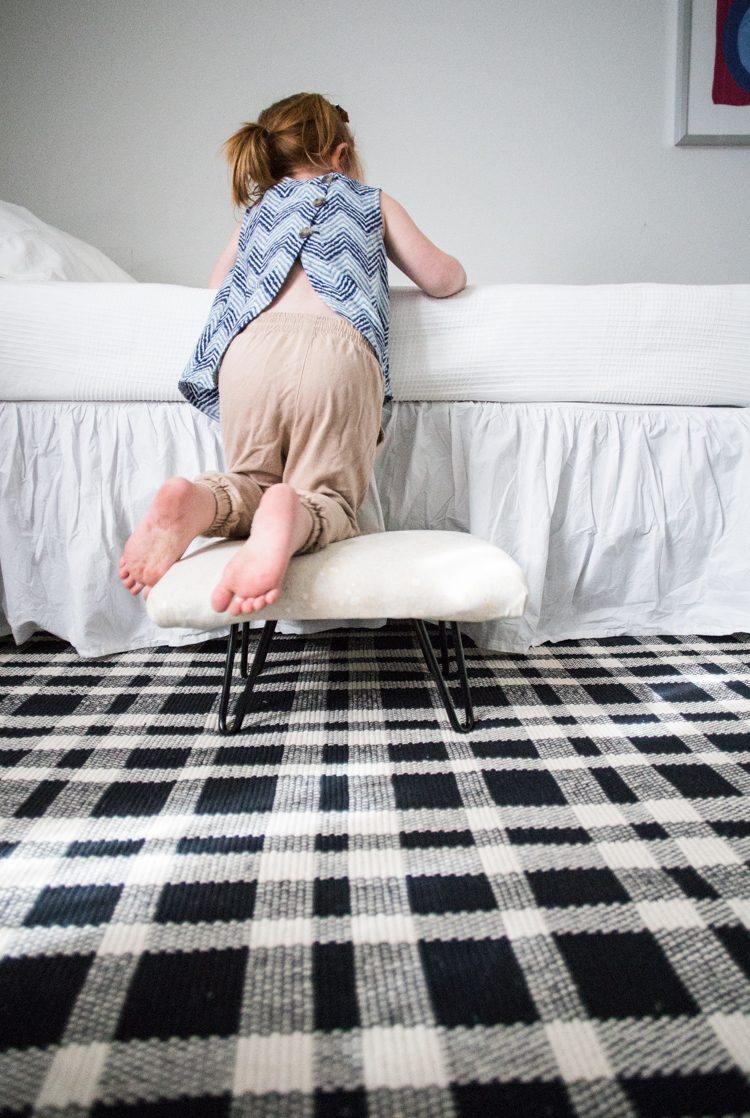 Plum has been in her big girl bed for about a month now, and she's not quite tall enough to climb up without a boost. She often runs around to the end of the bed to use the wooden rails as a ladder and then crawls across the mattress to lay her head down and listen to bedtime stories. I melt every time. This footstool is just the thing to give her that little bit of extra height to hop up easily to the bed. I'm sure she'll also be using it to reach her socks in the top drawer, grab the right books from the bookshelf, and maybe even climb up to grab treats from the pantry in the kitchen front time to time. Give a kid an inch, right?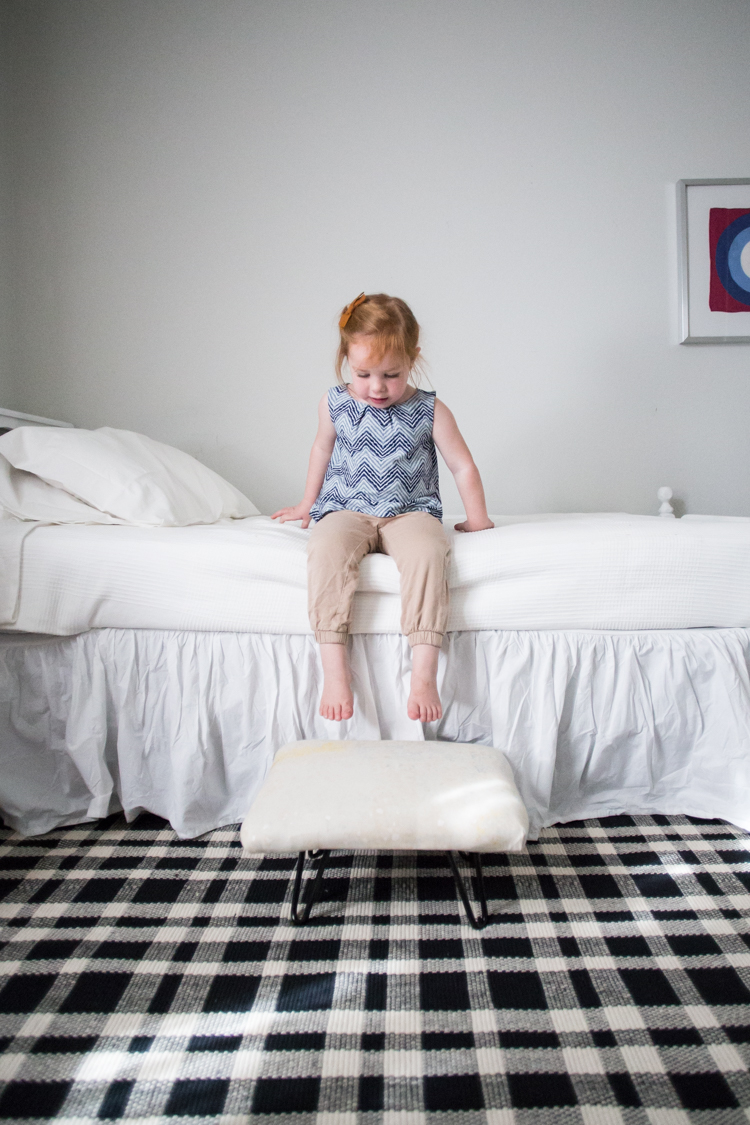 While we're working on pulling together the different pieces for her finished and decorated room, I was really happy to be able to make this perfect little footstool for her using all materials that I had on hand. I had pinned and pulled a few different options, and in the end this one is more fun, personal, and was a great creative challenge for our More Than Enough Stuff journey.
This footstool wraps up our January DIYs working with cotton. Here is a quick recap of what we made:
A simple Pocket Pillowcase to up your bed making game.
This darling sunburst rope basket that took us outside the box.
An easy paper bag skirt with pockets that can be adjusted for any size girl.
I am loving this series and am excited to jump into a new medium next month: paper.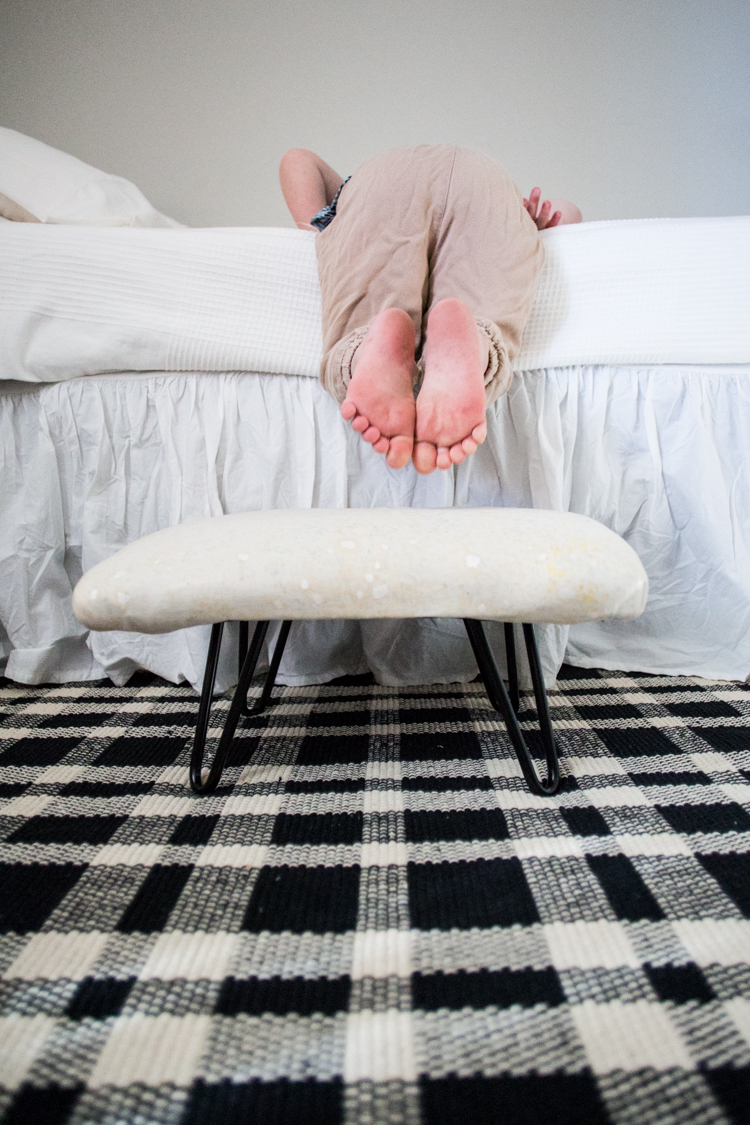 To make your own footstool here's what you'll need:
1 piece of 3/4 inch plywood, I used 16 in x 18 in piece leftover from a furniture project. You can use any size and make this stool larger or smaller according to your needs.
4 8 inch hairpin legs
spray adhesive
an armful of natural cotton batting
a piece of canvas at least 6 inches wider and longer than your wood
a staple gun with staples
a piece of patterned fabric to overlay the canvas (optional)
a piece of black cotton for the bottom
a power drill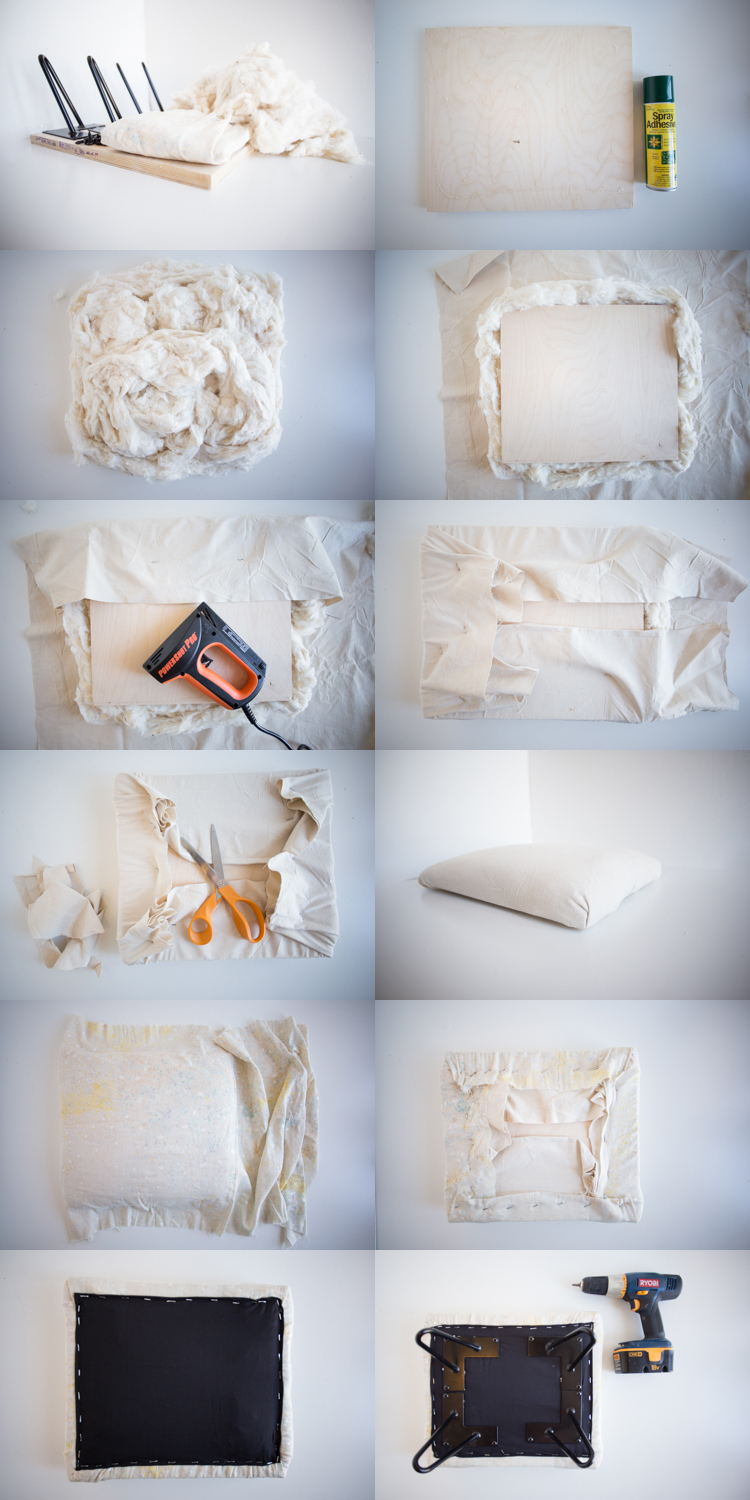 Instructions:
Gather your supplies
Spray adhesive on the top and sides of the plywood
Cover the top and sides with enough cotton batting for it to feel soft, and have the height you like. Make sure it's tucked around the edges and corners for a soft stool.
Turn the padded wood face down onto the center of your canvas.
Starting on one edge, pull the canvas tightly across the wood and staple in place. Turn around and pull the opposite side, making sure the fabric is flat and tight and the batting stays where you want it.
Pull and staple the center of the other edges, then tuck the corner fabric towards the center of the side and fold a neat corner before stapling.
Cut off the excess fabric.
To create a patterned stool, lay the wood plush-side-down onto your decorative fabric and repeat the stapling instructions.
Cut the black bottom fabric to the size of the finished wood. Lay it flat on the bottom and fold the raw edges under along the first side. Staple multiple times along the edge to finish the base. Repeat on all four sides.
Arrange the hairpin legs where you want them on the bottom of the base, then use your power drill to screw into place.