Creating A Dog-Friendly Home For Humans
I am a dog person. I grew up with at least one pup sibling at all times (and currently my parents have three under their roof.) Capitan the Springer Spaniel ran circles around us in the yard. Spring Blossom a Yorkshire Terrier was small enough to curl up in my lap, even when I was only five. We had Sadie, Bailey, Prada and Moqui. Each bringing unique personality and that feeling of companionship that a dog so easily adds to life.
The dogs added to life, without taking away from the beauty, cleanliness, or ease of life at home. This had a lot to do with my dad, who was a dedicated dog trainer and asserted himself as Alpha. The dogs, as well as children, knew the home had guidelines for behavior, and we all played by the rules. This helped maintain a dog-friendly home where even people who weren't dog people felt welcome and comfortable.
I've partnered with Febreze to share three tips for striking this important balance at home so you don't sweat your pet. These are the guidelines we follow to make sure our house feels just right for our fur baby as well as all of our non-dog-loving friends and family. I'm sure some of you have additional tips you could share! Leave them in the comments so we all can benefit!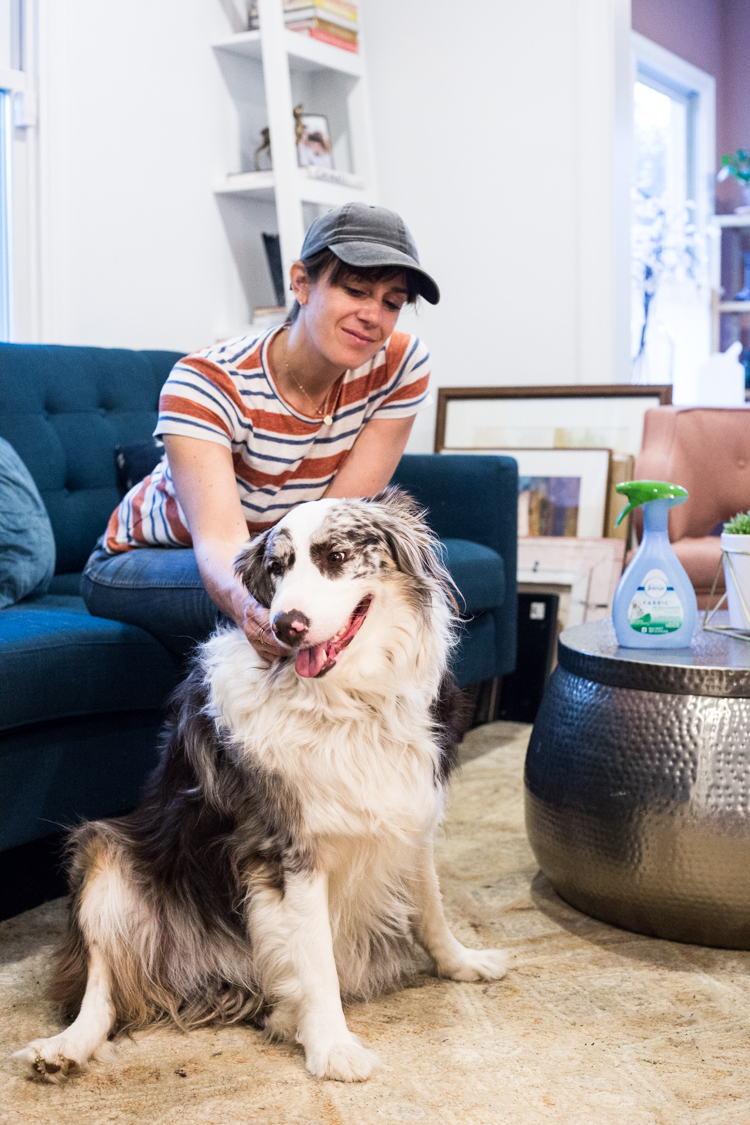 Dog Space and Human Space
Set Guidelines
First, choose where the dog(s) are allowed to sit. In our house, we have decided the furniture is for the humans and Quincy has a cozy dog bed that she can retire to when she needs something more soft and supportive to lay on. Most of the time when we are home, she curls up on the rug near our feet to be pet and cuddled.
This decision is best made when the dog is a puppy, or recently introduced into the home, so that it is clear and consistent. When Quincy was younger I sat on the rug myself to pet and hold her, so she didn't get used to sitting on the couch. That way, as she grew into the large dog she now is, she was clear on where she was allowed to lounge.
People Feel Comfortable
I know that from time to time when no one is home she will curl up on the couch to look out the window. This works for me because she knows that when humans are in the space, the couch is for them. That means we can have friends over and be sure Quincy won't try to sit on their lap or climb up beside them on the couch. This simple guideline makes all of our lives easier!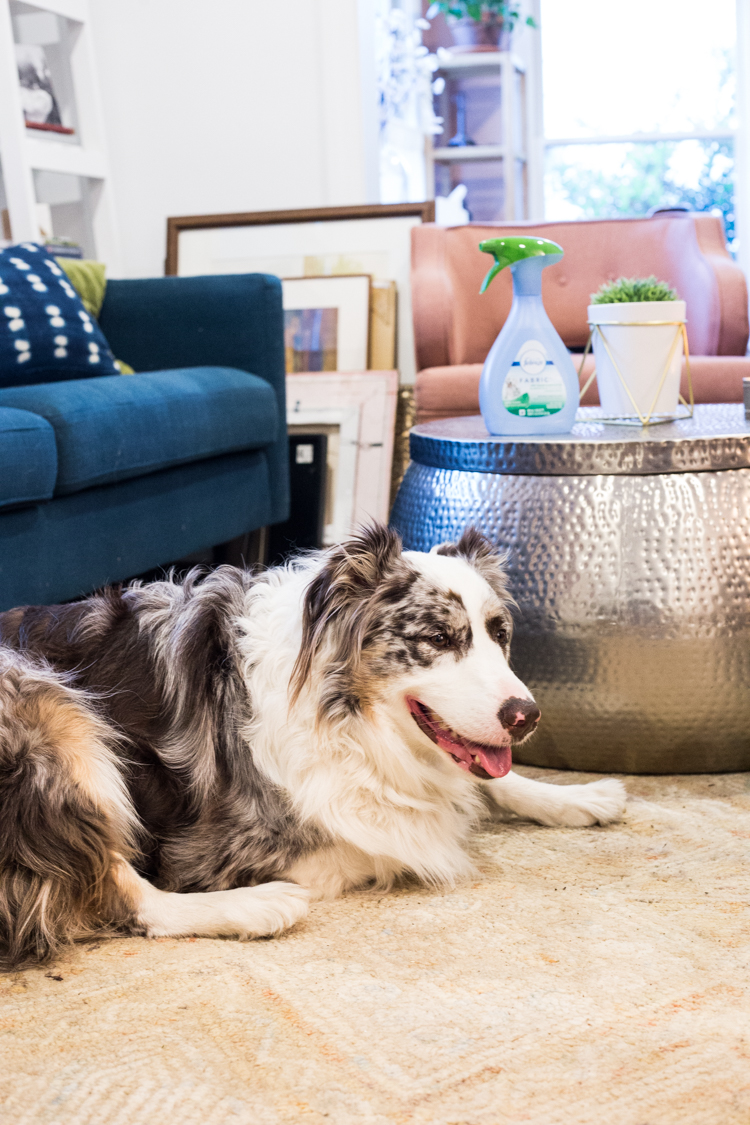 Fresh Grooming, Fresh Air, and Fresh Fabric
Fresh Grooming
Even dog lovers don't love dog smell. Just like humans, dogs need regular grooming and hygiene. We take Quincy to get a bath about one a month, take her for a full grooming appointment once a quarter and brush her coat ourselves at home at least once a week! Knowing what type of maintenance the breed of dog you choose is an important part of the decision to bring a dog home. Regardless of breed, however, every dog will need regular care and cleaning for health.
Fresh Air
Even a freshly groomed dog can add that funky doggie smell to the air, especially in the summer when they run inside and outside, exploring and even getting wet. Between baths and grooming I love to use Febreze AIR Heavy Duty Pet Odor Eliminator to capture and erase the pet odors floating around our home. One of my favorite compliments I've received as a pet owner is that walking inside my home you would never know a dog lived there until you saw her.
Fresh Fabric
In addition to keeping the air fresh with bursts of Febreze AIR, being able to target the fabrics where Quincy hangs out is a simple part of my cleaning routine. She is completely potty trained, which is very helpful in keeping pet odor to a minimum, and we still have areas that need regular pet deodorizing. I spray Febreze FABRIC Pet Odor Eliminator onto the upholstered couch where she sometimes lounges when we're not home. I also use it on her own dog bed, the rugs, and often in my car where she hangs out with me on long drives.
Having a simple go-to refresher spray is really helpful and keeps my pet-odor maintenance to a minimum. While I love the whole line by. Febreze, these new pet-specific air and fabric products are safe and effective to target pet odors specifically. They've been a great addition to my arsenal of tools for maintaining a pet-friendly home where humans also feel welcome. These pet-specific products can be found at Target, Walmart, Kroger and now PetSmart and Petco.
Corral The Toys
Designate A Basket
The last guideline I want to share today is about giving the pet toys a home within the home. Just like when I had toddlers at home, the dog toys can end up all over the house and make it feel overrun by the dog! By designating a basket for dog chew toys and balls I have been able to easily pull them out at playtime, and put them away when we are moving onto a different activity. I like to keep our dog toys beneath the sink by the back door, where we are most likely to go out and use them in the sunshine or grab a chew toy for her to use inside on a rainy day.
Keep Leashes By The Door
Just like the toys, dog leashes can end up all over the house if you haven't given them a specific place to live. Ours hang on a hook next to the front door so I can easily grab one on the way out for a walk. I can also quickly hang it up when we return home. This seems like such a simple principal, but you would be surprised how many people I have met who don't have a system for these types of things!
Organize Dog Tools
In addition to the toys and leashes, I have a small bin where the rest of Quincy's stuff belongs. By keeping her grooming tools, medications and supplements, extra collars, and training treats all in one place, I can easily find what I need for her and I also don't spread the dog accouterments around the whole house. Just the same way my kids each have designated drawers and cupboards for their belongings, so does Quincy.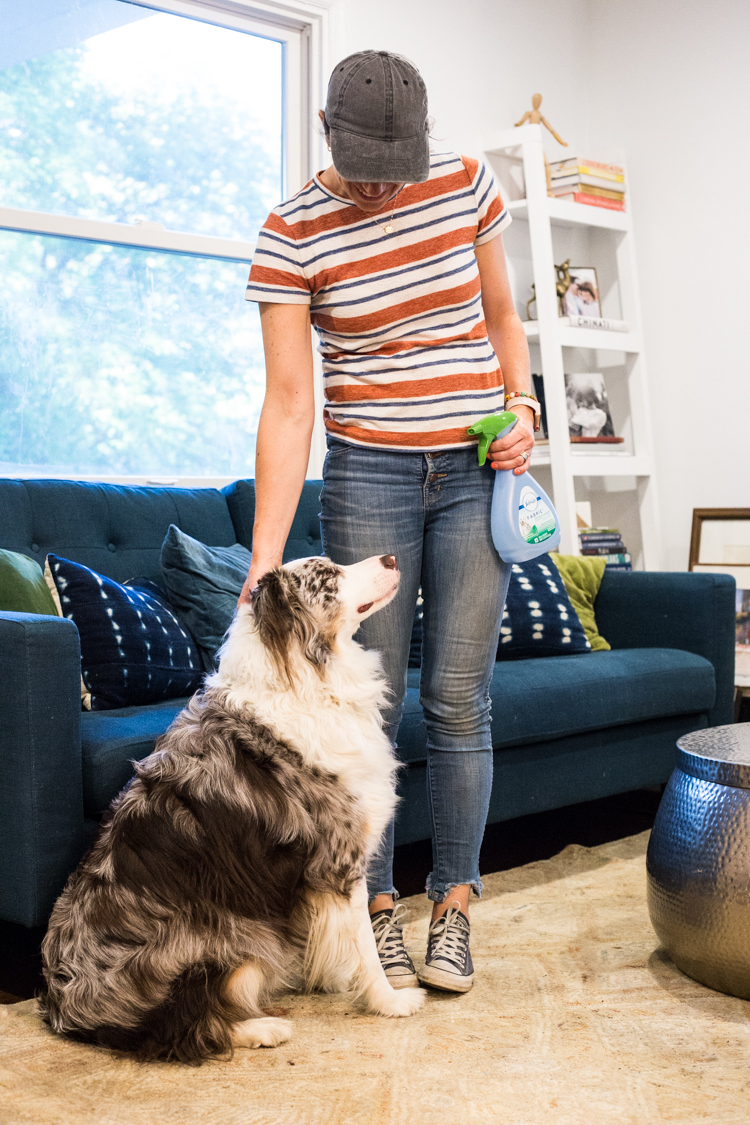 Simple Tips Make A Big Impact
Through years and years of owning and loving dogs, I have seen how families with simple guidelines can maintain a beautiful, dog-friendly home where everyone feels welcome. I have also seen how some homes quickly become ruled by the dog(s) making it not as fun or fresh-smelling of a place for humans to hang out.
I hope these simple tips have given you some ideas for how you might strike a great balance in your home with a happy, loved, and cared for pup who contributes to the family and home without overrunning it. Or if you are deciding whether or not to take the plunge into pet-ownership, know that it is possible to maintain a lovely home and also own a pet.